By planning and structuring your membership business model well, you can add a multiple-figure revenue stream to your business. This guide on building a membership business through community will help you learn the key steps to get started. 
Why build a membership business through community?
Building a membership business will help you increase both your digital and physical product sales and add an additional revenue stream to your business. 
If you commit to the process, you can significantly increase your business revenue. This guide will walk you through the key steps involved in building a successful digital business through community and memberships: 
Building A Community: Creating an engaged and valuable space for your customers and business to grow
Building a community is all about creating an engaged and valuable space for your customers and business to grow. The steps you will want to follow to begin to build your community are: 
Building your audience
It's important to understand that building a business is less about you and more about the audience you serve. It's about what they need and respond to. If you are a business owner or in the marketing department of a business, you know that often, one of the hardest parts of the work is content creation. 
Creating quality content is not easy. But in order for you to master your content for your audience, you have to create more of it. Don't let the fear of creating the wrong thing stop you! 
Don't be afraid to create and post content, to then monitor your audience's responses and engagement and learn more about their needs and what resonates with them. This is called doing market research!
Some key places where you can conduct market research are:
Answerthepublic.com:

Learn the questions that people have asked about your niche, topic or industry of choice. 

Instagram:

Type keywords about your niche and research what kind of content is being shared about your niche, topic or industry of choice.

Your competitor landscape:

Do research on the content that other businesses in your niche are creating and the key questions that those in your target audience are asking. This will help you identify any possible gaps in the market that you can fill, audiences you can serve, and problems that you can provide solutions for. 
Use the information you learn during your research to answer the questions your audience is asking and provide solutions to their problems through your content in creative ways: videos, blog posts, social media posts, infographics, lead magnets, and other types of free content.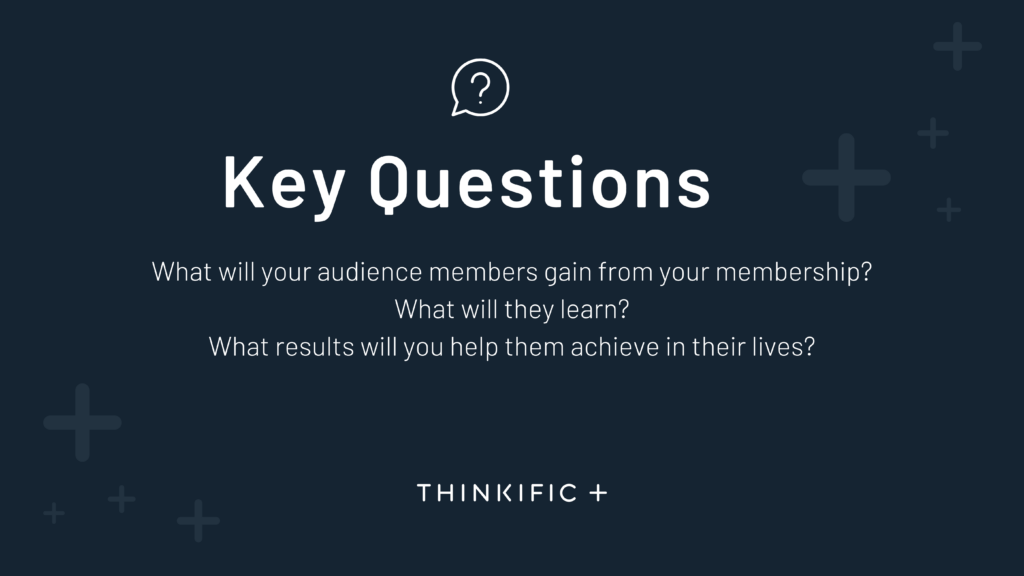 As you build your audience, try posting between 2-3 pieces of content per day. 
Learn more: 5 Ways To Reach A New Audience and Expand Your Course Sales
Creating content and nurturing your audience
Here are some tips to help you get started with content creation: 
Generate a list of 100 questions you want to answer for your audience. 

3 times a week, block off 2 hours in your day to film and create content answering questions for your audience. 

Nurture your audience:

Nurturing is the step that happens before selling. Often times when a sale doesn't happen, it's because we haven't nurtured our audience thoroughly. Use email marketing and text message marketing to remain in touch with your audience.

Incorporating User-Generated Content:

This is a key way to keep your audience engaged. By sharing content on social media that your audience posts engaging with your business, you create social proof and show your prospects that you are who you say you are. Inspire your audience to create user-generated content through giveaways and contests on your marketing channels. 
The benefit of creating a "nurture model" for your business is that when you launch a new product or service, those enrolled in your email marketing and text messaging platforms will be nurtured and ready to purchase. 
Learn more: How Does Marketing Automation Work? What It Is and How To Do It
Crafting A Membership Business Model 
Once you have done the work to build your audience and create content that aligns with your prospects, your audience and following will grow, and this will give you space to implement a membership model for your business that you can scale over time. You will want to start crafting a membership business model by: 
Surveying your audience 
To create your membership, you will first want to survey your audience and ask them for feedback to determine what they need the most, and what they would be willing to pay for on a monthly basis that can further assist them in achieving their goals. 
Some questions you can ask in your survey are: 
What is your #1 challenge right now?

What is your biggest struggle getting from Point A to Point B?

What do you need help with on a monthly basis regarding ___ (your niche), in (your industry)?
You can also create forms and social media polls to survey your audience. Another way to engage with your audience members in webinars and ask them about the challenges they are facing directly. By surveying your audience, you will be able to anticipate the needs of your prospects and create a product that is valuable to them. 
Once you have solidified what you want to include in your membership, you will want to think about how you plan to deliver it to customers. Internally, you will want to create a schedule for how you plan to deliver content, events, and information within your membership and ensure that you are implementing programs to help your customers see progress towards their goals on a daily basis. 
In anticipation of your membership business growing, you may want to consider scoping community managers or coaches to help you keep your customers engaged and provide them with a valuable experience.
Pre-launching your membership to gather audience interest
Pre-launching is one of the best ways to ensure that you have buyers for your offer when you officially launch and have your membership ready to go. 
To pre-launch your membership, you will want to clearly share with your audience what your group is going to be about and the key benefits and features members will receive. You will want to "tease" your launch and tell them that it's happening within 30 days.
Then, you will want to set a "pre-launch price" for your membership that is lower than your original price to get people in your audience excited and inspire them to purchase. 
Another strategy you can implement to acquire new customers is a "free trial" of the membership. To do this, you will want to make sure that your audience is aware of the value you offer by the end of their 30-day trial so they choose to pay for your membership. Implementing a trial membership model for your business helps you add new customers to your business and maximize your customer's lifetime value by encouraging your customers to engage with other offers. 
Developing A Membership Offer 
Once you have gathered insights and interest from your audience, you will want to get started developing your membership offer. You will want to ensure success by:
Developing a pricing strategy
To develop a pricing strategy, you will want to create a price that is reflective of the time you invest into your membership and is also accessible to members of your audience. 
Some key considerations to keep in mind as you start to develop your pricing model are: 
The time you are giving to your membership group

Your audience's disposable income

The time your audience is willing to invest with you 

The average price of your products. (You will want to ensure that your membership price is 30% of this number). 
From there, you will want to create different pricing offers for your customers. Some payment structures you can offer are:
A one-time fee: Allow your customers to pay their monthly subscription fee in a one-time payment to receive a discount. 
A monthly fee: Allow your customers to pay a monthly fee to remain in your membership community. 
As you outline your pricing offers, you should keep a certain volume of customers and revenue you are looking to draw to your business in mind. For instance, you will want to think about whether you want to offer a high ticket price to a smaller number of customers, or a lower price offer to a large number of customers. 
Scale your membership business model and make adjustments
To thrive, your business needs to be flexible and ever-changing. One of the key areas that you will want to make sure you define in your business is the deliverables for any product that you offer. You want to ensure that your audience understands "what's in it for them" when considering making a purchase. 
One key way to drive traffic and conversions to your membership model is to tell your audience: 
You will be able to achieve X, Y and Z.

Over the course of the next 6 months, you will be able to understand and do X, Y and Z.
Making value-based statements like this will help your audience members understand why they should buy and build trust with your business. 
To get started crafting your value-based statements, think about what you can authentically say that your audience will gain from your membership and go from there.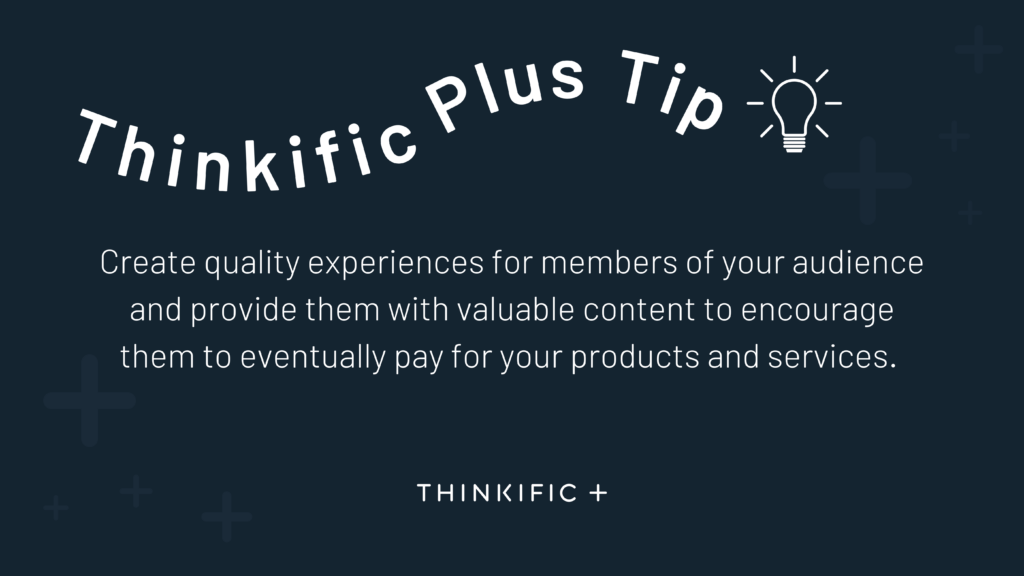 Learn more: 7 Ways To Monetize Your Online Community 
Setting up your business back end
You will want to ensure that the back end of your business is continually working to nurture and convert everyone that comes across your content and business. Some strategies you can implement are: 
Hiring a virtual assistant. 

Email Marketing.

Getting help from a sales team to lead discovery calls and close sales.
Using Content Marketing To Grow Your Membership
The amount of content that you create and how you show up online can be one of the main determinants of success for your business. 
Setting up these systems will help you create different channels for your prospects to go through that ultimately lead them to a sale. Some ways to drive traffic to your channels are
Your social media feed.

Your email list.

Lead magnets. 

Webinars and online events.

Affiliate marketing.

Media mentions and user-generated content. 
Learn more: What is a Content Marketing Strategy? And Why You Need One
In summary. Some key ways that you can develop a valuable membership offer are: 
Conducting market research: This will help you to understand what your audience needs. 
Creating a free offer to drive traffic: You will be able to test out what you think your audience needs with learn from the initial engagement and build a product around it. 
Building your first digital product: Use your learnings from your free offer to build your first digital product. 
Growing your business with a membership model is a valuable and engaging way to grow your business and encourage your customers to stick around long term. 
Looking to grow your business with a new revenue stream?
Create a new revenue stream for your business by creating and selling online courses. Thinkific Plus makes it easy for you to build scalable online programs your employees, customers, and partners will love.

Learn more about Thinkific Plus, and book a call with our solutions team to try it today.