What if we told you email was your most profitable sales channel? That's right: your warmest, most engaged potential students will come from your email list. With email marketing revenue estimated to reach almost 11 billion by the end of 2023 (Statista), your ability to send the right emails easily is critical.
You know how important it is to create additional revenue streams through online education. Still, with constrained budgets and competing priorities, you don't have the time or resources for a complicated email marketing program right now. And that's where marketing automation comes in, allowing you to hit your sales targets while creating unforgettable customer experiences on autopilot.
In this post, we'll give you a crash course on simple, cost-effective ways to implement email marketing software so that you can:
Keep students engaged and increase course and certification completion rates
Market effectively to expand your program on autopilot
Prevent churn and keep your revenue streams steady
Skip ahead here:
---
What Is Marketing Automation?
Marketing automation is a software tool that puts repetitive communication tasks on autopilot. You're probably already receiving email ad campaigns from your favorite retail stores and brands announcing sales and product updates. Most people don't realize that these brands use marketing automation software to schedule and send those promotions automatically.
Marketing automation for businesses and organizations with online courses goes beyond just sending discounts and newsletters. For example, you can use your automation system to create always-on lead generation funnels that gather email addresses, send follow-up emails to prospects, then invite your prospects to purchase your online course. You can also use Marketing Automation to deliver your course modules with a "drip schedule" and send reminders to your students to complete course requirements.
A smooth and easy learning experience for your students is directly connected to how much revenue your course can generate. In fact, 59% of B2B marketers rely on email marketing as their most effective revenue generation channel. (Benchmark)
The most common ways businesses and organizations with online courses leverage email marketing:
Sending educational content to push leads further down the sales funnel
Sending timed email sequences that keep students engaged and progressing through their online course
Offering additional online courses and learning products
Testing and refining marketing strategies for maximum ROI
Why Should You Invest in Marketing Automation?
Using tools like marketing automation, your business or organization can reach millions of students online and run a profitable digital course business. Even small teams strapped for resources are using marketing automation platforms to hit their sales targets, prove ROI, and stay focused on scaling their business.
Marketing automation streamlines critical revenue-generating activities without manually measuring or segmenting, which would be exhausting, complicated, and time-consuming. As a result, your automation system frees up time and mental energy to focus on higher-level priorities. In other words, you can finally start working on your business instead of in it.
Here's why marketing automation software is an absolute must for leaders scaling a course business:
Marketing automation serves as a critical part of your conversion funnel 
Traditionally referred to as a "sales funnel," your conversion funnel represents the journey a buyer takes before, during and after they convert into a paying student. Visualizing the customer journey as a funnel helps you easily map out and understand each stage buyers experience with your business as they move toward making their decision.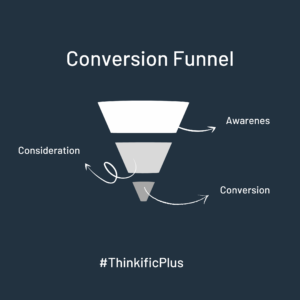 Conversion funnels are typically split into three phases, starting with a broader pool of leads and narrowing down to people interested in buying your course.
The top: Customers who are aware they have a problem and have begun their search for a solution
The middle: Customers who are aware of which solutions are out there and begin to narrow down their options
The bottom: Customers who have done enough research and are ready to take you up on your call to action (CTA).
Improving your conversion rates will require ongoing funnel optimization. Marketing automation provides you with the data points you need to analyze each funnel stage and pinpoint areas for improvement. The data will reveal how many people drop out of your customer journey, when they leave, in which stage it occurs, and why.
An easily-digestible, auto-generated report from your marketing automation platform highlights problem areas in your funnel, whether your sign-up is too complicated or your messaging just isn't hitting the right pain points to drive action.
Marketing automation allows you to understand your customer journey, from when a prospect first discovers your business/organization to when they become a paying student. You can use customer journey data to:
Fine-Tune Your Marketing Messages to Resonate With Your Audience:
Marketing automation allows you to reach people, on the right channel, with the right messaging for their specific stage in the journey. For example, you could send testimonials and case studies to leads further down your funnel instead of when they first learn about you.
Pinpointing Qualified Customers Sooner So You Can Take the Right Action:
Marketing automation software automatically moves potential buyers from one funnel stage to another based on their activity and interactions. Here are some common examples of funnel stages:
Subscriber
Lead
Marketing Qualified
Sales Qualified
Customer
An example of moving through funnel stages would be when a potential student provides you with their email to download an educational PDF. This would automatically move them to a "lead" status, alerting you that this individual is a potential customer.
Use Marketing Automation to Create Evergreen or "Always On" Sales Strategies
There are many moving pieces involved in marketing and selling an online course. There are campaign launches, special promotions, and the continual creation of new educational resources and products. Executing all of these touchpoints can prove to be quite difficult without marketing automation.
Businesses and organizations tend to use marketing automation software to plan and schedule their launches and campaigns, allowing their course business or revenue stream to run like a well-oiled machine.
Marketing automation removes repetitive tasks like sending emails, posting to social media, and making website updates. Automation allows you to "set it and forget it" while reaching audiences at the right time, regardless of time zone or working hours. For example, you could set up an automatic email requesting feedback and testimonials to be sent 30 days after a student completes your course.
No more manual email blasts: It may surprise you, but many marketers still send email blasts by hand and manually select the list to send to. You can automate campaigns using marketing automation by setting rules and triggers.
No more disorganized lead handoffs: Marketing automation can help unify your marketing and sales teams. You can prevent your teams from going back and forth about "warm" and "weren't-actually-warm" leads by setting up a lead scoring system that automatically ranks how sales-ready a lead is.
Create loyal customers on autopilot: Use your automation platform to send emails that upsell during purchases or contact old customers with new offers. Additionally, marketing automation lets you facilitate loyalty programs that make customers feel valued and special, resulting in repeat sales.
Use Automation to Test and Refine Your Marketing Strategies for Maximum ROI
There is no perfect marketing campaign—just one that you test and improve over time. 'Measuring ROI' is just a fancy way of seeing how much closer marketing activities brought you to your ultimate goal. You'll use marketing automation to A/B test your campaigns, sending a marketing email with two different headlines to compare their open rates.
Figure Out Your Objectives for Marketing Automation
Using marketing automation to bring more students in the door is just the beginning. Automation also helps your business/organization keep students engaged, improves retention rates, and decreases churn. Keeping customer acquisition costs down by providing an incredible course experience will positively impact your bottom line!
Here are the most critical email marketing KPIs you should be measuring using your marketing automation platform:
Sales Conversion Rates
As SEO becomes more competitive and ad costs increase year after year, one of your top priorities should be optimizing your sales funnel. Think of your sales funnel as your vehicle for attracting your ideal customers on autopilot.
You can think of a sales funnel as the entire process that guides your potential students through, ending with their decision to enroll (or not enroll) in your course. You'll rely on your marketing automation platform not only to bring people more people into your sales funnel, but to measure your conversion rate so you can tweak and optimize.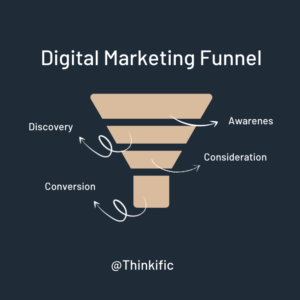 Measurement of your sales funnel depends on its complexity, but the best place to begin is by looking at the overall conversion rate. Your overall conversion rate is the number of potential buyers that make it to the end of your sales funnel and turn into paying students.
To measure your conversion rate, divide the total number of paying students by the number of leads that entered your sales funnel, then multiply that number by 100.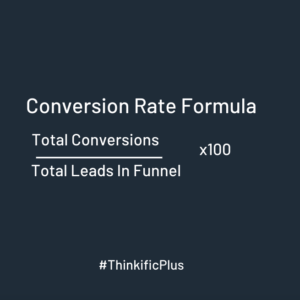 Customer Success (CS) Metrics 
You're probably already familiar with the term "customer service," but the business-to-business (B2B) world has its own terminology: customer success (CS). Think of CS as a more involved, intentional version of traditional customer support.
Whereas customer support fields questions and resolves issues from the frontlines, customer success is a partnership you form with your customers—one where you anticipate their challenges and keep them happy as your strategy to retain them.
Here are the following metrics that let you know if you're succeeding in your CS efforts and how to use marketing automation to improve them:
Course completion: To get the transformation you promised, students must first make it to the finish line of your course. Engaging students throughout your course is difficult, especially if they are busy professionals juggling many responsibilities. By using marketing automation, you can send periodic emails that encourage, provide helpful resources, and hold your members accountable.
Time to course completion: Even if your course is self-paced, it's best practice to still track how long, on average, it takes your students to complete your course. Adding additional support will speed up or improve the completion process. Think of resources you can send their way to help them get through the materials more easily and help them retain the information more effectively.
Participant fail rate (for certification courses): By understanding why students fail and the areas where they struggle most, you can improve your course and provide extra help. Send automated marketing emails encouraging students to retest.
Customer Retention Rates
With it being harder than ever to win over new customers (especially in saturated B2B markets), now is the perfect time to double down on retaining and churn prevention. Customer retention is just a fancy way of increasing student engagement while deepening their connection to your brand. Happy students will result in solid referrals and invaluable word-of-mouth marketing opportunities for your business or organization.
Your communication should make your paying students feel valued and kept informed (especially if you have a membership or subscription model). Using marketing automation in your customer retention strategy is worth the effort—especially as B2B marketers report that new product and feature announcement marketing emails have the highest click-through rate. (HubSpot Blog Research, 2021)
Upsell and Cross-sell Revenue
Upselling isn't simply asking a student to buy again. There are multiple steps and actions required to satisfy your students if you hope to increase their lifetime value.  Marketing automation helps solves the number one reason for student and customer churn: lack of engagement and focus. Use your marketing automation platform to renew existing customers, upsell them to other offers, and cross-sell them into different programs.
Here are three ways marketing automation can facilitate easier upsell and cross-sell opportunities:
Smooth onboarding: Buyers remorse is real—and some students begin to feel it almost immediately after purchase. That's why sending messages immediately when students enroll is critical. Clear communication puts your buyer's minds at ease, reassuring them that they made the right decision. Set up a welcome email trigger in your marketing automation platform so students can learn the next steps and what to expect.
Give students what they need: How are you delivering the tools, support, processes, and resources to get started? A welcome email will go a long way toward helping your student feel prepared to dive in and start learning. Include the necessary links, attachments, and resources they'll need to start immediately without confusion.
Motivate students through each course module: Make sure your students feel supported and acknowledged as they progress through your modules. To keep students engaged, set up periodic check-in emails. Check-ins give students opportunities to share struggles or ask for support so you can troubleshoot issues before they result in churn.
How Does Marketing Automation Work?
Marketing automation combines tools that streamline and simplify some of the most time-consuming to-dos of today's marketing and sales roles. From automatically qualifying or "tagging" leads to give them the attention they deserve, to creating a hub for digital campaign creation, automation simplifies your online education efforts so you can grow and scale.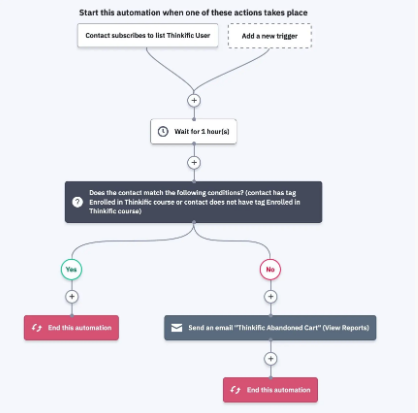 Imagine no longer having to manually hit "send" on every email, message, campaign, or post you create. Instead, messages are sent automatically, according to sets of instructions called "workflows."
A marketing workflow is simply a set of steps your automation platform automatically takes to complete a task. Your platform may come with pre-built templated workflows, or you can build them from scratch if you need to customize them.
To understand how marketing automation will work in your specific business or organization, you must first understand the three main features you'll use to achieve your goals when it comes to sales and course enrollments:
Customer journey (conversion funnel)
Personalization and segmentation
Triggers
Triggers are commands your marketing platform receives, so it knows who to send the message to and when. Your platform will operate under "if/then" rules that look like this: If a potential buyer downloads our how-to guide, then they will automatically begin receiving our weekly educational emails on the same topic.
Triggers make for a more personalized customer journey—the opposite of those mass 50% off emails you get from your favorite clothing brand. According to Smart Insights, triggered emails reach 71% higher open rates and 102% higher click-through rates than general email newsletters.
Learn more: How To Create A Content Marketing Strategy
Most common examples of email triggers for businesses and organizations with online courses: 
Welcome emails: 
A triggered welcome email is sent with instructions and next steps as soon as a student enrolls in your online course.
Nurture emails: 
Nurture emails are usually triggered after someone has "opted in" by downloading your content or signing up for your newsletter. Each nurture email triggered helps potential students get to know you and your business/organization, why you're special, and how your unique expertise can help them. Course creation giants like Miss Excel have a newsletter to nurture subscribers.
Retention/engagement emails: 
By connecting your marketing automation software with your Learning Management System, you can trigger engagement emails as your students complete each module. Triggered check-in emails will allow students to share struggles or ask for support so you can address them before they result in churn.
Using Marketing Automation to Guide Your Customer's Journey 
In a time when inbox zero is the goal for many, giving your email address is no small gesture. Email subscribers are more likely to buy and engage because there's more at stake in giving your email versus giving a 'like' or a 'follow.' In other words, the inbox is valuable real estate for marketers.
The most common entry point for leads is opting into (usually free) content that provides value. The free piece of value (also known as a gated asset) you provide could be a webinar, free download, or other promotional content that piqued their interest enough for them to welcome you into their inbox.
Once someone has opted into your email list, use your marketing automation platform to nurture them at each customer journey stage. Tailor your messages based on the stages below to make leads feel seen, heard, and valued.
The Awareness Stage (Top of Funnel)
Once you've captured a lead's attention by providing value, they enter the first stage of the customer journey, which is when they become aware of your brand and offer. At this point, these leads are considered "top of the funnel." Common ways to convert someone from a stranger to aware are
Social media ads or organic content
Paid ads
Blog posts
Educational videos (YouTube or LinkedIn)
Newsletters
The Interest Stage (Top/Middle of Funnel)
The interest stage represents the moment a lead goes from simply learning you exist to developing an interest in your product or offer. Based on the information they learned in the awareness stage, they realize that your course might fit their needs and help them accomplish their goals. They want to learn more.
Don't make the common marketing mistake of thinking that once you have a potential student on your list, it's a free pass to barrage them with offers and promotions. You must continue to provide value that keeps them engaged and wanting to learn more about the transformation you can help them achieve.
Some people, like in Miss Excel's case, have an email newsletter they're using to nurture their subscribers. However, there are all sorts of ways to nurture new subscribers, such as
Email drip campaigns
Product catalog
Demonstrations
Free samples
Ebooks, guides and whitepapers
The Desire Stage (Mid/Bottom of Funnel)
When you've gotten on your lead's radar, desire to buy comes next. When a lead is in the desire phase, they'll be more proactive about requesting information about your product as they consider making a purchase. This is also called the "consideration" phase.
Optimizing the mid-to-bottom stages of your conversion funnel enables you to provide the right content, education, and support to your leads at key decision-making moments.
The Action Stage (Bottom of Funnel)
The action stage is when a lead converts to a paying customer. Leads at this stage are ready and intent to conduct business with you, so it's up to you to delight them with the final push. Examples of content that helps convert someone from desiring your course to taking action and buying are:
Case studies and testimonials
Pricing pages
Promotional offers
Making Your Marketing Emails Resonate with Personalization
Personalizing the 'first name' of email subscribers is no longer a cutting-edge tactic for improving conversions. With more data than ever at our fingertips, marketing automation allows you to send your subscribers timely emails relevant to their interests and based on their behaviors.
Here are the top 3 ways to personalize your emails, so your subscribers stay interested

Allow subscribers to self-segment with a questionnaire
Depending on your industry and course topic, you may not want to send "101" content to subscribers looking for more advanced techniques. If so, consider making one of your welcome emails a survey that asks the subscriber what type of information they'd like to consume based on their journey.
Send emails based on time and location 
To make the most of your marketing efforts, you have to send emails during the days and times your subscribers are most likely to read them. Segmenting by timezone allows you to schedule emails for higher open and click-through rates.
Segmenting emails based on demographics
The most basic segmentation strategy marketers start out with is demographics. Demographic data is collected automatically by the form you'll use on your opt-in page. Demographics to collect on your opt-in form include: age, gender, company position, and income level. While this is a basic tactic, demographic data can help you tailor your messaging to individual buying needs.
The more information you can get about your audience in the sign-up process, the more deeply you'll be able to segment. But be careful not to overdo it—asking for too much information can scare people off from signing up at all.
Execution: How to Use Marketing Automation
Now that you understand what marketing automation is and the impact it can have on revenue growth and customer retention, it's time to execute. By following the four steps below, you'll soon be on your way to reaching hundreds of thousands of students per year.
Step 1: Segment your email list using tags
Segmentation = personalization and one of the best places to start segmenting is by determining how subscribers entered your funnel. In other words, you're answering the question 'how did they get on my email list?' and tailoring the content to it.
Marketing automation can help by segmenting your lists automatically with tagging subscribers according to the links they clicked on.
Step 2: Distribution 
Distribution is just a fancy way of sending emails with relevant content to your subscribers. For example, whenever you publish a new blog post on your site, you can have it automatically sent to your subscribers. Set your email to once a week or once every two weeks, depending on how often you publish content.
Step 3: Set up automated sequences
Welcoming each person individually when they opt-in to your email list would be impossible, which is where your marketing automation platform's autoresponder comes in. When someone opts into your email list, your marketing automation platform automatically sends them a sequence of emails over a predetermined time period, based on the rules you define. Automated sequences are the best way to nurture your audience on autopilot!
Step 4: Set up your automated funnels
Your funnel is the series of events that you guide your leads through, to convert them into customers at the end. Your automated funnel will include a mix of email marketing, social media, and landing pages.
See It in Action: Ecommerce Course Funnel Snapshot
Let's say you're running a webinar promoting your course on eCommerce success tips. To promote your webinar, you'd schedule some promotional tweets or LinkedIn posts leading up to the webinar date. These social posts will drive traffic to your registration page, where they'll fill out their information to register for the free webinar.
After registering for the webinar, your marketing automation platform will internally tag them as "interested in eCommerce' and 'registered for webinar.' Instead of just waiting for them to attend the webinar, you can create an autoresponder sequence that goes out to those tagged leads. This sequence will include valuable content relevant to eCommerce, further nurturing them and increasing your webinar's conversion rate.
Even if some leads don't convert from your webinar, providing valuable content will keep them on your email list where you'll continue to nurture them with other automated sequences. This creates an engagement loop that makes them sales-ready for your next promotion.
Avoid These Top 3 Marketing Automation Mistakes
Your email marketing is an investment of time and effort, so you want to avoid potential pitfalls that could sabotage your success. At best, these errors could prevent you from getting the full ROI on your email automation investment. At worst, you could unintentionally turn people off, sabotaging your email list growth.
Mistake #1: Not pausing to create a goal and strategy before diving into marketing automation
You may want to jump in and get started with your marketing automation software and get the enrollments rolling. However, without a content strategy and email list goal in place, the ROI just won't be there. Before you dive fully into using your marketing automation software, make sure you first have content to distribute, and have begun audience-building activities beforehand.
Do this instead: First, set goals for your email marketing strategy. 
Course creators should focus on list-growth rate, open and click-through rates, and conversions. Develop an inbound marketing plan to attracts potential students with blog posts, calls-to-action, and search-optimized landing pages. Once you become more discoverable, you'll begin driving more leads to nurture with your automated emails and social media posts.
Mistake #2: You're too focused on selling instead of nurturing
You might be too focused on selling if you're sending too many emails, or your emails don't prove enough value to keep subscribers engaged. One of the biggest email marketing mistakes is creating emails that are too focused on your own company instead of helping the customer solve their problem.
"A staggering 78% of customers recently surveyed by HubSpot Research have unsubscribed because the brand sent too many emails."
Do this instead: Focus on quality over quantity to prevent sending fluff emails.
Before sending any email, ask yourself 'Will this email provide enough value to make my subscribers click to see more?' Follow email marketing etiquette and make sure you've provided value first before promoting your products. Strike the right balance between educational, value-based emails and sales emails.
Mistake #3: Sending one-size-fits-all campaigns 
You have a database full of qualified leads, but you're using your marketing automation platform to blast out the same email to every subscriber. Without some segmenting, you'll lose subscribers because your emails won't be relevant or useful to them.
Do this instead: Start with a basic level of segmentation and scale up at your own pace
The whole point of segmentation is to provide more relevant content to your email recipients. However, you might not yet have the experience or capabilities for deeper segmentation. For example, if you're running a lean marketing team, your staff may not have the time to write varied email sequences for different audience segments. If so, start with a fundamental segment like geographic location so that your emails arrive when those subscribers are most likely to see them.
Learn more: Compare different Marketing Automation Platforms and Choose The Best One For Your Business/Organization 
The Bottom Line on Marketing Automation for Course Entrepreneurs  
As a business offering online courses, you're focused on high-level revenue-generating activities. Marketing automation is a foundational element in your productivity and success, streamlining the tasks that take your focus away from the big picture.
Integrate Your Marketing Automation Platform With A Flexible, Reliable LMS
With Thinkific Plus, you can build, design, market, and host online courses that are easily accessible to your customers and business partners. The best part? It integrates with your marketing automation software that will be a key component of maximizing your revenue potential with courses, memberships, or certifications.
You can choose from multiple Marketing Automation Platforms available on the Thinkific App Store or integrate it with one of your own.
Want to choose a low-code Learning Management System but don't know where to start? Learn more about Thinkific Plus and book a call with our solutions team to try it today.