Content marketing is a marketing approach that involves creating written, audio, video, and social media content to raise brand awareness and attract new customers. You're problem-solving and entertaining, not paying to interrupt peoples' days. (That's how you get them to search for you on their own!)
This form of marketing is a sub-form of inbound marketing. Inbound marketers create content that solves real problems for customers, so they actually go looking for it unprompted. This is the opposite of outbound marketing, which involves paying for attention, whether on billboards, social media feeds, or television.
Well-crafted content marketing can influence buyers through the entire purchase journey. In the discovery phase, you can cleverly introduce your brand to new customers using popular content formats, like blog articles and TikToks. Lower down the funnel, you can drive conversions with targeted ads, white papers, and case studies. 
And let's be upfront—this article is a prime example of content marketing.
At Thinkific, we sell course creation software, which can be used to create lead magnets and digital products for your content marketing strategy. We'll try our best to help answer your questions for free – in exchange for the opportunity to share how our product fits with the task at hand.
So if you're new to content strategy, welcome! We've hit the books and the blogs hard, and we've pulled together everything you'll need to create a well-defined content strategy. Here's some shortcuts, if you're eager to skip to a specific section: 
What is a content marketing strategy?
A content marketing strategy defines your business goal(s), who your audience is, how you speak to them, the content pillars you use to catch their attention, and the key actions you want them to take. In other words, it's everything you're creating, and why you're creating it. 
Imagine you're trying to raise brand awareness for a home improvement company. That's the top-level business goal. Your audience could be homeowners in their 30s-40s who love DIY and have some disposable income. Your content pillars could include TikToks and in-depth blog articles. Your success metrics could include monthly impressions, comments, and DMs. That's your content strategy in a nutshell. 
That's big, we know. Content strategy is much broader than a single mood board or a quarterly content calendar. These are shorter-term expressions of your overall strategy, which you'll be able to run with for years, if all goes right. You'll tweak your content strategy as you learn what works best, too—'cause nobody likes a stagnant brand.
Why are content marketing strategies important? 
Content marketing strategies take the guesswork out of creating content—whether you're writing blog posts, shooting TikTok, or causing (good) trouble on Twitter. When you've got solid strategy, you'll have a system for creating content that chips away at your business goals, and allows you to measure the results. 
This isn't a niche approach to marketing, either. 70% of marketing departments are actively investing in content marketing, per a recent HubSpot report. SemRUSH surveyed 1,500 marketers for their 2021 State of Content Marketing report, and of the marketers who felt their content strategy was exceptionally effective, 78% had documented strategies in-place. 
Your content strategy can also be a factor that sets your brand apart. 40% of businesses have no documented content strategy at all… and among the 60% that do, there's many, many duds. Craft yours carefully, and you'll be outperforming the competition with ease.  
What should my content marketing strategy include? 
Your content strategy should outline your business goals, profiles of your customers, and the types of content you'll be creating. It's a high-level document, so you don't need to delve into what you'll publish when, or who'll write what article. Think strategic, not tactical. 
There's three core questions every content strategy should detail: 
What are my business goals? 
Who are my customers, and what interests them? 
What context am I creating, and how does it serve my goals? 
There's no one-size-fits-all approach to content strategy, and different brands will have different approaches. Global organizations with complex products like SAP will have several different customer profiles, while mom-and-pop clothing companies might have one. Your business goals may simply be getting more sales, or you might have web traffic and retention-based goals for your content. 
5 components of an effective content strategy
Go ahead, crack open a Google Doc (or Adobe InDesign, if you're feeling fancy). We're going to build the foundations of your content strategy piece-by-piece. Work along with this section, and by the end, you'll have your content strategy framework. 
1. Audience Personas
First, we've got to define who you're talking to. We're going to create an audience persona, with a backstory, an age, a job, and some core interests you'll use to understand what makes them tick. 
Start by navigating to Hubspot's persona generator tool. Enter a random name, or use this name generator if you're stuck. Pick an avatar, and then choose an age and education level that represents your average customer. 
Then, pick the industry they work in—and the size of their organization. Create a job title, pick how their job success is measured, and then choose who they report to. Pick out their goals and challenges, and describe their responsibilities. 
Choose any social networks they belong to, their preferred ways of communicating, and any tools they use to do their job. There'll be a space at the end for you to add your own notes, too. Once you're done, hit export, and you've got your customer persona. 
Related: How To Define Your Target Audience (+Templates & Workbooks)
2. Business goals
Next, you're going to define the goals you want to accomplish with your content strategy. These should include concrete and measurable business goals.
Per a Semrush survey, popular content goals include: 
Increasing brand awareness (45%) 

Attracting more web traffic (37%)

Generating leads through content marketing (36%)

Increased sales and revenue (27%) 

Improved customer loyalty and engagement (23%) 
If your goal isn't here, don't sweat it. So long as it's something quantitative (i.e. that you can measure) tied to your business success, you'll be in great shape.  
3. Brand positioning
Your brand positioning is the unique story behind your brand, the one that sets you apart from all your competitors. Finding your edge and defining what makes you different is one of—if not the—most difficult parts of content strategy, so it's worth spending time on. 
Maybe you're an advertising agency that specializes in attracting customers for co-working spaces. Or maybe you're Charleston's top grooming salon for purebred poodles. You might even be a hardware store that's been run by your family for generations. Each story is unique, and each business has got one. 
And you probably already know how a few brands position themselves. Coca-Cola frames their soft drinks as the key to "[Opening] Happiness", while Apple's most famous campaign challenged consumers to "Think Different." Old Spice can help you "Smell Like a Man", and Dove encourages you to embrace the "Real Beauty" you've got inside you. Each brand's story sums up their product's benefits, and contains an emotion-driven positioning that can't be duplicated. 
So how do you find yours? Start by asking yourself these questions: 
Why was my brand or business founded? 
What problems do we solve for customers?
What's our speciality, and what do we do better than anyone else? 
What makes our story unique?
Once you've asked yourself these questions, you should have the start of a brand narrative. Now, take thirty minutes and condense it down into two tight paragraphs. You should have a punchy articulation of your brand's story and value, and that, my friend, is your positioning. 
Now, you've got an elevator pitch that you can use when you're creating slide decks, landing pages—or leading sales calls. That's powerful. 
4. Content pillars 
Armed with knowledge about your customers, your business goals, and your brand's story, you're now ready to create your content pillars. 
Content pillars are topics and themes that your brand will return to again and again, and tell stories about through various different mediums. Your content pillars should be focused but flexible—and we'd recommend choosing approximately three to five.  For example:
An indie bookstore's content pillars could be reviews of new books, cafe recommendations, and interviews with up-and-coming authors.

A hardware store's content pillars could be DIY guides to home improvement, reviews of popular equipment, and funny short-form content about work in the trades.
A language coach could focus on must-know travel spots and tips for achieving multilingualism, or create a downloadable cheatsheet.
Choosing your content pillars is easy. Ask yourself these three questions, and take some bullet notes: 
What are you an expert in, and what can you teach?  
What's the aspect of your work people are most curious about? 
What could you talk or write about for hours—without getting bored? 
Once you've chosen content pillars that align with your audience's interests, think about how you could tell these stories on different platforms. Your take on the biggest problems in the used car industry could be a great article, but they could equally make for a great TikTok. (Or a great Twitter rant, if you just need to let loose.) 
The point is: you'll want to express your content pillars in different ways on different channels. You can (and should!) blog, tweet, and TikTok about the same theme, but you might need to switch your tone, style and voice for different platforms. (Content creation is a WHOLE other subject itself, and we've got a complete guide ready to go for you.)
5. Success metrics
The last thing you'll need is trackable success metrics that tell you whether your content strategy is having an impact on your business results. People who don't work in marketing like to think it's fluffy pseudo-science, but it makes money move. Prove that impact and you'll be everyone's favorite marketer. 
There's a ton of metrics out there, but some of the core ones you'll want to track in Google Analytics are: 
Web traffic by source: You can track how many are visiting your website—and where they're coming from. This can help you understand which content pillars are performing best, and on what platforms.
On-page user behaviors: On-page user behaviors like the time on page, the bounce rate, the number of pages per session, and new/returning visitors are measures that show how long people engage with your content—and whether or not they're coming back for more.
Organic click-through rate (CTR): Your organic click-through rate (CTR) is the number of clicks your article gets in the search results, divided by the total number of times it's seen (impressions). Higher CTRs mean a higher percentage of people are finding your content useful.
Backlinks and shares: Backlinks represent the number of times your article is cited by other articles, while shares indicate how many times people repost your article online. Increases in either metric shows your audience's trust is growing—and you're becoming a domain authority.
Conversions: The number of leads your content brings in is a clear measure of your content marketing ROI. Set up goals in Google Analytics, and track conversion actions like demo requests, resource downloads, and messages to your contact us page.
Related: 30 Effective Lead Magnet Ideas (With Examples)
3 examples of top-tier content strategies 
Hootsuite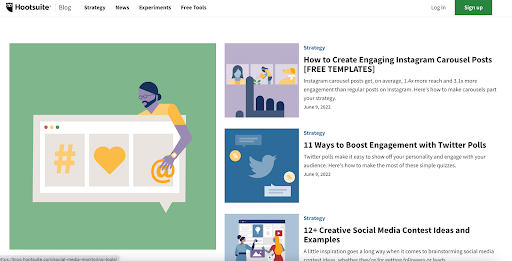 The Vancouver-based social marketing platform maintains an active TikTok and a thriving blog, where they cover online culture, marketing, and strategy. They slip sly bits of product marketing in along the way, and do an excellent job of tasteful inbound marketing.
Hootsuite's investment in evergreen blog content pays dividends. According to SEMRush estimates, their 'Best Time to Post on Instagram' blog gets 69.6k traffic per month, which would have otherwise cost $79.3k with pay-per-click advertising. The post also has 25,000+ backlinks from 2,300 different domains, bringing them even more that they don't need to pay for.

Related: How Hootsuite educates customers using Thinkific Plus
Ripcurl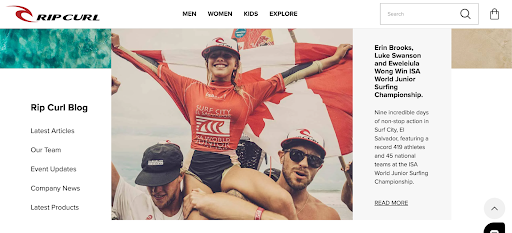 The surfwear giant's blog covers surfing news and lifestyle, and they've earned millions of views across social media by focusing closely on their beat. 
Google Web Stories

Google Web Stories makes it easy for creators to add video into the backend of a website, complete with animations, text and color effects, and captions. By giving creators tools they're actually searching for, Google ensures that creators come to them, instead of vice-versa.   
How to develop a content marketing plan
Now that you've got a killer content strategy, you're ready to start campaign planning. This's where you'll map out all the campaigns you'd like to run for the year, and decide what pieces of content you'll actually need for each campaign. 
The strategy you've created will be incredibly useful here. Instead of doing scattershot content planning, you'll just need to pick a content pillar to focus on, a few different formats you'd like to explore, and a business objective you'd like to target. Remember to put it all into a spreadsheet so it's organized, and get creating! (Here's some free campaign templates to get you started. We got you.)
Related: How to generate leads with content marketing
---
Ready to start generating revenue with your new content?
Now that you're a content strategy pro, you might be looking for ways to monetize all the content you're creating around your business. And the fastest, most effective way to cash in on your content pillars and create a new revenue stream for your business is to start creating and selling online courses. 
That's where Thinkific Plus comes in. We make it easy for you to build scalable online programs your employees, customers, and partners will love.
Learn more about Thinkific Plus, and book a call with our solutions team to try it today.