In 2021, YouTube creator, Mr Beast, made $54 million from his channel. With 103 million subscribers, it's easy to see why he raked in such a huge amount. 
You might not have 103 million raving fans, but you can still monetize your online community. As long as you have a dedicated following of people who trust your expertise, and share your values, you can make money. 
Read more: Engage and Grow Your Online Community Audience
There are simple and practical ways for any creator to generate revenue from their community, no matter the size. In this article, we'll discuss seven of these strategies including:
1. Create a niche job board 
If you have an industry-specific community — like a software engineering or social media management community — you can monetize it by adding a niche job board. A niche job board is a database with roles targeted at professionals with specific skill sets, like software engineers. 
Hiring managers prefer niche job boards to generic ones because the former helps them connect with vetted professionals, get better quality applications, and fill open roles faster. It's also beneficial to your community — they get exclusive opportunities to help them move to the next step of their career.
Superpath, Jimmy Daly's content marketing community, is on track to earn more than five hundred thousand dollars this year — and its niche job board accounts for a substantial part of this revenue. Superpath's job board has four pricing plans starting at $299. Companies hiring writers and marketers can subscribe to any of these plans to list open roles and reach about 10,000 content marketing professionals. And the job openings are reshared in the community's weekly Slack roundups and newsletters. 
You can borrow a leaf from Superpath's playbook by following these three simple steps: 
Create tiered packages for your job board. Make sure each package offers more value than companies will typically get with generic job boards. For example, you can provide access to an exclusive email list or offer to prescreen candidates. 
Curate and publish a database of relevant job openings. You can find open roles on websites like LinkedIn or even through conversations happening in your community. Publish these openings on Notion or in a weekly newsletter. This builds up your community's interest and helps you gather early results you can pitch to companies. 
Put the word out in your community and on social media to let companies know they can list open roles on your job board. Here's a sample niche job board announcement from

Content Writing Jobs

.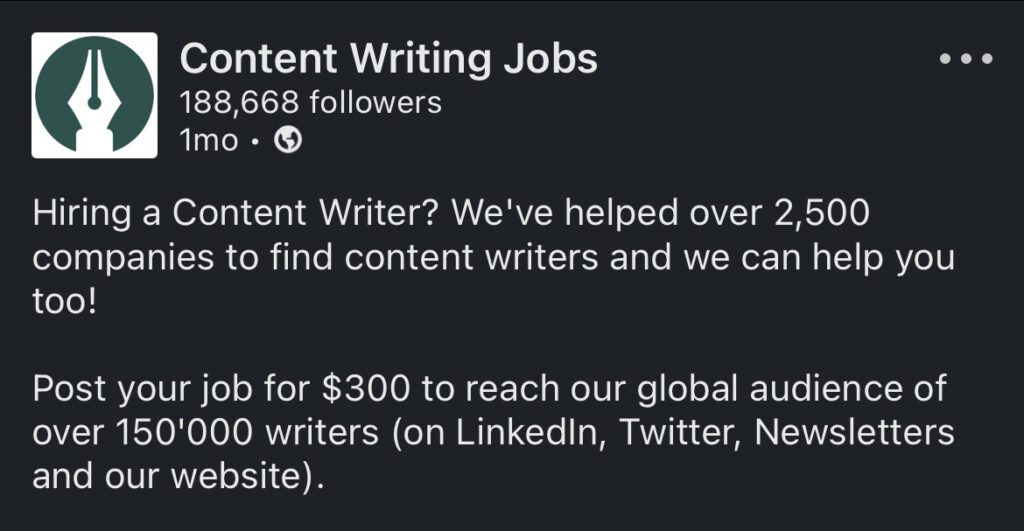 Haven't built your community up yet? Learn the 7 steps to build an online community here.
2. Charge a membership fee
In a Mighty Networks Survey, 77% of creators said their ability to earn revenue had improved substantially since they launched a paid community. The truth is, most people do not mind paying to join a community as long as they get extra value, like exclusive content or networking opportunities. One Twitter User said, "if I get to connect with top people in my industry and have conversations with them, then yes, I would pay for a community." 
You don't need to have a large following before you can charge a membership fee — communities with just a few members generate $1,000 or more every month from membership and subscription fees.
For example, professional development expert and life coach, Tiphany Kane, has a private Facebook community with about 60 members whom she teaches how to grow and monetize their podcasts. They meet thrice monthly for one podcast growth and monetization masterclass, one hot seat coaching session, and one collaborative workgroup.
"Our membership costs $42 per month," says Tiphany. "Occasionally, we do a $1 trial month membership drive — which the Thinkific portal makes super easy to do!" If you do the math, Tiffany makes about $2,500 each month from monthly membership fees. 
You need to earn your audience's trust first before asking them to pay any membership or subscription fees. Kristen Bousquet, a content creator and influencer coach shares:
"Before we launched our paid membership community or paid ads in our FB group, we spent an immense amount of time building trust, which I believe has really been the key to our success. On my social media accounts, I share multiple pieces of free content every single day that helps to educate the creators who are following, so they feel extremely comfortable joining our free FB community, trusting our paid partners, and investing eventually in our paid membership."
3. Charge for sponsored content
Brand sponsorship is the sole source of revenue for about 27% of creators with communities, according to survey results in The Rise of the Independent Creator. Online advertising sometimes feels like screaming into the void, so businesses readily jump at any chance to get their products and services in front of a relevant and highly-engaged audience. TL:Dr: Brands want access to your community, and you should charge them for it. 
Create tiered packages for sponsored content. Companies can sponsor your community events. And if you publish a weekly community newsletter, they can also sponsor one of the issues and advertise their offering — like Terkel does on the Superpath newsletter.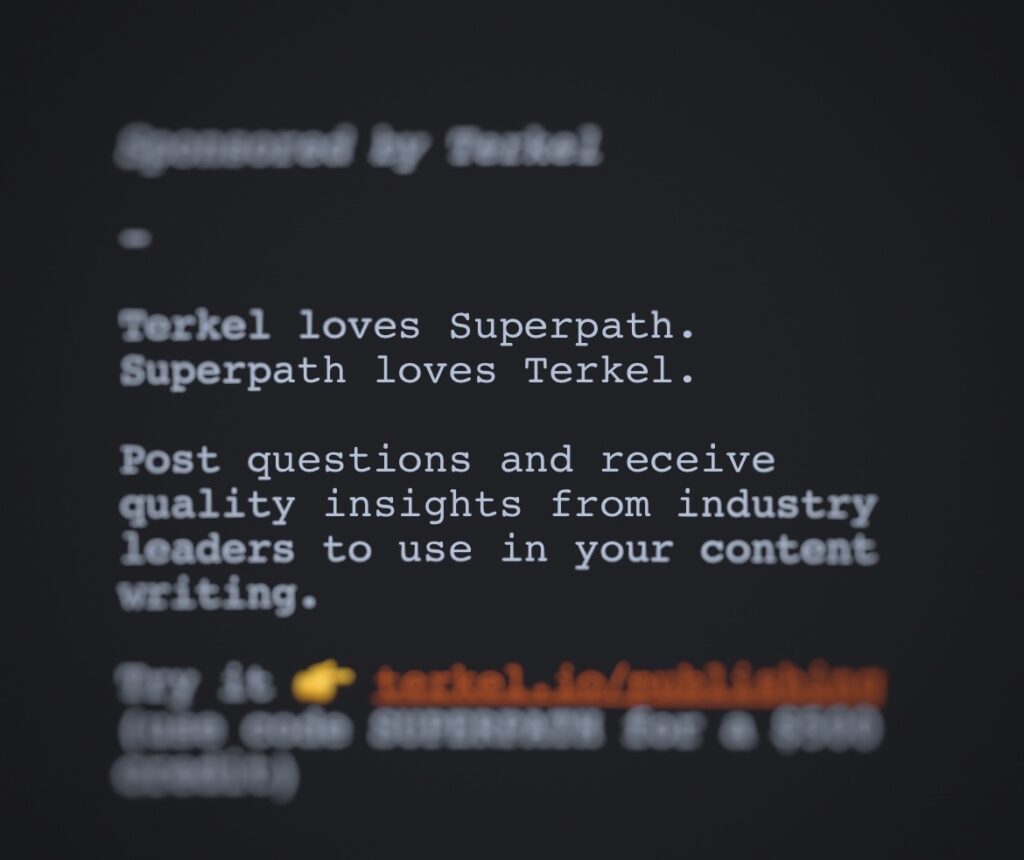 Source: Superpath Newsletter
With sponsorships, your community enjoys perks like special discounts and freebies. For example, Superpath members get free credits from Terkel. Perks like this make your community more valuable and help you attract new members. 
But there's a catch: Sponsored content must be relevant to your audience. This is the only way your community and the brand involved can get the highest ROI from the transaction.
Beth Schubert, the co-founder of Own The Grill, says,
"I am a little discerning about the products I promote in my newsletter. I only choose businesses that I truly like and ones that I feel will appeal to my audience. Since my newsletter is built off a cooking-based site, I often promote cookware, kitchen implements, and ingredients businesses. Subscribers to my newsletter have a lot of faith in the things that I recommend."
4. Create and sell digital products
Jasmine Womack, CEO of EMPACT Group, has made over a million dollars from sales of digital products like paid courses, workshops, and eBooks to her community. Selling digital products is one of the fastest ways to monetize a community because you wouldn't spend a lot of time or money convincing your target audience to buy.
You have a ready market — people who know, like, and trust you (they wouldn't be in your community if they didn't). 
Follow these five simple steps to launch paid digital products for your community: 
Decide on the

digital product

to sell. You have lots of options — from eBooks to masterclasses — but your community's preferences will dictate the ones you invest in. For example, if your community members enjoy live classes, you can create a webinar. And if they prefer to read, create an eBook. 

Identify your audience's pain point. Go through conversations in your community to discover pressing problems. 

Validate the product idea to know if your community is interested in it. You can put out a simple post like this: "It looks like many of us are having [x] problem. Would you be interested in a paid masterclass where I teach [solution to X]?" 

Create the product. The exact process will depend on the type of product you're launching. For instance, if it's an online course, you can

launch it with Thinkific

. 

Promote your digital product. Put the word out in your community that your course or eBook. You can throw in a discount for early birds. 
5. Offer paid subscriptions and brand partnerships 
If you find a business that aligns with your community's values, you can partner with them to launch new community perks and activities or scale existing ones. 
A great example of a community that uses this strategy is Elpha, a social and professional network for women in tech.Elpha offers annual subscriptions to companies that would like to hire more women. Community members can opt-in to hear about job opportunities from Elpha partners. 
Speaking on why partnerships and subscriptions work for Elpha, Cadran Cowansage shares:
 "it's important that we build our community in a sustainable way with a monetization strategy that our members support. Our goal with Elpha is to level the playing field for women, so helping women discover and access opportunities at leading startups and tech companies is in-line with our mission and further supports our members. When we partner with a company, that company is both investing in diversifying their team and making the tech industry more equitable." 
Like Elpha, you can form mutually-beneficial relationships with brands. Proactively reach out to businesses that embody your values, and tell them you want to work with them. Need some help with pulling this off? We created a detailed brand partnerships guide with customizable outreach templates. 
6. Do affiliate marketing
According to Zip Recruiter, affiliate marketers in the United States make more than $150,000 every year. Affiliate marketing allows you to make money from advertising another person's product or service in your community. You get a specific link or code that you can use for the product or service promotion. And you earn a commission for every sale made through your link or code. 
"Affiliate links are easy to set up and track, and most brands already have an affiliate program," says Katt Srinivasan, founder of SneakQIK. "And depending on the creator's reach, brands also pay a fixed cost for a period of time on top of the commissions they offer." 
Research and sign up for affiliate programs in your niche to start earning from affiliate marketing. If you're a travel content creator, you can reach out to hospitality businesses to know if they have affiliate programs. Then start promoting the product or service with your affiliate link or coupon code. 
Read more: How to Launch an Affiliate Program to Sell Your Online Course
7. Run ads 
Paid ads are one of the best ways to earn passive income from your community. Jessica Gury, the founder of Teuko.com, said, "we don't make our community members pay any membership or subscription fees because not every family can afford the extra money to spend. So we rely on ads."
For example, if you have a YouTube channel, you can earn money from the in-app ads embedded in your videos. YouTube pays between $0.01 and $0.03 per ad view. 
Ad network partners like Ezoic and Mediavine can connect you with businesses that want to advertise their products or services on high-traffic websites. You only need to set up the relevant plugins to allow these ad platforms to place paid content on your website. 
How to choose the best monetization strategy for your community
Experiment! You won't know what strategies work for you until you try them out. However, there are two things you should keep in mind as you try out different ways to monetize your community. 
The type of community: If you have a

community of action

, you might not be able to charge membership fees. You'd have to rely on ads, donations, merch sales, and the like to make money. On the other hand, you can charge premium membership fees for professional communities. 
Niche: Some monetization strategies are not viable for certain niches. For example, affiliate marketing is a great way to monetize fashion and lifestyle communities. But it might generate slower results for enterprise software communities. 
In the end, always prioritize monetization strategies that create value for community members. There's no community without them! 
Learn how Thinkific Communities can unlock new possibilities for your business!