So, you've done all the heavy lifting of creating your online course, and promoting it – but maybe your launch wasn't the smashing success you were expecting, or you've tapped out your list and hit a plateau in sales.
You look at players in the same field and what they do to continually attract thousands of students to their course and they are all about Influencers, referrals, and social PPC (Pay Per Click).
Without an endless budget or an extensive network, you may want to consider tapping into other ways to grow your business.
In this blog post, we'll share one approach that could incentivize others to promote your courses without any upfront investment to you – Enter the affiliate program.
What is an online learning affiliate program?
An online course affiliate program involves incentivizing someone to promote your course in exchange for a commission. You select the courses you want the affiliate to promote and from each sale; you share a piece of the profit.
Everything is tracked through an affiliate link, making the process simple and straightforward. Sounds easy, right?
Why launch an affiliate program?
Affiliate marketing is beneficial to both brands with products to sell, and creators who want to monetize their content with affiliate links.
But why launch an affiliate program for an online course instead of a closely related method like a referral program?
Budget-friendly
Affiliate marketing is plain simple: you only pay commission on every sale the affiliate brings. Ideally, your affiliates will have relevant audiences that would likely convert into a student – but since you're not paying for clicks, impressions, or leads, there is no risk of sunk costs.
Cost-effective brand exposure
Every seller out there would like to build their brand image and a loyal customer base, and affiliate marketing can help with that. Even if you don't track a single sale, whether it is through word-of-mouth marketing or a local meet up, affiliates will sing your praises and build your brand.
Saves time
Marketing is both labor and time-intensive, which are scarce commodities if you're a solopreneur or a small team. Affiliate marketing helps free up valuable time and focus more on your business, and other marketing channels.
Improves SEO
While it isn't an exact science, it's widely accepted that your SEO authority improves when you occupy more space on the web, even outside channels you own! Affiliates can garner quality backlinks that build your authority when they link to your course from social media pages, blogs, and other areas on the web – all of which are used by Google to determine how legit you are.
Establish partnerships
Building a business needs relationships and affiliates helps you to broaden those connections and reach new industry leaders and influencers. They can help to expose your business to a wider audience.
Type of Online Course Affiliate Promotions
As a course seller, you don't want to pick any affiliate program that you find on Google. To find the right online course affiliate program, you may have to search where your audience spends most of their time. Is it Facebook or YouTube? On traditional media or coupon sites? Consider your target market to decide which affiliate program for online courses you may use.
Email Marketing
Email marketing requires you to choose your vendors carefully, to mitigate the risk of your brand being associated with spam.
For example, if you are teaching students how to code, you may reach out to educators or vendors selling coding software and ask if they may be interested in including a URL from your site in the emails sent to students. When the students register for your course, the educator receives additional income while the students leverage your lessons.
Bloggers
Blogging and affiliate marketing go hand in hand. Every day, bloggers are engaging with your ideal target market through their writings, videos, and graphics – therefore, it's important to partner with them. 
Let's say you are teaching people how to play the guitar; you can reach out to YouTubers or guitar bloggers and ask if they could include a link to your course when they upload their videos or share a new post. If your target market subscribes to your course, it will create additional revenue for you and the blogger – a win-win!
As a course creator, Ben Aston has been successful in driving revenue from partnering with affiliate bloggers. This is how he explains his process: 
I've simply reached out to people through LinkedIn or Twitter and asked them if they'd be interested. I'm always clear up front what the benefit is for their audience and for themselves. So in the case of our Digital Project Management School, I've pitched it: 'I'm wondering if you'd be interested in partnering together so you can help your community of digital agencies with their digital project management delivery? I was thinking we could give your community a promo code and set you up as an affiliate – where you'd get 15% of revenue (the course is usually $950). Hope this sounds like it'll be worth your while?' Remember to put your best foot forward and try and be generous so that it genuinely feels like a win-win for everyone involved.Ben Aston
Review sites
There are many websites that compare and review products that people want, and these kinds of sites often get the bulk of their traffic by ranking for keywords that would be difficult for you as a vendor to rank for.
Of course, you may think that you have the "Best online course for ____", but these kinds of keywords are usually reserved for third-party review sites – and If you're not on those review sites, your competitors likely are.
Coupon sites
While it is not the best method out there, as you don't want to give your course away at a discount, the pandemic has made people cut their spending. With a looming recession, many are looking for discounts and coupons from various merchants. Coupon sites are ideal for discovering first-time buyers and inactive buyers to re-engage with your product.
Type of affiliate platforms you can use
As an entrepreneur, you want the best for your business and that includes using a platform that won't have downtime. Hence, deciding early on the affiliate platform to use can save you from unforeseen problems.
Setting up your own affiliate platform
Yes, you can set up your own affiliate platform and host it on your site! 
The easiest way to track affiliate links is by adding UTM parameters to the link that your affiliate uses, and these will show up in your Google Analytics reporting and can be passed to wherever your leads are being sent.
Depending on the web host and CMS you are using, you can also use plugins and cookies to track affiliate conversions.
Then, every month you can run a report, and pay the affiliates who have sales tracked to them.
While this method is ideal since you avoid fees charged by affiliate platforms and can control all your affiliate activities, it requires time to configure everything and additional software expenses. 
Affiliate marketplace
Perhaps this is the easiest way to get started with an online learning affiliate program platform. All you have to do is find a marketplace and list your course together with the description and set the commission to award. You install nothing nor use any complicated plugins. 
Some affiliate marketplaces to use are ClickBank, Paydotcom, E-junkie, Share-a-sale, and Commission Junction. They are easy to set up, give you a whale of potential affiliates. 
The caveat to these marketplaces is that they have low delivery and discovery rates, and these marketplaces will charge you a fee – whether it's pay-to-play or a commission.
Thinkific affiliate tools for course creators
If you're creating courses on Thinkific, there are affiliate tools that function almost the same way as the other platforms, but this functionality is included for free with a paid plan!
The first time any prospect visits your site, a browser cookie records how they got there; if it was through an affiliate link, the cookie will record that information. If the prospect then goes on to sign up for an account on your site, they will be associated with your affiliate.
You can choose which courses or bundles the affiliate can promote, and export a nice clean report that shows you who you need to pay.
Here's an example of an affiliate's list of links generated in Thinkific: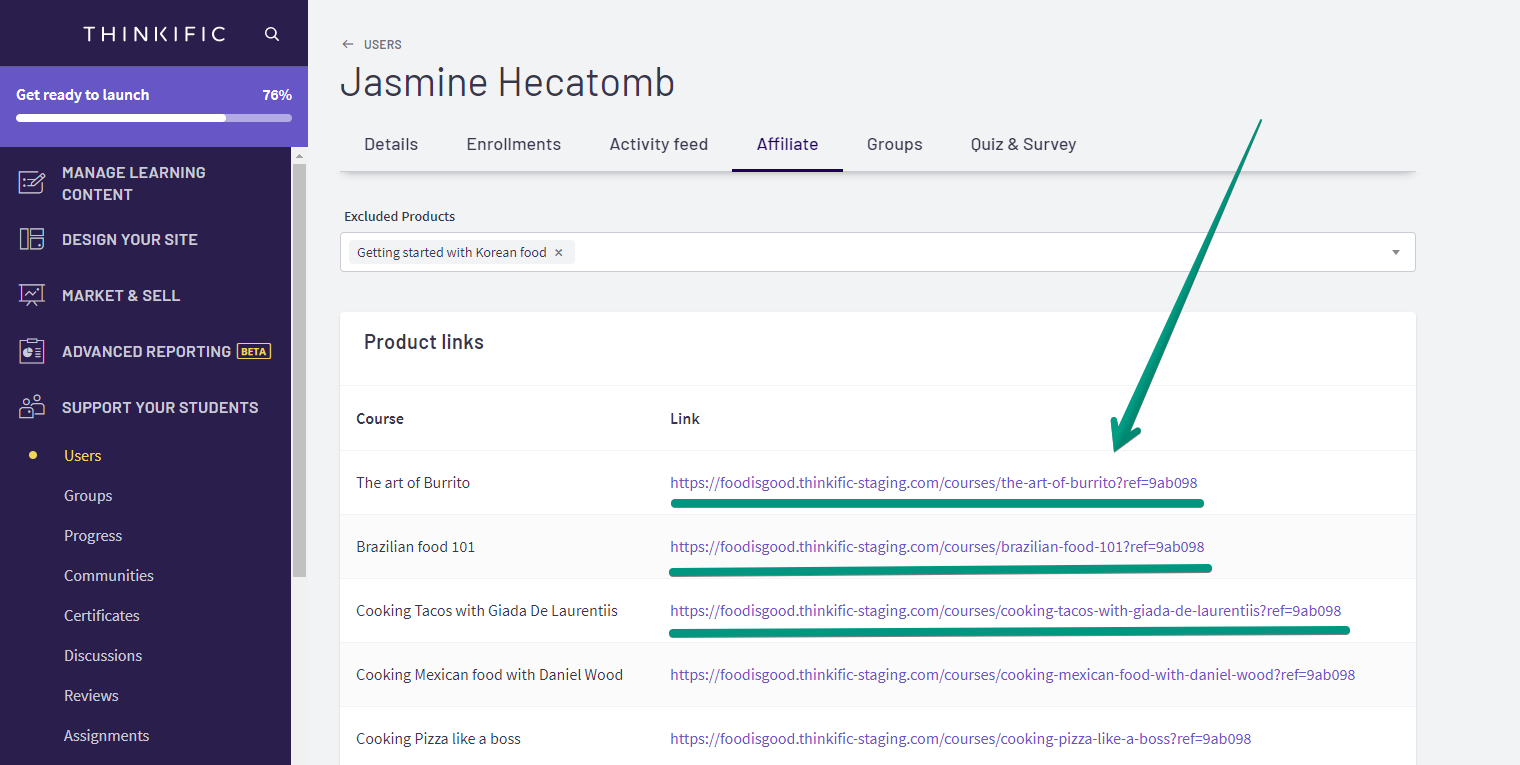 Methods to Promote Your Online Learning Affiliate Program
Your job is not done after you have set up your online course affiliate program, you also need to promote it. 
Here are the ways to get your would-be advocates to promote your affiliate program and bring you more students.
Social Media Platforms
On LinkedIn, you can use the InMail feature to send personalized messages to people outside your network and avoid flooding other people's profiles with links. Using social media to promote your affiliate program is simple, quick, and budget-friendly.
Since you will use social media to promote your courses, it is also a good idea to put it out there that you are accepting affiliates as a way of driving more sales. You can use groups to achieve this. Facebook has several affiliate groups you could join.
Email marketing
As you get more students for your course, you will send them emails and newsletters about your course and fresh changes. You can also include special links and incentives to entice your students to be your brand advocates.
Remember that 93% of customers say that reviews impact their purchase decision. The advantage of emails is that you can target existing, inactive, and unsubscribed students.
You can use email to ask for reviews from your students. To ensure the reviews are positive, you may want to send these emails to students who have left positive feedback.
Apart from reaching out to existing students, you can also try out cold emails to new prospects.
Check out this guide on finding email addresses to master the first step of getting suitable contact data for your mailings.
Blogging
Beyond using blogging to promote your course, you can also promote your affiliate program. If you have a large library of content, you can repurpose your content on your blog or YouTube channel and share it with your audience with a call to action to join your affiliate program.
Chatbots
If you want to promote your program to your site visitors, without being annoying, consider chatbots. For example, add a simple WordPress bot that engages your audience in a subtle way and informs them about your program. Using chatbots also gives you the advantage of being able to segment and qualify your visitors to later target them with personalized messaging if you choose to promote your program via email marketing.
Education Conferences and Events
With the outbreak of COVID-19, the popularity of online webinars and conferences is constantly growing as it's easier for people to gain knowledge no matter where they are. Thus, it can be a good idea to either host, or sponsor an event, asking organizers to share affiliate links to all participants. 
Use Banners
When visitors come to your site, you would want them to do more than just download the course or view the course. Add a call-to-action to your videos so that visitors can take action and join your affiliate program. 
Alternatively, if your followers love you, you could create a "support us" page to allow people to join and support your affiliate program.
Examples of brands with successful online learning affiliate programs
To give you an inspiration that affiliate marketing works, here are a few brands that have been successful at promoting their courses through affiliate marketing and how they reward affiliates. Find out how their online courses affiliate programs rocks and learn from them.
Residual programs
For affiliates to promote your course, they need to know how they get paid. The residual program is where the affiliate is paid a percentage not just on the first sale but also for a subsequent period so long as the lead continues to subscribe to the course.
Carol Tice's Freelance Writers Den is an excellent example of a residual payout program at work. She also shares on her affiliate page how to sell her course material via video tutorials so affiliates don't have to email her repeatedly about her affiliate platform.

Not to toot our own horn – but Thinkific's Affiliate program is another example of a residual program, since our affiliates are paid a recurring commission of 30% for the life of a customer.
Pay-per-sale
As the name suggests, the affiliate is paid on each sale generated and nothing above that. 
Although this payout structure is easy to understand, you'll need to pay some extra attention to the amount you offer per sale because with this payout structure, there's potential for things to go sideways. 
Here are two examples of how pay-per-sale can come back to bite you, and how to avoid losing money:
Courses:

If you offered $50 per sale, thinking people would buy the most expensive course you offer, and they only bought one of your $25 courses, you've lost $25 (plus your time). In this situation, you might want to consider a tiered approach, percent of sales, or create payouts based on each course you offer.

Membership sites

: You should consider your

average Customer Lifetime Value (CLV)

when negotiating payouts … If you offered $100 per member, expecting 100% of your members to stay forever, think again! But if you know on average that members stick around for nine months, then that gives you an expected profitability ceiling to work with.
If you're already advertising, a good way to approach pay per sale would be to establish a payout that is cheaper than your customer acquisition cost (CAC) – since affiliate marketing should be inherently more profitable than paid ads.
Average sales
Affiliate commission can be tied to average monthly sales. So if an affiliate produces more revenue, the affiliate could get a higher payout.
As an example, Superhuman Academy hosts their course material on Thinkific, and also have an affiliate program with a tiered approach based on average monthly sales. Their affiliate page has the affiliate payment schedule and the terms and conditions for affiliates.

Subscription levels
For those of us who sell their courses using different subscription modules like a membership site or a learning community, the Pluralsight affiliate program is an excellent example to learn from. 
They have broken down their commission structure depending on subscription for maximum return.
They also have a monthly newsletter for affiliates, with tips and insights about their products to improve the knowledge of their affiliates.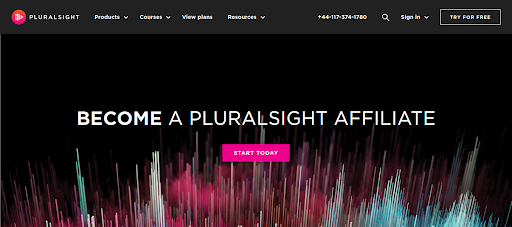 Volume tiered programs
With a tiered affiliate program, you're able to motivate your affiliates to bring you a higher volume of students without necessarily tying their payouts to a specific dollar amount – maybe you have a bunch of extra swag that hasn't been sold yet, or bonus content to incentivize them with.
This kind of affiliate structure is great for membership sites with a fixed subscription cost, where revenue or volume of signups mean the same thing. Tiers are also great if you want to incentivize affiliates with bonuses that aren't necessarily tied to a cut profits 
BreakThroughAcademy uses Thinkific to sell their courses – their referral program is divided into three tiers, with larger bonuses based on the number of members referred.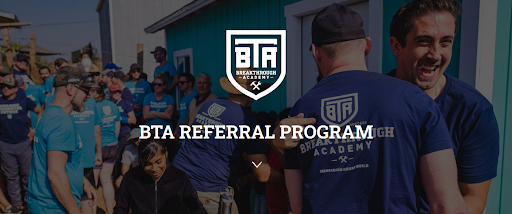 Improve Your Course Sales With Affiliates
Hopefully this blog inspires you with some actionable tips on how you can set up an affiliate program for your online course.
With the world increasingly going online to learn something new, there is no better time than now to harness the power of affiliate marketing for your eLearning business.
Whether you're selling memberships, individual courses, or bundles, you're in control of how you want to set up your program and incentivize affiliates – so use the options and examples we've provided to create an affiliate program that works best for your business!