For freelancers and entrepreneurs, building a personal brand has never been more important than it is today. Anyone with access to the internet and social media can build an audience, position themselves as an expert, and start attracting clients for their business. And that's exactly what a lot of people are doing.
A study by Upwork revealed that the freelance workforce is growing at a rate 3x faster than the overall workforce in the U.S. By 2027, freelancers are expected to make up the majority of the U.S. workforce.
While it's great to see that so many people are embracing their entrepreneurial spirit, this also means that every self-employed freelancer, independent contractor, and entrepreneur will soon face more competition than they already do. The key to differentiating yourself from your competition is building a personal brand.
Why every entrepreneur should build a personal brand:
When you're building a business around your niche (as an author, speaker, coach, consultant, freelancer, etc.), the concept of building a personal branding probably comes naturally to you. When you're the face of your business, building your personal brand makes perfect sense.
Your brand is what distinguishes you from your competitors, helping to form a lasting impression in the mind of your audience and customers. Without a compelling personal brand that attracts your target audience, you may find yourself struggling to build a profitable and sustainable business.
But even if you're building a company that has its own brand (a software or physical product company, for example), building a personal brand still has its benefits.
Most people are more interested in following other people than they are in following specific companies. Therefore, building an audience for your personal brand can actually help increase exposure for your company.
Elon Musk, for example, has more Twitter followers than 3 of his companies (Tesla, SpaceX, and SolarCity) combined. The same is true of Richard Branson (Virgin), Arianna Huffington (Thrive Global), Gary Vaynerchuck (VaynerMedia), and countless other highly successful entrepreneurs. They all have strong personal brands that they leverage to increase exposure and attract more customers for their companies.
You don't have to choose between building a personal brand and a company brand. You can build both simultaneously. #personalbranding
Click To Tweet
"Having a personal brand is important for an entrepreneur because now more than ever, it's important for CEOs and founders of companies/brands to come out to the forefront and connect with their audiences. People connect with people."
Benefits of building a personal brand:
Trust and authority: Having a personal brand helps to build trust with your audience, and position you as an authority and a thought leader in your industry.
Get featured in media: Having a personal brand makes it easier for you to pitch and be found by media (online publications, magazines, television, radio, podcasts, etc.). The media is in constant search of experts that can share their insights with their audience.
Build your network: When you have a personal brand that clearly articulates who you are, what you do, and how you help others, it makes it easier for other people and entrepreneurs to see value in connecting with you. You can leverage your personal brand to build your network, both online and offline, quickly and effectively.
Attract more clients: Building a personal brand that positions you as the go-to expert in a specific industry or niche helps you to attract more of your ideal clients. When you're positioned as an expert, it's also easier for people to refer clients to you.
Premium pricing: Having a strong personal brand helps justify charging premium prices for your products and services. Without a brand, you become a commodity that competes on price. And there will always be competitors that can beat your price.
Create a lasting platform: Over time, your business will evolve. You may even start multiple businesses in different industries over the course of your career. Your personal brand stays with you as you move from one venture to the next.
"With SO MUCH content and SO MANY small businesses popping up online, a brand that connects to a person's face is much easier to trust faster. It takes less time and effort to build a relationship with a personal brand as compared to a business brand."
Related: View our infographic on 7 Keys To Creating A Personal Brand
7 Steps to Creating a Compelling & Profitable Personal Brand
After reaching out to dozens of entrepreneurs and branding experts, we've outlined 7 specific steps to help you build a compelling (and profitable!) personal brand that attracts your perfect clients.
We also created a fillable Personal Branding Workbook, which you can use to help develop your personal brand strategy as you read through these steps.
1. Build your foundation
The first step to crafting your personal brand is to lay a foundation that you can confidently and authentically build upon. The key principle here is authenticity.
There is a misconception that building a personal brand means crafting a persona. But a persona, by definition, is a facade. It's not a true reflection of who you are, and therefore, it's inauthentic.
Your personal brand should not be an inauthentic persona. Branding is not about positioning yourself as something that you are not. It's about purposefully and strategically showcasing your authentic self to your audience and your customers. Your personal brand should be a true reflection of your skills, passions, values, and beliefs.
"You want to find the special thing that is YOU and make your brand all about that. You can't make it up, it has to be real (though it can and probably should be a little exaggerated)."
Take inventory of your existing brand assets:
To build a strong brand foundation, start by taking inventory of the branding assets that you already possess. The intersection of these assets is where you should build your personal brand.
Your skills & credentials: What skills have you acquired throughout your life? What training, credentials, certifications, or awards have you received?
Your passions & interests: What industries and topics are you most interested in? What are you passionate about?
Core values & beliefs: What are some of your most important core values? What do you believe in? What do you stand for? What do you stand against?
Key elements of your personal branding foundation:
Once you've identified your existing brand assets, the next step is to start piecing together the key elements of your personal brand. These will help guide your decisions as you build your personal brand:
Your brand vision: What do you want to be known for? If you became known as the world's go-to expert on XYZ topic, what would that be?
Your brand mission: Why do you want to build a personal brand? What is your purpose? Who do you want to influence? What do you want to accomplish?
Your brand message: What is the key message you want to communicate? What message do you want to consistently reinforce in your content and in your marketing? If you could only give one piece of advice to your audience, what would it be?
Your brand personality: What are some of your personal characteristics and traits that you can weave into your brand? Do you want to be perceived as very polished and professional, or perhaps more quirky and adventurous?
"A great brand starts with understanding who you are, what you stand for, understanding your marketplace, and understanding your positioning. What is the perception that you need to create in order to appeal to the target audience that you're trying to appeal to?"

– Re Perez
2. Choose your target audience
One of the biggest mistakes you can make as you build a personal brand is trying to appeal to everyone. In reality, not everyone is your ideal client.
In order to attract your perfect clients, you must be willing to repel those who you do not want to work with. This means identifying a specific target audience and building a brand that is attractive to them.
It may seem counterintuitive, but if you try to be liked by everyone, you will attract no one. You must be polarizing in order to stand out. Not everyone that is exposed to you or sees your message will like you or resonate with you, and that is perfectly fine. You don't need to reach everyone to build a successful business. You just need to reach your perfect clients.
"To have a strong personal brand, you have to stand for something, believe in a certain way of doing things, and proudly communicate those beliefs from your platform. Brands who don't achieve this get lukewarm audience response and wonder why their audiences aren't called to action by their efforts."
A valuable exercise that we recommend doing is creating your perfect client profile (sometimes called a client avatar). The more you understand about your perfect client, including their desires and challenges, the more prepared you will be to create products and services that they truly want and need.
Here are some questions to help you develop your perfect client profile:
Demographics: what is their age, gender, education, relationship status, income, profession, etc.?
Desires and aspirations: what is their desired future? What are their dreams, goals, and aspirations?
Pain points and challenges: what are they struggling with? What is preventing them from achieving their goals?
To learn more about how to create your perfect client profile, check out Hubspot's guide to creating a detailed buyer persona.
"The foundation of a strong personal brand is how well you understand your audience and the problems they face. Then you can define why you care and how you solve those problems, which is what you'll be remembered for."
3. Create an irresistible offer
In order to build a profitable personal brand, you need to have something to sell to your target audience. You need an irresistible offer that helps your audience solve a specific problem or achieve a specific result.
A lot of entrepreneurs make the mistake of creating a product or service that they want, only to discover that no one else wants it or is willing to pay for it.
This is why identifying your perfect client before you create a product or service is so important. When you know exactly who you want to help, you can create an offer that is the perfect solution for them.
How to create an offer your clients will love:
The first step to creating an irresistible offer is to position yourself as a specialist and not a generalist. Promise your clients a very specific outcome, and design a specialized offer to help them achieve that outcome. A generic offer with a vague promise is definitely not irresistible.
Next, find the overlap between what you love, what you do best and what your ideal clients want most. Then create an offer that sits at the intersection of these criteria. We call this the Irresistible Offer Formula.
Irresistible Offer Formula:
What you love to do + What you do best + What your audience wants most = Irresistible offer
Once you have an irresistible offer, you need to be able to articulate it clearly to your audience. Here are two questions that you need to be able to answer clearly and succinctly:
What do you do? Your answer to this question is your value proposition. What is the value that you provide to your clients in exchange for charging them?
How do you do it? Give your process, product, or service a unique name. When you give it a unique name, it immediately stands out from any competing offers that promise the same result.
Nicholas Kusmich, a Facebook Advertising Strategist, for example, helps businesses rapidly scale revenue by getting more clients using Facebook Advertising. That's what he does. To help him stand out from thousands of other Facebook Advertising experts that do the same thing, he developed a proprietary process and he gave it a unique name: "Contextual Congruence".
Here's a screenshot from his website homepage, describing what he does in a way that differentiates him from his competitors: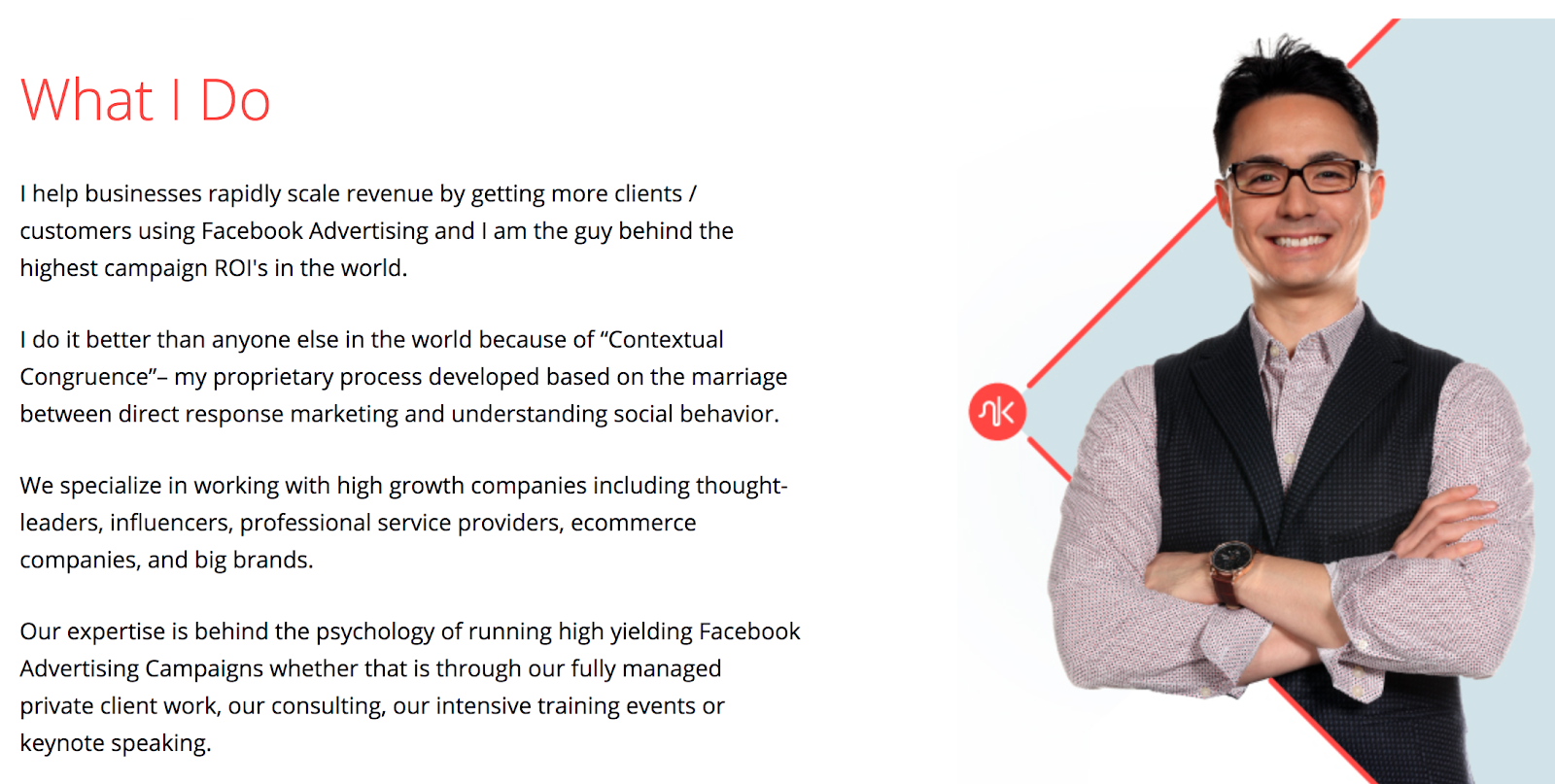 "People need to know who you are and what you do in the most simple way possible. Keep it simple. You should be able to brand yourself in 5 words or less."

4. Optimize your personal website
Having a personal website is an important component of building a personal brand. Having a strong presence on social media is important too, but you do not own or control any of the social platforms that you establish a presence on. Your website is a platform that you own and control, and in many cases, visiting your website will one of the steps your target audience takes towards becoming your client.
First impressions are critical. When your target audience visits your personal website, they should be able to immediately understand who you are and how you can help them. They should feel like they've come to the right place. If this doesn't happen with a few seconds, most new visitors will leave your website.
Perhaps more importantly, your website should be optimized to convert casual visitors into paying clients. There are several key elements required to make this happen, and most of them belong right on your homepage.
Key elements of your website homepage:
A professional logo: get a designer to turn your name into a professional logo. If you're looking for a graphic design service, we recommend several in our list of top online business tools here.
Your value proposition: make sure your value proposition (who you help and how you help them) is displayed prominently on your homepage, ideally near the top.
Professional photography: get a photographer to take several photographs of you. Use these photographs throughout your website and also for your social media profiles.
Social proof (media, testimonials): add the logos of any publications or media outlets you've been featured in, as well as testimonials from clients/customers.
A clear call-to-action: give your website visitors a clear next step, whether it's joining your email list, registering for a free webinar, or applying for a free consultation.
One of the best examples of a personal brand website comes from our friend Jeanine Blackwell. Here's a screenshot of her website's homepage, which contains all of the elements described above: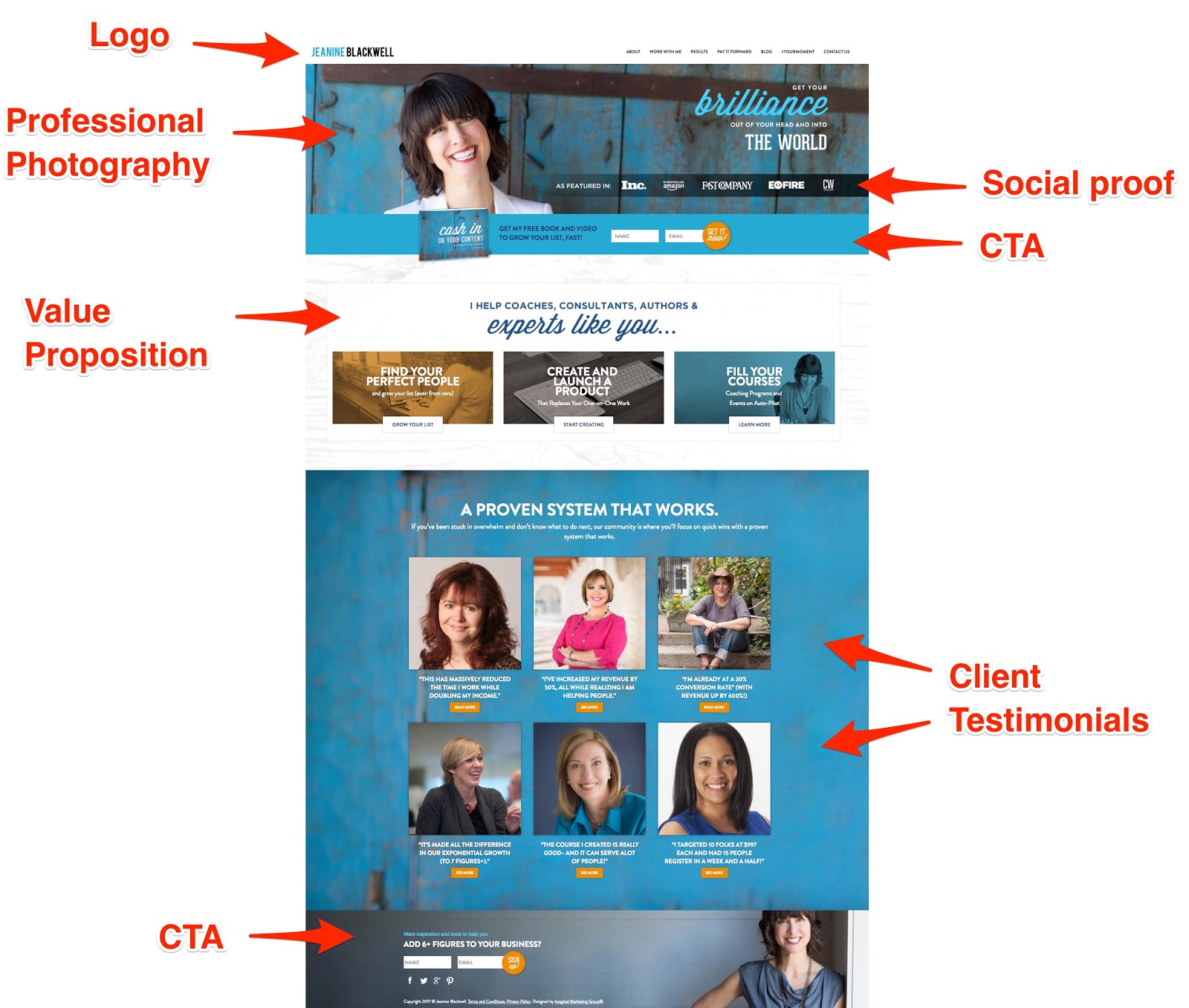 Other important pages for a personal brand website:
In addition to your homepage, here are the other important pages that your personal brand website should contain:
About page: share your personal story. How did you get into your industry? What experience and credential do you have? Who do you help? How do you help them? Why do you do what you do?
To see an example of a well-written About Page, we recommend checking out Chris Ducker's website here. Here is a screenshot of just one part of his About Page, where he shares his personal story: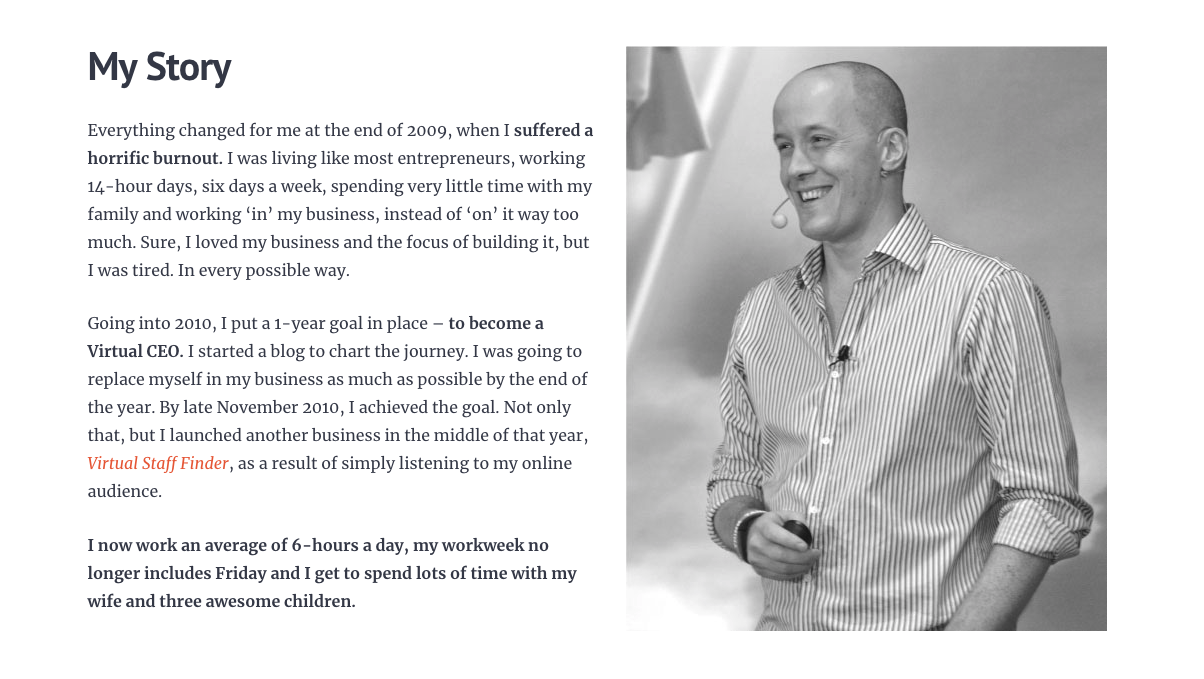 Products/services: make it easy for your website visitors to become clients/customers. List any products, programs, services you have for sales, along with links to learn more about them or purchase them (depending on what your sales process is for each one).
On Sunny Lenarduzzi's "Work With Me" page, for example, she has several drop-down menus that provide additional information about her various offers, including free resources, coaching programs and online courses: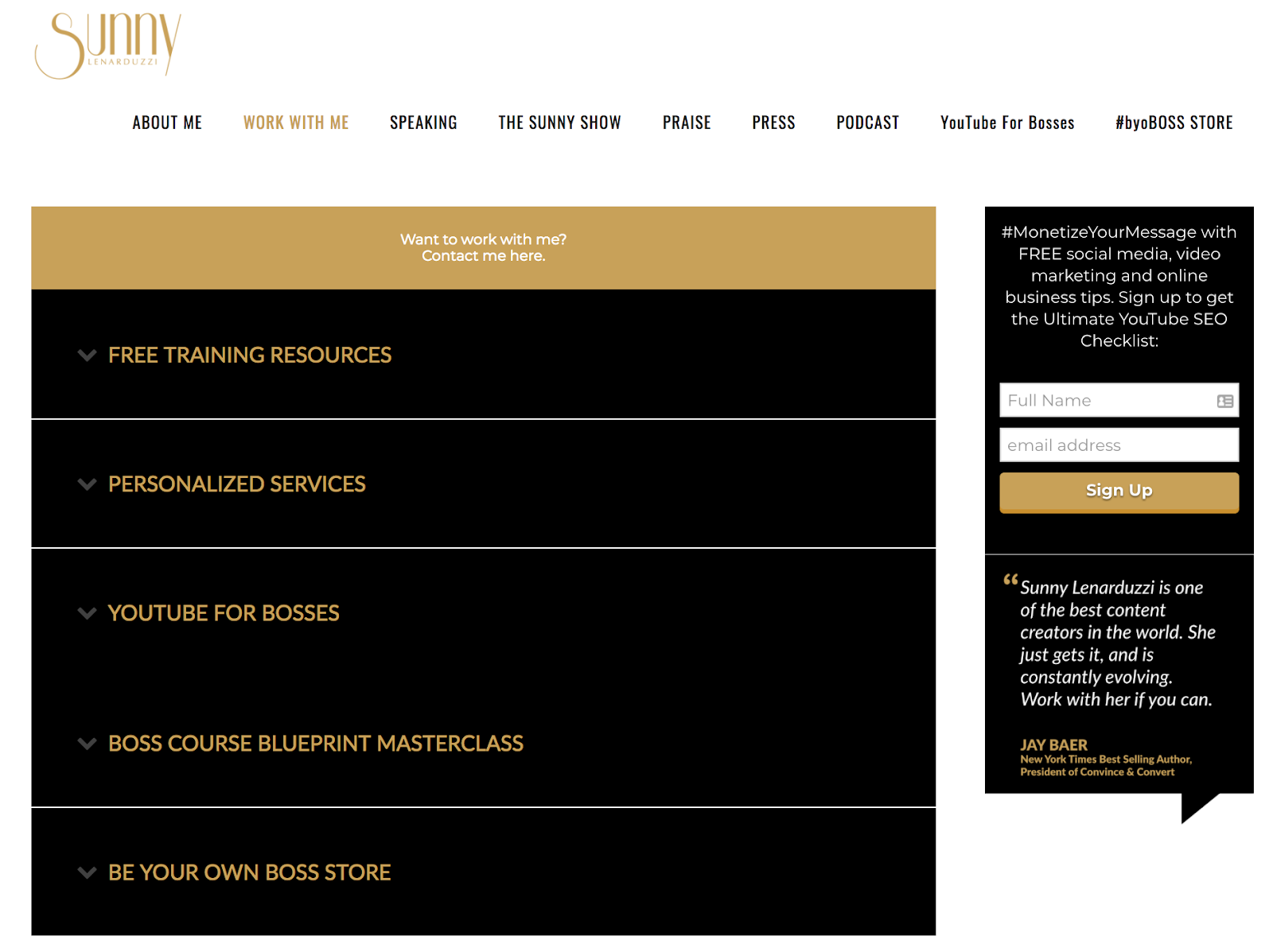 Content and/or free resources: blog posts, podcast episodes, helpful videos, or lists of resources you've created or recommend.
Contact page: give your website visitors a specific way to contact you. Give them different methods for contacting you (email, social media, etc.) based on why they are contacting you.
One of the best contact pages we've seen comes from Lewis Howes. To help organize incoming contact requests, he has different contact forms created for different types of inquiries: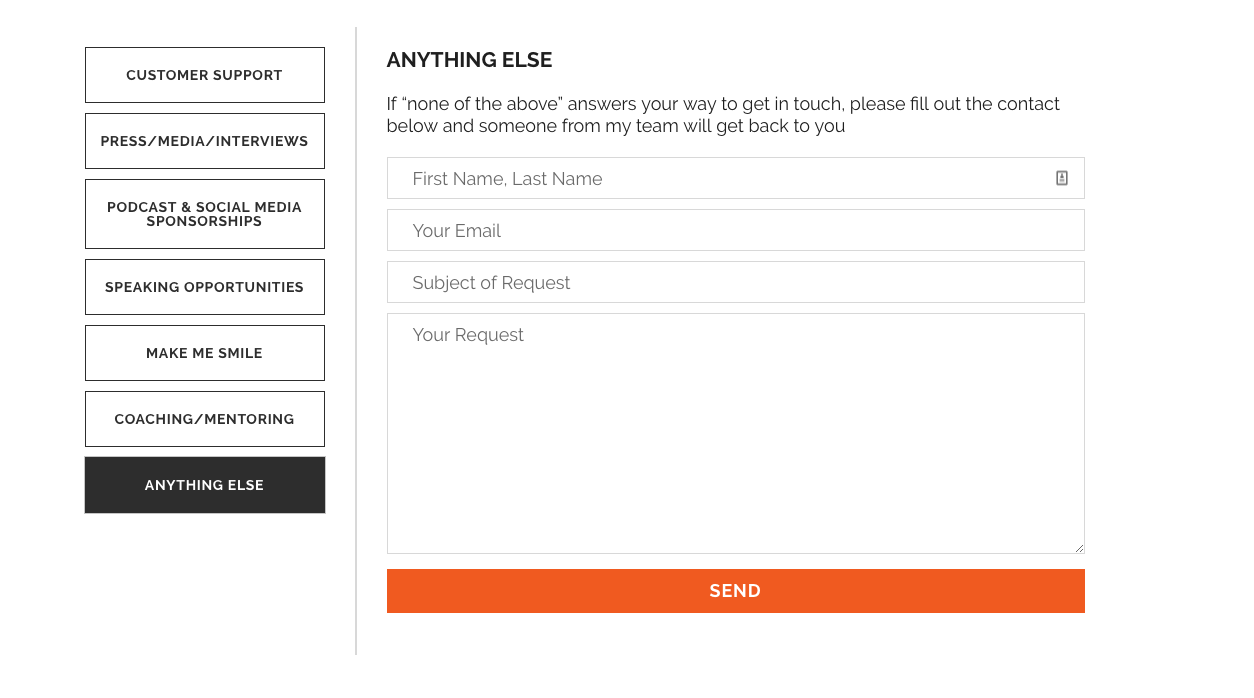 "When you build a brand that's 100% based on you, you lay the foundation to capitalize on your own blue ocean – a space where you can operate in an uncontested marketplace, free from traditional competitive forces – because none of your competitors can replicate or clone all that's unique and proprietary to YOU."
5. Have a content strategy
Creating and distributing free content is one of the most effective ways to build your brand and earn the trust of your target audience. Instead of trying to convince your audience that you can help them, you create content that actually helps them. This builds trust and helps to position you as an expert and an authority in your industry.
It is not a coincidence that the most successful personal brands today (Grant Cardone, Marie Forleo, Gary Vaynerchuck, just to name a few) publish significant amounts of content online to help build and nurture their audience.
Creating a content strategy for your personal brand:
To create a content strategy for your personal brand, start by creating a list of all of the potential topics that would be helpful for your target audience. Google's Keyword Planner, BuzzSumo, and Answer The Public are all great tools for doing keyword research and discovering popular topics.
Once you have a list of topics to create content on, the next step is to decide which type of content to create and where you will publish that content.
Common content types:
Text / articles
Videos
Podcasts
Webinars
Online courses
PDF guides, checklists, worksheets
Infographics
Slideshows
Case studies
Common content mediums:
Your own blog/website
Podcast directories (iTunes, Stitcher, etc.)
YouTube
Other blogs and online publications
Social media (LinkedIn, Facebook, etc.)
Email
Slideshare
Quora
"Identify some core themes in which you strongly believe and build a series of content around that and then keep hammering it home." – Sam Mallikarjunan
Focus on quality & consistency
For content marketing to work, it's important to focus on quality and consistency. Don't publish content that will reflect poorly on your brand, and be consistent with how often you publish new content for your audience. Content marketing is a long-term play, but it pays incredible dividends when done correctly.
Creating and promoting content is also more time consuming and expensive than most people realize. For that reason, we recommend starting with 1-2 primary content types (such as blog posts or videos) along with 1-2 primary content mediums (such as YouTube – for more info Youtube Marketing Guide or Facebook). Once you start getting good results with your primary content types and mediums, then go ahead and expand into other content types and mediums to reach more people.
To learn more about how to high quality content, check out our complete guide to creating epic content your customers will love.
"A strong personal brand is cohesive, clear, consistent and aims to serve a specific audience. A personal brand is important for an entrepreneur because it's the best way to share your authentic message and attract YOUR specific tribe!"
6. Have a visibility strategy
Publishing content on your own platforms is a great way to build your audience, but it also takes a lot of time. A faster way to build your audience is via exposure to other people's audiences.
Here are some common ways to increase your visibility:
Guest blogging: write articles for other blogs and online publications that your target audience reads.
Public speaking: apply to speak at live events, local Meetup groups, and conferences that your target audience attends.
Partnerships & joint ventures: Building mutually beneficial relationships with other people and companies can lead to a number of opportunities including guest blogging, interviews, joint ventures, partnerships, and customer referrals.
"The single biggest growth hack is getting yourself featured on major publications. If you want to build authority and credibility in your niche, what better way to do that than getting one of the most prestigious brands to mention you? This gives you instant credibility."
7. Build a community
Instead of trying to build a large and broad audience, shift your focus to becoming a leader of a community in a specific niche. Define your target audience, and build a community for them to interact with each other, share ideas, support each other, and reach out to you directly.
Here are a few ways you can build a community around your brand and business:
Facebook Groups: Create a private Facebook Group for your audience and/or clients. This will give you the opportunity to engage in meaningful conversations with your audience on a daily basis, and just as importantly, give them an environment in which they can interact with and support each other.
Live Events: Host live events so your audience and/or clients can spend time with you in-person. Casual meetups, private dinners, workshops, retreats, and mastermind groups are all great ways to solidify long-term relationships with your audience.
Membership Sites: Create a membership site where in exchange for a nominal monthly fee, your clients can have access to exclusive content, live calls and/or webinars with you on a regular basis, and the ability to interact with each other via a members-only forum or group.
"A strong personal brand is one that has a high level of impact, which then leads to influence amongst the people who follow you. The key is to leverage social media and other social platforms and environments to create relevant and meaningful dialogues between you and the people you want to impact."
Related:
Start building your personal brand
There has never been a better time to be an entrepreneur. Thanks to the internet and technology, the barriers to entry to entrepreneurship are practically non-existent. Anyone can build a brand and an audience online, and create products and services to sell to their audience.
As a freelancer or entrepreneur, you have competitors. As a personal brand, however, you don't. When you build a personal brand, there is no real competition. Sure, there might be other people and companies selling similar products and services as you, but they are not you. In fact, there is no other person in the world that is exactly like you. As an individual, you are 100% unique.
This is why building a personal brand is so powerful. When you build a personal brand, you immediately differentiate yourself from your competitors because YOU are different than your competitors.
"We all have a personal brand whether we think about it that way or not. So, let's be intentional about it. A strong brand to me means that your message is identifiable. When you have something you are known for, it lessens the perceived competition. That's huge!"
7 Steps to Building a Personal Brand That Attracts Your Perfect Clients (Personal Branding for Entrepreneurs) #personalbranding
Click To Tweet
Building a Personal Brand Infographic

This guide on creating a personal brand was originally published in February 2018 and was updated in March 2023 to be even more useful.