Be honest—when was the last time you made a big purchase without reading a single review or testimonial?
Reviews, influencer campaigns, social sharing and rating sites have all become a huge part of our everyday lives.
Every time you check the rating of a restaurant or flick through the testimonials on a site's landing page, you're being influenced by social proof.
Read on to find out more about social proof—including what it is, why it's effective, examples and tools to help you use it as a tool for your growing your business.
What is social proof?
The term social proof first came on the scene with the author Robert Cialdini in his 1984 book Influence. Cialdini identified social proof as one of the Six Principles of Persuasion, rooted in social psychology.
The idea revolves around the importance of social influence and how people follow the actions of others. According to Cialdini, people will do things they see other people doing. This influence is increased if the other people seem similar to them.
In marketing, social proof takes the form of reviews, referrals from existing customers, social media engagement and more. By harnessing the power of social proof, you can convince people to purchase your product or service simply because other people are doing the same!
What types of social proof are there?
In marketing, some of the top examples of social proof include:
Reviews

Testimonials

Case studies

Influencer marketing

User generated content

Referrals

Social media shares

Expert stamp of approval

Media and press coverage

'Featured in' badges
These forms of social proof can all help to increase trust and drive purchases for clients.
Why does social proof work in marketing?
Social proof is important because customers like to know that they're making the right choice when they make a purchase or sign up for a service. 
The more people who publicise how much they like a product and share their recommendations, the more that confidence that you're making the right choice grows.
There is a reason that so many brands are using social proof to sell their products. Statistics show that it really works!
72% of consumers have agreed that positive reviews increase their trust in a business.
This goes above and beyond regular content with product reviews 12-times more trusted than descriptions and sales text from manufacturers. 
As many as 63% of customers are more likely to make a purchase from a site with user reviews.
People naturally want to follow the actions of others and with the right marketing tactics, you can tap into that.
5 benefits of using social proof
Authenticity
In a world of constant advertising and social selling, authenticity has become hugely important for brands. 90% of millennials report that authenticity is important to them when choosing which brands to support. 
Social proof is a brilliant tool for increasing authenticity. User Generated Content, like reviews, are seen as the most authentic form of content a brand can use to show off their products.
Trust
Social proof can also be used as a tool to build trust with your audience. Much like the crowd in your local coffee shop, seeing tonnes of positive reviews and testimonials on a particular product can increase your trust in a business. If that many people like it it must be good right?
You can increase trust by adding testimonials to your website. Try to include a name and photo of the reviewer if possible—people like to attach the words to a friendly face.
Emotional connection
No matter how good your sales pitch is, people will connect better with content that comes from people who are like them. While a quote from a CEO can add authority to your brand, utilizing social proof from other customers is the best way to create an emotional connection with potential customers.
Testimonials, User Generated Content, case studies and more all help to increase the emotional connection people have with your brand.
Conversions 
Crucially, social proof can also result in a huge boost to your conversion rates.
Testimonials can increase conversion rates on sales pages by as much as 34% while online product reviews can result in an uplift of an impressive 270%. 
FOMO marketing—using fear of missing out as a push method—can also boost your conversions from anywhere between 40% and 200%. 
Click-through Rate (CTA)
Social proof can also work wonders for your click-through rate by catching the attention of potential customers. 
Including User Generated Content in your marketing content can dramatically increase click-through rate by a staggering 30%, even for paid ads.
10 Examples of Social Proof That Work
If you want to make the most of the power of social proof marketing, take a look at these examples and give them a go.
Embed reviews and testimonials on your landing page
To catch and keep the attention of site visitors, it's a really good idea to include reviews and testimonials on your landing page. As soon as people arrive at your site, social proof gives them more reasons to stick around.
A great example of this is Intercom's landing page where they use a rolling banner of written testimonials to drive home how popular their product is.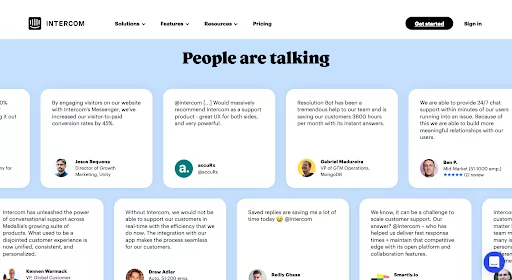 This format is eye-catching without being overwhelming and creates the impression of hundreds of positive reviews being written every minute.
Add case studies to your blog
Case studies are ideal for highlighting customer successes. These offer a detailed look at a real-life story of someone who's used and loved your product before. 
Case studies are brilliant for immediately connecting people with your product and showing them what could happen if they also bought into your brand.
Typeform uses case studies really effectively on their landing page, including links to 3 different case studies with a click-through to their blog.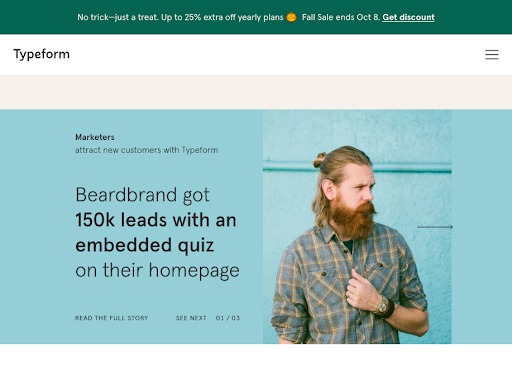 The case study blog also includes a 'Share your story' sidebar where customers can get in touch and leave their own testimonials to give Typeform even more social proof to work with.
Here at Thinkific, we share creator success stories on our blog, and a customer examples page on our site that features case studies.
Encourage reviews on 3rd party sites
To boost your social proof marketing, work on getting more reviews of your products published. Honest reviews on 3rd party sites are a great way to get more backlinks and drive traffic to your site, while also helping to improve your brand reputation.
Featured posts
This beginner's guide to using Mailchimp on Kinsta features an in-depth review of their services, including details about the company and how to get the most of your subscription.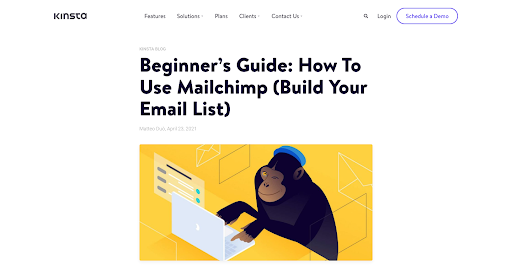 Review Sites
3rd party verified review sites are another great way to collect and use social proof. Since you can't influence the content of the review, and it is verified by an unbiased party, reviews on these sites tend to be more credible.
TrustPilot is an example of a free 3rd party review site that any business can have a profile on. Here at Thinkific, we've embedded reviews from TrustPilot embedded on our pricing page, using one of their add-on features.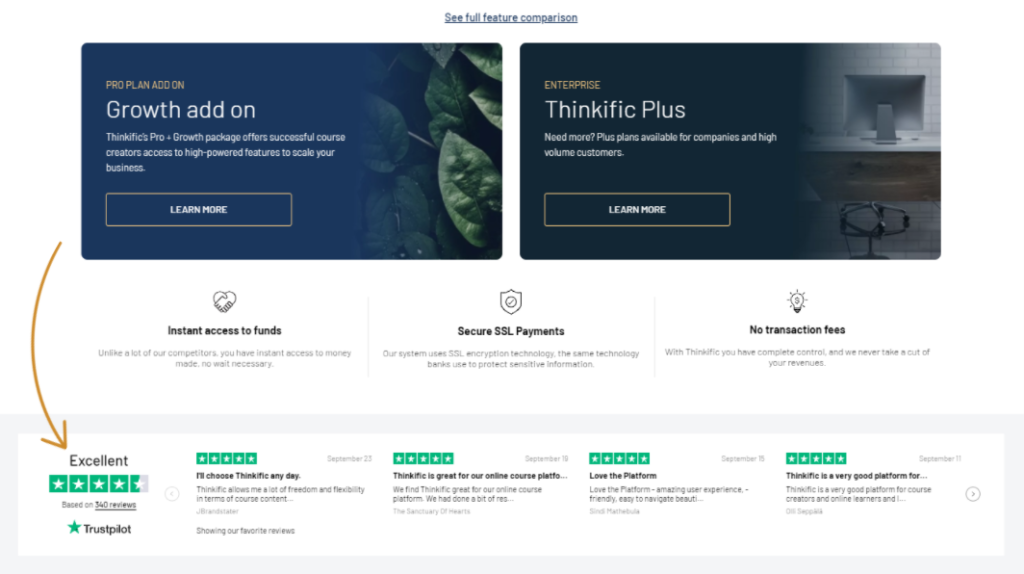 Depending on the vertical you're in, there may be other niche review sites that specializes in collecting and verifying reviews for businesses like yours.
For example, Thinkific has profiles on G2, and Capterra, which specialize in reviews for software companies. We also have a profile on eLearning Industry, which specializes in reviewing Learning Management Systems.

Social proof through partnerships
If you have partnerships and affiliates, you can showcase them as part of your social proof strategy. Affiliates demonstrate that there are other businesses and individuals who are eager to work with your brand and put their name to their referrals.
Here at Thinkific, we have a dedicated 'Partners' page with all the details about our Thinkific community, including a list of existing partners and testimonials from them.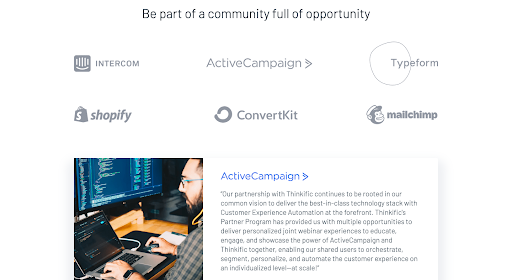 Affiliates are a great way to create a sense of community around your brand and an affiliate list can encourage other people and businesses to sign up.
Utilize User Generated Content
A top way to show off your most satisfied customers is to utilize User Generated Content (UGC). There's a huge range of different ways to use UGC in your marketing, from reposting photos on your social media to getting guest bloggers on board to share their experiences.
UGC is ideal for adding authenticity to your brand while giving potential customers a look at how other people are using your products.
TrustPilot use UGC to share their customers' wins, like this Twitter post.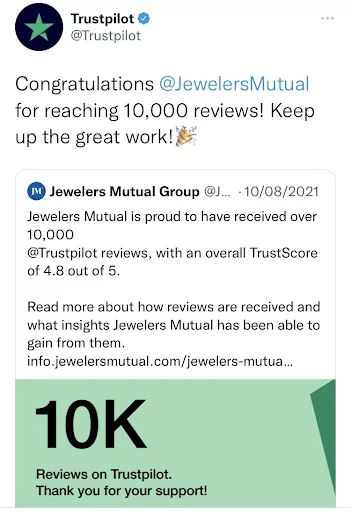 Get influencers on board
Influencers can make a massive difference to your brand, helping to introduce new people to what you do and expand your reach. 
What makes influencer marketing special is that it's more personal. People follow influencers because they like seeing tips, tricks and what kinds of products and services they use. 
If you can get your brand shared by influencers, it can be a big win for your business.
For Thinkific's Think in Color conference, public speaker and influencer Koereyelle DuBose shared a post about her love of teaching and her excitement to be on the panel.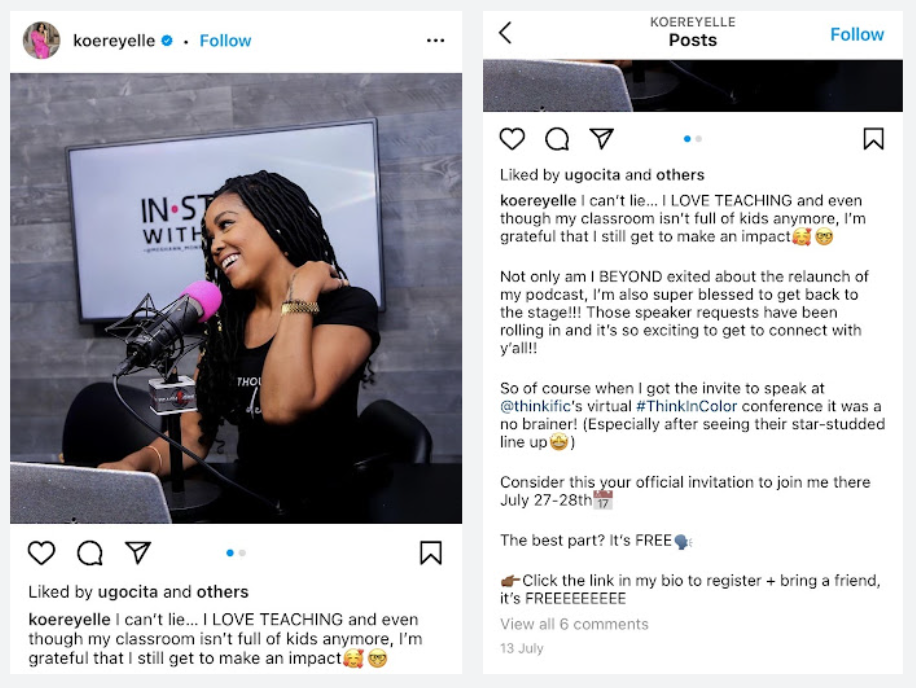 When an influencer shares a look at your product or an update about your brand, they are speaking from the heart and customers respond to this.
Publicise any integrations
If you have a SaaS product, highlighting any integrations in your product or services is another extra effective form of social proof. 
People who aren't already familiar with your brand may not realise the integrations that are possible with your software. If you can shout about it, you could win new business.
ActiveCampaign uses social media to highlight their integrations, like this retweet of a lighthearted post praising their integrations with Unbounce and Zapier.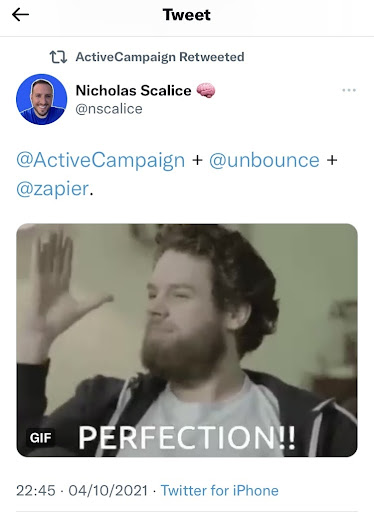 Make the most of mentors and experts
Got some experts who know the ins and outs of using your product? Highlight them! Your experts act like influencers, cheerleaders and troubleshooters for your brand, helping new users get the most out of your products and services.
The beauty of experts and mentors is that they're regular users of your product so they're super passionate – they sell your brand without even trying.
At Thinkific, we love our talented team of experts and mentors and we use any excuse to champion them.
You can also see a great example on Fiverr, where Thinkific has a dedicated marketplace for finding freelancers to help build and scale online course businesses.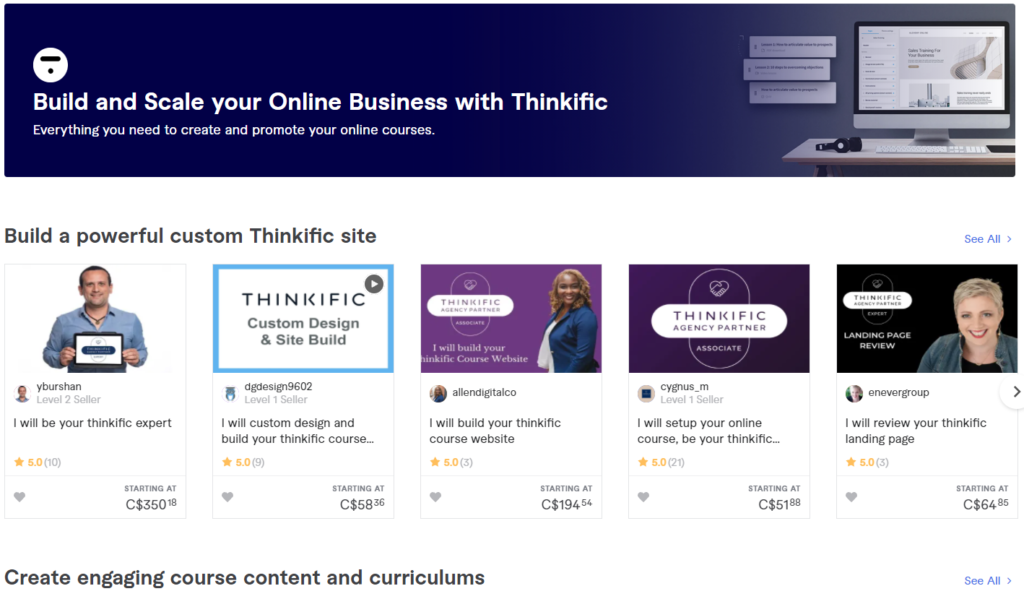 Reach out to media and press
Another really effective method of social proof is to get media coverage for your product or business. While ads in popular publications can help spread the word about your brand, organic press coverage gives you extra publicity without sounding salesy.
Netflix is well versed in how to make headlines and use the press to generate excitement around their brand. 
This article in the New York Times is a great example, publicising their new online store in partnership with Shopify using images, details about the new products and quotes from creators.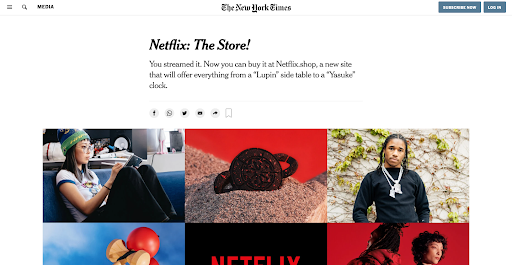 Show off your customer base
If you have thousands or even millions of existing customers, why wouldn't you publicise them? A brand's customer base is one of the most basic and most attention-grabbing forms of social proof there is.
ProveSource showcases their customer base on their landing page. They use bold lettering for "40,000+ businesses use ProveSource" along with reviews from well-known brands and a rolling banner of customer logos. Course creators on Thinkific can connect ProveSource directly to their site through the Thinkific App Store, too. That way, website visitors see real-time course purchases, recent enrolments, and 5-star reviews to help push them across the finish line and purchase a course themselves.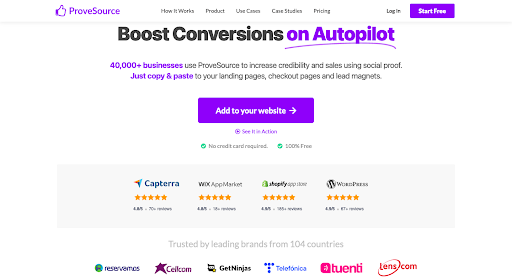 Beware of negative social proof
We've looked at the power of social proof in marketing your business but it's important to flag up the dangers of negative social proof too.
Negative social proof can have the opposite effect of positive social proof by turning off customers or encouraging bad behaviour.
Here are some examples of negative social proof to steer clear of:
Not having enough social proof
If you have too few reviews, social shares or recommendations, you run the risk of impacting negatively on your brand. 
Social proof only works if people feel like they are following the majority. If you publicise low numbers of reviews with mixed feedback, you could harm your chances of making a sale. Consider holding off on this form of social proof until you have more to work with.
Having too much social proof!
No one likes to feel bombarded by sales content. While social proof can be really effective at convincing people to make a purchase, you could put them off if you have too much. 
A whole page of testimonials or too many countdown clocks can make potential customers feel overwhelmed. Sometimes less is more!
Social proof that doesn't fit with your brand
Social proof can also backfire if it doesn't align with your brand values or feels inauthentic. 
When it comes to influencer marketing, for example, it's important to choose influencers who your target audience will trust and identify with. A celebrity who endorses a new product every day may bring less ROI than a micro-influencer who is more selective about the brands they work with.
Using negative phrases
One of the classic mistakes in social proof marketing is using negative phrases to try and sway customer decision-making. Remember that people will follow the majority so phrases like "50 million people are doing X, don't be like them" and similar might be less effective than you hope! 
How to start using social proof
As social proof becomes more important as a marketing tactic, more software is being developed to make it easier than ever. 
Here are some tools you can use to start collecting and utilizing social proof for your business.
Typeform
Typeform makes collecting customers reviews straightforward and stress-free. 
This tool lets you gather feedback and testimonials from customers through personalized surveys, forms and quizzes. Reviews are automatically added to your Thinkific portal and you can even automatically recommend the next course for students to enrol in. 
What's more, you can integrate social proof tools into the Typeform platform to help you create a sense of urgency and excitement around your surveys, contests, applications and reviews. With tools like Fomo, you can add social proof notifications and pop-ups to increase conversions.
With the Typeform app in the Thinkific App Store, course creators can embed Typeforms directly into their courses to create a beautiful feedback experience for their students.
ProveSource
ProveSource automatically posts social proof notifications to your site, including positive reviews from FaceBook, Google, Trustpilot and more. It also updates site visitors on recent purchases and course enrollments to help create a sense of urgency.
Yosi Dahan, Co-Founder & CEO of ProveSource explains: 
"ProveSource makes it easy to collect all the reviews that you've generated on Google, Facebook—whatever platform you like best—and put them in one place on your site. Prospective customers don't need to go searching for your rave reviews—they're all in one place to help nudge that visitor into buying their first course."
ProveSource makes social proof straightforward and automated. Instead of trying to convince potential students that yours is the best course to take on the topic, have other people do the convincing! The ProveSource app in the Thinkific App Store can be connected to Thinkific sites in minutes, too. 
Hoist
Harness the power of your customer testimonials with Hoist's video testimonial software. 
Hoist lets users create videos to share their experiences, giving potential customers an insight into what they can expect, while giving your brand an authentic and honest voice.
Sanjeev Rao, Founder & CEO of Hoist Video Testimonials says:
"Once the student is on your page, you want to do everything possible to build trust and convert them. That's where testimonials can be really powerful… video stories from past students are engaging and more importantly build relatability, when you're able to see and hear a person with a similar story who's had their life significantly impacted by this course – that's the best form of social proof!"
The Thinkific App Store makes it extra simple to add Hoist testimonials to your course page and boost your social proof instantly.
TrustPilot
With TrustPilot you can make the most of customer reviews by adding them directly to your site. 
With star ratings and verified review features, TrustPilot makes it easy to use social proof to sell your products. 
"Trustpilot reviews drive growth by helping your company get seen, get sold, and get better. Our business tools make it easy to get more reviews, promote your best feedback, engage with customers, and analyze the results to improve." TrustPilot.com
TrustPilot includes features like automated emails to invite customers to leave reviews. There is also the option to send follow-up emails to visitors to your site to remind them to make a purchase.
Tips from experts
We asked Thinkific Expert Paul Thomson for his take on using social proof to set up a successful course business. Here's what he recommends:
"Social proof is an integral element of marketing – especially in the online course space."
"Prospective students want to know that your course can actually help them. The most effective way of showing that is by adding testimonials, results and reviews onto your sales page and checkout page."
"Always use a headshot and a name next to your testimonials. It adds a level of authenticity & realness to your social proof. Additionally, screenshots of social media comments and posts are just as powerful."
According to experts, using social proof to market your online course is a no-brainer!
Ready to start using social proof?
Social proof is a powerful tool to transform your business and push people to take action. With Thinkific's integrated social proof tools, it's easy to add reviews, testimonials and more to your online course page.
Convert more students with social proof tools in the Thinkific App Store.