As a membership site owner, finding ways to increase your customer retention rates is likely one of your top priorities. Understandably so, since the key to making the membership model work is recurring revenue.
If your customers don't maintain an active subscription, your revenue from each customer soon dissipates, and growing a profitable membership site business becomes nearly impossible.
Unlike a single online course, where customers pay upfront to access a set curriculum, with a membership site they expect to receive access to new content and training on a regular basis. If you stop providing them with new content, there is no reason for them to continue paying you.
Related: How to Create a Membership Site for your Thinkific Course
This is one of the biggest distinctions between a membership site and an online course. With a membership site, the initial sale is just the beginning of your relationship with your customer. As they continue to pay a subscription fee, you continue to provide them with new content and training. There is an ongoing mutual exchange of value.
By finding ways to keep your customers for longer, you increase the average lifetime value (LTV) of your customers – often to a greater value than the one-time purchase price of an online course. This is what makes membership sites an attractive business model for course creators, and why increasing your customer retention rates is so important.
Related: The Top Customer Success Strategies Used by Successful Companies (Complete Guide)
As Mike Morrison, Co-Founder of The Membership Guys says:
"It costs 7-10 times more on average to win a new member than it does to hold on to an existing one; and if you're losing more members than you bring in then your business won't last long!" 
After reaching out to more than a dozen successful membership site owners, we've identified 25 specific techniques they are using to increase customer retention in their membership sites.
---
Want to learn how to grow a successful membership site?
Download our Ultimate Guide to Running a Successful Membership Website
---
25 Ways to Increase Customer Retention in Your Membership Site:
Many of the techniques listed below can be used early in the sales and onboarding process for new members, while others can be used further down the road. Together, they all contribute to reducing member churn and increasing the average LTV of your customers.
1. Add an application form to your sales process
Requiring prospective customers to apply to sign up for your membership site is a great way to help screen new members upfront, while simultaneously discouraging less-committed ones from becoming a customer. If someone doesn't truly want to join your membership site, they probably wouldn't complete the application.
There is also a psychological effect that works in your favor when you require someone to apply to become your customer. When you apply for something, you inherently understand that there is a chance your application will not be accepted. By screening prospective customers, you create a sense of exclusivity for your membership site, which in turn increases its perceived value.
2. Add a Welcome Video to your membership dashboard
Member onboarding is the process of integrating a new customer into your membership site effectively. The goal is to get them up and running and consuming your content as quickly and as smoothly as possible.
An effective way to improve your member onboarding process is to include a Welcome Video in your Member Dashboard (aka Member's Area). In this video, take a few minutes to tell your members how to navigate your membership site, where to access your content/training, how to request support, engage with other members, etc.
The image below shows an example of a Welcome Video, strategically placed in the "Getting Started" section of Josh & Jill Stanton's (Screw The Nine To Five) membership site:

3. Offer a welcome phone call to new members
If you ask for your student's phone number at any point in your membership site sales or checkout process, give them a call (or have someone on your team do it) to welcome them to your membership site. Very few online course creators do this, so it is definitely a great way to "wow" your customers and build instant rapport with them.
4. Send a customized welcome video to new members
Record a short welcome video, addressing your new member by name, and send it to them directly. Congratulate them for joining your membership site, and let them know that you are excited for them to get started with the training. This can become somewhat time-consuming depending on how many members you are enrolling regularly, but the personal touch will definitely encourage them to stay longer.
Vidyard is a great tool for sending (and tracking!) welcome videos.
5. Mail new members a welcome gift
Ask your customers for their mailing address, and then send them a handwritten thank you card, physical gift or branded swag. This simple gesture is a powerful way to make your customers feel welcomed and appreciated. They might even take a picture of the gift you send them and show it on social media, resulting in additional exposure for your business.
6. Offer different price tiers to reward longer membership periods
Creating different price tiers for your membership site is a great way to reward your customers for their loyalty by discounting their subscription price based on how long they commit to being a customer. Your customer gets a better price on your membership compared to paying month-to-month, and in exchange, you are guaranteed to keep that customer for a longer period of time. This is a win-win for both of you.
Mike Morrison (The Membership Guys), for example, offers a monthly subscription and an annual subscription to his membership site. If a customer signs up for the annual subscription, it ends up costing them less money than the sum of 12 monthly payments.

7. Customize your membership site design & branding
The design and layout of your membership site plays an important role in increasing student engagement and retention. Make sure your members can navigate to different pages and course content easily and with little friction.
The style and design of your membership site should also be consistent with your overall branding. Essentially, your membership site should look and feel just like your other digital real estate including your main website, sales pages, downloadable assets, and social media profiles etc.
"Don't create disjointed marketing; don't create imagery and branding that aren't consistent throughout the entire process – from prospect/lead to buyer to member." – Kate Erickson, Podcasters Paradise
8. Provide members with access to you
An effective way to add value to your customers beyond just providing them with new content is providing them with direct access to you, their instructor. Depending on the number of members you have and your membership subscription fee, some methods will be more feasible for you than others. That being said, here are several ways you can provide your members with direct access to you:
Email access (up to a certain limit)
1-on-1 phone calls (monthly, quarterly, etc.)
Group calls (group conferencing)
Live webinars
Private Facebook Group
Discussion section in your membership site
Scheduled AMA (Ask Me Anything) sessions
John Lee Dumas (Podcaster's Paradise), for example, regularly hosts live Q&A sessions with his members. Here's a screenshot of an email he sent to his customers (I'm one of them!) the morning of one of his live Q&A sessions:

9. Create a private Facebook Group for your members
For many membership site students, being a part of a community of like-minded individuals that are on a similar journey is more valuable to them than the content/training provided to them in the membership site.
Every successful membership site owner we spoke with recognizes this, and the majority of them have decided to create private Facebook Groups to build a community for their students. This allows students to interact with each other, ask each other questions, and support each other's success.
10. Publish testimonials & member case studies
Publishing case studies about your customers is a great way to provide social proof to potential customers, as well as motivation for existing ones. When people see that other members are implementing what they're learning from your training and experiencing positive results, it encourages them to do the same.
As often as possible, interview your customers. With their permission, publish those interviews inside of your membership site, on your blog, YouTube channel, podcast, etc.
Chandler Bolt (Self-Publishing School), for example, teaches people how to write and self-publish their first book. On his website, you'll find written case studies of customers who have successfully self-published a book after taking his training:

11. Pair your members with accountability partners
An effective way to ensure that your customers actually implement what you teach them in your membership site is to pair them up with an accountability partner. That accountability partner can be another member, or depending on the stage of your business, someone that you hire for this purpose.
An accountability partner has one job and one job only: to hold their partner accountable for taking action towards their goals. A quick phone call (or even an email) between accountability partners to check in on each other, typically on a weekly basis, can significantly increase their likelihood of implementing what you teach them.
If you decide to implement this, ask your new members in your onboarding process is they want an accountability partner. Create a system for pairing up a new member that requests an accountability partner with someone else that is available. Give them guidelines and procedures to follow so they know what to do.
12. Arrange in-person meetups for your members
Nothing solidifies relationships that are initially built online like spending time together in the real world. Arranging in-person meetups for your members is a great way to build friendships with your customers, and perhaps more importantly, give them the opportunity to build friendships with each other.
As your membership site grows, you might even find that your customers arrange to meet in person with each other. When that happens, you'll know you've built a true community around your membership site.

13. Hire a community and/or customer support manager
As your membership site community grows, the number of requests for help that you receive from your customers will likely increase. From technical questions to questions about your content, requests for feedback or advice, etc. Having to wait a long time to receive a response to a request for help is one of the main reasons why customers cancel their membership site subscriptions.
If you find yourself not being able to keep up with incoming requests for help, it may be time to hire someone to manage customer support inquiries and questions that are asked via email and social media. If you have a Facebook Group for your members, you may want to invest in a community manager to help moderate discussions in the group and answer questions from group members.
25 Tips for Increasing Customer Retention in Membership Sites
Click To Tweet
14. Include special perks for your members
If you recommend specific products or services to your customers, reach out to their vendors and see if they are willing to offer your customers an exclusive discount or perk of some kind. Knowing that they will lose access to special offers from other companies if they cancel their membership helps encourage them to maintain an active subscription to your membership site.
Nathan Chan (Foundr Magazine), for example, offers discounts on numerous software products to customers of Foundr Club, a membership site for entrepreneurs: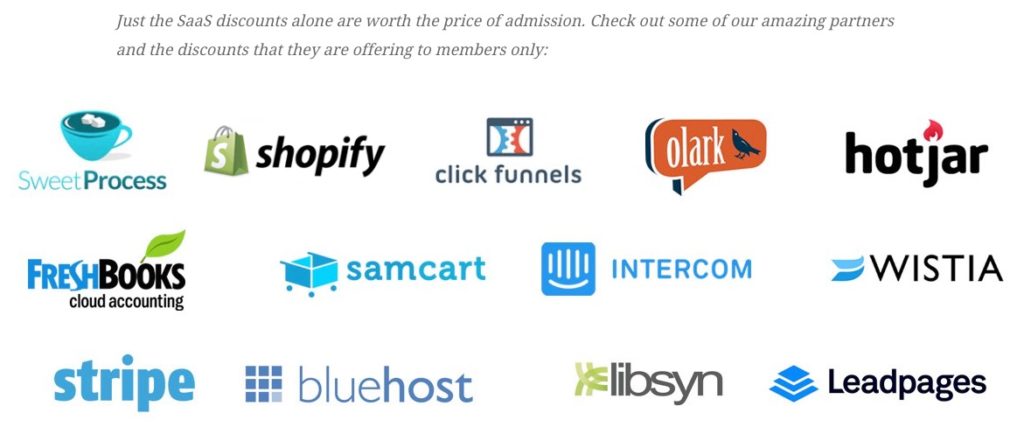 15. Drip feed your core content
If you have a significant amount of content in your membership site, the is a chance that your new members may feel overwhelmed with the amount of training that is immediately available to them. To prevent your newest members from feeling overwhelmed, consider drip-feeding your core curriculum to them according to a predetermined schedule.
For example, if the core curriculum in your membership site contains consists of 8 modules, you might choose to drip feed one module per week to new members over an 8 week period. Any supplementary training that is not a part of your core curriculum should be added to a different section of your membership site, easily accessible to all members at any time.
16. Identify drop off points in your training & correct them
Monitor the completion rates of specific lessons in your membership site, and the drop-off points of specific videos. The most common reason for a student not completing a specific lesson or video is simply that it is too long. Short, "bite-sized" training is more likely to be consumed and completed than longer training.
If you have a 20-minute training video inside of a lesson and you notice that the majority of students stop watching the video about 10 minutes in, consider splitting that video into 2 separate videos that are each 10 minutes long.
17. Survey existing members for content ideas
One of the best ways to ensure that the content you create for your members is relevant and helpful for them is to ask them what they want to learn. Send them a link to a survey where they can tell you which topics that want additional training on. When you analyze the survey responses, if you notice that several members have requested training on the same topic, add that topic to your list of new training to create.
You can automate this process using an email service provider. For example, you could create an autoresponder email that contains a link to a survey (Typeform is a great tool for this), and schedule it to be sent to your members 2 months after they join your membership site. This will create a consistent influx of survey responses over time as you continue to acquire new members.
18. Create training for different learning styles
Every individual has their own unique learning style. Therefore, it is important to understand what the most common learning styles are, and to create different types of content/training to accommodate these different learning styles.
If you create exclusively video content for your members, for example, you are doing a disservice to all of your members that prefer written or audio training. The most successful membership site owners create a "balanced diet" of content types to help accommodate the different learning styles that their members have.
19. Add a FAQ section to your main website or sales page
Publishing a Frequently Asked Questions (FAQ) page on your website is a great way to reduce the number of inquiries and requests for help that you receive from your customers. Adding a FAQ section to your course sales page is also a great way to answer a prospective customer's question before they even ask it to you.
Mimi G (Sew It Academy), for example, has a FAQ page on the main website for her membership site. Any prospective or existing customer that has a question about Mimi's membership site can simply refer to this page before reaching out to her directly.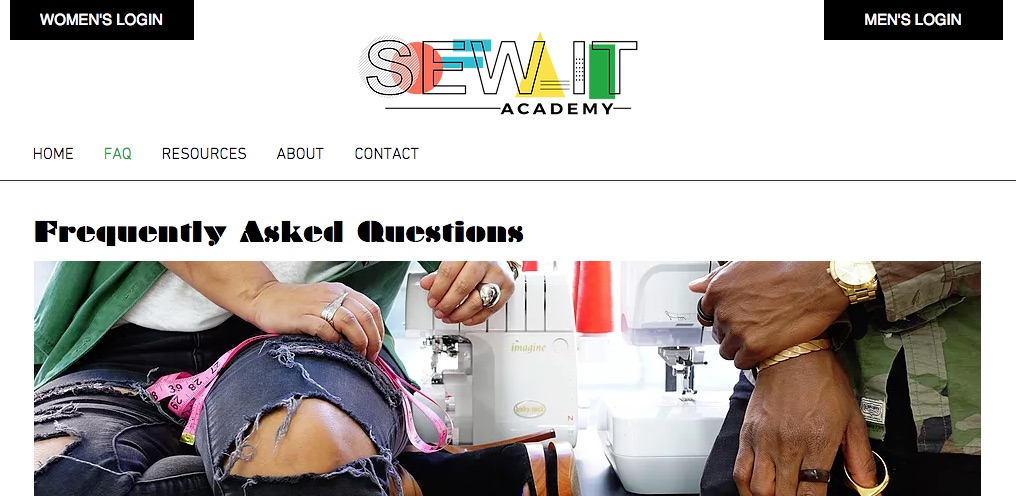 20. Allow your students to track their progress
One of the best ways to increase completion rates and engagement in an online course is to enable your students to track their progress through your core content.
The psychological effect that a progress bar has on students is simple but effective. When a student can visually see their progress towards a finish line, they become more motivated to reach the finish line.
25 Tips for Increasing Customer Retention in Membership Sites
Click To Tweet
21. Offer completion certificates
Even though the expectation with a membership site is that there will always be additional content added to the site over time, consider offering a completion certificate to your customers upon their completion of your core content. Knowing that they will receive a completion certificate incentives students to complete the training that is provided to them.
You can create completion certificates yourself on Thinkific!

22. Send billing & renewal reminders to your customers
To help prevent member cancellations caused by billing issues or expired credit cards, send reminder emails to your customers prior to their next billing cycle. This technique works well on subscription plans with longer billing cycles (quarterly, annual, etc.)
With an annual subscription, for example, customers are more likely to forget when their membership renewal fee is due. Sending them a reminder prior to their renewal date will give them enough time to update their credit card (if necessary), or at the very least, avoid surprising them with a membership renewal charge.
Renewal periods on longer-term subscription plans can also a great time to incentivize your customer to renew their subscription by rewarding them with a discounted rate or a bonus of some kind. Stunning is a great tool for setting up billing and renewal reminders.
23. Send re-engagement emails to inactive members
When a member becomes inactive for a prolonged period of time (usually a few weeks to a few months), they are at a high risk of canceling their membership. Remember, membership sites are meant to be a continuous exchange of value. If a customer stops accessing your membership site, it won't be long before they start to question why they are continuing to pay a membership fee.
If you notice that one a customer stops accessing your training regularly, send them a polite "just checking in" email to find out what's going on. In many cases, people just get too busy and forget to access your training. Checking in on them shows that you care about them.
24. Add a personal video and contact form to your cancellation page
Add a short video message to the cancellation page of your membership site. The goal here is not to discourage your customers from canceling their membership, it's to encourage them to reach out to you and voice their concerns before canceling. Let them know that you appreciate their feedback and that if there is anything you can to do keep their business, you will try your best to do it.
25. Survey members that cancel
Lastly, if a customer does cancel their membership, politely reach out to them after they cancel to ask them for feedback. Let them know that you are sorry to see them go and that you would appreciate any comments or suggestions about your membership site.
If you use the feedback you receive from customers who cancel their subscriptions to improve the experience that you provide to existing customers, in the long run, you should see an increase in your retention rates.
---
Want to learn how to grow a successful membership site?
Download our Ultimate Guide to Running a Successful Membership Website
---
25 Tips for Increasing Customer Retention in Membership Sites
Click To Tweet