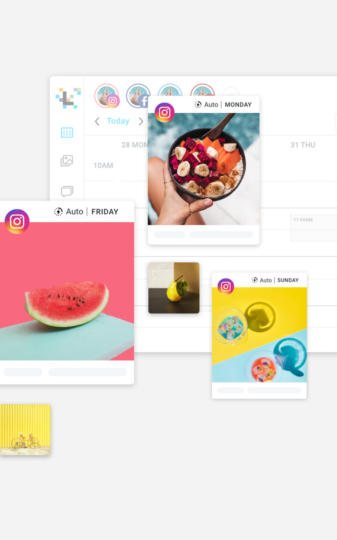 Leading Instagram SaaS company drives revenue through courses
Later is a leading Instagram marketing platform that helps companies schedule and plan their visual marketing strategy. With Later, businesses can map out their entire visual content calendar and optimize their workflow.
Since launching in 2014, Later has grown from a simple Instagram tool to the #1 visual marketing platform for Instagram, Facebook, Twitter, and Pinterest. Now with over 2 million users globally, Later is a member of the Instagram Partner Program and a Pinterest Marketing Partner.
With a growing number of users, Later wanted to increase the effectiveness of their product training and onboarding experience. After launching the course, they saw a 320% increase in retention, a 467% increase in adoption of features, and a 368% increase in purchasing paid plans.
QUICK STATS
13,450
STUDENTS
1
COURSE
200K
INSTAGRAM FOLLOWERS
"We needed a more interactive way to help introduce users to all of our tools, show how other Instagram marketers were using them, and how to apply the strategies in their own businesses."Desiree Evanshen, Customer Success Manager at Later
Boosting customer retention and feature adoption
HOW IT BEGAN:
As their user base grew, Later was faced with a challenge: how could they educate hundreds of thousands of users on how to fully utilize what their platform had to offer?
Their current onboarding process consisted of emails, in-app messages, and webinars. The team found it wasn't enough to get their users engaged with many of the platform's most-loved features. 
While most users knew how to schedule an Instagram post, many didn't know how to use their advanced feature set, like their optimization tools, auto-schedulers and visual planner. 
Running webinars was the most effective of the onboarding tools they tried, but the customer success team found it to be a huge drain on time and resources. They needed something both more scalable and interactive.
"We already had all the content from our onboarding webinar which had been proven and tested. We decided that a course would be a great way to scale up the process, and heard Thinkific Plus was a really great option for video content."
Choosing Thinkific Plus for their onboarding course
THINKIFIC PLUS AS THE SOLUTION
The Later team created their first course as a test. They wondered: would they see an even bigger increase in adoption and retention if they took the same content from the recorded webinars, and reformatted it into an online course?
With all their content already created for their webinars, they simply uploaded their video tutorials to Thinkific Plus. Found that it was really easy to set up their course and customize both their landing page and course enrollment page
Within one week, they had the course up and running. The team decided to do an A/B test between the new online onboarding course, and the existing mix of onboarding webinars, emails and in-app messages to see which one performed better.
"We had about 70% of the course set up within an hour! By the end of the day, it was ready to go, so it was just a no-brainer to get the course launched and start testing."Desiree Evanshen
Increasing customer retention and revenues with online courses
BUSINESS GROWTH WITH THINKIFIC PLUS
After 3 months of running the new onboarding course, Later did a deep dive into the data and was amazed by their results. 
Later saw a 320% increase in customer retention, 467% increase in the adoption of features, and a 368% increase in purchasing paid plans. 
They compared the numbers between those who enrolled in the course versus those who attended the webinar, and found that those who took the course ended up much more engaged with their tool overall.
By simply changing the content delivery method from a webinar to an online course, Later exponentially increased their customer retention and scaled their business. 
The team was also able to free up much more of their time that had been taken up by planning and delivering training webinars.
"We plan to completely phase out our live onboarding webinars, and focus optimizing our online course. Thanks to the flexibility of the course format, we can also easily update the training over time." Desiree Evanshen
Later's favourite Thinkific Plus features
Bulk content upload
CONTENT MANAGEMENT
Since Later had already created their content in webinar format, they needed the ability to upload their videos to an online course format. Thanks to the Thinkific Plus bulk upload feature, they easily imported their content in one go, and organized the content into course modules.
Course site themes
MARKETING
Since Later is in the business of media management, they wanted a platform that would support their desire for a cohesive brand experience. On Thinkific Plus they were able to build a course site that blended well with their overall brand.
Transformative learning experiences
STUDENT EXPERIENCE
Later's customer success team found that online courses created even more informed and engaged users than their live virtual trainings. The Thinkific Plus online learning environment is curated to offer the best student experience, with a variety of interactive features and options.