SaaS businesses are always trying to acquire new customers, but new customer acquisition is only half of the equation.
Without SaaS retention strategies, growing Annual Recurring Revenue (ARR) through new acquisitions alone might feel a little bit like this: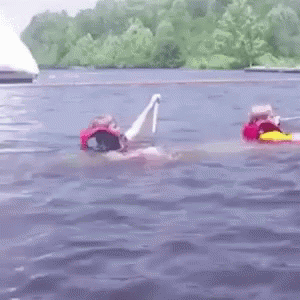 Net ARR growth comes from retention and expansion: 
Not only gaining but retaining customers helps increase Net ARR— a metric that is crucial to your survival as a subscription-based service.
Acquire → Activate → Retain → Expand
While customer retention is a critical growth metric, it's far from easy. We've all downloaded an app or visited a website only to close it minutes later. Maybe it felt too intimidating to learn, or we just weren't getting use out of it and got distracted.
Whatever the reason, these common scenarios are why SaaS companies spend too much money acquiring new customers at the top of the funnel, only to fail to activate and engage the same users they worked so hard to capture.
Related: The Top Customer Success Strategies Used by Successful Companies (Complete Guide)
For the customer to get immediate value from your product, you need to clearly explain what it does and educate your customers on how to use it. By using online education to engage your users, they'll not only learn more about how to use the features of your software, but they'll also reap the benefits they bought your product for in the first place.
In this post, we'll share how top SaaS brands are optimizing retention through, customer education and other strategies that activate and retain hard earned new users.
Skip ahead here…
What is SaaS customer retention?
In the SaaS world, customer retention tells you the percentage of customers you kept over a period, revealing current and future revenue. High retention rate and low churn rate is the goal for most SaaS companies.
Two of the main contributors to a SaaS company's success are customer retention and net promoter score. These numbers will tell you whether or not your customers can comfortably use your software and are getting enough value to stick around.
The ultimate end goal of retaining customers is that they have amazing experiences with your brand and product that compel them to share it with everyone that they know.
One of the most powerful customer retention strategies for SaaS businesses is offering your users an online course (more on that later!)
Why should SaaS companies invest in customer retention? 
Investing in customer retention is just smart business. For every customer that you lose to churn, you'll pay the cost of customer acquisition to replace them, which will cost anywhere from 6-12 times the monthly revenue you'd get if they stayed.
Reason #1: Online courses increase customer retention & decrease churn
What determines whether your customer sticks around is pretty simple– do they find it easy enough to use your service regularly and get enough value to justify keeping it?
Confusion and frustration makes customers give up and cancel, so you need to help them figure it out quickly during and after onboarding.Your biggest priority should be your customer's success with your product.
Reason #2: Online learning increases your net promoter score
With online courses, you can help your customers have a better experience with your software and help them gain more value from it.
In the highly competitive SaaS world, it's no longer enough to have a 'decent' product or service – as Seth Godin says, your product must be remark-able (meaning it makes people want to talk about it) to be remarkable.
Online courses allow you to educate and set your customers up to learn more and engage with your brand and product on a deeper level, which leaves a lasting impression that stands out against your competition.
What is a good SaaS retention rate?
Mix Mannel's Product Benchmarks Report suggests SaaS retention benchmarks of 20-35% depending on your industry.
For most industries, average eight-week retention is below 20 percent.

For products in the media or finance industry, an eight-week retention rate over 25 percent is considered elite.

For SaaS and e-commerce industries, over 35 percent retention is considered elite. Mixpanel's 2019 Product Benchmarks Report
95.87% of iOS users drop off after day 30, according to Statista's 2021 Q3 report. With such a steep drop-off rate, you need to prioritize activating your customers, which means guiding them to complete a desired behavior or action as soon as possible so they can find value in your products.
The true cost of customer churn
Since customer retention is the not-so-secret ingredient to SaaS success, building a predictable customer base is essential. Your customers are your greatest asset, so the more you invest in improving products and providing a better user experience, the longer your customers will stay.
Despite the fact that some churn is unavoidable, understand that the true cost is much higher than simply losing a logo on your pitch deck. Customer retention is key to paying the bills and making your employees' time and efficiency count towards your organization's higher goals.
The cost of churn doesn't just mean lost revenue, it also means your team has to double down on finding new customers to replace those that leave. Here is the true cost of customer churn:
Lost expansion opportunity
In addition to losing recurring revenue each year, you also lose the potential revenue from renewal and upsell deals. This is a metric many SaaS businesses fail to account for when calculating their churn costs.
Losing expansion opportunities is especially costly because the probability of upselling to an existing customer is much higher than the probability of selling to a new prospect.
Since your current customers are the ones most likely to buy again, one of your top priorities should be to retain your customers.
Added customer acquisitions costs  (CAC)
When you lose a customer,  your marketing team has to pick up the slack by trying to win back lost customers and dedicate time and resources to bring in new leads and prospective customers.
7 strategies for improving SaaS customer retention
Onboarding and Activation
Later, one of the most well-known social media scheduling platforms was searching for a way to quickly and effectively onboard thousands of users. The team found excellent customer engagement via webinars but wondered if they'd become more efficient by repackaging their webinar content into an online course. After getting their course up and running in one day and saw a 320% increase in customer retention, a 467% increase in the adoption of features, and a 368% increase in purchasing paid plans.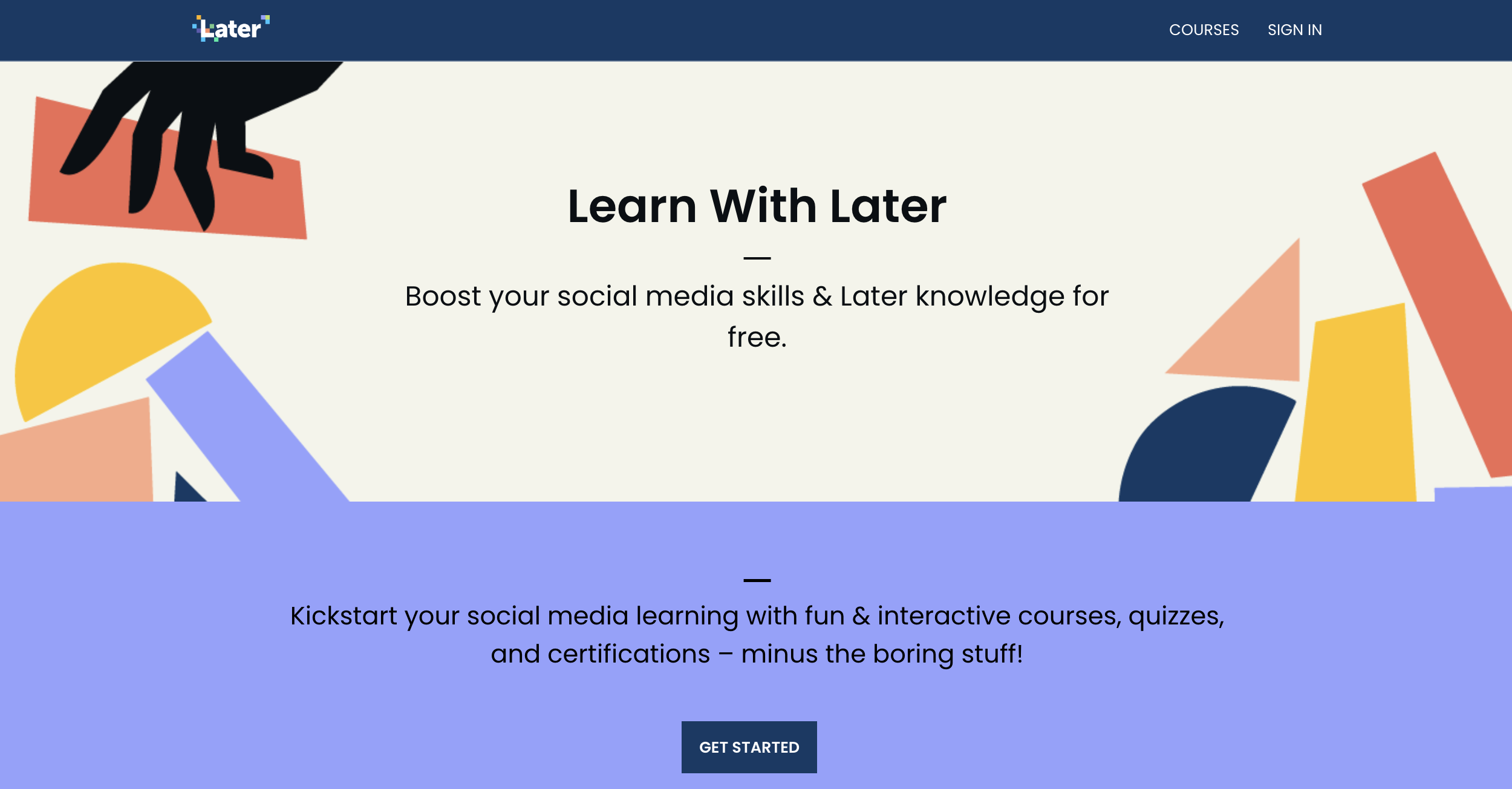 "We already had all the content from our onboarding webinar which had been proven and tested. We decided that a course would be a great way to scale up the process, and heard Thinkific Plus was a really great option for video content."-DESIREE EVANSHEN
Decrease buyer's remorse by highlighting your best features
Throughout a buyer's experience with your product – from the moment they first hear about your business to the moment they buy your product – they experience various emotions.
The first few hours after someone makes a purchase is when they're most likely to experience buyer's remorse, which makes it the perfect time to highlight your product's benefits, show your customers how to use it, and reassure them that they made the right choice.
One of the best ways to deliver the "wow" factor when customers first sign up is to provide a virtual "tour" of the features available to them as soon as their account is activated. These tours highlight the most exciting, useful features and benefits and help them set up their account.
Once you have given your customers a virtual "tour" of the features available to them, you can use online courses to increase adoption by teaching your customers how to use them to achieve their specific goals and solve their current issues.
Customer Retention Example: Product and Business Training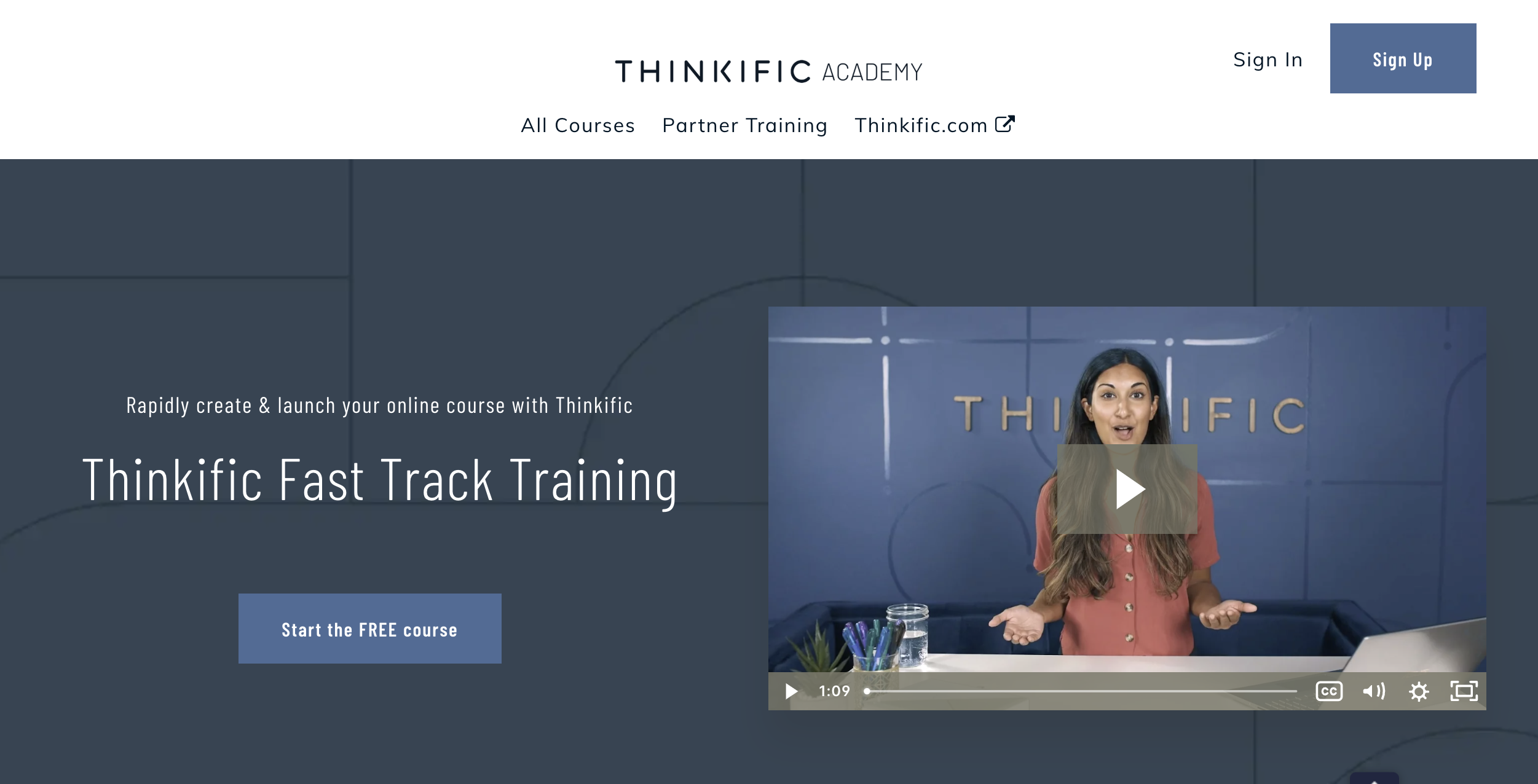 Optimize communication with automated welcome emails
Send your customers a triggered welcome email with instructions and next steps as soon as they buy. Set up a welcome email trigger in your marketing automation platform so new customers can easily learn the next steps and what to expect.
Your welcome email should include the tools, support, processes, and resources your customers need to get started. A welcome email will go a long way toward helping your customer feel prepared to dive in and start learning your product without confusion.
You also have the option to create an automated welcome email funnel using your marketing automation platform. This is a series of automated emails that will trigger upon purchase, and guide your customer through the onboarding process.
Learn more: How Does Marketing Automation Work? What It Is and How To Do It
Educational content and thoughtful upsells
Once your customers have been through an initial tour, set up their account, received your welcome email, and learned how to use your product and features through online courses, they're well on their way to experiencing their first successes with your product. This initial success will convince them of your product's value, ease of use, and effectiveness. But then what?
At this point, many users will begin to explore your advanced features. Once a new customer has mastered the basics and seen results, there will be an organic curiosity about what else they can achieve with your product.
This is where your educational content can have the biggest impact on customer retention and revenue. Getting too excited at this phase and pushing upsells can be tempting, but you should remain subtle. Make your customers aware of the advanced features they'll get with a premium or higher-tier account by simply showing them additional online courses, videos or case studies of what else is possible using your platform.
You can create an Online Academy for your customers just like Engaging Networks did, teaching your customers a number of different skills and ways to grow using your products and services.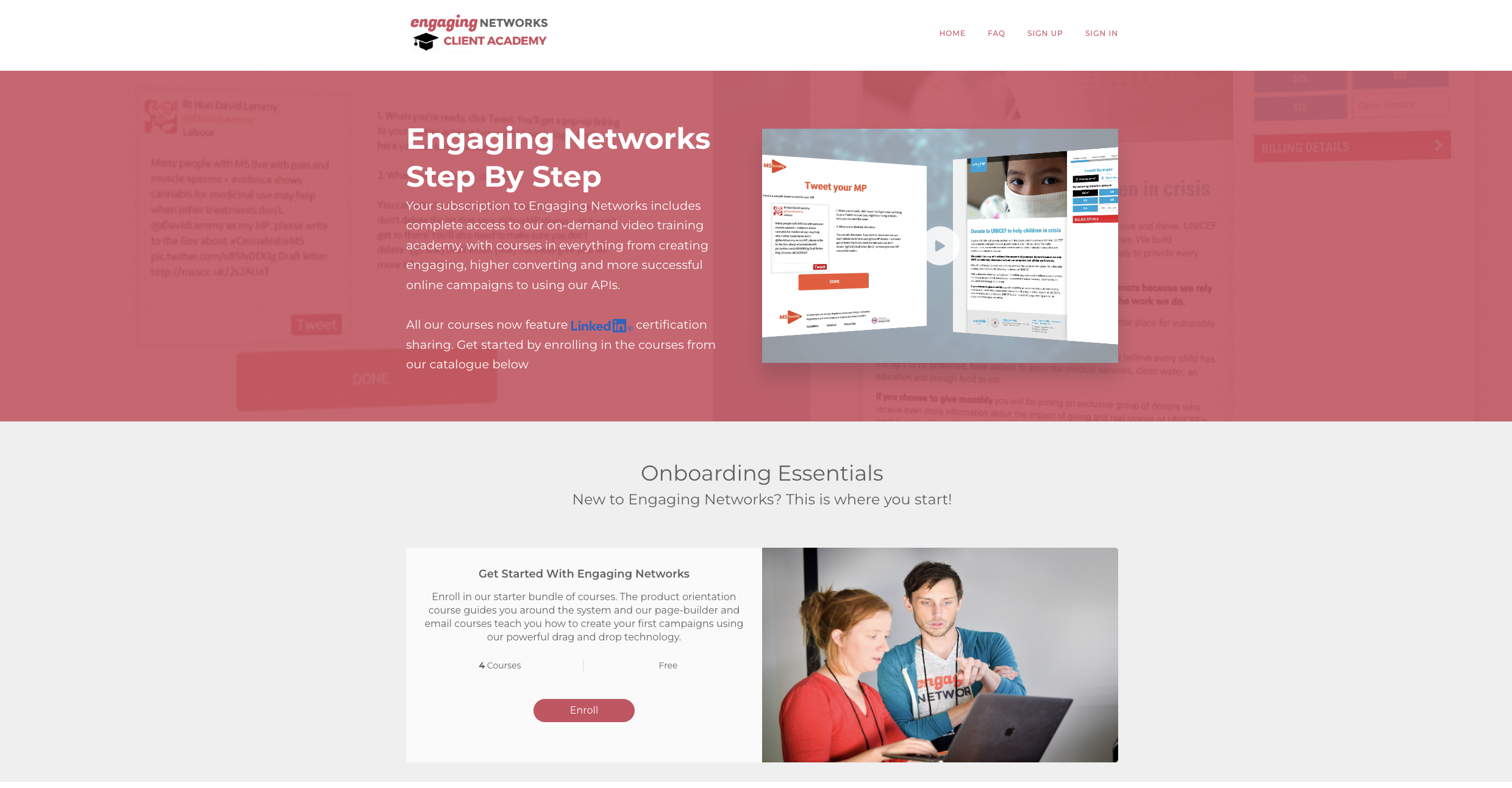 Customer Education
Customer education gives your buyers the information they need to get immediate value from your product and compels them to consistently use it. According to Conductor, users that consume educational content build more brand affinity. Customer education can be delivered in several different content formats, depending on your business's specific goals, audiences and offerings. For example:
Customer Case Studies: Customer stories are a non-salesy, inspirational way to demonstrate to potential customers how other customers have found success using your product and what could be possible for them.
Blogs and Articles: Ideal for sharing step-by-step guides and detailed instructions on product/service use.
Video and recorded screen-captures: Are a great tool for sharing step-by-step guides, instructional videos, and tutorials that teach new customers the basics on how to use your product or service – especially for visual learners.
Webinars: Allow businesses to dive deeper into more advanced topics regarding your product or service, answer your customers' questions, and connect with them more intimately.
Online Courses: Online courses are a great way to combine the different content formats mentioned above into a thoughtfully designed learning experience for your customers. Plus, by hosting your online courses on a platform like Thinkific Plus, you can track your customer's engagement with the content and identify areas for improvement.
Customer Retention Example: Free & Paid Certifications
Hootsuite's Academy was created with the goal of teaching customers to use the Hootsuite Dashboard. But their use of online learning quickly evolved once the team realized how many different ways they could leverage digital training to not only help their existing customers but help their business thrive overall.
Hootsuite began using online education to connect with customers at every point of their journey, attract new customers, and build their brand as a category leader in the social media space.
As they continued to invest in customer education, they saw an increase in customer retention and less churn.
They also offer paid social media courses, and free certifications as a form of brand extension to increase CLV, and position themselves as an authoritative source on social media strategy.
Customer Support and Customer Success
Though customer success and customer service have the same end goal (happy customers) there are some critical differences for SaaS companies.
Customer Support vs Customer Success: Reactive and Proactive strategies
Customer support is a reactive strategy, all about solving customers' problems, overcoming challenges, and answering their questions. It's about responding to the needs of your customers to support their use of your products and services.
Customer success is a proactive strategy, focusing on the long-term experience customers have with your products and services.On the flip side, customer service is reactive, responding to problems as they come up.Customer success is non-transactional mainly, and is often relationship-focused, dealing with the entire customer and company lifecycle. An example of this is the Thinkific Plus Customer Success Team. As a part of their plan, Thinkific Plus customers get a team of people dedicated to helping them grow their online learning business. They provide migration, implementation and launch support, as well as best practices and expertise in growth and strategy for the entire customer lifecycle. The Plus Priority Support Queue is also available for technical support.
Tooltips

Whether they're in your inbox or your Instagram, we've all been guided by tooltips at some point. Tooltips are short messages appearing as you interact with certain elements on a website or in a mobile app.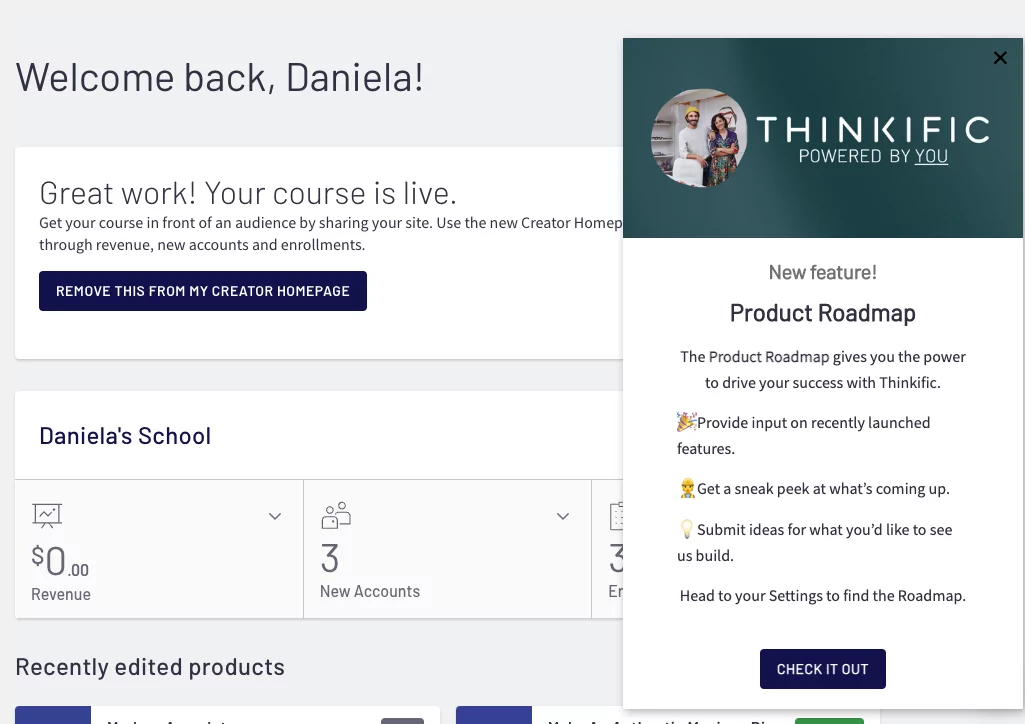 As you continue to onboard, educate, and activate your customers, use tooltips for:
New feature announcements: Schedule tooltips to announce new features without interrupting your user's workflow.
Product engagement: Getting customers to use your product is different from getting them to use it to its full potential. Well-placed tooltips drive user engagement, nudging them in the right direction to help them get more out of your product.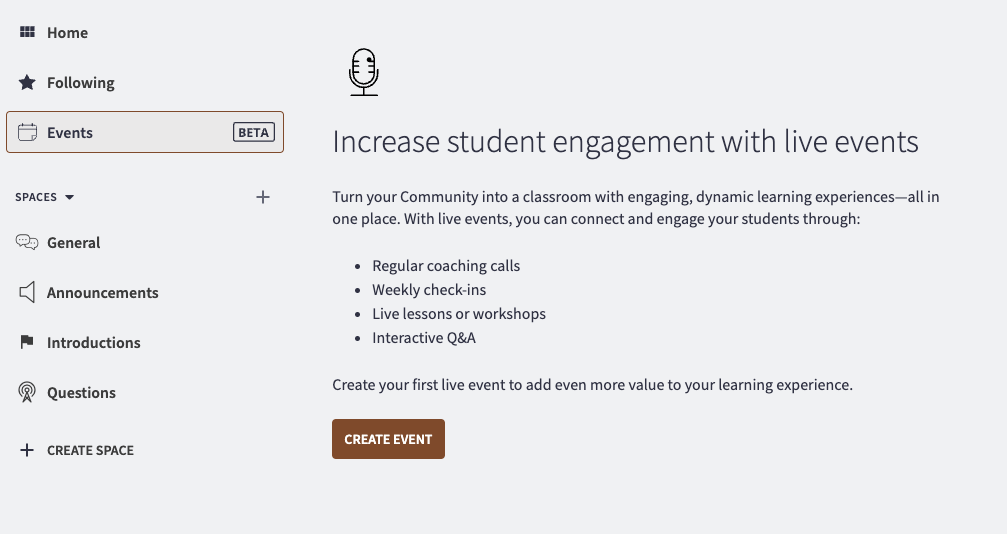 Support webinars & Ask Us Anything sessions (AUA)

By hosting webinars (free information sessions), you can show your customers how your product works and solve their biggest problems. Webinars are not about selling or diving into every single technical feature. Instead, focus your webinars on your audience's pain points.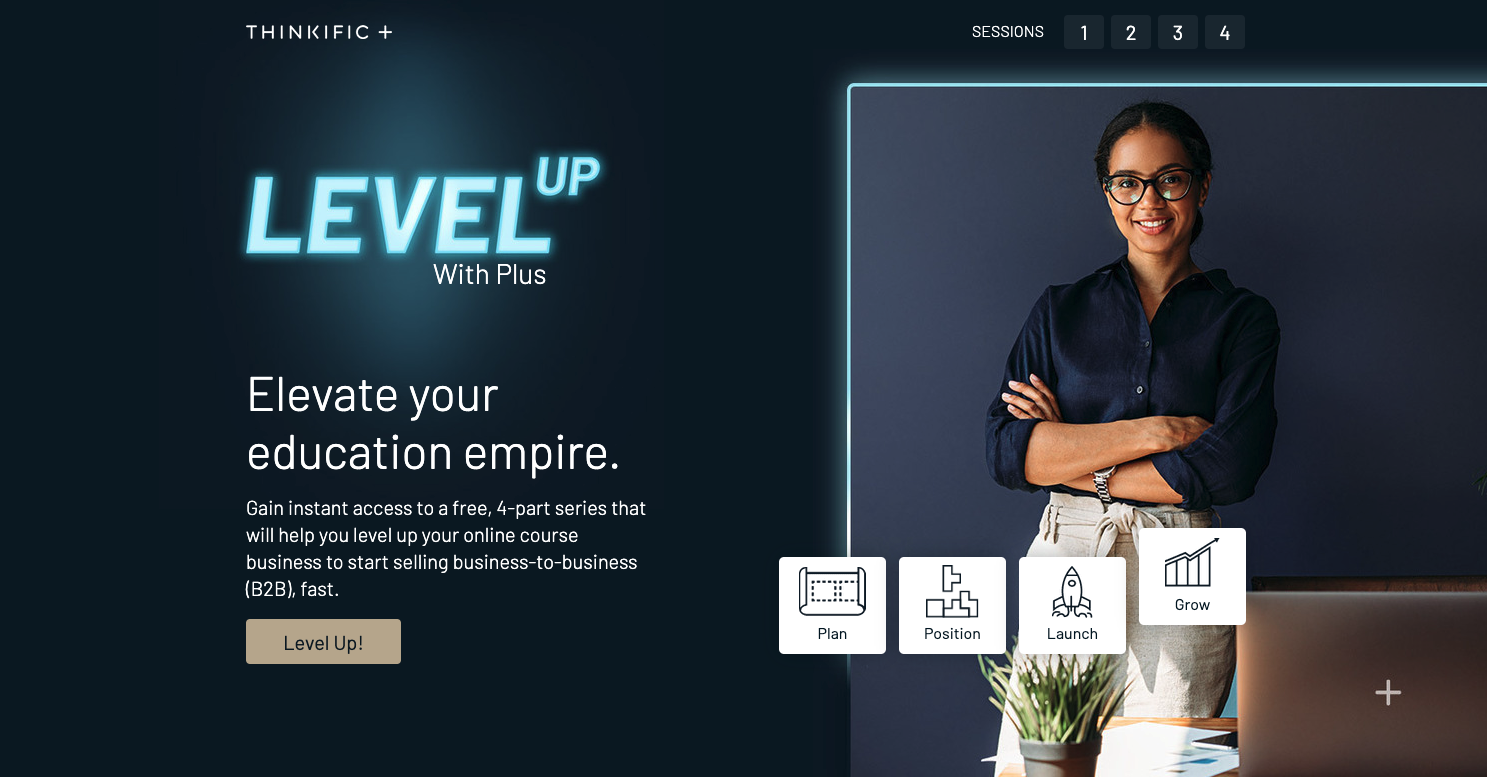 Ask Us Anything (AUA) sessions are your opportunity to interact with your audience and foster a sense of community. Once you have this information, you will be more prepared to tailor your content to your customer's needs. There's value in keeping your content simple. SaaS is already complicated enough, so don't frustrate your audience by overloading them with information.
Create a knowledge base
A knowledge base (or help center) is a page dedicated to resources that answer your customers' most frequently asked questions. Knowledge bases are a must-have for tech tools and software. They serve as organized  (and highly searchable) learning paths that help customers use your product. The best knowledge bases speed up the learning curve, helping customers realize value more quickly. Your knowledge base will house your detailed product documentation, interactive guides, and product update notes. People prefer to find their own answers and solutions versus having to call someone for help so knowledge bases lower the cost and burden on your customer support staff.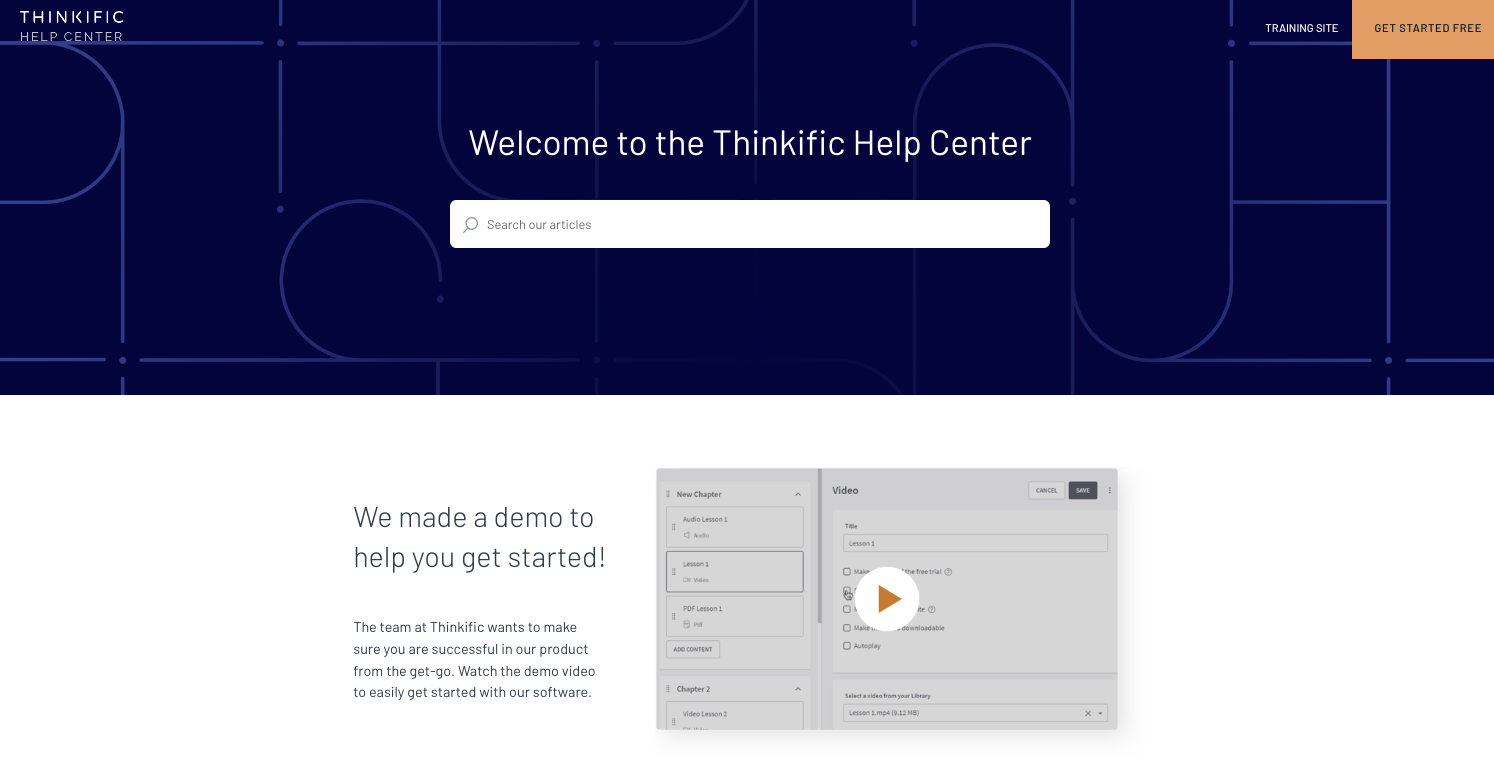 Online Learning Products to increase engagement
Businesses are turning to online courses to increase engagement now more than ever. Digital offerings are the most cost-effective assets you can invest in because you can build them and continue to use them time and time to engage your current and future customers. Compared to the typical free 30-minute demos and onboarding sessions that have become customary in SaaS, online courses are much more interactive, cost-effective and scalable. Investing in making an engaging, highly usable course for your business once that you can continue to improve on will give you more bang for your buck than hosting ongoing live sessions and onboarding calls.
Top benefits of using an online course platform for your customer retention strategy:
Online courses reduce churn, particularly during the initial sign-up and get-started phase of the customer journey.
Online courses are a major value-add for customers. For example, if your email marketing software costs $47 per month, and you build a high-quality course about email marketing that costs $500, you can throw in your course for free to all your customers, adding 10X value instantly.
Online courses make great content lead magnets. People come for the online course and stay around for the software. For example,  Latasha James offers The Freelance Social Media Management Roadmap which teaches her customers how to use popular tools like Canva and Honeybook, and generates leads for these businesses.
They're extremely cost-effective. Digital products require smaller up-front costs than physical products, and you can use them time and time again.
Beyond product training, Thinkific teaches its audience other topics that help them grow their business, like sales and marketing.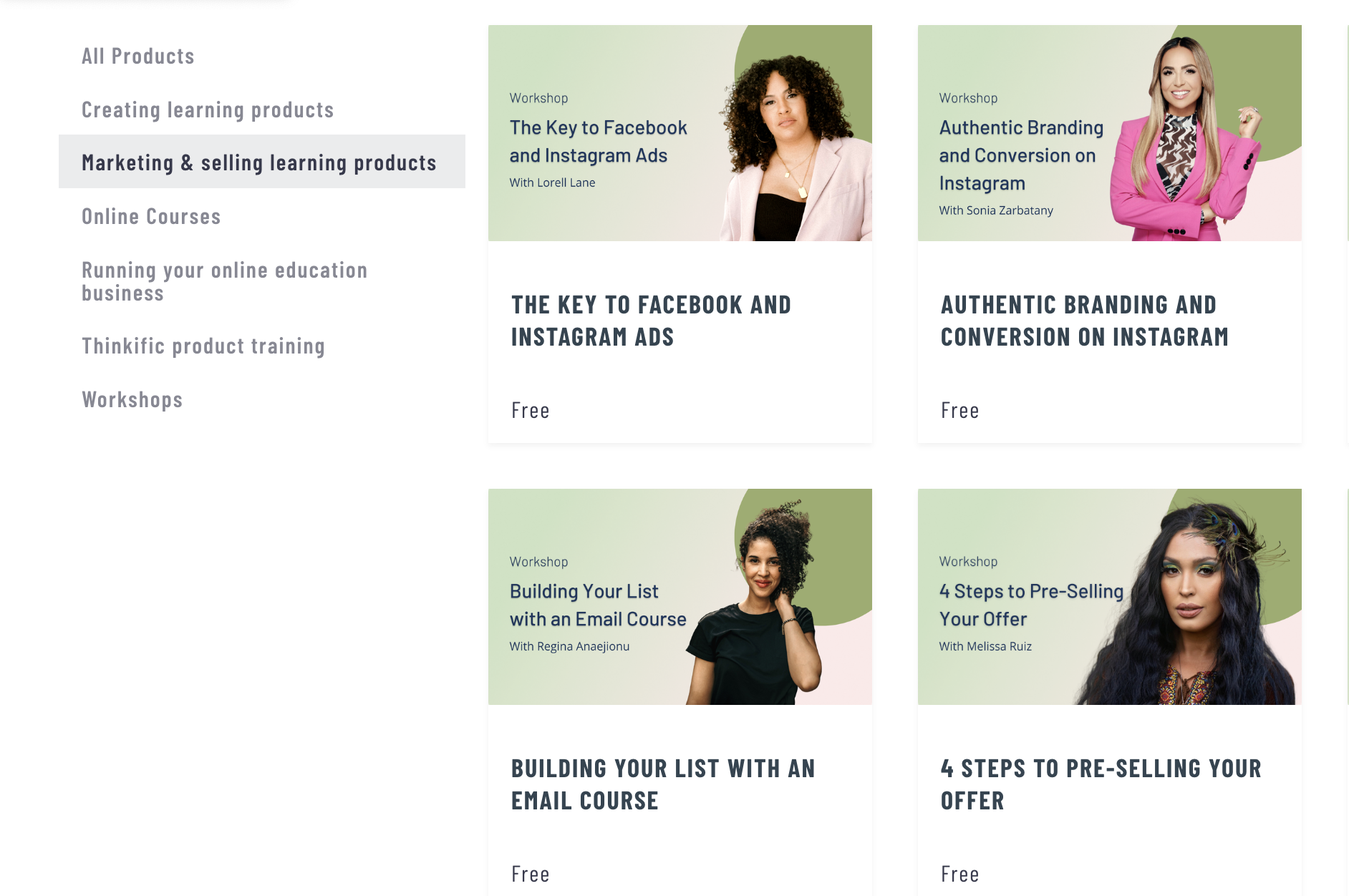 Related: What is a Content Marketing Strategy? And Why You Need One
How to track and optimize saas retention metrics
By now, you understand the impact customer retention has on revenue. You must measure your customer retention efforts to avoid wasting them. It's critical to measure the performance of these strategies once they are implemented so you can adjust and identify areas for improvement.
Here are some top customer success metrics and how to measure them:
Net Promoter Score (NPS)
To determine your NPS, you'll ask your customers, "On a scale of 0-10, how likely are you to recommend to a friend?" From there, you'll ask them why they gave the answer they did.Net Promoter Score
Net Promoter Score (NPS) indicates customer satisfaction and loyalty.This question can be deployed in a variety of ways: in the form of a survey, an email follow-up to customer interaction, a pop-up notification, or a social media poll.
Once you've collected responses to the question, you'll add up your answers and divide them by category:
Promoter: Responded with a score of 9 or 10
Passive: Responded with a score of 7 or 8
Detractor: Responded with a score between 0 and 6
Based on these categories, you'll calculate the percentage of your promoters and detractors. To calculate this, divide the number of respondents who rated you positively by the total number of respondents. Then, repeat this calculation for respondents who rated you negatively.
Finally, subtract your detractor percentage from the promoter percentage to get your NPS score.
Net Promoter Score = (Number of Promoter Scores/Total Number of Respondents) – (Number of Detractor Scores/Total Number of Respondents)
Related: Social Proof: 10 Examples & Tips To Use Credibility In Marketing
Churn Rate
Your revenue comes from customers that pay a recurring subscription so you need to know your churn rate. Churn is the percentage of customers who cancel or do not renew their subscriptions. It doesn't matter how much monthly revenue you generate because if you can't recoup your average customer acquisition cost (CAC), you won't profit.Use this calculation to measure your churn rate: (Lost Customers ÷ Total Customers at the Start of Time Period) x 100.
Activation rates
For your customers to truly experience your product's value, you must first activate them. Activation is when a user converts from a trial to a paying customer. If your users don't activate, they'll either stay on a free plan or leave. Your user activation rate will tell you how many users that began a trial reach the activation point. To calculate your activation rate, divide the number of users who reached the activation point by the number of customers who signed up, then multiply the result by 100.
Customer Lifetime Value (CLV)
CLV measures how much revenue you can expect over the course of your relationship with each customer. CLV is an indicator of profitability, allows for accurate forecasts, and shows you who your most loyal customers are. To measure CLV, you need these metrics:
Average purchase value
Average purchase frequency
Customer value
Average customer lifespan
Customer acquisition cost* LTV can be measured in four ways: traditional, historical, predictive, and cohort-based. Traditional approach: LTV = (GML * Retention rate) / (1 + Discount rate – Retention rate)
Related: What Is Customer Lifetime Value (CLV) and Why Does It Matter?
Customer Acquisition Cost
Your customer acquisition cost (CAC) is the average amount you spend to acquire a single new customer. CAC helps you gauge how effective you are at attracting new business. Every business owner's goal is to keep their sales and marketing costs down, effectively keeping their CAC as low as possible.
---
A report by Mixpanel and Product-Led Alliance suggests (1) retntion or churn, (2) average daily active users, and (3) percentage of active users are among the top engagement metrics tracked by managers at top SaaS companies.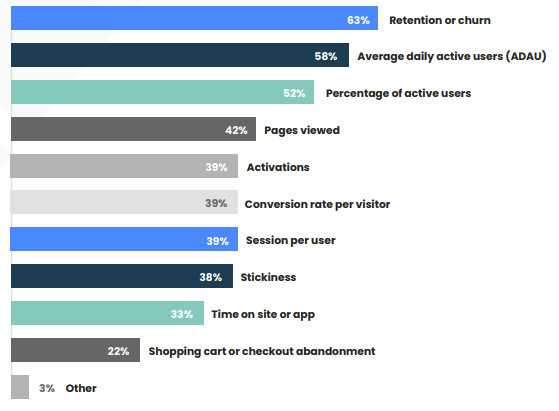 ---
Other SaaS metrics to consider
Referrals
A SaaS referral program leverages existing customers by incentivizing them to share your service with others. In the long run, referral programs save your SaaS business on CAC and improve customer loyalty. And if you choose the right referral tool, a successful program is easy to set up and run automatically.
Encourage your SaaS customers to join your referral program, share their unique referral code through social media or direct messaging, and redeem their rewards when others sign up using their code.
You must track your results to know if your referral program is working or not. By measuring your referral program by cost vs. revenue, the metrics will tell you where to improve or if your referral program is worth it. You'll know your referral program is generating positive ROI when referral revenue exceeds your customer acquisition cost (CAC).
Average revenue per user (ARPU)
You can calculate ARPU by looking at how much revenue each of your users generates.
ARPU indicates which products or business segments perform best. To gauge your results and find ways to improve, you should check the average ARPU benchmarks in your industry.
Monthly Recurring Revenue (MRR) and Annual Recurring Revenue (ARR)
MRR measures your company's monthly recurring revenue. ARR measures your company's yearly recurring revenue. Both metrics provide valuable insight into the health of your business. MRR and ARR are critical for scaling your business.ARR allows you to see year-over-year progression at a high level, allowing for long-term product planning and creating company road maps. MRR dives deeper, showing you month-by-month growth. MRR will reveal any immediate effects of changes to your product or pricing strategy.
ARR = (Overall Subscription Cost Per Year + Recurring Revenue From Add-ons or Upgrades) – Revenue Lost from Cancellations.
MRR = Number of subscribers under a monthly plan * ARPU
Conclusion
Investing in customer retention for your SaaS company is just smart business. For every customer you lose to churn, you'll pay the cost of customer acquisition to replace them. While retaining customers is critical growth for growth, it requires an investment. One of your first investments in customer retention should be in online courses.
Online courses allow your customers to get immediate value from your product because they provide you with the opportunity to clearly demonstrate the value of your product and teach them how to use it to achieve their goals. Businesses are more drawn to online courses than ever because they're one of the most cost-effective assets you can invest in. By building an online course, you can use it again and again to engage current and future customers.
Investing in making an engaging, highly usable course once will always be more efficient than recruiting, interviewing, hiring, training and paying full-time salaries every month to support the onboarding calls. By reducing friction points in your customer's learning curve, and using educational content to keep them engaged, you'll build a loyal customer base that results in predictable recurring revenue.
Ready to improve customer retention in your organization? Download your free Ultimate Customer Success Guide now. 
This article was originally published in October 2017, and was refreshed November 2022 for comprehensiveness.