Are you a purpose-driven entrepreneur looking to make a positive impact, while creating and growing a successful online course business? Once you've got your course, it's time to get people signing up. But how do you maximize student engagement?
Students who are engaged are more likely to make a purchase (or an additional purchase) and more likely to complete your course and refer it to friends. But with a completion average as low as 3%, creating a captivating course can seem challenging. Luckily, we'll discuss the framework needed to help you improve student engagement, completion rates, and most importantly, student success.
Skip ahead here:
The Three Pillars of Completion for Online Courses
The three pillars of a successful course are Clarify, Craft, and Captivate.
Clarify is where you get clear on your goals for building a course.
Craft is the format in which you create your course.
Captivate pertains to building in proven elements that facilitate course completion. By following these three pillars of completion, you can create an online course experience that will have your students coming back for more.
To nail these three pillars, it's important to have an understanding of who your students are and why they are here to learn.
Five steps to maximizing student engagement
Here are five steps to keep in mind when creating engaging experiences for your students.
Step One: Market Research
Do your due diligence in conducting market research. This is a very important step! You need to find out if your course will sell ahead of time. Not only do you want to determine if it will sell, but whether the course you have in mind to offer really meets the needs of your audience, and will result in high completion rates.
Get the free Audience Research Workbook with a step-by-step guide to researching your target audience.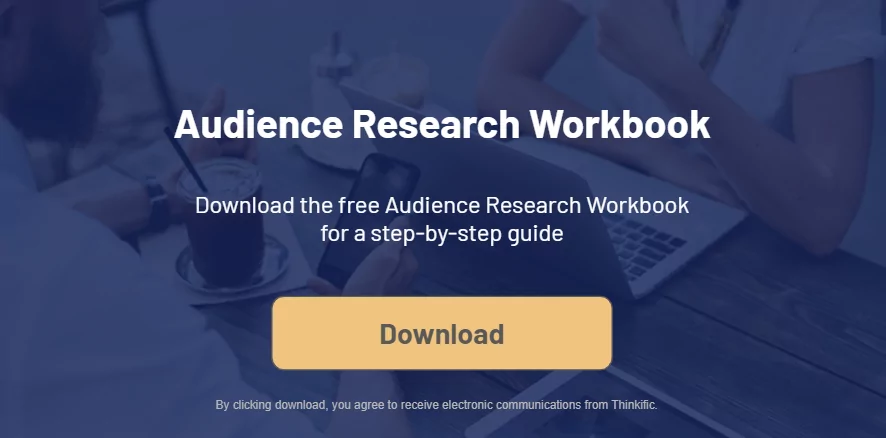 Step Two: Branding and Messaging
Your branding and messaging are critical in setting the tone for your course and impacting student engagement. Keep in mind that your branding should be consistent with the overall look and feel of your website or blog. Your messaging and intentions should be clear, concise, and easy to understand.
Step Three: Choose your Course Format
The format of your course is important in determining how accessible and engaging it will be for your students. There are many different formats to choose from, including video, audio, PDF, PowerPoint, and more as well as equipment and software. Consider the needs of your students when selecting a course format to create your online course.
Step Four: Create Engaging Content
Once you have chosen your course format, it's time to start creating engaging content. Keep in mind that your content should be well-organized, informative, and interesting. Students should be able to easily follow along and understand the material.
Step Five: Implement Proven Engagement Strategies
There are many proven engagement strategies you can implement to maximize student engagement in your online course. Some of these strategies include using videos, providing incentives, offering bonuses, and more.
By following these steps, you can create an online course that is engaging, informative, and easy to follow. Implementing these strategies will help you maximize student engagement and improve completion rates.
Student engagement strategies that work
1. Maximizing Course Engagement With Email
Online learning can be challenging, with a lack of interaction and in-person communication limiting the reach of your words. An online course that merely provides information without interaction or engagement is similar to reading a book. Students in online courses crave interaction, direction, and motivation. Focusing your efforts on personalizing the course experience and setting students up for success is key to creating engaging online courses. Prepare your students for the online learning experience through email efforts to ensure intentions are set from the beginning. Here are some ways to create and automate emails for every student.
Create Personal Welcome Emails
Welcome emails are your first opportunity to wow. Use welcome emails as the first chance to engage your students. When using Thinkific, you can choose from two types of welcome emails:
Site-Wide Welcome Emails that aren't tied to a specific class (so this includes folks that have just signed up and bought their first course and others who have signed up for a free trial or even those who are just checking you out.)
Course-Specific Welcome Emails that are sent only to new full members of specific courses (free or paid courses, but not for free trial members).
Here are some helpful tips to create more engaging welcome emails:
Draft a compelling, personal hello. Tell them a little about you, and share a favorite recent testimonial or two that might help solidify their purchase decision (or tip the tables if they're considering a purchase).
Invite your student to visit your social media channels, like Twitter or Facebook. This is also a way for them to get to know you a little more.
Offer a sweet sign-up bonus. Sending them free access to a small bonus course, a free guide, or an exclusive download are great ways to confirm they've made the right choice by checking you out.
Celebrate Completion with Email
With a Thinkfic account, you can create a unique email that will go out to your students when they complete each of your courses—signal the beginning, not the end, of your relationship. When students complete a course, they are at a crucial time in your relationship with them. Their satisfaction is at a peak as they've just finished learning, but they're also about to stop logging in for new course content.
Here are some helpful tips to create more engaging course completion emails:
Thank them and congratulate them! Nothing is better than a well-timed congrats note on a job well done.
Get feedback. You can always build a feedback form for student feedback right into your course itself, but asking via email for student experience and testimonials is another great way to learn how you can improve your program, and also earn valuable student comments that you can share.
Upsell them on your next course. You can include a coupon code to give them a deal on their next course, as a thank-you for completing your program. As you know which course they just completed, you can choose to suggest a good course to follow the one they've completed, or you can give a coupon that can be applied to any course in your catalog.
Offer a bring-a-friend deal. I'm a big fan of giving a gift for you and a gift to give away! Rather than giving one coupon towards a next course, why not offer two?
2. Making your course more interactive
Learning for today's students (from all generations!) is all about combining different multimedia and sensory experiences. Interactive learning scenarios that encourage participation, choice, collaboration, and discussion are much more engaging.
Interactive classes help students learn six times faster than other learning methods. There are several benefits to this kind of learning, which you can learn more about here along with tips on how to do this well.
3. Using gamification
There's a perk to our world becoming increasingly digital: We can learn from anywhere. But as we move further and further away from in-person connection, many learners find it difficult to stay motivated.
With no incentive for them to complete work — and no one to hold them accountable — it makes sense why there can be a high drop-off rate in online education.
Enter Gamification – a way to incentivize learners to complete learning tasks with rewards and recognition.
Gamification can include tangible benefits like prizes, and intangible benefits like seeing your name at the top of the leaderboard.
"Through gamification, we can increase the frequency of when students complete their lessons and courses,"Jeff Campbell, CEO of Motrain
4. Adapting your teaching style to their learning styles
We all absorb information at different rates and understand it differently too. Some students get new concepts right away; others need to sit and ponder for some time before they can arrive at similar conclusions.
Why? The answer lies in the type of learning styles different students feel more comfortable with. In other words, we respond to information in different ways depending on how it is presented to us.
By accomodating their different learning styles, students will be more engaged with the materials.
5. Using both synchronous and asynchronous learning
Maximize your student's time by strategically planning learning experiences that take place in both live and self-paced settings. (Synchronous and Asynchronous Learning.)
Synchronous learning takes place live, in real-time, with people gathered together in the same space… whether that space is physical space such as a classroom, or a virtual space such as a Zoom meeting.
Because it brings people together in real-time and in a shared space (whether virtual or physical) around a common topic or purpose, synchronous learning promotes engagement with the instructor and fellow course participants.
Asynchronous learning takes place in a manner untethered to time. It is learning that happens at the learner's own choice of time, in any physical space of their choosing (although the virtual space where asynchronous learning takes place will likely be specified by the learning creator).
Asynchronous learning is good for things like pre-class preparation and reading, or hands-on interactive activities that learners can do on their own. You can try combining different styles like video and reading documents together to keep learners engaged. (Try out this Thinkific app for example!).
6. Use more storytelling to create empathy and meaning
We're hardwired to empathize, and stories engage our empathy. Empathy generates personal meaning–and personal meaning drives our ability to internalize what we're learning. It also drives engagement which makes learning more effective for students.
Storytelling → Empathy → Personal Meaning
Incorporating stories and having students act out or discuss scenarios, helps you better teach complex skills like problem-solving, collaboration, and creativity. An engaging and effective teaching model will ensure students retain what they learn–and will keep students coming back for more.
Related: How to make online training more engaging
---
Automate Accountability for Successful Online Courses
Student engagement and completion rates are proven to improve with accountability elements built into the course. There are multiple ways to automate accountability into your course, saving you time from having to do these check-ins manually.
With Thinkific, you can easily create an automated path for your students to follow by using Drip Content. Drip content is the release of new course content over time, at set intervals that you decide. This can be used to create a sense of urgency and excitement for your students as they see new content being released, while still allowing them to work at their own pace.
Another way to automate accountability is by using Course Completion Certificates. This allows you to set up a certificate that your students can unlock once they've completed all the required lessons in your course. This is a great way to reward students for their efforts and give them something tangible to show for their hard work!
Both of these features are great ways to automate accountability into your course and increase student engagement.
Want even more strategies for getting started creating your own online course? Download the free Thinkific guide to creating and selling online courses!
This blog was originally published in May 2015, and was refreshed in August 2022 to be even more helpful!