Conversion Rate Optimization is the answer to cutting through the noise on the Internet and optimizing your digital footprint so that your content is easily discovered. When potential prospects arrive at your virtual real estate, that is: your website, all information needs to be delivered to them in a way that provides value and moves them forward in the customer journey.
The Internet is inundated with multiple options for information products of nearly every conceivable genre. Given the competitive digital ecosystem, today it takes a bit more than excellent subject matter knowledge and teaching skills to create an online course that is scalable and brings in the desired revenue. Looking at the numbers, a clear gap exists on most landing pages and websites when it comes to conversion rate optimization.
Turns out that more than 50% of landing pages are not adequately tested to enhance conversions.
Further, according to CrazyEgg, a famous conversion analysis tool, most websites tend to have a bounce rate between 26 and 70%. This translates to most visitors leaving the website without clicking on the CTA button.
On the bright side, research also shows that a website's ROI has the potential to increase by 30% if it has a dedicated Conversion Rate Optimization (CRO) budget to optimize conversions.
This article is all about helping you understand what CRO aka "Conversion Rate Optimization"  is, and how you can apply CRO strategies using different tools to enhance the success of your online course sales sustainably.
Skip ahead here…
What is Conversion Rate Optimization (CRO)?
Conversion Rate Optimization (CRO), also known as conversion optimization, includes the gamut of processes that can be undertaken to improve the effectiveness of your website's inbound traffic. Effectiveness here implies skillfully navigating website visitors for taking desired actions and converting them into qualified leads for your business/organization.
Usually, most website owners tend to embed their web pages with Call to Actions (CTA) that matter to them. For a course creator like you, these may range from filling out a contact form, participating in a survey, signing up for a newsletter, downloading an e-book or enrolling in a free course that you offer. Of course, goes without saying, making course purchases is always a part of the conversion.
Thus, the conversion rate refers to the percentage of web visitors that convert to leads. Conversion Optimization aims to ensure that your web visitors take action, usually by clicking the call-to-action (CTA) button.
Why does your conversion rate matter?
As a course creator, managing to grab eyeballs on the Internet is not the most straightforward task. Generating organic traffic is usually complex and quite time-consuming, requiring commendable effort. Engaging in digital marketing and attracting paid traffic through social media advertisements also costs resources. Now, after all this activity, your efforts get wasted if the visitors who arrive at your website do not take the action you want them to take.
Therefore, to amplify the outcome and Return Of Investment of your collective marketing efforts in terms of increased leads at lower acquisition costs and attaining your revenue goals, funnel optimization by focusing on CRO matters.
Learn more: Boosting your Business Revenue with Sales Funnels: A Complete Guide
Building a potent Conversion Rate Optimization (CRO) strategy
To increase your conversion rates, it's necessary first to understand what is going through the minds of your website visitors and how they navigate your website. This knowledge can put you at a place of advantage to know the precise conversion bottlenecks and address them using a well-defined CRO strategy.
Optimized Conversion Rate Optimization strategies help to increase the chances of web visitors turning into leads and, in turn, paying customers. So no surprise that marketers focus on enhancing conversion rates, and 69% of marketers cite lead conversion as their highest priority.
A Conversion Rate Optimization strategy works best when it is customized to the needs of your individual website pages. Intuitively, the goal of an "About" page is always different from that of the "Courses" page or the "Blog" section. A cookie-cutter approach, blindly replicating the same strategy on all your online course website pages, doesn't work.
Here are some steps to keep in mind before you begin to build your Conversion Rate Optimization strategy:
First, identify the essential pages of your site for your information product.
Usually, the homepage and online course landing pages are those that matter to most course creators. However, the services and blog pages tend to perform pretty well too and should not be ignored.
Leverage a good heat mapping tool to identify the exact areas on these pages where most of your visitors are likely to click if there were a CTA button. Heat mapping tools typically represent a visitor's activity by visually highlighting the journey of their clicks, hovering, scrolling and even eye tracking.
Plan and plug in Calls To Action (CTA) at optimized locations. Further, support your CTA buttons with the power of convincing copywriting, in addition to a website that delivers a good user experience.
 Leverage the list of tools and Conversion Optimization strategies (more on these below) to monitor conversion rates continuously.
Three Conversion Rate Optimization Formulas you need to know before implementing CRO strategies
The primary step to uncovering what is happening behind the scenes before people click on the CTAs you have embedded on your website must be to calculate a few critical key performance indicators (KPIs). This understanding helps to clearly outline where you are at and where you want to reach by implementing your optimization strategy.
Some KPIs to track include the Conversion Rate, Number of Net New Customers, and Lead Goal.
Conversion can be defined as any desired activity that you want your website visitors to take. It may include the number of users signing up for your newsletter, purchasing your product, online course, etc. You need to have a defined metric for conversion. Once you have that in a way you can measure, calculating the conversion rate is simple.
Simply identify the number of visitors coming to your website. From this number, deduce the actual number of visitors that convert.
Then, divide the number of conversions by the total number of visitors coming to your website.
Finally, multiply this number by 100 to arrive at your conversion rate in percentage terms.
The formula of Conversion Rate = [Total Conversions / Total website visitors] x 100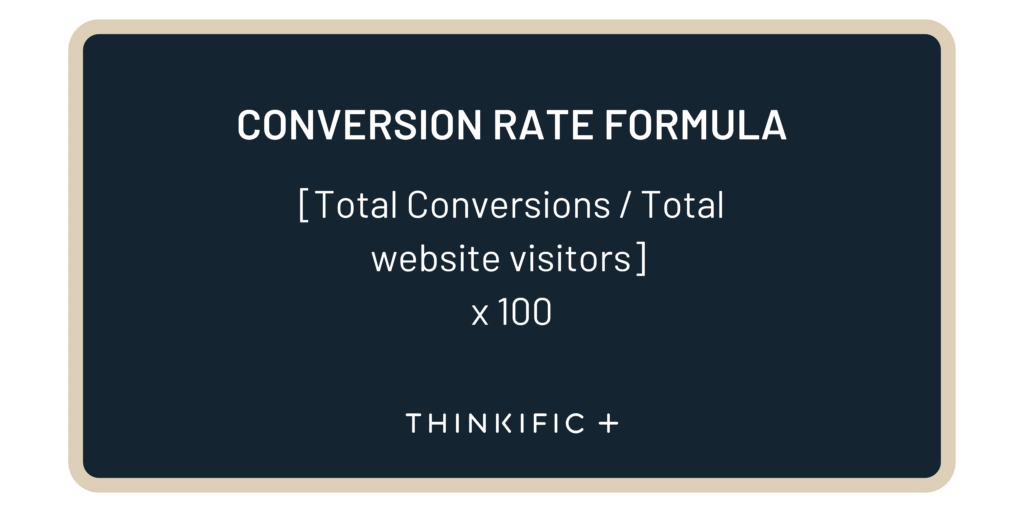 This metric reveals your true growth potential and is intrinsically tied to your revenue goals. Therefore, if you want to get an accurate representation of the Number of Net New Customers, you need to identify your revenue goal first.
Once you have that, you can divide this figure by your current sales price to arrive at the number of new customers. You may use an average sales price if you're selling across different price points.
The formula of Net New Customers needed = Revenue Goal / Average Sales Price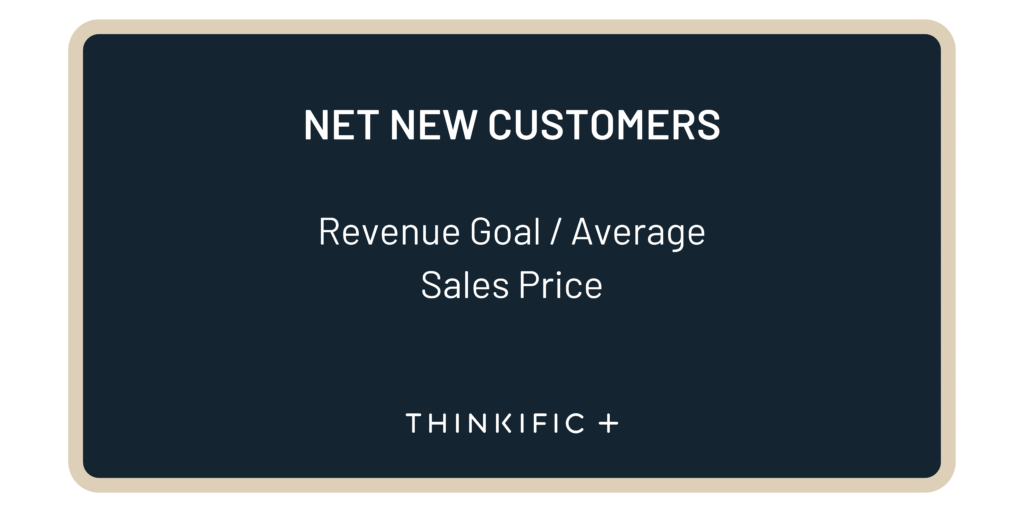 Lead goals, also known as "lag goals", are your everyday success stories that act as a stepping stone to your larger revenue goals. Given your existing performance in terms of conversions, there are two ways to approach improving conversion performance.
One is improving the number of customers you have converted, as per your existing traction. The other is maintaining the rate of conversion but attracting increased traffic and, therefore, greater conversions. The first one is a superior and more optimized way.
Planning this is possible by outlining lead goals. To calculate your lead goals, you first need to identify the number of new customers and divide it by your Lead-to-Customer closing rate. This is how many of your leads convert into paying customers.
The formula of Lead Goal = [Number of New Customers / Lead-to-Customer Rate]
where Lead-to-Customer Rate = [Total Leads / Total Customers]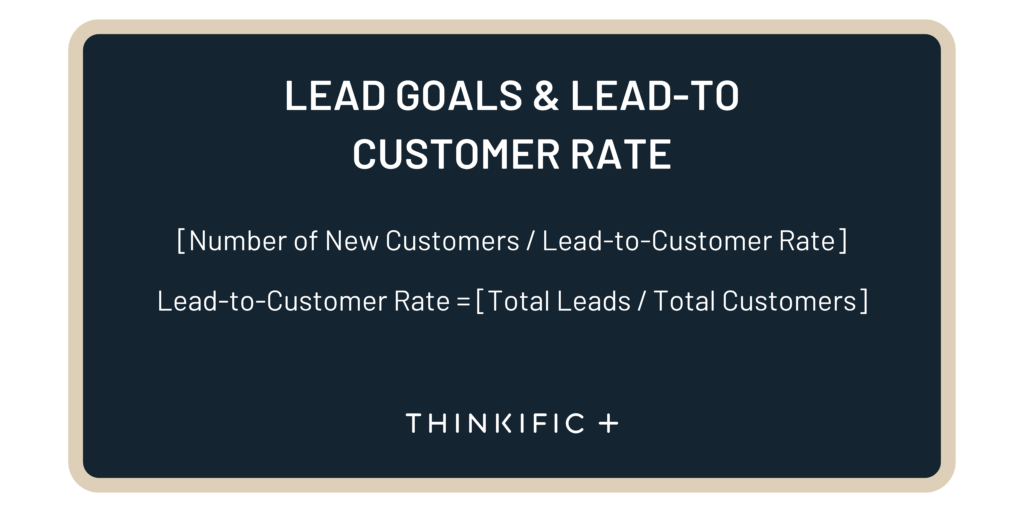 Now, let's move over to learning about conversion optimization strategies.
Here are four crucial Conversion Rate Optimization Strategies
A/B testing helps you compare two web page versions and see which one performs better. One version of the web page is shown to one random group and another version to another randomized control group. Finally, the performance of the two versions of the webpage is compared between the two groups.
A/B testing is helpful when you want to identify which colors, images, words, and other elements are likely to perform better. You can observe this performance in metrics such as conversions, web traffic, and clicks on various web items. Statistically speaking, A/B testing is the most popular CRO strategy, with more than 58% of marketers already using it.
Lead Flow is the process of encouraging your leads through the sales funnel and helping them convert in an organized manner. It's a key to a structured lead management strategy and helps to guide visitors to click on your CTA button.
Lead flow can vary depending on your web traffic source and the CTA buttons your visitors need to click. An essential component of lead flow is to assign value scores to your leads. Once you know who your most valuable leads are, you can invest more resources to help them convert. This way, you devote your resources to converting high-potential visitors without wasting limited resources on those who're not likely to convert.
In case valuable leads are not converting, you can address any loopholes that you're able to identify. We've discussed qualitative tools to address such issues below. Qualitative tools help you get a behind-the-scenes picture of your web visitors and what they think and feel about your products and services.
A landing page refers to any web page whose main and only purpose is to convert visitors into customers. People may arrive on your landing pages after clicking on links left in paid advertisements, social media pages and so on.
However, not all landing pages are created equal and may not convert well. Therefore, implementing the A/B tests described above is essential for landing page optimization.
For example, you can try and replace web forms with chatbots to see which one performs better during A/B testing. AI-enabled chat boxes usually outperform traditional web forms in most landing page tests.
You can further bolster your landing page by identifying the key elements to test. These elements may include a convincingly written sales copy, a crisp headline, and pricing strategies for your course levels for online course creators. You can also test your landing page images, videos, text font and style, and the design and layout of the page.
Related downloadable guide: The 4 Part Sales Copy Framework
The idea behind smart copywriting is to use words to convince people and drive conversions. However, conversion copywriting goes a step further. It uses emerging technologies such as artificial intelligence and machine learning to help create a data-driven copy.
Conversion copywriting essentially rests on researching your target audience and their behavior. In other words, it depends on auditing existing web pages, conducting A/B testing on website copy, and taking customer feedback seriously. Just like in other conversion optimization processes, you can leverage heat mapping tools and click-tracking to check which versions of your copy fare the best in terms of conversion rate.
To implement conversion copywriting on your online course website, make sure that you write different versions of copy and test it among your target audience. In the end, you can choose the version that is most likely to generate clicks on your CTA. Then, continue to edit and make changes to your copy as and when new insights become available to you.
Which are the best tools to implement a Conversion Rate Optimization strategy?
There are several quantitative and qualitative tools that you can leverage when implementing your conversion rate optimization strategy. We have listed five essential tools under each category, which should suffice for implementing a thorough CRO strategy for scaling your online course.
Here are five quantitative tools for implementing a CRO strategy
Numbers have always been a reliable measure of performance. Quantitative tools help you understand the math behind how many visitors use your website in terms of numbers, making them integral to CRO.
1. Google Analytics 
Google Analytics forms the gold standard when it comes to mining out details on your website performance and customer behavior on it. Setting it up for your website is quite simple. Once set up, it is a great platform to understand your customers regardless of the device they use around metrics like bounce rates, time spent on the page and so on.
The insights revealed by Google Analytics enable an understanding of how visitors tend to interact with the content added to your website. It also generates machine-learning-enabled reports to reveal better and deeper insight. Finally, it allows exporting shareable reports that are quite useful to share with any specialized professionals you may be working with to improve the performance of your website such as SEO conversion.
2. KISSMetrics 
KISSMetrics is a more user-centric tool that helps you understand more about your web visitors.
In addition to bounce rate and time-on-site information, you can derive detailed insights about actual user behavior on it. It empowers you to tie your reports and data to real people, making it excellent to integrate with your CRM tools in case you are using them to sell your courses.
If you are someone to whom quantitative tools seem intimidating, KISSMetrics can make it quite easy for you to understand the story behind the numbers.
3. Clicky 
As a course creator, if your audience comprises customers who're located in specific regions like countries in the European Union, you are liable to comply with the General Data Protection Regulation (GDPR) guidelines when it comes to collecting user data.
Clicky is a GDPR-compliant quantitative tool that not only protects the privacy of your web users but also generates valuable reports for you as a website owner to increase your conversion rates. Clicky is a great source to gain accurate insights about page views, JavaScript events, actions taken while on the website, and so on.
4. Adobe Analytics
Adobe Analytics is powered by predictive analytics, making it easier for you to understand the reasons behind each conversion. This helps you tweak your existing marketing strategy better and invest appropriately. While most tools provide valuable information about website user activity, Adobe Analytics reveals what happens just before a customer converts.
Pre-conversion behavior is an essential and powerful insight that helps you understand why consumers choose to click on your CTA buttons.
5. MixPanel
Understanding your power users is the key to generating more sales and building revenue. Online courses often require subscriptions and repeat purchases of modules and learning material. Hence, it is vital to understand who your power users are and what makes them dwell on your website pages for longer. MixPanel helps you to tie website visitors' behaviors to retention strategy and develop long-term customer nurturing campaigns.
Here are five qualitative tools for implementing a CRO strategy
Qualitative tools are also quite important as they reveal essential insights into why people behave the way they do. Unlike quantitative tools, which offer numbers and reports based on various metrics, qualitative tools help you to understand user behavior patterns in a descriptive manner.
Please note that it is essential that both quantitative and qualitative tools complement each other.
1. Qualaroo
Qualaroo is a vital customer feedback tool that is touted to be ten times more effective than vanilla email surveys. What makes Qualaroo different from regular email surveys is that it combines artificial intelligence and contextual knowledge to help ask the right questions to your customers.
In addition, its usage does not slow down your website – a factor that often derails conversion goals for many. You can effectively use Qualaroo to ask your visitors for feedback regarding your website and gain insights on what they think about investing in your online courses. Plugging in that feedback, you can make changes to be better prepared for success.
2. SurveyMonkey
SurveyMonkey is a great tool for building surveys and questionnaires to seek answers directly from users.
If you have your web users' contact details, you can easily send them a link to your SurveyMonkey form with your questions. Once they participate in your survey, you will have your responses recorded on a delightfully-designed form. As a tool, SurveyMonkey can also be embedded into your site, making data and feedback collection quick and easy.
3. CrazyEgg
CrazyEgg is perfect for understanding where web visitors click and where they don't.
The web application takes a snapshot of your website and provides five different reports, of which the Heatmap Report is the most popular. This report informs you which webpage areas have the highest click activity rates. This can guide you to place your CTA button in the most potent spots. Other reports furnished by it include insights on where to place your CTA based on scrolling behavior and color-coded information of individual clicks known as the Confetti Report.
4. UserTesting
Your web visitors are your best informants when it comes to how they feel about your website. UserTesting provides you with videos of actual people who speak out their opinions about your website as they use it. This helps you get a qualitative and subjective analysis of your website performance. For instance, if your online course is challenging to navigate, videos generated through UserTesting can give away that information.
5. Olark
Olark is a live chat application that helps you to engage your customers and respond to their queries in real-time. This tool comes with live chat insights that help you better understand how customers perceive your website and online courses. It also enables you to store notes related to your chats and leverage customer feedback to improve your online courses and website.
Learn More: How Thinkific Payments Improved This Creator's Conversion Rate by 58%
A quick recap of Conversion Optimization Strategies
While every website and course is different, there are a few standard rules for optimizing websites that offer online courses (or any product for that matter).
Have a smooth functioning website with all the essential pages such as Homepage, About Us, Products and Services, Blog, and Contact.
Identify the audience for your online course and put a solid digital marketing strategy in place. This includes both social media marketing and paid advertisements.
Clearly define who your primary target audience is, and continue to make changes to your website based on continuous A/B tests and user-generated feedback.
Use both quantitative and qualitative tools to simplify and automate your CRO strategy. This will help you to gain a deeper understanding of who your prospects are and what you need to do to keep them on your website for a longer time.
Conversion rate optimization is an effective practice to help your leads move successfully through your sales funnel. However, it requires time and effort and is an ongoing process. As a course creator, it may be overwhelming to take care of so many aspects.
If you do not have the time to set up your own website and run CRO strategies to enhance your sales, you can rely on the proven expertise of third-party vendors such as Thinkific Experts. 
Drive Conversions and Generate Revenue For Your Business With Thinkific Plus
Thinkific Plus helps you create scalable online education programs that can help you drive conversions, generate revenue, and understand your customer's behavior. In addition to the course-building features of Thinkific, Thinkific Plus is enriched with enterprise-grade features that help you provide a quality experience for your customers, partners and audience.
You also gain access to a dedicated Customer Success team whose sole purpose is to help your online course business grow. In short, if you want to set yourself up for success with online course sales, Thinkific Plus is the perfect go-to solution.
Learn more about Thinkific Plus and chat with our solutions team to try it today.