If you spend enough time looking into online course creation, you'll probably start to get the urge to build your own online course.
But while the creation part might seem straightforward, the question of how to sell online courses is a different matter.
A quick search on sales strategies can leave your head spinning and that all too familiar imposter syndrome creeping up.
It can seem like there are 101 terms and concepts you have to get to grips with and everyone and their aunt knows more about selling online courses than you do.
But the truth is, you don't have to be a sales pro to sell online courses. In fact, your wiring as an educator gives you a sales edge.
The process of how to sell online courses can be broken down into 6 simple steps. No business degree or sales background needed.
In this guide, we've simplified everything you need to know about how to sell online courses to help you grow your audience – and grow your revenue.
Read on to learn the process of how to sell online courses or click the links below to skip ahead.
6 Step Guide on How to Sell Online Courses
6 Step Guide on How to Sell Online Courses
While the process of selling online courses can seem like a never-ending maze filled with jargon and unintelligible infographics, it doesn't have to be overwhelming.
Learning how to sell online courses can be broken down into just 6 simple steps.
At every step, we've included the essentials for what you need to know and options for extra reading to help you learn more.
Here's our ultimate guide to how to sell online courses.
---
If you're looking to sell online courses, the first thing you need to know is who you're selling to.
Identifying a target audience is the foundation of how to sell online courses for any course creators, coach or infopreneur.
Many first-time course creators fall at this first hurdle, creating an online course that they think people want – rather than finding out what they actually want.
It's really important to validate your course concept before you start creating and selling online courses to avoid wasting time and energy.
To sell online courses, you need to know:
Who your ideal customer is
What challenges they are facing
What they need from you
This is essential to help you understand how to create something of value for your audience and build a community of loyal, motivated customers.
Here are 3 steps to help you find your target audience:
Research your Audience
If you want to find your target audience, you need to do your research.
If you already have existing customers, start there. Or if you haven't started selling a product or service yet, look at who you'd sell your courses to in an ideal world.
Thanks to the internet, audience research is easy. Search on Google and social media to find your ideal audience and learn more about them.
As part of your audience research, try to do these 3 things:
Identify the solution you are offering
To find your ideal audience, start by thinking about the solution you are offering your students.
Think about the outcomes of your online course and who could benefit most from what you're selling.
Imagine your course as the solution to someone's struggle – which problem(s) can you fix? What obstacles does your course help people overcome?
If you can identify the solution you're offering, you can think more clearly about who your target audience is.
Define your audience demographics
When you've identified who will benefit most from what you're selling, start to get more specific. Define the core demographics of your audience, including:
Age
Location
Gender
Family status
Hobbies
You can also get even more detailed, looking at their employment status, education level, income and more.
Your aim is to be as specific as possible to understand exactly who your audience is based on their shared characteristics.
Check out your competitors
In your audience research, you can also look at competitors in your chosen field.
Who else is offering what you're offering? How will you differentiate yourself from them? Competitor research is essential to help you find your niche and make your online course business a success.
When you know the audience your competitors are targeting, you can start to identify the people whose needs aren't already catered to or who your competitors aren't currently reaching with their products and marketing.
Listen to your ideal customers
When you've done your base level research, it's also a good idea to reach out to your ideal customers and talk to them.
Internet research is important but to really find out who your ideal customers are, you need to hear from them directly.
Here are 3 tactics:
Send out customer surveys
Conduct face-to-face interviews
Post questions on your social media
Listen to your ideal audience to find out exactly what they want from you and how you can best serve them with your online course.
Aim to reach at least 50 people in your customer research to give you a clear picture of your target audience and how to sell online courses to that market.
Narrow down your audience
Using the results from your audience research and customer interviews, you can then narrow down your audience further.
It's really helpful to create a user persona or customer avatar – this is a detailed profile of your ideal customer that focuses on one person in particular.
It imagines your target audience as one person, including:
Their core demographics
Their goals and values
Their challenges and pain points
Their role in the purchase process and potential objections
Their sources of information e.g. books, magazines, news sites
Get a free customer avatar template here along with a complete workbook for defining and appealing to your ideal customer.
When you're selling online courses, you're aiming to talk to this person directly. A detailed customer avatar lets you focus your marketing efforts, including your content marketing and copywriting, paid ads and social media strategy.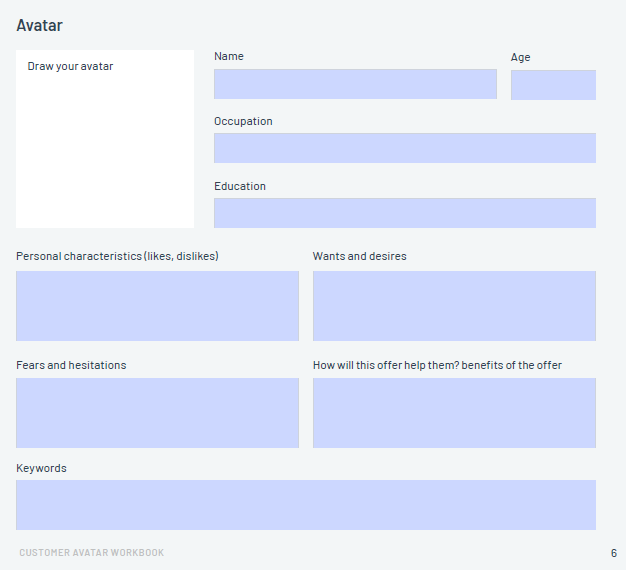 Check out our full guide for how to define your target audience, complete with templates and workbooks to help you get a clear picture of who you're selling to.
---
Once you know who you're selling to, you can also work out how to price your online course in a way that maximizes your profits.
The process of pricing your course can be daunting, especially if this is your first time.
The good news is, there are some simple strategies you can use for pricing your course and avoid one of the most common pitfalls to selling online courses – selling too cheap.
Price your course based on the value of the content
The secret to selling online courses is to think about your course as the solution to a problem. This principle applies for pricing your course too.
Don't price your course based on the length or complexity of the course, price it based on the value of your content.
You're not simply selling information, you're selling an outcome. What transformation does your course offer? What will your students be able to do after they complete your course?
It doesn't matter how long it takes students to complete the course, what matters is the results you deliver as quickly and efficiently as possible.
Don't undersell your course
The biggest mistake course creators make is pricing their online courses too low.
There's an assumption that the lower the cost, the more courses you'll sell. But pricing your course too low can actually damage your business long-term.
As well as meaning you earn less from each sale, there are more drackbacks to consider:
Lower prices attract less committed customers
It reduces the perceived value of your course
Undervaluing your expertise can damage your reputation
It costs the same to market a cheap course as a higher priced course
You have less money to reinvest into solving more of your students problems
Although it's tempting to price your course lower in order to sell more, you could be doing more harm than good. If you want to learn how to sell online courses, try to have the confidence to price your course higher.
We recommend selling online courses at a minimum of $50 and ideally pricing your course at $199 or more.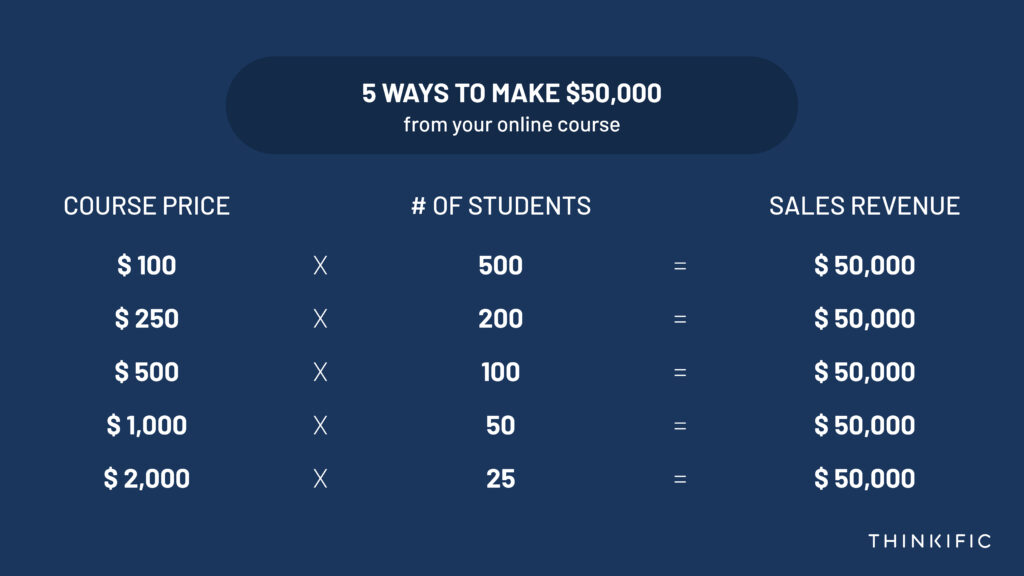 Expert course creator Sunny Lenarduzzi recommends selling one high-ticket course priced at $500 or higher to help you focus your efforts and only obtain highly committed, motivated customers.
Consider pricing tiers
If you're not ready to price your course as a premium product, then consider offering pricing tiers instead.
Pricing tiers satisfy your buyers' need to consider and compare different options, without the need to look at your competitors' courses.
For example, you could have 3 pricing tiers with the most basic package at the lowest price point. The medium package will be your core course and the one the majority of buyers will opt for. The premium package might include exclusive features such as one-to-one or group coaching or live teaching elements.
With pricing tiers, you can make your course more accessible to a wider range of customers without reducing the perceived value of your expertise.
Whichever pricing strategy you use, remember that you can always adjust it as you go. As you get more customers and your course develops, increase the price accordingly. This lets you charge more as you refine your marketing and add value to the course.
Test your pricing and see what works for you and your target audience.
Check out our complete guide to how to price your online course for more information and tactics you can use for selling online courses.
---
Another insider's tip for how to sell online courses is to start selling before you've even created your course (also known as preselling).
While it might seem like a contrary concept, pre-selling lets you validate customer demand before you invest time and resources into creating your course.
By pre-selling your course, you can get instant feedback on what your target audience is looking for.
If your course doesn't sell, then your idea needs refining.
Pre-selling your online course also gives you the chance to build a customer list and start creating a course community that you can then utilize when you've created your course and uploaded it for students.
Here are some tips to help you get started with pre-selling:
Create a minimum viable course (MVC)
Also known as a pilot course, a minimum viable course is the very first version of your course that you're willing to sell.
This is your course at its most basic – and the understanding is that you'll add to it and improve it over time.
An MVC lets you test the waters with your target audience, before committing too many resources to create a full premium course.
The idea is to use your MVC to collect feedback and testimonials from your customers that you can then use to refine and promote your future course, helping you sell online courses in larger quantities down the line.
Price your pilot course lower than future courses
To avoid customers feeling disappointed at your course content – and possibly leaving negative reviews – price your pilot course lower than what you intend to charge for your course in the future.
You could even market your pilot course as an exclusive opportunity for customers to be involved in the testing phase and get a sneak peek at your course content.
Once your first cohort of students have been through your course and you've got the positive reviews you need, you can increase the price for future customers.
You can also use a drip schedule format to create course content as your students complete each lesson or module.
Thinkific has a Drip Schedule feature that lets you control when students get access to your course content, depending on your launch date or chosen schedule.
For example, you could give students access to a new training video every week over a 2 month period. This gives you time to create your course content as you go, while also gathering student feedback and refining your content.
Pre-selling is like a cheat sheet for course creators – you get the benefits of feeling out your target audience and gathering feedback before you launch into creating your course for real and investing your time and energy into the product.
Related:
Learn more about how to pre-sell a course here.
How Does Marketing Automation Work? What Is and How To Do It
---
Download this free Guide to Pricing Online Courses, which includes a Course Pricing Worksheet that you can fill out: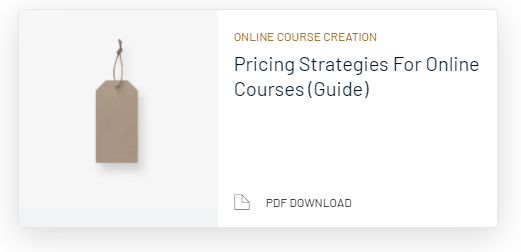 ---
The process of how to sell online courses isn't a straight line – it's a circle.
When you create an online course and upload it, your job isn't done.
The most successful course creators – who also sell the most courses – follow a cyclical process of launching and continually improving their online courses.
Also known as a feedback loop, this process of (re)launching and refining is all about listening to customer feedback and using it to refine your course content.
The process goes like this:
Listen: Ask your customers for feedback to understand what they want from your course
Sell: Refine your offer using customer feedback and use it to create something that's irresistible to your audience
Create: Tailor your course content according to customer feedback to create a professional, beneficial learning experience for customers
Launch: Launch your course and run it with real students to deliver on your pre-sell promise, then restart the loop to refine your offering and your course.
This circle of gathering feedback and refining your offering and content lets you improve your course content over time, shaping it into the ideal product for your audience.
It starts with pre-selling your online course but then it continues even after your course has launched – this means you keep adding to and refining your offer and your course content according to customer feedback, letting you create the best possible course on the market.
Here are some of benefits of creating feedback loops:
Find out what your customers really think
Engage customers to help them feel valued and listened to
Increase customer retention
Refine your product for your target audience
Tailor your messaging to reach your audience
Listen to your customers to learn how to sell online courses to your target audience – they are the best advisors you have!
For best effects, create opportunities for feedback at the end of every module. Include a survey that lets students share their opinions, ideas and any complaints. You can also schedule one-to-one calls with a select number of students for more in-depth feedback.
If you have an online learning community, use this space to gather more feedback from students – post open-ended questions, surveys and polls to get as much data as possible on how to improve your course.
Related:
Launch Your Online Course In 90 Days: Tips From A Launch Specialist
The Ultimate Online Course Launch Checklist (Free Guide + Templates)
---
Selling online courses is not a dark art – it's something anyone can learn to do. To ace your selling game, it's a good idea to create a sales funnel for your online course, Here's how:
How to create a sales funnel to sell online courses
When you're first getting started with selling online courses, you'll want to create a course sales funnel that helps convert interested audience members into loyal paying students.
A sales funnel is the journey your customers take towards making a purchase. It outlines every checkpoint where potential customers will interact with your brand.
They start at the top of your sales funnel when they first hear about your brand and then they move through the funnel towards making a purchase and becoming loyal brand advocates.
Imagine your sales funnel as an actual funnel – it's wider at the top and narrower at the bottom.
At the top you have your general audience and by the time they reach bottom you have the few select people who will make a purchase and become repeat customers.
This process is expected – your course isn't made for everyone!
A sales funnel helps to focus your efforts and attention when you're selling online courses. It can also help you:
Target your messages
Identify key touchpoints for potential purchasers
Take advantage of more opportunities for selling
Remove sales friction
Track and measure your sales success
By mapping out your customer journey, you can see more clearly how to move customers towards a desired outcome – like purchasing your online course.
There are a range of different conversion funnel models you can use in your hunt for how to sell online courses.
Here is a one of the most popular models: Awareness -> Consideration -> Conversion -> Loyalty -> Advocacy
Awareness – At the start of the funnel is the Awareness phase – essentially your customers learn that you exist. You first come on their radar and they make a decision whether or not they want to learn more about you. This is the first impression someone gets of your brand.
Consideration – The next phase is Consideration – your potential customers start researching what options are available to them as solutions to their problem and whether your brand is one of the options they want to keep exploring.
Conversion – The Conversion phase is the critical step to sell online courses – customers have gathered the information they need and they are ready to make a purchase. This phase is where you convince your customers that your business is the one they want to buy from.
Loyalty – The Loyalty phase looks at the process of selling online courses long-term – after customers have made a purchase, they keep coming back to you because you continue to offer them something of value, interact with them and keep them engaged.
Advocacy – The Advocacy phase is when satisfied customers go on to introduce more people to the top of your sales funnel by sharing your course with others in their network and acting as brand advocates, helping to grow your audience and your potential to sell online courses to more people.
Using your sales funnel
Once you've mapped out your sales funnel and your customer journey, you can start to create content to meet your customers' needs and lead them towards each step in your funnel.
Here are some ideas of the types of content you could create for each stage in the funnel.
Top of funnel (TOFU)
Use targeted messaging to attract your target audience and catch their attention, including:

Social media updates
Infographics
Educational videos

Middle of the funnel (MOFU)
Engage prospective customers by building interest in your products or services, increasing their knowledge of what you offer over time. This includes:

Email campaigns
Demonstrations
Quizzes
Ebooks, guides and whitepapers

Bottom of funnel (BOFU)
This is the final push to convert interested prospective customers and convince them to make a purchase or take action, including:

Case studies and customer stories
Testimonials
Promotional offers
Webinars and events
The goal at each stage of the funnel is to pull people down further in the funnel. For example, if you do a webinar (mofu), try to share things from the bottom of the funnel, like a case study or a promotional offer (bofu).
Don't worry about creating every type of content to hook customers. Focus on 1 or 2 strategies for each stage of your funnel to get you started.
Your sales funnel is really helpful to guide your marketing strategy and identify where you should devote your time and resources to sell online courses – see the next step!
---
To know how to sell online courses, you need to learn some basic marketing strategies to help you reach your target audience and convince them to make a purchase.
There's a huge number of ways you can market your online course – but there are some easy methods you can use to sell online courses right away, whatever your industry or niche.
Here are some of the top marketing strategies for selling online courses:
Get our full list of course marketing strategies to build your brand and learn how to sell online courses like a pro.
Content marketing is the bread and butter of a course creator's marketing strategy.
Content marketing encompasses any type of content you create for your business, be it blog content, video content, email content and more.
As a strategy to sell online courses, content marketing works to educate your audience and raise brand awareness. If you can produce valuable content for your audience, they will continue to engage with your brand and are more likely to convert into customers down the line.
Content marketing also helps to:
Improve your brand reputation
Increase referral traffic
Boost your search engine visibility
Build a closer relationship with customers
The secret to using content marketing for your business is to target your audience through the channels and platforms they use the most.
Find out where your target audience likes to spend their time online and use this to shape your content marketing strategy.
For example, if you have a sourdough bread course for beginners, you could produce YouTube video tutorials on different bread baking techniques and have a recipe blog with downloadable guides and checklists. In every piece of content you produce, you can include a Call-To-Action (CTA) to visit the landing page for your online course.
Learn more about how to create leads with content marketing.
If you want to upsell past customers, or nurture leads that aren't ready to purchase yet, email marketing is another really handy marketing strategy to have up your sleeve.
Email marketing lets you reach your target audience through a series of emails designed to introduce customers to your brand, offer them valuable resources and move them through your sales funnel.
If you can build your email list, you have a direct link to potential customers to engage with them regularly and build a closer connection over time.
With email marketing, you can also:
Provide a more personalized service to customers
Offer product recommendations
Collect customer feedback through surveys
Drive traffic to your website
Add value for your audience
To start building your email list, work on creating lead magnets that will encourage your audience to share their email address with you.
Some ideas for top converting lead magnets include:
Free mini courses
Downloadable guides
Webinars and events
Find more ultra-effective lead magnet ideas here.
Once you've built an email list, the trick is to retain those subscribers. That means producing emails that provide genuine value to your audience with plenty of tips and useful resources.
Learn more about how to leverage email marketing to sell online courses in our full-length guide.
Nowadays, if you want to learn how to sell online courses, you need to learn how to use social media marketing to your advantage.
Social media is a highly effective tool for selling online courses thanks to its power to get your brand in front of the right people extra fast.
With the right social media campaign, your brand awareness can skyrocket overnight.
Your social media success depends a lot on your strategy, including:
What you post – and whether it's valuable or interesting to your target audience
How you present your brand – including your brand voice, imagery and content style
How you engage with other accounts – including with customers, influencers and other brands
How you create a community around your brand – by making your audience feel seen and heard
Like all your marketing efforts, your social media should aim to represent your brand in the best possible way and show off your brand personality. Think about the face you're presenting to your audience – and if it will appeal to your ideal customer and help you sell online courses.
Get our complete guide to social media marketing to sell online courses here.
To help you sell online courses on social media, use Influencer Marketing to your advantage. Connect with likeminded influencers on social media and use them to bring your brand to a wider audience.
Getting started with influencer marketing is easy – check out the profiles of influencers in your niche who fit with your brand values. Then simply drop them a private message and introduce yourself.
Influencer collaborations can be paid or free and they can include:
Branded or sponsored posts
Guest posts
Social media takeovers
Re-sharing or brand shout outs
By partnering with influencers in your niche, you can boost customer trust in your brand and bring your brand to a wider audience.
For more tips on how to do influencer marketing as a first-timer and create an influencer marketing strategy, check out this guide.
---
Three simple tips for better brand marketing 
If you're using marketing to sell online courses, it's a really good idea to create a cohesive marketing strategy across multiple marketing channels.
Instead of running different campaigns via email, social media and on your website, aim to make all your marketing channels work together and compliment one another.
The messages you share on one platform should be echoed across every channel – this not only helps to create a cohesive brand image for customers, it also makes it easier for you to repurpose and recycle content.
To go back to the sourdough bread example – you might choose to run a campaign on making sourdough starters with white flour, wholewheat and rye. You could create a series of video tutorials on YouTube, run Reels on Instagram and write weekly email newsletters focussing on each type of starter with downloadable guides.
Customers can find your content via the channel they use the most and get a clear picture of exactly what your brand offers and how you can help them.
This is the same content and knowledge used in different ways – and it all adds up to establishing your authority as a sourdough expert for your audience.
To learn how to create a comprehensive content marketing strategy, find our full guide here.
Any marketing content you create needs to catch your audience's attention to help you sell your products.
That means you need to learn how to write compelling, persuasive copy that drives your audience to take action – such as signing up for your newsletter, sharing with a friend or buying your online course!
Thankfully there are some tips and tricks you can use to write engaging copy and sell online courses – check out our guide to learn how to write sales copy that sells.
Related guides on writing effective copy:
50 Powerful Call to Action Phrases for 2022 (Power Words Explained)
15 Call to Action Examples That Convert (and How to Replicate Them)
How to Write a Tagline for Your Business: 5 Copywriting Tips
Ultimate Guide To SPIN Selling (+Templates and Scripts)
Remember that your buyers are only human – so it's normal if they're unsure about whether or not to make a purchase from a brand they don't know.
To help ease their fears and convince them you're the right choice, you can leverage social proof. Social proof is a really useful method to leverage trust to help you sell more.
Social proof includes:
Testimonials and reviews
Customer interviews
Case studies
Statistics e.g. the number of people you've helped
Brand logos and accreditations
By showing off your previous happy customers, you can convince buyers to make a purchase from you.
Social proof also leverages the fear of missing out or FOMO effect. If everyone else is buying and loving your products, then the rest of your audience will want to get involved too!
Use social proof on your landing pages, your social media, email marketing and more.
For a full guide to using social proof to sell online courses, click the link.
---
Looking for more ideas to market and sell online courses? Download our full guide for everything you need to know about how to sell online courses.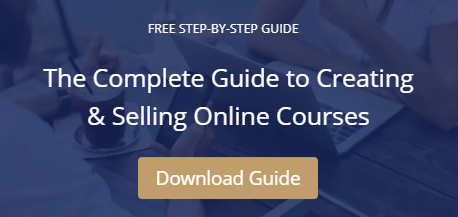 ---
3 Examples of How to Sell Online Courses from Course Creators
To show just how easy it is to learn how to sell online courses, we've picked 3 case studies from successful course creators who started off just like you.
Here's how they learnt to sell online courses to their audience and develop six-figure businesses in the process.
Mimi Goodwin – Sew It! Academy
Thinkific course creator Mimi Goodwin first started her online sewing business as a blog back in 2012. Using YouTube to create and share video tutorials, Mimi quickly grew her following to over a million viewers.
The next step was to create the Sew It! Academy to monetize her blog and create a thriving business – which has racked up huge numbers of online course sales.
Mimi credits her success to a 'sell without selling' ideology. Her YouTube tutorials provide genuinely valuable information for her audience which introduces them to her brand and her expertise. Customers can then sign up to a subscription-based membership platform to get more exclusive help and resources.
Mimi also uses Instagram as a strategy to sell online courses by highlighting customer successes and sharing her own personal posts and stories. As the face behind the brand, she believes that authenticity and a personal approach is key to building a loyal community.
Key takeaways:
Utilize social media to grow your audience organically
Create free resources like video tutorials
Be genuine and authentic in your approach to selling
Read the full Sew It! Academy case study here.
Mike Nelson – 9to5Dropouts
After quitting his corporate job to start his own business, Mike Nelson knew he had to learn how to sell online courses fast. His biggest concern was that people wouldn't take him seriously and wouldn't be willing to invest in his course – but he tried anyway.
By utilizing free webinar training to generate awareness of his expertise and pre-sell his online course, Mike was able to launch his first course in his 9to5Dropouts academy. Mike then set about growing his online course business, using a combination of influencer marketing, paid YouTube ads and his own Facebook course community.
Paid advertising lets Mark reach a highly specific target audience and generate more brand awareness. Once they make a purchase, they're welcomed to his Facebook community where they are converted into loyal brand advocates.
By using these strategies to sell online courses, Mike has grown his business and built an academy that generates over seven figures annually.
Key takeaways:
Find niche influencers for marketing
Build a course community to sell more courses
Consider paid ads to reach your target audience
Read the full 9to5Dropouts case study here.
Mina Irfan – Universe Guru
When she started Universe Guru, Mina Irfan experimented with a range of different strategies to try and sell online courses. She invested a huge amount of money and time into new technology and creating an impressive sales page – but it didn't have the results she was hoping for.
Instead, Mina found that the most effective strategy to sell online courses was to keep it simple. Mina uses YouTube to drive organic leads to her course page. She also hosts live coaching sessions via Zoom.
To boost sales during slower periods, Mina also uses discounts and incentives to entice new customers, including flash sales and course bundles. This introduces new customers to her academy and then gets them hooked.
Mina was officially one of the top 10 Thinkific creators in 2021 thanks to her simple strategies for how to sell online courses. She uses just a few channels to generate leads and drive conversions – and it really works!
Key takeaways:
Make use of the marketing channels already working for you
Use discounts and incentives to boost sales
Host webinars and coaching sessions to generate more leads
Read the full Universe Guru case study here.
---
3 Top Tips for Selling Online Courses
Here are 3 top tips to remember to help you sell online courses and build your business, no matter where you're starting from.
Build a Community
One of the top strategies to sell online courses is to create a course community. As the examples above demonstrate, community is key to engage your customers, build brand loyalty and get more course sales now and in the future.
For strategies and advice on how to build a community for your online courses, read our 7 step guide.
Related: What Are Learning Communities? (Examples, Types & Best Practices)
Adjust as you go
Whenever we talk to successful course creators, the thing that comes up time and again is the importance of adjusting your course content and sales strategy depending on student feedback.
If you can listen to student reviews and learn from feedback responses, you can create the course that your target audience wants – not the course you think they want.
Related:
Keep it Simple 
The secret to how to sell online courses is not to overthink it.
First time course creators often suffer from imposter syndrome and the feeling of needing to be extra prepared before they even start – but evidence from course creators in our community shows it's better to just get started and figure it out from there.
When it comes to selling courses, keep it simple. Focus on one core product, one offering and one key message. And ideally try pre-selling before launching into creating a premium product.
---
Sell Online Courses with Thinkific
The process of how to sell online courses is simpler than you think. This step-by-step guide is designed to help you sell more courses, grow your audience and increase your revenue.
Remember, keep it simple and don't overthink it!
Thinkific makes Selling easy, try it for free today! Or get our online course launch checklist.