If you're an online course creator, you'll agree that videos are an indispensable tool. After all, they help students absorb more information in less time and enhance their knowledge retention capabilities. Videos help build a real-world connection with your audience, often better than other content formats. 
Whether you're using videos to deliver your course content or to create short snippets on YouTube or other social channels like Instagram, or TikTok, knowing how to enhance and provide excellent video quality is essential. After all, poorly shot, amateur videos make people question the quality of your information products and services. 
In this article, we examine the different causes of poor video quality along with ways you can improve video quality. We list out tools you can use across computers and mobile to enhance your videos. Also, included are some pro tips for shooting better-quality videos to minimize your editing needs.
Click to skip ahead:
What causes bad video quality? 
There can be many reasons why videos turn out to be less than impressive. These may range from 
A subpar quality camera lens 

Improper lighting at the shooting spot 

Shaky hands of the person shooting

Poor quality audio

Pixelated or distorted visuals
Most of these arise due to a lack of access to the hardware and software necessary to create impactful, crystal-clear videos. Moreover, online course creators sometimes lack the skills needed to create professional-looking videos and may need to improve video quality later.  
Solution: Use video editing and repair tools to fix issues and enhance the quality of your videos. 
Video editors usually use complex software programs such as Final Cut Pro, Lightworks, and other professional software to enhance, trim and merge videos. These tools help to remove flaws and add special effects to improve video quality.
 On the other hand, video repair tools help to fix corrupt video files but may not let you edit videos. Some video editing tools allow you to integrate video plugins to add functionalities such as removing graininess, colour banding, and colour correction. However, they do not help to enhance your videos quickly and easily. Thankfully, several video enhancer tools can help you improve the quality of your videos easily by yourself. 
Here are some top video enhancer tools for creating beautiful and professional-looking videos – accessible on computers, mobile, and as web applications. 
Video enhancer tools for computers – Windows and Mac
Adobe Premiere Pro CC
Adobe Premiere Pro is a professional-grade video editor that allows you to export your videos in multiple formats. It helps you make curve adjustments and mix audio with your videos. In addition, it has supportive tools to create video stories, such as captioning and adding subtitles. 
Pros:
Comes with a powerful AI Engine.

Includes 4K video support.

Automatically reformats videos.

Supports multiple video enhancement features.

Includes resolution enhancement features.
Cons:
Offers only a 7-days free trial.

The learning curve can be steep.

It's pretty feature-heavy and you may not need all of them.
Topaz Video Enhance AI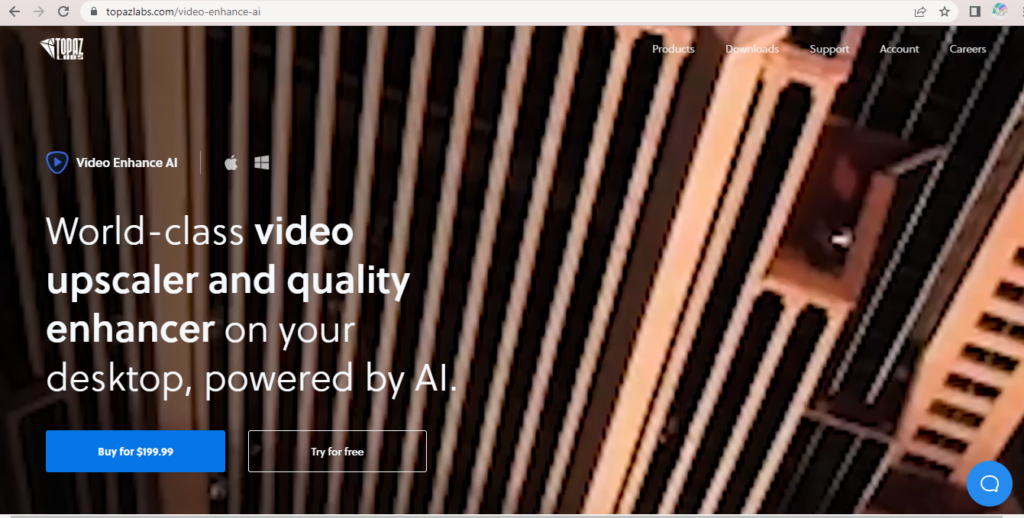 Topaz Video Enhance AI helps you create high-end videos that stand out from the rest of the content on social media. It is a complex tool that enables fixing problems like blockiness, flickering, and motion-related distortion. In addition, it has several valuable features, such as denoising, video restoration, and deinterlacing. 
Pros:
It comes with a 30-day free trial.

Enhances video quality up to 8K.

Upscales videos in batches.

Helps to increase video frame rate (24/30 to 60 FPS).

Can be used to create slow-motion effects.
Cons:
It costs $199.99, which may be expensive for some.

Requires time to learn.

The software may slow down older computers.
Filmora Video Editor
Filmora is a professional-grade video enhancer that is affordable and easy to use. It supports multiple video formats and helps you optimize your videos for Vimeo and YouTube. The tool has many enhancing features, such as saturation and tone controls, motion graphics, and title templates. You can also quickly create videos that are stable and of high resolution. 
Pros:
It costs $90 for a lifetime license.

It's not as complex as other video-editing tools.

Mainly geared towards creating social media videos.

It helps you add captions easily.

Includes a vast library of effects.
Cons:
The free version comes with a watermark which could look unprofessional.

You may face compatibility issues during video imports.

It often slows down AMD processors.
Video enhancer tools for mobile – Android and iOS 
InShot
InShot is a cross-platform mobile app that doubles as a video maker and editor. Using it, you can micro-manage the quality of your videos and how they appear post-production right from the outset. The tool has a splitter, merger, multiple effects and filters, and a video trimmer. In addition, it allows you to easily control the speed of your videos and convert them to various formats. 
Pros:
Includes preset size ratios as per the different social networks.

Provides complete control over video quality.

Easy to learn and use.

Helps to merge and trim videos easily.

Perfect for short-form videos.
Cons:
It may be too simplistic for lengthier videos.

Complex editing may not be possible.

Allows only a single track in the timeline.
Videoshop
Videoshop is an excellent mobile video-enhancing app that will help you make awesome videos for your coaching business on Instagram, YouTube, and TikTok. It is easy to learn and use and has many themes and filters. It allows the creation of finished videos without going through a steep learning curve. Videoshop also allows you to crop, trim, and add sounds, which can be helpful for Instagram Reels and TikTok videos.
Pros:
It's quick and easy to use.

Consider it a no-nonsense video enhancer tool.

Includes multiple filters and themes.

Makes it easy to add and overlay sounds.

Helps save videos to the camera roll.
Cons:
Not suitable for professional-grade videos.

Includes comparatively limited features.

Transitions between frames may not be very appealing.
KineMaster
KineMaster is a top-grade video enhancer that you can use on both iOS and Android devices. It has all the essential features necessary to edit and enhance videos, such as clipping, adding colour filters, and editing videos at 4K 2160p resolutions. Most importantly, it can help online course creators like you to trim videos frame-by-frame and automate sharing the final videos on different social platforms. 
Pros:
Easy to export and import different file formats.

Supports select aspect ratios between 1:1, 9:16, and 16:9.

KineMaster Store is a vault of 2,000+ assets.

Perfect for social sharing of videos.

Simple and easy to learn for beginners.
Cons:
The free version comes with a watermark.

The interface is not user-friendly.

Using their attractive features requires payment.
Video enhancer tools usable as web applications
Pikavue
If you don't want to download applications on your mobile phone or computer, Pikavue is a great online app that helps you upscale your videos quickly. You can upload your videos to its web-based interface and edit and enhance them for quick results. Additionally, you can quickly increase your video quality and resolution, and there are no hardware limitations. 
Pros:
Supports videos up to 4K UHD.

Easily compresses videos for social platforms.

Enhances video resolution effortlessly.

Comes with no hardware limitations.

The free version is quite helpful.
Cons:
It may not function efficiently on slow networks.

Requires some degree of video editing skills.

Requires registration on the website.
Flixier
Flixier is a simple and attractive web-based video enhancer where you need two upload your video to start editing. It does not require creating an account and comes with free and pro versions. 
As an online course creator, you can start with their Creator plan, which costs $14, and move to the Business plan when you can no longer edit or enhance videos due to time constraints. 
Pros:
It supports subtitle translation.

Includes cloud storage of videos.

Provides extensive stock footage libraries.

Supports an export quality of 1080p HD.

You can access it even for unlimited downloads.
Cons:
It may not be suitable for lengthier videos.

Offers limited features and effects.

Requires a fast broadband connection.
Does video enhancement sound like a chore? Here are tips to simplify further
Although several video enhancer tools are available for all devices, most have advantages and disadvantages. While some are expensive to use, others may be complex or have a steep learning curve. Therefore, it is helpful to plan to shoot high-quality videos right at the onset to minimize editing needs. 
For this, it's best to make sure that your hardware is up-to-date, and has the latest firmware installed. Poor quality videos can result from a suboptimal graphics driver, insufficient disk space, and incompatible media players. 
It is also possible that your videos appear blurred because of defective encoding. Just ensuring that your hardware and software are updated with the latest firmware and using compatible tools can often be enough to enhance the quality of your videos. 
Further, it is best if you choose an ideal video format such as MP4 and a screen resolution dimension between 1080p and 720p. If you still need to add effects and make your videos appear more professional, you can always choose from the list of video enhancer tools above. 
Here are some additional tips for shooting top-grade videos that reduce the need for using video enhancer tools:
Invest in a good tripod and a decent camera.

Purchase artificial lighting equipment to improve the feel of the video.

Create a noise-free "studio" somewhere in your house

. All you need is a quiet, distraction-free environment.

Have transcripts and a teleprompter ready to shoot without interruptions.

Shoot all your videos in batches and outsource them for further refinement.
Want help to easily create video content for your online course and its marketing material? Check out our Thinkific apps or try Thinkific for free today.