Have you been wondering how people manage to sell eBooks, online courses, and webinars in today's information-saturated world? Why would anyone pay for information that already exists online for free? 
The short answer is that specialist knowledge is hard to find, and the internet is full of surface level information that's not backed by authentic sources.
A paying audience is willing to spend for credible, fact-checked, appropriately cited, and helpful information. In other words, information as a product is precious as long as it brings specialist knowledge and information to the buyer
Ultimately, info consumers are paying for transformation from their current state to their desired future.
Information as a product is not a new concept. Editors and publishers have always known that a book's credibility correlates directly with its sales figures. Although the sales of printed books may be declining, information products in other forms are experiencing enormous growth in sales and popularity. In addition, information product creators enjoy both passive and active income streams.
This article examines why information products are essential and how you can create them to open up exciting income opportunities, with information product examples.
The Rising Relevance of Information Products
In its contemporary manifestation, information products provide their audience with credible information. Thought leaders and subject matter experts create them. Information products help creators generate revenue, posit themselves as thought leaders, and gain credibility among their target audience. Although most information products are digital today (aka digital products), offline events, consulting services, and printed materials can be considered under the umbrella of information products too. 
Information products can be created by just about anyone. Whether you are a small or a large company or just a freelancer, you can start creating content on topics that you're well versed with. You can use those information products to generate sales, attract leads, use them as part of your marketing strategy, or provide context to your audience.
Read more: List of Profitable Digital Products And Where To Sell Them
Interesting Facts and Figures About Information Products:
Infopreneurs

are entrepreneurs who create authentic and credible information products.

Information products cover specific niche topics and help the target audience to gain something substantial in the form of knowledge, awareness, or practical skills.




Although eBooks and online courses are the most popular forms of info products, you can create other teachable content, from webinars to actual one-to-one consultations. 

Since the pandemic,

the size of the online learning market

has grown at an enormous pace. The e-learning market is expected to be worth a whopping $375 billion by 2026. While the US has a market share of 43%, Europe makes up another 35% of the

global online learning market

. 

In the US alone, there was

a significant jump in eBook sales

from 170 million units sold in 2019 to 191 million units in 2020. The numbers indeed have grown in 2021 and 2022 due to people becoming more open to digital books. 

The pandemic has also made webinars more socially acceptable and is now familiar to people who didn't even know what a webinar is. For example,

a report states

that there has been an 87% increase in webinar attendance after the pandemic began. In addition, successful webinars generate anywhere between 500 and 1000 leads. 

Top creators are 2x more likely to use online communities, and 85% of top creators sell more than one product or service (from our eLearning Trends report)
Why are Consumers Demanding Information Products?
1. Gain Knowledge About a Product/Service
Imagine trying to purchase an ERP(Enterprise Resource Planning) software and running a Google search. You will be bombarded by listicles, advertisements, blogs, and links to product pages. What's a customer who has no idea which ERP to buy to do? They would probably reach out to a thought leader or a guide that details how to purchase ERPs.
An information product, in this case, would be a detailed eBook that attractively describes what ERP solutions are, their different types, and what problems they solve. An ERP company can create effective information products through paid eBooks, e-learning courses, and webinars. A serious buyer will be more than willing to pay for an eBook or e-learning course that helps them choose the right ERP easily!
2. Make Informed Decisions
Information products can help people make informed purchase decisions, especially when much money is at stake.
Antonio Centano, the owner of Real Men Real Style, offers free and premium downloadable eBooks and paid courses for men to improve their sense of style. While his free content covers most of the essential style tips, his premium content and e-learning courses help men to take their grooming sense to the next level. For men who feel they could benefit from extra guidance and knowledge to upgrade their wardrobes, Antonio's information products come in handy.
3. Customer Self-service
Recorded webinars can be great tools for people to help themselves instead of reaching out to you or your customer care team. Even if you record and publish free webinars, they help you reduce your customer service expenses by encouraging customer self-service.
For example, many psychologists now offer recorded webinars about keeping a thought journal, handling triggering situations, etc. These webinars help their clients get the information they need and help therapists divert their time towards actual paying sessions. Identify your customers' specific concerns, and create paid content to address that.
4. Confidence in the Subject Matter
Neil Patel, a famous copywriter and SEO specialist, offers free and premium information products that directly generate sales. His paid webinars and e-learning courses help thousands of copywriters and SEO specialists increase their confidence. And do not forget, when professionals feel confident because of your shared knowledge, you automatically become a thought leader. By helping other professionals to get better at what they do and by sharing your expertise in the form of premium content, you can create a positive industry atmosphere in your niche.
Read more: Neil Patel's Webinar Sales Funnel on Thinkific
5. References and Resources
Customers and clients rely on authoritative sources to improve their knowledge and increase their awareness. Information products such as eBooks, recorded webinars, e-learning courses, etc., can be great tools of references and resources.
There is a genuine dearth of content that is authoritative and evidence-backed. By creating information products that are cited well, you can meet your target market's demand to learn from authoritative sources. In addition, info products continue to build authority and reputation over time, making them a valuable asset. 
What are the Benefits of Information Products for Creators/Business Owners? 
1. Thought Leadership
According to an Edelman-LinkedIn study, 55% of decision-makers either choose or reject a brand based on its perceived thought leadership. If you wish to enhance your brand's visibility and positive perception, your go-to strategy should be to create premium and paid info products.
Latching a price point to your information product also enhances its perceived value. Remember, you can't give away everything for free — especially not your hard-earned experience and information. A great strategy is creating free and premium thought leadership content that acts as lead generation funnels.
2. Publicity and Exposure
Creating information products that speak for themselves can make you famous in your chosen niche. Successful eBooks and e-learning courses give you more exposure and publicity, even without marketing.
Marsha Linehan, the renowned proponent of Dialectical Behavior Therapy (DBT), offers e-learning courses and downloadable content at a price. These training materials consist of therapist handouts, manuals, and other content that other clinical psychologists widely use in their professional practice. Even for the content that she published in the past, she continues to reap its benefits by generating news headlines and research citations and enjoying valuable exposure. 
3. Passive Income
Books, e-learning courses, and memberships generate passive income without you having to do anything. Of course, it takes a lot of work to initially to create an info product such as an eBook or an e-course. However, once ready, they will continue to generate income without you lifting a finger.
Read more: Passive Income for Life Coaches: 5 Ways to Make Money Online
Take, for example, Dr. Marsha Linehan. Her books, training materials, and online courses continue to generate revenue for her while giving her the freedom to focus on research and clinical practice. In other words, she can do what she loves without worrying about money.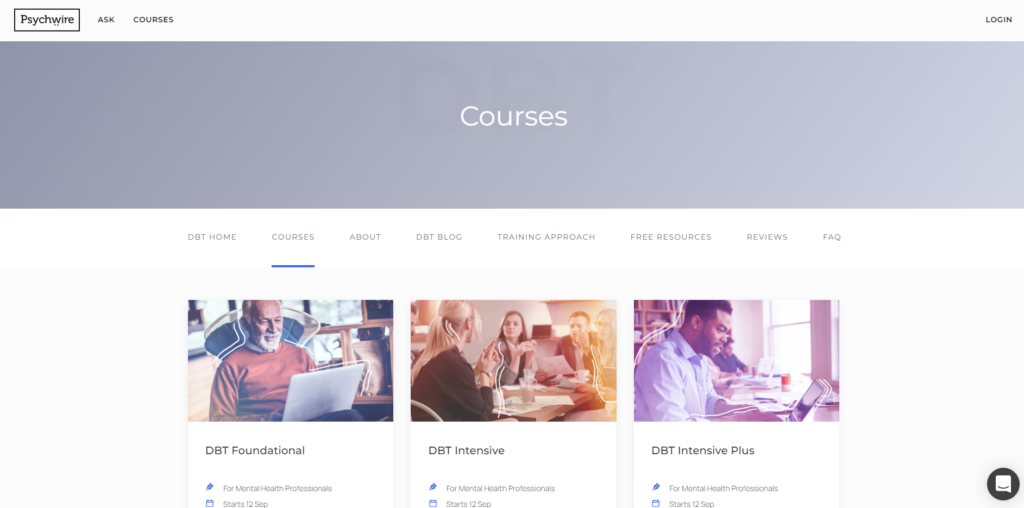 4. Direct Sales and Profits
Information products are named so because they are paid products. You don't simply download a free eBook and call it an information product. It would be best if you published a highly authoritative and well-written eBook that can be sold on Amazon or a similar marketplace. Similarly, e-learning courses generate direct sales and profits if they are popular and valuable to your target audience. Use your experience and knowledge to create information products that you  can sell at a price. 
Read more: The Ultimate Online Course Launch Checklist
5. Scale Your Business and Enhance Growth
While information products generate direct revenue from sales, they can also be a great source of lead generation and publicity. Successful information products become viral enough to fetch you new clients and customers. They also help you look larger than you are and enhance your brand. You will generate more leads than you might expect without spending extra money on business development. In other words, your information products will help you take your business to the next level.
What are the Types of Information Products, and How to Create Them?
Although information products are a valuable source of direct and passive income, they require considerable effort to create. Moreover, there are so many information products that it can be pretty challenging to choose the right one for you. 
You do not have to be a Dr. Marsha Linehan or a Neil Patel to launch revenue-generating information products. As long as you are good at what you do, you can immediately start calling yourself an infopreneur. 
Here are some of the most common information products (ranked in no particular order) and tips on creating them. 
1. Ebooks
An ebook is a digital version of a printed book that you can read on mobile devices, computers, and eBook readers like Kindle. They are often sold on Amazon and are hugely popular. More people download ebooks than they purchase printed books, making them your go-to-choice while creating an information product. 
 Steps to Create an Ebook: 
Write it out like you would write any book

Get it edited and proofread

Hire someone to design the layout

Publish it and sell it on

Amazon
Free Tools to Create eBooks: If you use a Mac or iOS device, you can use Apple's native Pages application to write books and publish them in ePub format. If you use Microsoft or Linux operating systems, MS Word is an excellent choice. Other valuable tools include Scrivener, Mellel, and Canva (for attractive layouts and images).
Read more: Top 11 Ebook Creator Tools
eBook Examples:
An eBook on how to use different ERP modules

An ethnic recipe book containing good quality images and step-by-step instructions

eBook detailing how to start a consulting business

eBook on how to teach anything to anyone online (hey, we know her!)
2. Membership Sites
Membership sites can be a great idea if you have something to offer that is of value to an online community. You can offer memberships for a subscription fee, where members get access to premium content, insider views, and unique insights. By retaining your membership site subscribers, you can secure recurring revenue.
Membership sites are also beneficial if you plan to run e-learning courses. Although not free, both SquareSpace and Wix offer membership spaces if you choose to have your website hosted with them.
 Membership Site Examples:
A paid members-only space for students enrolled in an online learning course

A paid membership site for unique and premium content

A paid membership site that enables networking among fans
3. Webinars
A webinar is a portmanteau of web and seminar. In other words, a webinar is an online event where an expert holds an interactive and informative session. Webinars require planning and presentation skills and a webinar tool to conduct them online.
We highly recommend using your expertise and creating valuable presentations on Keynote or PowerPoint. You can then use Google Meet to conduct your webinar for free. Of course, you can only let in those who have paid for your webinar. You can also sell recorded webinars on your website or make them available for your paid members.
Webinar Examples:
A Google Meet workshop on diversity issues at the workplace, with a Q&A session at the end

A webinar on practical communication skills for managers

A

webinar on how to improve traffic to ecommerce websites
Related: How To Use Evergreen Automated Webinars In Your Funnel
4. Cheatsheets
A cheatsheet provides a rough guide or a template for achieving something complex. Cheatsheets help people to access complex knowledge in a simplified form. A good example is this cheat sheet for French verb conjugations. This example is free, but we advise you to sell cheat sheets for a small price, like a few dollars, or offer them for free if someone purchases your ebooks.
You can use Canva to create your cheatsheets and download them as PDFs to be sold later. 
 Cheat Sheet Examples:
A cheat sheet that details all the classical music notations and symphonic structures

A cheat sheet for language learners – works well with grammar lessons.

A pronunciation guide with all the phonetic symbols represented on chart
5. Online Courses
Online courses are a great way to generate both direct and passive income and build a solid reputation. However, they take time to create, ranging from a few weeks to several months, depending on how complex the subject matter is.
Online courses require you to create videos and presentations. You can start with writing the script for your videos and begin to record them. You may choose PowerPoint or KeyNote if you want to stick to slides. Camtasia is slightly better, especially if your courses are complex. There are online course hosting services such as Thinkific, which can be great options as they let you start free. Investing in a set of handy course creation tools helps ensure that your final course has a professional feel. Once you are done developing your online course, all you need to do is start selling them!
Online Course Examples:
Related: How to make money teaching online
6. Reports and Analysis
Reports and analyses based on surveys, research studies, and number crunching are highly valued. You can either publish your reports in a peer-reviewed journal or offer them for a price. Never provide your reports and analysis for free!
You may start with a survey tool such as SurveyMonkey or TypeForm, and collect all the data you need for your survey. Next, use a statistical tool such as SPSS or conduct a qualitative analysis (example: thematic analysis). You can then present your report and analysis with facts, figures and neatly laid out tables.
We recommend Google Forms as it is free and helps you effortlessly export all your data to SPSS and other statistical tools. 
Report Examples:
A survey report on mobile app usage among Gen X

A qualitative report on shopping behaviours of different age groups at a mall

A meta-analysis of different surveys conducted on a specific topic over the years
7. Templates and Teardowns
We advise using templates and teardowns as ancillary material for e-learning courses or eBooks. While cheat sheets simplify complex things, templates and teardown help your audience access something more significant.
A good example is publishing a series of templates for HR executives so they can use them to interview potential recruits. Another example is a teardown of what consists of a good recruitment interview. Of course, these can also be in a downloadable PDF format and may be sold for a price. 
Template Examples:
Templates for different kinds of interviews, letters, and emails

Templates for DIY projects
8. Live Events
Live events can take place online and offline. Although both can be regarded as information products, online events are more popular nowadays. You can charge attendees for special interviews, presentations, workshops, and hands-on training sessions. In fact, live events are an excellent adjunct to your existing e-learning courses. They can be a powerful platform to get more people to sign up for your online learning courses or purchase your eBooks. Moreover, they indirectly help you generate leads and scale your business. 
 Live Event Examples:
A

unique live event for women

that teaches how to start and scale a business as a creator

A live workshop on pronunciation errors (a great way to promote your online English lesson course)

A live hands-on workshop on how to administer psychological tests
9. Live Event Recording and Recaps
Not everyone can attend live events online or offline. People may get busy or may not have time to participate in the webinar in a single stretch. Regardless of the kind of live events you hold, make sure that they are recorded. A good old-fashioned digital camera or cellphone should do the trick if they take place offline. If held online, you can always record a meeting and sell it alongside your other information products later. These work particularly well when sold as a package and your e-learning course material. 
 Event Recording Examples:
A recorded webinar that is uploaded on a members-only site

A recorded live event sold on Amazon

A recorded recap of an exclusive interview with a subject matter expert
10. Consulting Services
A highly effective and time-tested information product is consulting. Although consulting is a category on its own, and people rarely associate it with info products, it can be considered so.
For example, suppose your main business is not consulting, and you offer e-learning as your primary source of income. In that case, consulting can be an adjunct form of revenue generation. Similarly, eBooks can help drive your consulting business and vice versa. Start offering one-to-one sessions to share your knowledge and experience, and you will have a readymade consulting firm at hand. 
 Consulting Examples:
 

One-to-one sessions on how to build better businesses

 

Consulting services for freelance writers who wish to improve

 Consulting services for choosing the right software tools 
11. Print Books
It is quite a paradox, but many eBook authors overlook the importance and might of a printed book. Printed books have an aura of prestige and authority much higher than eBooks. They can be a valuable source of income and act as a positive image-building asset if you can afford to get your eBooks printed. Getting your book published through reputed publishers might be difficult, but self-publishing companies make this process easy. However, be warned that this involves a lot of money and is not as simple as getting your eBook sold on Amazon. 
Book examples
A book that collates several surveys and reports in a specific niche

A printed version of your best-selling eBook

A book with commentary, explanation and transcripts of your best webinars
12. DIY Manuals
Last but not least, DIY manuals are also an excellent info product. It is well-known that people like to do things independently and respect a perfect DIY manual that teaches them how to do it.
 A good DIY manual can help your target audience acquire skills without spending much time and money on online courses or eBooks. They are often actionable and practical and much shorter than an eBook. However, be warned that they take more time to create than other information products. You will have to distill many ideas into actionable suggestions, handed down step-by-step. 
A DIY manual can be made using the same tools to create eBooks.
DIY Manual Examples:
A DIY guide to setting up a kitchen garden

A DIY guide to setting up a Wix/SquareSpace website

A DIY manual on interior decoration
Information Products are Here to Stay
As you can see, there are several ways to generate revenue with your knowledge and experience. Your skills and expertise are a valuable source of revenue generation. They can take the form of eBooks, e-learning courses, consulting services, etc. Information products contain these and many other formats, which you can quickly sell online. People are more open to purchasing info products now than ever due to the effects of the pandemic.
Information products may seem intimidating and daunting to create at first. However, with a little effort, you will develop valuable assets with many business and professional benefits. A well-thought-out information product strategy will help you position yourself as a thought leader and generate both passive and active sources of income. It might take a little time and planning to create products that sell, but it is well worth the time and the effort. 
The knowledge economy is booming, and it is an excellent time to be a part of it. A quick way to get started is by launching your information products.
Contact us today to find out how you can begin creating marketable information products such as online courses and eBooks.