The knowledge economy has shifted dramatically in the past few years. 1.38 billion learners (across primary, secondary, and post-secondary) have been affected by the COVID-19 pandemic. In many cases, this has meant school closures and mass movement to online learning.
At Thinkific, we've seen an increase in enrollments of over 250% since 2019, and that number has continued climbing. With the educational technology market projected to hit $377.8 billion by 2028, it's clear that educational technology (edtech) isn't going anywhere. 
But what's next in edtech? How will it evolve and change in 2022, and what edtech trends do you need to be aware of?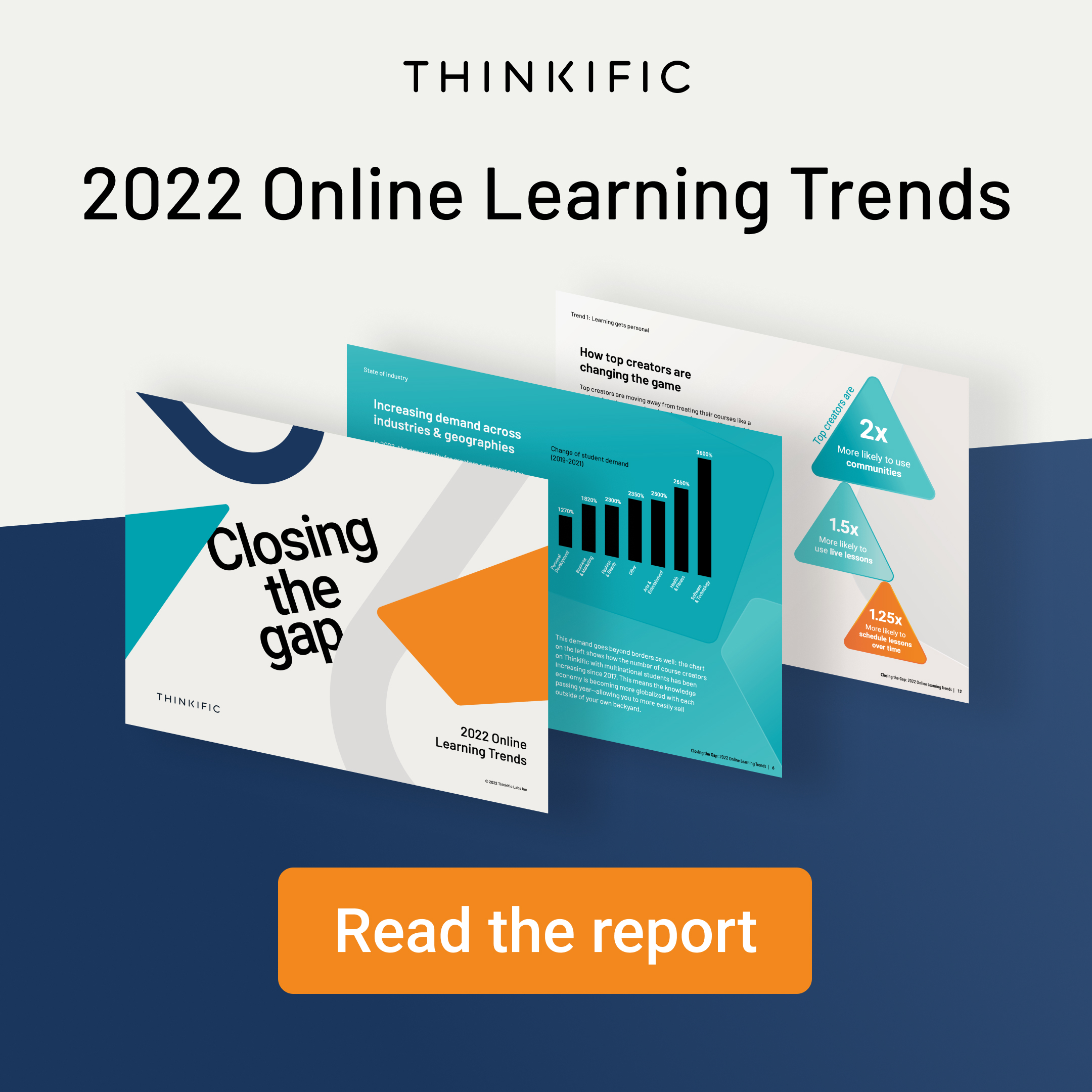 What is Edtech? 
Edtech is digital technology such as computer hardware or software that is designed to enhance or aid teaching and learning. 
This could refer to physical items such as interactive whiteboards, laptops or tablets, or translation devices. Or it could refer to software like virtual reality programs or online learning platforms. Edtech is meant to promote and facilitate easier teaching and learning. 
Why is Edtech important? 
Edtech helps teachers and instructors communicate knowledge more effectively, and helps students learn. This isn't limited to classrooms, edtech can help with company onboarding and training, independent online learning, or extracurricular group learning like language or art courses. 
Edtech can help students learn in ways that work for them. For example, some students might learn best by listening to someone explain a concept, while others might learn best by doing. While both learning styles can be accommodated when learning something like how to build a birdhouse, (one student can listen to an instructor explain how to build a birdhouse, while the other can start trying to build one) it's not always easy. With edtech like virtual reality in the picture, students can experience and try out almost anything from potentially dangerous science experiments to exploring Mount Everest or space. 
Edtech also helps provide access to students with disabilities. Technology can help students with sensory or cognitive impairments to understand materials more easily. Simple things like having access to course materials online give students the option to listen to textbooks if they have trouble reading, or read captions on lectures.  
Technology has the potential to revolutionize learning for students and instructors – it can make learning accessible, immersive, and fun. 
2022 Edtech trends 
1. Virtual reality and augmented reality
Virtual reality (VR) and augmented reality (AR) provide exciting opportunities for learning. Instead of just reading or watching a video about a topic, students can use VR and AR to experience concepts in 3D. 
The applications are almost endless, from students virtually traveling to museums and landmarks, to medical students learning the basics of how to interact with patients in an emergency department and provide accurate diagnoses. While the pandemic brought the possibilities of VR for education to the forefront out of necessity, we'll continue to see VR and AR for learning expand in 2022. 
VR for hands-on learning
There are a number of companies focused on VR for learning space. A great example is the ENGAGE platform. The ENGAGE team has created a professional metaverse platform used by companies and universities for learning and training purposes. Customers can create their own unique virtual world that can be used for on-boarding, training, demos, lectures, and professional events. 
Stanford University used ENGAGE for their first VR based course in 2021 called "virtual people." VR headsets were sent out to students, and over half of the classes took place in VR. This brought students together to experience how to connect and learn virtually. 
Another great example is Expeditions Pro, a company that is taking over from the discontinued VR portion of Google Expeditions. Expeditions Pro offers the ability to create VR tours, as well as access to a large existing library of VR tours. These tours could be anything from the Louvre, to the Great Wall of China, to exploring the depths of the sea. Students can learn both from creating their own tours, and experiencing already created ones. 
Instructors can also leverage Google Earth VR to take students on virtual field trips across the world without ever needing to leave the safety of their classrooms. Who wouldn't want to learn about the ancient Romans by actually visiting a virtual version of Rome? 
VR for special education 
VR can help students with special needs to improve communication skills and practice social interaction in a safe space. Studies have shown that VR can be effectively used to improve social anxiety, ADHD, cognitive defects, dyslexia, down syndrome, and more. 
VR headsets and equipment are still fairly expensive, making them less accessible to many educators. However, we've seen the pricing of VR headsets go from around $1000 USD to $400-$300 in the past few years. As more competitors enter the market, we will see prices continue to go down and become more accessible. VR is an extremely powerful tool for learning that will continue to grow in the education space into 2022 and beyond. 
2. Gamification
Teachers have been using gamification to teach concepts to children for years. It's a great way to get students engaged in material that they might otherwise not be as interested in. Maybe your teachers let you play jeopardy in teams to learn history facts, or awarded prizes for getting the best spelling test marks. Elements of games like competition and prizes make education fun and rewarding. 
Edtech brings gamification to a new level, with many online learning game options, as well as online courses with awards and certificates for completion. This can be particularly useful for keeping children engaged in learning. According to BlueWeave Consulting the global education gamification market will grow by at least 29% by 2027, and was already worth $697.26 million in 2020. Clearly, the gamification market isn't going anywhere. 
On a basic level, websites like abcya.com provide school-aged children with online games to learn concepts like math, reading, strategy, and different skills. While the base website is free, most learning websites with games have paid premium options.
In the video game realm, popular game Minecraft has released an Education Edition specifically meant for learning. The sandbox game provides educators and learners with an immersive platform to explore and create within. An example lesson shown on Minecraft's site outlines an investigative mission to explore the impact of agriculture on climate change. Students can interact with NPC's (non-player characters), walk around the farms in-game, and design their own urban farms based on what they have learned.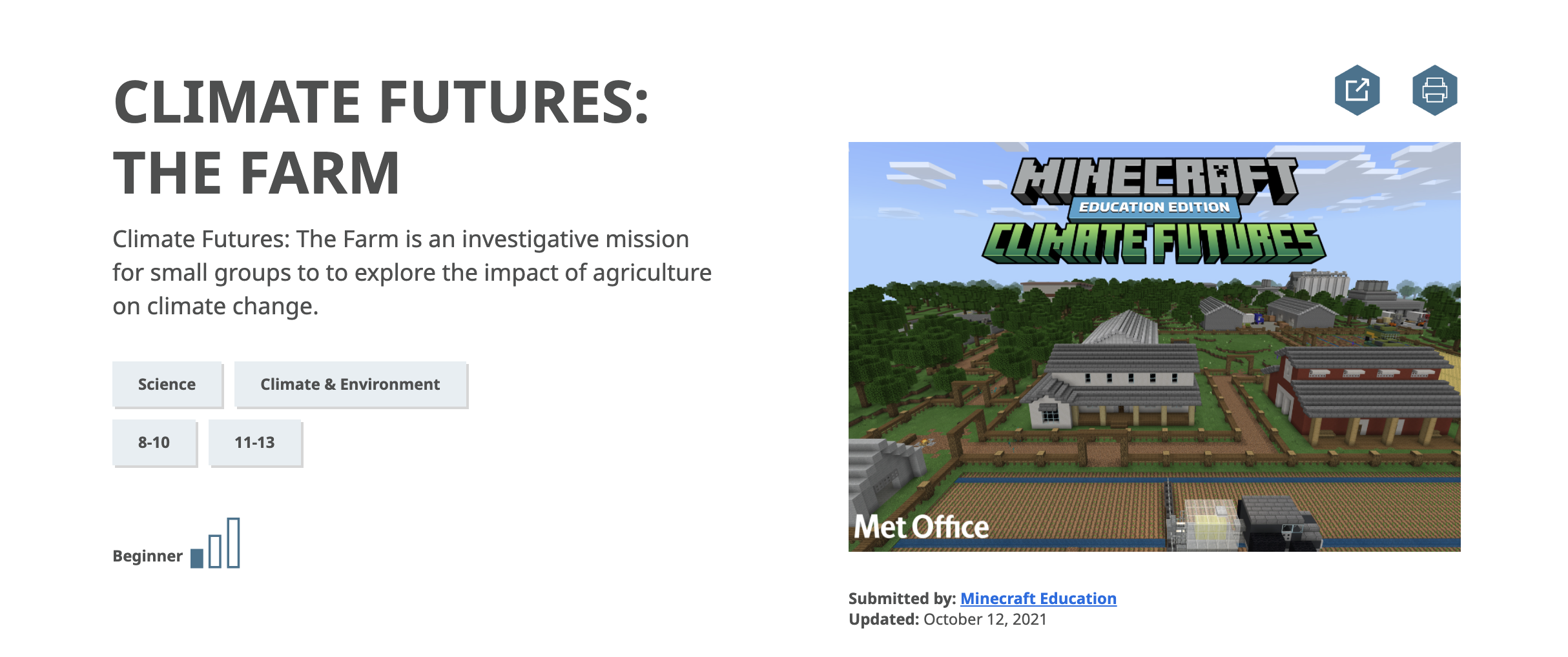 Undoubtedly we'll see more video games emerge in the market with learning as the main goal. Additionally, we'll likely see more in-class gamification using tablets and computers as more and more tech makes its way into the classroom. 
3. Big data
Big data is everywhere these days. In 2019, 90% of the world's digital data had been created in the prior two years alone. The amount of available data is growing at an exponential rate, but how will edtech leverage data in 2022 and beyond? 
Student engagement
Higher education is already using data to track which students are engaging in material and which students aren't. This provides an opportunity for instructors to provide personalized support to struggling students. Additionally, instructors can look for engagement trends with their online course activities and tweak content where engagement is low. Without these data points, instructors wouldn't know which parts of their curriculum weren't sticking. Based on Thinkific creator insights, successful online course creators are 2x more likely to track student engagement. This demonstrates that analyzing the data pays off. As more education moves online, more instructors will have access to engagement data to help unengaged students and improve their curriculums. 
Personalization
Once instructors have historical data on students learning behaviors through internet-based learning, they can draw inferences on how each student might learn best. This allows students to take custom learning pathways that go at their own pace. Already we're seeing this happen with self-paced online courses, but it will continue to become more widespread as more learning happens digitally. With 73% of higher education students preferring to take some online courses post-pandemic, instructors will continue to offer online options. With online learning comes access to student data and more personalization.
4. Flexibility
The COVID-19 pandemic forced learning institutions and course creators to get flexible in how they deliver knowledge to students. Flexible online learning is here to stay and improve in 2022. 
Asynchronous learning
Higher education has been experimenting with synchronous vs asynchronous learning. This means students can choose whether to attend class at the set time, or watch recordings after class whenever is convenient for them. This gives students easier access to take courses that may not fit into their work or home schedules. It also gives instructors freedom on when to record their lesson and may take some pressure off of performance compared to a live lesson. Asynchronous learning will undoubtedly continue, especially in higher education.
Student autonomy 
John Drea outlined his experiment with in-person vs Zoom learning in Harvard Business Publishing for Education. In two of his courses, he gave students the choice to join via Zoom or in person. He then measured what students chose and collected feedback from his students. John found that students enjoyed the flexibility and autonomy to choose how they attended class. He did not find it difficult to provide the zoom option as he simply had to have a webcam recording his lectures. 
This is a great example of how easy providing different options to attend classes can benefit students. When students have the autonomy to choose how they attend class they are less likely to skip class for other commitments.
 Outside of university settings, many students are choosing online courses simply for the autonomy they provide. Online courses can be done wherever the student is in the world, at whatever time suits them. This makes learning more accessible and integrable into students' lives. Students will continue to demand autonomy in 2022. 
Online communities 
Educators had concerns about the lack of peer feedback and connection when moving courses online. Edtech companies have responded to this by providing more online connection and community options for online learning. At Thinkific, top creators are 2x more likely to set up a community for their online course, they're also 1.5x more likely to give live lessons to connect with their students. Clearly, students are looking for an interactive experience as they learn from the comfort of their own homes. 
5. Artificial intelligence
We already explored how big data can be used to help personalize learning for students. Artificial Intelligence takes things to the next level when it comes to personalization in edtech. While educators can find insights themselves and apply them using data analysis – AI systems can take over this time-consuming work. If provided with enough data, AI creates machine learning models that give insights and patterns as output. 
Microsoft reported that 92% of US educators have started to experiment with AI technology, with 15% calling it a "game-changer." 
Companies like CENTURY Tech offer personalized learning platforms to educators. They use AI and behavioral science to fill gaps in student knowledge and present learning material to students at the right times.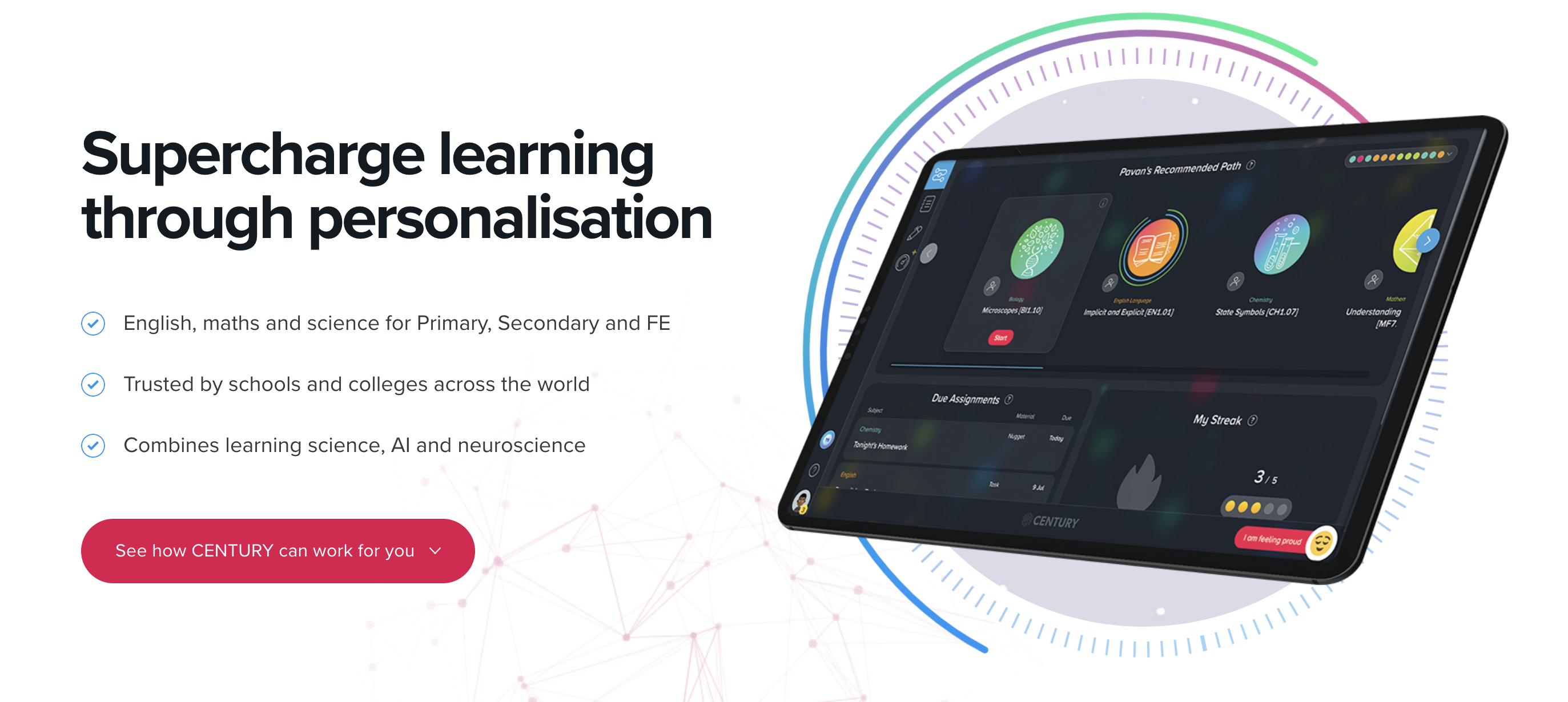 ELSA, an AI-powered language learning application helps English learners speak with confidence. The app boasts an AI-powered assistant that provides speech and pronunciation analysis to identify areas of improvement for the learner.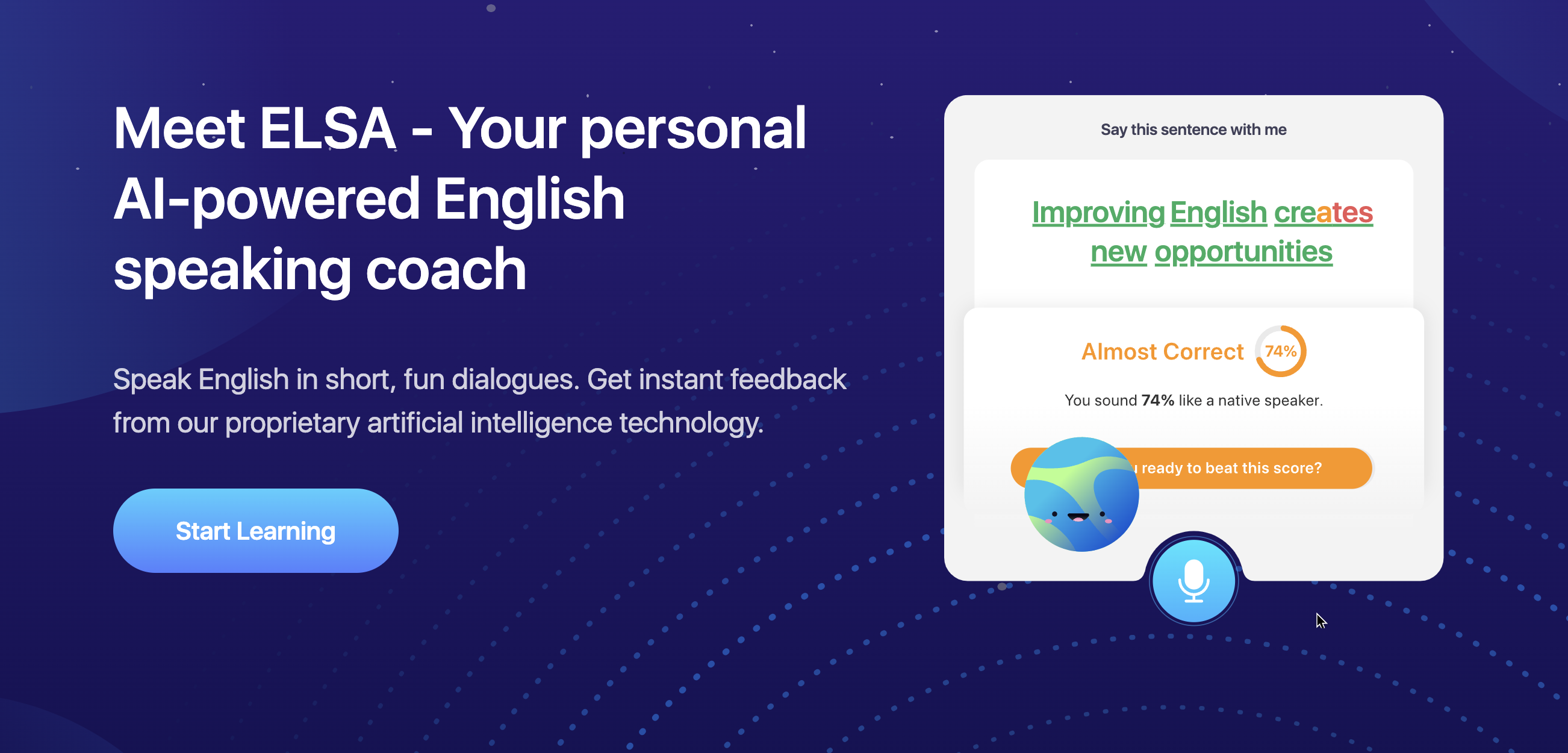 AI will continue to personalize learning as more companies jump into the edtech space. The possibilities with AI for innovation and individualized learning are impressive with clear benefits for students and instructors.  
6. Elearning
Elearning refers to learning that takes place with electronics – usually on the internet. The COVID-19 pandemic forced companies and education online, and that shift seems to be here to stay. Educators, course creators, trainers, and students have all had to get comfortable with online education, so much so that some educators are taking things to the next level. 
Diversification
Top online course creators are no longer just creating a playlist of video lessons and calling it a day. They're offering complementary learning content like ebooks, personal coaching sessions, memberships, and digital downloads. This is a benefit for students who get more learning materials, and a benefit for course creators who can use content to attract leads or charge extra fees for the content. 
For example, course creator Dr. Sonja teaches women to dominate in life and business. She found the most success when she offered educational speaking engagements, coaching, and wrote a book along with her online course. She credits this diversification for a lot of her success, as well as for being able to help the most people possible. 
Educators will continue to diversify and offer different learning content so students can choose to learn in a way that is best for them. We'll also likely continue to see online courses become more creative with the implementation of live lessons, membership models, communities and more. 
Mobile learning
The mobile learning industry may reach over $280 billion by 2027. Learners are looking for online education that works seamlessly on their phones and tablets, so they can learn on the go. We'll see elearning platforms prioritize mobile compatibility as more educators want to provide their content for mobile users. 
Using the edtech trends
Whether you're already a course creator or educator looking to improve your course, an interested learner, or even someone completely new to the edtech space, these trends will help prepare you for the future of learning in 2022 and beyond. Edtech is helping learning become more engaging, sophisticated, and effective for both students and teachers. It's in everyone's best interest to leverage edtech to improve the overall learning experience.