When I was a kid, there was nothing more satisfying than creating a to-do list and checking off each item as I completed it. Wake up? Check. Eat breakfast? Check. Watch Power Rangers? Check. Do homework? Whoops, I might've missed this one. (Yeah, I had my priorities straight.)
To this day, I find having a to-do list or checklist of tasks to complete helps to keep my mind organized. Not only do you know in advance everything you need to accomplish, you also get that sweet rush of dopamine each time you cross off one of your tasks.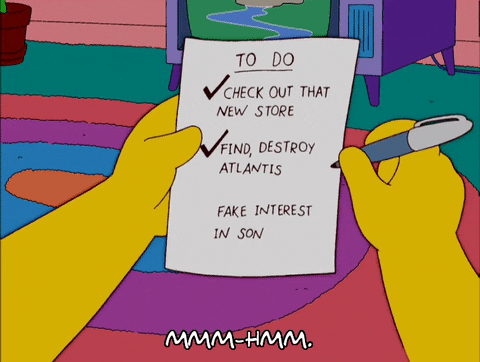 So when it comes to launching your online course, that's where a checklist can be mighty handy. There are so many moving parts in the lead-up to your launch date, it can be easy to miss something small along the way. (Or even something big — I've seen creators launch with a broken link to their sales page. Yikes!)
You can use the checklist below as inspiration for everything you need to do before, during, and after you launch your online course. And if you're feeling old-school, you can even print out the online course launch checklist (pdf) and cross off each item using pen and paper. Trust me — it'll be super satisfying either way.
Skip ahead here:
---
Related: 10 Steps To Creating A Wildly Successful Online Course
Pre-Launch Checklist
There are a lot of things you'll need to decide and start putting into action before you launch your online course. You might not need to do every single thing on this list, but you should at least consider them before the big day.
Marketing Funnel & Sales Strategy Check
A successful launch depends on you putting the pieces into place for your marketing funnel and sales strategy ahead of time. Here are some of the top things you should explore in the weeks leading up to your course going live.
Set launch date 3-4 weeks in advance: Ideally, you should give yourself as much time as possible to build your launch strategy and ensure the quality of your course.
Validate your course concept: Make sure there is demand for your online course and evidence that students will be willing to pay to learn from you.
Define your pricing strategy: Decide on how you want to price your course, and whether you want to use any launch sales tactics like coupons, bundles, or discounts.
Research your competitors: It can be helpful to know what other options students have so you can find your niche, offer a competitive product, and position your course in the best way possible.
Create your launch day communication strategy: How will you reach your target audience and let them know about your course? Whether this is via social media, your email list, or via paid advertising.
Explore pre-selling your course: You can open up pre-sales to validate interest in your course idea and secure sales in advance of your launch date.
Create a content calendar leading up to launch: Start to write and schedule blog posts, podcasts, webinars, or other types of content marketing to promote your course. (A solid content marketing strategy can help you build anticipation and attract attention.)
Build a compelling lead magnet: Not everyone who visits your website or blog are going to be ready to purchase right away. That's why it's helpful to create a lead magnet (like a downloadable ebook) that you can offer in exchange for email addresses.
Develop a free webinar or workshop to attract leads: One of the best ways to launch an online course is by offering a live webinar or workshop on the same topic.
Create your email campaign: If you have a mailing list, you're going to want to let them know about your new online course. Check out these 10 launch email templates to get inspired.

Sign up for email hosting tool
Write email 1: content promotion
Write email 2: Launch day announcement
Write email 3: Problem agitation
Write email 4: Solution outline
Write email 5: Course benefits
Write email 6: Social proof and FOMO
Write email 7: FAQ and risk reversals
Write email 8: 24 hour warning
Write email 9: 12 hour warning
Write email 10: 1 hour warning
Format emails and launch triggers

Explore other options to attract your ideal audience: There are so many different ways to market and sell online courses. You'll want to explore which ones are right for your course subject matter and sales strategy. Some top options include:

Spend on PPC advertising
Facebook advertising or retargeting ads
Post in Facebook groups
Advertise on Reddit forums
Explore Instagram influencer partnerships
Participate in Twitter communities
Set up TikTok ads
Get interviewed on podcasts
Create a YouTube channel
Explore other partnership opportunities
Site Design: Branding Check
Your personal brand is what separates you from the competition. Make sure you don't miss out on these steps to give your brand a holistic feel as you design the site for your online course.
Colors are customized and all links are visible: Text colors contrast with background colors so your navigation links are visible for your students.
Typography customized: Your font selection is easy for students to read.
Favicon set: Customize the icon that appears in browser tabs to align with your brand.
Logo uploaded: Add your personal logo to the header so your students instantly recognize your brand.
Social icons added: Add social links to your Facebook, Instagram, and more by adding icons and links to your footer.
Copyright correct: Customize your copyright text in your footer, use the default, or hide this completely.
Site name and URL customized: Update your site name to describe your school as well as your site URL so it's easy for students to remember
Site Design: Homepage Check
The homepage of your website is where many students will land to explore your course offerings. Here are some of the things you should check before you launch.
Homepage built: Your homepage is customized with information about your school
No broken links: All buttons and links lead to the appropriate page.
Ability to get to your products from the homepage: Ensure your students have a way to view and purchase all courses you have for sale.
No grammar mistakes: Proofread your copy to ensure grammar and spelling are correct.
Banner is set up properly: Check that any buttons in your banner are linking to the appropriate page.
Legible banner text: Text on your banner should be clearly visible to your customers by using a font color that contrasts with your banner image.
No text on banner image: Ensure the text stays legible on all screen sizes.
No sections left with default copy or images: All sections are customized with images and copy to align with your brand.
Site Design: Course Landing Page Check
The landing page (also known as the sales page) for your course is a key step in the journey to purchase. Here are some things you'll want to check in the weeks leading up to your launch date.
Course landing pages built: Your course landing pages are customized with information about the course.
No broken links: All buttons and links lead to the appropriate page.
Correct Call to Action links: All call to action links lead to the appropriate page.
No grammar mistakes: Proofread your copy to ensure grammar and spelling are correct.
No sections left with default copy or images: All sections are customized with images and copy to align with your brand.
Free preview button visible if a free preview is offered: Ensure your students can access the free preview by keeping the default button in your banner.
At least one purchase button: Ensure your students can purchase your course by placing a purchase button in your banner and throughout your course landing page.
Legible banner text: Text on your banner should be clearly visible to your customers by using a font color that contrasts with your banner image.
Course Design: Curriculum Check
Once students purchase your course, you'll want to make sure the curriculum is displayed correctly and that everything is accessible from the get-go.
No lessons with warnings: All lessons contain the appropriate content to ensure they are visible to enrolled students.
No lessons set to draft: Unless intended, all lessons should be unset to draft so they are visible to enrolled students.
Free preview option utilized: Any lessons that you'd like as part of the free preview are marked as such.
Prerequisite lesson set up correctly: Any lessons that you'd like set as a prerequisite lesson are marked as such.
Discussion options turned on: Any lesson you'd like students to have the option to start a discussion on are marked as such
Course Design: Settings Check
There are a few additional course design settings you'll want to check on. Getting these sorted now will help you avoid troubleshooting and improve learning experience post-launch.
Course Name and URL customized: Give your course a descriptive title and set your URL accordingly.
Course Player appearance customized: Your theme, style, and logo are updated to align with your brand.
Course progress & completion customized: Ensure lessons are set in the right order and students are able to complete each section of your course.
Completion certificates enabled: If issuing certificates, make sure these are enabled and customized with your branding.
Custom completion page: Override the default screen students see when they complete a course by adding a custom completion page and add upsells, a customized thank you message, and more.
Video lesson progress settings: Set your videos to autoplay so students can sit back and learn! You can also set a required video completion percentage to ensure your students watch a certain amount of the video before progressing forward.
Thumbnails added to videos: Upload an image to each of your videos to let your students know what they are about to see.
Captions uploaded: Make your videos more accessible by uploading captions.
Chapter completion modal: Toggle this setting to turn on or off the interstitial modal between chapters.
Course image & description added: This appears on your checkout page and should be set up to describe the course.
SEO fields set: Set up your course SEO title, description, and keywords to ensure it's indexed properly by Google.
Default price set up: Verify your course price is the correct price you'd like students to pay.
Beta Student Test Run
The final step to prepare your site for launch is to sign up as a test student to ensure the sign up and enrollment flow makes sense. I'd recommend creating a 100% off coupon for yourself to take you through this step, or alternatively you can ask a group of beta students to test these things out for you.
Visit your site homepage.
Click through to the course landing page.
Click the purchase button for the course.
If enabled, ensure Privacy Policy, Terms of Service are present, link out to the correct page, and are formatted correctly.
Custom signup fields are present and in the correct order.
Test coupon works correctly.
Thank you page looks good and links you to the course player.
Course lessons are visible and work properly.
---
Launch Day Checklist
You smell that? That's the smell of launch day! This is your big moment — here are some of the things you'll want to make sure you do to ensure everything goes off without a hitch.
Enable special discounts: If you've set up any launch day coupons, bundles, or discounts now is the time to enable them. These can be a great incentive to include in your promotions today.
Send launch emails: Hopefully, you've been hyping up your email list for weeks now leading to this moment. Today, you're going to want to send at least one or two emails letting folks know that the time to act is NOW.
Post on social media channels: The goal is to get the word out as much as possible right now. So go ahead and post to all of your social media channels about your course launch. Launch a Twitter thread, put out that TikTok you've been saving, put it into your Instagram stories.
Launch your live webinar or workshop: If you've planned out a live webinar to promote your course, today is the day. Use this as an opportunity to connect with your audience, provide them a sample of the value your full course will provide, and give them a special discount on your full course.
Enable your ads: If you're planning to do any PPC marketing or social ads, now is the time to launch them. You can use audience targeting to hone in on your ideal students and direct visitors directly to your course sales page.
Keep an eye on your first sign-ups: Watch to see how many people sign up on day one, and how far they get into the content. You might even want to email some of your first students to make yourself available if they have any initial questions, challenges, or feedback.
Celebrate your launch: (Cue the party emojis!) With all of the work that you've put into this online course, it's important to take a bit of time today to celebrate all that you've accomplished. I'm sure it wasn't a perfectly smooth launch (it almost never happens that way) but you should be proud nonetheless of the early results.
---
Post-Launch Checklist
Just because you've had your launch day doesn't mean you're finished yet! There are lots of post-launch opportunities you should consider tackling in the weeks and months afterward. Here are some ideas to get you started…
Solicit student feedback: Create a survey to gather feedback from students after they complete your course. This can help you identify areas to improve, what's working well, and whether there are any opportunities to expand or add in new content.
Enable student reviews: Help promote your course with student reviews. You can link these directly to your homepage or course landing page so that you have social proof to help convince more prospects to make the purchase.
Build a learning community: Give students more long-term value by attaching a learning community to your online course. This will give students a place to discuss the topic, network with each other, and keep the conversation going after they complete the lessons.
Analyze your sales funnel data: Check your open rates, click through rates, conversion rates, and bounce rates to see how you can get more sign-ups. This is a great way to lower your cost per click (CPC) and get more bang from your advertising bucks.
Experiment with new copywriting: Pay close attention to what students are saying about your course to make your ads and landing pages more persuasive. By using their words, you can tap into pain points and benefits you might not have thought of initially.
Elevate your student satisfaction: Look for more ways to improve your student experience and continue optimizing your course content. Remember — your work isn't done just because you launched your course. You can keep improving and iterating.
Find your next course topic: Poll your students on new ideas you have for additional learning resources, follow-up courses, or downloadable products. Then, you can start planning your next big launch day!
How do you know when your online course is ready to launch?
It can be tricky to know when you're ready to launch. Because an online course is never going to be perfect — at some point, you just need to take the plunge and see what people think. Remember that selling your online course is a marathon, not a sprint. Even if you have a bad launch day, you can still make up for it over the long-term.
Use the Launch Preparedness Review Checklist template to make sure you're ticking all the right boxes. And if you're looking to really cover all your bases, be sure to check out the Ultimate Black Friday Course Launch Checklist as well. It's packed with useful strategies and tactics, no matter what time of the year you launch.