YouTube is the most popular online video service out there. It currently ranks second among social networks for the number of active monthly users (behind only Facebook). In fact, around 70% of US internet users across all age groups use YouTube. 
So if you're thinking of starting a YouTube channel, now is the perfect time. Video gear has never been more affordable, video editing tools more accessible, cloud storage so cheap, and YouTube audiences so connected. 
Let's take a look at how to create a channel on YouTube and start building an engaged following today.
Why should you create a YouTube channel?
YouTube is the best platform for anyone who wants to create long-form video content (i.e. over a minute long). While short videos on apps like TikTok and Instagram are used to pique interest and create awareness, YouTube presents an ideal opportunity to explain, educate and entertain without time restraints.
YouTube is also one of the most monetizable platforms out there. There are many ways to make money on YouTube, from built-in advertising, to memberships, to partnering with brands to create sponsored content. 
Last but not least, YouTube is also very versatile as a marketing tool. Unlike other social media primarily used for top of the funnel (TOFU) awareness building, YouTube can play a key role in the middle (MOFU) or even the bottom of the funnel (BOFU). This means YouTube content can be effective in addressing potential customers in the consideration stage (e.g. reviews, unboxings, etc.) and those ready to make a purchase (e.g. detailed product overviews).
Who should create a YouTube channel?
With its focus on long-form content, YouTube tends to work best for those who have a lot to unpack: 
Educators

. YouTube can become an amazing supplement to (and in some cases, replacement for) school classes. Organizations such as

Khan Academy

are producing engaging videos that explain everything from math and history to economics. 

Brands

. YouTube works really well for explaining your product or service. Companies can use the platform to post product descriptions, how-tos, walkthroughs and more.

Apple's YouTube channel

is a good example. 

Subject matter experts

. When you need to dive deep into a topic, you can write a 10,000-word essay (that very few people will read) or create a two-hour YouTube video that can be watched by millions if it's engaging enough.

Online course builders

. Anyone who

sells online courses

can benefit from using YouTube to build their audience by consistently posting videos related to their expertise, as well as teasers and freebies. 

Entertainers

. If you've ever browsed YouTube (and who hasn't!), you know that it's not all thought leadership and marketing. The platform is home to an infinite number of pranks, music videos, film trailers, TV shows, and vlogs.
Now that you know how to benefit from YouTube, let's explore how to create a YouTube channel and start making money in a step-by-step guide. 
How to create a YouTube channel in 4 simple steps
Creating a YouTube channel is easy to do and completely free. You can create a channel as a user or a brand. The latter can be managed by a few people from your team. Here's how to get started…

Step 1: Create a Google account
Since Google owns YouTube, a Google account is the gateway to any and all activity on the platform. It lets you create, share, and like YouTube videos. 
If you've used Gmail, Google Maps, Google Play, or any other Google product before, you probably already have a Google account you can sign into. 
Otherwise, creating a new Google account just takes a minute: 
Go to

youtube.com

In the top right corner, click "Sign in" 

Proceed to "Create account" 

Pick either "For myself" or "To manage my business"

Fill out your first and last names, your preferred email (doesn't have to be company-related) and a password

Verify your email address with a code and click "Next"

Enter your birth date and gender

Agree to the terms and conditions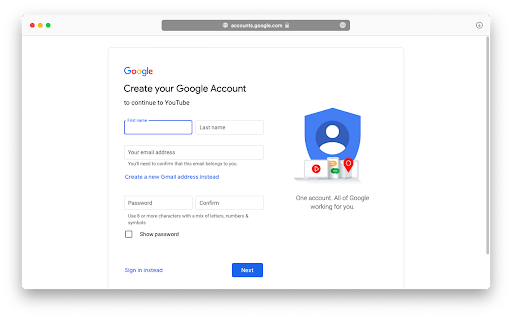 Step 2: Create a YouTube channel using your Google account
Setting up a Google account doesn't automatically create a YouTube channel. 
To create your channel on YouTube, follow these steps:
Sign into YouTube with your Google account

Click on your avatar in the top-right corner of the screen

Click "Create a channel" 

Name your channel and click "Create channel"
When you create a new YouTube channel, it acts as a brand account too—you can leave comments or likes while signed in as your channel.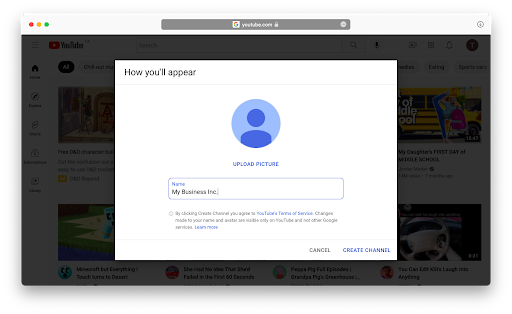 Step 3: Customize your channel
Once your channel is created, it's time to customize it and make it truly yours. To do so, click "Customize Channel," and you'll see three tabs: "Layout," "Branding" and "Basic info."  
Add information about your channel
In the "Basic info" section, you can edit the name of your channel and write a description that will be displayed in the "About" tab. You can also add links to your website and social media, and include your email address in the "Contact info" section.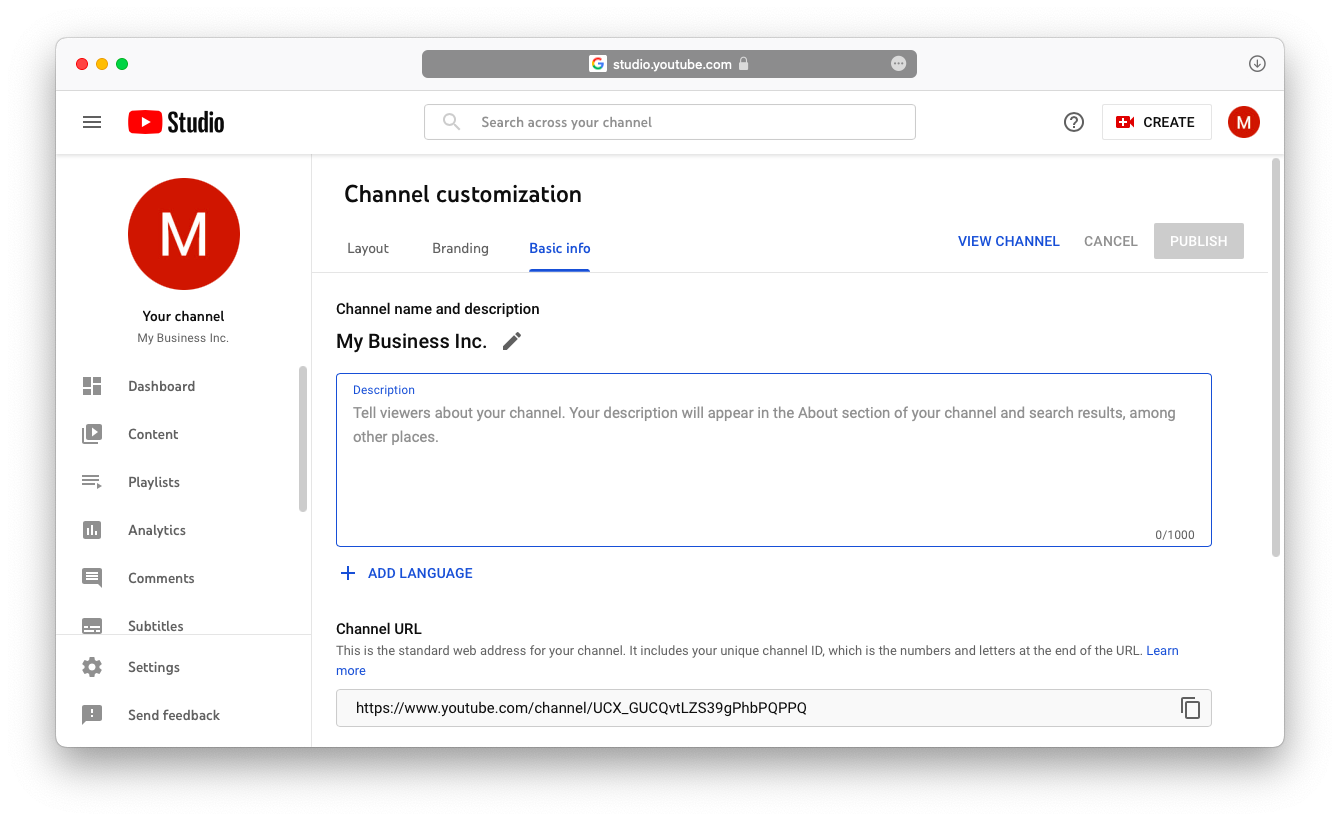 Upload branding assets
Switch over to the "Branding" tab to add visual assets that will make your channel recognizable to your audience. You can upload a channel icon, channel banner, and channel art to be used as a video watermark. 
Customize your layout
Finally, you can customize the layout of your channel. You can upload a channel trailer that will be shown to new users as soon as they land on your channel, as well as a featured video that will take up the same space (but only show up for existing subscribers). 
You can also break down your channel's homepage into various sections, including popular uploads, past live streams, playlists, and more.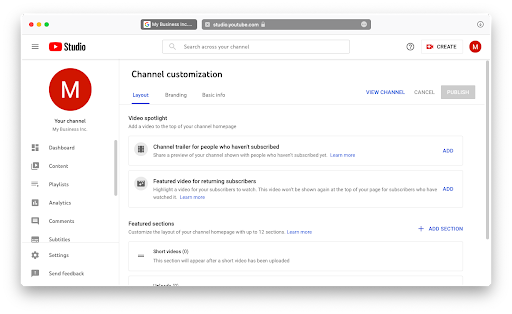 Step 4: Create, optimize and publish videos
After you've created and customized your YouTube channel, it's time to upload your first video. 
From your channel, click "Upload Video" and pick "Select Files." While your video is uploading, you should add descriptions that will make your video more discoverable on YouTube as well as other search engines. 
Here are the elements you can—and should—customize:
Video title.

This is the most important descriptive element that will make potential viewers click on the video. Keep it clear, concise and tailored to your audience. 

Video description.

This field explains the gist of your video. You should include links to your website and social media as well as time stamps if the video is quite long. While the description is limited to 1,000 characters, it's recommended to keep it short and include the most important information in the first sentence or two ("above the fold") since people click to watch your video, not read a lot of text.

Thumbnail

. You can either choose a still from the video or upload a custom image that will help you stand out among other similar videos. 
In the end, add your video to a playlist if it's part of a series. Add subtitles and tags. Publish your video either privately or publicly. There's also an option to schedule publishing your video into the future. 
Congrats! Now you know how to create a new channel on YouTube. Make sure to regularly post videos edited with professional tools like Final Cut Pro or Adobe Premiere Pro. Take a look at our other article on the best video editing software to choose the app that's best for you.
You don't need a lot of followers on YouTube to make money
Selling digital products can help you monetize sooner, before you grow your audience enough for ads.
If you want to use your new YouTube channel to promote your own learning products, make sure you start by setting up a great learning experience for your clients.
If you need a platform that will help you build, market and sell online courses, try
Thinkific
.
Thinkific is an easy-to-use tool for online course creators. Anyone can create a video-based course on Thinkific in less than a day, using an intuitive drag-and-drop editor and a library of professionally designed templates. No tech skills required.
Try Thinkific for free today
.