Every brand is competing to catch the attention of their target audience, so when you get customers, you need to hold onto them. This is where a brand community comes in handy. 
If you can learn how to build a community around your brand, you can make sure that your customers keep in touch and stay engaged. 
Down the line, this extra contact increases the chances of repeat sales, word-of-mouth marketing and better customer loyalty.
Read on for our top tips on how to build a community around your brand, plus real-life brand community examples for actionable advice on how to make your brand community a success.
Jump to:
What is a brand community?
As the name suggests, a brand community is a group of people who are united around a business and have a shared interest or passion for its products, services and values.  
Brand communities enable businesses to retain their customers by creating a sense of connection and encouraging people to buy into the brand ethos. 
Chances are, you're already a part of a whole range of different brand communities, even if you don't realize it. Some of the most powerful and active brand communities transform into lifestyle communities, making brands a way of life for many people. 
Do you have an Apple iPhone? Wear Nike shoes? Drink Coca-Cola? Whether you're chatting about the latest iPhone release or tagging Nike in Instagram Stories of your workouts, brand communities are all about generating a buzz around a brand. 
If you can create a strong brand community with a sense of shared identity around your business, you can build up customer loyalty and keep them coming back to you to buy more. 
Read on to find out how to build a community around your brand and top examples of successful brands that have done exactly that.
➡️ Build explosive growth & revenue with community + 3 bonus cheat sheets
Want more business tips to unblock you? Sign up for the newsletter here.
How to build a community around your brand
5 key benefits of a brand community
Creating a strong and engaged brand community isn't something you can do overnight – but with patience, creativity and a commitment to building something valuable for your customers, you can grow a community that's hugely beneficial for your business.
Here are 5 key benefits to building a community.
1. Boost brand affinity
At the top of the list is brand affinity. A brand community can dramatically increase the affinity your customers feel for your brand by putting them in closer contact with your brand values every day.
When customers feel like they share common values and beliefs with a brand, they're more likely to engage with it on a regular basis. If you can develop a strong bond with your customers, you can boost the chances that they'll buy from you in the future. Brand affinity allows customers to see their purchases as an investment rather than an expense – and it's an investment they can feel good about! 
Consumers face targeted marketing from countless brands every day but if they've bought into a shared vision with your brand, they'll come to you instead of your competitors. This is one of the top benefits of creating a community and why it's extra important to know how to build a community around your brand.
(Unsure on your brand? Use our free brand strategy templates below)

2. Generate brand advocates
The loyalty and passion that drives a customer to make regular purchases from your brand can also inspire them to recommend your brand to others. A thriving brand community helps you encourage active brand advocates who spread the word about your business to their network.
Despite the incredible growth of influencer marketing in recent years, recommendations from family and friends still represent one of the biggest drivers that influence people to buy from certain brands. Getting a personal recommendation from someone you know carries double the weight of an influencer or celebrity recommendation. This means the more word-of-mouth publicity you can get, the better it is for your business.
A brand community is a really effective method to convert customers into brand advocates by helping to foster better brand loyalty. Posting regularly in your brand community space helps to keep your brand front and center in people's minds, increasing the chances of them tagging a friend or sharing your post with others. 
 You can also encourage more brand advocacy by adding social sharing buttons to all your product pages, email marketing and landing pages and making sure to include calls-to-action like "Share this with someone you love!" in your marketing copy.
These simple engagement tactics can open up your brand to new audiences – and win you more sales down the line.
3. Improve customer success
A brand community can also go a long way to improving customer success rates. If you can build a supportive, committed community around your brand, you can utilize this community for helping other customers.
In our Thinkific Studio, course creators and educators constantly help each other out. Whether they're answering questions, making recommendations or giving feedback and advice, our community members are committed to each other's success. This often happens outside of office hours when our community moderators aren't online, helping to expand the scope of our community and offer a 24-hour support system for members.
This type of brand community not only helps you retain more customers, it also gives customers a better experience too. That means they're more likely to be active members of your community and continue to use your products and services for longer.
4. Drive up customer lifetime value
When you're first getting your brand up and running, it can be tempting to focus on monthly sales reports and increasing your customer base. After all, more customers means more revenue right? But long-term, Customer Lifetime Value (CLV) can be a hugely important metric for your business.  
When you take on a new customer or student, ask yourself:
   

How long will they be a customer?

   

How often will they make a purchase?

   

How much will they spend in total?
These three questions let you calculate the Customer Lifetime Value for different types of consumers. A CLV is an estimate of the net profit you'll make from a customer over the entire duration of their relationship with your brand. 
With a strong community around your brand, you can boost your CLV numbers. A community lets you build closer to your customers and encourage repeat sales. It also gives you the chance to gather feedback from your customers to learn what you can do to improve their experience and strengthen your relationship.
The key to success for any business is to maximize your Customer Lifetime Value numbers. If you focus on how to build a community around your brand and how to keep customers committed, you're one step closer to turbocharging your CLV.
5. Get inspiration for future products
What about your products? Building a brand community also means building an ideas generator for future products and services.
 Members of your brand community already love your brand so they're the ideal people to inspire future products too. If you can tap into the conversation in your brand community and find out more about what customers are calling for, you can create the products they want and need most.
 When it comes to brand community examples, big game companies like Electronic Arts (EA) are a great model for using their fans to inspire future products.
 EA invites their community to take part in the playtesting of new releases, helping them to feel like part of the game development process – and giving members the exciting opportunity to be among the first players to see a game. Outside of the gaming world, Lego's Ideas community also encourages Lego enthusiasts to submit their own ideas for future products, many of which are developed into actual products for sale. 
 As these brand community examples show, a strong community with their own creative input can give you the chance to take a more dynamic, interesting and ultimately successful course for your brand.
Related: Learn how Thinkific Communities can unlock new possibilities for your business
4 extra inspiring brand community examples
Here are some of our favorite brand community examples to show you how companies and creators have built successful online communities – and what you can learn when it comes to how to build a community around your brand. 
1.   Harley Davidson
Inspired by the Harley Davidson owners clubs that sprung up organically across the world, the classic motorcycle brand launched its own international Harley Owners Group to capitalize on their brand community. The Harley Owners Group (H.O.G) connects Harley Davidson owners and organizes events internationally, strengthening the bond bike owners have with the brand. 
 Combining community events and local membership with practical benefits like breakdown cover and insurance, Harley Davidson have built on their existing brand reputation to build a strong, global community. This community helps keep Harley owners engaged and enthusiastic about the brand and provides the perfect platform for marketing its wide range of products.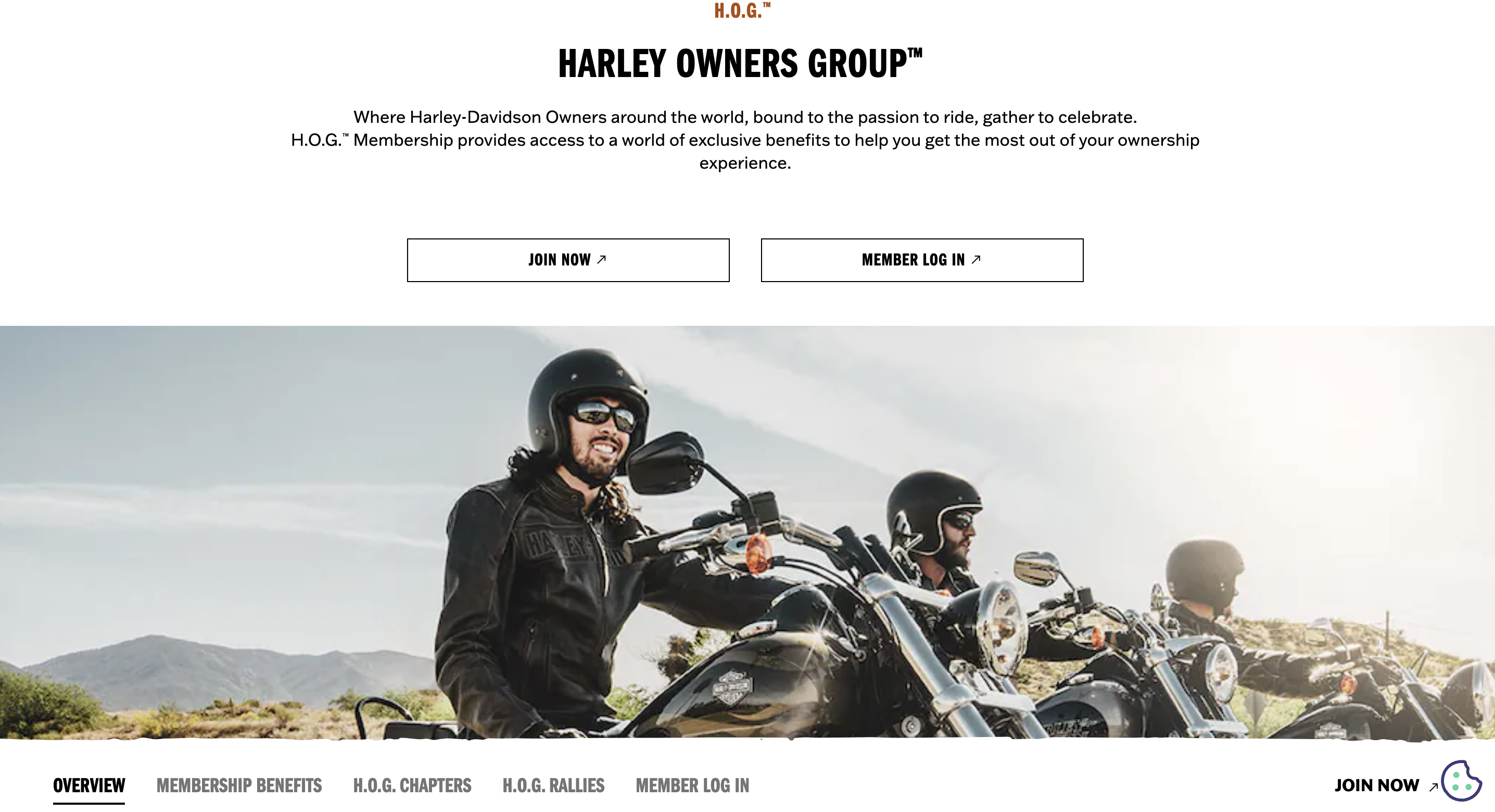 Tips for how to build a community around your brand
Incentivize membership
The practical benefits that Harley Davidson offers their community members helps encourage more Harley owners to join. If you're looking to build a community around your brand, you can borrow this idea to incentivize your own customers. Initiatives such as discounts, product add-ons and early-bird offers for members are all effective ways to win customer loyalty and grow your community.
Run live events
Harley Davidson's focus on live community events can also be an inspiration for how to build a community around your brand. Online events are a really effective tool to encourage engagement with your community. Whether in-person or over Zoom, a live event is also a fantastic way to develop a closer, more personal connection to your customers and create that feeling of shared experience and support.
2.   My Millennial Money
Thinkific creators Glen James and John Pidgeon founded My Millennial Money with the aim of helping young people interested in managing their finances. The partners created a successful podcast and thriving brand community, as well as introducing a range of online courses and even physical products to expand their brand reach.
The small team at My Millennial Money built their brand community through regular engagement and a creative feedback strategy. They use their community to gauge interest for new courses, share content, start discussions and respond to any queries from customers. They've been able to build a strong sense of trust in the community thanks to their uniquely written code of conduct, which means that customer loyalty and retention is high.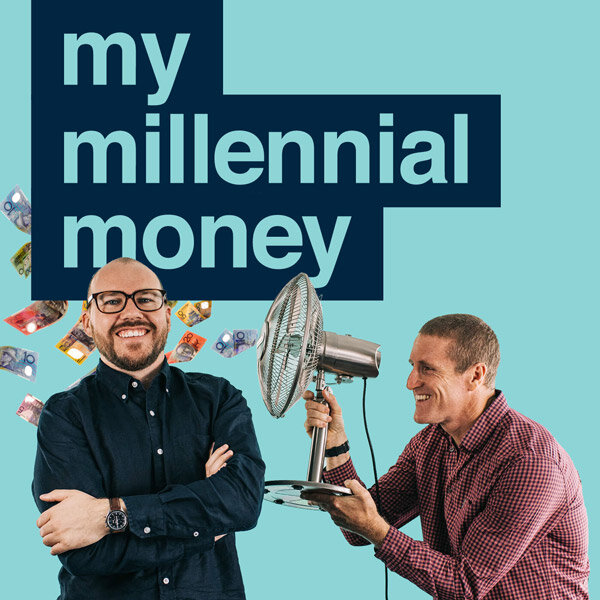 Tips for how to build a community around your brand
Write clear community guidelines
Following My Millennial Money's brand community example, you can help your brand community succeed by writing clear community guidelines that set out the code of conduct for your community space. This helps members to know what to post and what not to post, as well as shaping their interactions with other community members.
Add brand extensions
If you're looking to get more inspiration from My Millennial Money, consider launching a podcast to compliment your products or services to repurpose your content and bring your audience something new. Remember to make sure the tone of the community and the style of the podcast are the same! This is a great way to engage your community with a wider range of content and keep your brand at the front of their minds.
3.   Nature Backs
This environmentally-focused clothing brand formed a strong brand community, built on its ethos of adventure, travel and sustainability. Nature Backs partners with independent artists, filmmakers and photographers to build and promote their warm, creative brand, while also using a wide range of community engagement tactics to grow.  
Nature Backs encourages user-generated content as a key part of their engagement strategy, reposting photos of customers wearing their Nature Backs T-shirts in beautiful settings to build a closer bond with their brand community. This strategy gives them a committed customer base that responds quickly to new clothing launches and spreads the word to other eco-minded consumers, helping the niche brand to grow and increase their revenue.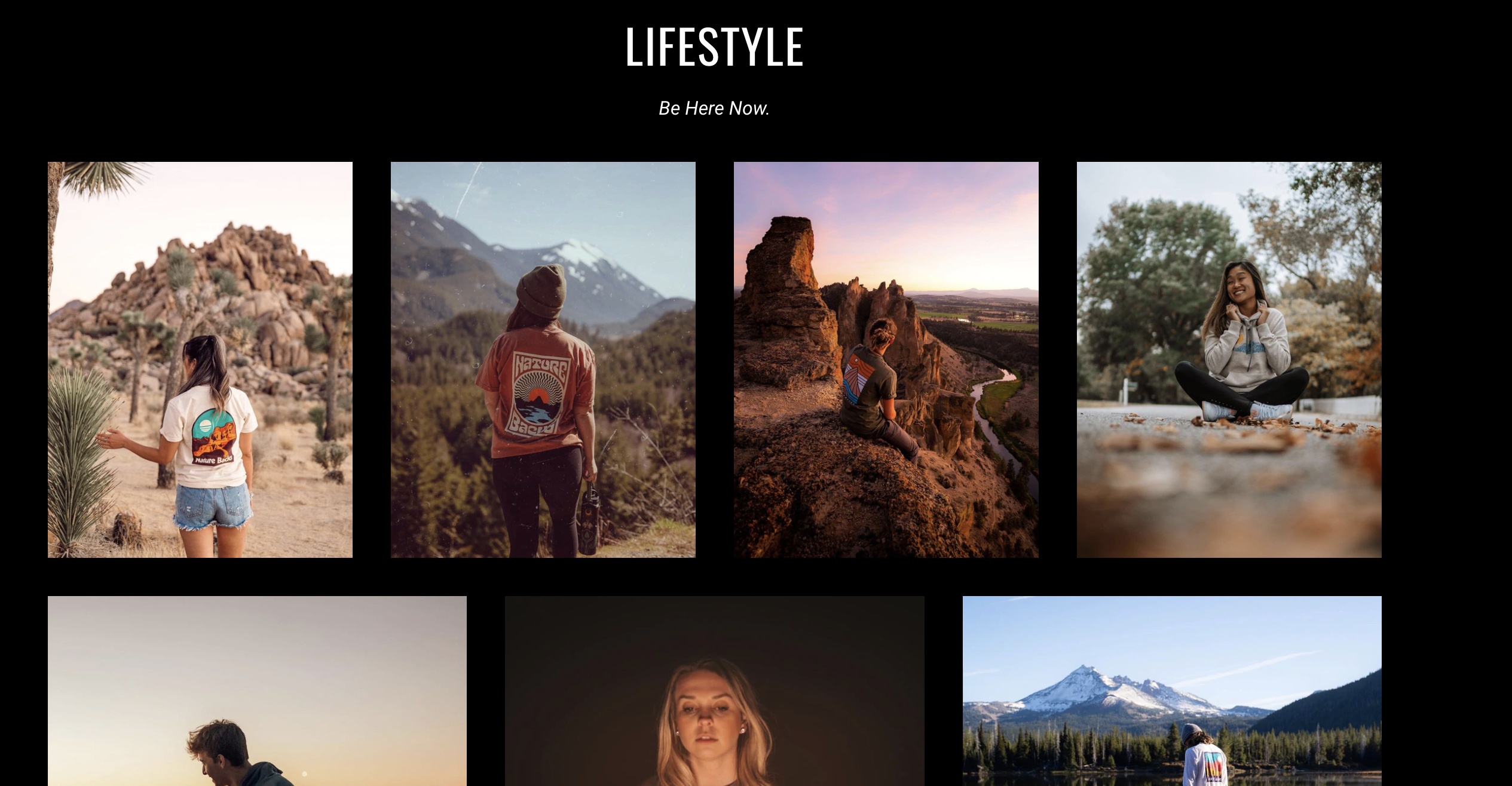 Tips for how to build a community around your brand
Encourage user-generated content
If you want to take inspiration from Nature Backs to build a community around your brand, consider creative ways to get your customer base creating content for your brand. Encourage customers to share your brand's products or services through photo competitions, customization challenges, scavenger hunts and more. 
For example, if you've created a course on Thinkific, you could invite customers to contribute stories or video posts about how the course changed them in exchange for entry to a prize draw or a discount on their next purchase.
Offer exclusive features
Nature Backs also build a strong community around their brand by creating exclusive products and features just for their members. These members-only features include surprise limited-edition T-shirts that keeps customers engaged, excited and always eager to open the next email. Use this tactic to help build a community around your brand – and level up your email marketing too.
4.   Yes& By Marin
Marin Laukka is a prolific and super successful life coach who juggles an active coaching business with books, courses and thriving community spaces built on her Yes& By Marin brand. Using Thinkific to expand her brand and create a course academy, Marin grew her business and her community to cater to a wide range of different types of customers.
To keep community engagement high, Marin regularly posts polls and discussion points in the Yes& online community. She also hosts regular live group calls and invites students to share their main takeaways from the session after every one. Not only does this nurture a stronger bond between her and her customers, it also helps learners feel more connected to each other and gain more value from the learning experience. 
View this post on Instagram
Tips for how to build a community around your brand
Offer a personal touch
One of Yes& By Marin's key strengths is Marin's ability to tailor recommendations and ideas to specific customers based on her interactions with them. To use this for your own brand, consider doing group calls or one-to-one calls to chat face-to-face with your customers. You could also introduce questionnaires or a live chat function to your community to give your approach a more personal touch.
Post relevant content for your audience
Something to bear in mind for building your own community is the importance of content that's relevant to your community members. For Marin, that means tailored discussion points and polls on topics close to her customers' interests. For your brand, it could mean quizzes, video content, downloadable resources and more. Pay attention to what your members want, need and engage with most and use this to shape your content strategy.
3 essential things to help you build a community around your brand
If you look at the reasons people join brand communities, it all comes down to 3 essential things: agency, purpose and belonging. You need to give your customer all three of these things to build a successful community around your brand.
Let's take a look at them in more detail and how to do it.
1. Agency
Give your customer agency in your brand community by regularly asking for suggestions on how to improve the products and services they use most often. 
A customer who feels like they have a direct say in the quality and development of products they use, as well as the overall direction of the brand they support, will become doubly keen to engage with your community. They might bring their friends along too.
2. Purpose
To convince customers to join your community and stay engaged, you need to give them a purpose in your community. That means giving clear community guidelines. You can also help them to buy into your community by rewarding engagement and recognizing top contributors. Customers will feel motivated to be more in your community and help support new members feel welcome.
3. Belonging
For a brand community to truly be successful, your members need to feel like they belong. They should be able to engage with your community and feel seen, heard and appreciated. Small ways to help increase your members' sense of belonging include responding to comments quickly, reposting user-generated content and hosting live events that have a social element.
Related: It's Time to Tap Into Togetherness with Communities
What makes a brand community successful?
If you're learning how to build a community around your brand, there are some things to bear in mind to help you make your community a success.
Be active in your own community
The most successful brand communities have excellent community managers. If you're just starting a brand community for the first time, you'll probably be doing all the work yourself. Even if time is tight, it's really important that you're active in your community. That includes asking questions, responding to comments and posting fresh content, ideally every day of the week. 
Create the feeling of a growing movement
If your customers feel like your brand is going from strength to strength, they'll want to be a part of that growth. Try to create a welcoming atmosphere that celebrates new members by encouraging them to introduce themselves and share more about their interests and expertise. Post about community milestones like hitting 10k members and remember to publicize new product launches.
Balance selling with valuable content
While no brand community space should feel like a marketplace, balancing promotional content with other forms of valuable, interesting content can be beneficial for your community members. Use your community to introduce new products, including helpful how-tos and members-only offers or introductory discounts. After all, one of the reasons your customers joined your community was to hear what you're offering next! Just make sure you keep a balance.
Invite feedback
The most successful brand communities encourage and welcome feedback from all their members – and they listen to what they have to say. Invite feedback in an honest and enthusiastic way and always receive responses graciously. You can use surveys and feedback forms to make the process straightforward. Wherever possible, implement changes based on customer feedback to improve your customer experience. 
Find the right platform
Building a community around your brand also includes finding the right platform for your community. Thinkific Communities makes community management simple and straightforward by integrating your brand community with your course platform, so you have everything you need for your business in one place. 
And with Branded Mobile – your own white-labeled app created by Thinkific, you can get your audience's attention and keep it, with an interactive online community they can engage with whenever they want, on the device they use most.
How to build a community around your brand: anti-communities and how to avoid them
While brand communities can be brilliant for your business, there is a flip-side to the beneficial type – enter the 'anti-brand community'.
If enough people are annoyed or upset about something your brand says or does, it can result in a brand community that's not about loyalty but about opposition. Certain patterns of brand behavior can result in an anti-brand community forming and these can spell disaster for brands, no matter how big they are.
Here are 3 things that put you at risk of an anti-brand community plus negative brand community examples to learn from.
1. Poor customer service
If customers feel neglected and ignored, their relationship with you can quickly turn sour. If they connect with other people who've had similar experiences, it won't take long for their annoyance to snowball into an anti-community. 
One negative brand community example is LastMinute.com who now have an entire community on social media complaining about their poor customer service and lack of care for their customers. If you search a question about this brand on Google, countless complaints and negative reviews will come up as the first results. This is an anti-community at full strength. 
To avoid becoming this brand community example, make sure you take your customers' concerns seriously and respond quickly to any queries or complaints. Use your brand community to resolve customer issues before they escalate to help maintain a good reputation and keep your community sweet.
2. Controversy and conflicting brand values
Just as customers will be inspired to be loyal to companies that they feel reflect their own values, they can quickly turn against a brand if this trust and shared identity is broken. 
A badly worded email, statement or ad campaign can quickly generate an anti-brand community. If enough customers find a brand distasteful or problematic, a passionate anti-brand community can form that could easily result in a widespread boycott of all their products. 
One negative brand community example is from Ulta Beauty who recently sent a promotional email about their brand collaboration with Kate Spade using the headline "Come hang with Kate Spade". This wording was found to be hugely insensitive due to the death of the brand's founder by suicide. Ulta Beauty has since apologized for their mistake but a significant chunk of their community has already been lost as a result. 
When you're deciding how to build a community around your brand, it's really important to decide from day one what your core brand values are. You need to look critically at every aspect of your brand philosophy, values and mission statement to make sure you know what face you're presenting to your customers – and avoid controversy in the future. 
3. Sustainability, social responsibility and other political debates
The climate crisis and the growing worldwide response is resulting in consumers becoming more aware of sustainability when choosing brands to support.  According to a recent study, 45% of Generation Z consumers say that they've stopped buying from certain brands because of environmental and ethical concerns about their products or practices. 
This trend can also be seen in relation to other social and political issues which are spilling into consumers' purchase decisions.  Taking a controversial political stance can instantly alienate your customers so brands need to tread lightly when it comes to key issues. 
To make sure that no anti-community forms around your brand, make sure you are transparent about your practices and politics and communicate clearly with your customers on all matters. While you don't have to comment on issues if you don't feel like it's appropriate, make sure you don't deliberately conceal things from your customers – if it leaks, it could spell trouble for your business and your reputation.
Measure the health and success of your community
When you're growing your brand community, it's a good idea to monitor key metrics to help you judge how well your community is performing and whether your hard work is paying off.  
To measure the success of a community space, you need to know exactly what you're creating your community for. What do you hope to gain from a community? What could a community give your business that you don't currently have?  
For example, if your aim is to increase brand awareness, you could track the number of social shares or click-through rates. If your main focus is using your community to increase sales, you'll want to measure conversion rates and purchase frequency.
Think about your aims for your community and use this to shape your community measurement metrics.
Related: 7 Steps To Building An Online Community (With Examples)
Now you know how to build a community around your brand…
There's a lot of things to consider when figuring out how to build a community around your brand. Use these tips to help you get started and borrow from the brand community examples to get more inspiration. Remember – your aim is to give your customers a sense of connection to your brand to help you transform your relationship from a single into a long-term partnership. 
With Thinkific Plus, you can build your own brand community and form long-lasting relationships with your customers. Thinkific Plus is a scalable platform that is simple to maintain, seamlessly integrates with your existing software, and is customizable for your brand needs. Schedule a call to try it for free.