It's no secret that entrepreneurs and brands are making more money than ever before in the online learning space. Over the last few years, our industry has grown to over $315 billion. This year our Thinkific trends report detailed the explosion of student demand across every major field.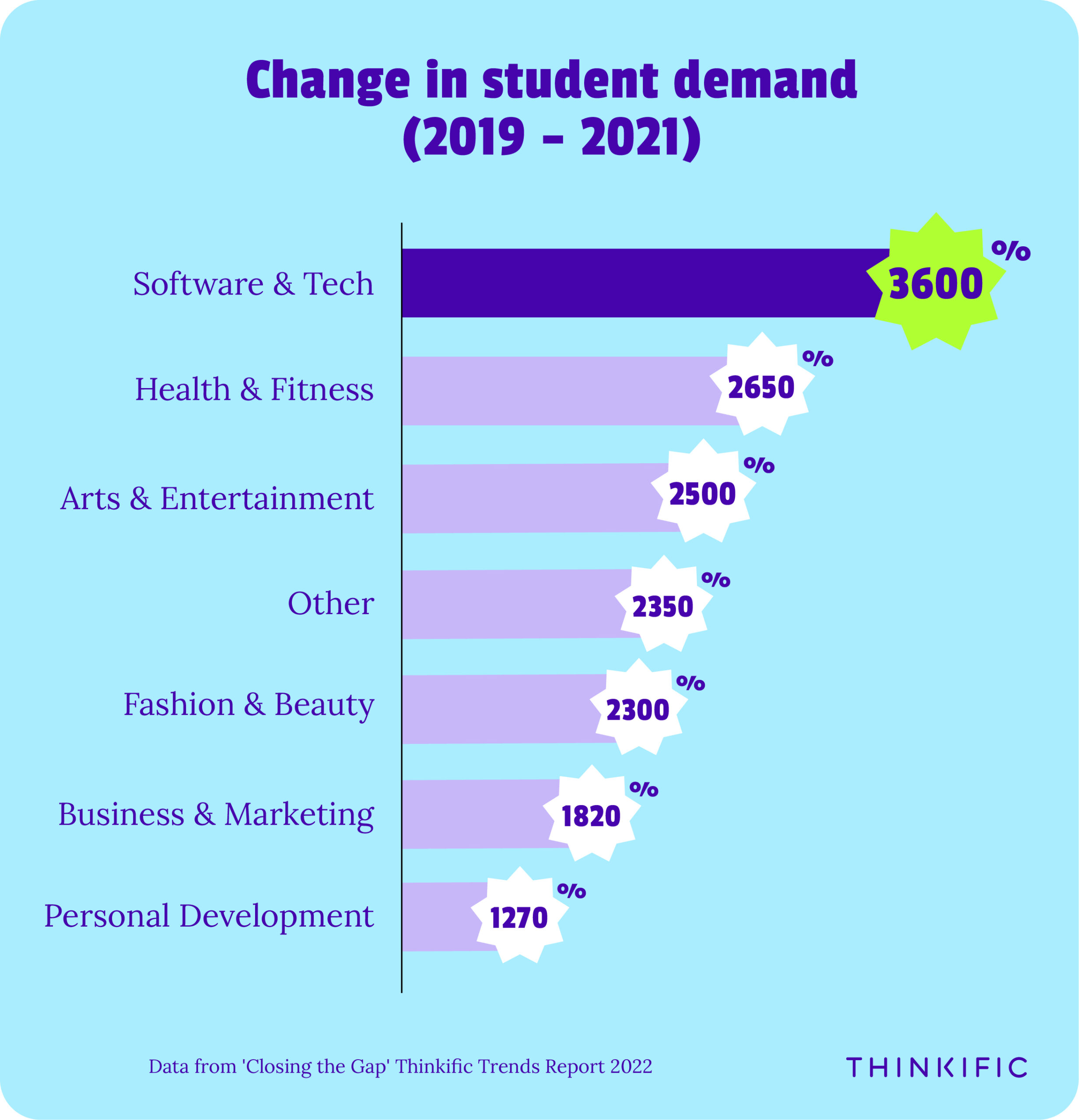 Yet in many ways, we also feel this is just the beginning. Online learning has vast opportunities to grow and evolve – especially when it comes to connection and learning styles. In fact, it's time to think more deeply about the experience of online learning, and how bringing people together could be the most beneficial, and profitable way forward for everyone.
Related: Learn how Thinkific Communities can unlock new possibilities for your business
Jump ahead:
Related: 7 Steps to Building an Online Community 
The virtue of being apart
The first wave of online learning had a clear advantage: it was asynchronous. No longer did students have to plan their schedules around others. Instead, they could learn practically anything, anywhere, anytime. This dramatically lowered the barriers to knowledge.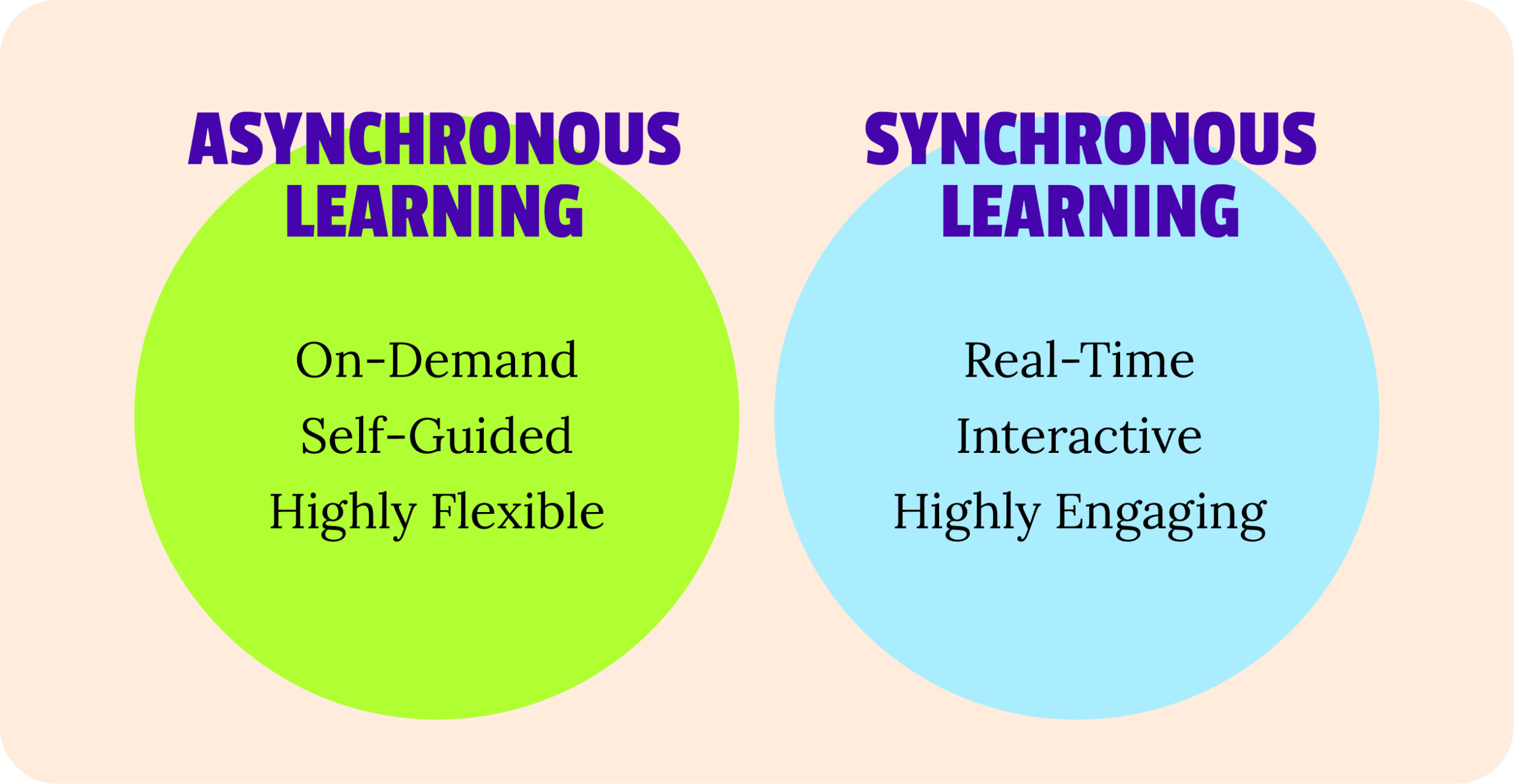 Those with knowledge created course content on their own schedule, leaving students to consume it, on demand. This gave both course creators and students freedom, and the ability to invest their valuable time elsewhere. But while this newfound freedom was mutually beneficial, it leaves another path toward a positive and successful learning experience, not to mention a learning business, remaining to be explored.
Coming back together again, with Communities
While the freedom to create or consume learning content individually with courses has incredible value, courses alone do not represent the absolute apex of a complete learning experience or the ceiling of a learning business. The rich communal aspects of learning that we've all experienced, remain untapped.

Learning Communities are a way for businesses and students to engage and collaborate with one another on an ongoing basis. They work with courses, memberships, coaching and events – or as a completely standalone experience. They represent one of the most important developments in online learning to date, and for course creators, the best possible way to build for the future.
Read more: How to Build a Community Around Your Brand (+ Brand Community Examples)
Synchronous and asynchronous learning, together
Learning communities blend asynchronous and synchronous methods together. Students can devour hours of courses in a day and then participate in a live community discussion that evening. Or the other way around – the possibilities are up to you.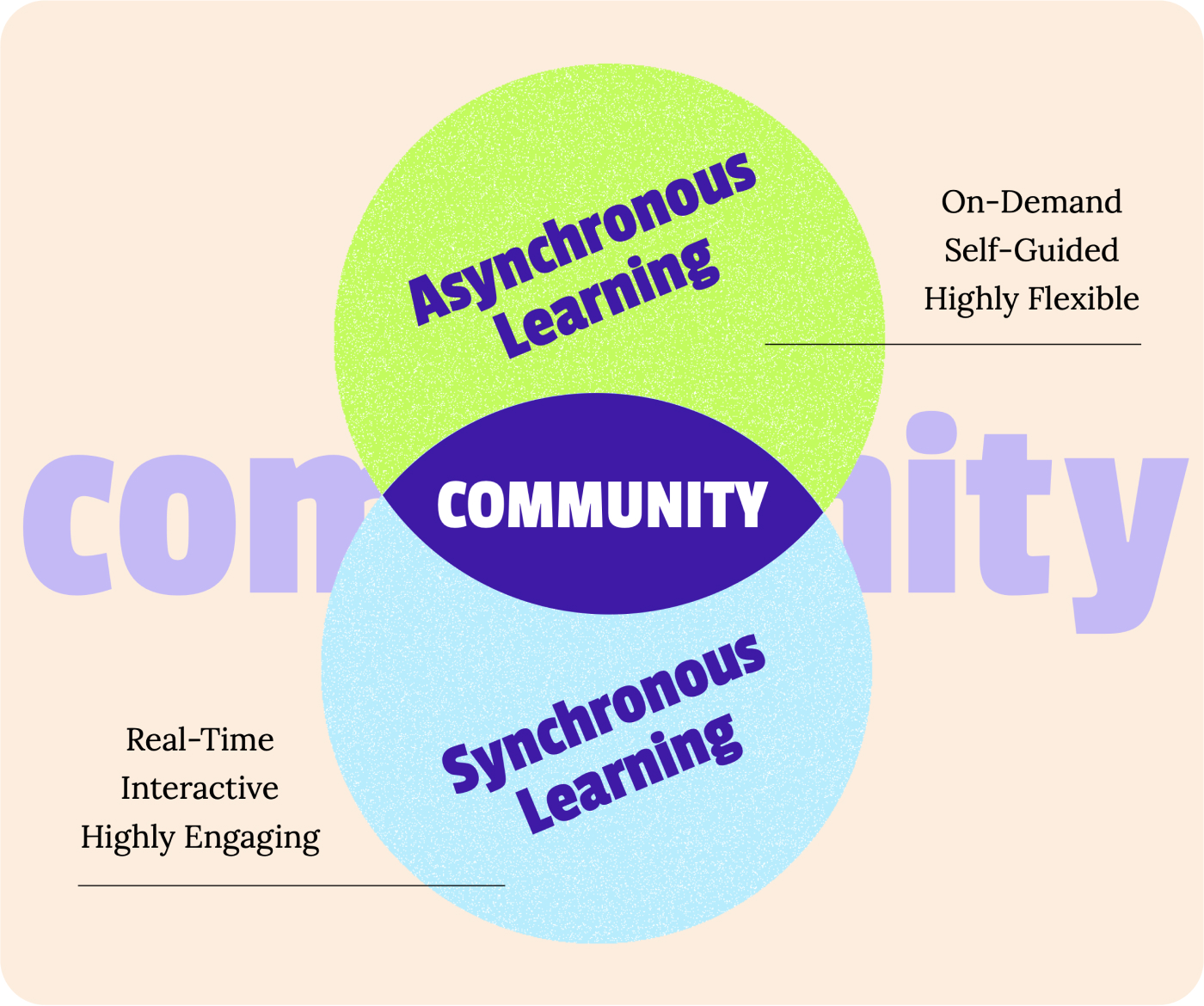 The complementarity and stickiness of communities make them the new operating system for online learning businesses. They're on-demand and real-time. Self-guided and interactive. Flexible and engaging. Communities give students flexibility to determine how and where to engage.  Most importantly, they complement every other form of online learning to build more robust businesses.
Related: Engage and Grow your Audience with Thinkific Communities
It's also easier to start together
Ask anyone who has ever created an online course and they'll tell you it takes work. Packaging your knowledge, producing content, and creating learning journeys can be a time-consuming process. For many, it takes weeks or even months of production before getting meaningful signals (and income) from students.
Read more: 13 Tips to Grow an Online Community
With a learning community, you can be up and running within a matter of hours (or even minutes). Rather than building a curriculum, you simply create a space for students to connect with your knowledge, expertise or passion — and to connect with each other. 
If you're just starting out, learning communities are a great opportunity to validate your course or product strategy as well. Founding community members can jumpstart your business and help build the momentum that fuels growth into complementary learning experiences.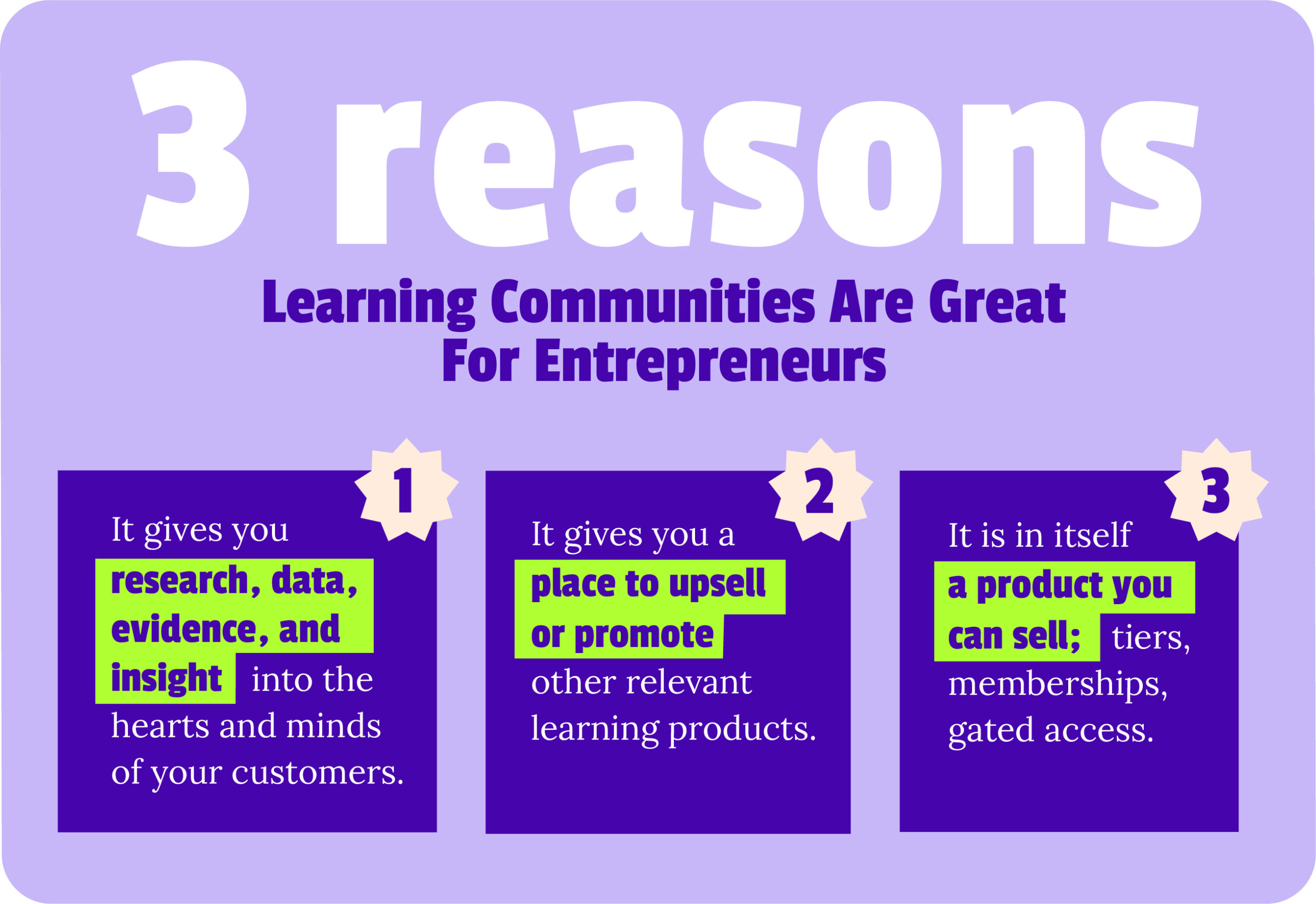 They come for content, but stay for community
For established course creators, learning communities have immediate value. A community can transform your business model from a one-time purchase to an experience with ongoing value. Communities are a way for your customers to go further with others — precisely what online courses cannot do.
How do we know that students find value in a learning community? To answer that question, our team decided to survey over 2,000 people who have paid for an online course. When we asked these folks whether they would get more value out of an online course if it had an online community attached, the answer was overwhelmingly yes.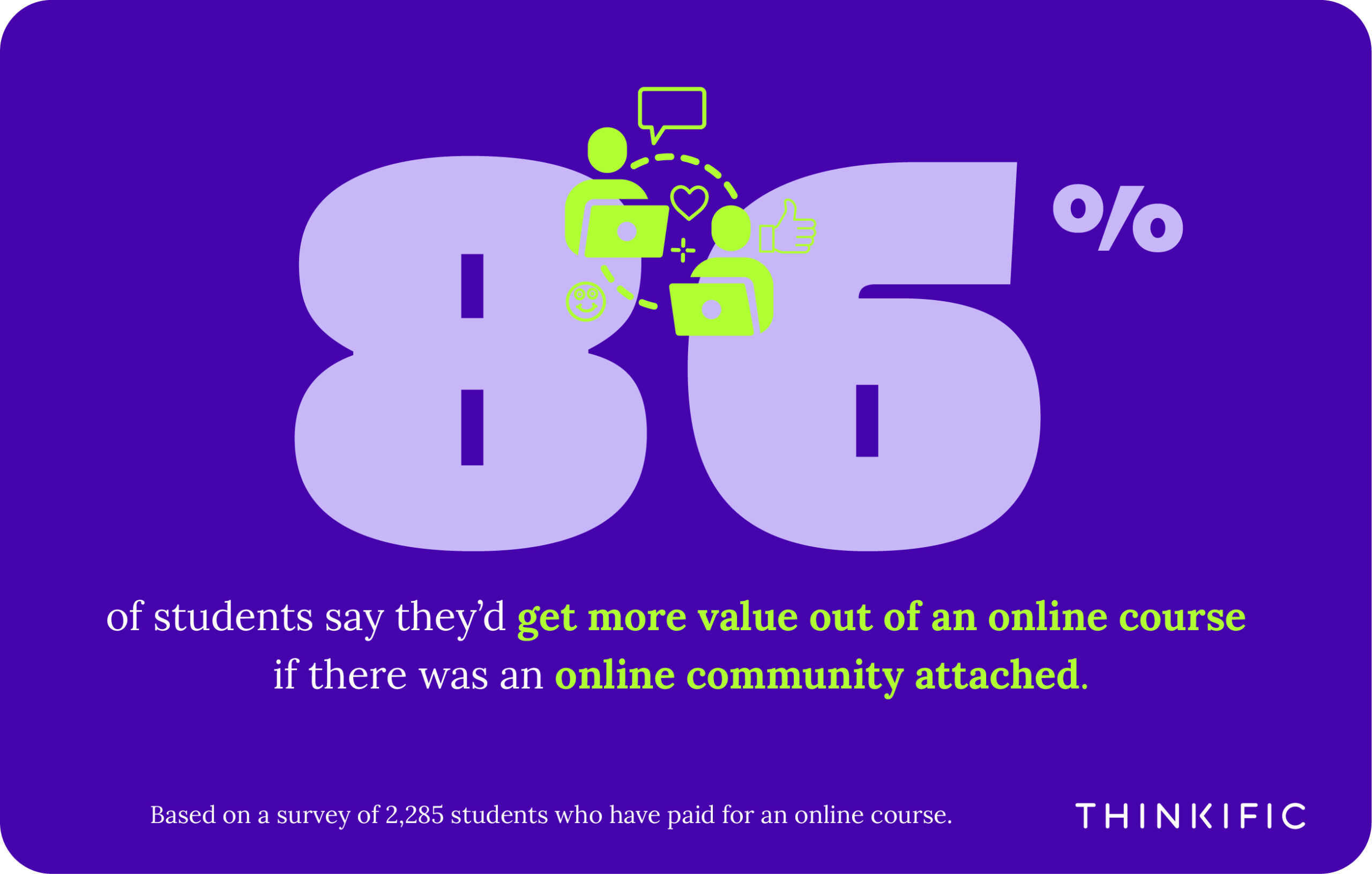 An incredible 86% of students say they get more value out of online courses with learning communities attached. A buzzing community drives up perceived value for your students. They're not just getting your learning content — they're getting the chance to make connections with ongoing support that expands the impact of your knowledge. That's a huge draw.
Another reason for this preference is that communities support other forms and preferences for learning, helping more of your students succeed. Nearly 40% of online students have paid for a course they did not complete, or have purchased a course and then later regretted it.  We believe this is inherent to any single method of online learning.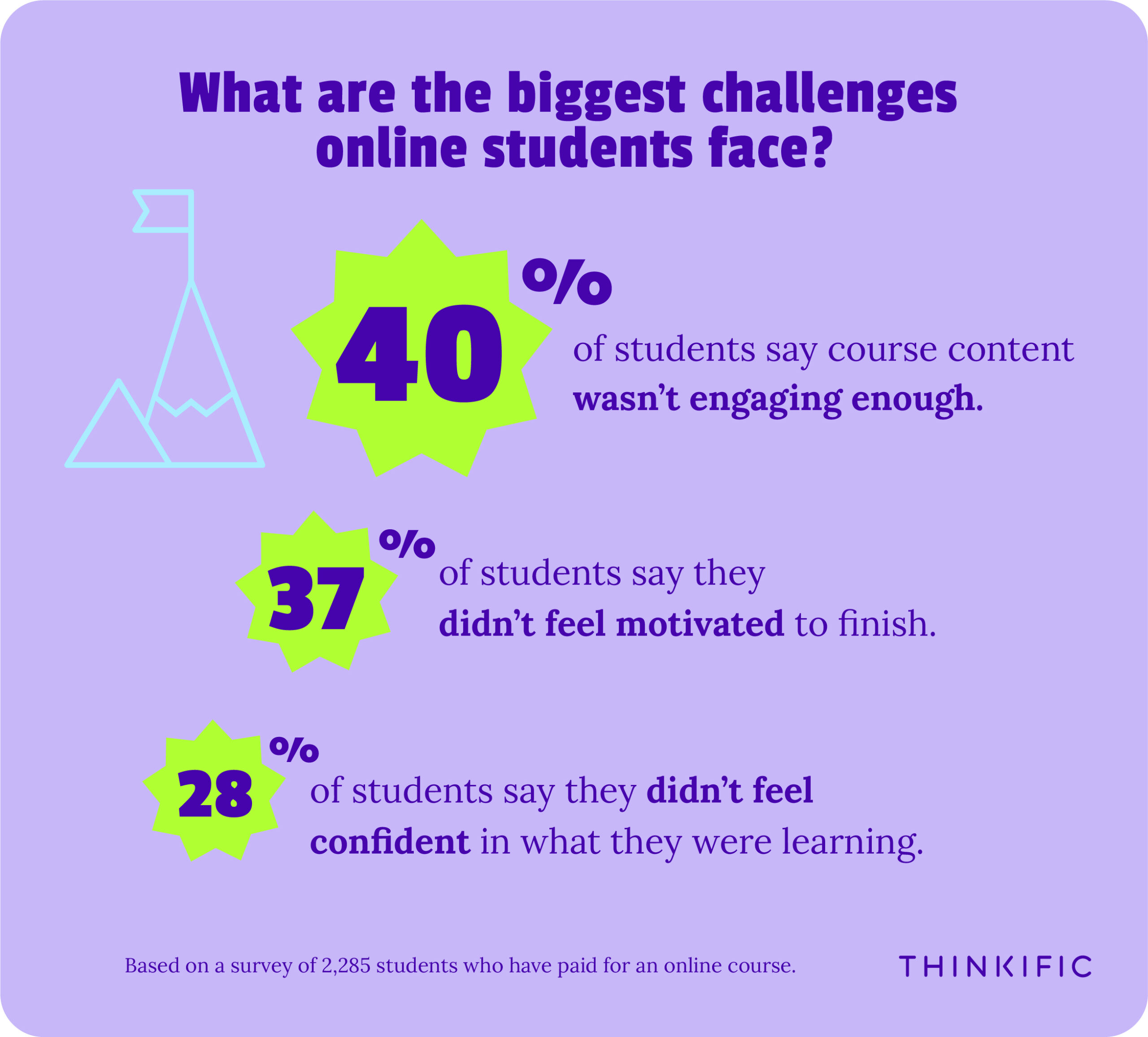 Communities are great at catching and engaging these students with complementary experiences. They provide practical and ongoing applications of learning that keep up with your customers' needs and interests. Features such as profiles, comments, spaces and events give students more ways to engage with knowledge.
The benefits of communities are off the charts
One of the most profound benefits of learning communities is the creation of more predictable income. The most common approach is a membership model, but communities can also power cost-effective lead generation and a multitude of selling strategies. Sustainable and scalable income is much more achievable when using multiple offers.
Another benefit is that participants often become content contributors, moderators and even coaches or instructors within your community. This creates reasons to return that don't depend on your effort alone. Your most engaged customers have opportunities to practice, master and share their knowledge, which increases the value of your business.
Earlier this year, we dug into data from the top 20% of Thinkific creators and businesses to see what they're doing differently to make them so successful.  One of the key findings we discovered was that top creators are twice as likely to set up and run an online community for their students.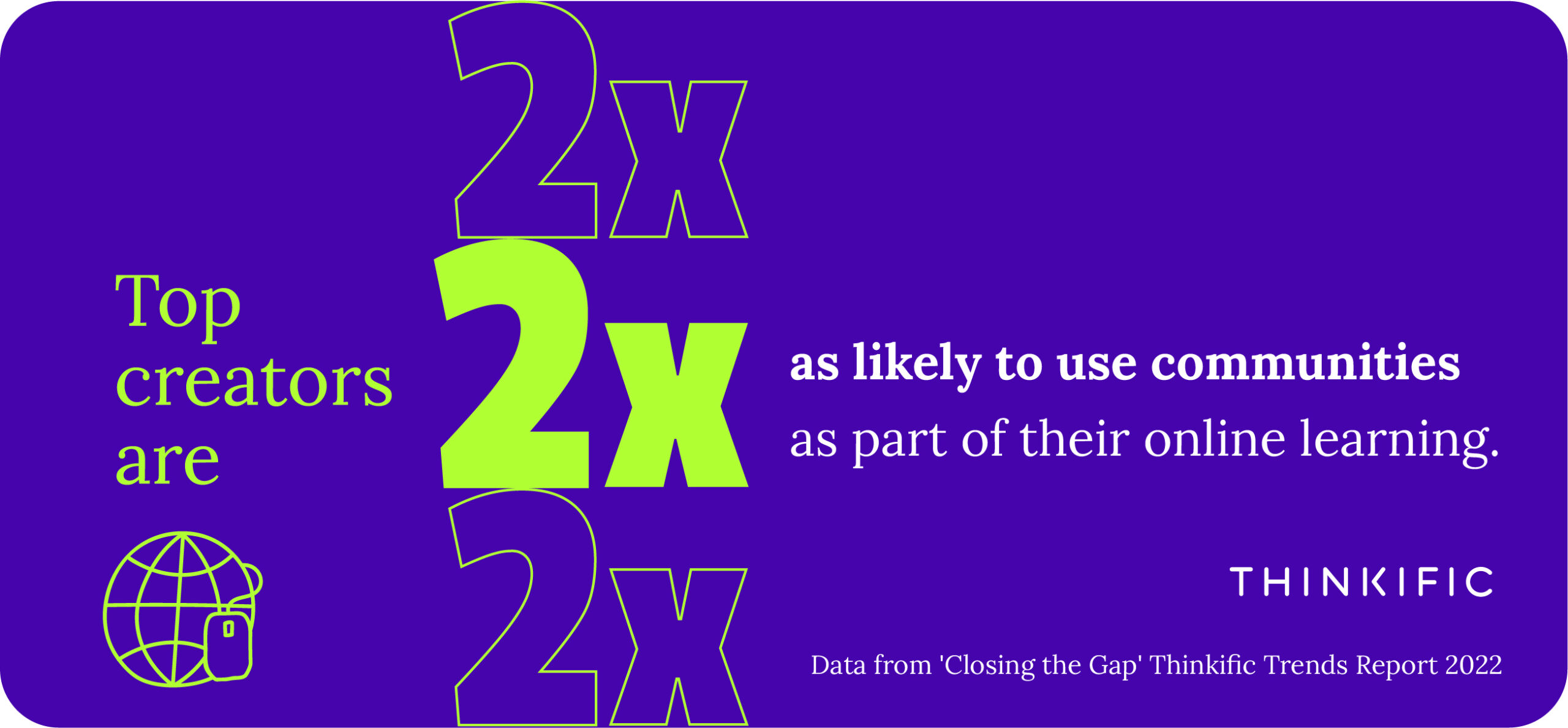 You might be thinking a communities strategy is only for those with huge audiences, but this is exactly what makes this so interesting. Our trends research found that learning communities are a significant value driver for creators with smaller followings, too. Often smaller communities open up more intimate and deeper connections between students.
Some businesses may even offer their community for free to attract leads and prime their audience for bigger sales. With more and diverse ways to connect and engage, the more opportunities there are to expand your business from existing customers, while at the same time, decreasing the costs of acquisition. This is how the most successful online learning businesses will grow and succeed.
Read more: 5 Successful Online Communities (and What Makes Them Great)
It may be a Community, but you're in charge
If the internet has taught us anything over the last few years, it's that nothing is permanent. In an instant, algorithms can change, websites pull your content, foreign governments infiltrate your data, and entire countries can block access to your information.
For learning businesses, this makes ownership of your content, customers and income streams ever more important. You can't simply rely on social media, because every year you could reach fewer and fewer people. A community that increases student engagement is often more valuable and sustainable than attracting an ephemeral audience.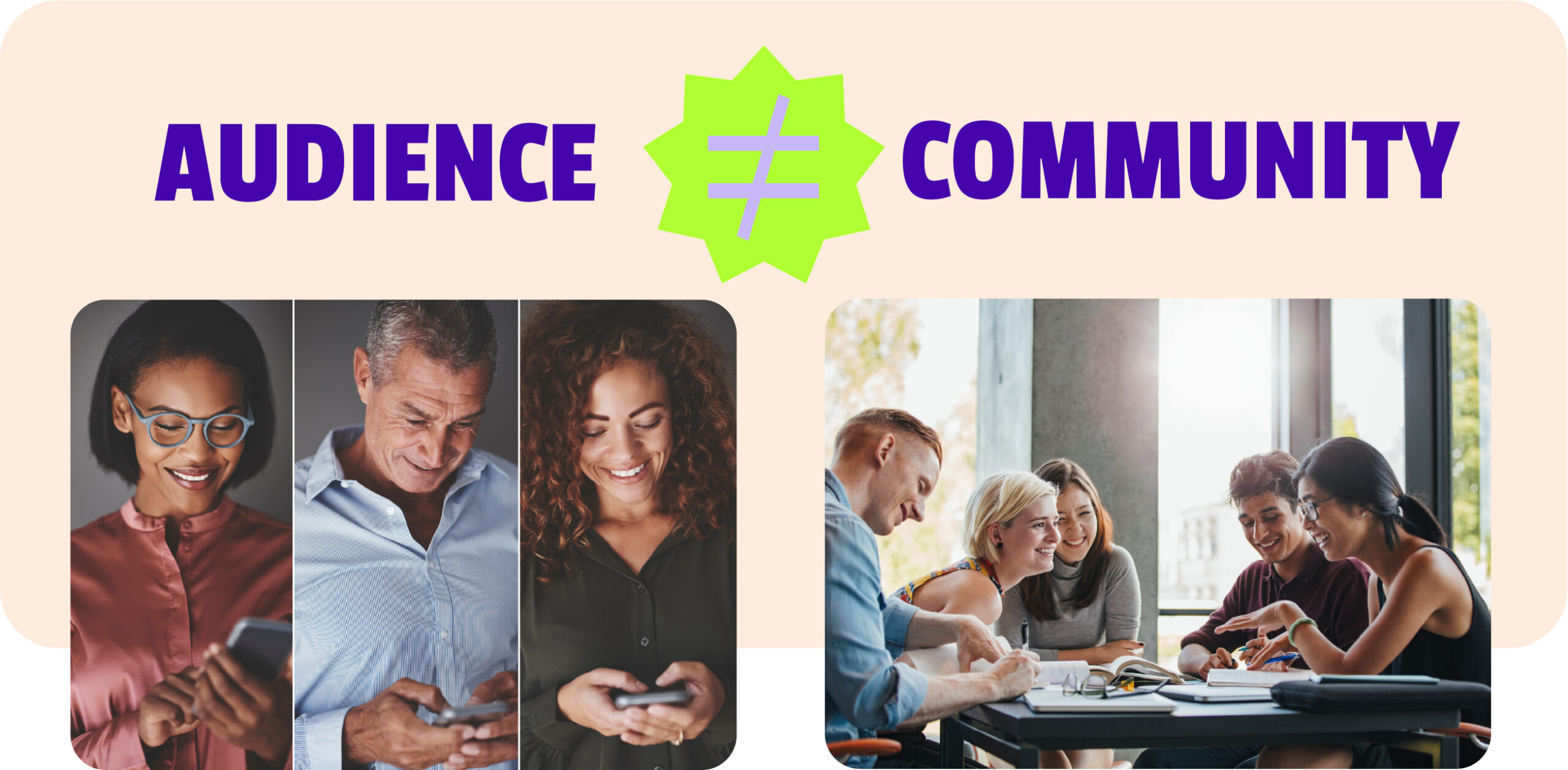 It's important to avoid confusing your audience with your community. An audience is built from multiple channels, typically on someone else's network under someone else's brand. A community is built under your own brand, giving you control, curation, and the power to set your own rules of engagement. Think of this as the difference between open comments on a social network and a private meeting with your most valuable customers.
Both resources are immensely valuable, but an audience is casually fleeting while a community is passionate and engaged. To engage your audience, you must compete for attention with everything else in their feeds. You're subject to algorithms, ads, distractions and politics. By contrast, community participants come specifically to you and your business, on your terms.
When you own your community, you control these relationships under your own brand. You can funnel your audience from any other channel and leave the social media baggage behind. You can put your business directly in the hands of students using Thinkific mobile apps. When you own a community, you control the participation, content, channels and sales tactics.
The future is coming together
For the last decade plus, when you say "online learning" what would most people think of?  Video playlists. Slides. PDFs. Corporate training. All packaged neatly into something called an "online course."
Today, courses are just one component of online learning. The most successful learning businesses offer knowledge AND connection in multiple products and settings. They see learning as a journey, traveled together, not a website.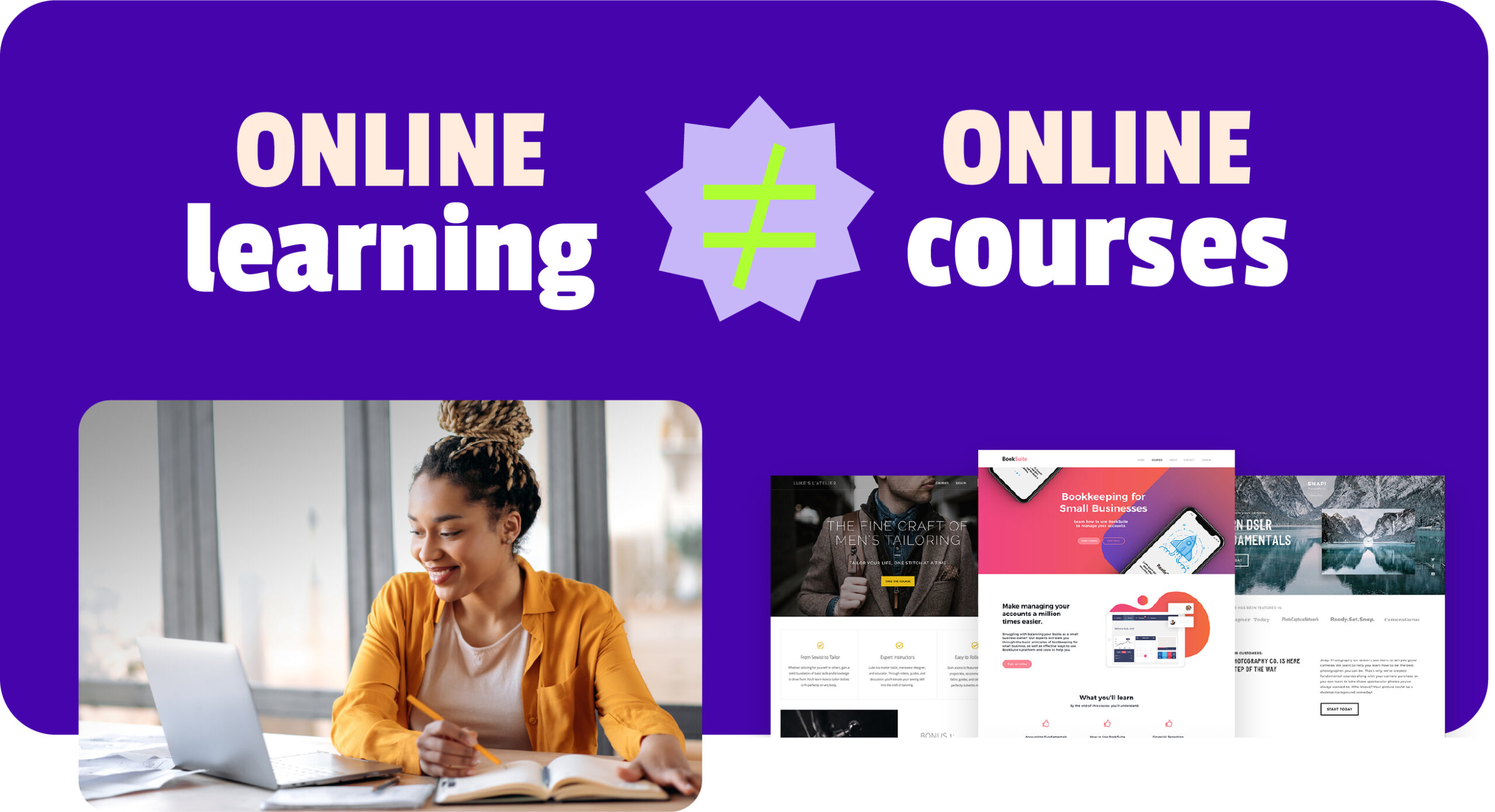 The truth is that online learning — just like offline learning — cannot thrive indefinitely in a one-dimensional format. People learn in all sorts of ways. To serve as many as possible, as effectively as possible, the most successful businesses build for diverse teaching and learning styles. Courses, communities, memberships, events and other forms of learning work well independently, but create the greatest value when brought together. 
Online learning isn't going anywhere, but the hallmarks of a successful business are changing.  We're making it easier than ever before to help you get there.
Learn how Thinkific Communities can unlock new possibilities for your business.