The right community can be a source of support, connection and motivation – and a learning community is no different.
If you want to give your students the chance to take their learning experience to the next level, while helping to grow your business and boost your brand reach, it's time to start building a learning community.
Find out what is a learning community and the essential elements of an online community.
➡️ Build explosive growth & revenue with community + 3 bonus cheat sheets
Want more business tips to unblock you? Sign up for the newsletter here.
What is a learning community?
A learning community is a group of students with shared learning goals who collaborate and connect with one another. In a community of learners, interactions are both practical and emotional. Learners share knowledge and resources, as well as support, with emphasis on open, cohesive communication.
Here are some ideas to help you understand what is a learning community – and what it isn't!
A learning community is or can be…
A group with shared goals, motivations and values

A place to share ideas, problems and questions

A space for discussion

A collaborative environment

A source of inspiration

A network of fellow students and experts 
A learning community isn't… 
A school or professional committee

Just a social group

A jobs board or marketing platform

A substitute for formal teaching
If you're still figuring out what is a learning community, these are some things to help you better understand what it is and what it isn't. Use this as your guidelines to help you understand what to promote and what to avoid when building a learning community!
Read more: How To Create A Cohort Based Course That Students Love

What is a learning community: 4 examples
Within the definition of a learning community, there are also different categories of learning communities. These categories are based on the commonalities between learners and they usually depend on the environment where the learning community is formed.
Here are 4 learning community examples:
Interest-based learning community:

Often communities of learners come together around their shared interests or passions. An interest-based learning community might be based on sourdough bread or sports cars or anything else! Whatever your interests, you can find or create a learning community around it.

Action-based learning community:

People who believe in a common cause might form an action-based learning community centered on activities that help to promote or further their cause. Social activism groups that run lectures, create educational resources and organize fundraising events are one example of an action-based learning community.

Location-based learning community:

For some groups, the common thread in their learning community is location. Geographical learning communities might be centered on learning more about local flora and fauna or the history of the local area, for instance.

Profession-based learning community:

A common type of learning community is professional development communities aimed at bringing people of a particular professional together. Members might share advice, opinions or just support one another. An example of a professional learning community is jazz musicians who get together to share their work, provide critique and feedback and network with other musicians.
These examples should help to give you a better idea of what is a learning community – and some ideas for building your own learning community. 
Read more: How to Build a Community of Practice (with Examples)
In the past, students would join online courses for the content and stay for the community. However, the trend in 2023 is shifting towards students coming for the community and then paying for the content. Building a strong community fosters more engaged followers and drives retention by providing members with the support they need to tackle the highs and lows of learning from both the instructor and their peers.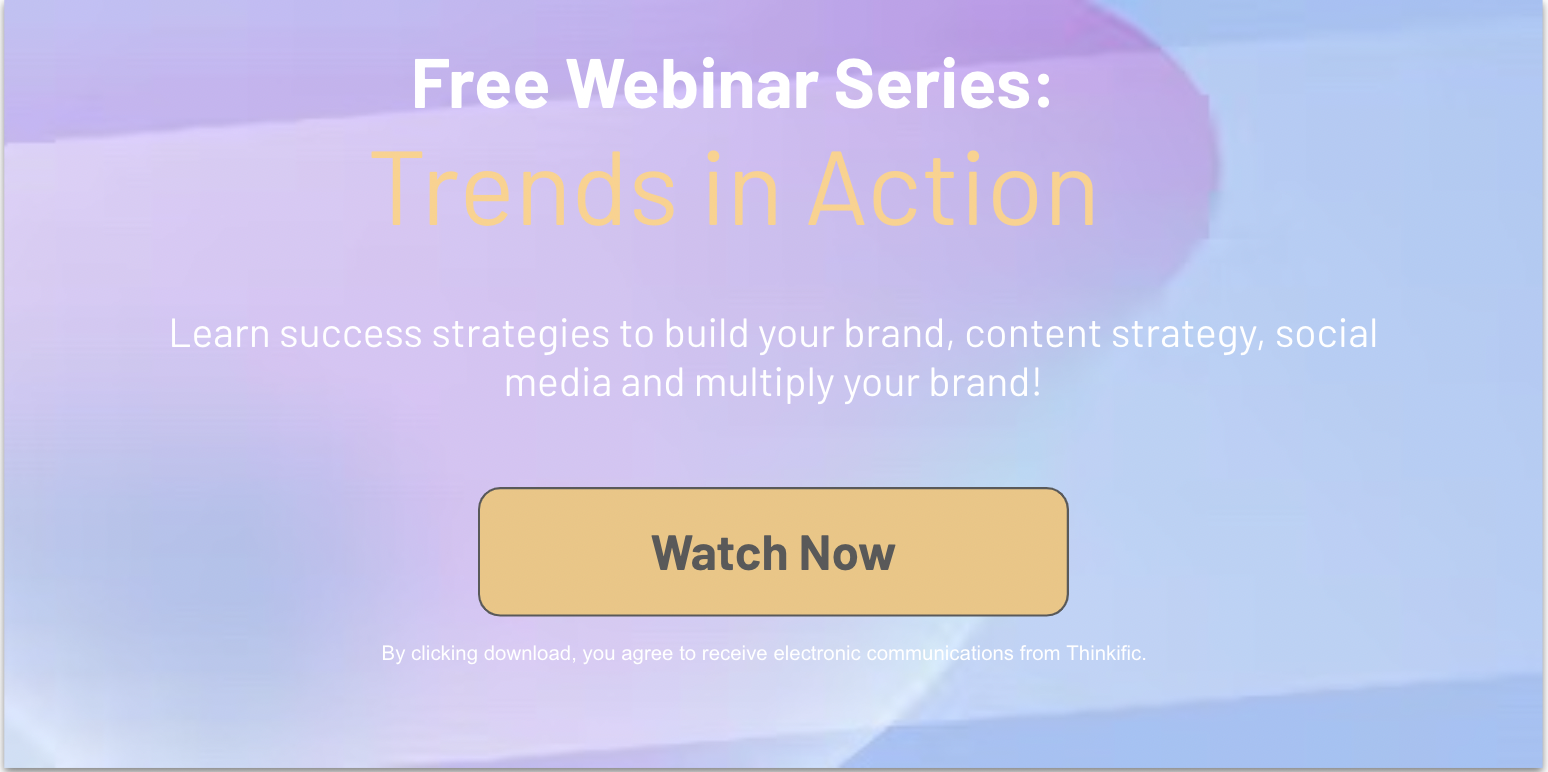 Key goals of a learning community
Every learning community will have their own shared goals built around their specific learning journey. At the same time, there are key elements of learning communities that help to make them an enjoyable and rewarding environment for students.
Here are some key goals of a learning community:
Shared learning
At the heart of any learning community is the aim to create an effective learning space that helps learners achieve their goals. In a learning community, students have the opportunity to share the learning process with their peers.
Communities share the learning process, this can include:
Building solutions

Sharing resources

Feedback and critique

Questions & Answers
These are all activities that happen within a learning community, helping members to learn together and get to grips with the learning material.
Connectedness
As well as learning together, a learning community is also about developing connections between members. The best learning community environments are collaborative, with open communication that's aimed at promoting better learning. 
Learners can share ideas, get emotional support and have fun together. It's not just an academic space, it's also a sympathetic social space.
Related: It's Time to Tap Into Togetherness with Communities
Support
In any learning process, there will be ups and downs. An effective learning community also provides support for its members. This can be both academic and emotional support. Members are able to assist one another and share their problems.
As well as the support of other students, learning communities also provide a space for experts to offer their support too. This might be in the form of mentors, coaches or course leaders who act as moderators in the community. 
The support that learning communities can offer students not only helps to promote more thorough and in-depth learning, but it makes the learning process easier too.
Read more: How to Build an Online Community
The Online Learning Community model
Online learning requires a slightly different learning community model to in-person or blended learning, thanks to being fully remote.
To encourage cooperation and social interaction in fully online courses, researchers at the Faculty of Education at the University of Ontario Institute of Technology developed a learning community model specially designed for online courses.
Their Fully Online Learning Community model is based on the Community of Inquiry model developed by Randy Garrison, Terry Anderson and Walter Archer in 2001. It follows the idea that any online community of learners needs two things: Social Presence and Cognitive Presence.
Social presence 
When you join a new group, it's nice to be able to show your full personality to the group members to allow you to build a closer, more meaningful connection. Your Social presence is defined as your ability to project yourself socially and emotionally – to be seen as a 'real person'.
Social presence includes:
Communication

Group cohesion

Collaboration
In an online learning community, it can be harder to show your full personality when you're stuck behind a screen. Digital technology is the primary tool for all social activities so it has to be used well. The online learning community model considers how to improve interactions between group members online, helping learners to feel more connected with one another. 
Cognitive Presence
The second element to the online learning community model is Cognitive Presence. This is the learning portion of a learning community – Cognitive presence looks at the ability for learners to understand material and confirm what they've learnt.
Cognitive presence includes:
Exploration of problems

Proposing solutions

Challenging and/or questioning 
Cognitive presence combined with Social presence are the two essential elements needed for an online learning community to be effective.
Tools for a fully online learning community
To build an online learning community that is genuinely useful for learners, it's important to have some tools at the ready. The right tools can aid communication and make it easier to build a sense of connectedness between community members.
Helpful tools include:
Video conferencing software eg. Zoom

Social media groups eg. Facebook

Chatting tools eg. WhatsApp or Slack

Online Community Platforms eg. Thinkific
These tools allow students to collaborate easily – including asking questions, sharing problems and day-to-day socializing and chatting.
Why create a learning community for your course? 
There are many benefits to creating a learning community, especially if you're a course creator. From boosting your brand reputation to encouraging feedback, here are some of the reasons to consider building a learning community around your course.
Grow your network
An online learning community isn't just a way to keep in touch with students and encourage more engagement – it's also a great way to grow your professional network. Encourage members of your learning community to refer their friends to the community or share community posts with their followers. 
With these methods, you can quickly grow your course community network, no paid ads needed! It's also an effective way to generate high-quality leads that will be easier to convert into paying customers down the line.
Boost your brand reputation
When you're a course creator, as well as creating incredible content, you also have to consider your business' brand. This is how potential customers will spot you in the crowd and get to know your products. 
A learning community is a great tool to build up your brand reputation. If you have an active group of engaged and enthusiastic learners, you can use this as a selling point for your business. People want to know that other people are already enjoying your course – and your learning community is a really effective way to demonstrate that.
Taking time to build your learning community can allow you to boost your brand reputation and convince other learners to join your tribe. After all, who wouldn't want to be part of a happy, supportive, sociable community right?
Improve customer loyalty
If you can create a close-knit learning community around your course, you can also increase customer loyalty for your brand. Having a learning community as a customer touchpoint is a great way to get repeat sales from customers. Once they are a part of your community, you can continue to sell to students even after they've completed a course. 
As well as generating new leads, you can use your learning community to introduce new products to your existing customers. This is especially effective if you have courses that build on previous course content. For instance, encourage graduates of your 'beginners' course to sign up for the 'advanced' course next. This not only adds value to your students – it can boost your revenue too!
Collect feedback from students
The best course creators know that their course content is never perfect – there's always more you can do! One of the major benefits of creating a learning community around your brand is that it's easier to collect and collate customer feedback.
Encourage learners to provide reviews and testimonials for your course, as well as fill out regular feedback forms. You can then use all that data to improve your course content and make the student experience even better. An active community of learners are more likely to provide feedback and they'll really appreciate you listening to their opinions.
Thinkific has built-in community tools that make it easy to create an online learning community right off the bat, as well as collecting feedback and encouraging brand loyalty – find out more here.

3 things to watch out for
While creating a learning community is easy – some are not as good as others. Research into why some learning communities fail in their aims has revealed 3 factors that can affect the success of a learning community. 
Here are the things to watch out for:
Too narrow focus
While it's good to have a clear focus for your learning community, when a learning community fails it's often because the focus is too narrow. When too many limits are placed on the scope of a learning community, it can lack impact. Learners have a diverse range of needs and interests within your central topic – your learning community should be able to embrace that and encourage it.
Not enough support
Any learning community is only as good as the support it provides students. Most learning communities need a strong, supportive network of mentors and other community members to help students progress and achieve their aims. When a learning community lacks this support, it's at risk of failing.
To boost support in your learning community, try appointing dedicated mentors or coaches to help students who are struggling. You could also incentivize activity in the group by rewarding people who answer others' questions.
Limited communication
Closely linked to the support available within a learning community, is the issue of communication. For a learning community to work, there needs to be a culture of collaboration and cooperation in the community. If members don't have enough time, motivation or tools to enable effective collaboration, it can be hard to achieve the original aims of the community.
For many course creators, the early days of a learning community will probably involve more input from you or your team to build up the atmosphere of communication. Try posing questions, running polls and even offering competitions to boost engagement and communication in your group.
Building a strong, supportive learning community takes planning and time. But with the right tools, you can create a space that helps your learners achieve their goals.
Now you know all about learning communities – try making your own!
If you've created an online course or you're in the process right now, don't hesitate to build a learning community for your students. Learning communities are a really effective way to boost engagement in your course and improve the overall learning experience while having some major pluses for your brand too.
Of course, you don't need to stop at just one learning community – you can create as many as you want or need.
Join Thinkific's learning community dedicated to course creators or sign up for our Pro Plan to get started with your own learning community right away!

This blog was published in March 2022 and was updated in March 2023 to be even more useful!"