Whether you're looking to further advance your marketing skills to specialize in community management, or you're just getting started on wondering how it all works – you've come to the right place!
Here, we've pieced together 10 of the best community management courses that the online education world has to offer, as well as some supplementary insights on the value that community management practices can bring to your organization.

What is community management?
An organization's marketing engine works extremely hard to build and maintain a very specific brand image which defines the company's values, reputation, and future goals, among other things.
Community management is the practice of ensuring that the company's brand voice and message is perfectly communicated across all channels – both online and offline. Most often, community managers oversee strategies for social media, content, events, and anywhere else where potential customers may be interacting with your brand. 
Why is a Community Manager important?
Community managers serve as the face of the company by ensuring that the brand is aligned across all channels. Often, they are the first responders in virtual crisis situations, so they need to be well-prepared for handling conflicts in branded community rooms or responding to negative public customer feedback.
They are also important for sharing updates with followers, providing insights to help your audiences grow, and ultimately driving engagement and trust so that your online community can convert into leads and sales.
➡️ Build explosive growth & revenue with community + 3 bonus cheat sheets
Want more business tips to unblock you? Sign up for the newsletter here.
10 Best community management courses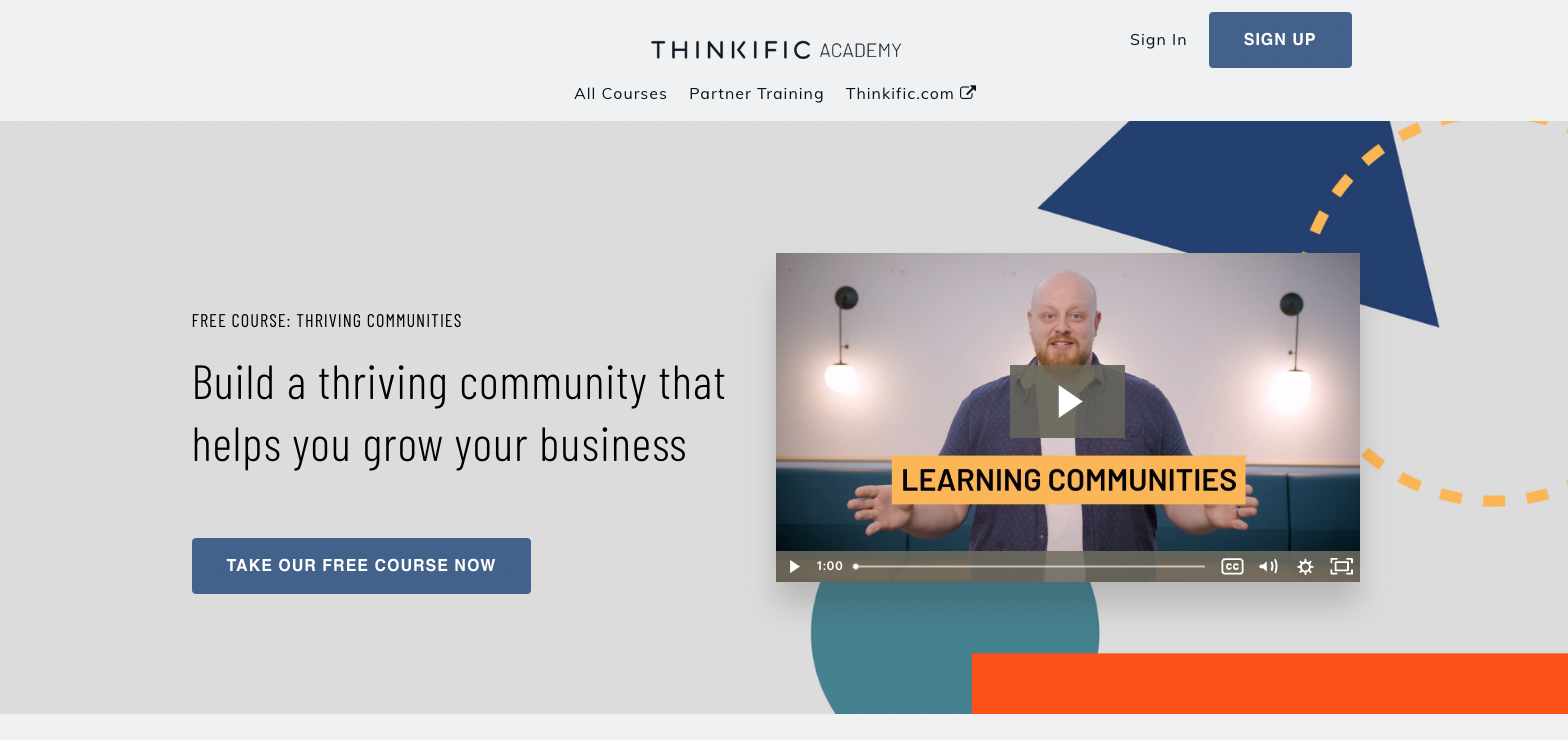 Designed around bringing students together, this course is ideal for any educator, coach, mentor, or community leader. 
Price: FREE
Pros
Specifically designed for course creators by course creators

The cost – it's totally free!

Includes access to bonus content such as a Community Checklist, the Community Builder's Toolkit, and a Swipe Copy File for you to use as inspiration
Cons
Not relevant if you want to manage communities on social media or other channels other than courses

Does not provide or lead to a certification

Get officially certified as a Meta Community Manager with this course + exam! 
Price: $150 USD
Pros
Meta is well-recognized as a global leader in creating communities

Provides an official certification that you can use in your future job search

Access a learning group of other students going through the same program to further accelerate your learning
Cons
Not well suited for beginners. Requires some prior experience in brand management or community building to be able to fully absorb course content

Long exam (105 minutes)

Make the most out of your community management by understanding how to drive conversion and lead generation. Leveraging your community to build a strong revenue stream for your business can prove to have some of the best return on investment (ROI). 
Price: $20 USD
Pros
Affordable, and Udemy offers a 30-day money-back guarantee if you don't find value out of the course

Lifetime access to course content

Short course that covers basic content so it's great for non-marketers that want to understand how to manage communities
Cons
Does not dive into deep or advanced topics, so would not be valuable for someone with foundational marketing experience

Likely would not be accepted by future employers as sufficient proof of knowledge if you are trying to become a community manager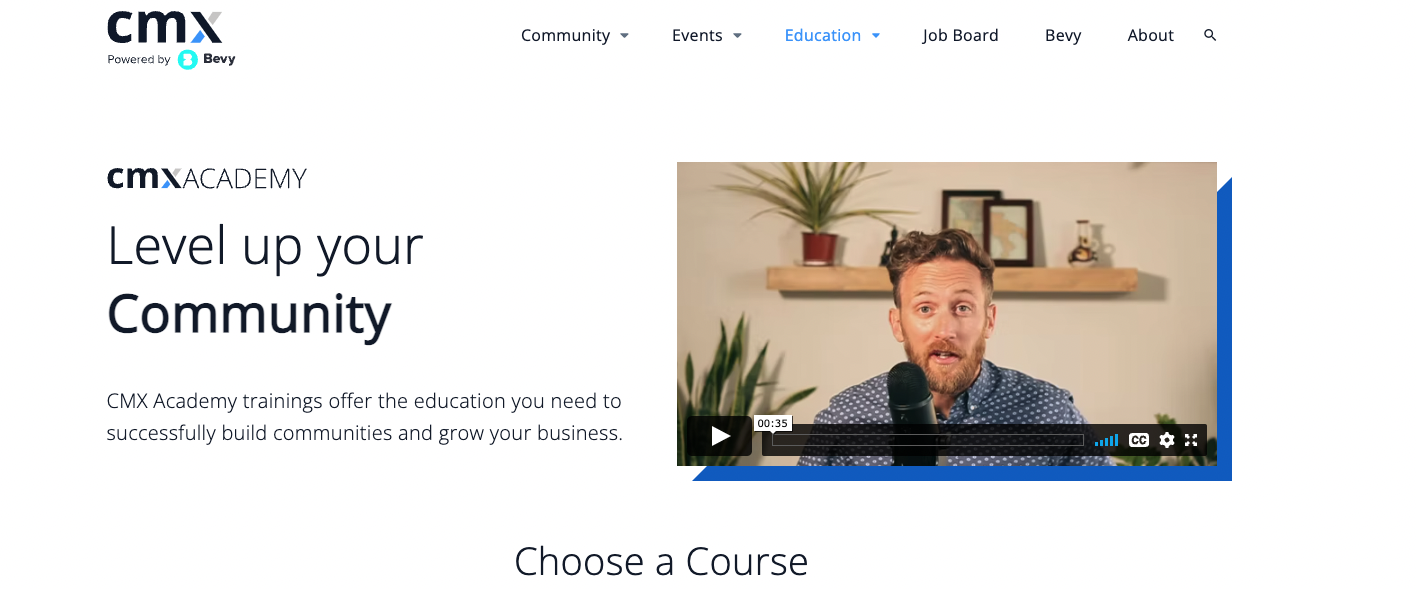 Learn how to utilize metrics to create highly engaged and hyper-focused communities with this 7-section program. Great for those with a basic level of marketing or community management experience. 
Price: $499 USD
Pros
Covers a wide variety of topics from strategy-building to tactical real-world examples

Highly focused on metrics-driven community management programs

Ability to apply for a scholarship program developed by the course organizer which prioritizes funding for underrepresented groups, unemployed professionals, or non-profit teams
Cons
Cost may be a concern for those who do not qualify for the scholarship

Long course that is self-driven so may be difficult to stay on track for some participants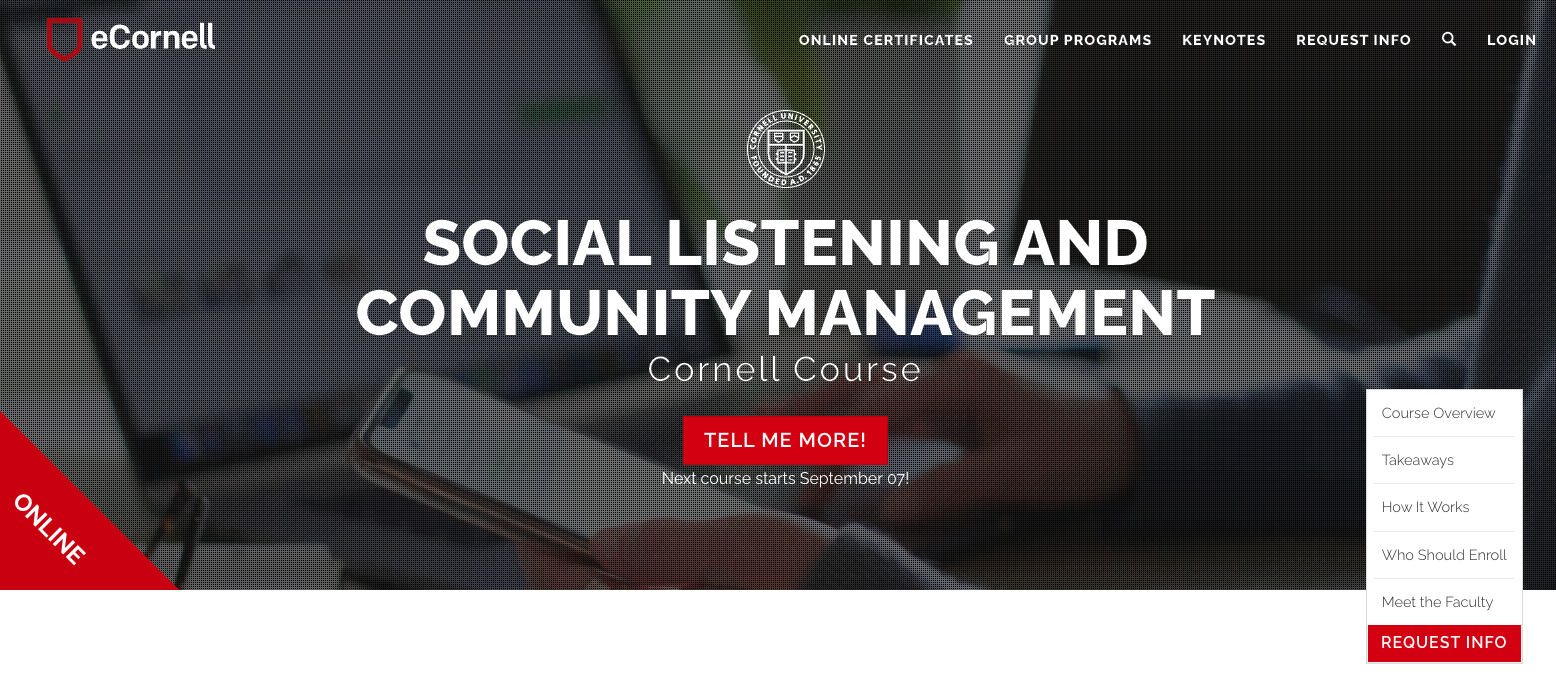 eCornell specializes in executive education programs to ensure that tomorrow's leaders are knowledgeable on everything to help a business excel. Learn about how to leverage digital technologies to implement effective community management strategies and measure your audience's sentiment on given topics.
Price: $3600 (for a certificate)
Pros
Led by an instructor so you can receive feedback or answers to questions right away

Only 3-5 hours of effort per week required (over two weeks) so relatively low time investment

Course provided by a recognized university and research-focused instructors with industry experience

Course completion can be stacked with other courses offered by eCornell to lead to a certification
Cons
Courses normally only start every two weeks, so not possible to take on-demand

Expensive, with limited scholarship options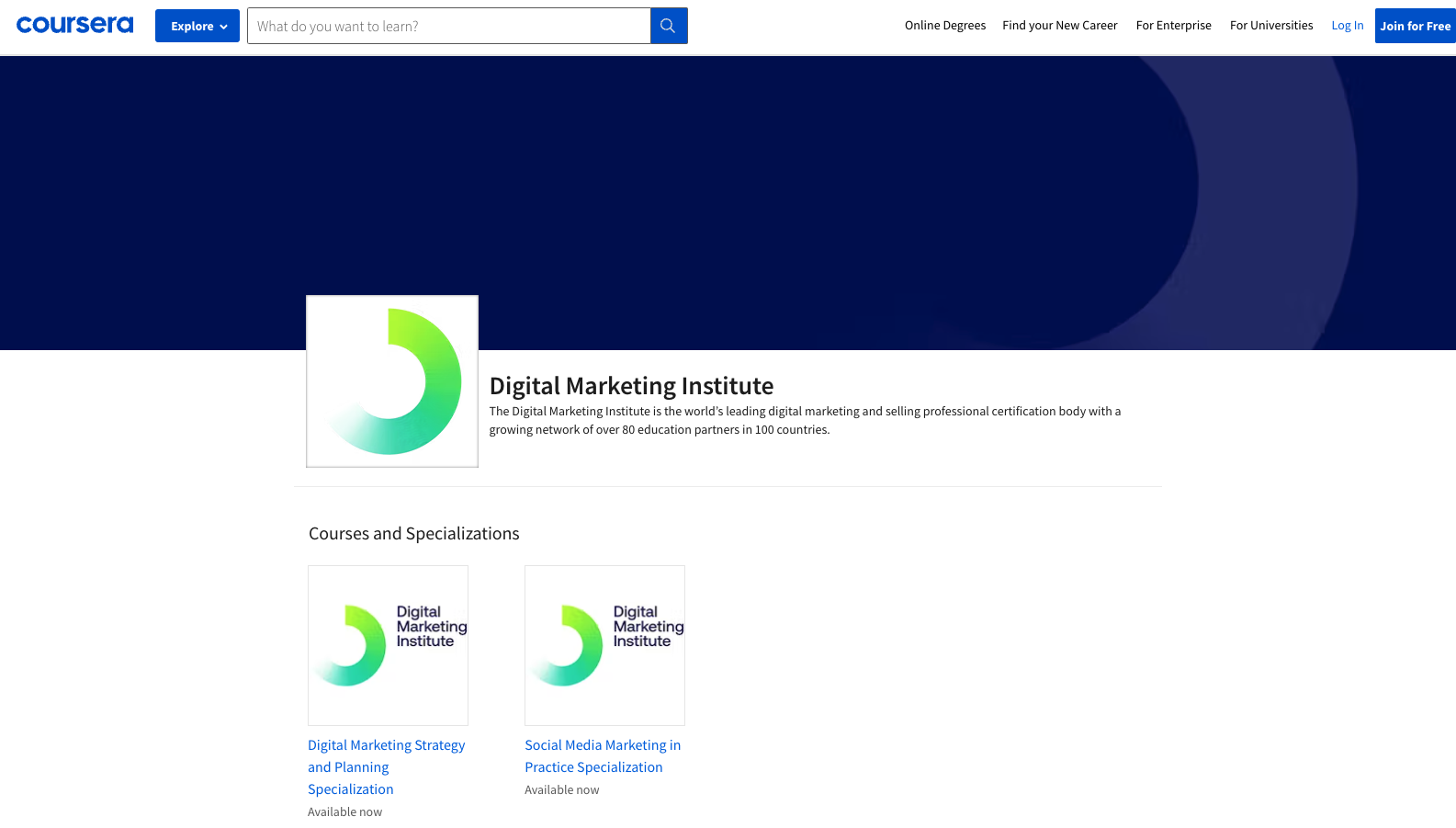 The Digital Marketing Institute (DMI) offers tons of great courses that touch on elements of digital marketing, content strategy, and social media. Together, they all build knowledge toward value-driving community management programs. 
Price: Variable 
Pros
Beginner-level content to help build a wide variety of knowledge related to community management practices

The Digital Marketing Institute is well-recognized in the marketing industry and earning the certificate may help you succeed in your future job searching

The courses are self-paced but they provide deadlines to help keep you on track

Coursera offers a free 7-day trial so you can test a few courses to see which is most geared to your learning goals before purchasing
Cons
Lots of content, the course suggests this will take 3 months if you spend 4 hours per week

While these courses are all helpful for succeeding in a community manager role, there is not a specific, individual course designed for community management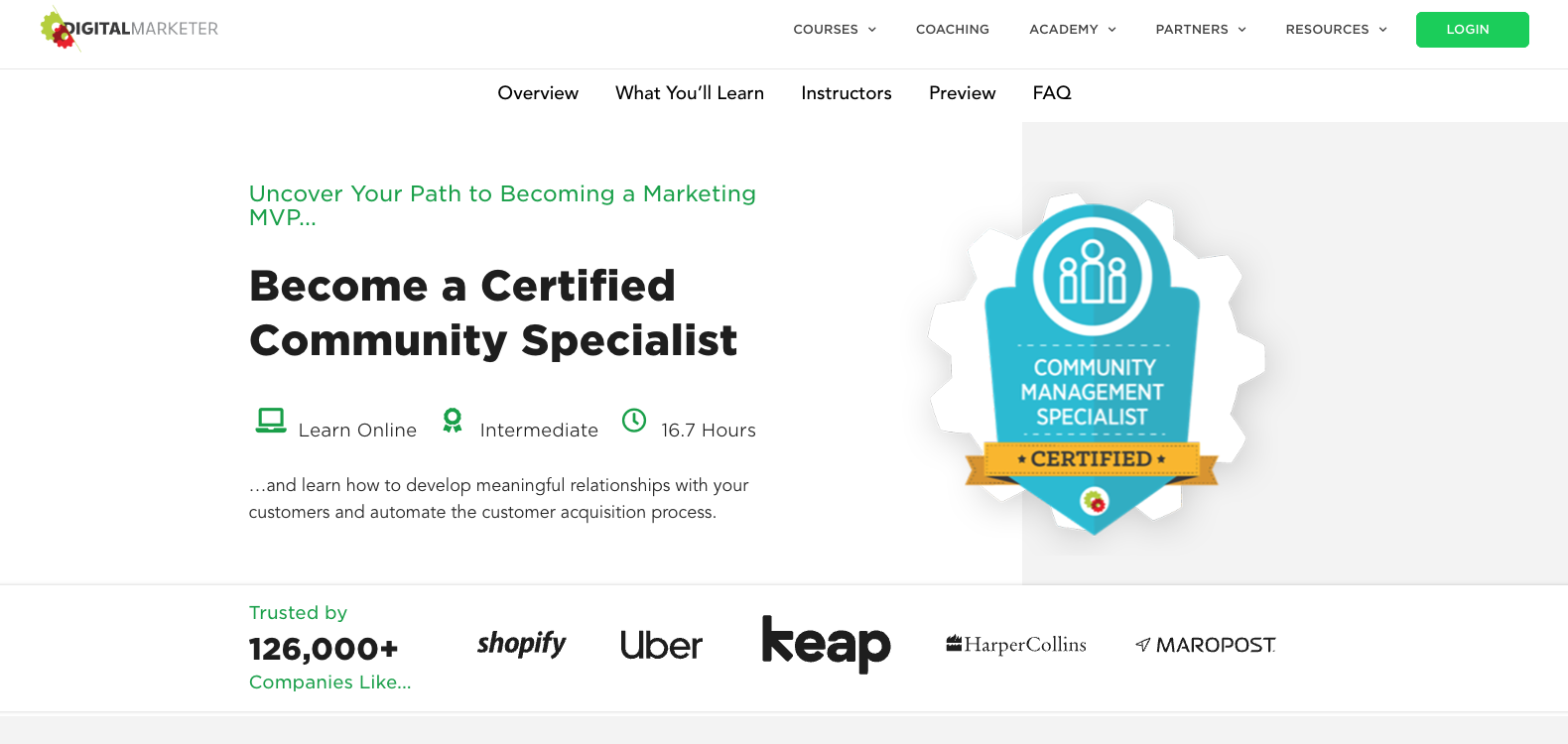 Become a Certified Community Specialist with this online course that focuses on developing meaningful relationships with online audiences and building an effective customer acquisition process. 
Price: $495 USD
Pros
Lots of supplementary resources are provided to students

Focus on actionable strategies and playbooks to start implementing into your work

Provides a certification to help with your future job search!
Cons
Not a beginner level course, so some prior marketing experience is required

Cost may affect some participant's ability to take the certification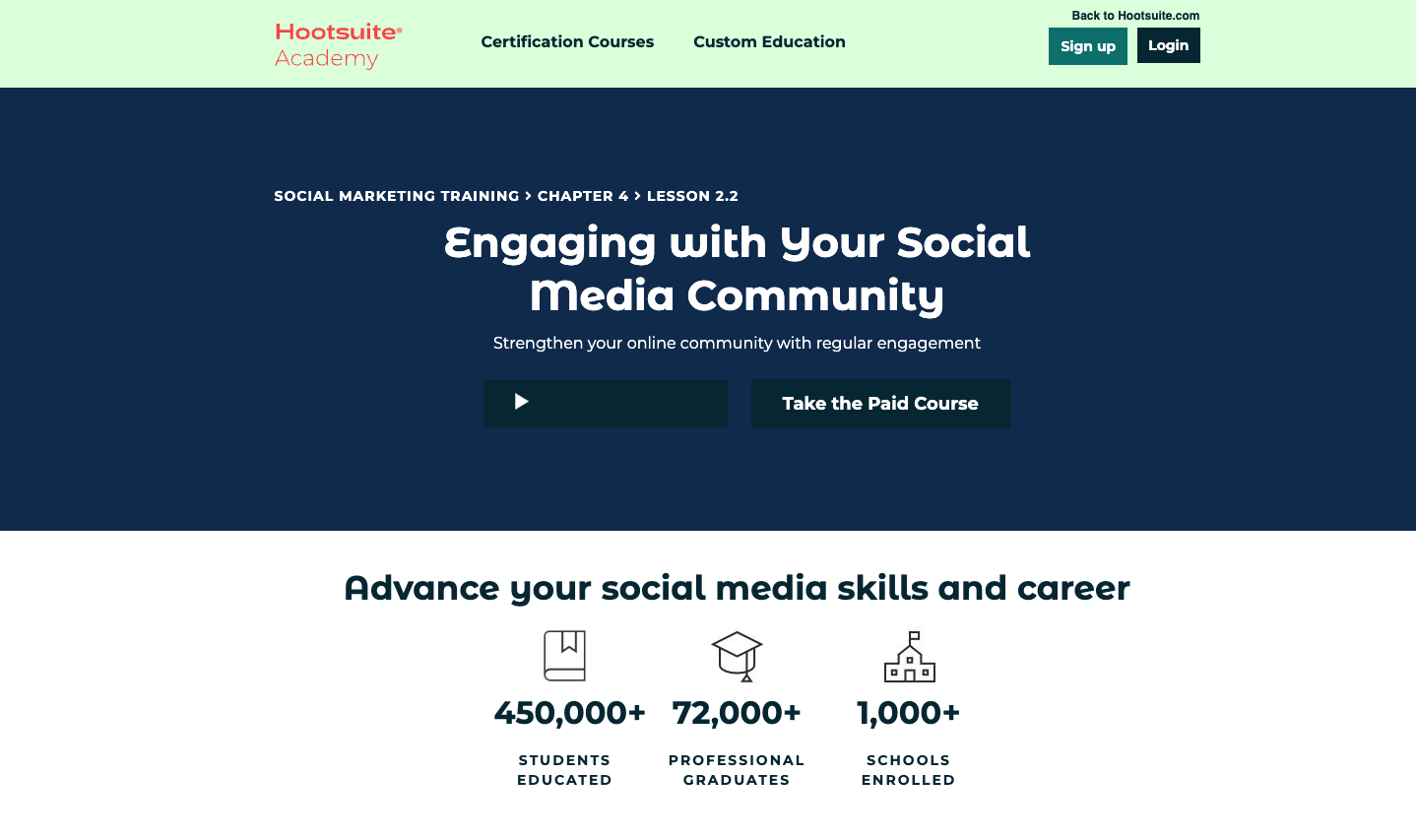 Hootsuite is a global leader in everything related to social media management! Hear from this industry leader on how to keep your social media communities engaged and continuously interacting with your brand.
Price: $199 USD
Pros
Specific takeaways and action items are provided to help you implement effective community management practices right away

Relatively short (6 hours) and beginner-friendly so it's a great place to start dipping your toes in

Learning from the industry leaders on what tactics drive the most value for communities
Cons
Does not provide a formal certification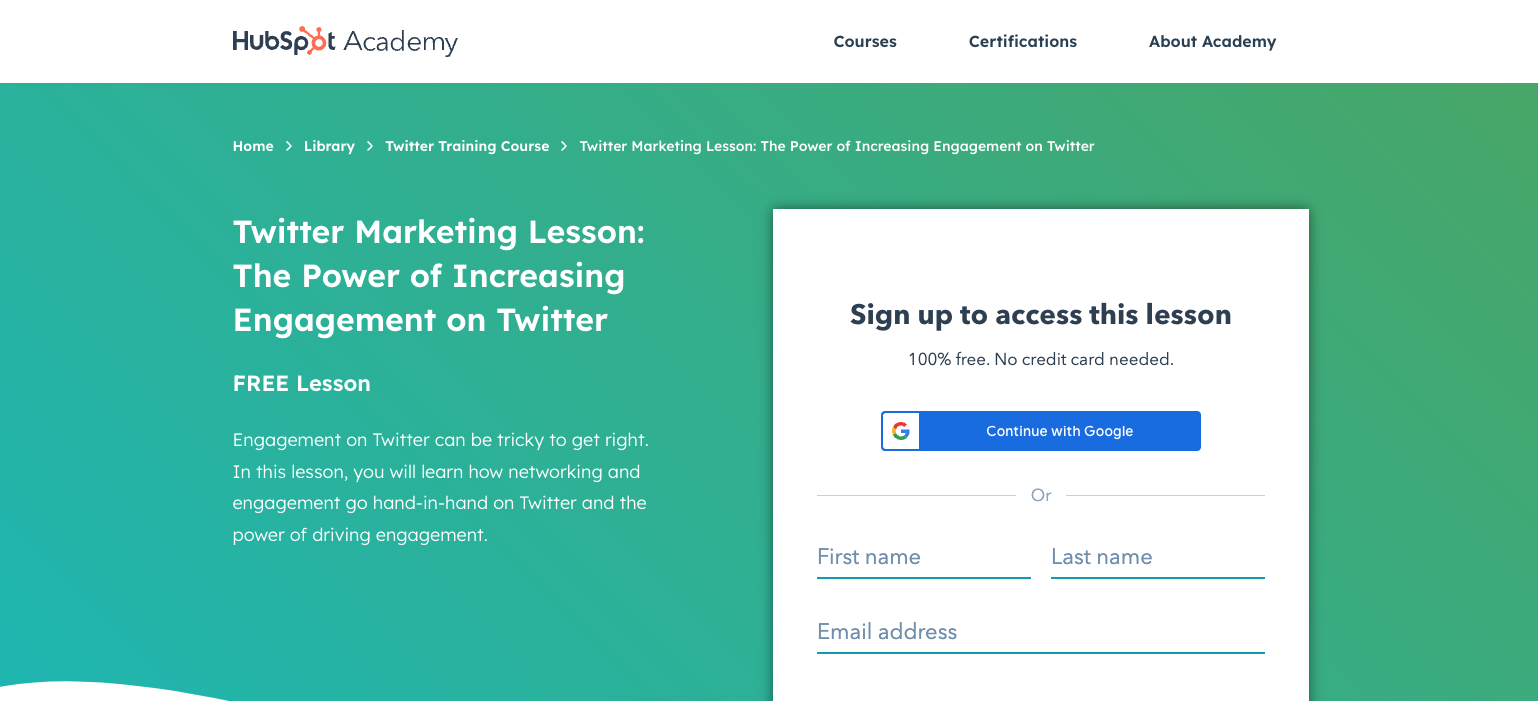 Looking to hone in on one social media channel where you already know your community is most engaged and active? Hubspot offers channel-specific courses to help you dive deeper into each independent social media channel to further drive value in your community.
Price: FREE
Pros
Ultra-specific to each channel, meaning you can get more tailored suggestions and strategies

Learn how to use specific supplementary tools to manage your communities

Super short course so it's great if you want to take several at once or span out multiple across a longer period of time

The cost – it's totally free!
Cons
This course focuses specifically on Twitter's channel (other courses are offered by HubSpot that hone in on the other popular social media channels)

No certificate provided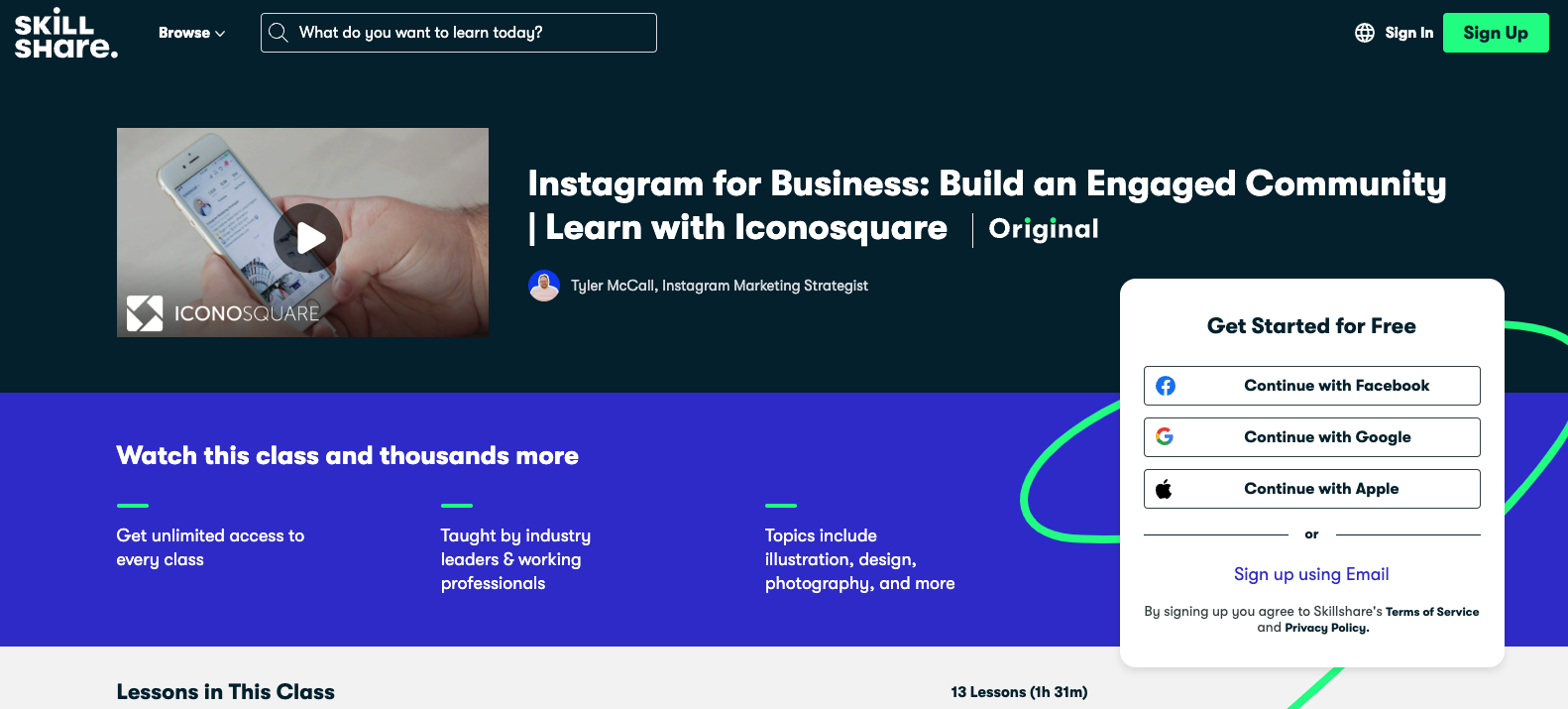 If you're lacking experience in the community management space, this might be the course for you! As a hands-on course, you have the opportunity to actively build and manage an Instagram handle as the start to your community management portfolio.
Price: $32 USD Skillshare subscription fee per month
Pros
Hands-on course to gain experience and work towards building a portfolio

Short course with several modules so it's easy to digest for beginners

Purchasing a Skillshare subscription enables you to access a ton of other great course content that can supplement your learning
Cons
This course focuses specifically on Instagram's channel so you don't get to build knowledge for any other community channel

No certificate provided
In conclusion
Whether you're new to the trade or looking to expand your community management skill set, you're likely aware that handling an online audience is far from easy. In fact, it can be one of the more complex jobs. Not only are you handling customer feedback, but you're also promoting, educating, reminding, entertaining, and engaging – all while maintaining a consistent brand voice. To excel as a community manager, it's important to have a solid sense of self-awareness about which skills you can improve on, and then find a course to help you further refine that skillset!
Get the Thinkific "Thriving Communities" course