For course creators and students alike, the community is essential. Despite the isolation that most of us have felt since the beginning of the pandemic, cohort learning has helped to give learners a sense of community that many are craving.
The community aspect of cohort-based courses is the cornerstone of this model; defined as a group of people who share a commonplace, history, or interest, a sense of community has the ability to motivate learners and create a supportive environment in which they can explore new ways of thinking [*].
Since 2020, we've seen cohort education grow rapidly in popularity. This model differs from self-paced learning as it emphasizes collaboration and teamwork rather than individual content consumption. In this model, students go through the same syllabus as a group and graduate at the same time — together.
"Cohort-based learning allows me to build much deeper bonds with my students, which results in long-lasting relationships," says Latasha James, full-time Thinkific course creator and Think in Color speaker. "This is incredibly valuable; it's much easier to sell to an existing customer than brand new customers. These close bonds can help you to upsell your students, enroll them in one-on-one coaching, or get them in your next cohort course."
Here, we dive into the differences between cohort-based learning and self-paced learning, the benefits and challenges of this model for creators and learners, useful tools to use when developing a cohort program, and how to create one.
What is cohort-based learning?
Cohort-based learning is a synchronous learning method, meaning people gather in the same space in real-time — whether that's in a virtual Zoom meeting or in a physical classroom — and learn the material live. Many cohort-based courses are also supported with asynchronous (or self-paced) learning components, such as on-demand content that students can consume on their own.
Popular in traditional education, such as elementary, secondary, and university classes, each enrolled student in a cohort learning model goes into one group and has the same academic requirements as their peers [*]. Cohort based-courses have timed entry and exits, meaning the course is only open for enrollment a couple of times per year. Some cohort courses involve more social time, whereas others — like intensives — involve breaking students into smaller groups to provide a more intimate atmosphere.
This model does more than simply gather learners in the same group; interactive communication in a classroom has proven to promote learning [*]. Plus, when an inclusive and collaborative learning environment is created, students tend to have a positive attitude towards the course [*]. This can help students spread the word and encourage others to sign up.
Related: 5 Things These Educators Learned From Creating Cohort Courses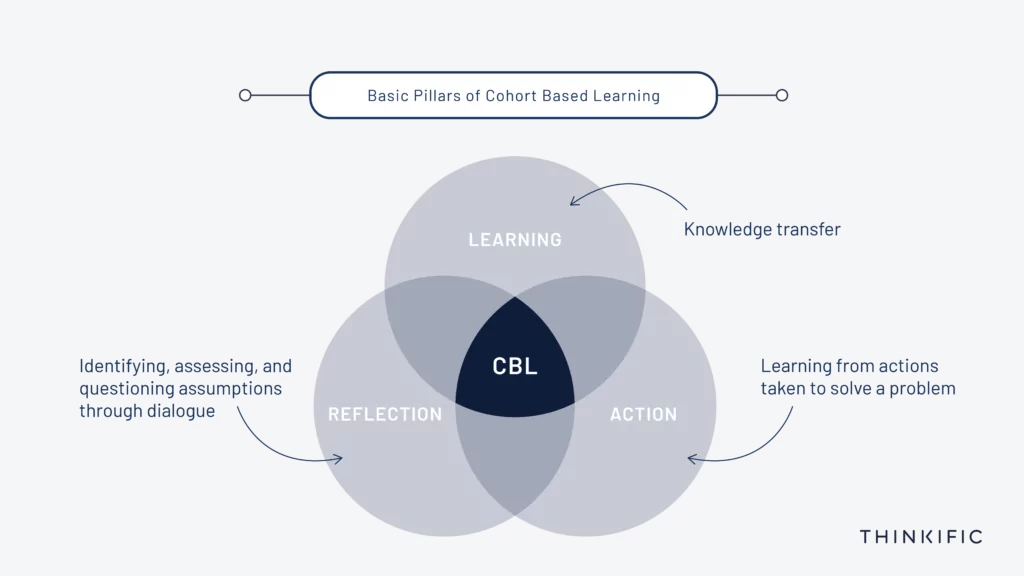 ---
Cohort-Based Course vs. Self-Paced Course: What's the difference?
According to Bloom's Taxonomy — a pedagogical framework for helping teachers effectively meet the needs of their students — self-paced learning is great for helping students to remember and understand information. However, cohort learning goes a few steps further; when students learn the same syllabus together, they can go from remembering and understanding information to applying, analyzing, evaluating, and creating with it.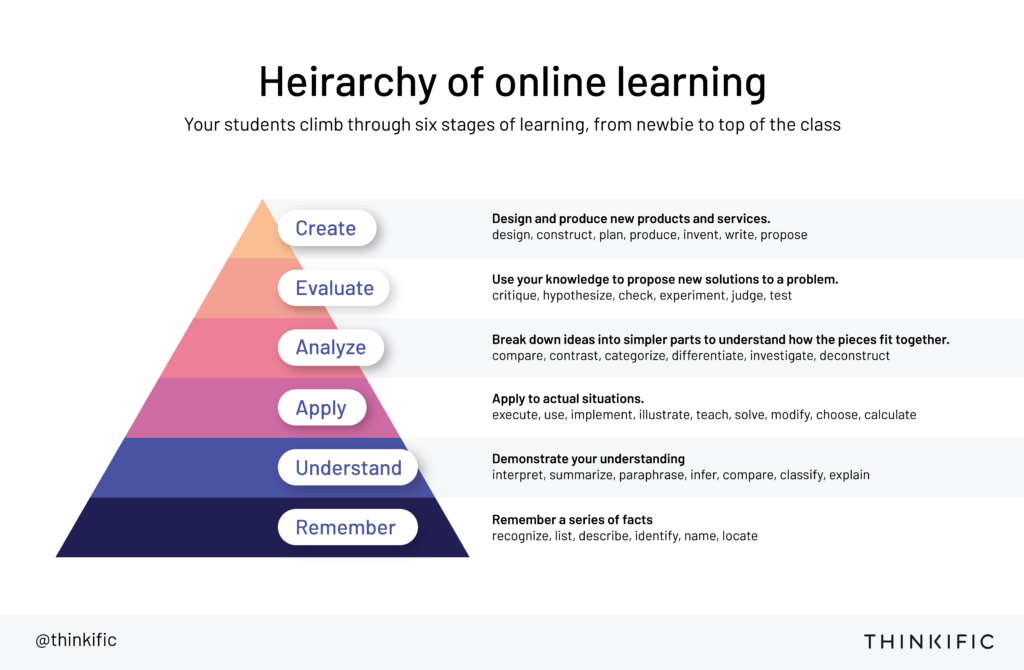 While self-paced courses are considered a more passive learning style, cohort-based courses require a more active learning style. Cohorts also involve a higher level of engagement — from both students and instructors. This social interaction is the main differentiator between cohort-based and self-paced learning, and can make a huge difference in learning success [*].
Here, we outline the differences between a cohort-based course and self-paced learning to provide more clarity:
| | |
| --- | --- |
| Self-paced online courses | Cohort-based learning |
| Asynchronous Learning | Synchronous and asynchronous |
| Passive learning | Blend of passive and active learning |
| High knowledge transfer, lower high order thinking | High knowledge transfer and more high-order thinking |
| Low engagement | High engagement |
| Students work independently | Students build relationships between their peers |
| Schedule determined by student | Schedule determined by instructor for accountability |
What are the benefits of cohort-based learning?
While self-paced learning offers students flexibility and independence, cohort-based learning offers an experience based on community, accountability, and support.
Cohort Based Learning benefits for students
Here, we outline the main benefits for students in a cohort model:
Increased accountability
In self-paced courses, there's often a low completion rate and a lack of accountability; the familiar 'I'll do it tomorrow' excuse can run rampant among many students. In a cohort model, there is a high level of accountability. This model involves set schedules and timelines, so there's an expectation that students come to class. Plus, many students are extrinsically motivated and don't want to let their peers down by not showing up. Rather, they want to do well and participate in their learning community due to the sense of camaraderie it brings. Cohort courses also often involve group work, which can inspire students to show up for each other. Research also suggests that this model provides students with a high level of motivation, especially when they feel included and respected in the class [*].
Diverse perspectives
When students learn independently, they're unable to bounce ideas off of their peers and instructors like they would in a group setting. Cohorts have the ability to bring together people of many different backgrounds and experiences. Through group discussions, students can expand their perspectives and listen to opinions that differ from their own. Plus, students are able to enhance the class with their own personal and professional anecdotes, helping everyone to learn something new. This environment can also encourage students to take risks and explore new ways of thinking [*].
Supportive learning environment
Many people have felt alone during the pandemic. While self-paced learning offers students a more flexible schedule, it can be an isolating learning experience. Cohort programs allow students to come together in community, which is what many are missing. Community is also linked to higher learning satisfaction in their course [*] as research suggests that students learn best when social interactions are involved in their learning experience [*].
Depending on one another for student support can create a caring and emotionally intelligent learning environment over time [*]. Learning in community can also help students to support one another throughout their learning journey. Plus, it can help them to expand their professional and personal network, which can prove to be beneficial in the long run.
Active learning 
Since cohort learning helps students to apply, analyze, evaluate, and create with the learned information, this model creates a more active learning environment than a self-paced course. By participating in live discussions, case studies, problem solving, and role play, students stay engaged in the class. The cohort model encourages students to be more involved in the learning process as opposed to passively consuming content, which is proven to promote learning success [*].
Cohort Based Learning benefits for course creators
Cohort training doesn't only benefit students. It benefits you, as the course creator. Here's how:
Provides a feedback loop 
Through class discussions, you can easily identify knowledge gaps and prerequisites for what you're teaching. This can help act as feedback; once you know what's missing or what information you wished you'd included in your course, you can create supportive, asynchronous content to help fill the gaps and provide more clarity on certain topics.
Makes knowledge transfer easier
Since cohort learning promotes higher order thinking skills, it's easier for what you're teaching to land (and stick) with your students. Your students won't just be memorizing and regurgitating information, they'll actually be integrating it with their experience and embodying it in their personal or professional lives.
Sold at a higher price
On average, cohort courses are priced higher than self-paced courses since it requires a higher involvement from the students and instructor. With so much content on the Internet, many people are willing to pay for the accountability that cohort courses offer. Not only are you able to price your course as a premium product, it also has the potential to easily scale. We recommend pricing cohort courses somewhere between the cost of a self-paced course and coaching.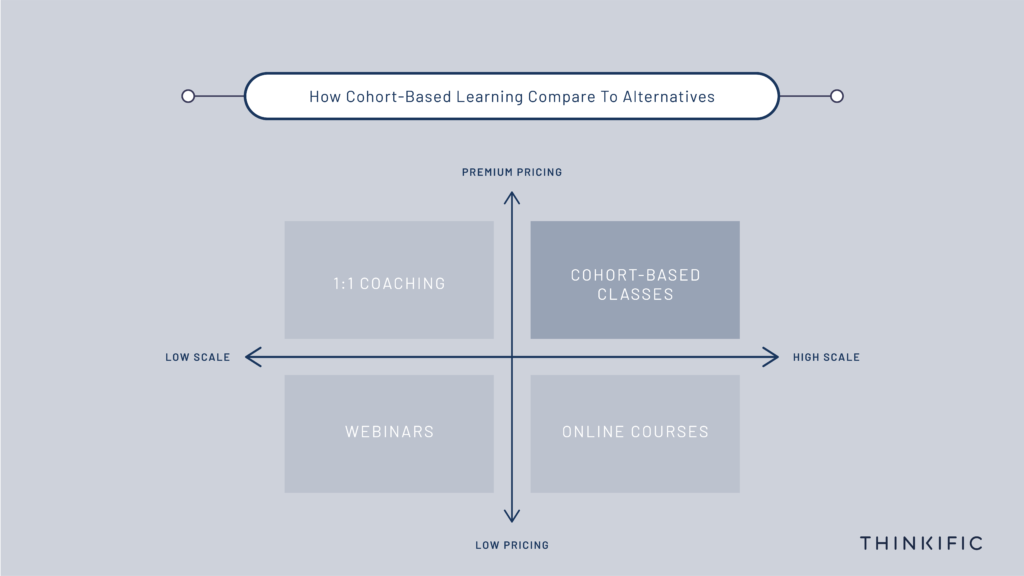 Builds confidence
While many creators are used to building a course and being behind the scenes as you make passive sales, a cohort model requires you to speak in front of your class and facilitate a group learning experience. This means that you can build valuable skills in public speaking and leading groups. While this can be out of many people's comfort zones, actively engaging with your students can create deeper trust and lead to more sales down the road. Plus, with more practice means more confidence.
Helps you stand out
While most courses are self-paced, a cohort model is a great way to differentiate yourself from others; the ability for students to have direct access to their educator helps you to stand out in a competitive online course market. For many students, this opportunity for live engagement can be a huge reason why they sign up for your course. Many learners value the ability to speak with their educator and peers in real-time. This may make a huge difference for some students and encourage those who are on the fence to actually enroll in your course.
Challenges with cohort-based learning
Yes, there are tons of draws to a cohort-based model. However, there are also some things that are important to keep in mind; this type of teaching isn't a model where you 'set it and forget it' — it requires much more involvement, upkeep, and management than a self-paced course does. Here are a few of its challenges:
Moderation
Educators will have to learn to manage small groups, breakout rooms, group work, and conversations. Many of the challenges in cohort model education is in managing group dynamics, challenging individuals, and establishing norms, rituals, and expectations. While community can promote learning success, it can also impede it if groups struggle with conflict, tension, and value clashing [*]. Having clear boundaries and setting expectations from the beginning is a great way to help mitigate any problems.
While you may have a higher ROI with cohort learning as well as the ability to make a bigger impact on your students than in a self-paced course, it's important to know that it will require a higher level of engagement from you. The most successful cohort courses have educators who are actively involved and prompting discussions within the community [*].
Participation
You need people enrolled to make a cohort-based course work, therefore participation is key. Not only does this mean you may have to focus more time and energy into marketing your course to get student sign-ups, you'll also have to prepare to break the ice during class discussions in case your group is shy or less engaged.
Managing varying technical and knowledge skill levels
Cohort teaching requires managing different levels of knowledge in the room; some students will have more experience or expertise about a topic than others. This may be a challenge as conversations can cater to the majority of the class' skill levels. It's important to learn about your students' skill levels prior to teaching your course so that you're not only addressing those who are beginners or those who are more experienced — your content must resonate across a range of experiences and skills.
Case study: Thriving in community with Latasha James
For Latasha James, full-time Thinkific course creator and Think in Color speaker, cohort courses aren't just more effective than self-paced courses, but they're more fun to teach. "I actually get to feed off of the energy of my students, and nothing compares to that," she says.
According to James, cohort learning is the future. She says that this model has helped to create a sense of community and connectedness that's been lost during the pandemic. Since transitioning her social media courses to this model, her sales have skyrocketed. "You can charge a lot more for a cohort-based course than you could for a self-paced course," she explains. "On average, you're going to get a higher rate for a cohort model."
Although she describes herself as an introvert, she says that teaching cohort courses have left her energized and inspired. "I still thrive off of human energy, and I love being able to gauge my students' needs by looking into the webcam and asking them how they're receiving the information, what they need, and what they have questions about," she says.
Tools for cohort-based learning
Equipping yourself with useful tools and technology can help you (and your students) thrive. Here are some supportive tools to enhance your communication, management, feedback, and collaboration:
Communication
In an online course, communication is key to keep your students on track. For hosting live sessions, meetings, discussions, and breakout rooms, Zoom is our recommended platform. For building community and staying engaged with students between live sessions, Facebook groups, Thinkific Communities, and Thinkific Spaces are great options.
Management
Since cohort learning requires educators to schedule live sessions, it's a great idea to integrate an online calendar. This can help make the class schedule accessible to everyone. Use the calendar to show release dates of modules, when assignments are due, and live lecture times. While any online calendar will work, Doodle is a great resource for scheduling meetings. It also includes the added bonus of being able to gather student opinions through polls, which can help you to better serve your class.
Feedback
To get to know your class and gather feedback from students, it's a great idea to use Typeform or Google Forms. Both tools allow you to ask your students a series of questions that they can answer and help give you vital information about their needs and course experience. This is a great way to capture data and help you to make changes in future courses. It's also beneficial for gathering student testimonials that you can use for your website, social media, and marketing campaigns.
Collaboration
To increase collaboration between students, there are a couple of great tools. Retrium can be used as a group reflection tool, and Miro can be used as a virtual whiteboard. Plus, Google Docs and Sheets are great resources when it comes to doing group work.
Related: How To Create An Online Course
How to start a cohort-based course
Now that you understand what cohort-based learning is and its benefits and challenges, you're ready to create a course. While this can feel like a daunting task, rest assured that when you break down the process into tangible steps it becomes much easier. Here's how:
Determine your target audience
The first thing you need to do before starting a cohort course is to determine who your target audience is. Do your research and ask yourself, what does my target audience need? What are their learning outcomes? Create a detailed profile of your target audience to understand who you're trying to reach and how you can best serve them. Once you understand who you're creating for, you'll be much more focused and directional when building your course and designing content.
Price your course
Now, it's time to price your course. As mentioned, a cohort-based course is generally priced higher than a self-paced course and less than one-on-one coaching. Do your research, view competitor pricing, and then choose a price that feels both aligned with your goals and that your target audience would be willing to pay.
Create a sales page
The next step is to create a sales page that targets the audience you're trying to reach. This gives your students a place to go for more information, find the price, understand the content and structure you'll be teaching, and get in touch. This is also an opportunity for you to pre-sell the course, get people on a waitlist, or create some buzz before you officially launch your program.
Determine the course structure
Will your cohort-based course combine a blend of synchronous and asynchronous content? Will all of the lectures and discussions be live? Will there be any on-demand classes or workshops? Will you need to budget time to pre-record anything? Will there be a community discussion board, and will this be hosted in a private Facebook group or in Thinkific Communities? Getting clear on the structure of your course will help you to develop content in the most efficient and targeted way.
Design the curriculum
Now, the fun part! Design the curriculum in a way that makes sense with your structure, learning outcomes, and target audience goals. Map out the learning path and get all of your lessons, lectures, and modules scheduled. Having your course organized will help mitigate any nerves you have about teaching it. Plus, an organized structure can help students have confidence in you.
Launching your course
It's go time! Once you've built some hype around it, you're ready to launch your online course.
Establish norms and expectations
Once people have enrolled in your course, it's a great idea to go over some housekeeping rules so that your students know what to expect from your program and teaching style. Explain the role of the community in the course experience. Introduce yourself and then set your expectations so that they know how to show up [*].
Build community
It's a great idea to emphasize the importance of community from the very beginning. Set up a community discussion using either Facebook groups or Thinkific Communities. Let them know that this is where they can ask questions and get support between live sessions. To begin the conversation between classmates, you can start a thread where each of them introduces themselves and explains what they're hoping to learn from the course.
Assign groups
If your teaching style requires breaking your class into small groups, determine how you'll do so. Whether you randomize groups on a shared Google Sheets or survey the group to break people into like-minded areas, this needs to be done before you start teaching. Then, explain how the groups will meet to establish expectations. Zoom breakouts and Google Hangouts are both great options.
Ready to dive into the world of cohort-based courses? Check out the Spaces for Thinkific Community and learn how to develop your own cohort program. If you're looking for more insight from those spearheading the cohort model space, read this article.
---
Everything you need to launch for free!
Want to create an online course, but unsure of where to start?
Get free training and start building your course for free!

---
This article was published September 2021, and was updated Feb 2023.