For new businesses, scaling customer success organizations to profitably meet the needs of a fast-growing customer base can seem daunting. But it doesn't have to be. 
Allow me to introduce myself: I'm Gerard Recio, Director of Customer Success – Commercial at Hootsuite.
Hootsuite is a social media management platform with over 16 million users, and through our online education platform built using Thinkific Plus, we've:
Educated 450,000 students worldwide

Certified 72,000 students

Enrolled more than 1,000 schools
I've lived and breathed customer success and customer education throughout my career, and in this article, I'm sharing tips I've picked up along the way. 
In this article, we'll cover:
Defining customer success

Identifying why customer retention is important

Outlining the three building blocks for scaling customer success
Let's get started!
Related article: Deep dive into Customer Education 101: How To Kickstart Your Program
Defining customer success
Let's start at the beginning – what is customer success?
I like to summarize it with a formula that I've seen used by others: CX + CO = CS
The customer experience (CX) is where it all starts. Customer experience includes a mix of both frontline teams – like customer support, customer success, etc. – and the internal product team. 
Together, those groups help achieve customer outcomes (CO). Customer outcomes are their business objectives or goals they wish to accomplish using your product or service. 
If you can do that, you can create customer success (CS) with your product and services.
Why customer retention matters
Now I ask, who is your most valuable customer? It's the one you never lose. 
We've all heard the statistic that it's more expensive to acquire a new customer than it is to keep an existing one. In fact, it can cost up to five times more.  
That's why your most valuable asset is your existing customers. And it's why retention is one of the most important growth strategies for any business.
Let's consider a real-life example:
Company A has 20% new customer growth, and its customer retention rate is

85%.

So, its net customer growth is

5%.

 

Company B has 20% new customer growth, and its customer retention rate is

95%.

So, its net customer growth is

15%.
Companies that can scale their customer success organization, produce a quality product, execute an excellent expansion strategy, etc., can increase retention from 85% to 95%. 
Why is that ten percentage point difference significant? Because a 5% increase in retention can grow profit by 75%. That translates to hundreds of millions of dollars in considerable revenue over a 3-5-year time frame.
So, how do we capture that extra retention percentage? CX + CO = CS.
Delivering an amazing customer experience over the customer journey will help achieve their outcomes and drive retention rates.
Related article: Learn how to optimize customer success through a customer education strategy
How to scale customer success
In an ideal scenario, customer success looks a little bit like this:

But in reality, it mostly looks like this:
That's because new companies are dealing with several challenges that I like to call the "perfect storm," which include:
Hypergrowth

Stretched CSM capacity

Weak product strategy

No checklists or playbooks

No education strategy to scale customer success
If a company is suffering from the perfect storm scenario, customer success teams likely feel as if they're mowing the lawn one blade of grass at a time. 
Now's the time to correct course and scale your customer success organization to achieve meaningful value for the business and customers. How? By using these three building blocks for scale: 
Build your foundation

Operationalize your systems (

Pro tip

: online education plays a crucial role here)

Drive a customer-first mindset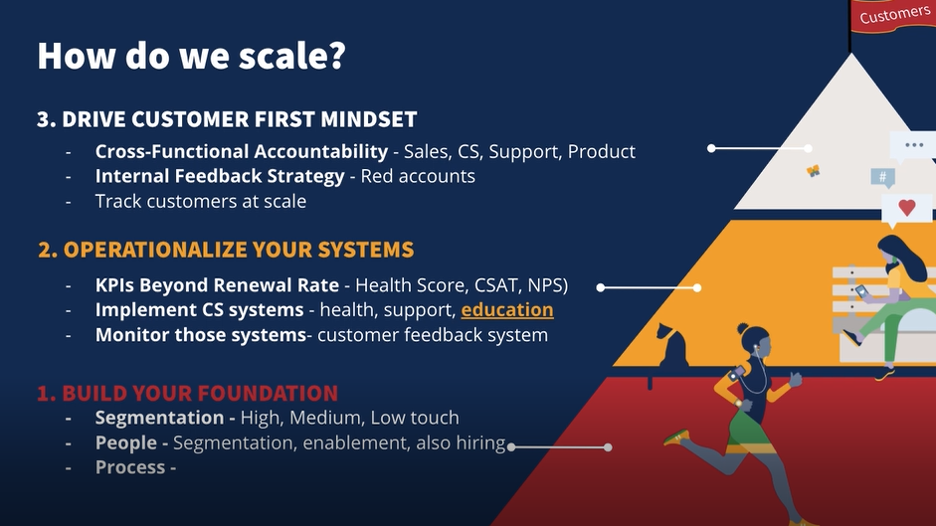 Let's dig into each.
Building Block #1: Build your foundation
The first step in the journey to scaling customer success is by building your foundation with:
Segmentation 

People

Process 
Segmentation
Segmentation is important because it essentially helps your organization identify where online education fits in. 
Customer success organizations typically have a three-tiered engagement model: 
Low-touch engagements

are usually targeted toward the lowest paying customers. With this model, CSMs are managing 200+ accounts. 

Medium-touch engagements

can be managed by CSMs that are overseeing 40-100 accounts. 

High-touch engagements

are your strategic customers who likely make up 20% of the business but 80% of revenue. Higher paying customers typically expect white-glove service, so CSMs generally manage a smaller volume of accounts. 
Now my question is, can you imagine managing over 200 accounts without any online education? I can't either.
Digital engagement is an essential ingredient for the success of any low-touch customer success team. Digital engagement includes:
Automated emails

Webinars

Videos

Online education landing pages
As you scale up, that digital engagement content can also be useful resources for medium and higher-touch customers. But don't forget that customers who pay higher prices likely want a more personal education experience with dedicated CSMs.
People
The second part of building your foundation is people.
It's no surprise that CSMs are busy. In the course of a normal day, they are doing:
Training

Business reviews

Renewals

Sales operations

Liaising with the support team

Communicating with other internal teams
And more! 
When setting your foundation, companies should identify what is consistently repeatable, such as onboarding, training, and support, and create an online education program around it. 
Process
The final step in building your foundation is setting your processes. 
Companies should have a process around every step of the customer journey. For example, companies should have a high-level checklist that outlines:
Actions to take

Resources to use

Online education resources to create
By doing this, organizations take these repeatable processes and put them into a playbook. Documented playbooks will allow you to scale. 
Pro tip: Work with your data team to identify what actions customers need to take within your product to see its value. 
Building Block #2: Operationalize your systems
Once you've set your foundation, you can begin to operationalize your systems, which includes:
Setting KPIs beyond renewal rate

Implementing CS systems  

Monitoring those systems 
KPIs Beyond Renewal Rate
A customer's health score can consist of multiple measures, including:
Adoption 

Activities 

Basic usage

Number of active days 

Open upsell opportunities 

Upsell wins
But we can do more. We can create next-level health scorecards that support customer outcomes and give companies a full picture of the customer. 
How do we do this? By operationalizing under one customer success tool.
Implement CS Systems
At Hootsuite University (now called Hootsuite Academy), we used multiple tools to build our online education system that trained customers on our product. But we knew that if we wanted to scale our customer success programs, we needed to get everything under one house. So, we moved everything onto a learning management system (LMS) as our CS tool.
CS tools integrate various software that your customer success team is already working with, and it allows you to monitor various aspects of a customer health score. 
Where online education comes into play: Automation within a CS tool can drive lower-touch customers directly to your online education program. For example, companies can monitor usage data directly within their CS tool. When a customer's engagement drops below a certain level, the tool can activate an automation program that sends an email to the customer with a link to online education courses. 
In essence, everything is manual for a high-touch customer engagement model. But companies can be much more efficient in scaling their teams with a CS tool and online education program. 
Monitor those systems
Once you've set more in-depth KPIs and established a CS tool, you're ready to start monitoring your programs.  
In going back to the perfect storm scenario, CSMs are typically the first line of defense. They reach out to the support team for help, and once the problem is solved, the CSM follows up with links to the online education program. 
We need to reverse this process.
To scale a low-touch customer success organization, we need to lead with online education. 
By monitoring your online education program, you can see:
What courses are being taken

If customers have started a suggested course

Overall customer progress

Course completion rates 
A monitoring system of the online education platform will minimize the number of tickets the support team will address. It will also reduce reactive engagements and instead, help CSMs focus on proactive engagements that drive strategic customer interactions and outcomes.  
Ultimately, the CS tool helps take the CSM out of the repeatable processes while still providing value to customers through high-quality technology. 
Building Block #3: Drive a customer-first mindset
Finally, once you've built your foundation and operationalized your systems, you're ready to drive a customer-first mindset across the organization. 
A customer-first mission is driven by cross-functional accountability throughout internal departments. That means promoting a customer-first mindset doesn't stop at the frontlines. Instead, it is weaved into all areas of the business.
It also includes establishing a great internal feedback strategy to help customers, especially those in the red or at risk for churning, achieve their business outcomes. Using feedback data gathered from monitoring your systems can drive meaningful changes within your customer success program to deliver even more value to customers. 
For example, internal customer-facing teams often want to help their customers best – but they need a way to prioritize their time. This means they need to understand which customers do not have a healthy status or need help the most. Those teams can pull that information directly from the CS tool to know what customers they need to be engaging with to help them realize the value of the product.
At the end of the day, every business is hungry for data. At this stage, you've done the work to build your foundation and operationalize internal systems to produce important customer data. So, use it. And by doing so, you'll turn your business into a customer-first organization.
Ready to start scaling?
Like I said below, scaling a customer success organization can feel like cutting one blade of grass at a time. But there are steps organizations can take to better support their customer success teams. 
It comes down to putting the three building blocks into action by:
Building your foundation

by identifying repeatable processes that can be serviced with online education.

Operationalizing your systems,

so you create an automated feedback loop, and your customers can begin to self-serve.

Driving a customer-first mindset

by leverage newly available data to create a feedback system inside your company. 
With the right building blocks and technology to help along the way, you've now got yourself a well-oiled machine that can profitably serve as many customers as possible.
Looking to leverage education to increase customer successs? Download your free Ultimate Customer Success Guide now.