Here's our comprehensive overview on how to gamify your corporate training program and motivate your employees to learn effectively.
The traditional methods of distributing training manuals, playing video presentations, and running in-person workshops for the purposes of corporate training are no longer as effective as they once used to be. In fact, increasing engagement in training is currently the number one challenge for learning and development professionals worldwide.
With the significant shift towards remote work and digital workplaces over the past two years, it has become crucial for companies and employers to rethink their approach to corporate training with new strategies to capture and maintain their employees' attention.
That's where e-learning comes in. Through e-learning, companies can deliver content for training and educational purposes with ease and at a scale like never before. To take it one step further, implementing gamification, the practice of adding game mechanics to the learning management system you are using to deliver content as an engagement tactic in e-learning, can significantly help to level up your online learning programs within your organization. 
In this comprehensive guide, we cover what exactly e-learning gamification is and the benefits of this strategy's application, how gamification in training can be applied in the corporate environment, and how you can get started with gamifying your own corporate training program to increase engagement, and motivate your organization's employees.
What is Gamification in E-Learning?
In the context of corporate training, e-learning refers to a system of knowledge sharing and upskilling conducted through electronic resources shared and disseminated through virtually-based systems.
90% of companies used e-learning as a corporate training tool in 2020. As yearly trends show, this percentage is only going to keep rising, and along with it, the need to keep the learning process fresh and interesting for learners.
One way that your organization can freshen up the e-learning experience is through gamification — the strategy of enhancing systems in non-gaming environments by applying mechanics and elements similar to those experienced in gameplay in order to motivate and engage learners in the learning process.
To merge both concepts together, gamification in e-learning within the context of corporate training involves adding standard gaming features — such as points systems, earned badges, and leveled tiers — to training courses and learning modules as a way of providing employees with a new way to absorb new information and practice real-world applications.
Through the practice of applying gaming formats and tactics to learning units, the goal of gamified e-learning is to boost active participation in learning activities in a way that is satisfactory to the learner. In fact, 95% of employees enjoy using gamified systems in their work environment. 
Training is central and critical to building an effective workplace, and gamification serves to achieve that goal.
Discover how gamification can motivate your learners in this article 
Why E-Learning Works Well with Gamification
In the increasingly decentralized mobile workforce, integrating healthy forms of competition into corporate training and e-learning programs can allow employees to feel fully engaged in the material.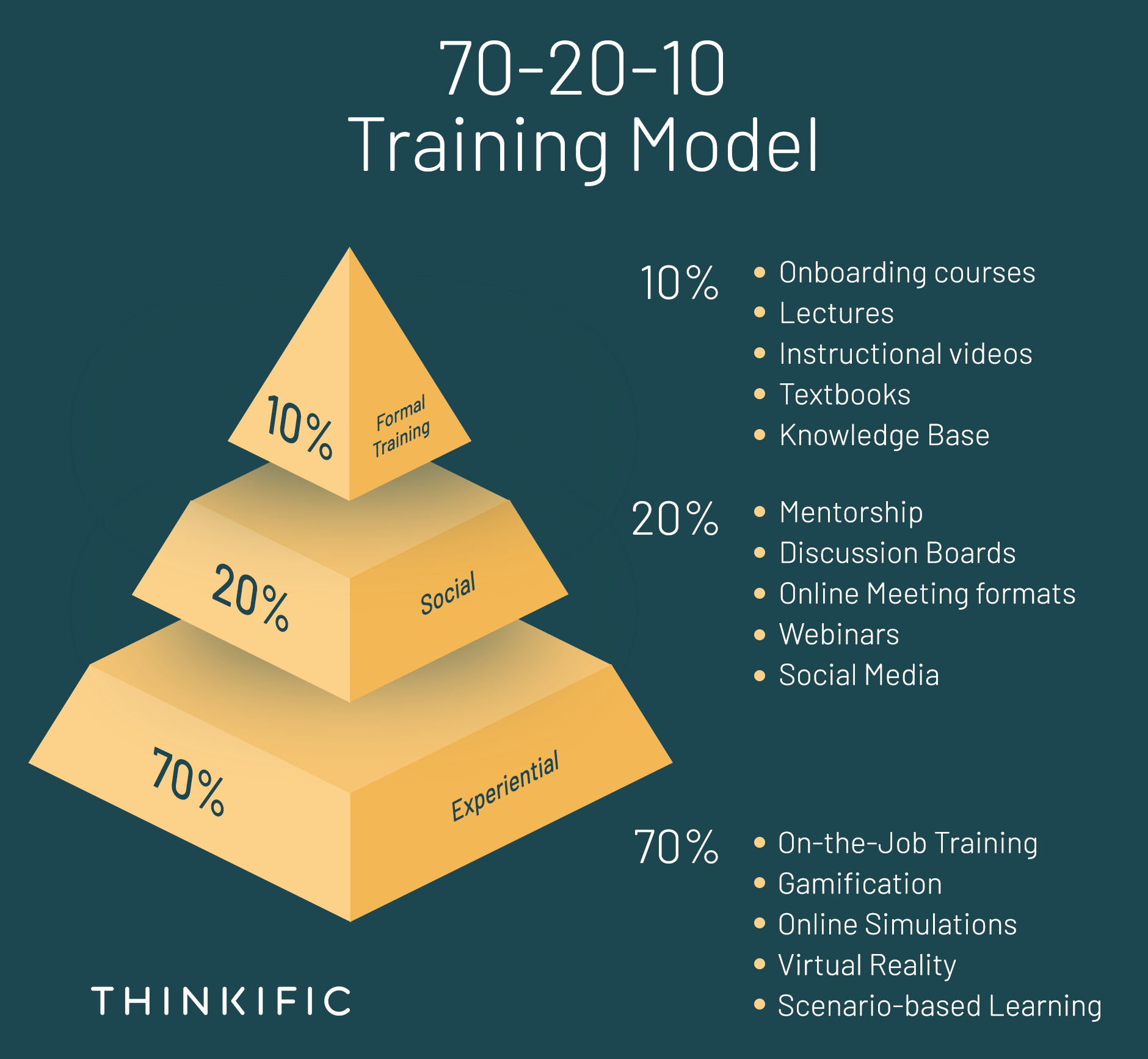 According to the 70-20-10 model of learning – broken down into 70% experiential, 20% collaborative, and 10% formalized training – ​​90% of everything we learn at work takes place outside of our formal training experiences. For this reason, by combining gamification and e-learning, your organization can create an environment where informal learning and training experiences can flourish.
Four reasons why gamification can be effective in improving the e-learning experience for your organization.
Inspires positive motivation to learn

The proof is in the brain science of the neurotransmitters that are released in the mind during

the state of play

.

Gamification experts have found that there is a

direct link

between positive emotions and behavior change. This is because engagement in gamification releases

positive body chemicals, or "happy hormones". These hormones help us feel good (serotonin) and feel valued (dopamine) while learning and increase our desire to remain in that rewarding state (endorphins).

To illustrate the scenario, including game-based elements in learning experiences such as collecting experience points, earning achievement badges, and rising up on the leaderboard help unleash a rush of dopamine and serotonin, and endorphins surface to compel one to continue progressing in order to reach the next level and stay on course with reaching learning outcomes.

This creates gratification and compels learners to repeat desired behaviors and actions for more achievement through sustained engagement. Thus, learners stay locked into learning.

Reduces barriers to learning

Gamification can reduce the

barriers to learning

encountered by people in learning and training situations.

For instance, implementing microlearning is encouraged by the gamified learning format. With assignments broken down into bite-sized content pieces and shared in spaced-out intervals, including microcontent in your online courses and training reinforces learning in a manner that aids retention for learners. Incorporating gaming

mechanics can also help shape assessments. For example, quizzes can be turned into fun challenges with reinforcing elements such as points, badges, and rewards.

Through gamification, learners are provided with a greater degree of flexibility and personalization as they grow their knowledge — a necessity in the remote office settings we now work and learn in.

Participants can choose to learn during their own time, thus addressing the short attention spans of modern learners, while staying repeatedly engaged through the encouragement of the gamified learning environment.

Furthermore, from visual learners to hands-on learners, e-learning and gamification can adapt to many different learning styles and preferences through the different mechanisms applied.

Accelerates the pace of learning

Through gamification, information retention is accelerated more so than in your traditional learning seminar. 

Incorporating gamified elements into e-learning can help learners to stay engaged for longer, meaning they can process more learning content in less time and more quickly. For instance, instead of spending half an hour watching a training video, learners can take part in three short 10-minute quizzes.

In fact, games have been proven to be productive in

increasing learning retention

, with statistics revealing that gamification

improves learning retention by up to 90%

.

Presents concrete real-world applications



Learning things in theory is challenging, but learning things in practice makes them easier to remember.





Adding gamification to e-learning settings, particularly in corporate training, gives learners the opportunity to visualize the real-world application of the concepts and skills they are learning through scenarios and simulations.
Learn more about the 70-20-10 training model here
Advantages of Gamifying Your Virtual Training Programs
In addition to making learning more enjoyable, gamifying e-learning incentivizes the learner in their knowledge quest through continuous encouragement and rewards, resulting in higher uptake and ongoing participation.
There are numerous benefits of gamification in e-learning for participating learners. The main benefits of gamification in the context of corporate training include:
Encouragement of active and continuous learning
Incorporating gamification in your virtual training programs will encourage learners to take an active role in their learning experience by providing them with ample opportunities to interact with the content rather than just passively absorb information.
This will help the e-learning experience become less of a work task that needs to be done and more of something users want to do for their own benefit. By gamifying your training with incentives such as points, employees are also more likely to stay motivated to complete the training modules. In fact, the competitive nature of gamification can encourage your users to beat their scores and advance to the next level, which enables continuous learning in the workplace setting.
Promotion of  social learning and career development
Employees are more inclined to learn and grow with a company that makes them feel connected to a culture that promotes growth, development, and belonging, and gamification is one great way to foster employee engagement and team connection within your organization.
Through gamified training and learning, employees can compete against each other, work together as a team, and connect with colleagues while learning important aspects of their job.
An added benefit is that gamified e-learning environments include social features such as activity feeds, in-game chats, and push notifications. Peer feedback and knowledge sharing virtually fuels community, which helps to establish a strong learning culture at your organization. 
Engaged employees like feeling like they're "leveling up" and not just remaining stagnant in their careers. 
By providing your employees with fun, gamified ways to expand their abilities and further their knowledge, you will be able to help your people take active roles in their career development through upskilling and learning opportunities.
Tracking of valuable learner performance data
Game mechanics, such as levels and scoreboards, provide a real-time glimpse of a learner's performance and progress, and thus, the effectiveness of your e-learning program. 
Furthermore, gamification tools let you spot engagement patterns instantly with access to a reporting suite of comprehensive insights about your employees and their learning experience. You can discover and measure what's working and what isn't, as well as determine and strategize ways to improve the corporate training process. For instance, gamified assessments can be leveraged to uncover topics or concepts that employees may need further training on through future e-learning materials.
Plus, e-learning facilitators can receive ongoing and instant feedback within the online learning environment, providing employees with the option to share what they like and what they don't like, and what they want to see more or less of in the future.
Disadvantages of Gamifying Your Virtual Training and E-Learning Programs
Simply adding game mechanics to training without clear objectives and strategy does not automatically guarantee successful learner engagement. There are also certain risks linked to the poor deployment of gamification in training, such as:
Overusing game mechanics


Implementing too many gaming elements without a clear objective can shift the learner's focus away from the learning material and towards the gratification of earning points or climbing the leaderboard.

Failing to personalize the experience


If you don't tailor the gamified training program to your company culture, you may struggle to connect the program to your employees and their needs, leading to an unfocused, ineffective, and unfulfilling learning experience.

Gamifying the wrong material


When dealing with more sensitive, serious, or challenging corporate topics, such as workplace harassment, it may not be appropriate to gamify content as it may detract from the key takeaways. 
The most effective gamified e-learning programs are designed specifically for a set of learners and their learning needs, so if gamification isn't aligned with your corporate learning objective, it may be beneficial to experiment with other methods.
Want to scale your education empire? Let's talk about how Thinkific Plus can help
E-Learning Gamification Pro Tips: How to Build a Training Program
Before diving into creating your gamified e-learning solution, you have to make sure you get your approach and strategy right from the jump.
What should you consider when building out your own gamified corporate training program?
Just like the instructional design process used when creating learning content, the same framework applies when analyzing, designing, developing, implementing, and evaluating your gamified course for corporate training purposes. 
When formulating your gamification strategy, ask yourself key questions such as:
What is the goal of this training program?

Why is this training program needed?

Who is your target learning group?

How will this course support your employees' learning?

What learning objectives will be achieved?

How will gamification support these learning objectives?
From these insights, you can design gaming mechanics that will support your training program's intended e-learning objectives. Gamified interactive elements can be as simple as rapid multiple-choice questions or as complex as scenario-based simulations, as long as the applications achieve the main goal of motivating your learners to take action within the training environment.
Here are some commonly-used gamified mechanics that could be deployed in your e-learning experiences:
Challenges

encourage learners to reflect on the new information they've gained by applying them to the completion of small exercises, which ramp up in difficulty level as the module progresses.

Experience points

are earned as the learner progresses through their training and are an indication of their competence, knowledge, and skills.

Levels

are another indication of learner progress, as each level presents new content and new challenges to keep interest levels high.

Streaks

refer to a time period during which the learner successfully completes multiple tasks in a row, such as finishing three training units over three days. Honoring streaks through rewards is an effective way of celebrating the learner's progress. 

Rewards

honor personal learning achievements and mastery, provide positive reinforcement, and incentivize learners by way of badges, certificates, and real-world prizes (such as tangible rewards and skills accreditation) to boost ongoing engagement.

Leaderboards

allow learners to see how they're performing in comparison to their peers, providing a healthy sense of competition within teams to work hard to make it to the top of the list. 

Scorecards

provide a summary of all your learners' achievements through a breakdown of their experience points, badges, and leaderboard position.
Gamification in Action: 3 Successful Examples of Gamified Corporate Training Programs
From onboarding to leadership training, these e-learning gamification examples showcase ways to successfully incorporate games and gaming elements into elearning systems at the corporate level.
Domino's
International pizza chain Domino's needed a recipe to improve their existing onboarding process. 
They sought out an effective and customizable training program that would help them maintain their high-quality food and service as they expanded franchise branches globally.
To help meet this need, they invested in a gamified learning system that deployed microlearning materials made to train and assess employees on new skills by including gamified elements such as levels, scoreboards, and virtual simulations. Pizza Hero, a gamified mobile app, incorporates rich use of media, timed challenges, and rewards.
As a result, Domino's saw an increased speed to competency for newly on-boarded employees, thus increasing employee productivity and customer satisfaction. 
Success extended to other areas of the business, generating as much as a 30% increase in sales upon the launch of the gamified training program.
AstraZeneca
International pharmaceutical giant AstraZeneca needed to train 500 sales staff about a powerful new range of medicines. 
Their objective was to get agents focused and excited about the project. They also wanted a team-building tool and a way to check training results in real-time. 
To help facilitate this, they built a gamified system called Go To Jupiter. This environment incorporated game mechanics such as rewards, leaderboards, and levels. 
The result? The solution proved to be a great success, with over 95% of learners completing each training module. 
AstraZeneca's gamified approach improved training completion rates and helped to get the team excited about their new product launch.
Deloitte
Multinational professional consulting services network Deloitte needed to develop an online curriculum to support leadership training across the organization worldwide.
Through Deloitte's Leadership Academy, the firm employed gamification elements to their digital executive training program to help develop their senior leadership's soft skills. Learners established their individual learning goals and explored various training topics in each mission, which involved video lectures, tests, and quizzes within the courses. Learners also received badges to mark their achievements, which were tracked on leaderboards.
By gamifying their virtual leadership training program, Deloitte saw a 47% increase in the number of users returning each week, as well as an increase in engagement levels, signaling a strong outlook for the firm's future company leaders. 
The concept of gamification in corporate training and e-learning is all about making traditional learning more fun and engaging.
For today's employees and companies, this is more valuable than ever. If you're looking for new ways to create a better training plan for the future, gamifying your e-learning program is one way to get there!
About Thinkific Plus
Thinkific Plus allows business owners to build unique and scalable e-learning experiences that their employees will love with a platform that gives them the flexibility and reliability they need.
Through our all-in-one online education platform, built for enterprise and designed specifically for mid-size companies and entrepreneurs, you can drive your business goals forward without the hassle of legacy learning management systems (LMS) with our agile, scalable, and gamifiable software. 
Among the gamification offerings included within the Thinkific Plus online learning platform are:
Assessments & Certificates: c

omprehensive quizzes, engagement surveys, assignments, exams, and certificates. 

Progress Tracking: i

n-depth reporting to track student's progress and certificates to validate their efforts.
We know how important your students are to your business and that is why improving the learner experience is at our core. We want to enable you to run your business efficiently, no matter the size of your team, your level of expertise, or your use case.
If you're ready to build a unique and engaging e-learning experience for your employees, book a call with our solutions team today to learn more about Thinkific Plus.