In today's world where we're bombarded with hundreds of stimuli throughout the day, it's more difficult than ever for people to dedicate already limited time and resources to their own personal and professional development. How can we ensure that we meet the learning needs of our audience in this quick-paced, always-connected, easily distractible digital age?
Learning and development professionals are looking to microlearning as a solution that might stand up to this challenge. Creating shorter, more compelling learning modules allow learners to engage with bite-sized chunks of content more easily while still getting an impactful and complete instructional experience.
What is microlearning?
Microlearning is an approach to training that delivers content to learners in short, easily digestible chunks of content (usually between 5 and 10 minutes). Microlearning lessons typically focus on a single objective, narrowing the training to prioritize the most important concepts and prevent cognitive overload.
Each microlesson works as a building block within a bigger microlearning program. Together, the entire program may take a few hours to complete; however, learners can jump in and out of the lessons when they need answers to immediate questions. Or, when their interest is piqued, they can engage with several lessons in a row to dive deeper and learn more. This nonlinear approach to learning reflects how adult learners seek out new information to solve everyday challenges.
What does microlearning look like?
Have you ever searched for short videos or articles to solve an immediate need, such as changing a tire or solving your child's math homework? Although understanding how tires fit into the automobile industry or the history of the Pythagorean Theorem may present a complete picture, in a moment of need, people most often search for an exact piece of information that will solve a specific problem.
This is the basic tenant of microlearning—to create impactful learning through efficient, timely, and relevant experiences.
A microlesson could include a tutorial, video, activity, infographic, reflection prompt, discussion, game, live presentation, job aid, offline task, or any other type of learning object. Sometimes several quick learning activities are combined to create a more complete, but still brief, exploration of a single concept. Learners often stay engaged longer when the learning activities are highly visual and vary in their cognitive demand.
To offer learners high value in such a short period of time, the most effective microlessons emphasize practice and application. As you decide what content to cover in a microlesson, ask yourself, "will this content help learners make decisions and take action?" Real-world scenarios help learners see how they can apply concepts for themselves, and interactive quizzes give learners immediate feedback to reinforce main ideas. Additional resources like job aids and quick tips help learners immediately apply their new skills in their lives.
Why does microlearning work?
It's based on how people actually learn.

Because microlearning focuses on one concept at a time, learners are less overwhelmed by irrelevant information, and the key concepts are more likely to be transferred to their long-term memory. 

It fits easily into people's daily routine.

Because microlearning is usually delivered on a variety of mobile and desktop devices, learners can learn on the go, whenever they have a few minutes to spare.

It personalizes the learning experience.

Microlearning lessons build on existing knowledge and are largely self-directed, allowing learners to decide how much content to view and in what order. And, even when specific learning paths are assigned, learners can complete the training when and where it's most convenient for them.

It offers an opportunity to make learning fun.

Many microlessons include multimedia, interactive quizzes, and games that keep learners engaged with the content and motivated to return for more.

It's often more affordable than traditional e-learning courses.

Microlearning courses are usually cheaper to build, quicker to deploy, and easier to update.

It influences behaviors that have specific results.

Learners can use microlearning to find specific information right when they need it.
Training a multigenerational workforce
As Millennials have entered the workforce over the past ten years, it has become clear to learning and development professionals that traditional, in-person, face-to-face training sessions are not meeting the learning needs of this new generation of employees. These "digital natives" are often characterized by short attention spans and self-interested motives. Interactive microlearning has been touted as the perfect learning solution that speaks to the learning preferences of the Millennial: on-demand, informal, and customized to their needs.
Related: How To Implement Employee Training And Development
However, even Baby Boomers and Gen Xers aren't immune to the distractions of the modern world. While learners from earlier generations may be more familiar with classroom-based training and printed course notes, it can be argued that they actually share similar values with the younger generations, including the desire to find meaningful work and to maximize their performance.
Universally across the generations, everyone's time and attention are pulled in so many different directions. For example, there's no need to watch a 45-minute video on the features of a printer when you just need to know how to clear a paper jam. And you certainly wouldn't want to pay for a full 2-hour course about exercise science if you just want to know the correct technique for doing a push-up. 
Microlearning offers an opportunity to support the learning goals of every learner, no matter their age.
Where does microlearning work best?
Just-in-time microlearning for hard skills
It's easy to see how microlearning can be an effective tool for teaching "hard skills," such as how to safely use a jackhammer or how to record a patient's vital signs. Microlessons are brief enough not to interrupt a learner's workflow, but thorough enough to give them a comprehensive refresher on the process just before they use the tool or enter a patient's room. 
Microlearning to reinforce soft skills
On the other hand, teaching soft skills with microlearning is a bit fuzzier. Soft skills can be challenging to coach through e-learning methods due to a lack of interpersonal interaction and incomplete assessment of training effectiveness. To address topics like leadership or other less concrete soft skills, you might consider developing longer microlearning programs that explore multiple perspectives and reinforce concepts.
For example, a microlesson about leadership could teach specific practices that a manager would need to exhibit in order to successfully manage multiple projects. After reviewing the initial content, the learner could immediately apply this in their own life and see the impact. Follow-up practice scenarios that the learner sees over the course of several days could then reinforce the concepts for long-term retention.
Training across topics
Perhaps microlearning has the most potential when it's used to create a library of resources across a wide range of topics. Once learners are familiar and comfortable with a microlearning platform, they will return to that trusted learning repository, knowing that they will find timely and relevant content that meets them wherever they are on their learning journey.
A robust search engine and metadata tagging allows learners to quickly locate the content that they are looking for. In addition, pre-assessments partnered with artificial intelligence can suggest microlessons relevant to a learner's knowledge gaps, and the platform can offer recommendations of other microlessons where the learner can go to continue to explore topics of interest. 
Related: What is M Learning? Mobile Learning Pros/Cons & Tips
Overcoming the challenges of microlearning
Bite-sized learning does have its challenges. However, there may be ways to overcome these challenges so that your learners can reap the benefits of microlearning.
 Microlearning can become easily fragmented. It's critical that each microlesson stand alone as its own online training unit; however, it's most effective to connect your microlessons as part of a larger learning strategy.
The bite-sized approach might not be effective for complex topics. If you need to teach complicated skills or processes, videos, simulations, or immersive experiences might be more effective ways to teach learners all the nuances that they must consider. However, there still might be great value in supplementing with microlessons after the initial training is complete.
Microlearning rarely inspires deep discussion. While you can certainly design microlessons to include reflection and peer learning, for topics that require in-depth discussions and simulations, microlearning would be better suited for offering additional resources, reviewing key points, and teaching more objective concepts of the course.
Microlearning does not inherently present a clear learning path. Considering that people don't always recognize their own weaknesses, the autonomy created by microlearning can leave learners stranded, not knowing where to go next. This is especially true for novice learners who might miss important ideas and vocabulary if they skip between foundational lessons. Because microlearning builds on existing knowledge, it's often best suited for intermediate and advanced learners who have already conquered the basics of a subject. 
Related: How To Make Online Learning More Engaging
An Example: Microlearning in action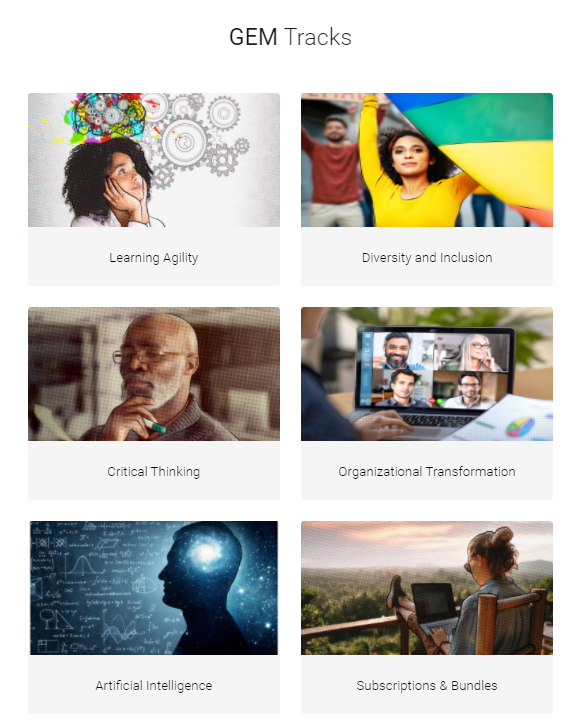 ansrsource has recently launched The GEM™ Experience as a learning resource to help companies and individuals deal with rapid and constant disruptions by providing learning that is timely, relevant, and most importantly, easily digestible. Each GEM (Granular Education Module) is designed to offer bite-sized units of content that address the societal and technological disruptions that individuals and organizations experience as they look to transform themselves and their businesses. These transformation-centered topic areas include ansrsource's unique Applied Critical Thinking Institute® and Inclusion Institute™, as well as emotional intelligence, digital leadership skills, and more.
Targeting a Millennial and Gen Z audience, the GEM experiences often leverage short audio clips such as podcasts to convey ideas and videos to bring practitioners and learners closer to the subject matter expert. Additional content is presented through text and interactives, and each lesson ends with reflection prompts and links to additional resources.
The program is modular, so that learners can create a customized learning experience based on their own needs and interests. Alternatively, learners can also choose to follow a learning path that curates a bundle of GEM experiences organized around a single topic. Upon completion of a GEM, learners earn a digital badge that they can post to their LinkedIn profile to show that they have acquired this knowledge or skill.

Making microlearning work for you
Designing microlessons requires more effort than just segmenting existing content into smaller chunks. Here are a few tips to design a microlearning program that learners will embrace.
Focus the content
Introduce each lesson with "what's in it for me" (WIIFM). Explaining how the learner will benefit from the microlesson is the first step to creating an efficient learning experience.

Ensure that your content is authentic, meaningful, and inspires learners to learn more.

Integrate real-world scenarios, so learners can see how to apply the concepts for themselves.

Focus on what learners "need to know" instead of what is just "good to know." Understanding your learners' needs will help you avoid unnecessary noise that will distract from the main ideas.
Create engagement
Design fun, thought-provoking content that learners want to share with others. Consider including collaborative activities and interactive participation to motivate learners to take charge of their learning.
Employ a variety of delivery media types to address different learning goals. For example, you might use a whiteboard animation to introduce a topic, an interactive simulation activity to practice the skills and provide immediate feedback, and then a downloadable PDF that learners can use as a quick reference guide later on the job.
Pair microlearning with other training techniques. Peer learning, gamification, blended learning, and spaced repetition can all be integrated into a microlearning program to further improve knowledge retention.
Maximize the learner experience
Consider offering a how-to session or a comprehensive FAQ option, so that learners who are less technologically savvy can become comfortable with how to navigate through the microlearning content.
Choose a mobile-first approach, so that learners can access the microlessons on the go.
Use catchy titles, concise bullets, and attractive images to help learners skim through the content for the answers they are looking for.
Integrate accessibility into everything you do. Microlearning can be built through a variety of platforms, many of which offer accessibility features within their core products and processes.
Is microlearning just a trend or here to stay?
Microlearning is likely to be on the rise to address the accelerating rate of technological and societal disruptions. Traditional, longer classes may not be able to keep up with topics that change and pivot so rapidly.
For learners, microlearning holds the potential to help break down barriers to equitable education, such as time, affordability, accessibility, and prohibitive pre-requisites. For experts and L&D professionals, microlearning offers a viable alternative to transform how content is shared with learning communities.
Are your learners demanding more convenient ways to upskill and prepare for the changing realities of the world?
Microlearning just might be the solution you're looking for to reduce frustration and increase the engagement of the modern distracted learner.