If you spend enough time on YouTube, you may notice that some of the most popular YouTubers — and even smaller YouTube creators — have gotten into the business of selling merch (short for "merchandise").
For example, makeup guru Huda Kattan launched her namesake beauty brand Huda Beauty. Jackie Aina created FORVR Mood, a lifestyle brand that offers scented candles and self-care packages. Meanwhile, Emma Chamberlain has her own coffee and tea company, Chamberlain Coffee.
These creators know that relying on the traditional means of making money on YouTube is not sustainable and have found ways to diversify their revenue. Selling merchandise is a great way to do this and, in the long run, merch sales can actually turn into a primary source of revenue for YouTube creators. More than that, selling custom merch can help creators engage their fan base to keep up with their YouTube content, as that's where they'll typically first announce a new product launch.
Unlike the YouTube celebrities listed above, you don't need millions of followers to make and sell merch. In fact, if you start early enough, selling merch can even help you grow your YouTube channel.
The evidence speaks for itself: Emma Chamberlain and others have shown us that merchandise sales can become significant streams of revenue for YouTubers. If you're a YouTuber looking to start selling your own merch, read on to learn how. In this all-inclusive guide, we'll cover why you should start selling merch on YouTube, what you can sell as a YouTube creator, and how to promote your merch on your channel.
Why you should sell merch as a YouTuber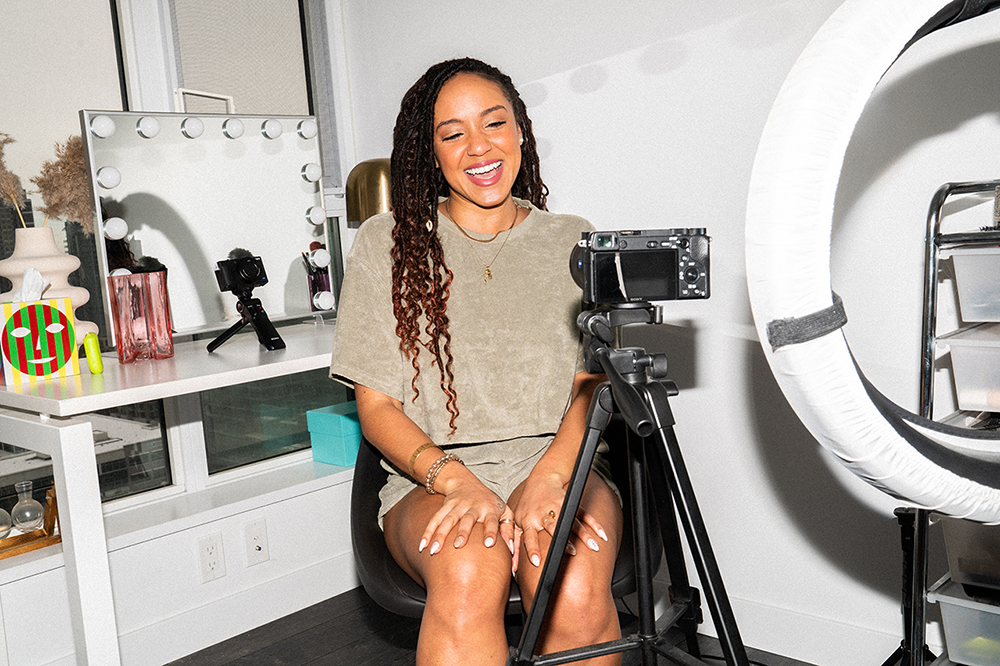 The life of a YouTuber is often glamorized, and that's partly because many think that thousands of views equal thousands of dollars. That couldn't be farther from the truth.
Most online creators — including those on other platforms like Instagram — often have to play by certain rules to make money. YouTube has requirements for creators who want to run ads. Brands have their own guidelines for creators they can partner with. Moreover, YouTube can stop a creator from running ads on their channel at any time, and brands can call off deals whenever they please.
The standard way of making money on YouTube is through the YouTube Partner Program. To join the program, you need:
A minimum of 1,000 subscribers.
A minimum of 4,000 public watch hours in the last 12 months.
To live in a country where the program is available.
To comply with YouTube's monetization policies.
To have no community guideline strikes on your channel.
If you meet these criteria, you can apply for the program. But even then, there's no guarantee that you'll be accepted. And even when you're accepted, YouTube reserves the right to suspend your ad revenue, and suppress your channel — or even remove it completely if it thinks you've broken its rules.
To ensure that you keep earning money from your YouTube channel, you'll need to start selling merch. Here's what selling merch can do for you:
1. Diversify your revenue streams
As explained earlier, earning ad revenue and brand sponsorships are not the most reliable ways to make money on YouTube because of their volatility. Sure, you can do those things, but you don't want to put all your eggs in one basket.
Many people don't realize just how much money YouTube creators make from selling merch. Take Ryan Kaji of Ryan's World as an example. The 11-year-old boy started as a toy reviewer but has now created over 5,000 pieces of branded merch. In 2020, he reportedly earned $250 million from selling his custom merch.
The reason he could do this is that the products are his, and only he and his team call the shots on how the products are made, what the store looks like, and how they'll market the products to Ryan's target audience. When you're in control of your stock like this, you'll likely reap all of the rewards.
2. Increase fan engagement
The key to a successful YouTube channel is audience engagement. If people are not motivated to watch your videos, you likely won't make much money on YouTube. Selling merch is a great way to keep your fans engaged.
Why? Because it gives your fans a way to support you and get something in return. Robert Hoffmann, the Marketing Manager at CashbackHero puts it best: "By selling merchandise, YouTubers are able to build a more personal connection with their audience and increase engagement in the process," Robert says. "Additionally, it offers viewers a tangible way to directly support the content creators they follow, creating a win-win situation for both parties involved."
Even if you don't have a ton of subscribers yet, there will always be people who want to support you. So when you start selling custom merchandise, they'll buy it as long as the designs are good. For instance, if you're offering apparel, it has to be comfortable, have an inclusive sizing range, and be made from high-quality materials. That, and strategic marketing, are the basic things you need to sell out your stock of custom merch.
Related: 9 Tips for Getting Your First 1,000 YouTube Subscribers
Another thing to consider is that the demographic most likely to buy merch is Gen Z (ages 11-26 in 2023) who long to feel like they're a part of something. Merchandise is the perfect way for YouTubers to connect with their Gen Z fans on a deeper level. Fans can wear or use the custom merch, and feel a sense of pride in supporting their favorite YouTuber and belonging as part of a larger community.
3. Build brand awareness
Selling merchandise can help you build brand awareness and increase visibility for your YouTube channel. If you're selling products emblazoned with your channel's name or logo, they'll essentially become walking billboards for you.
Selling merch can even help you reach people who are not active YouTube users. Milo Cruz, the CMO at Freelance Writing Jobs, who has experience writing ad copy for YouTubers' merch explains how it works. "Active subscribers buy a YouTuber's limited edition T-shirt or hoodie, wear it, and then introduce the merch to their family and friends," he says. "The scenario is close to word-of-mouth, where YouTubers get free advertisements from existing subscribers who buy the merch. This will spark curiosity among those who see the item and convinces them to check the YouTuber's channel."
4. Stand out from competitors
Because merchandise usually comprises custom products with designs that are uniquely yours, you'll be able to stand out from other YouTube channels in your niche.
"Selling merchandise can help YouTubers differentiate themselves from their competitors," says Sreeram Sharma, the Head of Social Media at QikChat. "If a YouTuber has a strong brand and a loyal fanbase, merchandise can be a unique and valuable offering that sets them apart from others in their niche."

What you can sell as a YouTube creator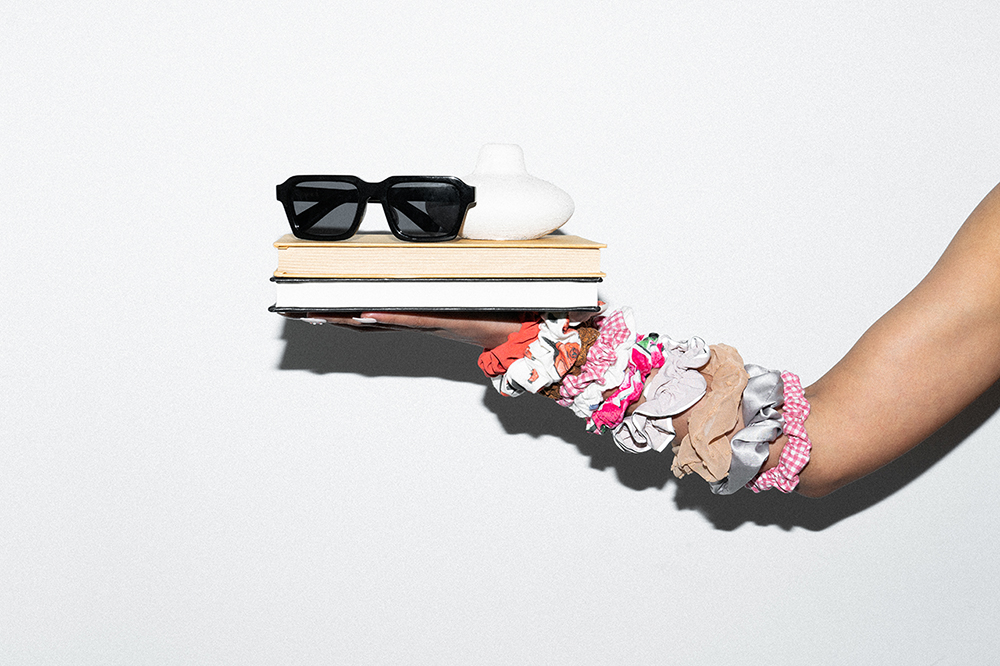 There are a few things you can sell as a YouTube creator, including merchandise for fans, products you create, as well as fan experiences.
Fan merchandise
Fan merchandise is the conventional way of offering products to fans. Think of jerseys that people buy to support their favorite soccer teams, or branded bracelets Gen Zers wear to attend concerts. These items will usually carry images or slogans associated with your YouTube channel that fans can wear to show their support.
Here are some examples of popular fan merch:
T-shirts
Crewnecks
Hoodies
Sweatpants
Hats
Scarves
Socks
Tote bags
Mugs
Enamel pins
Stickers
Phone cases
Water bottles
Basically, any physical item you can print with your branding qualifies as merch.
For example, Ava Jules, a beauty and lifestyle vlogger with over 1.6 million YouTube subscribers, has a merch line of T-shirts, sweatshirts, hats, sticker packs, and keychains that reflect her experience growing up in Hawaii.
The great thing about fan merchandise is that it's easy to make because of the print-on-demand (POD) options available to creators.
All creators have to do is come up with slogans or designs, and when someone pays for a product, the POD company will print the designs on the product and ship them to the buyer. This means that creators don't have to worry about sourcing materials, keeping an inventory, or shipping products. This way, they'll save time and money.
Products you create
Creating your own products to sell takes a lot of time and effort, but they have the potential to bring in even more revenue than fan merchandise. You can make and sell physical products like how beauty YouTubers create their own makeup palettes, or how Emma Chamberlain sells her own coffee blends and tea powder.
Some physical products you can make and sell include:
Handmade crafts
Art prints
Physical wallpapers
Gaming accessories
Beauty products
Cookbooks
You can also sell digital products like:
Templates
Ebooks
Online courses or workshops
Photo editing presets
Digital wallpapers
Printable art and craft patterns
Digital products are valuable to your audience because they're unique content or resources they can only get from you.
Sarah Chrisp (aka Wholesale Ted), an online entrepreneur with 1 million YouTube subscribers sells ebooks and dropshipping courses via her website, The Ecomm Clubhouse.
Making courses at Sarah's level does take time, but you can start with something simple like selling printable worksheets and checklists. The caveat is that your products have to be relevant and valuable to your audience.
---
Make money from your video content (without the cost or loss of control)
Sign up for Thinkific's
free plan
to share your knowledge and generate revenue from your video content — all from a single platform that
you control
.

---
Fan experiences
If you have a sizeable following on YouTube, you could offer special experiences to your fans, such as exclusive merchandise, meet-and-greets, or private events. You can also set up a membership program or Patreon where your fans will get access to exclusive live streams, one-on-one sessions, or behind-the-scenes footage of your business.
How to promote your merch on YouTube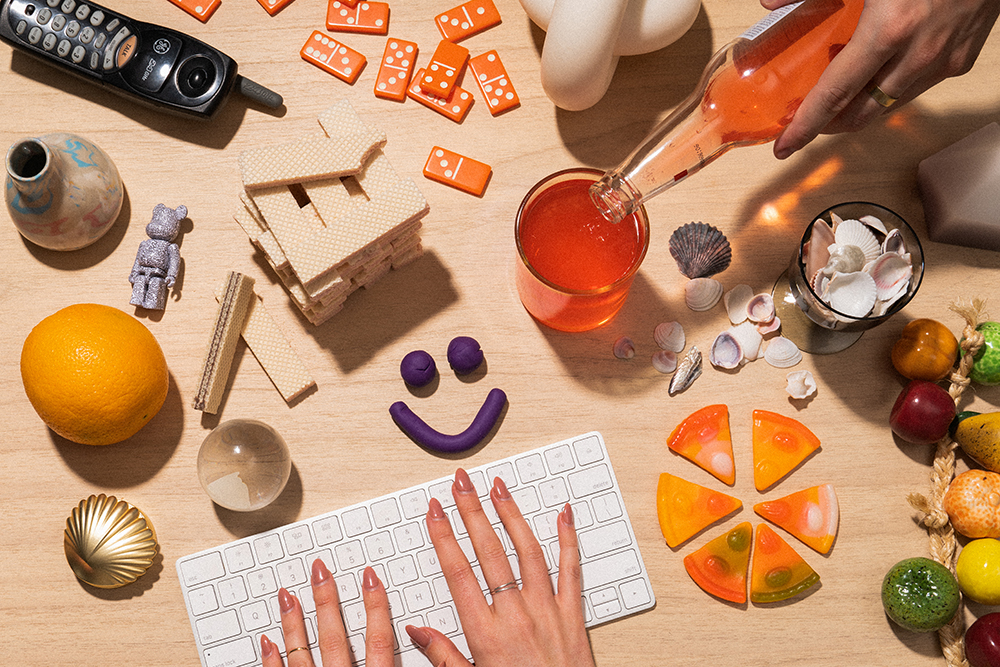 If you decide to make fan merchandise, there are some tactics you can use to let your viewers know that these products are available for sale. Here are some strategies you can implement.
1. Promote your merch in your videos
This type of promotion requires you to include your merch somewhere in your video so that viewers can learn about it and buy some for themselves. Here are a few ways to do in-video promotions:
Be Your Own Model
The easiest and most obvious way to promote your custom merch is to feature it in your YouTube videos. That way, your subscribers will learn that your product exists and can see what it looks like. If you're selling wearable merch, for instance, modeling the designs in your videos will help show that you're confident in what you sell.
If you're not comfortable wearing your merch in your videos all the time, you can display it in the background while you film and draw focus to it occasionally.
Talk about your merch at the end of your videos
If you don't want to promote your merch during a video because it may distract viewers from the subject matter, you can mention it at the end of your video instead.
The downside to this, though, is that only people who watch your video till the end will learn about your merch. You can remedy this by explicitly asking people during your intro to watch the video to the end for a special announcement — or something to that effect.
Do a product unboxing
"Creating product unboxing videos allows potential customers to get an up-close look at the features of your products and understand their value better," says Rachel Macfarlane, a content marketing strategist at Redfox Visual.
Macfarlane is right. If you sell products like gaming accessories, for example, doing unboxing videos allow you to explain all the features and benefits of your product as you open it up. This helps your audience see just how valuable what you sell is.
Product unboxing videos are great for new releases and seasonal collections, but you can film them for just about any product.
2. Put your product links in video descriptions
Whether your video is related to your merch or not, you should be sure to include the link to your online store or product page(s) in your video description box for anyone who's interested. Including merch links or a store link is especially useful if you have several products you want to promote.
3. Use the YouTube merch shelf feature
Did you know that YouTube has a built-in feature that allows YouTubers to sell their merchandise directly through their videos? Meet the YouTube Merch Shelf.
The merch shelf feature allows creators to sell their merchandise directly through YouTube from a number of locations on the platform, including their channel's store, video end screens, and below videos and live streams.
With YouTube's merch store feature, you can place your products right in front of viewers' eyes in real time, as they're watching your videos or perusing your channel. This intuitive, in-app feature means that potential customers don't need to jump through hoops to find your merch or make a purchase. It's all right there in the YouTube app!
YouTubers looking to use the merch shelf feature must meet a specific set of requirements, which can be restricting to some. However, if you meet the requirements, it's something you should consider taking advantage of. Currently, you must meet the following requirements to use YouTube's merch shelf feature:
Your channel has more than 1,000 subscribers.
Your channel is approved for monetization.
Your channel is not marked as "made for kids."
The YouTube Partner Program is available in your region.
Do you meet all the requirements? Great! You can start selling your merchandise through the YouTube merch shop. You can learn more about how to set up your own YouTube merch shelf on the platform's support page.
4. Offer discounts on your merch
Discounting your merch is a great way to make a lot of sales in a short period of time. Garrett Smith who runs local SEO at GMB Gorilla knows that offering discounts and exclusive offers on your merch can make your followers "feel special."
Smith advises, "Use keywords that elicit urgency, like 'limited time offer' or 'limited stocks available,' to urge viewers to make a purchase right away. This hits two birds with one stone because it encourages more sales. It also encourages new viewers to subscribe to your channel and widen your reach."
5. Promote your merch on social media
Social media is one of the most effective ways to promote any product. Since you're already a YouTuber, you'll want to take advantage of other social media platforms, whether it's Instagram, Facebook, Twitter, or TikTok, to promote your merch to your audience.
You'll have to create posts or stories featuring your products, organize contests and giveaways, offer exclusive deals to your followers, and run ads to reach people who don't yet follow you.
6. Collaborate with other creators in your niche
Collaborating with other YouTubers, social media influencers, or brands in your niche is an excellent way to reach new audiences that you might not have had access to otherwise.
You could make videos with other creators and feature your merch in them. Or you could create a limited-edition product with a popular influencer — preferably one who has a larger audience than you. This ensures that you're reaching new people and building brand awareness during the partnership.
At the end of the day, promoting merch on YouTube is about finding creative ways to get your followers interested in buying from you.
Make money by selling merch on YouTube
Being successful as a YouTube creator means creating a business that brings in income, no matter what challenges you face on the platform. Selling merch is one of the best ways to achieve this.
You don't have to have a ton of subscribers or expensive equipment to sell merchandise on YouTube. All you need is a good designer, a reliable print-on-demand company (if you want to sell clothing), and a good marketing strategy. And since YouTube can be integrated with e-commerce stores, it'll be easy for your audience to find your products and buy them from you.
Now that you know all the ins and outs of how to sell merch on YouTube, it's time to get out there, make that merch, and make that money.
---
Make money from your video content (without the cost or loss of control)
Sign up for Thinkific's
free plan
to share your knowledge and generate revenue from your video content — all from a single platform that
you control
.

---
Follow The Leap on TikTok and Instagram for more monetization tips for creators. We also make a newsletter.