With a little creativity and a willingness to roll up your sleeves, you've officially created and launched your first course. You see the student enrolment numbers ticking upwards and life is feeling good… until you see that very few students are going on to actually complete your course.
As disappointing as this may be, you're not alone. 
Completion rates for any kind of online course, from learning the art of clowning to getting a certificate from Columbia University, are low. Very low. On average, only 5-15% of students complete a course. 
There are lots of reasons why students may not complete your course. For example:
The course may be too long, challenging, or even too easy

Students are too busy and forget about it

Students got what they needed within a few modules

They don't understand the instructions 

The value of completing the whole course isn't clear enough
Students who don't complete your course are unlikely to take another one of your courses. Worse, they're more likely to request a refund and submit a poor review.
On the flip side, students who complete your course are more likely to refer your course to a friend, take an additional course, provide constructive feedback, and give you a rave review. All of these outcomes help you grow and nurture your course business.
So, how can you increase your course completion rates? It's easier than you think!
In this article, we share four tactics that you can implement in no time to help increase the number of students who complete your course—and turn them into raving advocates.
Invite your students to work in teams
When you invite your students to work in teams, the results are extraordinary. Don't take our word for it, though. According to research, students with this experience are five times more engaged and sixteen times more likely to finish an online course. That's right. Sixteen times! In addition, they build meaningful connections with their peers and hold each other accountable, creating a supportive environment the whole way through.
Let's look at an example of this in action with course creator Tracy Phillips from Video Script Success. 
As soon as students are onboarded to her course, Tracy invites them to the "Video Playground" where they get to know each other and create teams. Students ask each other questions and provide constructive feedback on projects along the way. In turn, they're not only learning more effectively, but they're building relationships that will outlast the course itself. 
By encouraging students to interact and support each other, Tracy has achieved a staggering 80% completion rate—that's nearly unheard of!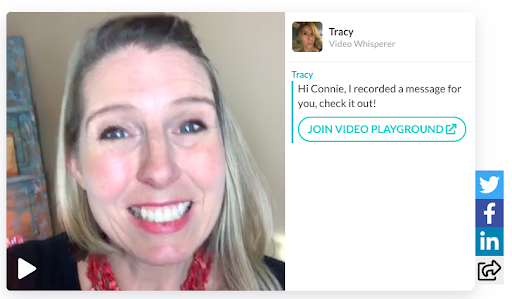 Replated: How To Create A Cohort Based Course That Students Love
Add some mystery with drip content
The famous film director JJ Abrams once said, "Mystery is more important than knowledge." Believe it or not, the same premise applies to online courses.
When an online course immediately gives a student access to all the course material, including videos, downloads, worksheets, and assignments, students may feel overwhelmed or mistakenly think that these resources include all of the course's key takeaways. Additionally, there are lots of students who will start a course, and then forget they even enrolled in it.
Dripping course content is a powerful technique when it comes to increasing course completion rates. Instead of releasing all the course content at once, you can lock and unlock course modules based on the student's completion. As a result, students feel a sense of FOMO about the lessons that they haven't unlocked yet, and have greater motivation to finish "just one more lesson" so that they can get to the next and the next— until they're finished altogether!
Send a personalized video to motivate students
Sending your students a welcome video and a series of check-in videos is a fantastic way to create a sense of community and boost their motivation to complete the course. With the Bonjoro app, course creators can easily send personalized videos right to their students' inboxes within minutes.
The process is simple: once a course creator installs Bonjoro, their Bonjoro dashboard will show a list of their Thinkific students. They can then choose who to send a quick motivational or welcome video message to, or even assign it to another member of their team for some friendly competition on seeing who encourages students best. Within the Bonjoro dashboard, course creators record themselves sending a quick motivational message and it gets sent off immediately to that student. Students can then reply via video or text to the course creator's video.
Sending a Bonjoro is the perfect way to motivate and reward students at important moments so that they complete your course and provide that rave review you're dreaming of! (Plus, Thinkific customers get 15% off Bonjoro).
Use learning enablement tools to support students
When a student starts taking an online course, they're highly motivated. The reality, however, is that lots of students may not have the right tools to help them succeed. A messy notepad or multiple windows will only create a distracting learning experience, reducing the likelihood that they'll complete a course.
Beastnotes, a note taking tool designed specifically for course creators and their students, is a powerful asset when it comes to increasing course completion rates. This seamless application overlays right next to a Thinkific course video so that students can easily organize their thoughts and the information they want to retain.
Course creators can also create notebook templates for their students to use. This way, the instructor offers students an additional leg up for taking clear & helpful notes that they can refer to regularly in the future.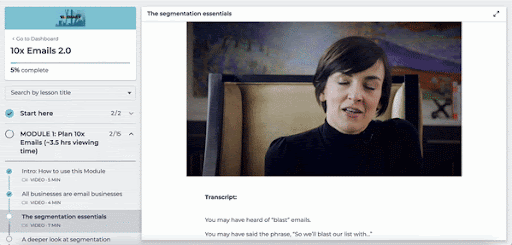 Wrapping Up
With the four tactics above, you can feel confident that you're making sure students feel engaged, supported, and inspired throughout their learning journey. But remember, don't feel afraid to try something different! You know your students best. If you're already asking them for feedback along the way, make sure you truly understand where they're coming from and don't hesitate to talk to your students one-on-one to learn more. 
Are these tactics helpful to you? Share with a fellow course creator!