When Kapiel Raaj was working at his desk job, he discovered his passion. 
But this passion wasn't for the mortgage company he worked for (big surprise); it was for Vedic astrology. When he started spending more time researching planets than he did on his job duties, he knew it was time to become an online creator and live life on his own terms.
Want to jump ahead?
Vedic astrology runs in his family; both his grandfather and uncle were practicing astrologers, and Raaj believes he was destined to become one, too.  "I started learning about astrology charts and the different planets, and I learned very quickly," he says. "I guess it's in my DNA."
Bullet points on Vedic Astrology (it's not the astrology you might know)
Differing from western astrology, Vedic — or Hindu — astrology originated in India and is a system that's said to have been around since before 10,000 B.C.

It's related to other ancient practices, like yoga and Ayurveda, and is meant to provide a roadmap to better understanding one's life.

According to Raag, Vedic astrology can predict relationship, career, and financial success through specific planet placements in someone's astrological chart.
After realizing that his calling was to teach people about this modality, he created a YouTube channel in 2009 where he posted videos on specific, niche topics related to astrology. In 2010, he changed his channel's name to what it's called today, KRS Astrology. Now, he has over 454k subscribers.  
"It's nothing compared to some people with 15 million subscribers in five years," he says humbly. "But my industry is so niche that you don't find too many people who know about it."
Raaj never thought it would be possible to become this successful in such a niche field. But remaining committed to sharing what he loves — at all costs — gave him the stamina to develop what KRS Astrology is now: an incredibly high-earning online course business. For him, there was no other way he wanted to make a living, and this tenacious attitude was one of the keys to his success.
Read more: How to Create a Youtube Channel in 2022
Now, Raaj lives a life of creative freedom where he's turned his passion into a profession. Here's how he got there:
Creating his first course
Seeking a way to share more detailed and in-depth information, Raaj decided to create his first KRS Astrology online course in 2018. He'd received a ton of audience demand for an online course, so it felt like the natural next step; with his audience interested in how Vedic astrology could help to guide their lives, creating a suite of courses that dove deeper into each topic was a way he could give his students more value than YouTube would allow.
When he looked for a course hosting platform, he came across Thinkific.
 "It seemed like the most simple platform," he says.  "All I had to do was upload lessons and videos, arrange them in the way I wanted, and make my own tests. Plus, I didn't have to worry about a payment system because it was already integrated."
The first course he created was Vedic Astrology Simplified. It breaks down the modality step-by-step; lesson one speaks about where Vedic astrology came from, lesson two talks about each astrological planet, house, and sign, lesson three goes over the lunar mansions, lesson four talks about time cycles, and so forth.
Then, his other courses hone in on specifics of astrology. "It's kind of like learning math," he says. "Once you learn the basics, you then want to learn about integers, derivatives, and calculus. All of my courses stem from the overarching theme of Vedic astrology, and each go into specific details about the system."
Sharing his passion — and finding an audience for it
According to Raaj, his entire audience was built on YouTube; many people find him through searching for Vedic astrology information on Google, and then click on his YouTube videos that come up through the search. "It started solely for an Indian audience until I realized that people in places like Europe and South America also wanted to study it," he explains.
But Raaj's goal wasn't to find a specific audience to speak to; he simply wanted to share his passion with the world.
"I thought, I don't care who's watching me, I'm just going to share as much as I can. I had the mindset of not wanting to do anything except Vedic astrology. I wasn't doing it to impress anyone, and I didn't care whether people liked my content or not. I was simply making these videos because I wanted to share my passion for Vedic astrology."
In fact, this passionate attitude is what's led to his wild success. He's a firm believer that you just need that first student to purchase your course, and that everything will follow from that point.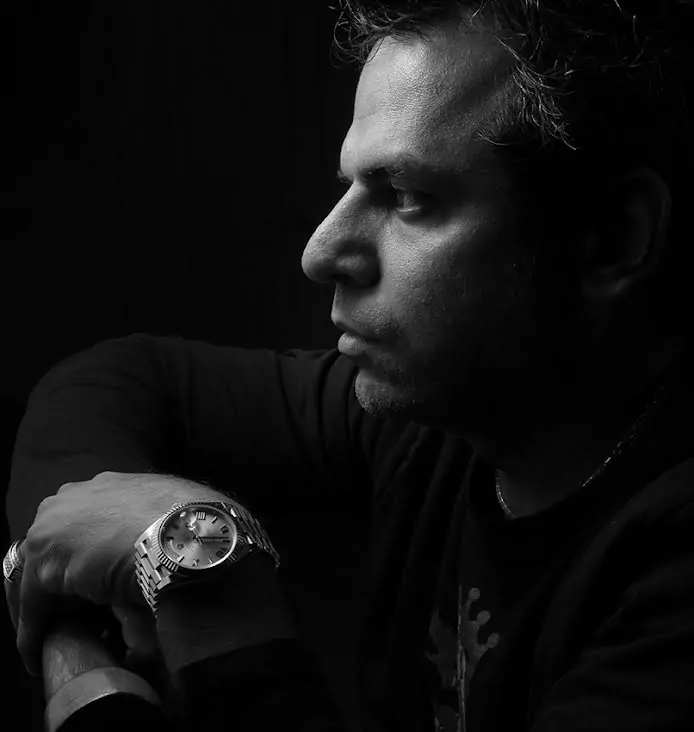 "Once you're just being you and talking about what you love, people will admire your authenticity and want to learn from you. If you build something you're passionate about, people will be interested."
Creating his own niche
As Raaj's following began to increase — exponentially — he realized that he was fulfilling the need for specific, niche videos about Vedic astrology. He advises that online course creators find out what their audience needs, and then "fill the potholes that they see on the street."
For example, he says there's a window of opportunity when nobody's talking about a particular thing, and you wish somebody was. "If you wish there was certain information on TikTok, YouTube, or Facebook, be the person to fill that pothole," he says. "You can guarantee that there are other people who are looking for similar information."
Read more: How to Find Your Niche in 4 Steps
Keeping marketing simple
Contrary to popular belief, Raaj doesn't believe that everyone needs to spend money on marketing. In fact, he says he's never paid for any marketing; while he shows up on Instagram and Facebook, YouTube is his main focus — and most of his course purchasers come from this platform. People simply click on his website link in his video description, select 'courses,' and are led to a simple checkout page which is integrated with Stripe and PayPal. "The process is like a well-oiled machine," he says.
Once students have completed a course, they go on his mailing list. Then, each time he has a new course, he sends an email to his students, who may choose to purchase it. He keeps his marketing simple, and focuses all of his efforts on creating valuable content that sells itself.
Offering payment options
His main course is sold at $359, and other, smaller courses, are priced between $100 and $149. "The majority of my audience is in India, and are middle-class families. I didn't want to charge a stupendous amount where people can't afford it," he says. 
To lessen the financial burden of purchasing a course, Raaj allows students to either purchase it in full or pay in installments. For example, if the student chooses to pay in two installments, then the first half of the payment will be taking the month they sign up, and the second will be taken the following month. People can divide their payments into as many as ten parts. "Then, they don't have to worry about paying a big chunk of money at one time," he says. 
"What I've found is that if you're wanting somebody to pay all at once, they're going to be a bit reluctant. But if you can allow them to pay in a few payments over a few months, people feel better. It's great to give people the option."
He also offers subscription courses, where students pay a fee each month to subscribe to a particular course or theme. "If you're not going to make new videos every week, then no, you shouldn't charge a subscription fee," he says. "But if your students are going to get a video and live feed from you a couple of days every week, then yes, you should charge a subscription because you're giving them your energy and time."
He also sells his books on Thinkific, and loves having all of his offerings in one place. 
Teaching in the same way you'd want to learn
When it comes to creating an online course curriculum, Raaj advises teaching in the way that you'd want to learn. This helps the delivery be as authentic as possible.
For Raaj, his course creation process is simple: he carves out two weeks to go into content creation mode for KRS Astrology, where he works nine hours a day, perfecting each lesson. While he's in the creation process, he doesn't tell anyone about the course he's creating. He says that this helps to take some pressure off of himself. Then, once he's uploaded all of his lessons, PDFs, tests, and certificates, he announces his course. "I upload everything first, so that they are able to learn at their own pace; if they want to finish the course in a day, they can. If they want to finish the course in two months, they can," he explains.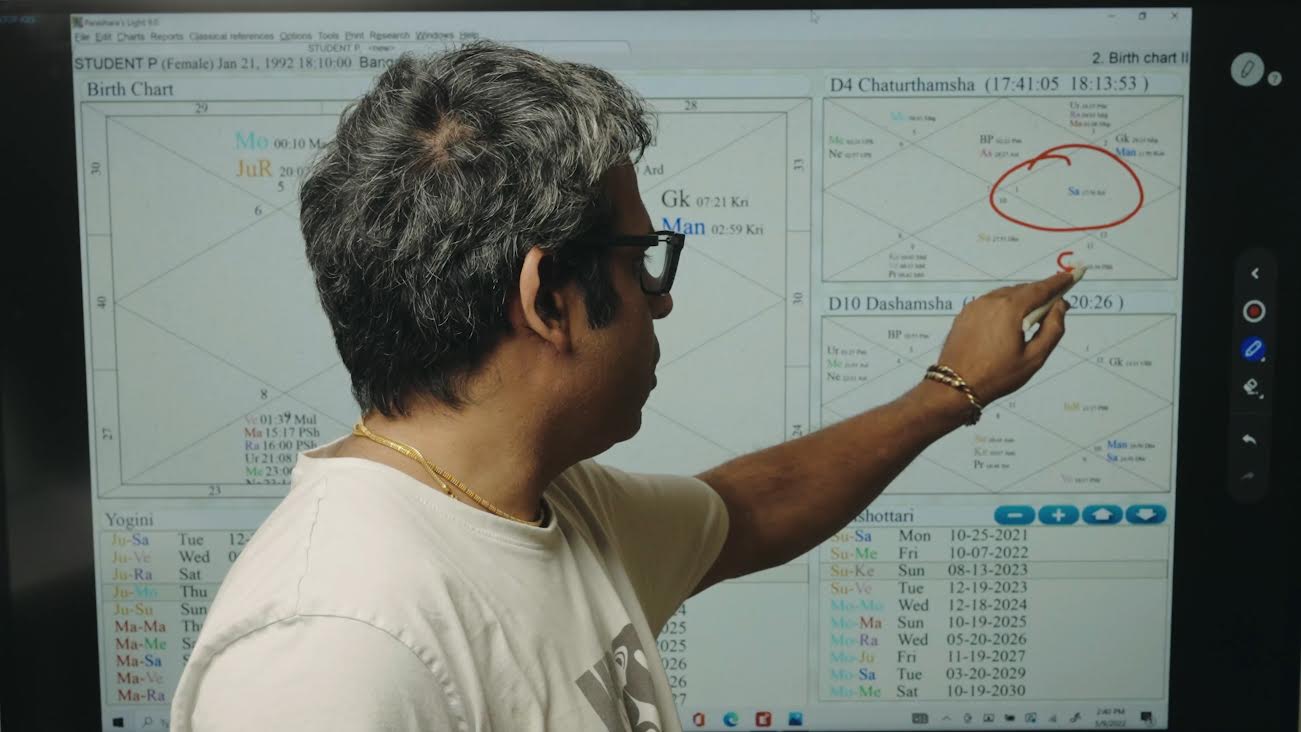 The first video he makes in every course is a welcome video. He shares his information step-by-step, or lesson-by-lesson, with the more complicated material coming later. "This is so that students have a strong foundation in the material and don't get turned off by thinking it's too difficult," he advises. "Start out easy and simple so that they want to learn more, and break your information down in the most clear and concise way possible."
Starting out with more simple information also improves the chances of course completion rates, according to Raaj. Plus, he provides a certificate of completion at the end of every course, which motivates students. "This gives them a sense of accomplishment," he says. "It provides a psychological impact and feels good."
He says his biggest challenge throughout his online course journey is the time required to create. "Although it's time-consuming, it's something you'll do once and then you'll have audiences coming in," he says. 
The power of being yourself
While passion has been a driving force in KRS Astrology's success, finding his niche has been one of the biggest contributors to his course sales. Like he mentioned earlier, he saw the "pothole on the street" which needed filling — and which could only be filled by his unique knowledge and approach to Vedic astrology.
"There is a niche for everything and everyone, and there are enough people out there in the world to follow you and join your journey."
His best — and simplest — advice? Be yourself, and share what you love. "You're not going to be successful if you're just doing it because you want some money on the side," he says. "You have to be so passionate about what you do that you will do it no matter what."