Millie Adrian is on a mission to teach aspiring social media influencers how to make money on Instagram. 
Her love for content creation started young; in 2008, she created a YouTube channel with her little brother, which lasted nine years. "It was just for fun," she says. "We made random videos, skits, spoofs, and tested different life hacks."
Once she landed a corporate job in her early twenties, she missed the creative outlet that making videos gave her — so much so that she decided to try her hand at Instagram blogging on the side of her 9-5. She positioned herself as a lifestyle blogger and posted "anything and everything," sharing photos related to fashion, food, travel, coffee, wine, books, and even her dog. 
Her account, @itsmodernmillie, quickly grew and soon she was getting asked all kinds of questions from her followers. They wanted to know how she was growing, how she took specific pictures, and how she got so much engagement. To give her followers the best possible answers, she decided to launch another YouTube channel. Soon, teaching about Instagram became her niche. 
View this post on Instagram
"My YouTube started to grow, my Instagram started to grow, and it created this whole snowball effect of helping more people," she explains. "I was just going to see which platform took off and then run with the platform that was successful. But they really just fed into each other naturally."
In October 2019, she quit her corporate job and became a full-time content creator. Since, she's  built an Instagram following of 117K, a YouTube channel with 246K subscribers, and — after launching online courses in 2021 — enrolled 600 students and generated over $400,000 USD. "Next year, I want to make seven figures," she says, beaming. 
Here are 10 ways she made multiple six figures in her first 16 months of selling Thinkific courses:
Skip ahead:
During her corporate role, Adrian created content for Instagram and Youtube on the weekends. This outlet began to reignite her sense of creativity, and soon she was craving more time for it. 
While she loved her 9-5 job, she began having a strong "gut feeling" that she was destined for more. "I couldn't sleep because something inside of me was telling me that I could dream bigger," she shares. "I knew there was more for me out there."
She decided to quit once she was consistently making at least half of what she made at her corporate job through content creation. "Everyone is going to have their different non-negotiables for that transition," she says. 
Once she achieved this goal, she left her job and stepped into the world of self-employment on October 4, 2019. With a hearty following and more time on her hands, she decided that the next step of her journey was online course creation. 
Now, Adrian has three Thinkific courses: The Modern Influencer, which is her highest-ticket course at $997 USD, Email List 101, which is her mid-ticket course at $297 USD, and The Reels Roadmap, which is her lowest ticket course at $97 USD. All of her courses teach people how to grow as an online content creator, but The Modern Influencer is her main focus.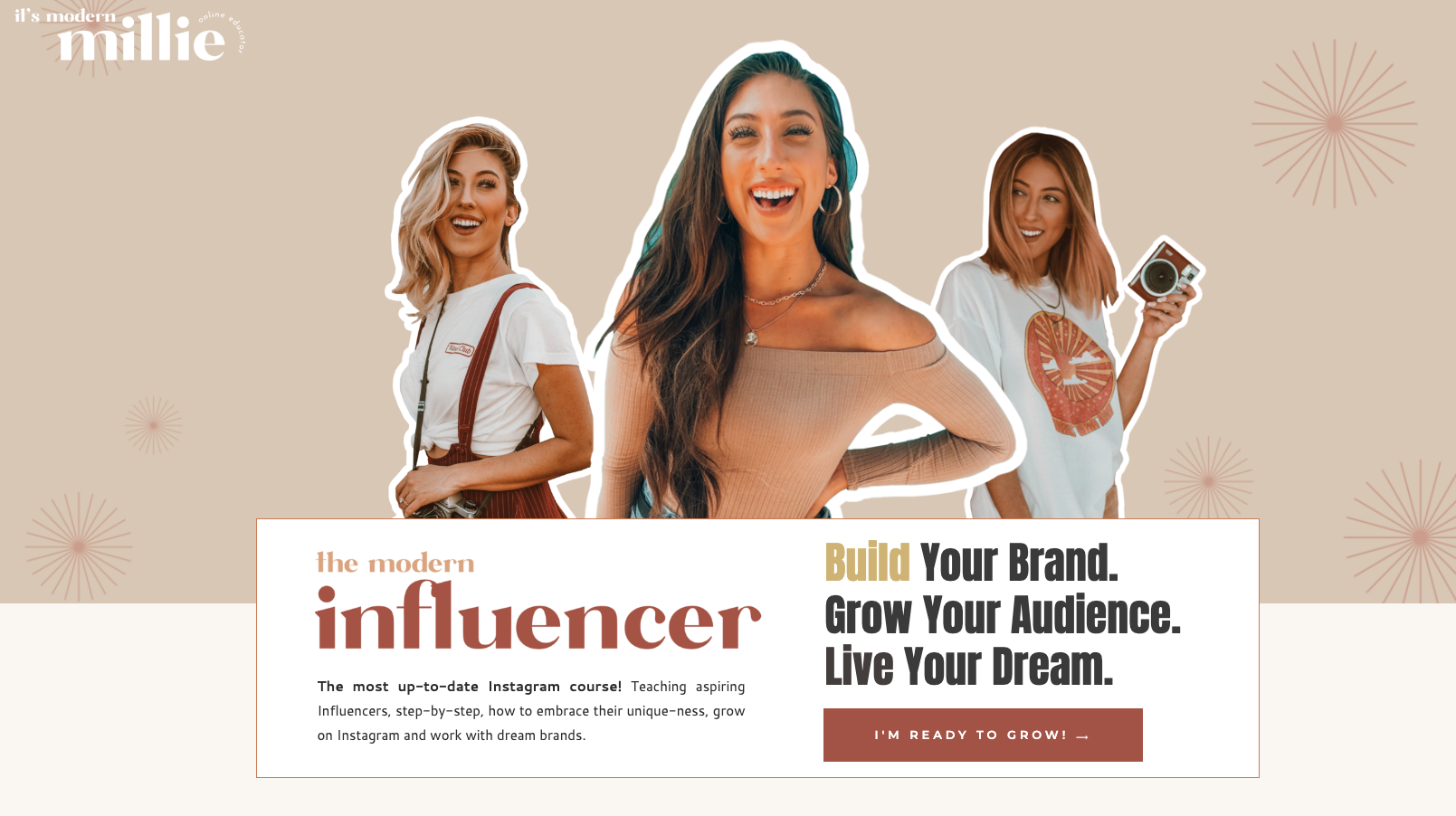 Originally, The Modern Influencer  — which she launched in July 2021 — started as a six-week group coaching call for $597. Then, she decided to turn the group course into a three-month, one-on-one coaching offer. But Adrian soon learned that she didn't have the capacity to teach hundreds of people one-on-one. She decided to turn The Modern Influencer into a pre-recorded course instead.
When looking for the right online course hosting platform, she was drawn to Thinkific;  she'd taken a number of online courses, and as a student, Thinkific was her favorite. 
"From the student's perspective, it's the easiest way to learn and the most straightforward."
Along with selling three Thinkific courses, she now offers extra resources that she upsells at checkout to increase revenue, such as Pitch Email Templates, Pitch Slide Deck Template, Media Kit Guide, and 100+ Caption Ideas. 
When it came to pricing The Modern Influencer, she did market research; she wanted to know what other creators were charging for similar courses, and compared her content to theirs. "I looked at what they were teaching, and what I was teaching more of," she says. 
"I could never find a course that taught both Instagram and brand collaborations, and mine bundled the two together," continues Adrian. "That's how I was able to gauge the right price."
She ended up charging higher than her competitors, because she believes that there is room for everyone to succeed. She integrates PayPal and Stripe into Thinkific for easy payments.  
Adrian crafted her courses not only on what she wanted to teach, but on what other courses were missing. 
She asked her audience how many of them had taken a course on Instagram, and what information they wished they'd learned but didn't. Next, she created The Modern Influencer's curriculum by "brain-dumping" everything she knew onto sticky notes. "The table was a disaster of sticky notes," she laughs.
She organized the sticky notes from A-Z, covering everything needed for somebody to go from knowing nothing about Instagram to becoming a full-time content creator. Each A to Z topic became modules, and other sticky notes became lessons. While she says that the course is mostly Instagram-focused, it's always evolving; every year, she adds more and more lessons. Plus, she can see herself adding lessons on YouTube and TikTok, since that's what her audience is asking for. 
All of her courses are delivered in a few mediums; she rotates between videos of her talking, slide shows, and screen recordings.  "It really just depends on the topic and how I think the student will best digest the information," she says. 
Plus, her content is entirely pre-recorded, with no live portion except for the occasional Q&A session that she hosts in her Facebook group. 
Her Facebook group is where The Modern Influencer students are added. They have lifetime access to the group and it provides a platform in which they can continually ask questions about content creation. 
Aside from the Facebook group, she says she's played around with a few ways to keep people engaged in The Modern Influencer; she's currently considering creating a Modern Influencer certification that shows that they've completed the course and are certified influencers. Plus, she wants to connect those who've completed the certification to brand deals on a PR list. "I don't want to be an agency, but I just want to give people that next step," she says. 
She also wants to give her students the chance to become affiliates for the course, meaning that Adrian will give them a percentage of the course price by referring other people. "Those are a few ideas we're playing with, and we want to have solid strategies next year," she explains.
Her audience is aspiring influencers — in other words, content creators who want to be the face of their online brand.
"I don't work with businesses or anybody who doesn't want to get in front of the camera, because a lot of the strategies I use is how to create a personal connection with your audience on camera," she says. 
Like her students, building Adrian's audience took stepping outside of her comfort zone — but, as she says, "you don't grow from places of comfort."
She says she built her audience through investing in herself and her learning. "For a long time, I was taking those free webinars and studying what other people were doing," she says. "I immediately saw transformation when I started buying online courses that would give me the results I wanted."
Her number one tip to help content creators build their following is to be generous with what they want to teach; she strongly believes that creators should avoid being gatekeepers of information.
"Don't hold back what you know, be generous with the knowledge that you have.Once I said 'screw it' and just started teaching everything I knew without the intention to get paid, my audience found me."
Rather than getting intimidated by fancy sales funnels, Adrian decided to keep it simple. 
A few months before she launched The Modern Influencer, she created a waitlist using a Google form and put the link on her website and all of her social media platforms. Then, once she launched her course, she had a warm audience of people who were waiting for her email. 
She recommends that course creators avoid letting sales funnels scare them; rather, she advises that they create a simple funnel like a waitlist so that they can generate leads and have people ready to buy their course once it's launched. 
Now, Adrian's sales funnel is a little more extensive and she offers free resources that correspond to each of her courses. "When somebody downloads that freebie or engages with it, they're then put into an email automation where it'll upsell them eventually with those emails," she explains.
For The Modern Influencer, she has a 60-minute webinar that teaches the 100-day Instagram roadmap — i.e. everything people need to do to hit 10,000 followers and make $1,000 in 100 days. At the end of this free training, they're upsold the program.
With the Email List 101 course, she has a free, ten-page download that teaches people how to start, grow and serve an email list. Then, for The Reels Roadmap course, she has a freebie that teaches people how to increase views, capture attention, and get their reels to go viral.
Although Adrian's business has grown rapidly, it came at a cost: her mental health. 
Despite building her dream job, she was caught in a pattern of overworking. "I worked every waking hour of every day," she says. 
After suffering from panic attacks and burnouts for several months after her first course launch, she decided to hire a team to help her run the backend of her business. "If I'm not making content, my business dies," she explains.
Now, she has a digital business manager, a funnel strategist, an engagement and community specialist, a virtual assistant, video editors, a brand collaborations manager, an SEO person, and a Pinterest manager. Since hiring a team, she's been able to set more personal and professional boundaries around self-care. The result? More freedom to focus on creating content rather than being in the weeds. "I've had to learn a lot about myself to not hit those tipping points again," she says. 
One of the most important things that Adrian learned throughout her content creation journey  — and burnout experience — is that it's a marathon, not a sprint. She recommends that other creators apply this mindset, too, especially when it comes to avoiding burnout and creating a business with longevity.
"You're in it for the long haul," she explains. "You don't need to see results right now, nor do you need instant gratification."
In fact, she advises creators to work on their business everyday in little, bite-sized pieces. "It doesn't have to all happen at once," she adds. "This is the long game. If this is what you want to do, get 1% better every day. When you do it just one piece at a time, in three years, you're going to see so much more success than anybody who tried to do it all at once."
So far, her biggest achievement is getting her YouTube Play Button — an award honored to the platform's most popular channels. "It was a full circle moment of my journey," she says, smiling. "I wish I could go back in time and tell 12 year old Millie that those dreams she had in her heart could happen."
Another thing she wished she could go back in time to tell herself is to trust the process. To other aspiring online creators, she recommends that they focus on the results that come from slow, steady progress. "Don't think about how long it's taking you," she advises.
Feeling inspired? Check out more creator stories here.
Sign up to the newsletter for more creator story inspiration.