Have you heard? We're just days away from our 2021 Think In Color virtual summit. Founded with the mission to drive forward inclusivity in online spaces, Think In Color is more than just an event—it's an experience that's welcoming of everyone looking for a supportive community while building a digital business. We believe in creating a platform for underrepresented digital entrepreneurs to share their experiences and unique entrepreneurial journeys, and we're looking forward to hosting this event (three years and counting).
From tips on securing your very first brand partnership to staying on the right track while navigating your entrepreneurial journey, the Think In Color virtual summit has a ton in store for you. Keep reading to learn about our inspiring panel of experts and some of the topics that you can look forward to deep diving into during the Think In Color virtual summit from July 27th-28th! We promise you're not going to want to miss this.
---
'Securing Your Very First Brand Partnership'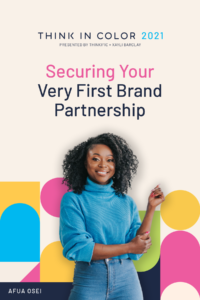 Forget what you've seen on the internet. You do not have to be famous or an influencer to work with your dream brands. As a coach, expert, or entrepreneur, you can add brand partnerships as a solid and consistent source of revenue for your business. All you need is the ability to solve problems, position yourself for opportunities, and a strategy to turn that into deals. Join this action-packed session to learn how to create a plan that works for your brand and doesn't require 24/7 social media posting.
About the Speaker
Afua Osei, Partnerships Strategist
Afua Osei is a Partnerships Strategist helping coaches and entrepreneurs build the skills, systems, and confidence to work with their dream brands. As a Co-Founder of She Leads Africa, Afua built the team and relationships to generate nearly $1M in corporate revenue through innovative brand partnerships with global brands such as Facebook, Google, Unilever, Visa, and L'Oreal.
3 Takeaways
How to position yourself as a coach or an expert that can add value to a brand partner
The best way to find your next client and present an offer that works for both sides
The dos and don'ts of effective negotiations to help you get what you're worth and maintain long-term relationships
---
'How to Position Your Course as a High-Ticket Signature Offer'
Want to create a high-value course but don't know how to get paid high-ticket prices for it? This session is just for you. It'll walk you through how to structure your course so that it demands high-ticket prices. Plus, you'll learn how to position yourself to be paid high-ticket prices and diversify your income streams from your course.
About The Speaker
Candace Junée, Digital Marketing Maven & CEO of Epic Fab Girl
From foreclosure & repossession to 6-figures during a pandemic, Candace Junée helps hundreds of women achieve 10k+ months using her 6 Figure Marketing Maven Method. Collectively, these women have generated multiple millions and COUNTING. She is also the founder of Epic Fab Girl, a membership that equips Christian Women entrepreneurs through Go-Getter conferences & podcasts. Named a top Social Media expert by Later Media and 2020 Entrepreneur of the Year by Black Christian Influencers, Candace shows that it's completely possible to love God, inspire others, AND secure the bag.
3 Takeaways
How to Create a Course of Value that Demands High-Ticket Prices
How to Market Yourself and Position Yourself to Sell a High-Ticket Course (no matter your audience size)
How to Leverage Your High-Ticket Course to Generate Multiple Streams of Income
---
'Supercharge Your Marketing Funnel'
Ready to convert your audience into engaged clients and customers? This deep dive session will explore how to curate a funnel that will attract, qualify and convert your prospects into excited students for your coaching program or course.
About The Speaker
Kyshira S. Moffett, Certified Success Coach
Kyshira S. Moffett, MBA, is an award-winning serial entrepreneur, international board-certified coach, and author. She specializes in helping ambitious women entrepreneurs package their expertise into high ticket coaching offers, brand their influence, and monetize their online presence.
3 Takeaways
A clear understanding of what a marketing funnel is and how it differs from daily marketing efforts.
The must-have components of a funnel (that converts).
How to qualify prospects throughout marketing funnels.
---
'Cohort-Based Learning: The Future of Courses'
After a long, lonely year, students are craving community more than ever. Cohort-based learning not only fills that void but also provides an optimal learning experience for many. Hosting a cohort-based course is different than creating something self-paced. Learn how to use Thinkific to fuel your next cohort-based course in this session by award-winning creator and marketer Latasha James.
About The Speaker
Latasha James, Online Educator & Content Creator
Latasha James is a marketing strategist, digital content creator, and coach. Throughout her career, she's worked in-house for nonprofit organizations, tech startups, and multiple Fortune 500 companies. Latasha began freelancing while obtaining a degree in Film, Video, & Media Studies and now owns a marketing company called James + Park.
3 Takeaways
Understand the value of cohort-based learning
Learn how to create a cohort-based course with Thinkific (share features like Live Lessons, Communities, Assignments, etc.)
Learn how to adjust your teaching style to fit a cohort-based model
---
'Selling with Intentional Video Content'
Creating digital products and services is only part of growing your online business. Video content isn't only King (or Queen); it's statistically proven to increase sales. In this session by Host and Video Expert Xayli Barclay, you'll learn how to create engaging videos that help sell your products and services like never before.
About The Speaker
Xayli Barclay, Host + Founder of Start Shoot Grow Academy
Meet one of Thinkific's most in-demand experts. XayLi Barclay is a Visual Content Creation Coach & Thinkific Expert for Online Course Creators. She specializes in helping entrepreneurs stand out, market, and sell with Video Content.
3 Takeaways
4 Main Things you Must Know before you get on Camera to Sell
Best Types of Videos for Selling and Why
The Key to Successfully Structuring a Video to Sell Your Product/Services
---
'Build a Live Streaming Strategy That Drives ROI'
Live streaming has become an essential tool for marketing campaigns and driving ROI from your business. From product launches and behind-the-scenes peeks to large-scale virtual events, live streaming creates rich, one-of-kind experiences that reach consumers globally across social media. Grace Duffy, Video Content Manager and Live Streaming Evangelist at Restream.io offers a detailed look at how businesses and entrepreneurs can fully leverage live streaming to drive leads and generate sales. She is joined by Tina Brinkley Potts, Fei Wu, Andréa Jones, and Shelly Saves the Day, offering real-world experience and advice on how to use live video to grow their businesses.
About The Speaker
Grace Duffy, Video Content Manager, and Live Streaming Evangelist at Restream.io
Grace Duffy is the Virtual Events Manager at Restream. She oversees their involvement in industry events and looks after a phenomenal line-up of live streaming experts on the Restream channels.
3 Takeaways
Tips on using live video to help businesses captivate, connect, and build trust with their audiences
Learn ways online business owners use live streaming to drive lead generation and sales
How to create a fully branded and professional live video experience right in your browser
---
'Owning Your Niche: Why Narrowing Your Focus is the Best Thing You Can Do For Your Company'
Digital media is a crowded world, so you have to be able to stand out. This session will show you how to cultivate a loyal audience by narrowing your focus, playing to your strengths, and letting go of the pressure to try to reach everyone and cover everything. Drawing from the experience of scaling The Financial Diet to be the #1 YouTube and Instagram channel in its niche, this session will leave you with tools to help you figure out your unique strengths.
About The Speaker
Annie Atherton, COO of The Financial Diet
As a partner at The Financial Diet, Annie has helped scale the company to become the largest digital publisher devoted to educating young women about money while remaining independently funded.
3 Takeaways
How to evaluate your competitive landscape
How to narrow your focus by determining unique strengths and offerings
How to make a plan for differentiating yourself from the pack
---
'Magnetic Memberships: How to get your members to STAY and engage!'
In this session, Isis Breanna will teach you how to go beyond attracting new members to your membership. You'll walk away with the strategies you need to keep your members engaged and excited so they will still be around forever!
About The Speaker
Isis Breanna, Business Coach
Isis Breanna coaches her audience on building a digital community that converts to loyal customers, creating content and digital products that sell and implement social media branding, marketing, and monetization techniques!
3 Takeaways
How to keep your membership engaging
How to keep members from leaving
How to figure out what your members need/want
---
'How to Monetize Your Mission in Multiple Ways'
So, you know your mission, but you're not sure how to monetize it? This session shares strategies to identify your mission, monetize your mission and discover new ways to reach new clients and customers. You'll leave with tips, tricks, and tools to take action.
About The Speaker
Koereyelle DuBose, International Speaker & Educator
Koereyelle is a Serial Entrepreneur and Educator who teaches women how to stop living paycheck to paycheck by starting multiple income streams. Koereyelle is on a mission to help women uncover their purpose, prioritize their life and profit from their passions. Her motto is, "You already have everything you need to get everything you want; you just have to WERK for it."
3 Takeaways
Identify the mission your business upholds
Understand diverse ways to serve your audience
Create an outline for new streams of income
---
'Accelerate Your Online Business With A Profitable Course'
As speaker Destinee Berman perfectly worded it, "You can't grow until you start." Turn your calling into a profitable course and go to market with the CLASS Method— Detinee's tried and true method for bringing your online business to the next level.
About The Speaker
Destinee Berman, CEO & Founder Destinee Berman, LLC
Destinee Berman is a course marketer who specializes in working with entrepreneurs and educators. Through her programs, she has taught hundreds of students in 23 countries across the globe.
3 Takeaways
Identify what offer you want to go to market with (existing or new)
Define your go-to market strategy (including timing
Get clear on your audience for your course
---
'The Copycat Curse: How to Avoid Infringement as a Digital Product Creator'
This workshop will arm you with the knowledge every content creator and digital entrepreneur needs when it comes to creating & protecting your valuable intellectual property. Don't know what IP is? Don't worry – Yasmine will be giving you the rundown in a way that is easy to understand and apply directly in your business. This session is a must for all entrepreneurs who share their knowledge & expertise in the form of a course, ebook, membership, program, etc.
About The Speaker
Yasmine Salem Hamdan, Founder of Coaches & Company
Yasmine is an intellectual property lawyer and the Founder of Coaches & Company. Based in Dallas, Texas, Yasmine is a speaker, writer, podcaster, and lover of all things business strategy.
3 Takeaways
What is intellectual property, and why does it matter to me as a content creator?
How to avoid infringing on your content creation/digital products
How to protect your original IP as a content creator
---
'Positioning Yourself as the Go-To Person In Your Industry
Press and media are great ways to develop social proof for your business and get your name out there, but how do you find them, and better yet, how do they find you. We will discuss how to get their attention and how to capitalize off of media opportunities.
About The Speaker
Tonya Rapley, Millennial Money Expert & Founder of My Fab Finance
Tonya Rapley is a Millennial Money Expert, founder of My Fab Finance, and co-host of the award-winning series Going From Broke, executive produced by Ashton Kutcher.
3 Takeaways
How to get the attention of media outlets
How to wow during media interviews
Tips on leveraging media appearances for growth in your business
---
'How to Design Your Online Course'
If we're all starting from the same templates, how do you make your course not look like everyone else's? Puno will walk through how she approaches design for her online courses and how you can create a course that stands out from others.
About The Speaker
Puno, Founder of ilovecreatives
Puno is the Founder of ilovecreatives and Executive Creative Director of ilovecreatives.Studio. You can also find her hosting Girlboss Radio and doing photoshoots with her cat.
3 Takeaways
Learn how to mood board like a pro
Tips on identifying your brand elements
Everything you need to know about investing in the right design partner
---
'Digital Disruption: 3 Ways to Make MORE Money, Bring Meaning and Craft Your Message for Your Million Dollar Payday'
Have you ever asked yourself, "How do I make this online thing really work for ME?" Great! This is the perfect rapid-fire session to shape how you disrupt the market and make sure all eyes are on you because, baby, it's your time. If you're ready to lead your online business to serve your client more powerfully, master the ONE THING in messaging (that your competition is afraid to do) PLUS make more money doing it all, then this is a session you must attend live.
About The Speaker
Allyson Byrd, Founder of the Profit Accelerator
Celebrated as one of the world's most trusted leadership advisors and sales experts for entrepreneurs and small business owners, Allyson Byrd and her team of masterful facilitators have coached over 3000 entrepreneurial leaders to create over 105 million dollars in NEW revenue in the past 8-years. Allyson's work behind the scenes gives her clients the spotlight they deserve. She has just the right mix of education, motivation, and – most importantly – vision to help take businesses to the next level through her distinctive method of accelerated profit strategies.
3 Takeaways
How to serve your clients to the best of your ability
Learn to craft your messaging and stand out amongst your competitors
Ways to make more money (and continue to do so)
---
'How to Stay on Course to Pave your Unique Entrepreneurial Journey'
Learn how Glo Atanmo turned her passion into a profitable business. During this session she will be sharing her journey as a digital entrepreneur and the most important lessons she's learned along the way, including her mindset!
About The Speaker
Glo Atanmo, Keynote Speaker + Creative Educator & Travel Influencer
Glo Atanmo is a Motivational Speaker, Creative Educator, and Founder of The Social Educators Academy. She teaches people how to use their platforms to make a difference and a living online. After venturing to over 85 countries across six continents, her digital storytelling has landed her in Oprah Magazine, Forbes, Conde Nast, BBC, and more, but she desires to spread joy that makes her energy most infectious. In her spare time, you can find her quoting "The Office" or advocating for more naps.
3 Takeaways
Learn Glo's tips and tricks on overcoming mindset blockers so you can lean into your passion and monetize your life purpose
Get insight into common mistakes creators make when launching their digital courses
Learn how Glo went from completely broke to thriving digital entrepreneurs by leveraging her travel and digital products and how you can too
---
Think In Color is a 2-day virtual event designed to help entrepreneurs and creators from underserved communities navigate the ever-evolving digital landscape. Join us and our panel of inspiring women of Color to share their personal stories, insights, and advice for entrepreneurs looking to gain success with their digital business endeavors.
You'll get access to 20+ expert masterclasses and interviews. What are you waiting for? Secure your spot today!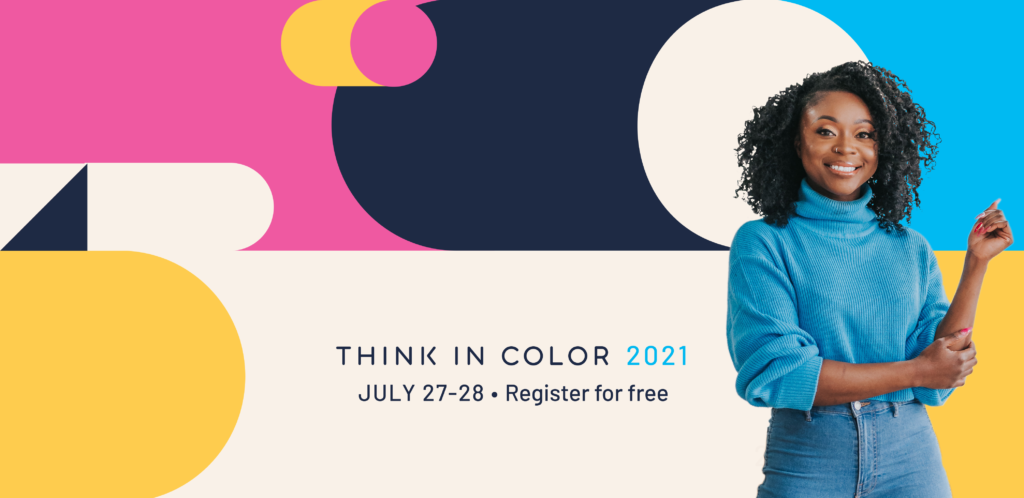 More from Think In Color Speakers: