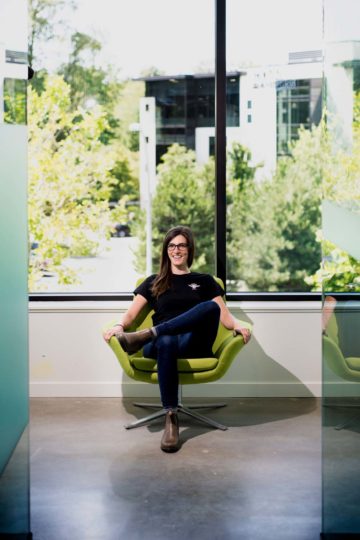 From pilot to online course instructor
Kate Klassen is the Co-founder of Coastal Drone Co, a company providing training for those looking to fly drones in Canada. Using Thinkific they train thousands of students to become knowledgeable and certified drone pilots.
As a former airplane pilot, Kate channeled her knowledge of aviation into the drone industry. She created online courses to cater to different levels of drone certifications in Canada. By teaching online, Kate is able to reach more students, earn more income, and achieve more location and time freedom as an instructor.
Coastal Drone's popular programs include the Basic Pilot Certification for hobbyists or those starting out, as well as the Advanced Pilot Certification for full-time or advanced drone professionals.
QUICK STATS
1,800+
STUDENTS
10+
COURSES
2
CERTIFICATION TRACKS
"My background has been in in-person teaching. I really enjoy that because I like the interaction that you get with folks. But I was getting too tapped out trying to deliver the courses in person across Canada."Kate Klassen
Moving from in person training to online courses
HOW IT BEGAN
Before courses, Kate spent a lot of time coaching students in person and travelling between training destinations. She would often spend three days with a student cohort covering as much content as she could before moving to the next location. While Kate enjoyed the personal interaction with her students, she found it challenging to deliver the level of in-depth training she wanted.
Kate was looking for a new way to offer the training that would reach more students at a time. She also wanted to provide more tailored coaching to students who had specific questions throughout the program. 
To help reach these goals, Kate decided to create an online course. Kate converted her training material into videos and slides for her online course, and launching her first course in 2017.
"We've started getting a lot of inbound sales, and it's been great to point them right to our courses and say, 'choose the course right for you, go through it as you need to.' Having the course so accessible has been a big weight off my shoulders."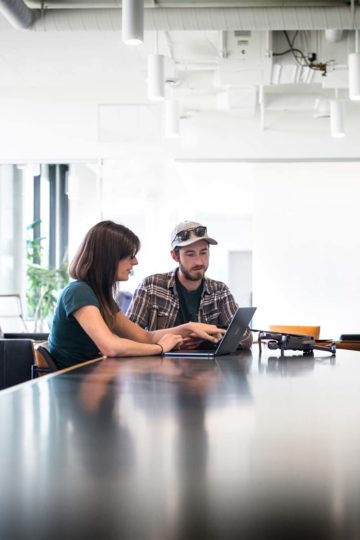 Choosing Thinkific to launch an online drone flying academy
THINKIFIC AS THE SOLUTION:
Hosting the online courses on Thinkific make it easy for Kate to update the content in her curriculum anytime. As Canadian drone regulations evolve, Kate wanted the ability to update and deliver her training to past, current and future students – online courses make this easy.
Coastal Drone offers two categories of courses: Basic and Advanced. No matter what level students are going for, each course includes presentations that cover key theory concepts for exam prep, as well as videos that demonstrate hands-on skill requirements.
With each course chock full of dense regulatory information, online courses give students the ability to start, stop and digest material at their own pace. This has helped students better retain the material as they progress through the content, without taking any more training time from Kate.
"When we looked at the course a year ago, we were just hoping that maybe it could allow us to break even each month and cover expenses. If you had told me that in a year it would be doing what it's doing now, I would never have believed you! It's gone so well and above what our expectations were." Kate Klassen
Reaching more students, revenue, and impact with online courses
BUSINESS GROWTH WITH THINKIFIC
Since launching courses on Thinkific, Kate is able to train more students, earn more income, and operate her business from anywhere without missing a beat. 
The courses have brought in more revenue than she ever expected, and have helped positioned Coastal Drone as a leading educator in the Canadian drone industry. 
Coastal Drone is working towards serving more students and expanding their training available. With more time to reinvest back into the business, Kate's vision is to create a safer drone industry by training the next generation of pilots.
Kate's favourite Thinkific features
Easy content upload and edits
CONTENT MANAGEMENT
Kate can easily create and add new videos and lessons each week, updating courses and lessons while on the go. This enables her to keep her curriculum up to date in the midst of changing drone regulations in Canada.
Transformative learning experiences
STUDENT EXPERIENCE
Coastal Drone's students can pace themselves as they work through in-depth airspace regulations on slides and worksheets Kate has prepared. For skills that require a hands-on demo, Kate can easily pre-record footage and drop it right into a related lesson.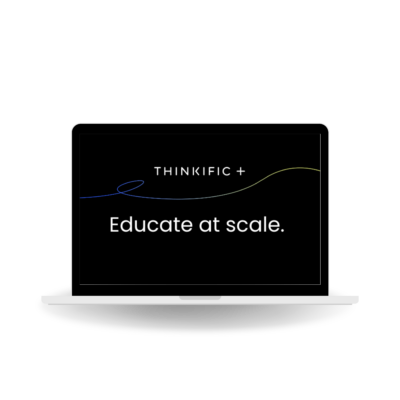 Grow with Thinkific Plus
Thinkific Plus is a powerful, scalable learning platform that's also remarkably easy to use—for your team and your customers. You get more than just enterprise-grade features that scale with you as you grow. You also get a team of people seriously dedicated to helping you reach your goals.