Alua Aruthur's unconventional founder journey started on a bus in Cuba. Shortly after being diagnosed with clinical depression and quitting her legal career, Alua found herself sitting next to a fellow traveler who had terminal uterine cancer. Little did she know, but the conversation that unfolded between the two of them would change the course of her life forever.

"I asked her a lot of questions about death — the type of questions that you wouldn't ask a stranger, but she was so open with me. We talked for hours about what she feared, what she didn't want to leave behind, and what she wished she would have done differently during her life," Alua recalls.
"Coming away from that exchange, I kept wondering why I hadn't engaged in a meaningful conversation about death in my 34 years of living. The more I thought about it, the more I was like, 'I want to do something about this.'"
Upon returning home to the United States, Alua threw herself into trying to find ways to support people in their end-of-life transition. Coming from a law background, she knew that she didn't want to go into medicine or social work. Although psychology wasn't exactly what she wanted to do,  she decoded to enroll in a psychology program that focused on death and spirituality. Yet shortly into her degree, her brother in law got terminally ill.
"I was able to support him through the last two months of his life. I was there day in, day out — sitting on the couch, sleeping on the floor, running errands, picking people up from the hospital, getting medications, and trying to do research," she says.
"I found myself feeling increasingly frustrated that there wasn't somebody I could just call who would have these answers for us, or at least somebody outside of our circle of support who could acknowledge and validate how difficult what we were going through was. In those moments, I decided that if I couldn't find it, I was going to make it."
This realization planted the seed for Going with Grace, a death doula training and end-of-life planning organization that aims to improve and redefine the end-of-life experience using individual lived experience as the foundation.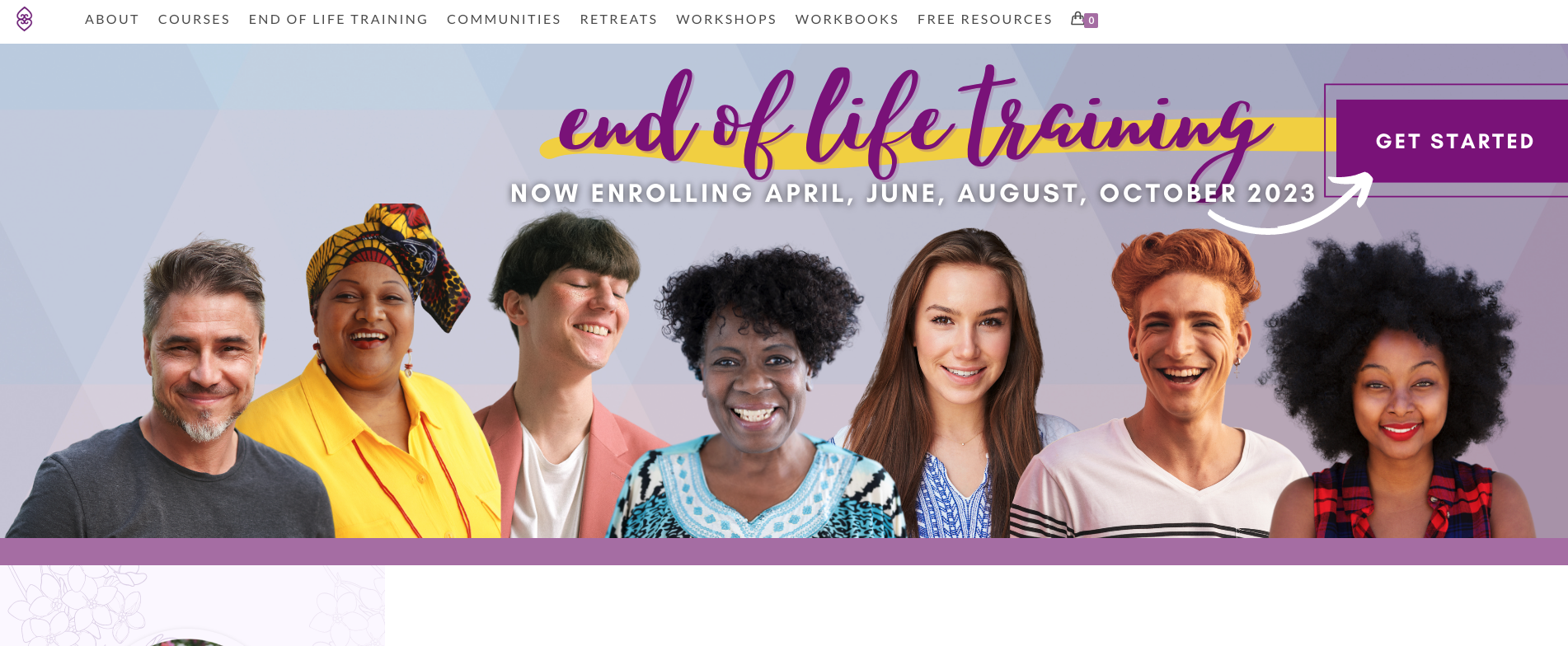 Alua has since welcomed over 1,800 students into her 'End of Life Training Program', gained over 15,000 newsletter subscribers, and generated $2.5 million in revenue. Here's how she did it.
Skip ahead:
She channeled her personal experience into her company's mission
From day one, Alua has been intentional about allowing Going With Grace to originate from a personal place. She believes that even though many people try to separate the personal from the professional, they're one and the same.
"How you show up in your personal life is going to reflect how you show up in your professional life. For me, this has always been a very personal mission — I wanted to rectify what I had struggled with during the end-of-life support process. Going With Grace was born out of that place."
Alua's personal experience has allowed her to step into the shoes of her audience in a unique way — she understood all of their needs before they even came across her offering.
"The end-of-life process is so isolating. My main hope was to help people not feel alone while they work through their struggles. It's hard enough, even if you have the best doctors and the best support system — it's crushing."
She continues: "The mission of Going with Grace is to help people answer the question, 'What must I do to be at peace with myself, so that I may live presently and die gracefully?' Whatever someone's answers may be, we support them — sometimes it's about healing their relationships, sometimes it's about talking through their fears of death, sometimes it's trying to figure out the values that they want to live by. That's our focus."
She remained consistent in her organic, personalized messaging
When it came to translating her personalized messaging into a marketing campaign, Alua stuck to her roots. She built her online presence with one goal in mind — to create permission for others to talk about death and grief in an authentic way.
"When I realized this type of space didn't exist, I was determined to facilitate it because I was convinced that somebody else was looking for it. Maybe it was just one in a million, but surely, somebody had experienced something similar to me," she says.
"As a result of that thought process, my marketing happened really organically, and I think that's why people resonated with it so deeply."
Yet Alua realized that her organic messaging could only go so far without consistency.
"When something is sparked within someone, that's worth something. The size of that spark is not up to you — but it is up to you to fan the flame. If you keep passionately and authentically talking about the same thing, eventually they'll come around."
During her initial rollout, Alua also came to understand the importance of having an authentic personal brand. Originally, she wasn't even aware that she had a public perception, yet through honing in on her voice, she was able to level up her credibility and marketability.
"One of the key elements in marketing and branding is to stay authentic. I'm not a soft spoken, demure, human, yet people often believe that we have to whisper and tiptoe around the topics of death and dying. By being unapologetically myself, I attracted my community."
In her early days, Alua started posting one-minute videos on social media that delved into her personal experience, her mission statement, and the online course she was starting to develop. Before she knew it, Alua had pre-sold 57 subscriptions before she had even started building the course. Not only that, her 400-strong email list started growing exponentially.
"I genuinely thought that maybe 10 people would register. In that moment, I realized I actually had to commit to this."
She fleshed out her course structure in an actionable way
After establishing her audience, Alua started to wrap her mind around the daunting process of developing her first online course — 'The Art of Dying'. Like many course creators, she formed a skeletal framework that she fleshed out module by module.
"It was really helpful to think about the blocks of information that my students needed at certain points throughout the course. I would think to myself, 'Here's the foundation. Here's the next step. If we're going here, what do we need in order to get there?'" I would continually keep the course's overall goal in mind, and then break down the modules into bite-sized chunks," she explains.
This framework eventually took form in an actionable way — Alua was able to break the course down into three core parts. The first segment lays the foundation of 'What do death doulas do? What is the role of medicine? What are the signs of dying? Why do we need to bring attention to our own death?' The second segment delves into natural death care, funeral home logistics, and funeral legacies and rituals. Finally, the third section puts all these aspects into practice.
Alua has since developed numerous courses using this framework, all with completion rates of 76% and an overall rating of 4.9 stars. She believes none of this would have been possible without Thinkific.
"Thinkific is what truly brought my vision to life. In those early days, I searched a lot for an online course platform, and none of them were easy or accessible enough. I'm such an analogue girl — I don't know how to change the ringtone on my phone, but Thinkific was not only simple, but highly effective. It's how we got to where we are today." she says.
She incorporated her authentic voice into her courses
In addition to rolling out this effective course structure, Alua has been intentional about allowing her personality to permeate her online course offering.
"I tell a lot of stories about the clients that I've worked with, so that my students can learn about the practice in real time. I'm intentional about talking directly to the camera, and I refrain from keeping my personality at bay," she says. 
"I believe my video courses can be a beautiful snapshot in time of my work and who I am as a person. I released 'The Art of Dying' in 2018, and four years from now, I might be a completely different person than who I was then. So when I'm creating my courses, I refrain from marrying myself to what I feel in the moment, while also loosely holding onto what the future could be."
She prioritized community when diversifying her revenue streams
Alua has also placed great emphasis on celebrating community, both inside and outside of her course structure. Through leveraging the power of study groups, she has been able to naturally expand her revenue streams.
"One of the best things about our courses is that we have the material online, but then we also have weekly group study sessions where people discuss things on Zoom in real time. They're able to process their discussion questions which not only keeps them engaged, but fosters a deeper sense of community. They get close to each other, they build relationships — ultimately, I've just been creating space for them to do what they would naturally do anyway."
She continues: "I'm simply following the breadcrumbs where they already exist. For example one of my students got married not that long ago, and seven people from their online course were present. To me, that shows the true power of what we're doing."
Outside of her online training, Alua has created various community-driven initiatives to support her business model. 
"Another big part of our income stream is our Death Doula Den — it's a membership community where people gather to talk about death and dying. We also host separate Zoom calls where we talk about 'hot button issues', and provide support that way," she says.
"Ultimately, we have communities for people who are seeking services themselves, and communities for people who are seeking to learn how to provide services to other people."
She overcame the main hurdle course creators face
When looking at Going With Grace's success to date, Alua is very transparent about how she has struggled to overcome various obstacles throughout her course creator journey — yet, these struggles have made her stronger on both a personal and professional level.
"The biggest leap I have ever taken was hitting the 'Publish' button on my first Thinkific course. I sobbed hysterically when I pressed it. All I could think was, 'Oh my god, what have I done? Who do I think I am? Why would I do something like this?'"
Now, several years down the line, Alua has a few words of advice she would tell herself in that moment:
"The best thing you can do is silence the voice that says, 'It's not possible. 'You're not good enough. You're not worthy. You don't know what you're doing.' Dismiss those thoughts and keep pushing because somebody out there needs what you have to offer. Take the leap — it 's not going to be perfect, it's probably gonna be really messy and embarrassing to look back on in a few years, but it's a million times better than doing nothing at all."
Inspired by Alua's story about building a thriving online course business? Ready to take the leap yourself? Sign up for Thinkific and start today.