Making the customer a hero is at the masthead of ActiveCampaign's core value set. We are a customer-obsessed organization — our customers' success drives everything we do, and we're laser-focused on helping our customers achieve their goals and become the marketing hero of their own organization. 
That's why when the Education Team at ActiveCampaign decided to move the online training program to a new platform, they did so with four main requirements in mind:
A solution that would scale as the organization grew

A seamless integration with ActiveCampaign in order to pass key data between the ActiveCampaign CRM and the online course platform

The ability to track the user journey through the online course platform and take action at key points in the customer journey

Single Sign On (SSO) capability so that users can get the answers they need, right in the ActiveCampaign platform
Our goal with finding the right solution is to enable our users to learn, create, engage, listen, and deliver unique, personalized experiences, to every one of their customers, at every stage of their business, regardless of geography or language. 
As the Education Team at ActiveCampaign began evaluating solutions, Thinkific was able to check every box. Below is our story on how the Thinkific for ActiveCampaign integration powers different learning experiences at ActiveCampaign. We hope this inspires you to leverage the power of our interconnected app ecosystems to solve your unique business challenge. 
Choosing a plan that scales
ActiveCampaign is one of a handful of Thinkific clients who need a multi instance approach to a cloud-based learning software, where courses and design or copywriting is structured differently for customers, partners, and internal affiliates. 
"In 2019 we started to see companies getting to the point where they had this need to provide unique course content for different use-cases," commented Thinkific Solutions Engineer, Matt Griffith. "So we targeted that group of Thinkific customers with a more sophisticated solution, and solved for this growth requirement by offering Thinkific Plus." 
Thinkific Plus enables organizations to set up more than one instance, or ActiveCampaign Education Team calls them 'schools', under the same account. This was just what ActiveCampaign needed for the demands of our growing organization. 
Thinkific Plus provides ActiveCampaign with the flexibility to set up unique schools for any use case we need, when we need it. I've seen some really cool expansion with how our teams are using the integration, and it's so easy for us to accomplish because Thinkific scales with us.Mo Hoelker, Education Team Program Manager at ActiveCampaign
Teams across the ActiveCampaign organization are creating their own education materials for their own schools. Whether the content focuses on deliverability and compliance for ActiveCampaign employees, or educates our users about the ActiveCampaign platform topics that are important to them, these teams are able to quickly set up new schools in Thinkific because it's so easy to iterate on content in the platform. 
A curriculum aligned with the customer journey
Not everyone takes the same learning path. Each employee, partner, and customer can have access to on-demand online training and access the courses and content that makes sense to them at that moment. 
The Thinkific for ActiveCampaign integration provides the ability to understand in real-time the progress of each learning experience. Online course analytics in Thinkific trigger automations in ActiveCampaign which then guide users to complete their online training experience.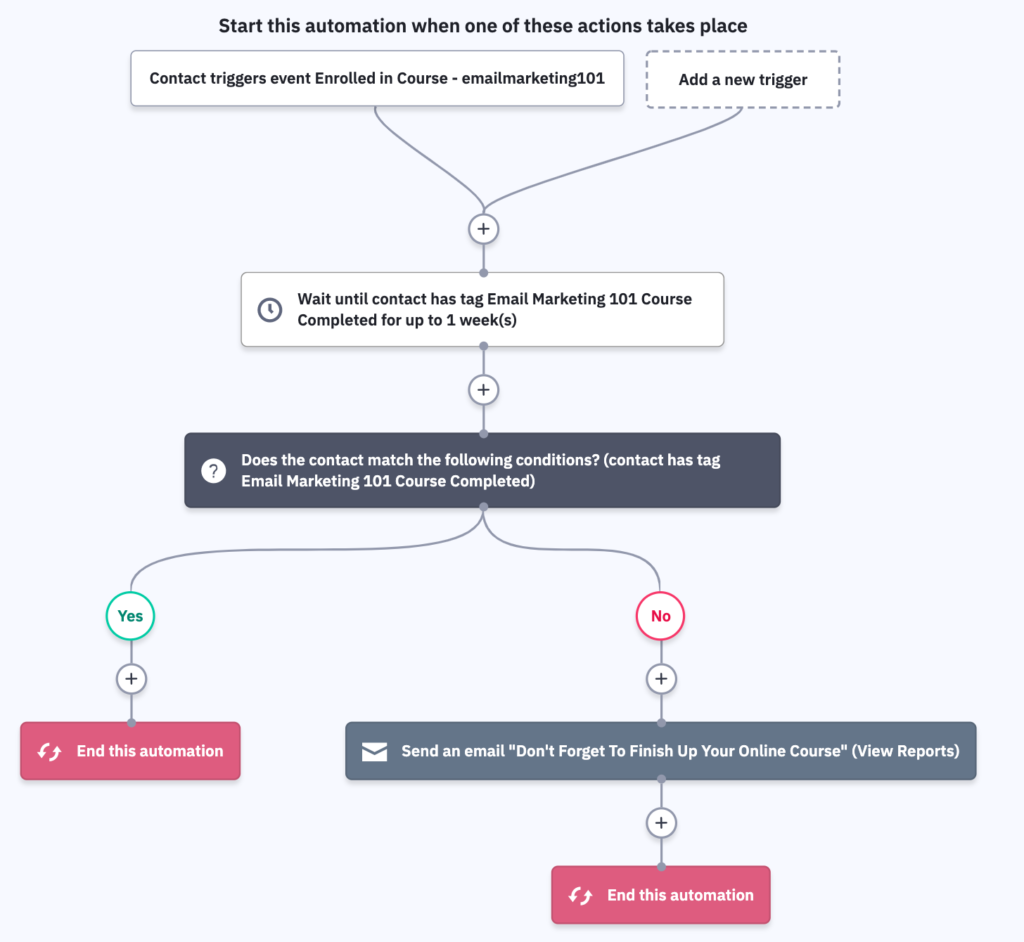 The goal is really to be able to use the information Thinkific provides to have that customer focus throughout all of the courses and all the content, so that we can create the best possible experience for users across all of the tools that ActiveCampaign uses.Jamie Madison, Sr. Content Specialist – Education at ActiveCampaign
With the Thinkific integration, ActiveCampaign has been able to:
Trigger personalized emails based on actions in Thinkific

Create beautifully branded course marketing emails

Automate the process for creating and updating contacts
Forging lasting partnerships
The partnership with Thinkific has exceeded ActiveCampaign's expectations in so many ways. Thinkific recognizes the value we bring to their customers seeking email marketing and CRM capability to help manage contacts for their sales and marketing organizations and features the ActiveCampaign integration in the Thinkific App Store. For ActiveCampaign users, Thinkific enables critical learning paths and has been there every step of the way to ensure our ActiveCampaign users success.   
The ActiveCampaign integration is by far my favorite Thinkific email integration app available. It provides such in depth segmentation that you can otherwise only achieve with web hooks or Zapier and it's out of the box. Whenever I have a customer that doesn't know what marketing platform to use, I say `let's go with ActiveCampaign' because you just get so much value out of the box.Kevin Wiens, Customer Success Manager at Thinkific
Whether you are a Thinkific user looking for a marketing automation solution or using ActiveCampaign and are looking for an online learning platform , connect ActiveCampaign with Thinkific today and start utilizing ActiveCampaign to grow your course audience and automate student communications.
---
Related Articles