Researching the best online course platform for your business? Searching for alternatives to Teachable? You've likely come across two of the biggest names in the online course creation space: Thinkific and Teachable – and you're wondering how we're different, and which course platform is right for you.
Selecting a platform can be a difficult task to navigate without considering direct comparisons, but there's no hiding it – Thinkific is often compared to Teachable, the two platforms are not equal, and we want to help you understand the benefits of each platform as you make your decision.
Thinkific vs. Teachable: In Summary
Let's get right down to it: Thinkific boasts more than 30 must-have features that Teachable doesn't have.
Plus, Thinkific lets you get started on a free plan that includes unlimited students, but Teachable's free option charges you $1 + 10% per transaction.
Here's just a quick list of a few of the features that course creators tell us they can't run their businesses without:
Kick-off your course site with a professionally designed site and course landing pages designed for selling education to your students. Edit your custom theme with our visual site builder using live preview to see exactly what your students will see before you hit publish.
Your job as a course creator is made simpler with easy-to-use course templates designed to help you create more effective courses, faster. Course creation is a snap with the ability to easily copy lessons between courses, import quizzes, create custom presentations and student surveys, and manage + reuse videos using our video library. Or, if you're a power user and ease to you means full control, enjoy full access to our html/css editing environment, theme importer, SSO, and our robust API built for developers.
On the student side, set your students up for success with easy social logins, automated course welcome & completion emails, a full student dashboard with member-only content, and the right course content thanks to our course prerequisite/content locking feature.
Finally, market and sell with Google-friendly course reviews, SEO sitemaps, time-limited course access, robust membership site features including non-course content via paid custom pages, numerous direct integrations with your existing business tools, and even group sales.
And that's just the list of features that Teachable doesn't offer at all! 
We're confident that for serious course creators looking to create, market, and sell world-class education, Thinkific stands in a league of our own. 
---
Thinkific vs Teachable and other online course platforms
G2 Grid® for Online Learning Platforms

Read on below for the full play-by-play with feature-by-feature detail, and the most thorough comparison on the planet.
Who uses Thinkific?

Thinkific's aim is to power the education empires of professional course creators who care deeply about their student's experience.

Thinkific customers range from entrepreneurs – often speakers, authors, coaches, and other subject matter experts – to mid-sized businesses looking to grow their companies with impactful education for their audiences.

Who uses Teachable?

Teachable's slogan is that "Everything is Teachable" and their call to action is that everyone should turn their knowledge into an online course so that they can profit from what they know.

Teachable customers also range, and they additionally target a broader group of individuals who don't have an existing business and are just looking to make some money online.
Both platforms allow you to create, market, and sell courses online, but with a number of key (and sometimes subtle!) differences that can have a big impact on your future success and ability to grow and scale a serious business. Many former Teachable customers have moved their courses to Thinkific, and we've put together a detailed comparison guide to better highlight some of the core differences between the platforms as you make your decision.
Have questions along the way? Reach out! Our support team is standing by, and we'd love to hop on a call or chat with you about your business.
---
Thinkific vs. Teachable: Detailed Comparison
Course Creation
Teachable and Thinkific both make it easy to create courses online. Both platforms offer unlimited hosting for content like videos, PDFs, and text, and allow you to break up your course content via lessons and chapters (or sections/lectures depending on which site you're on!) On either platform lessons can be one piece of content, or multiple pieces of content all together (for example, a video, some text, and a comment area).
Now that we have a sense of what's similar, let's take a look at how these two platforms differ:
Prerequisites / Content Locking
Prevent students from skipping ahead by setting one or more lessons as prerequisites within your course (prerequisite lessons lock all following content until they're complete).
Feature not offered
Quizzes & Exams
Advanced

Quizzes can include multimedia, be graded, allow multiple tracked attempts, include explanations of the correct answers, and be drawn from a randomized question bank. You can also upload questions easily.Need even more? Optionally integrate with a 3rd party exam provider, or use our Survey tool to create long-form, teacher-graded style exams for your students.

Limited

Basic quizzes allow short text questions & answers only, with optional grading (one-attempt only). No upload feature.

Slideshows / Presentations
Create voice-over-slide presentations directly within Thinkific by recording audio for each page of your uploaded slide deck.
Feature not offered
One-Click Multimedia
Add multimedia content to your course faster with one-step multimedia lessons for content like webinar links, Google docs, appointment booking tools, forms and more without complicated embedding or code.

Optionally send data (like student's email address) to your third-party tools for personalized student experiences.

Feature not offered
Surveys
Survey your students with single-answer, multi-answer, rating, scale, or long-form response questions within your Thinkific school. Perfect for long-form exams, instructor feedback, goal tracking and more.
Feature not offered
Host Captivate / Storyline + more
Upload custom multimedia content directly to Thinkific for hosting within your course.
Feature not offered
Copy Lessons
New! Duplicate lessons within and between courses. Perfect for content that you create once and have it appear across multiple courses.
Feature not offered
Video Library
Manage your video resources in one place, and reuse videos between courses without having to re-upload your files.
Feature not offered
Course Templates
Start from a blank page, or choose from 6 custom course templates to speed up course creation and learn from best practices in curriculum and course design.
Feature not offered
---
Thinkific vs. Teachable: Detailed Comparison
Market & Sell
You've got a course – now you need students. Marketing and selling are primary tasks of any course creator.
First how we're similar – both platforms offer standard integrations with external marketing related tools like Mailchimp, Google Analytics, Sumo, and Zapier. Both offer drip release content, affiliates, and bulk coupons, with some minor differences in functionality between the two platforms (for example, drip emails can be configured in Teachable directly but require Zapier in Thinkific).
Here's a deeper dive into what makes these two platforms stand apart when it comes to marketing and selling your course:
Course Reviews

Automatically collect reviews from your students and optionally display them on your landing pages as social proof.

Star ratings appear in search listings, increasing organic traffic to your site.

Feature not offered
Time Limited Course Access / Course Expiration
Specify how many days a student will have access to your course. You can even offer different access periods for different price points.
Feature not offered
Bundles & Memberships
Advanced

Robust bundles allow you to bundle any combination of courses for your students.

Basic

Can't bundle a course if it's already the primary course in another bundle.

Paid Custom Pages
Create custom pages and specify who has access to them – the public, your members, or even sell them with course purchases.

Custom pages can be used to seamlessly deliver non-course content, resource libraries, access instructions to your community, booking details for consulting work, and more.Custom pages can also be used to create custom sales funnels to guide your buyers through the funnel you choose.

Feature not offered
SEO Sitemaps
Search engine friendly sitemaps are automatically generated and updated to ensure that your Thinkific site is fully search engine ready.
Feature not offered
Direct Infusionsoft, Active Campaign, Mixpanel & Aweber Integrations
Directly integrate with more of the most common business tools you're already using.
Features not offered
Time Limited Free Trials
When you sell courses with recurring billing or as a membership, collect a credit card upfront from students with payment to happen after the trial period (set by days or months).
Feature not offered
Upsells
With a fully customizable site-wide thank-you page, individual course sales and completion pages, and course completion emails you can prompt your students and purchasers to take the next step and purchase your next course, wherever they are in their student journey. Credit cards are automatically stored so upsell purchases are one-click. Individual course-based thank-you pages were released in 2020.
Course-specific thank-you pages allow for individualized upsells on each thank-you page, but without completion emails or completion pages you are limited to targetted upsells only upfront (rather than after they've experienced the value of completing your first course).
Countdown Timer
One-click addition of a countdown timer to your landing or checkout pages can increase urgency on your offer.
Feature not offered
Blog
Feature offered via app store integration. Our focus is on building the best course sites on the planet! If you'd like a blog, we recommend using a best-in-class blogging tool like WordPress or DropInBlog, which can seamlessly integrate with your site.
Basic blog functionality included, with limited SEO features (non-standard URLs, no sitemaps).
Coupons
Advanced

You can discount anything – any way you'd like – on Thinkific.

Create site-wide, single, or multi-course/multi-price coupons either % or $ based. Additionally create multiple unique codes using the same parameters for advanced discounting. For payment plans and subscriptions, coupons can have a specified duration (for example, take 25% off for 3 months).

Limited

Basic couponing only, with no support for multi-month coupons.

Can do a % based site-wide coupon or coupons for a single, specific pricing plan only.

Custom Payment Terms / Pricing Flexibility
Advanced

Offer one payment, monthly/annual subscriptions, or fixed payment plans.

Additionally, set free trial periods (by days or months), specify enrollment duration by price, or set a custom first payment (charge one price for the first month, and a different price for subsequent months).

Basic

Offer one payment, monthly/annual subscriptions, or fixed payment plans only.

WordPress Plugin
Easily turn blog content into course content and insert checkout links directly into your blog content with our WordPress plugin.
Feature not offered
Social Logins
Optionally allow students to sign up for your site using their LinkedIn, Facebook, or Google account for speed + ease.
Feature not offered
---
Thinkific vs. Teachable: Detailed Comparison
Site Design & Customization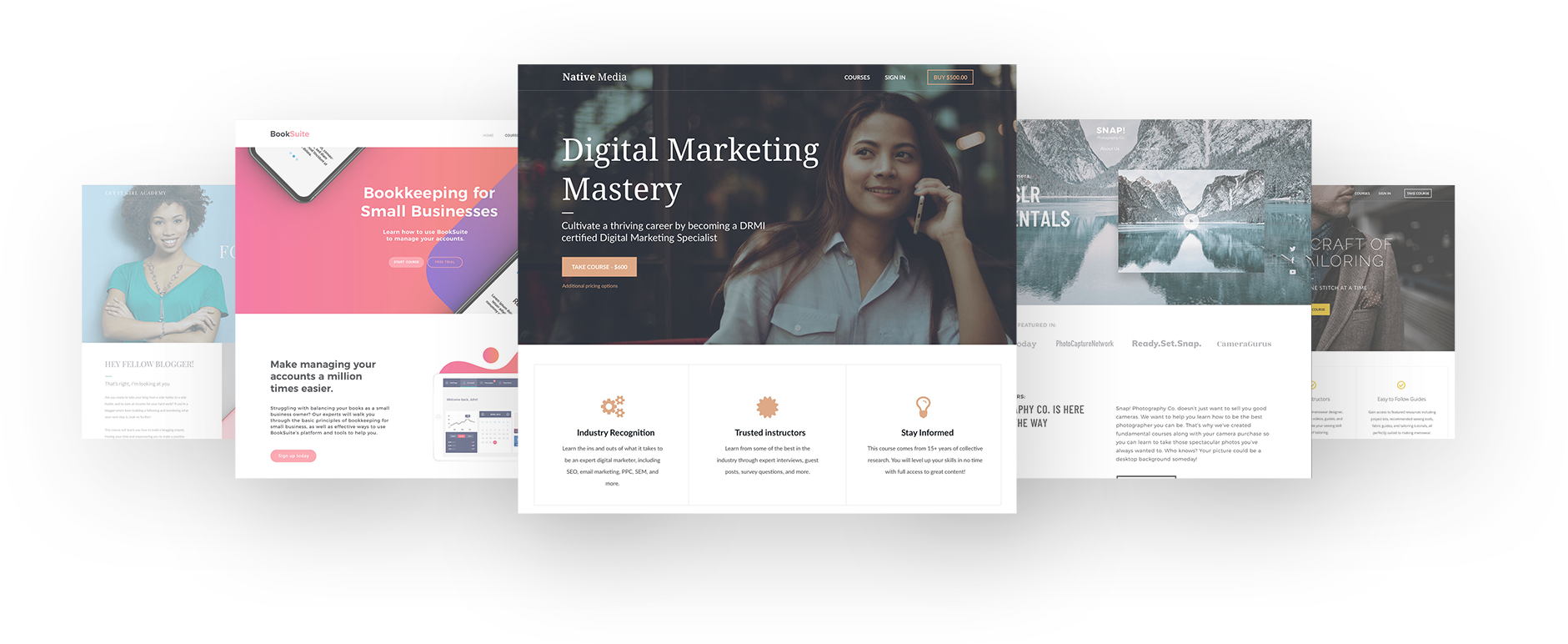 On the surface, both Thinkific and Teachable allow drag and drop landing page design functionality, custom pages, and the ability to customize your checkout and thank-you pages (to add things like social proof or upsells). That's where the similarities stop.
Site design & customization is one of the areas where Thinkific really shines – and stands out from the crowd! With a full theme library with site and course landing page themes designed entirely around course conversion, you can put your best foot forward with Thinkific.
Custom Site Themes & Course Landing Pages

Choose from a suite of 10 beautiful custom theme presets designed for selling education – then easily make your site your own. Easy. Beautiful. You have complete control.
Feature not offered – one default theme only.
Import & Export Themes
(advanced customization – developer required)
Create, modify, import, and export complete site themes across sites, including assets like fonts or images.
No support for themes.

No ability to import/export code.

HTML/CSS/Liquid
(advanced customization – developer required)
Full access to theme code with the ability to add layouts, sections, pages, snippets, styles & custom assets.
Basic access to existing html/css only, with no ability to create new files or upload assets.
Live Preview
Live previewing of your site changes while building and editing your theme. Only publish changes to your live website when you're ready, so you're always in control of what your customers see.
Feature not offered.

Live editing of your site only – edits must be published to preview them.
---
Thinkific vs. Teachable: Detailed Comparison
Student Experience

One thing that Thinkific course creators have in common is a desire to create incredible courses and student experiences that they are proud to deliver. Our course creators know that delivering an incredible student experience is core to their business growth – satisfied students will tell others and will return themselves, and these students will ultimately achieve the outcomes they were looking for which is the desire of every course creator.
Here are just a few of the ways that Thinkific and Teachable differ when it comes to student experience:
Course welcome & completion emails
Create custom emails on a course by course basis to welcome students to your site and to the courses they purchase, and to congratulate them upon completion of their course.
Feature not offered
Course Completion Page
Create a custom page for students who complete each course – congratulate them on their achievement, and perhaps prompt them to join your next course with an upsell offer!
Feature not offered
Whitelabeled URLs
We've all been taught to watch the site URL to ensure we're on the page we expect – especially when it comes to online payments! Thinkific URLs always show your own URL, providing a seamless experience for your students.

For example, checking out on a Thinkific site would show "https://www.myschool.com/users/…" in the address bar.

Signup & checkout URLs change to show sso.teachable.com instead of your own site URL, causing confusion and a lack of trust for students.

While customers start on your site, before entering their credit card details they are taken to a new page where they see Teachable's URL – not yours – in their address bar, even if you pay for their whitelabel feature. "https://sso.teachable.com/secure/…"

Mobile Access
Thinkific's site is designed to be fully mobile responsive, allowing your students to seamlessly transition between desktop and mobile devices with complete access and progress tracking within your course.
In addition to mobile responsiveness, Teachable offers a limited iOS only app, which is Teachable branded and doesn't work with course discussions or embedded content.
Language Translation
Thinkific's been completely professionally translated into over 30 languages, so you can deliver courses wherever your students are.
Teachable exposes some (but not all) of the site language which you would need to manually translate yourself to internationalize your site.
Custom Student Dashboard
Fully customize your signed-in student experience complete with videos, content, and custom pages that only your members can see. Turn your Thinkific site into a full-featured membership portal.
Feature not offered
---
Thinkific vs. Teachable: Detailed Comparison
Teaching & Site Administration
Both platforms are designed to make it easy to create, market, sell, and manage your courses. Both ensure you own and can export your student data, provide comprehensive progress tracking, reporting and analytics, deeply segment and email customers, allow you to enroll an unlimited number of students, and deliver completion certificates to students.
When it comes to administering a growing site, a few points differ:
Group Reporting & Sales
Organize, sell & track customers in groups. Sell to organizations, pull custom reporting, and create time-based cohorts with ease.
Feature not offered
Full User Administration
Users on your site always belong to – and can be fully administered – by you.

Update student names and emails as required, including access to assign or reset passwords if needed (students can also do this on their own).

Users on your Teachable site belong to Teachable by default.

The MyTeachable login requires your students to agree to Teachable terms of service & privacy policy on sign up, and you have no ability to update student names, emails, or passwords if required.

Payment Tracking
With Thinkific, you maintain complete control over your business. Thinkific tracks payments owing and paid out to affiliates and payees, which course creators can then pay directly and log the payments made right in Thinkific.

The payee feature on Thinkific allows you to track payments for course authors, and also other people like business partners.

For 2% of all your course sales ("BackOffice fee"), Teachable will pay your authors and affiliates for you and collect/remit US tax forms once you hit a certain threshold.

Teachable doesn't have an option to pay business partners on course sales, unless they are also a course author.

User permissions & levels
Basic

Thinkific offers site owners, course administrators, affiliates & payee user types.

Advanced

Teachable offers the ability to specify user permissions beyond core permission levels, on their $499 plan.

Custom Signup Fields
Request additional data from students on signup
Feature not offered
Bookmark Presets
One-click user search bookmarks allow you to see – and contact – your students segmented by specific criteria easily. Encourage those falling behind or reach out to students who dropped out before completing their purchase, or create new bookmarks unique to you.
Feature not offered
---
Thinkific vs. Teachable: Detailed Comparison
Advanced Site Administration & Developer Features
At Thinkific, Enterprise-grade customization and features are the name of the game. Our platform is designed to be easy to use out of the box without any tech background whatsoever – but for customers who have advanced, custom requirements (or grow to have them!) our platform is built for extensibility and future growth. Developers love working with Thinkific.
With no API access, SSO, themes or offline site editing options, Teachable has not been built to be extended, increasing the likelihood that you'll outgrow Teachable as your business matures.
App Store
Our App Store lets you easily access and integrate professional tools to enhance the functionality of your online courses with our course creation toolkit. No technical expertise required!
Feature not offered
API (developers only!)
The full-featured Thinkific API allows developers to programmatically access and manage your Thinkific site
Feature not offered
SSO (developers only!)
Offer students a seamless single sign-on with your existing system using JSON web tokens (JWT)
Feature not offered
Import & Export Themes
Developers and agencies take note! You can create, modify, import, and export complete site themes across sites, including assets.
No support for themes.

No ability to import/export code.

HTML/CSS/Liquid
Full access to theme code with the ability to add layouts, sections, pages, snippets, styles & custom assets.
Basic access to existing html/css only, with no ability to create new files or upload assets.
Editing Environment
Themes and custom code can be fully designed, previewed, and tested privately. Only publish changes to your live website when you're ready, so you're always in control of what your customers see.
Feature not offered.

No sandbox environment. Live editing of your site code only – code edits must be published to preview them.
---
Thinkific vs. Teachable: Detailed Comparison
Security & Support
Both companies offer a comprehensive knowledge base, private Facebook community, SSL certificates, and secure cloud hosting. We both think we have incredible support (although if we're being honest – one of the biggest complaints we still hear about Teachable is the lack of support, and being made to feel like a number instead of a person!).

Perhaps in this case, it's best to look at what we do, rather than what we say! Thinkific has a core value of being fanatical about customer success, and we believe our true colors shine through on this. Here are just a few of the ways we show this:
On-Demand Platform Training
Thinkific training courses are included to help every customer succeed at no charge.
Pay to Play – Teachable U is only available once you are paying $99/mo.
Support Channels
Phone & Email support for every customer.
Email, some chat on select plans. Limited support for free customers.
Additional Support Available
1v1 onboarding, migration support, launch preparedness calls, and account managers at different plan levels.
Feature not offered.

No 1v1 or custom support mentioned.

Support Hours
Support is available 7 days a week
Monday to Friday only
At Thinkific, we so believe that customer support is at the heart of what we do that *every member of our team* spends time on support every week. Learning how to support our customers is also the first task of every new employee – whether they're on our finance team or a software developer, support is the most important job in our company.
When we do relax as a team at retreats or team events, every plan is made with maintaining our high level of support. Favorite team memories are keeping a bus full of excited retreat-bound team members quiet because we were taking customer calls while on the way, not to mention the many company-wide support bashes – complete with snacks! – where we've kicked off a hackathon or teambuilding event with the most important thing to our company – ensuring every customer email has been responded to, first.
---
Thinkific vs. Teachable: Detailed Comparison
Pricing
Thinkific has plans ranging from free to $499/month, with Plus options beyond that for high volume businesses. Teachable has plans starting at $39/month ranging up to $499/month, with a free trial plan (capped at 10 students) also available. Both offer unlimited video hosting, bandwidth, courses, and students.
Thinkific has plans designed so that you can start building and selling for free, and then scale up to paid plans as your business grows, and there are no transaction fees. Teachable requires a paid plan for you to start running your business, and doesn't scale up to support high volume businesses. Plus, they charge transaction fees on top of the monthly fees on their lower plans.
Pricing
Plans ranging from free to $499


(with Plus plans available for high volume businesses)

Plans ranging from free to $499
(with a free trial plan capped at 10 students)
Transaction Fees
0%
Up to 10% + $1
Instant Access to your Funds
Payments always go to your own Stripe or PayPal account immediately – there's never a delay in receiving your funds.

Your students pay you directly, not Thinkific.

Access to your funds differs based on your payment gateway. In most cases, your students pay Teachable, not you.

On Teachable Payments, Teachable holds your funds for as long as 60 days (On the 1st of the month, following a 30 day delay) for PayPal transactions. They additionally hold a 10% rolling holdback for 45 days on Stripe payments.
Thinkific has eliminated transaction fees. Thinkific now has 0% transaction fees on all new plans, even for free customers! This means you keep more of your money, every time.
Thinkific offers a truly free plan where you can start building your business and selling courses. Teachable's free trial plan is capped at 10 students so you need a paid plan before you can build your business.
Teachable is moving towards more transaction-based fees. Their transaction fees are as high as 10% + $1 on their free plan, and they've started adding new features on a percentage fee basis with their new 2% BackOffice fee that applies on every plan level.
---
Thinkific vs. Teachable: Detailed Comparison
They Say / We Say
Teachable likes to point out their single page checkout and VAT handling as reasons to choose Teachable over Thinkific (there are almost no other features they have that we don't have!), so we wanted to dive into those features here so you can be fully informed as you choose the right platform for you.
Single Page Checkout vs. Two-Step Checkout
Teachable offers a single-page checkout, and claims that this offers higher purchase conversion rates for their students. What they don't tell you is that without collecting an email address up-front, you have no way to contact prospective students who are on the fence and you are likely *decreasing* your overall conversion rate!
With Teachable, you end up collecting up to 20-30% fewer high-value prospective emails every single month, losing the opportunity to grow your list with valuable just-about-ready-to-purchase customers.
When combined with abandoned cart emails (emails that you send to your prospective purchasers who drop out after giving their email but before completing purchase), the Thinkific two-step checkout is designed to have BETTER overall conversion than a one-page option alone can have. Hiding your abandoning customers isn't the same as eliminating them – don't lose the opportunity to contact these leads!
Pro tip: Create and save a custom user search within your Thinkific student dashboard and set yourself a reminder to email your highest-value prospects every week (or even automate the task via Zapier!).
TAX & VAT Handling
No one loves dealing with taxes, and it can seem overwhelming. In fact, Teachable's banking on you feeling that way.
Teachable offers the option to pay an additional 2% of all your course sales in order to have them collect and remit VAT (a UK tax). On Teachable's own payment gateways, VAT collection cannot be disabled (even if your courses are exempt). Teachable does not offer a solution for handling non-VAT local sales taxes that your business may be subject to, so you may still have local tax liability and should still speak with your accountant (and may never have to charge VAT to begin with).
Thinkific uses Quaderno – a 3rd party integration – to allow our course creators to track and manage their tax owing no matter their jurisdiction. Quaderno is a tracking tool and does not add tax onto the purchase price. This solution applies for VAT (where applicable to you), as well as your local sales taxes (such as tracking your GST owing, if this applies to you). Alternatively, many Thinkific instructors find the reports they already pull out of their payment processors (Stripe & PayPal) give them everything they need to manage their taxes.
VAT Pro tip: Based on the UK's guidelines regarding VAT, many of the courses offered by Thinkific instructors are naturally VAT exempt. If your course is delivered in part by an instructor (think support from a live tutor in your discussions, live webinars, calls, personalized assignment feedback, individual coaching, consulting, or other live components), VAT most likely doesn't apply to you.
Tax Pro tip: The reason tax seems complicated? It's different for every business in every jurisdiction. We're not tax professionals, so we can't write the definitive guide to set the record straight! For example, many new businesses have no requirement to collect and remit sales tax at all until they've hit a high sales threshhold, but every location is different.

As small business owners we all still have to track, file, and remit our taxes (there's no feature or option that's going to prevent us from having to do that!). We recommend connecting with your accountant or local small business association early for unique-to-you guidance to set your mind at ease as you build and grow your business.
---
Thinkific vs. Teachable: Detailed Comparison
In every category, Thinkific comes out on top when compared with Teachable.
That's it – we're at the end! We believe this to be the most comprehensive comparison of these platforms on the planet – and we hope that it will help you make the best decision for your business. Our goal has been to be as transparent and thorough as possible, and this analysis is completely accurate to the best of our knowledge, as of October 11/2018.
Thinkific is simple to use and you can sign up, upload your course content, and launch in only a few minutes. When you're ready for advanced features, they're there. Thinkific offers a robust online learning platform that is able to grow with any instructor. We'd love you to join us.
Sign up for free to create your first Thinkific course and experience Thinkific for yourself!

---
See what our customers say
We hope you've found this comparison of Thinkific vs Teachable useful. Features and support are constantly changing! This analysis was accurate to the best of our knowledge as of August 2021