We spend a lot of time on our smartphones. And a considerable chunk of that time goes into using mobile learning applications — whether we're listening to a podcast, practicing piano lessons, or just brushing up our career and business skills. 
If you want to enjoy a seamless mobile learning experience, you need to choose the right platform. The best mobile learning platforms have intuitive user experiences for seamless learning, support flexibility, and enable collaboration. 
With these factors in mind, we've compiled a list of the nine best mobile learning platforms:  
---
Launching a new course can be scary for creators. There are lots of moving parts — from creating the course content to marketing the course and providing support for learners. 
With Branded Mobile by Thinkific, our trusted team of experts will take care of creating and managing your white-labeled app for your course and community so you can focus on your business.
Unlike building a custom app from scratch, where extensive time and money are required to build and maintain it, Thinkific will handle building, submitting your app to the app stores and delivering frequent updates, all for $199/mo.
Branded Mobile is designed to seamlessly integrate into your audience's existing routines. Making it easier for users to learn and engage with their courses and communities all on their own schedule, enhancing their learning and brand experience.
With powerful features like push notifications, on-the-go access, and in-app purchases, you can drive further engagement and create additional revenue opportunities.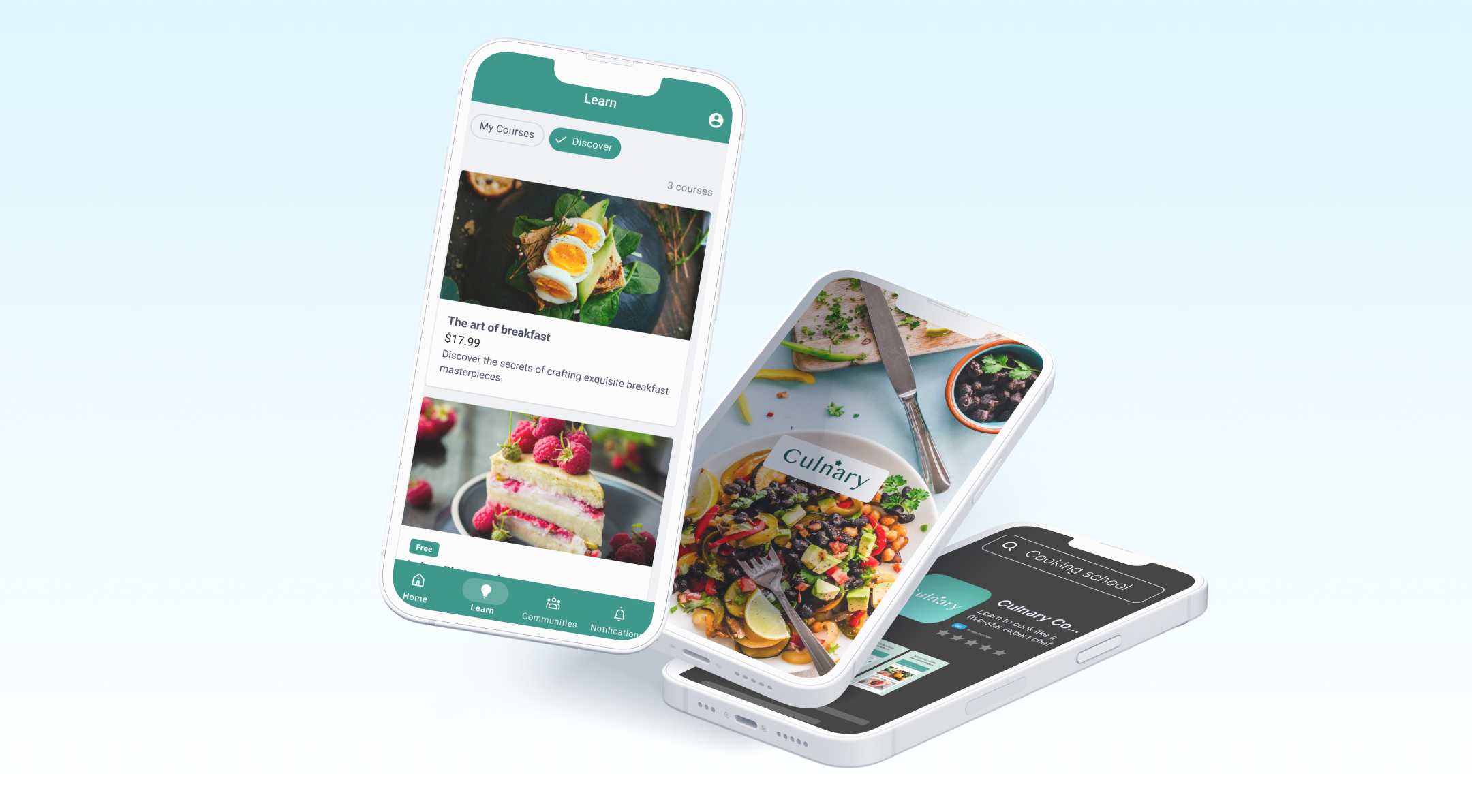 Key features
White-labeled app for your courses and communities
Customize your app to suit your brand style
Sell additional courses from within the app
Built and maintained by our in-house experts
Utilize push notifications and activity feeds to keep your audience connected
Price: $199/mo (add-on for all Thinkific paid plans) 
---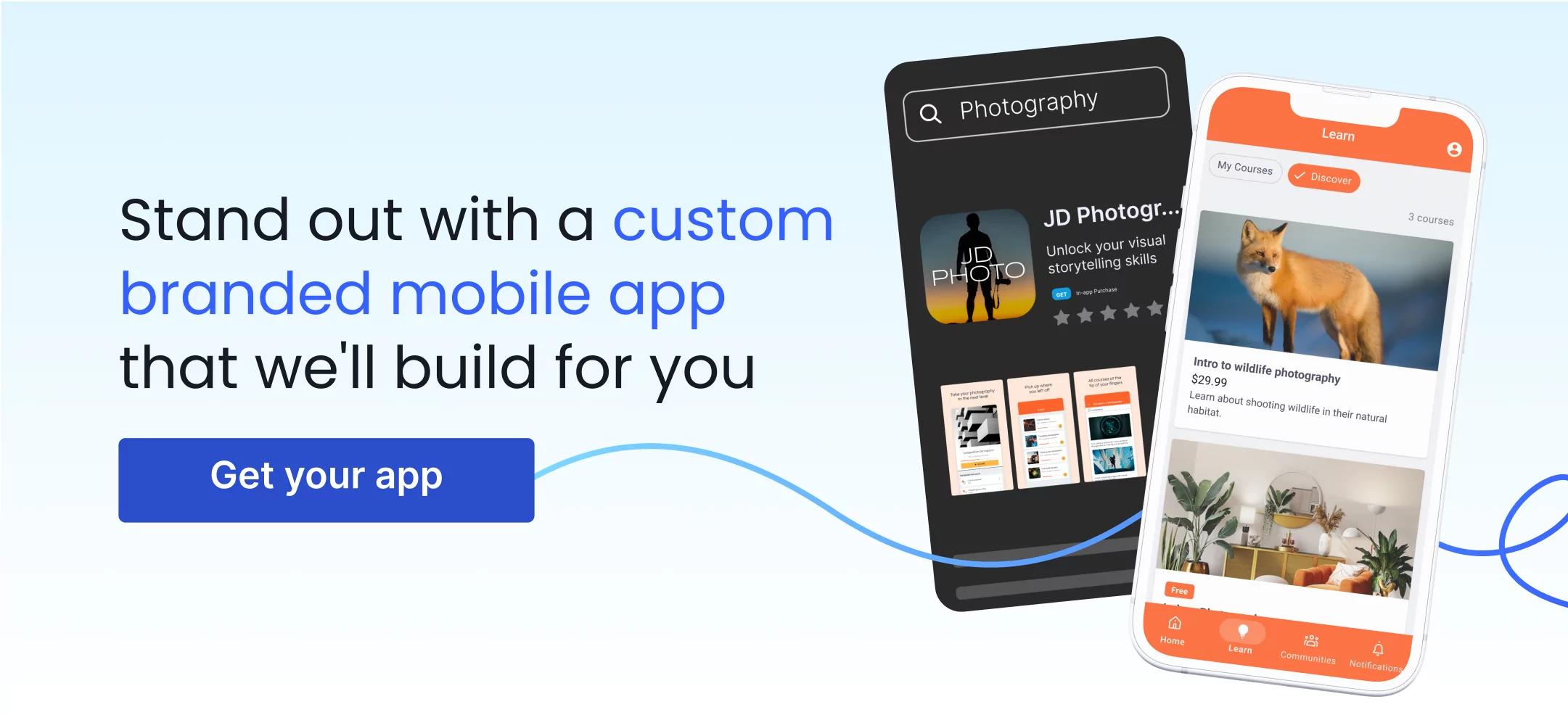 ---
Learning a new language used to be somewhat of a chore — you had to invest in expensive courses with rigid syllabuses that were sometimes difficult to keep up with. However, with Duolingo, anyone can now learn a new language at their own pace — no matter where they are. 
Duolingo offers bite-sized interactive lessons for more than forty languages, including Spanish, German, and French. The lessons are gamified, which means you earn experience points as you complete each lesson. To encourage consistent learning, Duolingo has features like leaderboards and streaks. Your streak shows how many days you've completed a lesson in a row, while your leaderboard shows how you rank among other learners. 
Overall, the app's user-friendly interface makes language learning easy and fun!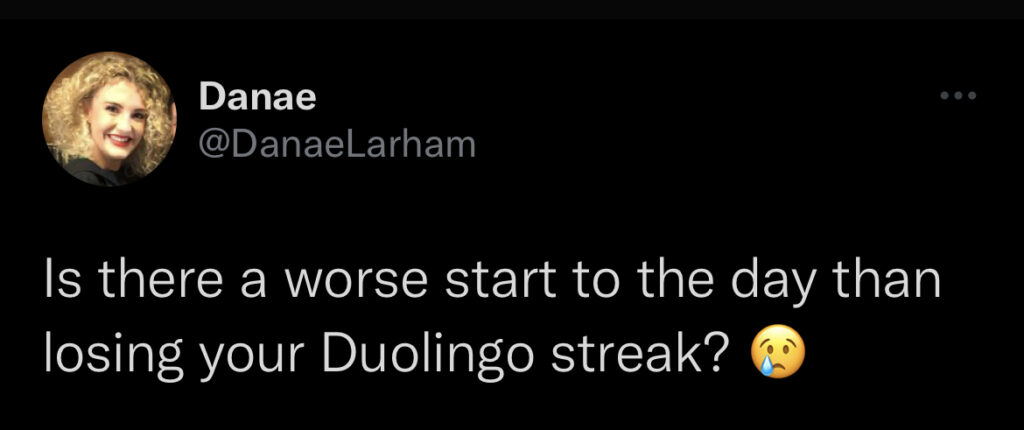 Source: Twitter 
Key features
Gamification for interactive learning

Self-paced language lessons

Placement tests

Speaking and reading practice 

Streak freezes 
Price: Duolingo is 100% free. There's also an ad-free version called Super Duolingo.
Related: 7 Types of Mobile Learning and How to Use Them
Continuous learning is the key to unlocking the next level of your business or career. But taking time to learn amid pressing business and job responsibilities can be extremely difficult  — you can't afford to spend endless hours studying. Enter Google Primer. 
Google Primer is an online app that breaks down complex business and marketing topics — like money management and content marketing — into easy-to-understand modules that you can complete in five minutes or less. These modules include workbook-style quizzes and video clips, so learning can be fun and engaging. At the end of each lesson, you'll see a recap of what you learned plus recommendations for further reading to boost your knowledge. 
Download the Google Primer app on your phone or tablet to start learning.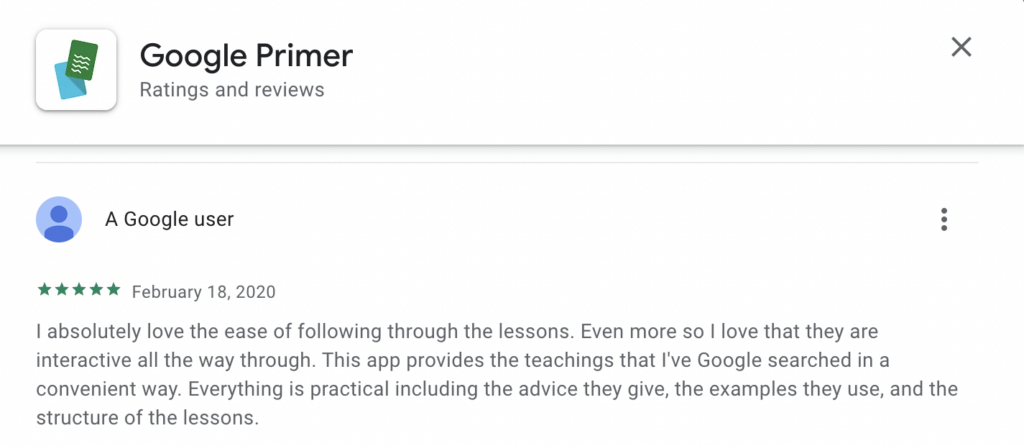 Key features
Learning personalization

Interactive user interface

Simple, bite-sized lessons 

Offline mode

Swipeable lesson cards 
Price: Google Primer is free. 
LinkedIn is already an excellent resource for professionals looking to level up their careers, and it takes things a notch higher with LinkedIn Learning. 
LinkedIn Learning has more than 16,000 expert-taught video courses — from digital marketing to robotics and deep learning. These courses are grouped into four categories: Business, Creative, Technology, and Certifications. 
The courses are designed with flexibility in mind. Extremely-busy professionals can opt for bite-sized learning videos rather than miss out on the entire learning experience. And when you're ready to dive deep, you can watch the more extensive video lessons. 
You get a certificate of completion at the end of each course — after watching all the videos and completing the quizzes. Add your certification to your LinkedIn profile to showcase your expertise and attract new opportunities. 

Source: App Store 
Key features 
Live chat for collaborative learning 

Download courses to keep learning offline

Personalized course recommendations 

Certifications

Course sharing 
Price: Starts at $19.99 per month (billed annually). It also has a free 1-month trial. 
Related: How to Generate Leads on LinkedIn For Your Online Course 
If you're anything like us, keeping up with numerous dance trends can be a chore. Some of these moves are so complex that you wonder how anyone ever gets them right. Well, Steezy can help! 
Steezy is a mobile app that lets you take the best dance classes no matter where you are. It has over 1,500 online dance tutorials for different dance styles like Ballet, K-Pop, and Salsa. 
And you don't have to worry about not fitting in — each dance tutorial has brand new, beginner, intermediate and advanced levels, so you can find what works for you. 
Even better, Steezy has a fully-immersive user experience. You can switch views in the app, loop moves until you get them right, and mirror the video — so it is just like dancing beside your instructor in a physical studio.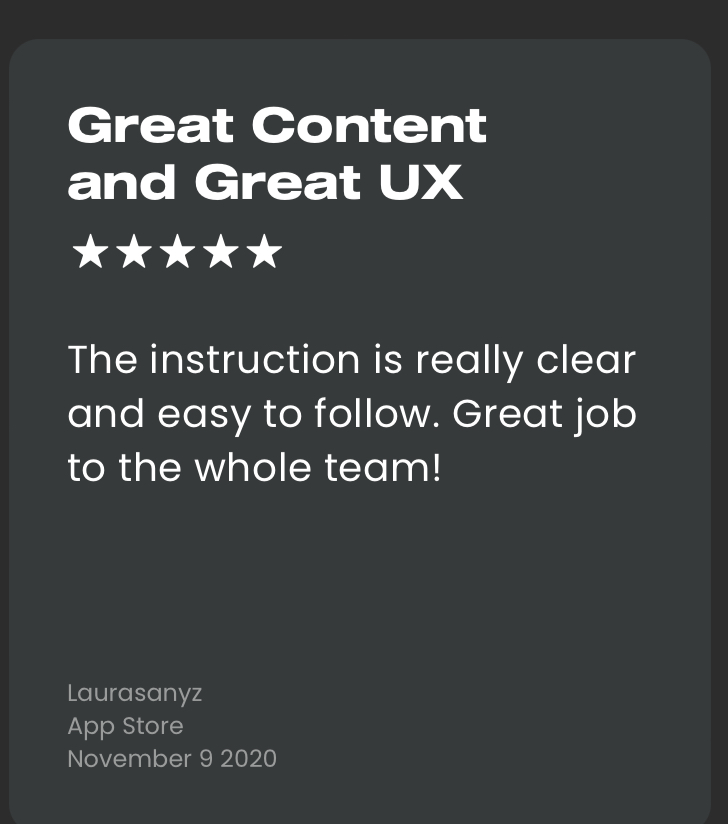 Source: App Store
Key features
Mirror video

Speed control

Time stamps and labels

Loop moves

Switch between multiple views 
Price: $20 per month (billed monthly) and $100 per month (billed annually); 7-day free trial 
Simply Piano App is a fast and easy way to learn how to play the piano on your own. 
It has 27 step-by-step tutorials and an extensive library with more than 5,000 popular songs for practicing. It also has five-minute workouts that you can quickly jump on when you don't have time for a new lesson. 
As you practice, Simply Piano listens to every note you play (via your phone's microphone or MIDI connection) and gives you real-time feedback — just like an instructor would. 
You can also set unique learning goals to personalize your experience and track your progress.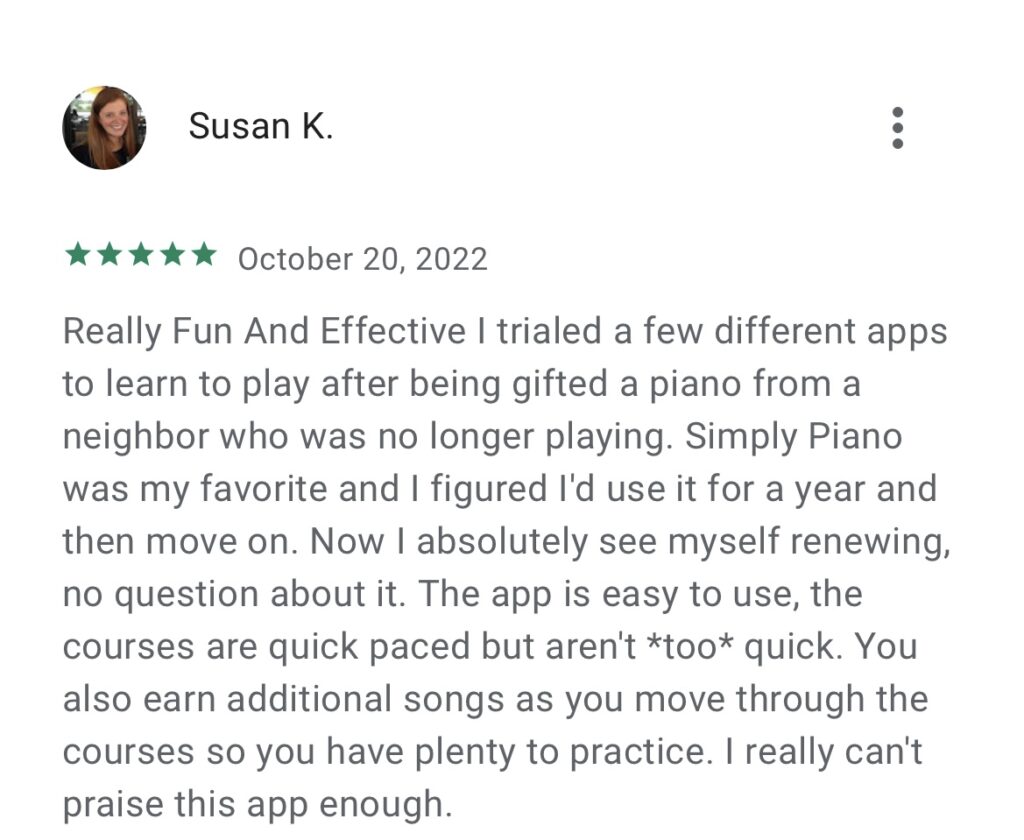 Source: Google PlayStore 
Key features
Course recaps

Real-time tracking 

Extensive song library

Compatible with all pianos and devices 

Practice modes 
Price: $149.99 per year, $89.99 for six months, or $59.99 for three months. There's a 7-day free trial too.  
Khan Academy provides free, world-class education for students, no matter where they are. Its courses cover various subjects, including Mathematics, Art History, and Computing. The courses are organized according to grade levels, just like a regular school — so you can easily start learning at your knowledge level. 
Each course includes practice exercises, instructional videos, and a personalized learning dashboard for self-paced learning. You'll receive instant feedback on your performance as you complete each lesson. And at the end of the course, you'll get personalized recommendations on what you should try next.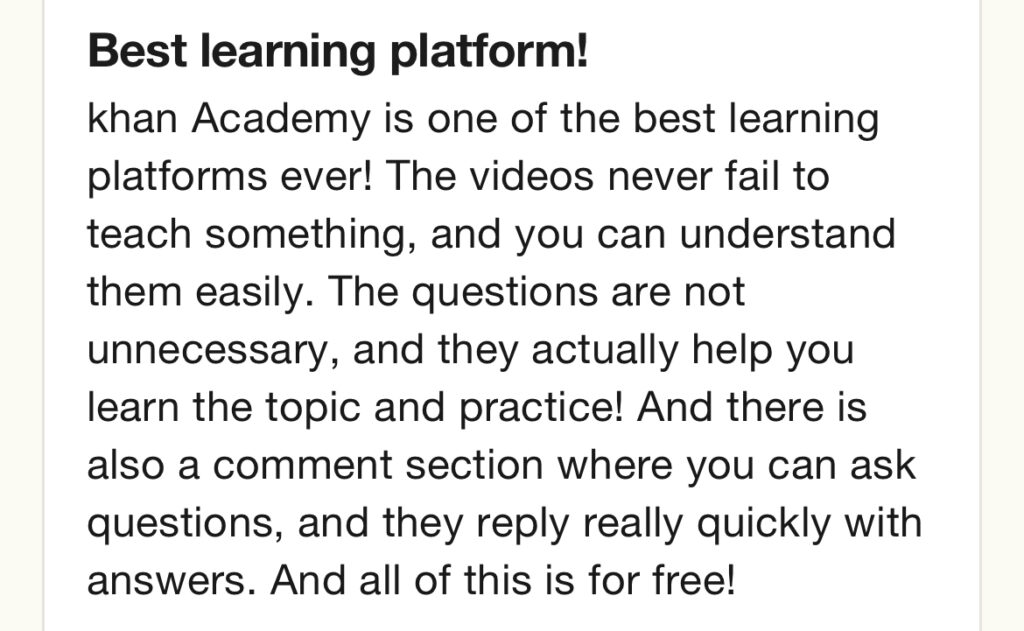 Source: Trust Pilot 
Key features 
Blended learning 

Offline courses 

Progress tracking 

Multi-language support 

Extensive content library 
Price: Khan Academy is 100% free. 
You might not be a chef. But that doesn't mean you're sentenced to a life of bland, monotonous meals. With Tasty, you can discover your inner chef and start exploring mouth-watering homemade recipes. 
Tasty has over 4,000 recipes with step-by-step video instructions on how to cook them. It also has a mobile cookbook where you can save recipes for later. You can personalize your meal choices and get recipe recommendations based on your eating habits, time of the day, and even holidays. 
Tasty also has a "What is in your kitchen" feature that recommends recipes based on the ingredients in your kitchen. You input the ingredients into the app, and it will whip up recipes you can make with them.

Source: Google PlayStore 
Key features
How-to recipe videos

Personalized recipe recommendations 

Mobile cookbook

Recipe-sharing

In-built Walmart checkout for ingredients 
Price: Tasty is 100% Free. 
Skillshare is a collaborative online learning platform for creatives. It has thousands of free classes plus premium subscription-only classes. 
The way Skillshare works is simple. Once you sign up, you can browse through the different class categories and pick a class that interests you. There are usually several classes to choose from in each category, so you can find one that fits your schedule and interest.
Once you've found a class you want to take, you can sign up and start taking it right away. You'll have access to all class materials, including videos, lectures, and articles. You can watch or read the materials at your own pace, and most classes also have assignments that you can complete to practice what you've learned.
If you have any questions about the class or the material, you can ask them in the forums. The forums are a great place to interact with other students and the instructor, and you can often get helpful feedback from other creatives who are taking the same class.

Source: Google PlayStore
Key features
Content library 

Download courses for offline learning 

Project-based classes

Self-paced learning 

Learner portal and progress tracking 
Price: $32 per month (billed monthly), $168 per year. There's a 1-month free trial too. 
Mobile learning is best when it is learner-centered
The most effective mobile learning applications meet the learner where they are. This means: 
Supporting multiple

learning styles

— like audio and visual lessons 

Allowing learners to switch between multiple learning approaches — like from

blended lessons

to instructor-led classes 

And enabling real-time feedback
Learning on your smartphone doesn't have to be an arduous task. It can be fun if you have the right tool in your corner!
Want to learn more about Mobile Learning (aka M-learning)? Learn more, and get started, here!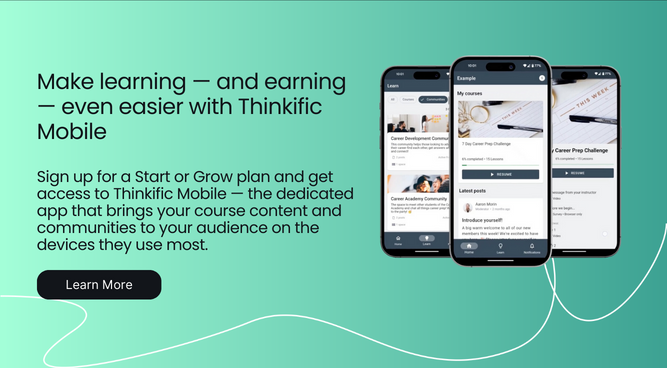 This article was originally published December 2022, and was updated June 2023