Blended learning has become a key part of the educational experience as eLearning continues to grow in popularity. Teachers and other educators are having to learn how to create materials that combine the best of both traditional and online education while still ensuring students are assessed appropriately. Let's dive into what blending learning means in the digital education world and some of the best ways to start implementing it. 
Skip ahead:
What is blended learning?
Blended learning can take many different forms, but it generally boils down to integrating online education materials and place-based classroom methods. 
Typically, that means teachers and students are physically present, but students have some control over when, how, and where they access learning materials through online learning systems. It can integrate webinars, for example, and online lectures so that teachers and students can be present in the same virtual space, even if they're not physically together.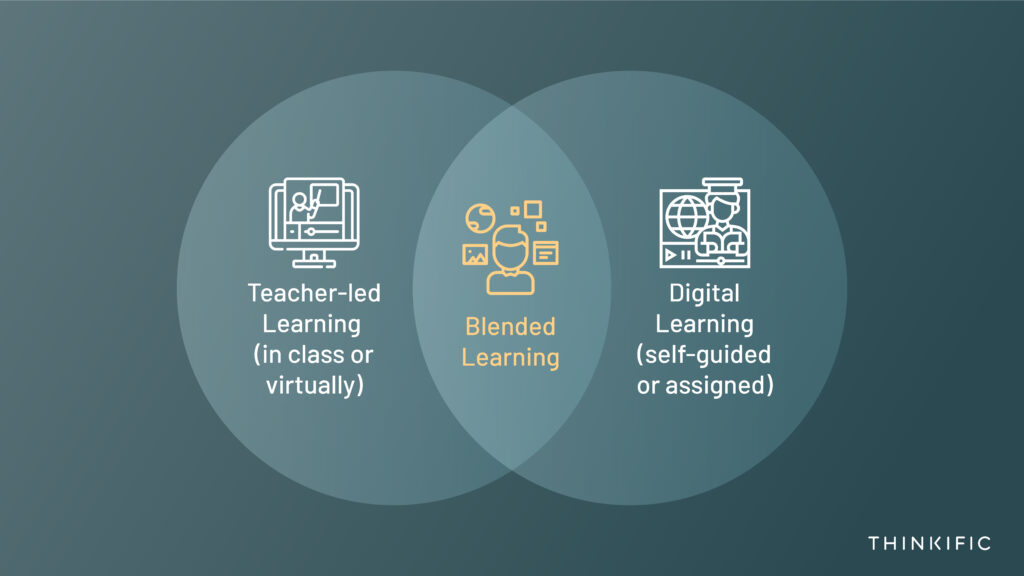 Related: Synchronous vs Asynchronous Learning: How To Use Both
What is blended learning?
Blended learning can take many different forms, but it generally boils down to integrating online education materials and place-based classroom methods. 
Typically, that means teachers and students are physically present, but students have some control over when, how, and where they access learning materials through online learning systems. It can integrate webinars, for example, and online lectures so that teachers and students can be present in the same virtual space, even if they're not physically together.
Why is blended learning effective?
Transitions well with traditional models
Blended learning works because it's very similar to the traditional model schools have used for over a century. Students can get guidance when they need it because their educators are present and accessible. The flip side is with blended learning there are more elements of self-study than the traditional model. As students have full access to learning materials via virtual education platforms, they can learn at their own pace and they can also cross-reference learning materials to create a fuller picture. This has significant benefits for a variety of learning styles. 
Easy engagement
Engagement is another key benefit of blended learning. Most teachers understand that there is a range of attention spans in any classroom, with some students listening attentively while others are easily distracted. Blended learning allows students to work at their own pace and engage with the materials on their own terms which is highly beneficial to those distracted students, or learners who have all types of difficulties — from learning challenges to social or familial issues. Adding online collaboration components also provides more opportunities for students to work together in a structured environment.
Improved accessibility
Students with disabilities, notably hearing and sight disabilities, may benefit from the increased accessibility that blended learning models offer. Source material can easily be read using text readers, and those with hearing difficulties may be able to access transcripts.
It's also common for students to struggle in class due to long commutes or less sleep. If students can't attend an in-person class occasionally, they can supplement their learning through the blended online components to ensure they're not falling behind.
Additionally, online calendars let teachers notify students about tests, allowing each student to easily sync their own calendar with a schedule. This ensures that students with disabilities are fully informed and can adequately prepare.
Real-time

progress tracking
Progress tracking is also key to the blended learning experience. Online tests are often self-marking and therefore deliver instant results. This makes it easier for teachers to quickly check where students need help and identify areas where additional classroom time may be needed if the class is struggling. Teachers can also go online to check the progress of group projects as they're happening, making it easier to identify where specific students are falling behind. It also ensures that students have a digital record of what they've done using a variety of collaborative tools.
What blended learning models work best for online courses?
There are numerous types of blended learning, including:
The most obvious version of blended learning for online use is remote blended learning, where students complete coursework online and only meet with the teacher as needed. However, this is limiting, because students need some sort of face-to-face time on a regular basis. Face-to-face time, however, can include scheduled small-group activities, individual tutoring sessions, and tutorials.
Station rotation blended learning means that students rotate through different "stations" throughout the lesson. For example, the stations or labs might be organized as follows:
Teacher station

Independent practice station

Collaborative/activity station

Tech station
This is ideal for students with a variety of abilities, as not everybody needs the same lesson. Adding in a tech station (potentially the lab part) makes it easy to assess knowledge. These are often used for elementary students to help them grasp key principles, where different learning methods can be accommodated.
A variant of this is individual rotation blended learning, where students only visit some of the stations as set by the teacher. Some students can improve their skills by practicing the activity straight away, whereas others may need additional help from the teacher. Other students may work best collaborating, helping each student reinforce their knowledge.
This is an online-heavy model where students complete the bulk of their education through homework and self-directed activities. However, educators are available in-person or via virtual communication channels for questions when students require them. This is suitable for students who need little supervision and have high motivation to complete the course.
This is one of the more common versions of blended learning, where students learn about content at home and then use scheduled class time for group discussions to ensure they have a good handle on the concepts of the subject. Essentially, this is like remote learning but with added tutorials, webinars, and in-person discussions to point them in the right direction. This can be ideal for students who need more time to grasp core subjects, but it also helps promote student-centered learning and collaboration. Tools such as Thinkific Live Lessons can help you host sessions within Thinkific in just a few clicks.
In this model, virtually all learning is self-directed. As a result, students walk through a course topic on their own, with the main goal being to understand the subject they define. For subjects like history, for example, this is fairly practical, as students can explore a particular part of history and show they understand it through a thesis or dissertation. This is suitable for students who work very well independently and is most often used with older students such as high-school aged or above who can identify their own topic for coursework. It still requires a supervisor to be available for answering questions and grading the assignments. 
The emphasis on these blended learning models is to use the classroom as a source of knowledge and discussion, but the lesson may not begin or end in the classroom itself.
With inside-out blended learning, the lesson begins in the classroom but may end outside in the community. This might be ideal for subjects that require practical experience, for example, and those that lend themselves well to working in the community. It doesn't necessarily reduce teaching time, however, and it can be difficult for students who struggle to work independently.
Outside-in blended learning involves bringing outside experiences into the classroom. It requires students to experience something in a non-academic environment first and then explore the theory behind it in the classroom. It's a great option for hands-on learners.
This form of blended learning treats either the classroom or the online space as supplemental to the other. Essentially, one form dominates, with the other acting as a supplementary backup. This can cover a huge range of other blended learning types, so it's quite broad in practical application!
With mastery-based blended learning, students have to demonstrate mastery of the subject before moving onto the next stage. They may use online and face-to-face teaching, but the key role is in designing assessments that show they have mastery of the subject rather than merely being able to regurgitate an answer through exams.
This is ideal for areas where mastery is critical, but it can be difficult to design tests that show mastery. Hands-on areas like cooking, sports, and trades roles are great to practice this type of learning model.
What tools can you use for blended learning?
Virtual communication platforms
In order to communicate with your class for the online or asynchronous components, you'll want to leverage some sort of virtual communication platform. Zoom is perhaps the most ubiquitous tool used for blended learning, due to its easy accessibility, universal accessibility and compatibility, and competitive price point. It's designed for face-to-face interaction, allowing multiple group calls. Other examples of tools that support virtual communication include:
Slack

Microsoft Teams

Skype

Discord
Learning management systems
A learning management system (LMS) is a way to store the content for your blending learning model. You can leverage a tool like Thinkific to create courses, assign projects to classes, and keep tabs on students' progress. Some other features that LMS platforms like Thinkific can enable include:
Videos

Text

Downloads

Quizzes and surveys

Discussions

Adobe Captivate and Articulate files

Building membership sites

Supporting multiple instructors

Creating time-sensitive content
Gamification platforms
Sometimes, it's not enough to have a well-designed website with great course materials. To engage students, it's useful to have a way to keep their attention. Motrain is a gamification app integrated with Thinkific that rewards self-paced learning activities, such as completing an online course lesson or quiz. 
Overcoming common challenges when switching to blended learning
Since blended learning models are a new concept for many educators and students, the transition to using them may come with challenges. Some common challenges include:
Setting up login and registration information for students:

Large class sizes will take a long time to set-up manually so it might be preferable for students to do it themselves if they're capable of doing so. And for those who forget login information, make sure there's a way to restore forgotten passwords!

Adjusting to multiple learning environments:

Students might not know where to find specific information, so have a set of instructions available in your original and online learning environments. It should outline which content is available in each environment. 

Responding to questions:

Students working independently might send requests 24/7. Set a boundary of which hours or locations you'll be available and which virtual contact communication channels should be used to reach out to you. 

Academic fraud

. Students can now leverage AI tools like

ChatGPT

to commit academic fraud. Ensure you have policies, anti-fraud tools, and other supervision models in place — especially during exam time! 
It's worth noting that younger or older students that don't have a lot of experience with technology will face more challenges than those who are familiar with virtual learning setups. Consider your students and take extra time to onboard and enable those who are likely to struggle in these blended environments. 
Best practices for blended learning
Focus on consistent learning experiences
Having numerous log-ins and platform incompatibility isn't conducive to a good blended learning environment. Simplifying the number of platforms you use means fewer workflows to remember, and it also means students get a consistent learning experience across each teacher. This can also help cut down your budget and makes it easier to stay on top of course material that needs updating.
Allow class time to

adjust to

blended learning
Not every student has an intuitive grasp of blended learning programs. In fact, most students need some help mastering the basics at first. Allocate classroom time where possible to learn about blended learning programs before using it as a key part of the educational experience. This allows students to ask you any questions and set themselves up for success from the outset, leading to a more seamless transition. 
Focus on the benefits to students
It's easy to focus on the technological aspects of blended learning rather than the teaching. But solutions should focus on teaching and increasing your effectiveness as a teacher rather than leveraging every possible feature from the technology underpinning it. So when you're evaluating multiple blending learning technologies, consider the ones that will be easiest for your class to use and that will actually help them to accelerate their learning. Factors like age, technological experience, and area of study may affect this decision.
Easy collaboration is crucial
No matter what solution you end up using, collaboration is vital. You may need to collaborate with other teachers to create learning materials. More importantly, your students need to collaborate as well. A great learning solution should make group projects and other forms of collaboration easy. Blending learning ools often provide teachers with the ability to download and share online files like grade reports, assignment instructions, specific lesson videos, and more. This aids the collaboration process and helps you maximize your time, too. 
Build a learning community
Setting up a learning community creates an area for class group discussions. It allows students to ask questions that are raised while working on their independent course components and have other students respond in almost real-time. Not only does this improve teamwork and collaboration, but you'll quickly see who is actually understanding the course materials. You can also use participation in a learning community as one element of your blended learning breakdown by encouraging students to post questions, answers, images, or short videos to the group discussion page. 
Examples of blended learning helping Thinkific creators
Mastering ice hockey through online theory and in-person practice
After years of playing and coaching ice hockey in his local community, Jason Yee set up a Thinkific course with the goal of helping young hockey players 10x their potential. Each year, he helps up to 300 players walk through mastery-blended learning where his students are determined to be one of the best in the sport. Jason's online video courses help aspiring hockey stars to learn the fundamentals of different strategies and tactics while on the ice, and includes some tips for honing in on individual skills. Then, players need to take those lessons and apply them to countless hours of practice time on the ice to really see the improvement come to life! 
Learning guitar through a mix of one-on-one and independent teaching
Good Guitarist is an online school that teaches students how to play six-stringed instruments like the guitar. James Testani, the founder of Good Guitarist, launched his Thinkific course with a supplemental blended learning option. This model works for James as his students can meet with him through virtual one-on-one lessons to get to know the instrument's components and how to start playing it. Blending learning models step in when students want extra practice time as there are plenty of online support videos and practice songs that students can strum along to. 
Developing baking skills with inside-outside blended learning
Chef Amanda Schonberg kicked off her course Baking for Business in 2021 after getting a lot of requests from clients and social media followers about how she makes her delicious desserts. Her course takes on an inside-outside blended learning approach. She teaches students how to create amazing desserts inside the classroom first. Then students need to put their new knowledge to use outside of the classroom in a real kitchen. Students have the option of also leveraging some of Amanda's other recipes that are available online to accelerate their outside classroom learning. 
Ready to implement blended learning?
With Thinkific, it's easy to create online learning experiences to complement your in-person class with blended learning. Try it for free today!
---
This blog was originally published in August 2021. It has since been updated to include newer information in August 2023.