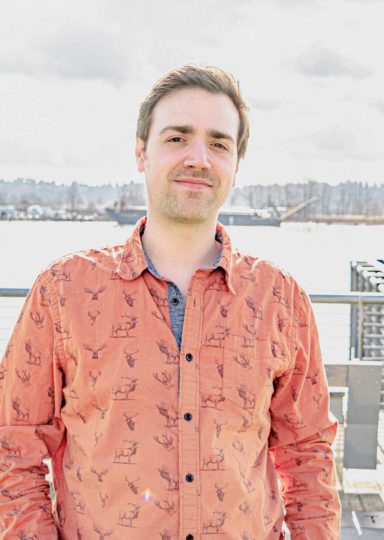 From one-on-one guitar teacher to online mentor
James Testani is the founder of Good Guitarist, the online school that gets students up and running with six strings. Using Thinkific, he's helped students around the world develop their skills and discover the joy of making music.
Originally a traditional, one-on-one guitar teacher, James came to realize that his approach to learning guitar could be used universally. He started a YouTube channel to demonstrate simple techniques. His work struck a chord—before long, his followers were almost doubling overnight. Today, by using Thinkific, he brings the experience of one-on-one guitar lessons to thousands of students.
Good Guitarist's lessons start with the popular Beginner Guitar Course, with over twelve hours of play-along songs for students to practice. More advanced students can move on to James' Lead Guitar course, where they learn the art of soloing.
QUICK STATS
7
COURSES
232K
YOUTUBE SUBSCRIBERS
2
YEARS TEACHING ONLINE
After working at a bank, I learned what I didn't want to do with my life. Teaching seemed like a quick, reliable way to make money. But I ended up liking it. Then I got into YouTube—and now, I sell my own courses!James Testani
From free videos to monthly subscriptions
HOW IT BEGAN:
James started making guitar videos to complement his full-time gig teaching students one-on-one. At the time, he believed other videos overcomplicated the fundamentals of guitar. James treated the videos as course supplements—they followed the same, intuitive learning approach he used with his students. 
Soon, amateur guitarists James had never met—people who were using his videos to learn—started writing him with questions. When he saw there was a demand for his teaching online, he realized he had the opportunity to open up a new revenue stream for his business. James believed that anyone could learn to play guitar from scratch, just by following along with videos. The trick was finding the right ones.
So he created an online course. Rather than make videos at random as the need arose, he turned them into structured lesson plans students could progress through, with books and diagrams to help them along the way. His first beginner's course went live in early 2018. Since then, James hasn't looked back.
Thinkific is like my own YouTube. Where I'm in charge of everything, and I get to tell students what order to do everything in.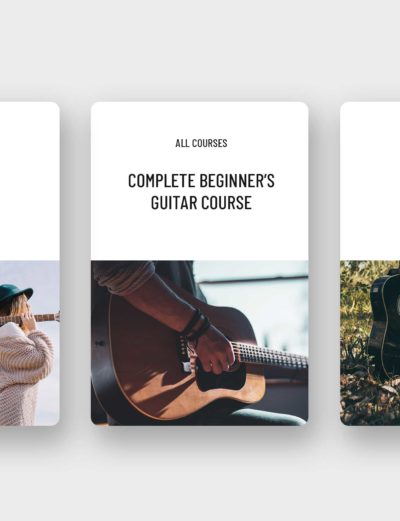 Choosing Thinkific to launch a guitar academy for beginners
THINKIFIC AS THE SOLUTION
Good Guitarist gives students the chance to jump in no matter where they are on their journey. For instance, in order to learn a song, they could take an absolute beginner's lesson on the basic chords and strumming patterns. Or they could take a different lesson for the same song, one that focuses on making their playing sound as polished as the recording.
Thinkific's complete lesson framework makes it easy for James to arrange different types of media in one attractive, easy to use package. Whether it's videos demonstrating strumming patterns, recordings of songs to play along with, or fretboard diagrams, he can pull together all the information his students need. No building a website, no programming, no plugins. It's the fastest, most intuitive way to share his knowledge with the students who need it.
Since his lessons are so easy to organize, James can anticipate problems his students may run into. Extra troubleshooting material helps correct any mistakes along the way—so students can solve problems on their own, without weighing their teacher down with a pile of emails.
More students, more revenue, more growth
BUSINESS GROWTH WITH THINKIFIC
Launching his courses on Thinkific has allowed James to reach more students than ever before, and turn his part-time pursuit into a full-time career. 
James can easily adapt his course materials to new challenges as they arise, so he's always addressing students' top questions. In fact, he's learned a few lessons himself. By trying out new techniques with hundreds of students online, he's been able to hone his skills as a one-on-one teacher.
Good Guitarist is always updating and improving its course content. And James is finding new ways to reach out to potential students through social media, by sharing free content hosted on Thinkific and capturing leads with his popular ebook.
Thinkific lets me take what I would do for someone in a one-on-one lesson, and help a thousand people. It lets me reach people with the most up-to-date information in the best way I can teach it today. My course adapts with me. It's not just some product I put out there. It's alive.James Testani
James' favourite Thinkific features
Always keep your lessons up to date
CONTENT MANAGEMENT
Teaching is also about learning. As James hones his skills as a teacher, he's able to go back over older course material and update it to fit his new methods. So his students are always getting the best learning experience possible.
Meet every student on their level
STUDENT EXPERIENCE
Good Guitarist's students can choose the course package that most suits their skill level. Integrated audio, video, and text lets them learn in multiple mediums and approach lessons from different angles.