Learn everything you need to know about growing your coaching business using online courses.
As a coach, driving meaningful transformation for your clients is one of the most fulfilling parts of the job. Whether you're a business coach, fitness coach, or a life coach, helping others achieve their goals goes hand in hand with living out your purpose as an entrepreneur.
But there comes a point for every coach when the calendar fills up and business growth plateaus. After all, there are only so many clients you can work with at a time. Taking on more would risk overcommitment and burnout.
If you can relate, you're not alone. Many coaches find themselves tapped out from serving clients one-on-one and are looking for ways to scale. Thankfully due to technology, you have options!
Throughout this article, we're going to explore why online courses are a great way to create more leverage, impact, and income in your coaching or consulting business.
How To Grow Your Coaching Business Using Online Courses: The Ultimate Guide #onlinecourses
Click To Tweet
Whether you're brand new to using online courses or want to know how to take your online training content to the next level, you're in the right place.
Get ready to take some notes!
CHAPTER 1
Why Create An Online Course For Your Coaching Business
Let's explore why online courses are so effective at helping grow a coaching business.
If you only work with clients one on one, your business depends on trading hours for dollars. Since there are only so many hours in a day, you will eventually run out of time. This means that soon enough, you'll hit a limit to the number of clients you can serve and the revenue you can earn, stalling your business growth.
Hitting this plateau is the number one challenge that prevents coaches from scaling their business.
When this happens, you have three options to get over the hump and grow your business:
Raise your prices. By charging more for each client, you can increase your revenue. Keep in mind that you must be able to justify the price increase, and may need to target a different type of customer who can afford a higher price point.
Hire more people. If you've ever wished you could clone yourself to be more productive, this is the closest thing to it. You could hire other coaches to deliver your programs for you, and check in with your students and trainers only as needed to save you time.
Create leverage. Stop trading time for money altogether by creating leverage. Online courses are a great tool to help you do this. When you create an online course once, you have the ability to sell it over and over again on a global scale.
If you're interested in creating leverage, keep reading. Online courses are a great way to make a bigger impact as a coach as they help you bypass the dollars-for-hours trap.
"With 1-1 coaching, I felt like a record on repeat, answering the same questions. So I took everything that people were asking me, and turned it into an online program."
Related article: 5 Ways To Grow Your Business Using Thinkific
Are You Ready to Scale Your Coaching Business With Online Courses?
Before jumping headfirst into course creation, there are a few things you should have in place first to see the most success. Not everyone is ready to scale their business, at least not yet.
Here are a few questions to ask yourself to determine whether you're ready to create leverage in your coaching business through online courses:
Do you have an existing coaching program with validated market demand?
Do you specialize in a primary niche or industry?
Do you have a proven track record, with testimonials or case studies to show for it?
Have you reached capacity in your business?
If you answered yes to most of these questions, chances are you're in a great position to 10x your impact as a coach through online courses!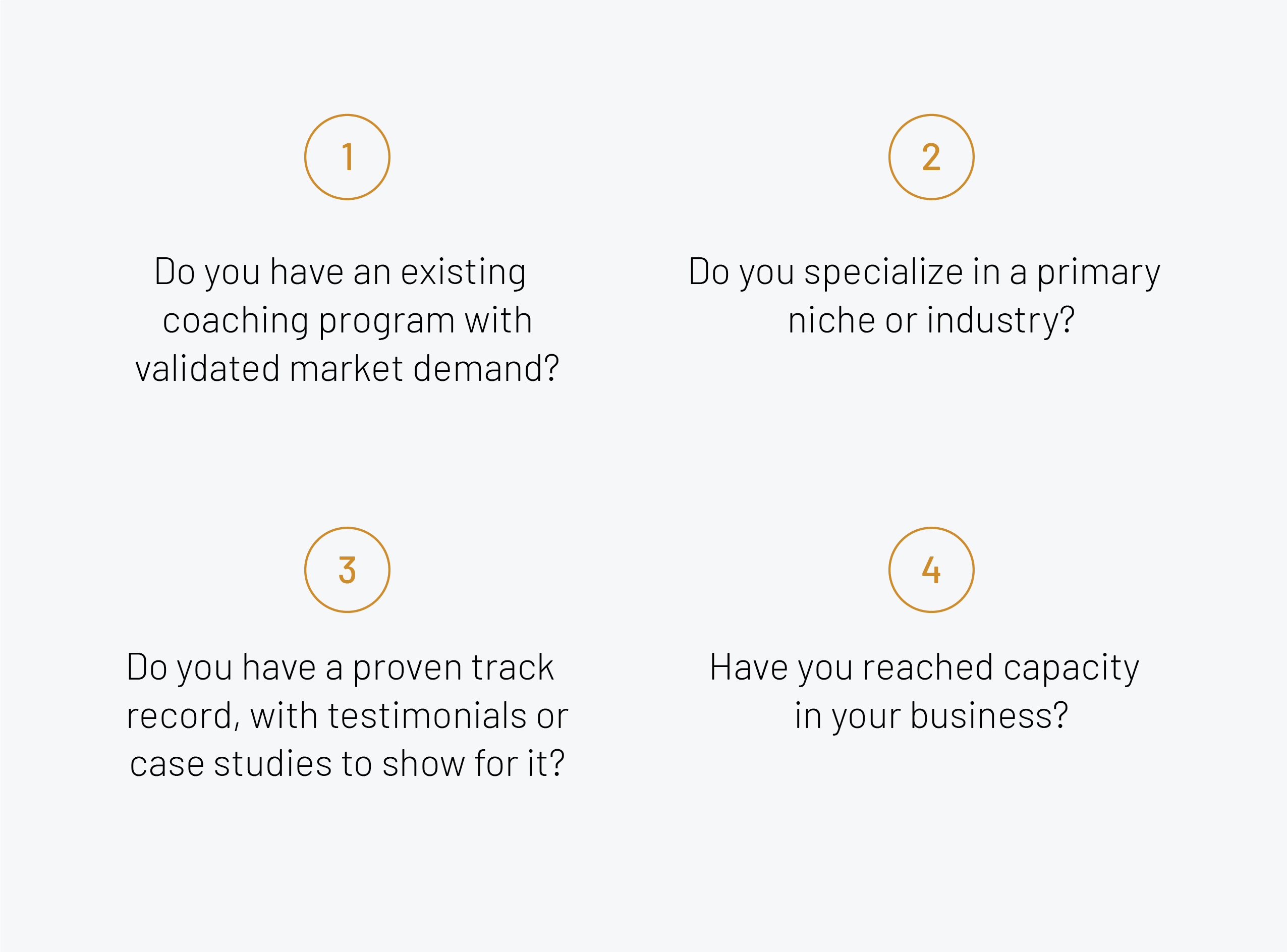 Online Course Business Models For Coaches
Many coaches have transformed the way they do business and live life through online courses. We'll get into more detail about how to create great content, test your ideas, and sell your course later, but first let's look at some of the most common ways coaches use online courses.
Model #1: Online coaching course
This model uses online courses to productize your coaching program, turning it into a fully-fledged online information product. Going this route can help you achieve incredible scale. Because once you've created your digital asset once, you can keep selling it to your audience.
Financial Coach Academy is a great example of this category. Run by a duo of financial coaches, the team uses Thinkific to offer an 11-week online course on personal finance, designed to help other coaches achieve financial independence in their business.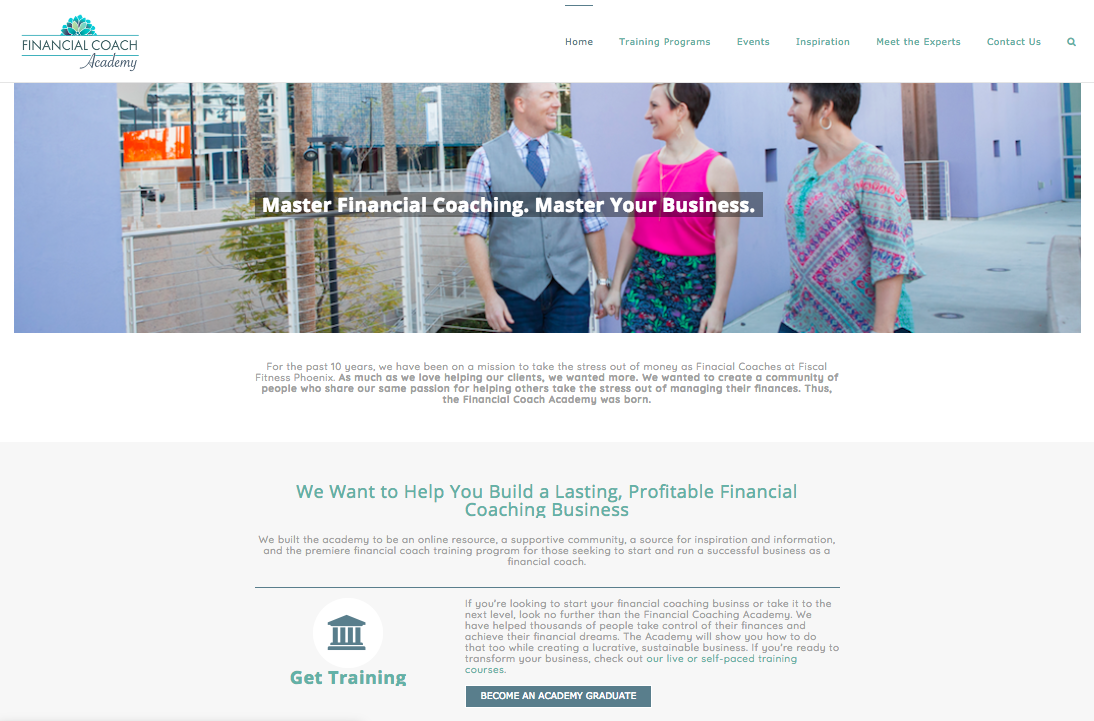 This model enables you to fully productize your one on one coaching program. But keep in mind that your online course doesn't have to replace your existing program. You could position it as an upsell, downsell, or as complementary to your one on one coaching program.
Model #2: Membership sites
Having a membership site is similar to having a standalone online course with a couple of key differences. Membership sites operate with no definitive end date and are priced at a monthly recurring subscription. This way, members are incentivized to stick around indefinitely and engage with the fresh content and community.
Someone who uses this model well is Natalie Eckdahl, founder of the BizChix Community. She runs a membership site through Thinkific where she coaches female entrepreneurs towards business profitability and success. With a monthly subscription, members get access to focused group training, co-working hours, and pre-recorded content.
Membership sites publish new training content on a regular basis and place a major emphasis on community building. Participants have access to all the other members in the program, which is often a key motivating factor in their purchase decision.
"Membership sites can prevent the feast and famine cycle that comes with standalone client contracts or launches. Building a base of recurring revenue through membership sites creates the stability that is a game-changer for many businesses. "

– Mike Morrison, Membership Site Expert at The Membership Guys
Model #3: Group coaching
By organizing clients into a group, you can work with more clients at the same time to achieve more leverage in your business. This method often works well when live training is staggered between online training content that you've prepared for your cohort to follow along at their own pace.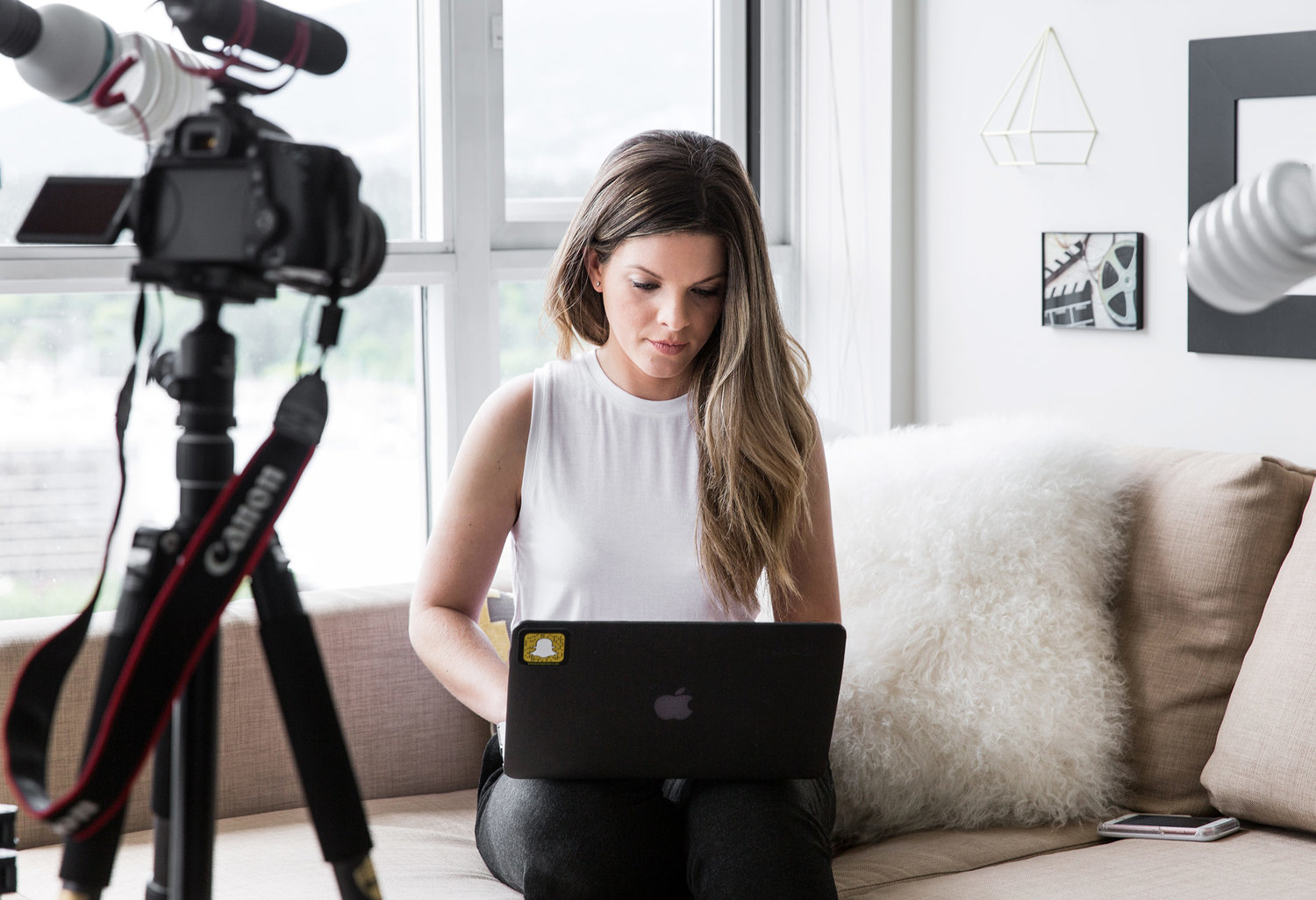 Sunny Lenarduzzi is a YouTube marketing expert who uses this model well. She began consulting with businesses on how to leverage YouTube for growth. After reaching capacity serving clients one on one, she created a 90-day group training program. With this program, receive a balance of customized mentorship and scalable online training.
Model #4: Client only training
This involves creating exclusive online training for clients you're working with one on one. This is different from a single online course or a group coaching model in the way that each client receives customized online training, in addition to face time with you.
While you are still serving clients one on one, you are able to charge a higher rate for your mentorship. You are also able to save time by providing supplemental online curriculum for clients to use between meetings and calls with you.
Scott Olford is a business strategist serves his clients through this method. He heavily leverages client only online training to help 7-figure entrepreneurs scale up. This approach ensures each client receives highly customized mentorship and game-changing results.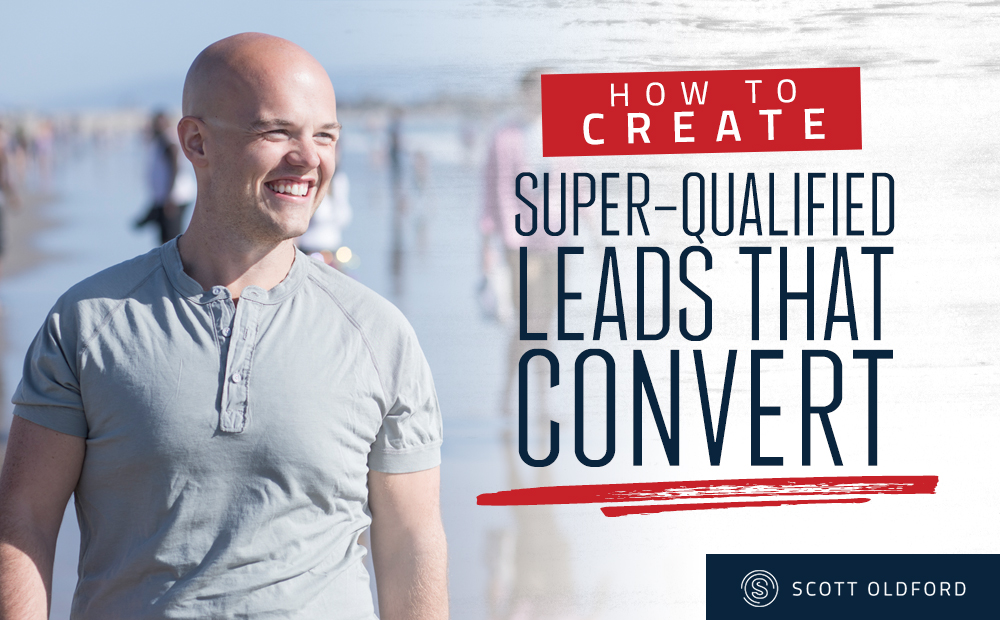 Model #5: Client Acquisition
This model involves offering online courses for free, to help you generate leads for your coaching business. Going this route helps educate and qualify prospective clients before they work with you.
XayLi Barclay is a visual content coach who uses this method well. She offers a free course on video creation course to generate leads who are then funneled towards paid services like additional courses and access to her membership site.
Watch the free video training for more detail on the 5 ways you can scale your coaching business, and take advantage of a special offer for coaches to get started with Thinkific!
Now that you understand how online courses can help you grow your coaching business, let's dive into the essential steps for driving the most impact with your online course. If you're not sure what kind of setup you need, don't worry! We'll cover those basics further down. You can also check out why Thinkific is listed as the best online course platform, and how it's uniquely positioned to help you scale.
---
CHAPTER 2
Validate & Presell Your Online Coaching Course
If you answered the questions in the first chapter and determined that you're ready to scale your coaching business through online courses, horray! Your next step is to get to work validating your online course idea before launch.
---
Skipped chapter one? Give it a quick skim to make sure your business model and mindset are set up for success in the validation phase!
---
As a coach, you may be wondering, I already have a successful coaching program – do I really need to validate my program again before putting it online?
The answer is yes. Even if you have a thriving coaching program offline, you still need to validate your course so you don't risk building a product that no one is interested in purchasing.
Basically, the validation stage helps squash your assumptions before they become a problem.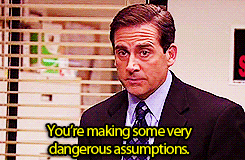 Here are a couple of common assumptions to consider:
Assumption #1: What works offline will work online. People learn differently online. What works face to face may not translate online in the way that you expect. Going through the validation process helps determine whether people can (and want to) absorb the same content from you in a different learning context.
Assumption #2: Learning goals for your audience remain the same. The client who wants to work with you one-on-one may be looking for a very different transformation than the client who would rather learn through a self-directed online course. Validation helps you test your price and product fit with the audience you're targeting.
"One of the worst mistakes you can make when launching your course is to fall in love with your own product before you even ask your customer whether it's useful to them."

– Matt Kohn, Founder of Different Hunger Media

Benefits to Validating & Preselling Your Online Course
On the flipside, there are some major benefits to validating your online course properly. Here are three key benefits that result from doing it well:
Protect your time and resources. There's nothing worse than spending days or months creating an online course, only to discover that nobody wants to buy it. Validating and preselling your online course can prevent missed opportunities to grow your business.
Get valuable feedback. The sooner you involve your prospective customer into the process, the sooner you'll find out exactly what they want to learn, and how. You'll gain invaluable insights about customer preferences to help you refine your content.
Build your customer list. By floating the idea for your online course before launch, you can drum up interest beforehand. This way, you'll be launching into the hands of prospective clients, rather than a sea of cold leads.
Here are 5 ways to validate your course before launch. #onlinecourses
Click To Tweet
How To Validate Your Online Coaching Course
Your validation process should include a mix of making assumptions, asking for feedback, and iterating on that input. Below are some helpful steps to consider in the process.
Everyone's process is different, so the order and timeline in which you do them may vary. But set yourself a goal of hitting on each one before you jump into creating any course content!
1) Survey your audience. Start conversations with your target clients to get a sense of what they need and how you could serve them through an online course. If you already have an audience or pool of past clients you've coached, listen for ways you could add value through a digital version of your program. For example, you could…
Send a survey to your email list asking about their biggest challenges or questions
Publish a poll on social media to identify learning preferences
Run your ideas past the most engaged members of your Facebook group
Leverage social listening tools to keep an eye on specific hashtags or topic trends
Do keyword research using Google Keyword Planner, or search on forums like Quora to identify common questions
2) Decide who you will serve. If your goal is to productize your online course, you must get specific on who you plan to serve. The more specific you get, the easier it will be to create content that serves a multitude of clients at scale.
"As coaches, we serve a previous version of ourselves. If you can dial into exactly who it is you want to serve, what point in the journey they are at, what their struggles and fears look like, then your course will speak directly to your ideal client and be worth a lot more to them."

– Michael Marcial, Founder of the 5-Figure Workweek

2) Outline the transformation for your course. Once you've outlined a persona for your course, get clear on the value you'll provide. Ask yourself, what is the transformation you'll help them achieve? Will it be the same or different from your current coaching program? In what ways?
To help you keep your insights and goals in one place, download this template to start mapping your client's journey with an online coaching course!
3) Choose a delivery model. Between the five delivery options we outlined in chapter one, which model resonated with you the most? In thinking about how to structure your offering, it's helpful to think through two lenses: the customer journey and your business goals. For example:
Lens #1: Customer journey… Did your customer research reveal a desire for group learning and community? Group Coaching might be a good fit. Or, are clients looking for a high-touch coaching experience to solve complex problems? A Client Only training model can help you build more leverage into your workflow.
Lens #2: Your business goals… Is your goal to achieve monthly recurring revenue at scale from your coaching services, while remaining highly involved with your clients? Running a membership site might be for you. On the other end of the spectrum, is your main goal to reduce the amount of face time you need to spend with clients each week? Creating a very niche, productized online course may be an option.
Ultimately, you'll want to choose a model that enables you to achieve your business and lifestyle goals while serving your clients well.
To hear examples of how coaches use online courses with Thinkific, check out this video training on 5 Ways To Scale Your Coaching Business.
Related article: For more tips on how to validate your course, hear from Michael Marcial, an online course creation expert and Founder of the 5-Figure Workweek, for 4 Steps To Validating And Selling Your Online Course.
With these insights in mind, it's a good time to put together an initial outline for your course and test it on your audience!
There are two main methods course creators typically use: presell a course, or launch a pilot course (a minimum viable course).
Method #1: Presell Your Course
With this method, your goal is to generate sales before creating any of your content. How, you may ask? By sharing a 1-pager of your course outline with your target audience, and asking whether they'd pay for what you have to offer.
You could get on the phone, host a webinar, or set up a simple sales page on Thinkific to get your content in front of your audience. Whatever you use, make sure you communicate what content they can expect to learn, the transformation they'll achieve, when the course will launch, and the price point. Here's an example of some sales pages on Thinkific.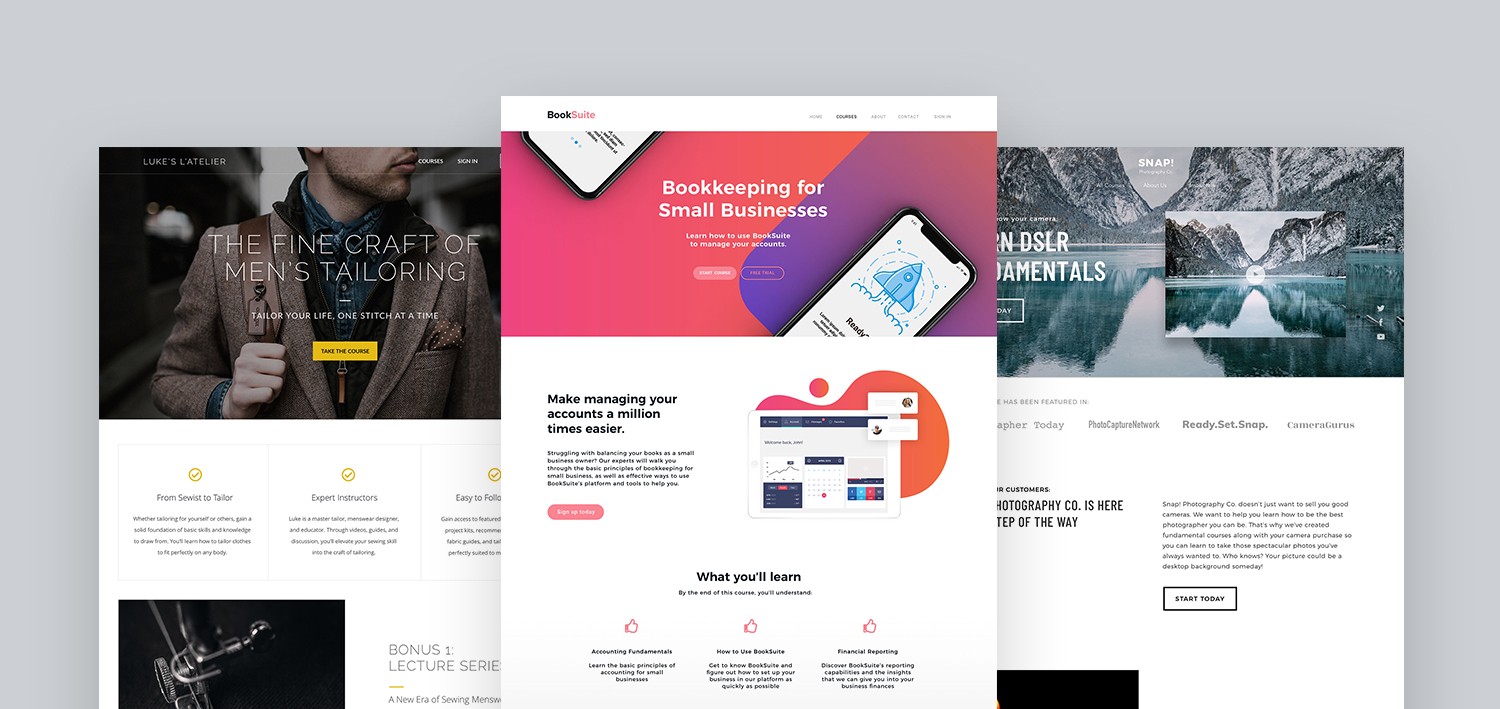 The idea here is to validate the fact that people will actually pay for your course by having them put money down before you invest any time into creating it.
Thinkific customer and digital agency founder Matt Kohn used this strategy to successfully presell his online course for over $30,000, without creating a single lesson. Matt walked through many of the steps described above to hit this milestone. To hear the full story on how Matt did this, check out this interview where he shared how to productize, presell and scale your online coaching business.
Not sure how to price your course? Grab your free pricing worksheet below to get started!
Method #2: Launch A Pilot Course
Alternatively, you can create a pilot course. This is a short, discounted version of your course that's intended to gather feedback from your audience. This is different than preselling in the sense that you are creating a small 'beta' course to test student reactions, similar to the way networks pilot new TV shows.
To launch a pilot course, choose a time period that it will run and a price point. You'll want to price it lower than what you intend to charge for the full course since it will be a fraction of the real thing.
Structuring your pilot could look like a series of webinars, or a handful of learning modules on Thinkific. Consider putting a limit on the number of students who can enroll, and ask them to take the course at a reduced rate in exchange for providing feedback, testimonials, or helping you refine the content.
As you may have guessed, it often works well to experiment with both preselling and launching a pilot. Just remember to follow through on whatever commitments you make in each step, and remember to prioritize gaining feedback before going out to create your real course!
Next, we'll dive into how to create great content for your online coaching course!
---
CHAPTER 3
Creating Your Online Course Content
With your course idea validated, it's time to build on the insights you gathered and refine your test content into a fully-fledged curriculum.
Transferring a one on one coaching program into an online format does not come without its challenges. In this section, we'll walk you through the steps to help make the process as smooth as possible.
1) Revisit your target persona
Did any of your assumptions change after going through the validation process? Take time to revisit the characteristics of your ideal client – now is the time to hone in on the specifics. Note down their personality traits, what skill level they bring into the course, and what experiences they've had so far.
Do not fall into the trap of thinking that the wider you cast your net, the more people will join the conversation. People are drawn to what speaks to them directly. Not generic advertisements, but things that they personally relate to.

– Jeanine Blackwell, Course Creation Expert
2) Define the transformation
Your goal here is to clearly define the transformation that your audience will achieve through your online course. One of the biggest mistakes coaches make at this point is trying to cram everything they know into one course. This often results in student overwhelm and lower course completion rates.
To avoid this, grab a piece of paper and do the following exercise:
Write down their current circumstances and frustrations, pre-course. This is their starting point A.
Write down their desired end results and feelings, post-course. This is their end point B.

Remember, your clients are less interested in the content you have to share, and more interested in the end result they'll achieve.
If you typically cover a lot of ground in your one on one coaching programs and are not sure how to narrow down your focus, consider breaking the subtopics into multiple courses. This helps you productize your knowledge at scale and enables clients to opt into each course topic when they're ready.
XayLi Barclay does this through her Start Show Grow Academy, where she coaches entrepreneurs how to create videos. She offers both standalone courses that are narrow in scope, as well as a monthly membership covering a wide array of topics. Clients self-select based on their preferred method of working with a coach.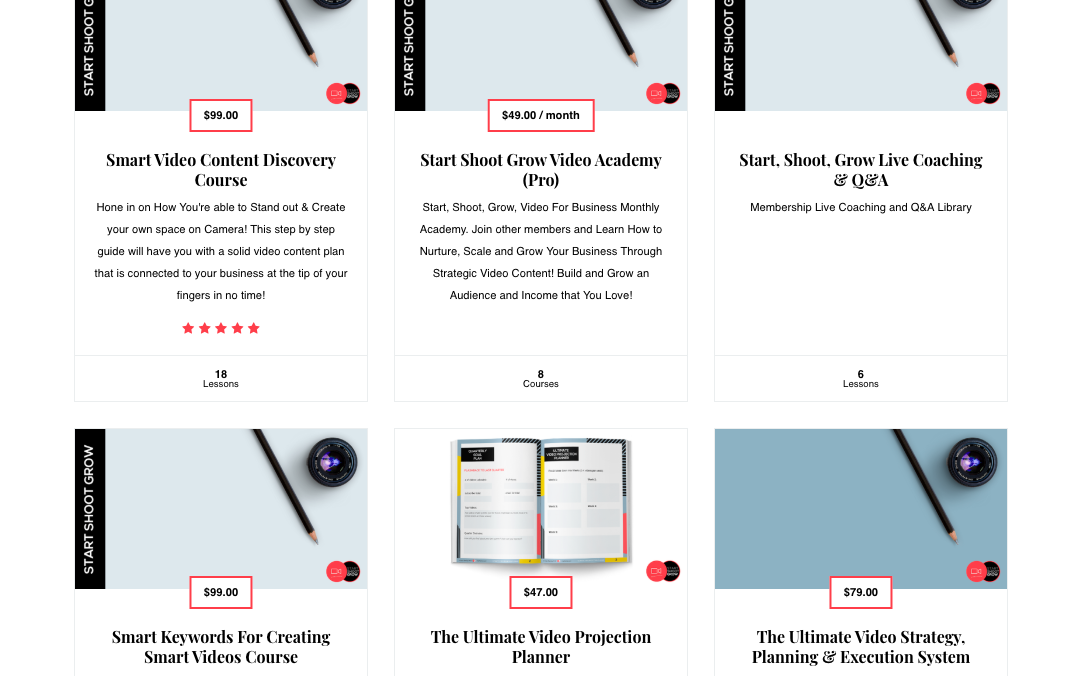 Create your content into smaller, bite-sized pieces. Aim for 5-20 minutes each that are targeted and to the point. You'll see a lot more momentum with students going through your content.

– Paul Thomson, Online Course Creation Specialist
3) Map the milestones and stages between points A – B
Here you're building an outline for your course curriculum. What stages or key milestones must your clients move through in order to get from point A to point B? Think of these as your course chapters.
Within each chapter, what details do your clients need to learn or do in order to progress to the next chapter? Think of these as your lessons. Pencil in headlines for both your chapters and lessons to fill in your course outline.
Pro tip: Keep in mind that more content doesn't necessarily mean more value. The quicker you can guide your clients to their desired result, the better. Only include elements that are absolutely essential to your student's journey.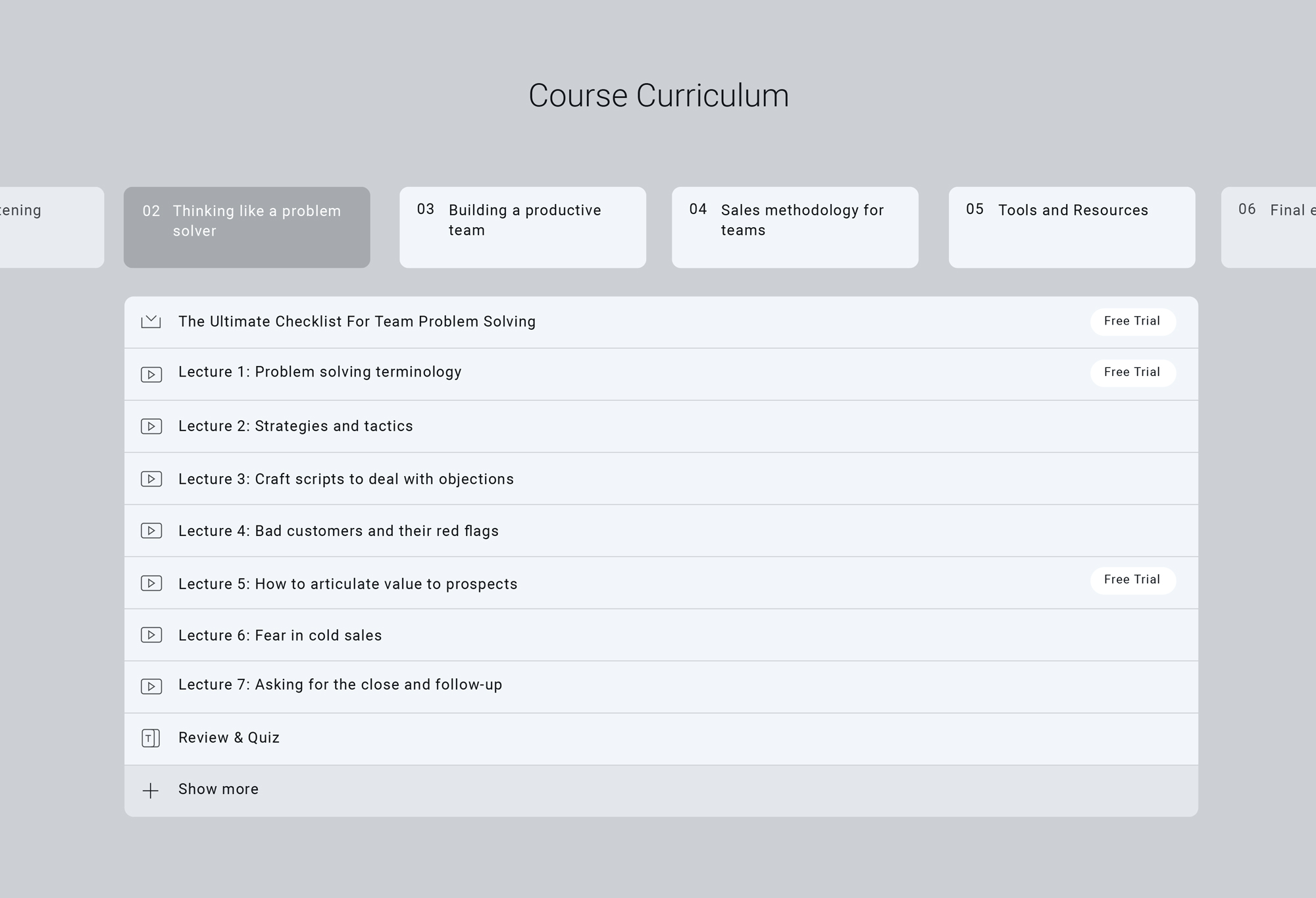 With an outline of your course in hand, it's time to fill in the gaps and create your content! In the next section, we'll look at what types of content work best to bring a one on one coaching program to life online.
For a step by step guide on creating your curriculum, download this worksheet for a lesson planning template!
Content Types for Engaging Online Learning
Since everyone has a different learning style, you'll want to use a combination of content elements to support your clients.
To help you decide what formats to include, we analyzed over 16 million student experiences on the Thinkific platform to find courses with the highest completion rates. We found that the top performing courses had several things in common, including the types of content offered.
Here are some key elements to consider when preparing your content:
Video. This is a great way to maintain a personal touch to your online coaching program. Videos also appeal to both auditory and visual learners. Introductory videos for each chapter work well to simulate a one on one experience throughout your course.
Interactive elements. Included in every successful course are activities that encourage clients to take action. Do this by having your students to write reflections in a workbook, include challenges within each chapter, or add quizzes to gauge their progress.
Regular touch points. Make yourself visible as a helpful facilitator throughout the course through digital touch points. You could set up automated emails to check-in on students, or schedule face to face meetings and calls in between online lessons.
Community. Creating space for your community of clients to interact does wonders for student motivation and completion rates. You could leverage discussion forums within your course modules, or create a Facebook group to supplement your lessons and cultivate community.
"To create transformative learning experiences, your course must include components that push students beyond passive consumption into action. By including activities or exercises to engage with, you'll be able to connect with every type of learner in your program."

– Jeanine Blackwell, Founder of  Course Creation Expert

Related article: want more tips on how to create highly engaging online coaching experiences? Check out this interview with course creation expert Jeanine Blackwell where she explains best practices to put your one on one coaching program online.
---
CHAPTER 4
Branding and Marketing Your Online Course
If you've gone through the steps thus far and are already on your way to creating your online course, bravo! But before you launch it into the world, do you have a plan to market it?
Preselling or piloting your course can help drum up initial sales. To see that revenue carry into the long-term, you want to be intentional about your brand and marketing strategy.
To help bring you best practices around marketing your online course, we talked to a handful of experts in the industry. The strategies outlined in the next few sections are geared towards coaches who have foundational brand assets like a website. If you are just getting started building your brand, we'd recommend you start by reading our complete guide to building a personal brand first!
Building your brand and circle of influence
Whether you're established in your niche or are just getting started in building your brand, launching an online component to your business provides an opportunity to re-educate your audience on how you can help them.
There are a few strategies that work particularly well to help coaches grow their sphere of influence and attract more clients.
1) Become microfamous in someone else's community
Instead of trying to build your brand from scratch, start engaging with existing communities that are complementary to your own. This helps you build critical mass faster than you could on your own.
Do a search on on Facebook or LinkedIn to find groups in your niche. By offering helpful advice related to your expertise, you'll start to gain the trust and respect of that group of prospective customers.
"Don't try to start your own group and wonder why you are the only one hanging out there! Be consistent in adding value in other communities first, and your brand will start to grow naturally." – Dana Malstaff, Founder of Boss Mom

Read more about Dana's method for using this strategy to build a powerful personal brand.
2) Get featured as an expert
As a coach, building visibility as an expert should be a key part of your strategy. Here are some examples of how to get featured as an expert:
Podcasts. Get featured on a podcast to talk about your expertise. If you're new to podcast world, this is not as difficult as you might think. With millions of podcasts looking for guests to interview, chances are there is a demand for you to talk about your expertise somewhere.
Speaking. Speaking at events not only builds your profile as a thought leader but can act as an effective lead generation strategy. Look for meetups in your local area, YouTube channels with your target audience, or online summits in your niche providing you opportunities to share your expertise.
Guest blogging. Contribute an article to a leading publication, or reach out to a partner to see about authoring a guest blog. This strategy also helps boost your SEO, as you'll start to build digital pathways around core keywords leading back to your website.
3) Cultivate your own community
The past two steps help get the ball rolling towards building your brand. But building your own community helps keep the momentum going.
Building a Facebook group, membership site, or engaged social following are great methods for cultivating your own tribe. In the next section, we'll dive into some tactics around how to leverage these marketing tools to build your brand and attract the right clients.
Related blog: 55 ways to market your online course
Marketing Strategies for Coaches
In addition to building awareness for your profile as a thought leader, let's dive into some tactical marketing strategies that work well for coaches to generate engagement and leads.
Facebook Groups.
Facebook groups are a prime vehicle for creating an engaged audience that you can sell your online courses to in the  future. Many coaches also use Facebook groups as a complementary space to engage with participants already in their online course.
To attract people into the group and grow it into a thriving community, here are a few things to try:
Be consistent. You need to show up consistently in your group every day if you want others to do the same. Create a schedule to outline when you'll publish new content in the group, how much time you'll spend engaging with the community.
Be entertaining. If you want your community to grow, you need to make it a fun place to learn and connect with others. While people may join for the head knowledge you have to share, they'll be more likely to stay if they connect with the heart of your community.
Add value. Make sure you are constantly adding value by offering free training, tips, or insights to the group, in addition to sparking community conversations. In your content schedule, map out a balance of providing insightful and actionable material, an entertaining thought of the day, or highlighting community conversations within the group.
For more tips on Facebook groups, check out this article on How to Create a Facebook Group For Your Business.
"Having a Facebook Group is a great way to communicate with people. To me, it's like having a highly engaged email list."
Video marketing.  
As videos continue to take the spotlight when it comes to content consumption and web traffic, including them in your marketing strategy is a great way to stand out.
Videos help you maintain a personal experiences through your online coaching course, helping you overcome any worries you may have around losing touch with your clients by going online.
With over 1 billion users, YouTube processes over 3 billion searches every single month. Leveraging this powerful search engine in your marketing strategy is a must for coaches looking to go online.
Facebook Livestream. If you've never done a live video and don't know where to start with livestreams, fear not. It's not as difficult as you think.
Live streams are a handy marketing tactic for coaches because they help put a human face to your digital course. While videos on YouTube help provide evergreen lead generation and brand awareness for your business, live streams function a little differently. By giving people a live experience to engage with, you're mimicking a handshake in the real world unlike a pre-recorded video.
Stephanie Liu is a Facebook Livestream expert and Founder of Lights, Camera, Live. She shared some statistics on the state of livestreaming to put things into perspective…
Facebook users watch live videos three times more than any other types of videos. Users engage with Facebook live streams ten times more than other posts on the platform.

– Stephanie Liu, Founder of Lights, Camera, Live

With this in mind, adding live streams into the content schedule for your Facebook group can be a gamechanger for the engagement in your group!
---
CHAPTER 5
Systems for Scale
Understanding the difference between growing and scaling is paramount for your business success. An influx of new clients can wreak havoc on a business if it's not equipped to handle growth.
Many coaches struggle to know what systems and processes are required to handle increased capacity. In this section, we'll look at the difference between growing and scaling, and what elements in your business you can streamline to position your business for success.
Difference between growing and scaling
Growth means you're increasing your clients, revenue, and operation velocity at relatively the same rate. As your clients grow, your revenue grows. If your primary focus is getting more clients in the door to increase revenue, you are in a growth phase. Reaching capacity in this phase is a precursor to being able to scale.
Scale comes into play when your business growth begins to outgrow your capacity to manage it. The goal in this phase is to grow your revenue faster than the resources required to create it. To accomplish this, you need to set up systems to support this increased velocity. Without the right systems and processes, even if you are actively increasing revenue or customers, your business growth will plateau.
"If your capacity to scale is lower than your growth, you are going to hit an income ceiling. If you have no systems, you can't scale, even if you're seeing a ton of sales growth in your business."

– Katya Sarmiento, Founder of Reach and Make Millions
So where do you start in creating systems that set you up for scale? While each business is different, there are some common aspects of online course businesses that make good places to start. Consider the following buckets of activity as you look for areas to systemize your own business:
Streamline your client onboarding process
Not only do you want to provide your clients with a great experience, you want an onboarding process that frees up capacity in your business. You can accomplish both of these objectives with the right systems in place.
Here are some tips for streamlining your client onboarding process:
Canned email responses. As inquiries come in, start to notice your patterns of response. If you find yourself responding to the same questions over and over, create a canned email response in your email provider settings, or take the time to write up a few templates in a word doc that you can easily copy and paste.
Questionnaire. As a first touch point, it's helpful to provide a standard questionnaire for each new client. That way you can discover important aspects about your client before you get on the phone, saving you precious time down the road.
Pre-call content. Provide important information about the way you work up front, before you get on the phone with a client. Not only will this give the client that you're prepared and professional, it will help weed out clients that are not a good fit. Including things like your pricing, working guidelines, and expectations are all good to systemize in a pre-call document, since it is often the same for every client.
Contract signatures. You can use a tool like DocHub to make the contract signing process as smooth as possible. These tools enable you to edit, send and sign PDFs online for free.
"Many 7-figure businesses have one thing in common – they overcomplicate their processes. If you work on building a great consultation funnel and direct all your marketing activities there, you often don't need fancy systems beyond that."

– Greg Hickman, Founder of System.ly

Project management tools
If you find yourself manually performing the same tasks over and over, take note. There's a good chance you can automate some or all of these process, through the help of some handy tools.
To decide what to automate, start to track your time to get an accurate picture of how long you are spending on repetitive tasks throughout the week. Are you spending a lot of time responding to emails? Writing out the same communications over and over? Or are you just trying to keep your operations running smoothly, getting bogged down on administrative tasks?
If you answered yes to any of the questions above, here are some tools to consider.
Hire someone to help you
Hiring a team member is a critical step towards scaling your online course business. By shifting from a solopreneur to a business owner mindset, you'll create opportunities to invest in untapped revenue generating activities.
How do you when when it's time to hire someone? Identify how much time you're spending on high-value versus low-value tasks. Every task in your business should have a dollar value assigned to it based on how it contributes to driving revenue.
Low-value activities are administrative tasks that are necessary to keep your business running, but don't directly contribute to revenue – think accounting, project management, or editing and proofing your content. High-value activities are tasks that directly correlate to generating revenue.
Often you can hire a virtual assistant or freelancer to take over low-value tasks, especially those that are repetitive in nature. Here are a few sites to explore to
For more tips on drafting your first job description, screening candidates, and onboarding new team members, read our guide on How to Hire a Virtual Assistant.
Conclusion
If you've made it this far, congratulations! You have a roadmap to creating a profitable online coaching business.
To hear more tips from the industry experts we've featured in this guide, sign up for the Coach to Course content series and get access to exclusive interviews where we dive deeper on each topic.
If you've tried any of the exercises or strategies in this guide, let us know how they worked for you in the comments below!