You're focused on producing the highest-quality educational content out there. Right on! If you can spare a moment of your attention, we need to discuss something a little less exciting but equally crucial to the success of your online course business: sales tax.
US sales tax rules are rapidly evolving, affecting all those selling digital products. Whether you're based in Canada, the US, Europe, or beyond, it's helpful to know how recent changes in US sales tax law may affect your revenue when serving customers worldwide. This article provides an overview of the potential impact recent changes in US tax law may have on your business, and provides simple steps on how to stay compliant. Let's dig in.
What's going on with US sales tax?
New sales tax laws go into effect on a monthly basis, surprising small businesses from coast to coast. Even tax professionals work hard to keep up. And it's not because the United States' tax policy has always been a complicated maze – one event in 2018 triggered an actual revolution in the way a state can tax your business.
This change is commonly known as "the Wayfair decision." International corporation Wayfair took the South Dakota state government to court over its attempt to hold Wayfair responsible for tax on sales to South Dakota residents. At the time, the law of the land had been that only in-state businesses had to deal with sales tax. Online businesses didn't have much to worry about.
Fast forward through a two-year legal battle that made it all the way to the Supreme Court, and things have changed. Out-of-state sellers may now be held responsible for collecting and paying sales tax anywhere. This is a big shift, and 30+ states have already followed South Dakota's suit.
In addition to the Wayfair decision, many states are also rolling out marketplace facilitator laws, which require online marketplaces (which sell online courses and other products) to collect sales tax on your behalf. So far these states include Alabama, Connecticut, Iowa, Minnesota, New Jersey, Oklahoma, Pennsylvania, and Washington, Indiana and Wyoming. This sounds great at first, with less work for you, right? But the marketplace only handles sales tax on purchases made through its platform. So if you're located in Connecticut and sell something through your own website, then that transaction is still your responsibility.
For online course creators on Thinkific, adding the Quaderno integration helps you calculate, track, and remit the proper tax rates based on you or your customer's location. For detailed instructions on how to set up the integration on your Thinkific course site, read this helpful guide on How to Integrate with Quaderno.
For more detail behind how US sales tax may apply to you, keep reading!
Is your online course taxable?
Generally speaking, an online course is taxable if it's pre-recorded, automated, or includes downloadable materials. Of course, the fifty states and their respective tax policies can contain a lot of individual rules and exceptions.
Thankfully the Streamlined Sales and Use Tax Agreement aims to standardize US sales tax policy as much as possible. Twenty-four states have adopted the SSUTA guidelines for online courses and webinars, which are as follows:
Do you present the course or seminar live, in real time? Then it's not taxed. Wisconsin's SSUTA law clearly states that "Live Digital Online Educational Services" are not subject to sales tax.
Can the participants connect with each other or with you in real time, during the course? Then it's not taxed. "The participants are connected to other participants and presenters via Internet or other networks, allowing the participants to provide, receive, and discuss information together by live interaction, contemporaneous with the presentation."
Does an actual human evaluate the students? Then it's not taxed. "The participant is evaluated by an instructor. 'Evaluated by an instructor' does not include being graded by, scored by, or evaluated by a computer program or an interactive, automated method."
Again, if it's pre-recorded, if there's no way for the students to interact with you or each other during the course, and if evaluations are automatic — then your course is subject to sales tax in the SSUTA states. Policies in the rest of the country are likely similar.
However, just because your course is taxable doesn't mean your business actually has to charge any sales tax. That all depends on what's called "nexus."
What's a sales tax nexus and which ones impact your online business?
If you have nexus in a certain state, you're liable for sales tax there – but you can sell to customers in a state for years without ever having nexus. Certain aspects of your business qualify you for a nexus, such as where you hold physical property, how you acquire customers, and the amount you sell per year.
We'll go through each definition below and explain how it may (or may not) implicate your business.
Types of sales tax nexus and other laws
Physical presence nexus
Most people understand this sales tax nexus because it's the longest standing law and seems the most straightforward. Wherever you are physically located, you are expected to register for and collect (and pay!) sales tax. The physical presence nexus may not seem to concern you since you're selling a digital product, but there's a catch. "You" can actually refer to anything from you as a  person, to an employee, an office, or even sometimes even a data server you're using.
Affiliate nexus
You have an "affiliate nexus" if you're affiliated with a business or individual in the state, and you acquire students and sign-ups from this connection. Do you use a referral system for your online courses? Then your business could have this nexus in some places.
States that have some version of an affiliate nexus rule are Arkansas, California, Connecticut, Georgia, Illinois, Kansas, Maine, Missouri, Minnesota, New York, North Carolina, Pennsylvania, and Rhode Island. Many of these states have minimum sales thresholds, so the nexus only applies once you surpass a certain amount of gross sales in a year.
Click-through nexus
Similar to affiliate nexus, a click-through nexus exists when your business receives sales through the website of a business located in the state. If you run ads or links on an in-state website, which channels potential students and new sign-ups to you, this counts as the aptly-named "click-through nexus."
States that have some form of click-through nexus on the books include Arkansas, California, Connecticut, Georgia, Illinois, Kansas, Louisiana, Maine, Michigan, Minnesota, Missouri, Nevada, New Jersey, New York, North Carolina, Pennsylvania, Rhode Island, Tennessee, Vermont, and Washington. Again, most states have a minimum sales threshold for this nexus, so the rule only kicks in once you surpass a certain amount of gross sales.
Web cookies
A few states consider software or web cookies on in-state devices as a business nexus: Massachusetts, Connecticut, Rhode Island, and Ohio. In all cases, the sales thresholds for this nexus are pretty high, meaning you have to gain a ton of online course sign-ups through these web cookies in order to quality for sales tax.
Economic nexus
This is the real doozy. Confirmed by the Supreme Court Wayfair decision in 2018, this policy is cropping up in state after state, and will eventually take over the whole country. It's designed to make out-of-state businesses responsible for sales tax. So as an online business with students located anywhere, you should definitely keep your eye on the economic nexus.
The rule? Sales of any kind can trigger nexus, once they reach a certain amount. The common thresholds are $100,000 in annual sales or 200 separate sales transactions in that state. If you reach either of these, then your business has nexus and is liable for sales tax there. Exact threshold amounts can vary by state, though. Check out the diagram below for a quick reference.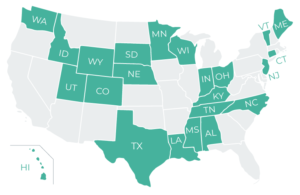 Similar to economic nexus policy, "notice and report" laws ensure that remote businesses still play a part in the state's revenue collection, even if the businesses don't have nexus and aren't registered for sales tax.
Under these laws, remote businesses above a given threshold must notify certain customers that they need to pay sales tax to their state, and then also report the list of these customers (and the amount of tax they owe) directly to that state revenue office.
This process can be a real hassle for business owners like you, so luckily these laws only exist in three states: Oklahoma, Pennsylvania, Rhode Island. If you're ensnared by notice and report laws in any of these places, you always have the right to just register for a tax permit and handle sales tax the old-fashioned way.
How to determine if you have nexus in a particular state
Assess where you have physical presence. Take a look at your operations and figure out where you might qualify for the physical presence nexus. Where you live and work certainly counts. Do you have a remote team who helps you produce or promote your online courses? Where are they located?
Take a look at your marketing practices. If you use affiliate or influencer marketing or online ads, determine in which states these practices lead to sales. Then check to see if those states have affiliate or click-through nexus laws and whether your business qualifies.
Focus on the amount of sales you have in each state. If you know you have a ton of students in California, then you probably want to check in with California's economic nexus laws. Do you hit the annual sales thresholds? If yes, get ready for sales tax. In general, though, if your total sales in a state don't amount to the thousands, then you're probably off the hook.
How do you collect and pay US sales tax?
After you've determined that you actually have nexus in a state and need to get involved with sales tax, the process is surprisingly straightforward. Here are three simple steps for complying with US sales tax for online courses.
Register for a sales tax permit in that state. You must register for each state's tax system individually. You should visit the state's Department of Revenue website, which you can find on this handy directory from the IRS. Another option is to register for the SSUTA states at once, using a simple (and free) online application through the Streamlined Sales Tax Registration System (SSTRS). You can pick and choose which of the 24 states are relevant to your business.

2. Charge sales tax to customers in that state. This includes the overall state tax rate, plus any county or district taxes that apply. Not every state has local-level taxes, though. Usually the tax rate is based on where the customer is located, a destination-based tax. Only a few states have origin-based taxes, meaning you charge tax according to wherever your business is based.

3. File sales tax returns in that state. When you register, each state will assign you a filing frequency. It could be once a month, once a quarter, or once a year. Be sure to note your deadlines and pay on time to avoid penalties. Again, check the individual states' official websites for specific information on how to file.
What can make this easier for you?
While it's helpful to be in the know about tax changes and how they may affect your business, staying on top of tax compliance and US policy changes is a full-time job in itself. You have better things to do, and we want to help.
Thinkific's integration with Quaderno helps you manage these changes.
Quaderno automatically tracks your annual sales and tax thresholds, and notifies you when you need to register for sales tax in a state. Quaderno then applies the correct tax rates, no matter where your customer is located and sends automatic tax receipts, which you can also customize to fit your brand. Finally, all of your records will be stored securely for as long as you need them.
You can easily keep your business compliant and save yourself the headache of navigating the US sales tax maze alone. Quaderno also integrates with PayPal, Stripe, Quickbooks, and Amazon among many other tools you may need to run your business.
See how Quaderno can help you with a free 7-day trial as a Thinkific user.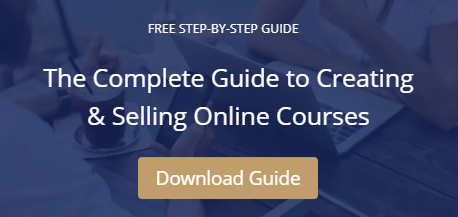 About the Author
AnnieMusgrove is a writer covering technology and entrepreneurship, and all the topics under those umbrellas. Currently a content creator at Quaderno, she advocates tax automation to keep your life simple and your business on the right side of the law.