Recently, customer retention has taken precedence over obsessive customer acquisition—and for good reason. Increasingly, business leaders are focusing on long-term metrics of revenue success, like customer satisfaction, and building trust with customers.
As customer satisfaction has become a top revenue-generating strategy, educating and supporting customers has become more critical than ever. A well-executed customer education program is proven to increase revenue and growth, with 90% of companies reporting positive returns. (Forrester)
Because of these findings, customer education technology is exploding, making it easier than ever to create and deliver engaging, effective customer education. To keep up with the rapidly evolving business environment, you need a comprehensive guide to the best customer education platforms on the market.
Keep reading if you're ready to invest in an effective solution that will help your customers get the most out of your product and become raving fans. 
Skip ahead:
---
Try using this LMS feature comparison evaluation checklist to help compare Learning Management Systems you're interested in:

---
What Is Customer Education and Why Is It Important?
Customer education is a strategy for providing your customers with helpful resources and insights. Customers must use your product to its full potential to achieve their business goals. This deepens customer loyalty and trust in your brand. 
How long does it take for a new customer to see the ROI of your product or service? Are your current customers getting the most out of your service, or are they just using a few features they're comfortable with? Customer education helps you answer these key business questions. 
Creating valuable materials and providing customer support is step one, but finding the most accessible, scalable way to deliver that help is where customer a customer education platform comes in. You must choose the right (LMS) to create, deliver and manage educational materials and courses for customers. 
Let's take Later, one of the leading Instagram marketing platforms, as an example. Later's customer success team helps users understand the features and how to use them. The most crucial time for learning critical features is during the onboarding process within a user's first week. 
To increase activation and adoption, Later relied heavily on its LMS to execute its customer education strategy. Desiree Evanshen, Later's Customer Success Manager, shares that up until that point, "our onboarding consisted of email funnels and in-app messages, and we found it just wasn't enough to get our users to adopt a lot of our most-loved features." 
Using an online course to repurpose their weekly live onboarding webinars, Later scaled their onboarding and reached more users. With just one change to their onboarding content delivery method, they increased customer retention by 320% and feature adoption by 467%. The best part? They also saw a 368% increase in paid plan purchases!
How To Use a Learning Management System for Customer Education
The right LMS allows you to quickly create comprehensive training materials, including videos, webinars, PDF downloads, and other interactive digital content, and deliver them directly to customers. This allows businesses and organizations to deliver product information in a more engaging and convenient way than traditional methods like boring how-tos.
With an LMS, you can track customer progress, identify weak areas of knowledge, and adjust the course content for the best learning experience. Customers are more likely to use your product and continue buying from you if they know how to use it.
The following are the most common LMS use cases for businesses and organizations:
Onboarding and Activation 
In onboarding, customer education helps "activate" new users by helping them learn your product and guiding them on how to apply it to their business. For example, your customer success team can provide a video tutorial teaching your customer how to integrate your product with their existing tech stack.
When onboarding and activation go well, your customers will see results and experience wins, measured as time to value (TTV). Quick TTV and mitigating frustration are essential to creating a great first impression.
Engagement
After your customer successfully uses your product, you'll want to provide them with education materials to make sure they continue using it consistently. Your brand will become indispensable to your customer's life if you keep them engaged.
You can engage your customer by hosting webinars or Q&A sessions that answer questions about the product or service. Ensure that your educational content, like tutorials or how-to videos, is available on demand.
Retention
Customer retention is critical to keeping customer acquisition costs (CAC) down. By understanding customer needs, providing personalized support, and fostering strong relationships, CS reduces customer churn. 
Examples of ways customer success teams can retain customers and reduce churn include 
Providing ongoing training, education, and resources that help customers stay up-to-date on the latest features and best practices  

Systematically collecting customer feedback and using it to improve product features or services as needed

 Creating a community of users where customers can share ideas, ask questions, and provide support to each other
Expansion 
Identifying opportunities for improvement and growth is one of the most compelling ways to upsell existing customers. For example, your Customer Success team can help the business understand the competitive landscape and trends in their industry and suggest new features that could benefit their product or service.
What Are the Benefits of Using a Customer Education Platform?
Companies can develop and deliver engaging content that appeals to their customers by utilizing an LMS. Not every customer comes in with the same level of knowledge, so delivering one-size-fits-all training isn't going to cut it. 
An LMS lets you segment your audience so you can tailor content to each customer's specific needs and interests, which helps build stronger relationships and brand loyalty. An LMS also allows you to track customer progress, helping them identify areas of improvement or opportunities for further engagement.
The right LMS will help you achieve revenue-critical goes such as:
Scaling your customer support 
You can scale your customer success efforts and reach more customers with online courses. Customers will access information at their convenience through a self-paced, interactive learning experience. 
In comparison with one-to-one customer support, on-demand courses are more convenient for your customers and save your company time and money. Each customer receives the same support and learning opportunities with online courses. Choosing the right LMS also allows you to edit and update your content easily, so it's always accurate and current. 
Improving product adoption and time to value
Time-to-value (TTV) measures how long it takes someone to complete a task they could not do without your technology or services. Your product must do this quickly after someone starts using it, so they can get that quick win. 
On the flip side, time-to-ROI value is how long it takes for your product to deliver on a customer's overall business use case, which can take months or even years. That's why incorporating adequate customer education into your onboarding is so critical.
Increasing revenue while decreasing customer acquisition costs
Customer education reduces the need for expensive marketing tactics such as PPC advertising. With online courses, you can increase your recurring revenue while retaining and upselling your existing customers instead of spending a lot of money on customer acquisition.
In addition, using an LMS to provide free educational content is a highly effective lead-generation strategy that is more cost-effective than paid advertising. 
Increasing customer loyalty while decreasing customer support costs
By leveraging an LMS, you'll provide valuable educational resources to your customers while reducing customer support costs and building long-term customer loyalty. Additionally, personalized content helps you establish meaningful relationships with your customers and gain a competitive edge in an increasingly crowded market.
Ultimately, customer education is a win-win situation as both company and the consumer benefit from increased engagement, deeper connections, and cost savings.
Must-have Features To Look For in Your Customer Training Platform
Choosing the right learning management system features is crucial to provide successful customer education outcomes. When choosing an LMS, keep in mind how your users will interact with and access content.
Focus on the following features to choose the suitable LMS for your business:
Reporting 
Using analytics, you can monitor user performance, engagement levels, and other vital metrics. You can improve content quality and student learning outcomes by monitoring users' activity and progress in a training program. 
Some LMS vendors may require you to integrate with third-party tools to generate reports and track learning progress, so make sure you choose a platform with all the basics baked in. 
Check that your LMS has the following reporting features to ensure your customers receive the best possible educational content:
User progress tracking
The purpose of tracking student progress with an LMS is to gauge the effectiveness of your training materials and identify areas of weakness and opportunities for growth. 
Progress tracking allows you to create additional materials or edit lessons to be more engaging. You can also set up automated prompts encouraging students to continue if they've stalled.

Learner evaluations
Test your student's knowledge at the end of each lesson or module to gauge how well they retain what they're learning. Students' scores are valuable for ensuring they gain the necessary knowledge before moving on to the next lesson and highlighting areas in which they struggle. 
Likewise, creating supplementary course materials or redesigning lessons to make them more effective is easier when you've spotted the patterns and know where students struggle most. 
Content engagement and retention
The metrics within your LMS will allow you to see where students drop off or get distracted. For example, you can use video retention engagement metrics to pinpoint areas within your content to improve or shorten. 

Thinkific Video Analytics 
User Experience Enhancements (Single Sign-on and Self-registration)
Single sign-on (SSO) and self-registration are essential features of a learning management system because they ensure that customers have quick and easy access to educational content. 
SSO allows customers to enter their credentials once, so they don't have to spend time creating multiple accounts or manually entering their information each time they log in. Self-registration allows customers to create accounts with minimal effort, maximizing engagement and providing a more personalized experience.
When your LMS comes with these features, it becomes much easier to improve the customer experience, reduce customer churn, and boost recurring revenue.
Mobile Accessibility
Mobile traffic makes up fifty percent of all internet search sessions, so marketers are doubling down on improving mobile accessibility as their number one tactic for improving websites. In addition, buyers expect to access online training material wherever they are. 
While most tools allow access to online learning platforms, developers don't always do enough to optimize them for mobile devices. Therefore, before choosing an LMS, ensure you first experience its interface on your device to test its mobile accessibility. 
Customizability 
Customizing your LMS with your logo, colors, and fonts packs a powerful branding punch that helps your customers easily recognize your materials as an extension of your business. Consistency across all customer touchpoints reinforces your brand and helps to build trust.
You know your customers best. Customization features allow you to make the platform work exactly how you prefer, ensuring your users get the most out of their experience. This includes tailoring things like user roles or access rights so users only see content relevant to them or restricting certain features so employees can't accidentally share sensitive information. 
White label your courses:

 
White labeling an online course means customizing the look and feel of the interface to look like it was created specifically for your organization. 
White labeling gives you complete control over your products and business—from brand and content to customers and revenue. This can include customizing the design, adding company logos, changing colors, and more. 
White labeling creates a professional-looking product that reflects your brand identity and values. Additionally, white labeling is perfect if you want to launch a course quickly without building one from scratch.
Unlimited admins 
With an LMS, educators can easily create and manage courses, assign tasks, track student progress, and assess student performance. In addition, unlimited admin access allows approved team members to customize the platform according to their needs. 
For example, they can add or remove features, adjust security settings, or change the look and feel of the platform. Additionally, unlimited admin access ensures your team can respond quickly to any problems that may arise with the system, ensuring that students can continue learning without disruption. 
Bulk sell 
Your LMS should have a Bulk Selling feature that enables you to quickly and easily offer your courses to large groups at once. This is especially useful when you need to train large numbers of users in a short period. 
With Bulk Selling, you can quickly create and distribute course licenses in bulk, saving time and money by eliminating the need to print certificates manually or send out emails.
It's also easier for organizations to track usage data across multiple users and ensure all users have access to the same materials with the bulk sell feature.
Interactive Content
By creating content that is interesting, interactive, and enjoyable to consume, businesses have the potential to foster relationships with customers that run far deeper than a simple transaction. 
For example, gamification elements like leaderboards and rewards can be powerful motivators for customers to dig deeper into their learning journey, resulting in stronger loyalty and an increased likelihood of recurring revenue.
Gamification
The goal of gamification is to enhance learning and make it more fun. The best method for achieving this goal is to incorporate engaging gameplay elements into education tools, such as quizzes, so learners become motivated to use them. 
Compared to traditional teaching methods such as lectures and videos, gamified educational content can lead to a better comprehension of the content. One of the most common forms of gamification is using points or badges. For example, after a user completes a module, a celebratory notification will show up, telling them they received a badge. 
Social learning communities
Social learning features within your LMS will shift learning from a one-sided experience into a collaborative, two-way exchange. Your LMS should allow you to own and host a supportive space where students can participate in interactive, communal learning experiences that drive student engagement and connection that your students will pay for and stay for.
You can enhance your online course offerings through a brand community with exclusive content, live lessons, and coaching. In addition, to complete control over your content, you also get business insights into your target audience while your students benefit from a more engaging learning environment.
Marketing and eCommerce 
Educating your customers can be an additional revenue stream for your business! Therefore, your LMS should have built-in marketing and e-commerce features to simplify selling and promoting your subscription services — without aggressive sales tactics.
eCommerce features to look for include built-in payment processing, automatic upsells and order bumps, and tax reporting. In addition, by streamlining your workflow in one place, you can spend more time teaching and selling and less time doing tedious bookkeeping. 
The Top 7 Customer Education Platforms 
Choosing a customer education platform for your company's unique business goals can be challenging. You will need your learning management system to provide the high-quality content and customer experience buyers are expecting. 
When selecting an LMS, it is important to consider various features that will help you optimize the customer experience, such as customization capabilities, scalability options, analytics insights, and integrations with other platforms.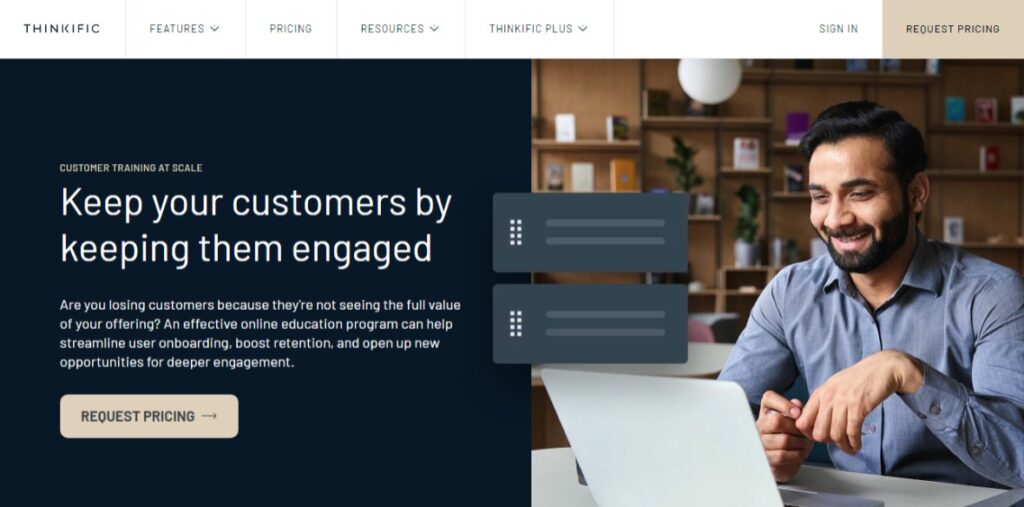 Best for

: Enterprise companies, mid-market businesses and entrepreneurs that want to scale and need an LMS that will grow with them

Price Range

: Book a call with the team for customized Thinkific Plus pricing.
Thinkific Plus Key Features 
Dedicated Customer Success Team – Launch and scale your customer training programs, confident that you have the support of a dedicated team behind you.
Unlimited Admins – Never feel restricted with unlimited site admins, course admins, and group analysts.
Multiple Environments – Build and manage unique experiences with multiple Thinkific sites to support different products or use cases.
Advanced Customization – Create seamless user experiences with white-labeling, SSO, and CSS customizability.
Thinkific Plus Reviews 
G2 Score: 4.7 out of 5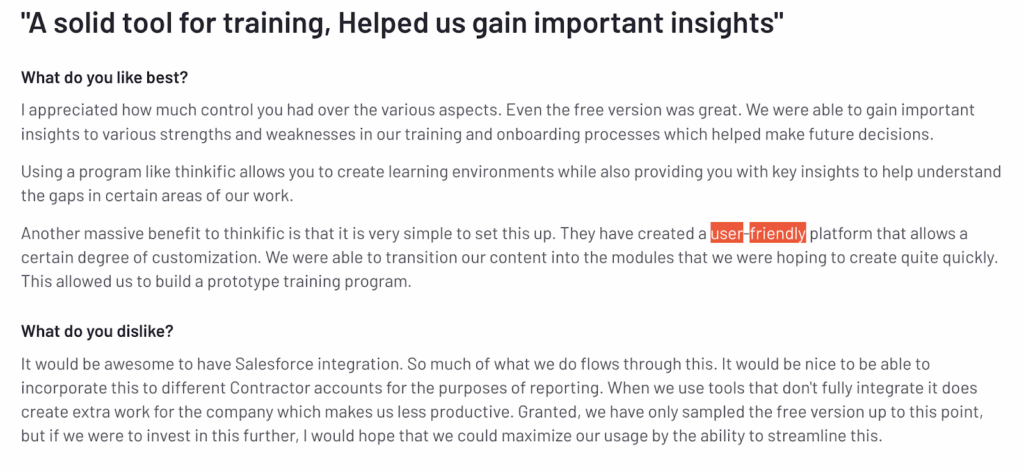 Conclusion on Thinkific Plus
Thinkific Plus is *actually* easy to use, unlike many enterprise-grade learning platforms. You and your team can spend less time coding and more time creating. 
The intuitive interface means your customers will notice your content, not the platform. It also makes it easy for you and your team to quickly develop and launch courses that drive adoption and retention—without having to worry about the technology.
You'll also benefit from faster learning, more staying power, and less overload on your support staff. Your plan to scale should include Thinkific Plus if you know growth will be in your future!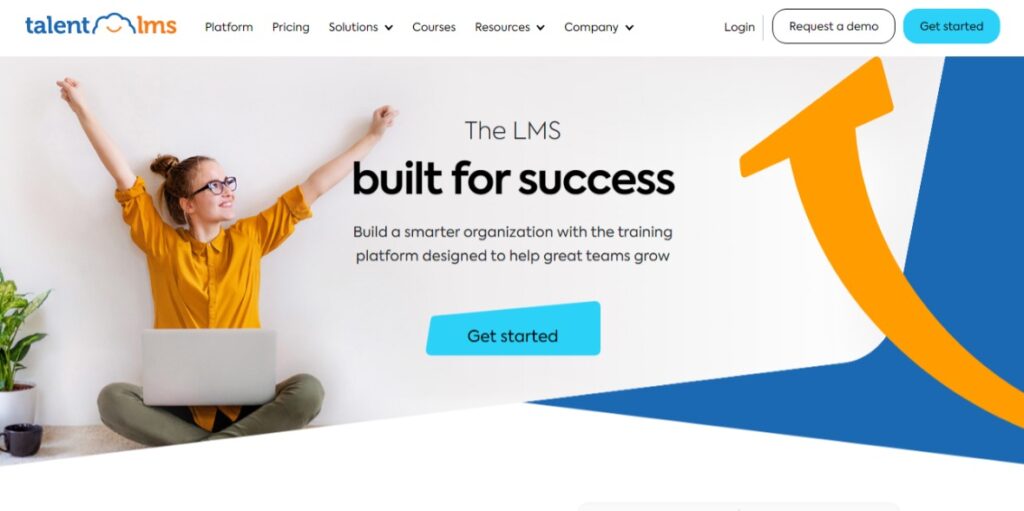 Best for:

Budget-conscious small to mid-size businesses that need an easy-to-use platform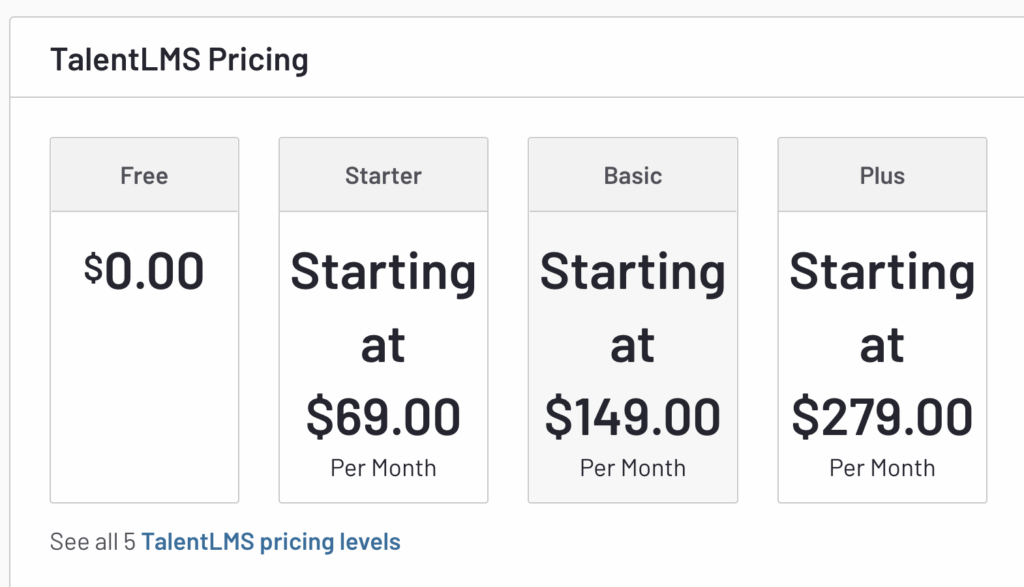 Talent LMS Key Features
Guided learning paths – To guide learners' growth, you can easily set up detailed learning paths and completion rules. Additionally, you can organize Group related courses into categories so learners can easily find what they're looking for.

 

Live video conferencing – Keeping learners engaged when you can't be face-to-face is key. Host video conferences, leave feedback, start discussions, and send messages easily.
Reporting  – Real-time, scheduled, and custom reports, dynamic dashboards, training infographics, and exportable Excel sheets let you track training from every angle.
Talent LMS Reviews 
G2 Score
: 4.6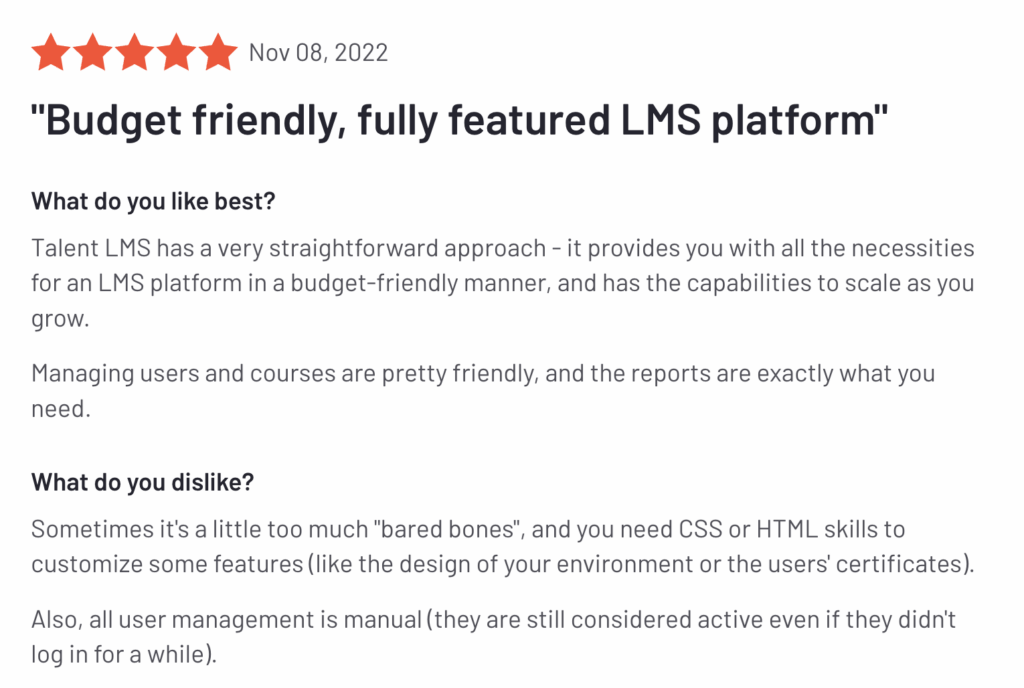 Conclusion on TalentLMS
Business owners short on resources and time will appreciate TalentLMS because it's everything you need without all the bells and whistles. Businesses love how easy it is to publish their existing content on the platform. You should consider TalentLMS if you want to get your courses up and running quickly.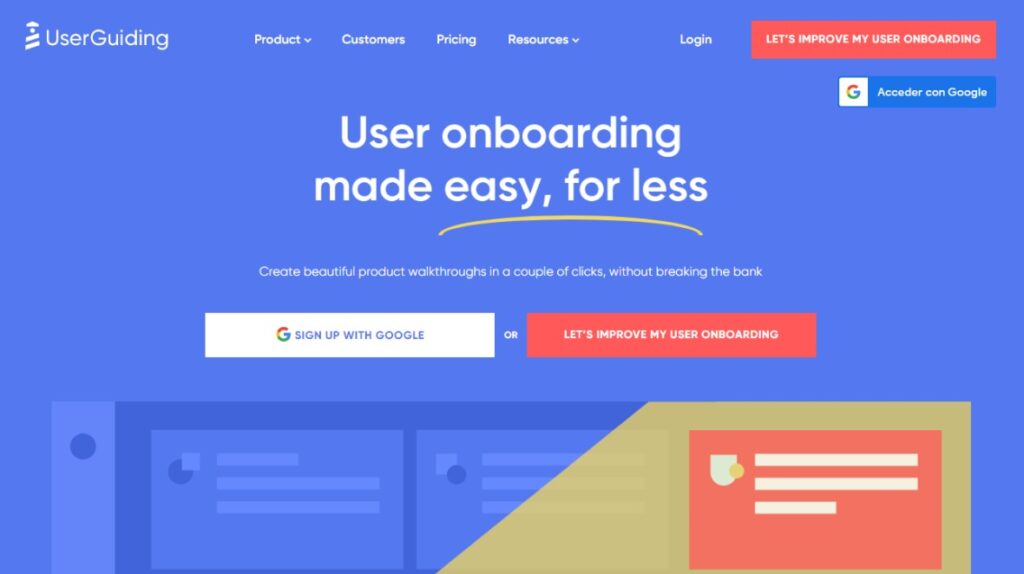 Best for

: Companies that want to increase user onboarding and activation metrics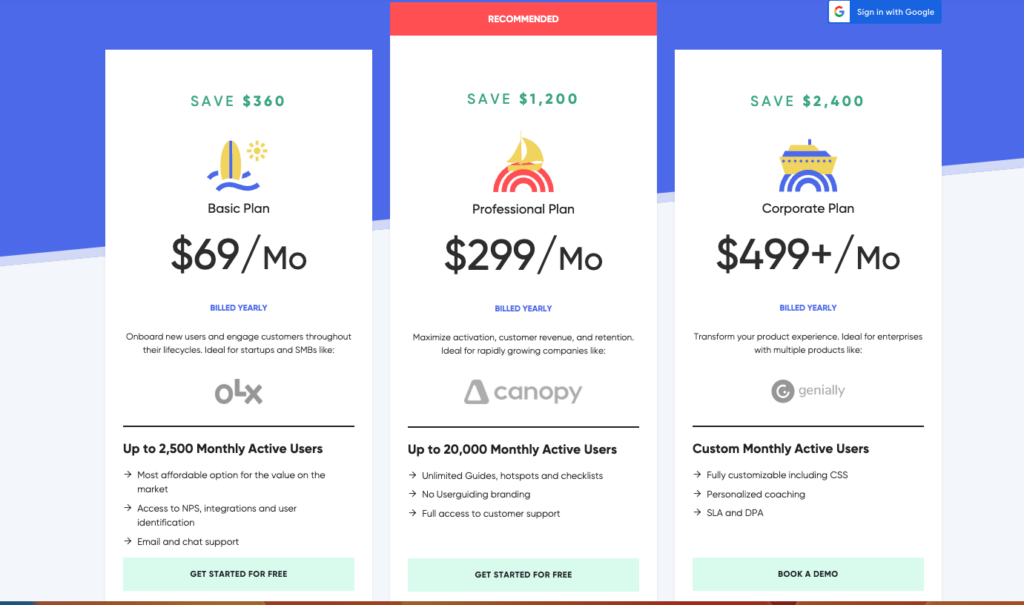 UserGuiding Key Features
User segmentation – With UserGuiding's segmentation feature, you can customize each user's experience. Each user goes through a unique experience to reach their "Aha! " moments.
No code user onboarding flows and checklists – Easily design and create user onboarding flows and interactive checklists. Create tutorial popups in minutes to highlight new features. Turn your customers into power users by guiding them step by step and enhancing the user experience and increasing product adoption.
NPS surveys – NPS surveys capture important user insights and measure satisfaction. Utilize automated user feedback prompts to gather data and make important product decisions.
UserGuiding Reviews
G2 Score: 4.7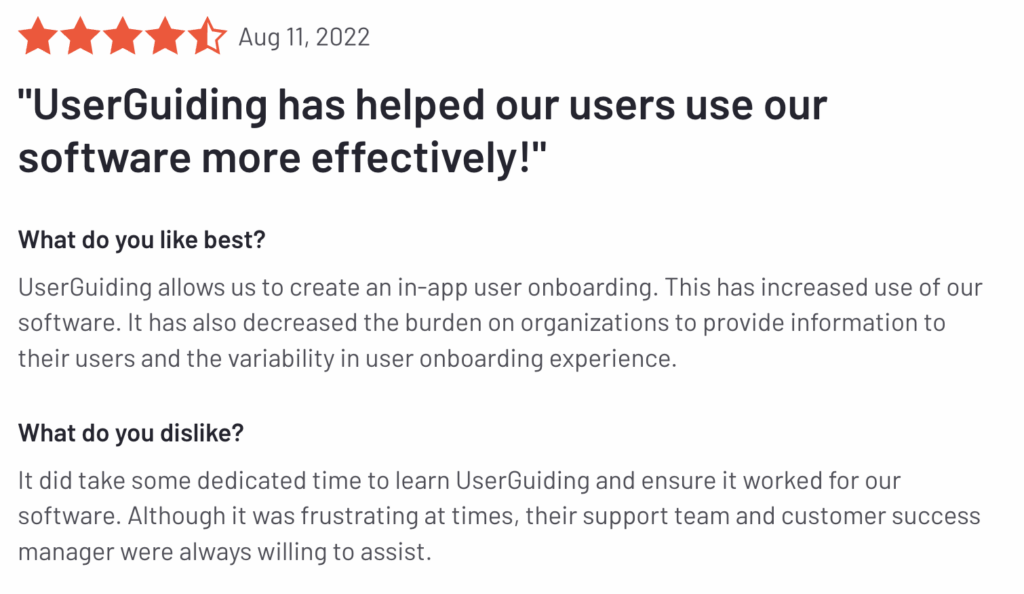 Conclusion on UserGuiding
You'll love UserGuiding if your goal is to increase the use of your product, so your customers get value immediately. The onboarding experience counts for a lot when it comes to customer satisfaction and lifetime value, and UserGuiding lets you wow customers with thorough guidance and support. If you want your customers to benefit from an intuitive tool, UserGuiding is your best choice.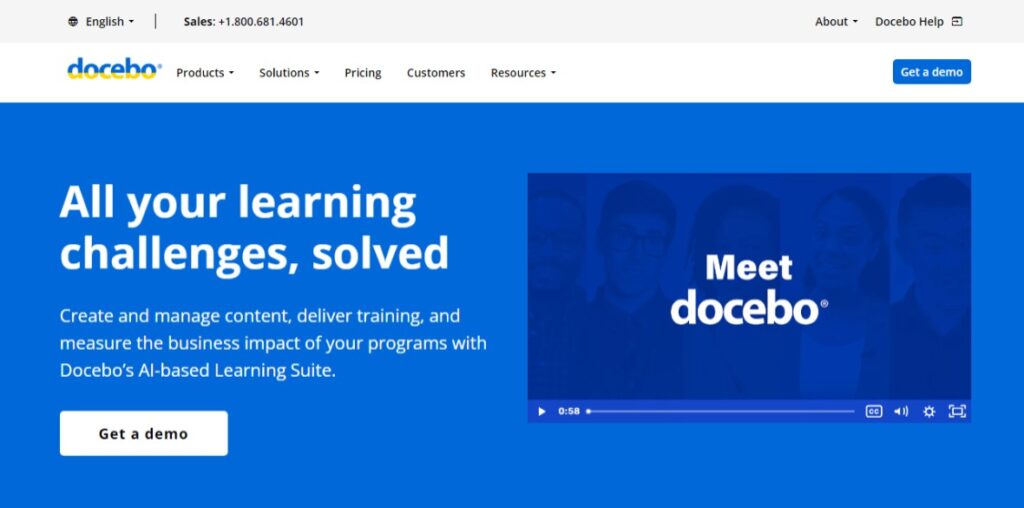 Best for:

Companies that want to create valuable social learning opportunities

Price Range

: Contact sales for pricing
Docebo Key Features 
Social learning – Encourage knowledge sharing, drive collaborative learning, and let thousands of people ask your experts questions in real-time.
Learning baked into workflows – Inserting learning opportunities right where your learners are already working drives product adoption. You can embed learning content into your customer-facing applications to educate users on new product functionality, support your customer experience, and drive adoption.
Management control – Give admin rights to managers so they can manage tasks, while you maintain control of the platform. Set up automated updates and notifications for changes to ensure that your team is always aware of new features and how to use them.
Docebo Reviews
G2 Score
: 4.4 out of 5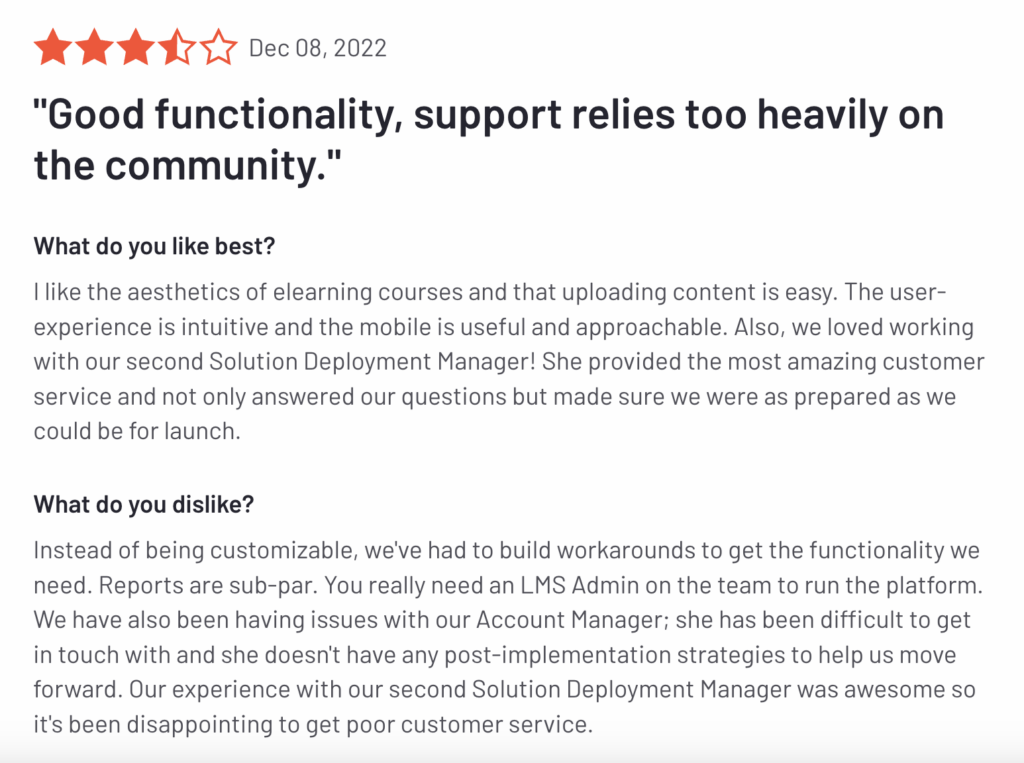 Conclusion on Docebo
Docebo walks the walk when it comes to their core value of togetherness. In a time when community is key to customer retention, Docebo's strength is creating a learning culture. Several users report that the system is best managed by a separate LMS manager, but if online courses are a revenue stream, you will need a designated person anyway!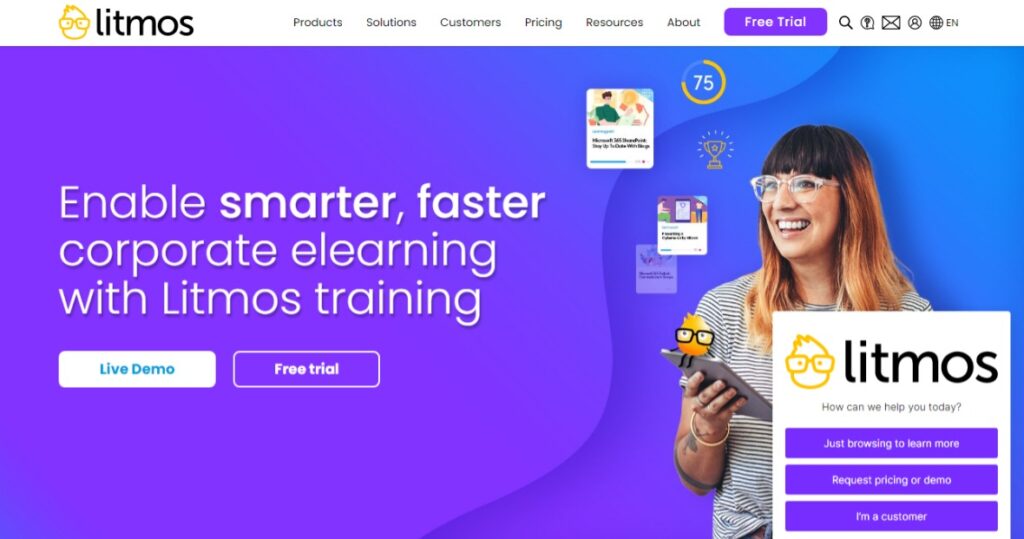 Best for:

Global companies that need company-wide training capabilities

Price Range

: Contact sales for custom pricing
Litmos Key Features 
Video assessments  – Allow learners to prove their knowledge by recording and upload videos of themselves proving their knowledge. As well as being assessed by coaches or managers, videos are evaluated by AI functionality on keywords (to use and not use) and speech rate.
Gamification – Enhance learner engagement and motivation by awarding achievements, points, and badges. Engage learners in friendly competition, encourage them to complete more courses, and make it to the Leaderboard.
eCommerce  – Access to out-of-the-box e-Commerce capabilities allows you to easily monetize your courses using pre-packaged features. You can also set up an online storefront using its powerful Shopify integration.
Litmos Reviews
G2 Score: 4.2 out of 5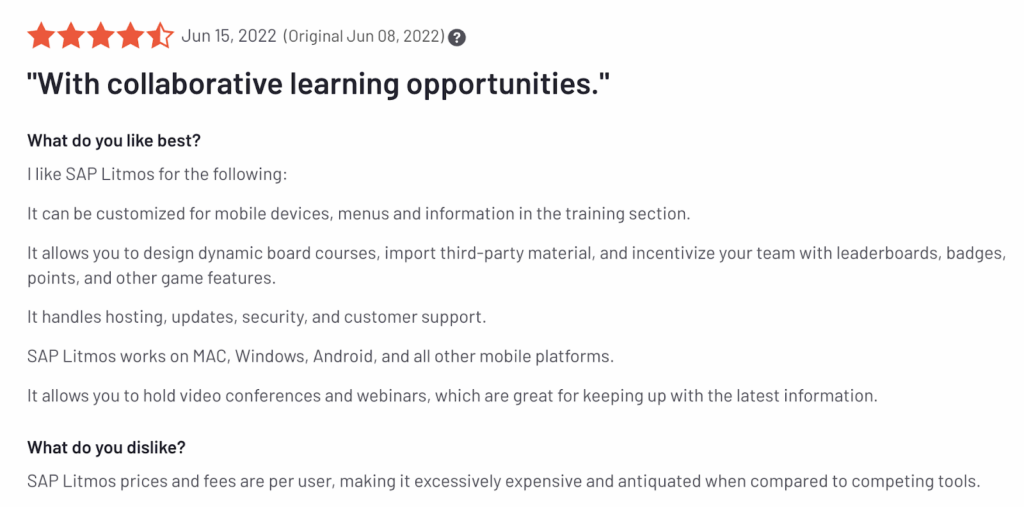 Conclusion on Litmos
Litmos is one of the leading LMS platforms in the market. The company was founded in 2007 and has been acquired by heavy hitters over the years, such as Callidus Cloud and SAP. With 130 million users worldwide, Litmos is available in 35 languages and has robust functionality. Litmos is for you if your goal is to keep your global teams connected or if you're an enterprise looking for corporate training.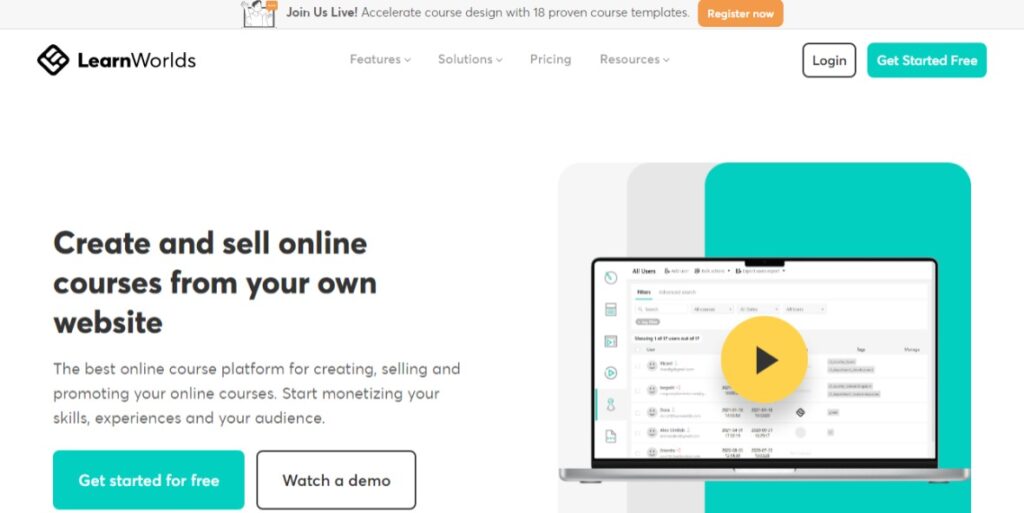 Best for:

Small business owners that demand top-notch customer support

Learnworlds Key Features 
White-label website capability  – Create a website that perfectly represents you and your business across all learners' touchpoints. Complete white labeling gives you full control of your brand identity.
Bundles and subscriptions – Subscribers gain access to exclusive drip content, your online community, and more with easy-to-use subscription & bundling models. You'll create once, group smartly, and earn recurring revenue.
Integrations – LearnWorlds integrates with your existing business tools such as analytics, payment processors, email marketing, CRM, marketing automation, and video conferencing.
LearnWorlds Reviews 
G2 Score
: 4.7 out of 5

Conclusion on LearnWorlds
If you're looking for a robust platform with responsive customer service, LearnWorlds is for you. Small companies rave about the customizable design and variety of features. The quality of their product seems to live up to their core value of being "as agile as a cat" and delivering on customer feedback.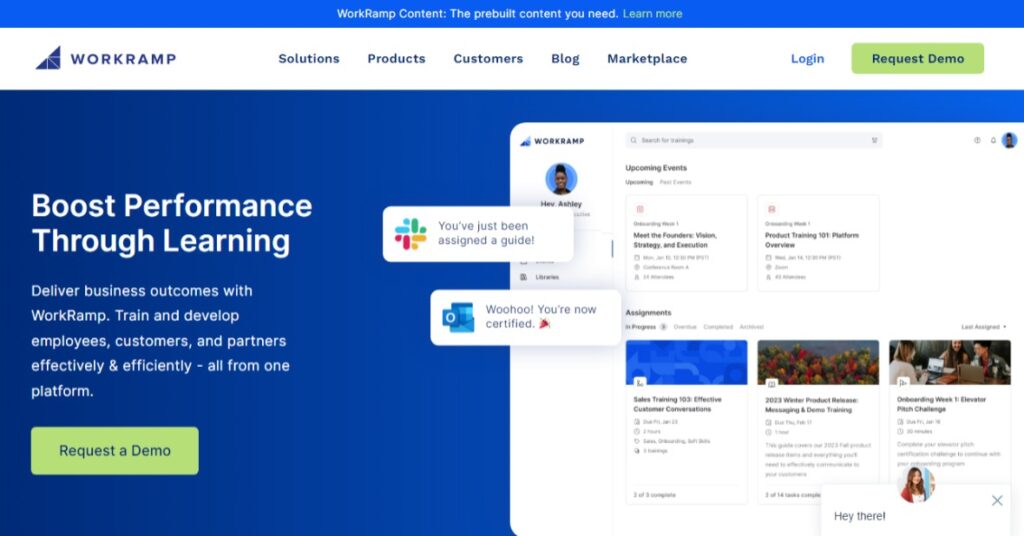 Best for:

Companies overwhelmed with onboarding growing teams

Price Range

: Contact sales for custom pricing.
Workramp Key Features 
All in one, multi-use LMS – Workramp is a multi-use platform that enables sales, compliance, training, and customer and partner education all in one place. You can create content at scale and quickly deploy your training to internal teams, customers, and partners on a single platform.
Customer education and certification – Increase product adoption by educating your customers with assessment tools. Certifications motivate learners to expand their skill set and level their proficiency in their field.
Compliant E-signature verification – You can easily and securely collect, store and access electronic signatures for compliance training and HR documents.
Workramp Ratings
G2 Score: 4.5 out of 5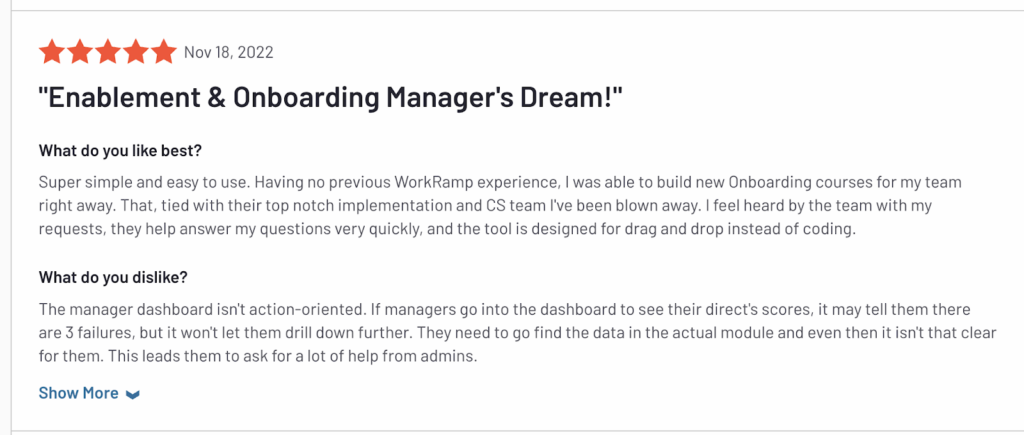 Conclusion on Workramp
Workramp's easy-to-use interface makes it easy for growing companies to quickly onboard and train their employees. Unlike other tools, Workramp does not have a high level of customizability and control, so keep that in mind when evaluating it. Remote teams love their comprehensive video assessment tools and attached rubrics.
Looking for a customer education platform that offers an extensive range of features and capabilities? 
With Thinkific Plus, your business can nurture customers, increase customer loyalty, and expand its revenue by offering personalized learning experiences to your different customer segments at different stages of their journey. Learn more about Thinkific Plus or book a call with our team to try it today.