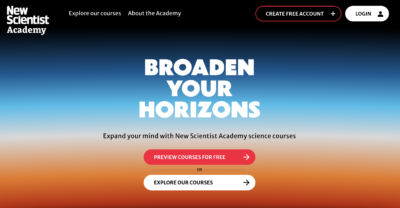 Pivoting into online education
New Scientist is a fast-growing weekly science and technology publication that has quickly expanded into adjacent segments such as newsletters, videos, podcasts, events, and now, online education courses.
In November 2020, New Scientist launched the New Scientist Academy using the Thinkific Plus platform. According to Laurence Taylor, New Scientist's Digital Product Development Director, the pivot to online learning diversified revenue streams while continuing to deliver on the company's mission to be the go-to place for breaking scientific and technology news, exclusive content, and breakthroughs that will change our world.
With Thinkific Plus's easy-to-implement features capable of scaling with the growing organization, the New Scientist team launched New Scientist Academy in just over three months.
QUICK STATS
4,700+
ENROLLMENTS
8+
COURSES
3.5
MONTHS TO LAUNCH
"Online education was a bit different from our core business, but what we realized is that we already had a lot of strengths to be able to launch our offerings. We already had core content verticals within science, an engaged audience, and a great network of researchers, scientists, and doctors. We saw this as a natural extension of our brand with those strengths."Laurence Taylor, Digital Product Development Director, New Scientist
A natural fit for a growing science and technology brand
THE OPPORTUNITIY
For 60+ years, New Scientist focused on its successful science and technology magazine with natural add-on verticals like podcasts, digital newsletters, and events. 
The New Scientist team was already exploring the opportunity of creating an online education program before the pandemic set in. Then, once the world began to shift online, the team decided to accelerate their plans to launch an online academy.
"We essentially wanted to establish an extension of our brand into an area we already knew well and can bring a unique angle to – immersive online learning," said Taylor. 
With the online education academy, New Scientist could offer instant and on-demand information, training, and insight to their current valued customers who, at the time, had to wait for new publications or the next event to continue their learning journey. The move into online education also created new opportunities to attract an emerging customer segment hyper-focused on online learning due to COVID-19's impact on in-person events. 
Once the New Scientist team was ready to take the plunge, they reached out to various e-learning companies to quickly get the process started.
"Our goal with the online academy was three-fold. First, we wanted to diversify the business with a new revenue stream. Second, we wanted to continue our trajectory into the digital world. Thirdly, we wanted to act on the opportunity to address changing consumer preferences."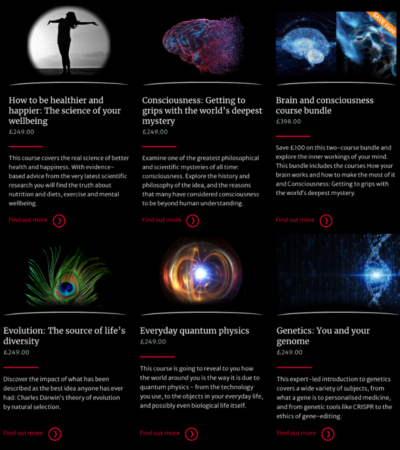 Partnering with Thinkific Plus for the New Scientist Academy
THINKIFIC PLUS AS THE SOLUTION
When exploring different learning platform providers, the New Scientist team knew they needed an easy-to-implement solution that would allow them to create and launch courses on a fast and accelerated timeline. With Thinkific Plus's robust functionalities and scalable capabilities, the team knew they found the right partner that met their needs.
"We wanted something easy to work with that was lightweight and simple so that we could launch the program quickly," said Taylor.
A fully immersive user experience was an essential component for the New Scientist team. The company leveraged Thinkific Plus's advanced customizations to integrate its branding, templates, and other elements to replicate its branded persona and match its website's user experience.
Finally, given the desire to implement courses quickly, the team needed flexible, dedicated customer support to serve as a strategic partner in their launch. As a result of these must-have services and features, New Scientist Academy launched in just over 3 months.
Reaching more science learners with online courses
BUSINESS GROWTH WITH THINKIFIC PLUS
New Scientist Academy successfully launched in November 2020 with two courses. Almost one year later, the academy has eight courses available and has developed a diversified revenue stream that is a natural expansion for the business.
Now, the company is setting its sights on growing its offerings and capabilities using Thinkific Plus.
"Today, we are looking toward the next phase of our academy that will require more robust features that can scale alongside our growth. We're likely to expand into multi-region administration, gifting, and more robust marketing functions for us to truly reach everyone with an interest in learning more about science," finished Taylor.
New Scientist's favourite Thinkific Plus features
Tailored launch support and advice
DEDICATED CUSTOMER SUCCESS TEAM
When New Scientist wanted to get its online education academy up and running quickly, the team relied on Pia, their dedicated Customer Success Manager, for unique, one-on-one, company-specific support.
Growth without limitation
FEATURES THAT SCALE
Because New Scientist prioritized an accelerated launch, the team needed a scalable, easy-to-implement platform that would keep pace with their growing program. Whether you're just getting started in your online education journey or looking for more advanced capabilities, Thinkific Plus offers support and features that scale with you.