Amy Lang assumed that when she became a parent, she'd know exactly how to have 'the talk' with her son.
As a self-employed sexuality and parenting educator for over 17 years, she was accustomed to talking about sex everyday. But she didn't realize how uncomfortable — and clueless — she'd feel when it was time to talk about sex with her own child. "I was embarrassed to have 'the talk' with my son, and I'm a sex educator," she says. 
Determined to learn how to be a trustworthy source for her child, she began doing more research. She leaned on her background in applied behavioral science and dove into learning more about how to talk to children about sex — a conversation, she feels, that is extremely important yet often underrated. "We all know that kids need to have physical, emotional, and social health, but we don't talk about sexual health because it's taboo," she says. "We have so little information about healthy sexuality and childhood sexual development."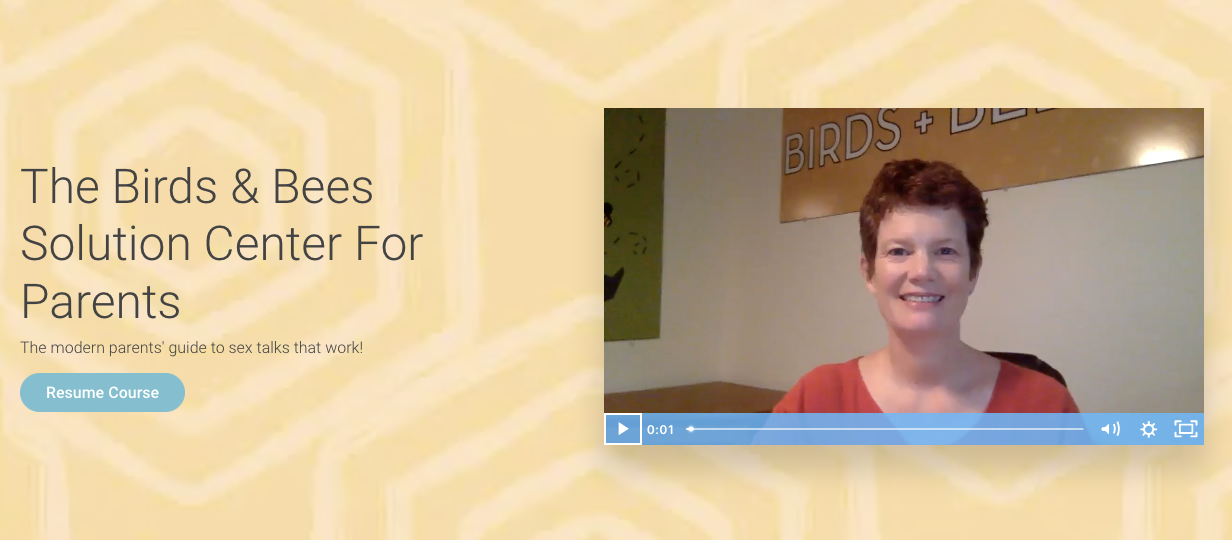 Through research, she was able to add more tools to her toolkit and felt inspired to continue helping parents in this arena — this time, through online courses. In 2017, she developed her first Thinkific course: Birds & Bees Solution Center for Parents. Since then, she launched a second course, Preschoolers, Private Parts, & Playmates.  "My belief is that knowledge is empowering," explains Lang. "The more information you have, the more you'll be able to be there for your kids."
Now, her online courses account for 50% of her total income; since launching her first course in 2017, she's generated $113,000 in revenue. The best part? She relies almost entirely on her email list and word-of-mouth to sell them. "I haven't had to try very hard," she laughs.
"I'm making money as I do the dishes."
Even though her success grew naturally, she was intentional about the actions she took. Here are a few of them:
Skip ahead:
Lang had been established in her business for over a decade before she created her first online course. While she's passionate about teaching in-person, and still takes many live gigs, online courses felt like a natural next step in her business. 
Not only did she want the ability to reach more parents and folks who work with kids, she also wanted people to have the option to learn from home; speaking about sexuality can be uncomfortable for many, and online courses offer students a private setting in which to learn. 
She chose to host her courses on Thinkific rather than other e-learning platforms. "It was the most friendly, seemed the easiest, and was affordable," she explains.
By the time Lang launched her online courses, she'd built a large email list, which now has over 17,000 subscribers. 
The way she built the majority of her list was simple; when teaching live classes, she would give out a QR code that would lead people to her newsletter sign-up page. Or, she'd pass an iPad around the room so that they could manually enter their emails. She strategically asked for people's emails in the middle of her sessions, at the point where her students were hooked and interested in learning more. 
Now, she continues to collect emails through live gigs as well as her website. On her site's navigation bar, she has a button that says 'free tips.' Once people click on it, they're led to a page where they can input their email in exchange for a freebie: Seven Tips To Have Great Birds & Bees Talks. They're sent this value-packed freebie in an email drip that also points people towards her Thinkific school.
Although she has a big email list now, she reminds online course creators that it didn't happen overnight. "I've been doing this for 17 years," she says. "That's 1,000 people a year. I'm not new at this. It takes a while to build a successful course if you don't have a big platform."
Despite having a YouTube channel with close to 850 subscribers, an Instagram page with nearly 4,000 followers, a Facebook group with 10,000 members, and a Q&A style podcast, she says that her email provides the highest amount of conversion. In fact, she doesn't use her social media to sell her courses — just her email list. "It's way more personal to get an email. It just is," explains Lang. "Social media is just for marketing — not sales — in my universe."
Although Lang doesn't rely on social media to sell her courses, she does find the platforms helpful for marketing purposes. To make it easy, she shares the same content on all of her social media platforms each week and schedules her posts in advance. Each post includes a call to action; she encourages people to sign up for her newsletter, have a one-on-one call with her — in what she wittily names a 'Quickie Consult' — purchase one of her online courses, or hire her to teach in-person. 
Although she doesn't have communities for her students to join, she creates a sense of community on her social media — especially through a series she does called 'Help Another Parent.' In this series, Lang posts questions from parents and allows the community to offer kind and helpful advice. "I have regular players, and most of those folks do a great job with their advice," she says. 
Lang recommends that course creators cater their social media content to their audience's pain points. Plus, approaching marketing with the right mindset is crucial.
"Believe that what you're offering is helpful."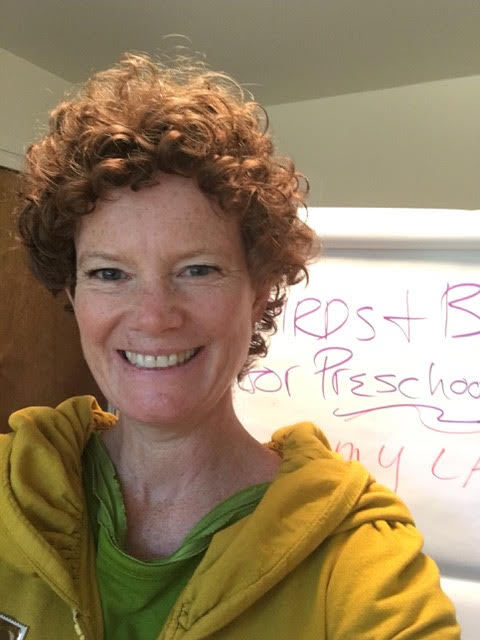 Aside from social media and her email list, her audience has grown organically through word-of-mouth; many people who have come to her in-person sessions or taken her online courses spread the word to other parents and educators. 
She has two main audiences: parents of kids aged 5 – 12, and professionals who are mostly early childhood educators.
Her course for parents, Birds & Bees Solution Center for Parents, runs as a membership site for $89 USD per year. She played around with prices until she landed on this number; she wanted it to be as accessible as possible. "I don't want there to be too much thinking about it," she says. "I want it to be an easy yes."
Lang likens this course to a 'library' of resources, which includes videos, handouts, audio recordings, special topic webinars, extra resources, and weekly sessions called 'Hump Day Half Hours.' These sessions include 10 minutes of teaching and then group coaching. "These sessions are my favorite things to do, because they're live and I get to interact with my students," shares Lang.
She set up her course in a library-style format because oftentimes, parents have just one question. Instead of having hours and hours of content that they have to go through to get their one question answered, the library lets them pick and choose what they need. "With the library, you don't have to worry about the content being age-appropriate or research-based, because it already is," adds Lang. "People tell me all the time, 'thank you, this just made everything so much easier.'"
Content is created and added to the course on an ongoing basis. "I have this opportunity to help so many parents without having to show up, per se," she says. "It's just one of the benefits of having a membership site."
Alongside working with parents, she also works with professionals — mainly early childhood educators — to aid with sexual abuse prevention. 
Her second course, Preschoolers, Private Parts, & Playmates, targets this audience. Here, she teaches about sexual behavior in children, including what is and what isn't typical, as well as how to determine if a child needs help. 
This course includes a professionally-produced video, as well as supporting documents. Unlike the Birds & Bees Solution Center for Parents, she doesn't add content to this course on an ongoing basis. She charges a one-time purchase of $197 USD via Stripe — the payment provider Lang integrates into Thinkific both of her courses —- however her members get this course as a free bonus. 
Plus, this course provides organizations with an accessible way to hire her. "Some organizations can't afford to bring me in," she says. 
Once students go through her courses, she doesn't upsell them on anything. However, her goal for 2023 is to put more effort into upselling a 'Quickie Consult' or a copy of her book, Sex Talks With Tweens: What To Say & How To Say It. 
It took her a while to get the hang of creating content for her online course — and the process involved a ton of trial and error. In fact, when Lang reflects on her online course creation journey, the most challenging part was figuring out the ideal video length, how many handouts to include (and whether or not they were helpful), and what kind of content resonated best with her audience. 
Upon reflection of Lang's course creation journey, she wishes she did an audit after her first year to see what people were watching, and then made tweaks based on feedback. While she's altered her content since then, she believes that the feedback process is paramount in helping you grow as a creator. 
At first, she was creating hour-long videos in her courses — until she realized that that was too long. Now, she makes them much shorter and more approachable, since her audience is made up of busy parents who don't have a lot of extra time on their hands. "I want to make it accessible and easy," she says. 
She doesn't have anyone that helps her to create content. Rather, she says she reads books, keeps up with research, and lets parents' questions guide her in creating new content. She also has colleagues she speaks with who help her flesh out ideas and provide her with support. 
When thinking of starting an online course business, she recommends that creators determine why they want to create a course. This 'why' will help them to create a targeted goal in which they can approach in small increments. 
Lang also stresses the importance of figuring out what an audience wants and needs. "What you think they want and need is not always what they actually want and need," she explains. 
To figure out the wants and needs of a target customer, Lang advises that creators send their audience a survey and use responses to guide their online course creation process. "Be patient and remember, it's not about you. It's about your people," she says. 
Feeling inspired? Check out more creator stories here.
Sign up to the newsletter for more creator story inspiration.