Forward-thinking course creators are turning to interactive and immersive student experiences. Getting the experience right can create invaluable moments of insight, deeper knowledge or skills acquisition, and, ultimately, an unforgettable student experience.
With the right tools and some simple tips and tricks, you can easily find ways to make your online classes more interactive and immersive. 
In this blog, we'll share 8 ways to create more interactive online learning:

Benefits of making courses more interactive and immersive
For many students, learning is not effective when they're listening to a lecture and simply taking notes. Learning for today's students (from all generations!) is all about combining different multimedia and sensory experiences. Interactive learning scenarios that encourage participation, choice, collaboration, and discussion are much more engaging. In fact, interactive learning helps students learn six times faster than other learning methods. There are several benefits to this kind of learning:
Improved emotional connections

– Students are more emotionally connected and invested in a course when they connect with their instructor and peers. In comparison to in-person learning, where students physically interact with the teacher, purely digital environments can face barriers when it comes to creating meaningful connections among cohorts. By using interactive elements, such as a small introduction video from the teacher and students or an interactive meet-and-greet game for the community, students can feel more connected to you and your course.

Enhanced learning outcomes

– Students' learning is accelerated when they're actively involved and they're thinking on a higher level. When your students are actively involved in a course, they become more interested and acquire new skills.

Greater student involvement – Interactive elements promote higher-order thinking at a deeper level than passive learning. By adding interactivity to your online classes, you'll stimulate students' thinking and actively involve them in the learning process.
Maintaining focus

– Snap out of it! Interactive elements are game-changers for keeping students engaged and avoiding that tempting daydreaming session. In a virtual environment, it's easy for your students to wander off-task. Use gamification and other interactive strategies, such as polls and discussion boards, to maintain focus on what's most important.

Accessibility –

Many students have different learning requirements, such as a need for translations, while others may understand the content more effectively through a variety of media. Interactive learning with multimedia can offer ways to present the same information in a variety of formats.
Related: 10 Steps To Creating A Wildly Successful Online Course
Online learning CAN be engaging
When your course is self-paced, it's difficult for students to stay engaged and focused, but there are strategies you can use to make your courses more interactive. While an engaging story is great for keeping learners engaged, it doesn't help with their ability to retain information. Instead, try focusing on learning objectives and giving people time at regular intervals to test their knowledge of those objectives. To ensure that people are understanding your points, you can incorporate quizzes throughout your course, group discussions, and even tests at its conclusion.
The difference between active and passive learning is the level of engagement the student has throughout your course. For example, if you actively ask them questions, add a quiz or scenarios that means they are engaged through active learning. Passive learning is when your students are responsible for taking notes, asking questions and reading the course materials needed in order to succeed. 
The difference between active and passive learning:

Active Learning:
Active learning is a process where you directly engage students with the course by actively interacting with them. You could leverage problem-solving, group discussions, case studies, putting them into scenarios, testing their skills with a quiz and more. 
While it requires a little more creativity and thoughtfulness to build into your course, incorporating active learning will make your courses stand out from the crowd and deliver a much more engaging experience for your students.
Passive Learning:
Passive learning is where students receive information from the instructor and process it internally, like lectures. While it's helpful for when you have a lot of material to cover, they tend to be a little less interactive and engaging. As a result, students might find it difficult to assimilate information and develop the skills taught in the course. 
---
Launch your online learning product for free
Use Thinkific to create, market, and sell online courses, communities, and memberships — all from a single platform.

---
8 Tips for creating more interactive online learning
1. Incorporate Active Learning 
Directly engage students with the course through problem-solving, group discussions, case studies, putting them into scenarios. Active learning is proven to be a faster and more effective way of teaching because the students are actively engaged in the learning process and more. 
You can start by adding smaller, active learning-based activities like group chats on a certain topic discussed in your courses, or a short quiz. 
"Active learning, not passive [learning] makes it impossible to sleep through a class."ERIC MAZUR, Professor of Physics at Harvard
2. Combine different media types into engaging learning scenarios
Students are continuously engaging with videos, photos, graphs, infographics, and 3D models, but we can't be sure if they fully understand them the way we intended to.  To ensure they're engaging with your content, try adding notes, links, or voice explanations directly to images. These interactive elements guide the learner and help them pay attention to the material we want to highlight.
With ThingLink, you can embed different interactive media types like videos, images, 360 media, and 3D models into your online courses. ThingLink integrates seamlessly with Thinkific. Head over to the Thinkific App Store and click on these interactive hotspots to explore different use cases of ThingLink in online courses: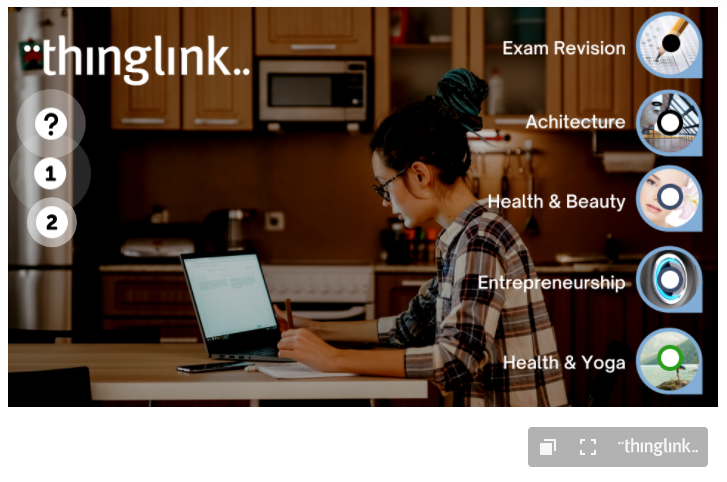 Bringing these interactive elements into your online course materials can easily be done by embedding the finished design into your Thinkific course. ThingLink allows you to create virtual tours, infographics, presentations, and other types of interactive content by adding hotspots to multimedia files.
3. Try running a cohort-based course
Whether a classroom is real or virtual, nothing adds life to an experience like actual interaction with your peers. To that end, consider something called cohort-based learning.
In cohort-based learning, students go through the same syllabus as a group and graduate at the same time — together. There is an emphasis on emphasizes collaboration and teamwork rather than individual content consumption. Students can check in with each other regularly and bounce ideas off each other. Not only does it make lessons feel much more real and immediate; it also encourages students to think critically about their work outside of scheduled sessions with instructors. To take full advantage of cohort-based learning, have your students meet regularly in Google Hangouts or a community within your course.
4. Incorporate live lessons
Nothing beats real-time interactions, Q&A's and meeting the other students involved in the same learning experience.
The Zoom app available enables course creators to add breakout rooms right into the Thinkific experience. Not only does this help course creators run live lessons, complete with quizzes, discussions, and games, but students are able to engage with their peers in a whole new way.
5. Microlearning  
Break your course into smaller, digestible "bite sized" chunks with microlearning and add mini wins along the way. A great example of microlearning is LinkedIn Learning. They do a great job at adding milestones and different rewards after each stage of learning. Start by dividing your course into smaller chunks, and group them by milestones. Once a student completes a milestone you can add a quiz or another interactive activity that will reward their progress and keep them engaged.
6. Use storytelling methods of teaching
While online courses give you access to much larger audiences, many still don't take advantage of new ways to teach in a way that's engaging and interactive (thus helping learners retain information). By using storytelling as part of your course content, you can have students participate in an interactive environment without having them be physically present. Making online learning more engaging with storytelling has a faster learning curve because the student can associate your engaging story with a particular skill they're learning. 
7. Use Gamification
Motivate students to learn & earn with gamification. Gamification is a word that's used a lot these days. All it means is applying game-like mechanics, like goals, points, badges, to the learning experience. Students can earn instant gratification from their learning efforts and leaderboards will increase interactivity and engagement, too. Try adding gamification and competition to your course with apps like Motrain in the Thinkific App Store.
8. Pause for questions and answer live chats
Teach with, rather than at your students. Pre-recorded courses are great, but they leave out valuable opportunities for students to get their questions answered in real-time. You can take this element from teaching in-person, where students can ask questions when the teacher is lecturing and bring it to your online courses. By using interactive elements in their course, some teachers have seen 4x more engagement and interactions because students that are taking your course are genuinely interested in your knowledge and want to ask as many questions as they can.
Tying it all together
There are learning design methods, tactics, and tools that you can use to make learning more interactive. Just by reading this blog, you've made the first step to designing a more interactive learning experience for your students and making your online courses better. Apps like ThingLink and other interactive learning tools can help your online courses shine and increase student engagement and experience.
Check out the rest of the ways you can make your online course more interactive in the Thinkific App Store!
---
Launch your online learning product for free
Use Thinkific to create, market, and sell online courses, communities, and memberships — all from a single platform.

---