Social media activity has grown dramatically in recent years, especially post-pandemic.
According to a Datareportal study, 58.4% of the world uses social media, which accounts for 4.62 billion people globally. In addition, 424 million new internet users emerged in 2021. The same study also reveals that, on average, people spend 2 hours 27 minutes on social media daily.
As more people surf online, they seek reliable sources of information and learning. Unsurprisingly, this translates into the growing demand for online education and courses. The global e-learning market is estimated to be worth $325 billion by 2025.
This burgeoning market is driven by thought leaders and experts who desire to create passive sources of income using their core expertise. If you wish to be part of this knowledge business, tools such as Thinkific can help you to create online courses without learning how to code. 
Further, as a creator selling an online course, it also helps significantly if you know how to use social media to your advantage to get more enrolments. This blog examines ways to market your online courses by leveraging social media algorithms. 
Click to skip ahead:
What are social media algorithms?
Social networks are essential to market your online course organically. Each social network uses its formula to ensure that its users view the most appropriate content. For that, they implement algorithms that are constantly updated to enhance user experience.
Download the free algorithm guide here!
The commercial reason behind these algorithms is to keep users glued on platforms for prolonged durations to entice them into viewing or clicking on ads. These advertisements generate revenue for social networking sites. However, this is what makes it difficult for content creators to ensure that their posts are being viewed organically by their target audience. 
If you sell online information products and hope to reach your target audience on any of the social platforms, you'll need to learn how to work with the different social media algorithms. 
Video for microlearning moments
Video and microlearning go hand in hand because it allows for deeper, more sustainable connections within your community. According to a Cisco report, by 2023, 82% of all internet traffic will be video. People consume videos more than any other type of content.
Therefore, it's essential to incorporate video into your social media strategy. However, attention spans are getting shorter, and people want information fast. That's why Mitzi Payne, Partner, Marketing Director, Arcade Studios, recommends creating microlearning moments – short, informative videos that deliver value and solve a specific problem. Here are some tips for creating microlearning moments:
Keep it short: 
Aim for 1-2 minutes of video.
Provide value: 
Offer tips, tricks, and solutions to problems.
Use subtitles:
Many people watch videos without sound, so make sure to add subtitles.
Optimize for mobile: 
Most people watch videos on their mobile devices, so make sure your video looks good on small screens.
Use a call-to-action: 
Encourage your audience to engage with your content, follow your account, or check out your products.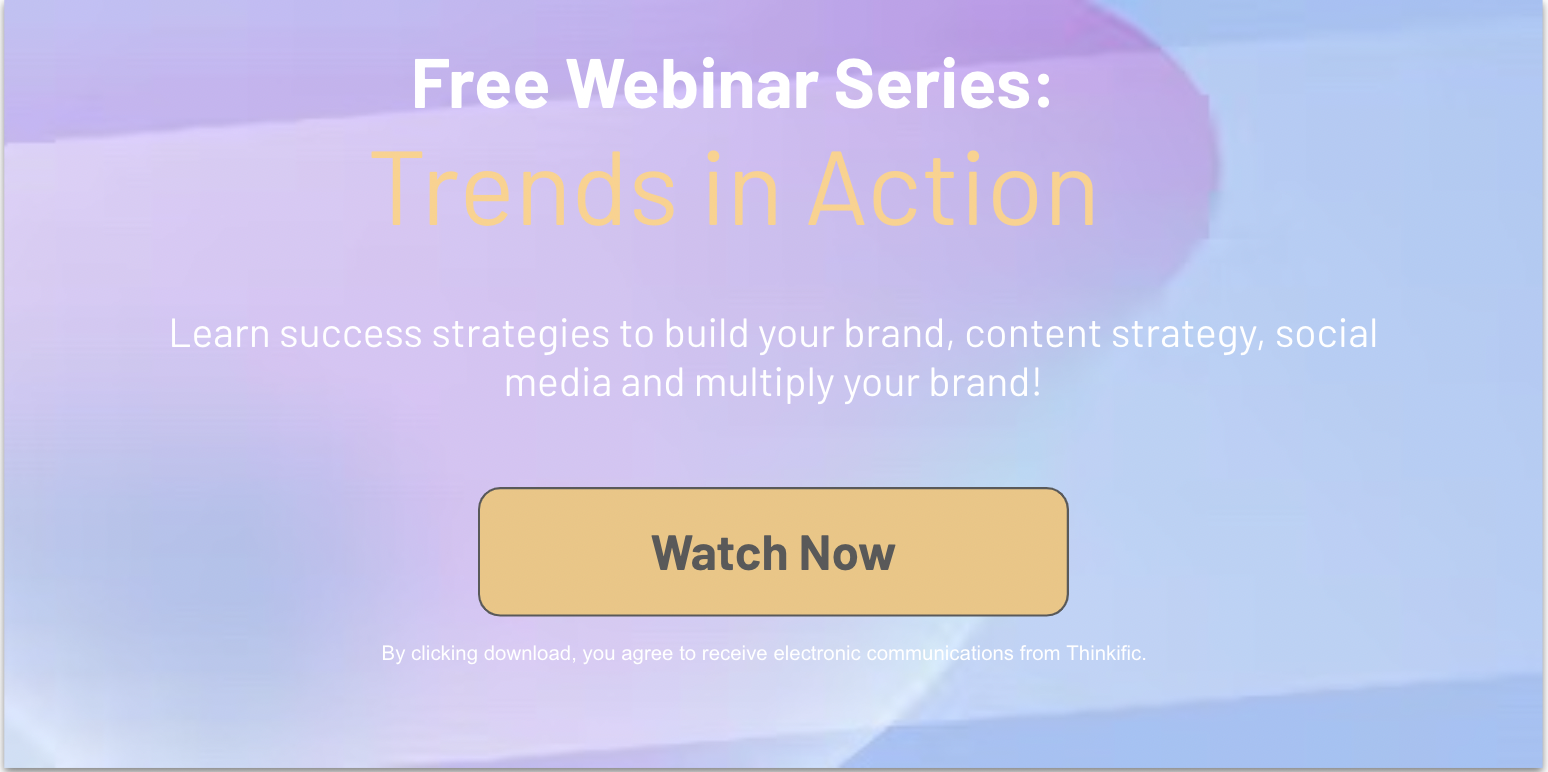 Social media platforms and their algorithms you need to know
YouTube, TikTok, Instagram, Twitter, LinkedIn, and Facebook are the more important social media platforms to leverage for course creators. Let us take a quick look at each platform and how other successful online course creators work with their algorithms.
YouTube
YouTube is the perfect platform to market your online courses as you can create and share video-based content related to your course. It is an excellent tool to connect with an audience that might be interested in purchasing your course. However, YouTube's algorithm is quite complex and favours videos that are most relevant to each user. 
For your video to show up in the "Recommended Videos" section and on YouTube's search engine results pages (SERPs), you may do the following:
Create lengthier and more audience-relevant videos

Update your video description with the correct keywords and hashtags

Post regularly and consistently

Bring value to your audience and engage with them

Place the CTA button in the video description
An excellent example to learn from is Yad Vashem's YouTube channel. It features interviews with Holocaust survivors and history lessons dating back to World War I. It is important to note that Yad Vashem is a Holocaust Remembrance Center, a museum, and a learning center active on most social platforms. Yad Vashem also promotes four of its online courses with the help of its YouTube channel. Two popular courses are "Antisemitism: From Its Origins to the Present" and "The Holocaust – an Introduction." 
You can quickly see that Yad Vashem's YouTube channel is regularly populated with video content. It directs its audience to its official website, where people can purchase books and online courses. Similarly, you can start an engaging YouTube channel that provides valuable content to your audience so that they are compelled to explore your online courses. 
TikTok
TikTok is a hugely popular social network focusing on short video content. It is popular among younger audiences, who rely on it as a source of viral content. Many content creators have begun to use TikTok to market their online courses. Please note that TikTok discourages advertising your products and services on its platform. However, it is an excellent platform for sharing shorter, compelling video content. 
TikTok's algorithm fetches its users' most relevant videos and includes a "For You" section. This section is where most TikTok users discover new accounts to follow. 
To ensure that your short video content appears in the "For You" section, you can
Focus on the quality and relevance of your video content

Use trending audio to boost the traffic to your videos

Use trending hashtags to optimize the searchability of your content

Make sure that you avoid offensive and potentially harmful topics

Engage with your audience frequently
Keenya Kelly is a social media expert who uses TikTok to share her knowledge about income generation and has been featured on MSN. She regularly interviews various business owners and helps them to unlock the potential of TikTok. She specializes in helping business owners master short-form videos and runs a course for that. Her "3-day TikTok for Business Challenge" is quite a popular entry-level course. You can learn from Keenya that it is essential to optimize your short-form videos to make it big on TikTok. 
Learn more about monetizing TikTok in this helpful guide from the Leap.
Instagram
Instagram is a popular image-oriented social network that is hugely popular among varied audiences. Many content creators use it to promote their products and services. It is also one of the most lucrative social networking apps for lead generation. They have begun to feature short-form videos called "Reels," garnering impressive traction from users. 
In terms of algorithm, Instagram's algorithm is updated regularly, and it is vital to work with it as it evolves. Here are a few things you can do to ensure that you crack it:
Engage with your audience and make sure they like or comment on your videos and images

Use trending hashtags to ensure your content receives the due visibility

Spruce up your profile with relevant hashtags and links

Create engaging reels that are short yet useful to your audience

Ensure that your content is closely aligned with your online course
An excellent example to follow is Dr. Eric Cervini, an LGBT historian. He is a New York Times bestseller and a Pulitzer finalist who uses Instagram to spread information about LGBT history. He makes most of his lessons free and directs his Instagram audience to a set of links where they can purchase his digital learning material, books, and merchandise. His content is mildly entertaining but primarily informative. 
You can learn from Dr. Cervini's Instagram account that it pays to be likable and personable on this platform. Make sure your videos reveal your personality as they generate more likes and comments, which is what Instagram's algorithm rewards for. 
Twitter
Twitter is one of the most popular social networks for marketers. Its audience is highly engaged in responding to tweets, retweeting, and building conversations. In addition, Twitter has an immediacy that other social networks cannot replicate. As a result, it is excellent for making quick connections and generating leads. Twitter's algorithm favours accounts that are active, engaging, and popular. 
Here is what you can do to make your way through Twitter's algorithm:
Tweet every day and make sure to engage with your followers

Optimize your profile and update it with relevant content

Understand Twitter hashtags and trending topics

Hold Twitter spaces to communicate live with your audience

Start posting Twitter threads to share lengthier ideas
An excellent example to follow on Twitter is Eve Barlow, a music journalist, social activist, and former Deputy Editor of the NME magazine. She runs a Substack called "Blacklisted." She regularly tweets about music and antisemitism and directs her audience to her paid members-only Substack account. This is where she teaches her followers to unlearn antisemitism and appreciate music in general. 
What you can learn from her Twitter account is that you must not be afraid of critics and anonymous accounts that often troll. Her account is an example of persistence against all odds and teaching valuable things to a paying audience.
LinkedIn
LinkedIn is a mainly business-oriented social platform targeting professionals and businesses. It is a great avenue to discover opportunities to sell your online course, enhance your brand image, and network with like-minded professionals. LinkedIn's algorithm focuses on high-quality posts most relevant to its audience. It is essential to create error-free and credible content to beat its algorithm. 
Here are a few tips for navigating LinkedIn's algorithm and enhancing visibility in your connects' feeds. 
Create high-quality posts that discuss topics related to your course content

Get people interested in your personal brand by being meaningfully active in groups and pages

Engage with your audience, but maintain professionalism

Use hashtags and keywords in your LinkedIn posts

Always ensure that your profile is updated and relevant
Dr. Stefanie K. Johnson is the author of INCLUSIFY, a national bestseller. She runs two courses — "Diversity and Inclusion in a Global Enterprise" and "Developing a Diversity, Inclusion, and Belonging Program." A quick look at her LinkedIn profile reveals that she uses optimized hashtags in her profile description and regularly shares her views on inclusivity and diversity training topics. 
To use Dr. Johnson as an example to follow on LinkedIn, you can optimize your profile to make it look more professional and enrich it with hashtags that clearly describe your online course. In addition, you can also post video content for reach and engagement, just like Dr. Johnson. 
Facebook
Facebook is the world's largest social network and an important lead generation source. As a diverse platform that allows businesses and individuals to flourish, Facebook is an excellent place to market your online courses organically. However, Facebook's algorithm is complex and may not always consider recency. To make sure that your posts get the visibility they deserve on Facebook, do the following:
Create content that discusses various aspects of your online course

Actively engage with your audience and respond to their comments

Make use of the direct message feature (DM), which can be a valuable source of lead generation

Create both image and video-based content once in a while

Direct your audience to your course page through your profile description 
Neil Patel is a famous social media expert and is very active on Facebook. He regularly shares his knowledge about SEO and building traffic on his profile. In addition, he gives away free access to certain parts of his digital marketing course, which is wildly popular. His personal qualities of being approachable, active, and generous make him a success on Facebook. 
By following his example, you can establish yourself as a thought leader in your area of expertise. Give away large chunks of your online course free to selected members, and encourage them to purchase the entire course later. 
Download our guide to social media algorithms
Social media algorithms are complex, and they are constantly updated. This is done to ensure that each social network's audience gets to view the most relevant posts in their feeds.
However, as an online course creator, you may find it challenging to understand what you need to do to work with multiple social media algorithms. To make things easy for you, we have created a guide to social media algorithms, complete with a handy checklist. This guide consists of
A guide to working with the algorithms of YouTube, TikTok, Instagram, LinkedIn, FaceBook, and Twitter

A bonus section on Google's algorithm and how to ace it to generate more organic leads

A downloadable checklist that teaches you specific things to do to master digital platforms

Actionable items that help you spruce up your social media profiles

A deep look at the must-know social media trends today.
Understanding the various algorithms well and taking action to magnify your social media presence will help you achieve your desired results. 
If you wish to spruce up your social media profiles and achieve the sales you want, download our guide to social media algorithms today. 
This blog was published on September 2022 and was updated March 2023 to be even more useful.