The online course creation industry is growing. The name most people recognize in this space is Udemy. Founded by Eren Bali, Gagan Biyani, and Oktay Caglar in 2010, the platform has quickly attracted more than 52 million students, as well as 68,000 instructors who create courses on everything from synthesizers to Adobe Photoshop.
Throughout the early pandemic, Udemy saw a 425% increase in paid enrollments. However, there are many alternatives out there, each with its own strengths and disadvantages.
Some platforms—like Coursera and Udacity—cater to industry experts who want to outsource their marketing. There are also marketplaces like Coursera that mainly work with universities and corporations. And then there's Thinkific, which caters to smaller creators and arms them with course-building and promotion tools.
In this article, we'll break down the fundamentals of the course creation space and discuss the main differences between course marketplaces and online learning platforms. Then, we'll dive into the core advantages and disadvantages of each online learning platform.
 Here are some shortcuts if you're eager to skip to a specific topic:

What are the best online course marketplaces?
There are a lot of online course platforms out there, and if you're a course creator, picking the right one is vital. The eLearning industry is projected to grow from $315 billion in 2021 to more than $1 trillion in 2028. Fifty-two million students have used Udemy's marketplace to buy online courses. 
Some of the other popular course marketplaces include Khan Academy, Skillshare, Coursera, and LinkedIn Learning with Lynda. They're structured in the same way as Udemy—instructors create courses, and the marketplaces promote them to students in exchange for a commission.
First, we'll discuss how course marketplaces differ from self-hosted learning platforms and why different course creators choose different options. 
What is the difference between marketplaces and online learning platforms?
Before jumping into all the Udemy alternatives, we need to discuss the difference between learning marketplaces and online learning platforms. Yes, they sound quite similar, but they're pretty different—and there are relative strengths and weaknesses for each.
Learning marketplaces sell courses wholesale and are essentially a third-party that connects teachers with students. If you're selling courses through a learning marketplace, you'll create your course and upload it to the marketplace,. They'll brand it and promote it for you—in exchange for a cut of the profits. Instructors on Udemy receive 37% of the revenue for Udemy sales where instructor coupons or course referral links aren't used and 97% when students buy content from an instructor coupon or referral.
Course marketplaces have massive built-in audiences who're searching for and buying courses. Even with a 37% cut, the extra sales can add up to serious profits. This type of learning platform has been around for longer, and they are more common than online learning platforms. Coursera, Skillshare, and LinkedIn Learning with Lynda are all learning marketplaces.
Online learning platforms offer course creators a different model. They give you the tools to create courses, register custom domains, communicate with students, and create promotions. You pay a flat monthly fee, instead of a percentage of your course sales.
Whatever you earn goes straight into your bank account, which means that if your course becomes popular, your income can scale by several orders of magnitude.
This is our specialty at Thinkific. Our course creation tools cover all the bases that you'll need to build and promote your own online course. Thinkific Start plans start at $99 USD/month, meaning you only need to sell one or two courses for your monthly plan to pay for itself.
One last point: You don't have to pick between using marketplaces and online learning platforms—many creators use both. If you're doing this, your strategy should be to generate awareness and new leads through online marketplaces, which have bigger built-in audiences. Once you've hooked people with an entry-level course, you can promote courses you host on your own online learning platform that dive deeper into your area of expertise.
6 of the best Udemy alternatives
Comparison of the best online course platforms similar to Udemy
| | | |
| --- | --- | --- |
| Udemy Alternative | Course Types | Best for… |
| Skillshare | Subscription-based marketplace  | Course creators who want help promoting the courses they create. |
| Thinkific | Online learning platform | Course creators who want full ownership over their online education content. |
| Udacity | Course marketplace | Industry leaders with the time available to teach half-time. |
| Coursera | Course marketplace | Institutions like universities and large corporations. |
| Khan Academy | Non-profit marketplace | High school students and public educators |
| DataCamp | Subscription-based marketplace  | Data scientists with serious analytics chops. |
Udemy Alternative #1: Skillshare

Skillshare is one of the best-known alternatives to Udemy, and one of the largest online learning marketplaces. The platform was founded in 2010, and boasts over 12 million members. 
Like Udemy, you'll sign up as a course creator, develop course content, and then publish it. The Skillshare marketplace takes care of promotion, and connects learners with skilled industry experts. 
But the two platforms are definitely not identical. One of the key differences between Skillshare and Udemy is that Skillshare uses a subscription model. Udemy students pay for individual courses, but Skillshare students pay a flat fee for access to all courses. 
This means instructors like you get paid out of Skillshare's royalty pool. 30% of all monthly Premium Membership fees go into the royalty pool, and you'll get allocated a chunk based on the amount of watch time your course content racks up in a given month.
You can also get paid for referring new students. Skillshare instructors get paid a $10 bonus for each new student who signs up with a referral link, which means that you can monetize any existing audience you've already built outside Skillshare. 
Pros:
Large target audience. Skillshare has a built-in audience of millions, so the potential viewership you can reach is

massive.

High course quality. Because Skillshare pays based on time watched, there's extra incentive to create high-quality courses—which means you'll do your best work.

Arts-oriented learners. Many eLearning platforms focus on business and technology education, but Skillshare's learners are often passionate about the arts.
Cons:
Subscription model. Students pay

$167.88

/year (or $13.99/month for access to all courses. You'll get paid from the instructor pool based on time watched, not based on how many sales you make.

No guaranteed income. If your course isn't watched enough, you might not meet your revenue goals.

Monthly payments for royalties. Royalty payments occur monthly, so instructors don't receive bi-weekly paychecks.
Skillshare Cost for instructors: Students pay $32/month, or $168/year. Teachers typically earn between $0.05 and $0.10 per minute watched. 
Udemy Alternative #2: Thinkific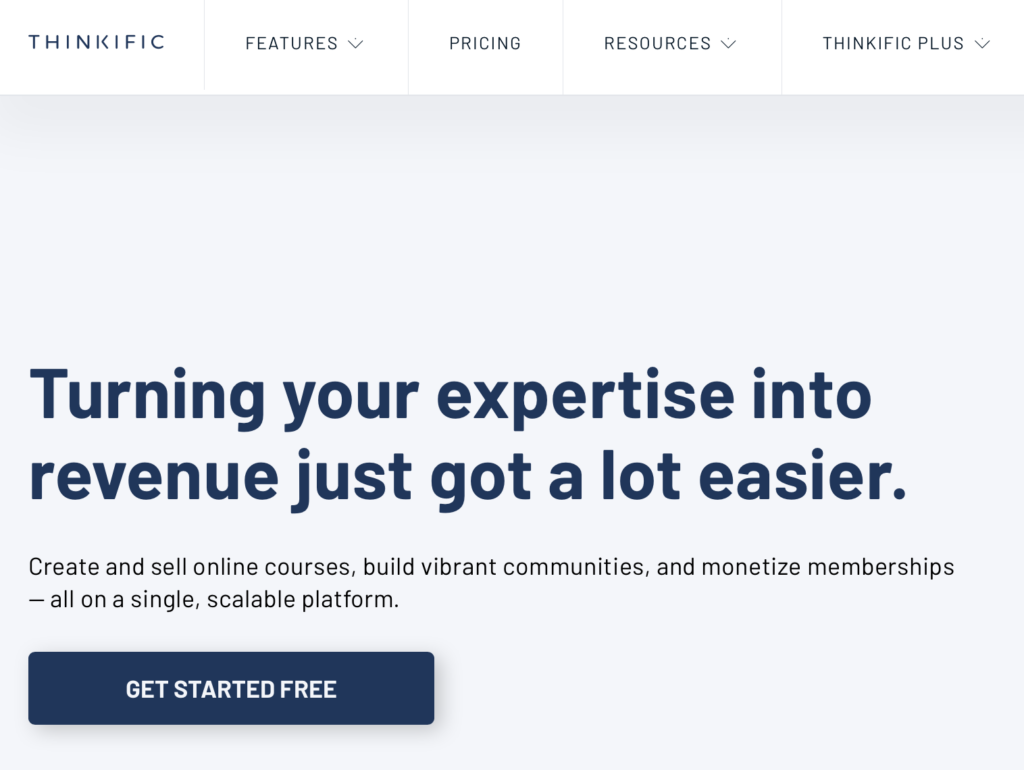 Looking to build, host, promote, and earn all the profits from your online courses? Thinkific might be the Udemy alternative for you. The Vancouver-founded online learning platform gives course creators like you everything you need to sell courses through a custom-branded site. 
Thinkific's signature tool is the Course Creator. You'll get a range of templates to work with that'll help you organize your content and structure courses well. You can create mini-courses, to generate interest for a flagship course, pre-sell landing pages that help you measure demand, and flagship courses—where you'll dive deep and deliver the most value to students. 
You'll also get help promoting your courses. Thinkific's Site Builder lets you build an eye-catching homepage for your online courses, and customize other pages to your heart's content. The design tools are flexible, and give you the ability to customize fonts and brand colors, as well as upload custom media. 
Thinkific's plans start at $0/month (free). That'll get you started with easy-to-use website templates and the drag-and-drop Course Builder.
As you create more courses and hook more students, you'll probably want to upgrade to the Start plan, at $99/month. That'll get you private and hidden courses, completion certificates, unlimited courses, and so, so much more. 
Plus, if you're looking to scale up fast, the flat fee lets you keep more ownership over your content—and all the profits. Whether you're just starting out or further along your course creation journey, one thing's for sure: that's major. 
Pros of Thinkific:
Keep more of your profits. What you sell is what you earn. Thinkific won't take a 30% cut.

Completely customizable. You own the branding of the website and the learning experience. And you can

integrate your course platform

with the tools you need.

Custom domains: Thinkific's paid plans let you create a custom website—so your course website looks like you built it all yourself.

Feature-packed free plan. Thinkific's free tier includes a generous amount of features for new creators, including website templates and drag-and-drop course creation tools.

Flat monthly fee. Paying a flat monthly fee means you'll keep more from each sale than you would with course marketplaces like Udemy, which keep almost two-thirds of sale proceeds.

Monthly recurring subscriptions. Creators who use Thinkific can create memberships for students, who pay monthly for gated content.
Cons of Thinkific:
You'll have to market yourself. Thinkific makes it easy to set up your courses, but we don't do the promo for you. (That's the trade-off you make when you keep full ownership over your technology.)

Certificates aren't issued by institutions. Thinkific does allow you to issue

certificates

of completion to students who complete your online courses, but in some cases, Thinkific certificates won't be viewed in the same light as credentialed institutions.
Thinkific cost for instructors: Thinkific's monthly plans start at a free tier, and then range from $99-$399 per month. Course creators set the prices students pay. 
---
Launch your online learning product for free
Start selling your online course and community on a 100% free plan that actually remains free.

---
Udemy Alternative #3: Udacity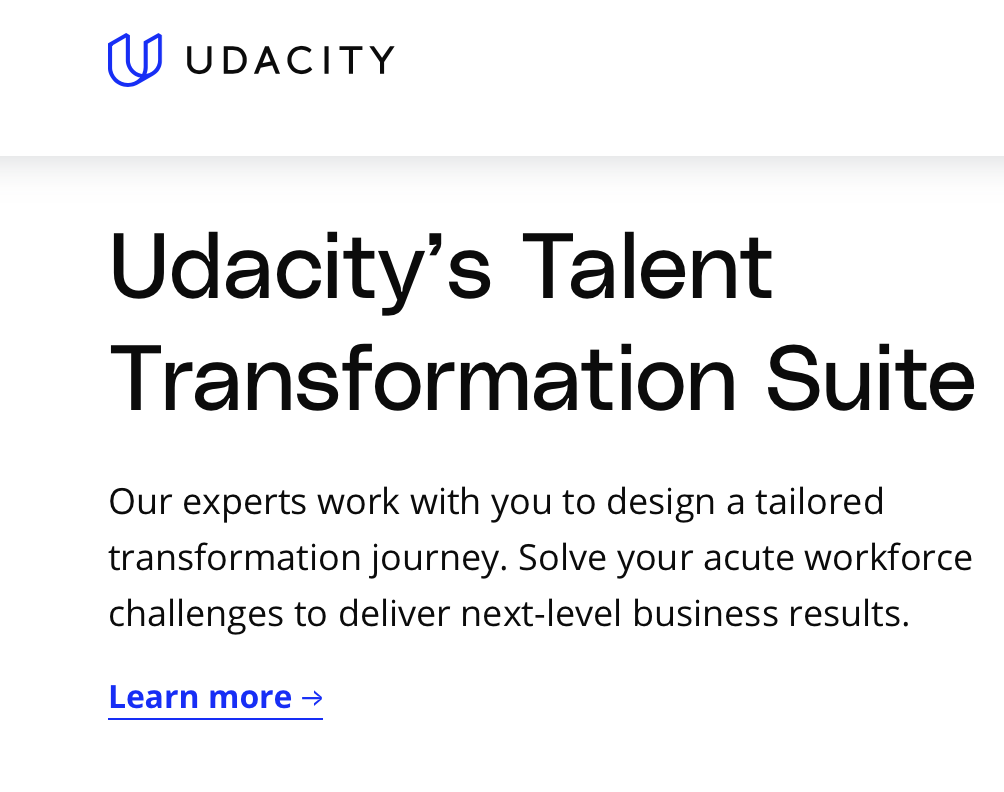 Udacity is an online course platform geared towards the tech industry. And although the name sounds similar to Udemy, the two couldn't be more different. 
Unlike Udemy, Udacity offers guided learning programs called Nanodegrees, which are project- and skills-based development programs that eventually lead to educational credits. They're longer and more guided than your average Udemy course, and include assignments and project reviews with teachers. 
Course instructors develop courses alongside Udacity teams, who help provide thought partnership, guidance, and feedback. Instructors create lessons, videos, projects, quizzes, and test materials for students, and develop promotional materials around course launches.
Udacity credentials are valuable for demonstrating skills and expertise because Udacity works so closely with subject matter experts and requires rigorous curriculum development. 
Often, Udacity instructors aren't working alone—they're part of an established institution. Udacity's Machine Learning Engineering curriculum was developed directly by Google's Deep Learning team, for example. In general, Udacity instructors come from Fortune 500 and Global 2000 companies, and are already established in their fields. 
As a course creator, this means that getting started with Udacity is not as easy as starting to create courses with online learning platforms like Thinkific. You'll need to apply via Udacity's Instructor Opportunity Portal. You'll need 5+ years of demonstrated expertise in your field and commit approximately 15-20 hours per week to work with students.
Compensation is determined according to your seniority in your field and in line with the scope of work defined in your contract. You'll get active support throughout course development, and you can wear your Udacity instructor credentials as a personal badge of honor.
Pros of Udacity:
Guaranteed income stream. Instructors who get selected as Udacity partners sign contracts and get regular pay.

They'll handle the marketing. Udacity's team partners with instructors to create a course promo, and your course will be promoted through the Udacity homepage.

Selection shows your credibility. Because selection as a Udacity instructor is exclusive, there's a definite prestige to it.  You can use this to market your skills—and any other courses you create. 
Cons of Udacity:
High time commitment. Udacity instructors are expected to help maintain their courses, which means you're not truly earning passive income. Most instructors work between 15-20 hours per week. 

Exclusive selection. Udacity is not open to anyone besides

indisputable

industry experts and institutional partners, which means it is not ideal for newer course creators.

Smaller audience base. Udacity courses are far more expensive than the courses sold through Udemy, or than monthly subscriptions to course marketplaces like Skillshare. As a result, Udacity's user base is smaller—but they're a

very

dedicated bunch. 
Udacity Cost for Students: The cost depends on the nature of the course. Hence, it varies. 
Udemy Alternative #4: Coursera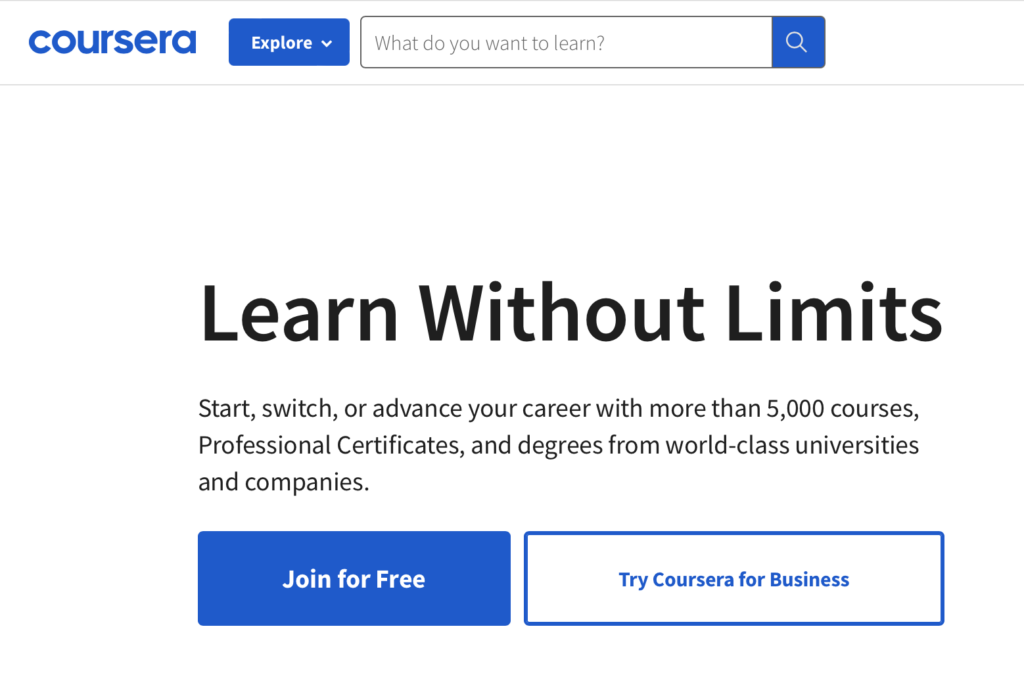 Coursera is another massive course marketplace, with over 5,300 courses, as well as a swath of progressional courses, Coursera specializations, and Mastertrack courses, which split sections of Master's programs into online modules. 
Coursera's courses tend to be geared towards business pros and academics and focus on everything from Project Management, to Business Analytics, to Social Media Marketing. Each course is designed to last between four and twelve weeks, with approximately one to two video lectures per week. Instructors grade assignments, answer student questions and help provide an engaging learning experience. 
Part of the draw with Coursera's certifications is that they come from accredited institutions—the type your mom would recognize, not nameless SAAS behemoths. Students earn certifications that they can use to transfer into colleges and earn course credits, all from the comfort of home. Learners from less traditional academic backgrounds can open up serious doors with Coursera certifications, too. 
Coursera has over 275 partnerships with universities and institutions around the world as of January 2023. The University of London, Yale University, the University of California, Irvine, and the University of Michigan are a few stand-outs—as are Meta and Google. 
Working with large institutions does slow down the application process, though. It's much, much faster than applying for a university degree, but many learners prefer learning from online marketplaces, or from creators who offer courses through learning platforms like Thinkfic. 
Coursera's courses are generally developed in collaboration with institutional partners. Unless you're already a recognized industry expert, your energy will be better spent working with a platform that's dedicated to serving non-institutional course creators.
Pros of Coursera:
Credentialed courses. Credentialed courses from world-recognized institutions make it easier for students to demonstrate their learning and expertise. 

Excellent institutional partnerships. Universities and large corporations can demonstrate their expertise, burnish their reputations, and drive new revenue by developing Coursera courses. 
Cons of Coursera:
Not accessible for smaller creators. In general, Coursera is only open to partnering with institutions and industry experts. Newer creators should invest their time into more accessible platforms. 

Courses require upkeep. Coursera isn't a truly passive platform, and most instructors have to keep up with student questions, forum comments, and grading. 
Coursera Cost: $59/month for students. 

Khan Academy is free, highly reliable, and geared specifically towards students from primary school, all the way through college. 
Founder Sal Khan created Khan Academy with the goal of democratizing education and making quality learning resources accessible to students of all backgrounds. The site's best known for teaching mathematics and the sciences, but they offer instruction on everything from computer science to economics. 
Khan Academy does offer tools for teachers, but they're geared towards public school teachers, as well as parents supporting their child's education. You can assign lessons to learners you're supporting, track learner progress, and tailor content to meet each student's learning needs. That's incredibly valuable. 
Their content is created in-house, and funded by a wealth of sponsors like the Bank of America, CollegeBoard, and the Bill and Melinda Gates Foundation. This means that it's not open to everyday course creators like you—and that's okay. The creators Sal Khan and co. work with are doing good.
And chances are, you're a busy professional and need to be paid for the hard work you put into course creation. Nobody can fault you for that, because labor deserves pay. And if that's your goal, then you'll likely want to explore other online learning platforms, because Khan Academy gives knowledge out for free. 
Pros of Khan Academy:
Free to all. Khan Academy's courses are free for all students and teachers. If you're a public school teacher who needs well-created learning content at no cost, look no further. 

Custom learning paths. Although you can't create

entirely

custom learning tracks—or upload courses you create—you can cherry-pick lectures for your students and group related concepts together. 
Cons of Khan Academy:
Not open to DIY course creators. Khan Academy handles all its content in-house, and they're not open to individual course creators. This is a result of their mission to provide top-notch courses for free, and it's an admirable goal, but it is a disadvantage for creators like you. 

Limited range of education topics. Khan Academy caters specifically to the American education system and the needs of American students. Their content on tech, the arts, and language learning is more limited. 
Khan Academy Cost for Creators: Free
Udemy Alternative #6: DataCamp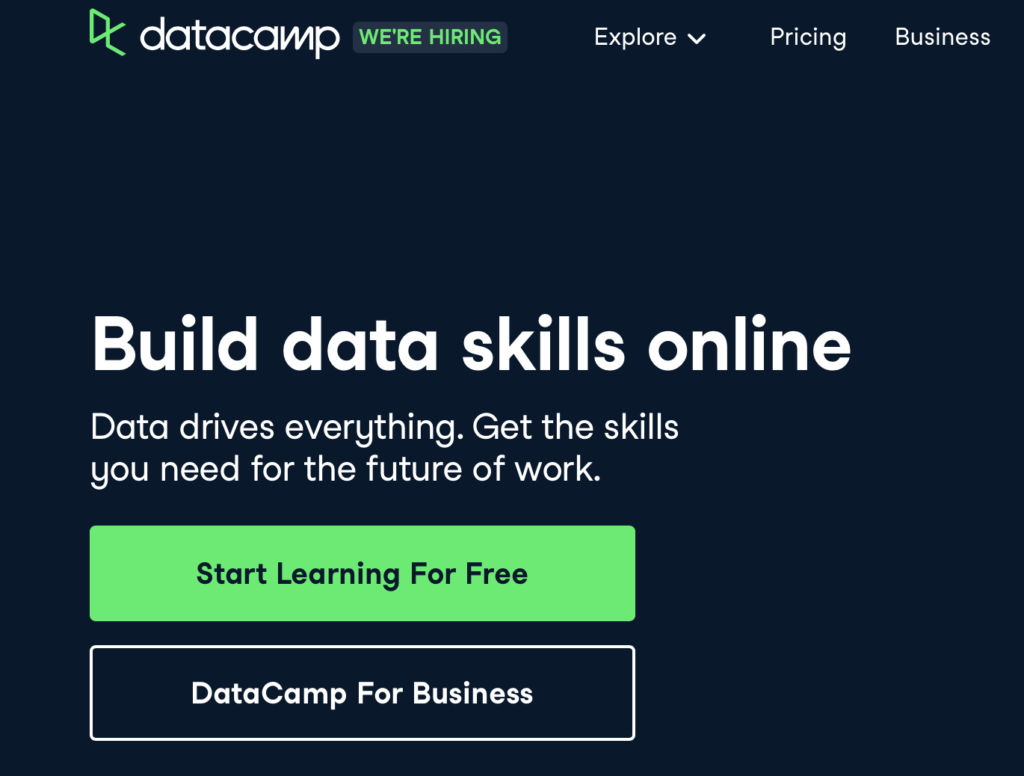 Expert-level coders and data whizzes, listen up—this one's for you! Founded in 2013, DataCamp offers 400+ data courses taught by subject matter experts, geared towards learners interested in careers in data science and analytics. DataCamp is the best-known online learning platform for prospective data scientists and offers highly interactive courses for its audience of over 9 million learners. 
The field of data science and analytics has exploded since the mid-2010s, and is expected to reach $230.8 billion by 2026, meaning that instructors who can break down the field's norms, tools, and foundational skills are in high demand. 
DataCamp recruits instructors who are both passionate about teaching and analytics. They take full ownership of course content, and have to apply to create courses for DataCamp. (That's why there are only about 270 DataCamp instructors out there, as of writing!) 
Potential instructors will start by submitting an application, where they'll be asked to choose a course they'd feel comfortable teaching from DataCamp's wishlist. Next, you'll have to submit a potential course outline via a Google form. 
If all goes well, you'll be contacted to do a brief five-minute presentation breaking down one of the concepts in your course outline. After that, you'll be in—and can get to developing your course with support from DataCamp's team. 
And now, the all-crucial question: how do instructors get paid? DataCamp subscribers pay a monthly subscription, and DataCamp partners with instructors as well as institutions to create their courses. If you become a DataCamp instructor, you'll be paid through a revenue-sharing program based on course completions. 
Every time a DataCamp subscriber completes your course, you'll earn a tasty royalty cheque. And with their massive, dedicated audience base, that can quickly add up. Their resource page for teachers reports that the average DataCamp instructors earn between $4,250 per month in passive income, but the top five instructors earn well over $53,000 per year. 
Data science is still a niche subject area, but it's growing fast. If you've got the analytics chops to teach, DataCamp may be the right platform for you. 
Pros of Datacamp:
Massive audience and community. With over

16.9 million

registered learners, DataCamp has one of the biggest user bases in the data science space. Instructors who apply successfully will have access to a huge swath of the online data science community, and make a huge impact. 

Royalty-based payment. DataCamp creators are paid based on course completions. Every time a subscriber makes it to the end of your course, you'll earn a royalty. Your royalties add up, and top instructors can earn well over six figures.  
Cons of Datacamp: 
Niche subject area. DataCamp caters only to data and computer scientists, so if you're in a different field, you may be out of luck. Try a more general online course marketplace, like Coursera or Udemy, or an online course platform like Thinkific.

It's Difficult to get in. Without serious industry credentials and teaching skills to match, even seasoned data scientists may have trouble getting accepted as DataCamp instructors. 

Quarterly payments. Royalties for DataCamp's revenue share system are

paid out quarterly

. This means that you won't have a constant flow of cash—just a series of

big

infusions. 
Datacamp Cost: From free plans to $25/month for individual students. 
---
Now that you know all the Udemy alternatives out there, you're probably looking for ways to start your course creation business. And like we said: most course marketplaces have massive barriers to entry, and an online learning platform like Thinkific is the fastest way to get started with building courses.
At Thinkific, we're all about breaking down the barriers to entering the course creation space. We make it easy to drive revenue from your blog by offering self-guided online courses and membership sites. Our easy-to-use course design platform helps coaches, educators, and digital content creators build engaging, custom eLearning experiences and grow sustainable online businesses.
---
Launch your online learning product for free
Start selling your online course and community on a 100% free plan that actually remains free.

---