How to Choose the Best Online Learning Platform
Before you start learning online, you need to select a few top online learning platforms that can provide you with all the learning experiences required to master a given subject.
In general, you should look at structure, course content, community and price.
Structure is important because it leads to a better learning experience (for more information, refer to the seminal book on the subject Creating Online Learning Experiences) and more effective professional development. You can probably piece together knowledge on almost any topic through YouTube, but you won't learn a lot since it would lack a structured and progressive environment.
Course content

is key to whatever you're planning to learn. All online degree programs and course materials are somewhat unique in how they approach any given subject.

Take web development / programming, for example. There are so many principles, languages and frameworks that you can learn that it can't simply be covered by individual courses. Some specialization is necessary.
Community

makes the learning process much more fun and effective. When you're stuck and can ask your peers for help, it reinforces what you've just learned with another perspective. Plus, doing something with a cohort of students is much more motivating than going alone.

Price

is another key factor in selecting course materials that work for you. There are free courses, of course, but paid ones tend to be more engaging and of higher quality. Some courses offer free trials; others offer refunds. Some courses give you lifetime unlimited access; others rely on a subscription model or only work for a limited time.
Choosing the right online learning platform and courses will generally mean balancing these four aspects in a way that works best for you.
What's the difference between online learning platforms and learning management systems?
When you're about to select an online learning platform, it's important to know how it differs from other similar solutions such as learning management systems and online course websites.
While an online learning platform is a user-facing environment where students can learn new skills, a learning management system (LMS) is a back-end solution that provides all the necessary tools to the online learning platform so it can function smoothly. This could be features like uploading videos, creating quizzes, grading assignments and much more.
At the same time, online learning platforms are similar to online course websites. In practice, the difference is that the former tends to offer more flexibility than the latter. Online course websites are used for course creation, whereas online learning platforms can encompass all kinds of learning experiences, from short videos to online degrees.
In fact, in a paper titled Online Learning Platforms: Reconstructing Modern Higher Education, Zi-Yu Liu, Natalya Lomovtseva and Elena Korobeynikova argue that online learning platforms can change the way higher education works in the future.
Top 10 Online Learning Platforms
Now that you know what online learning platforms offer, and have a general idea of what you're planning to study, you can see which one of these 10 top-notch learning platforms suits you best. Skip ahead here:
1. Thinkific
Start looking into online learning platforms with the most flexible platform of all — Thinkific.
Thinkific is not a gallery of courses, rather it's one of the best platforms to create learning products and organize a custom learning experience for your team.
Not sure where to start? Thinkific Academy will teach you how to create courses and a curriculum online, as well as how to price them, sell them and advertise for them effectively.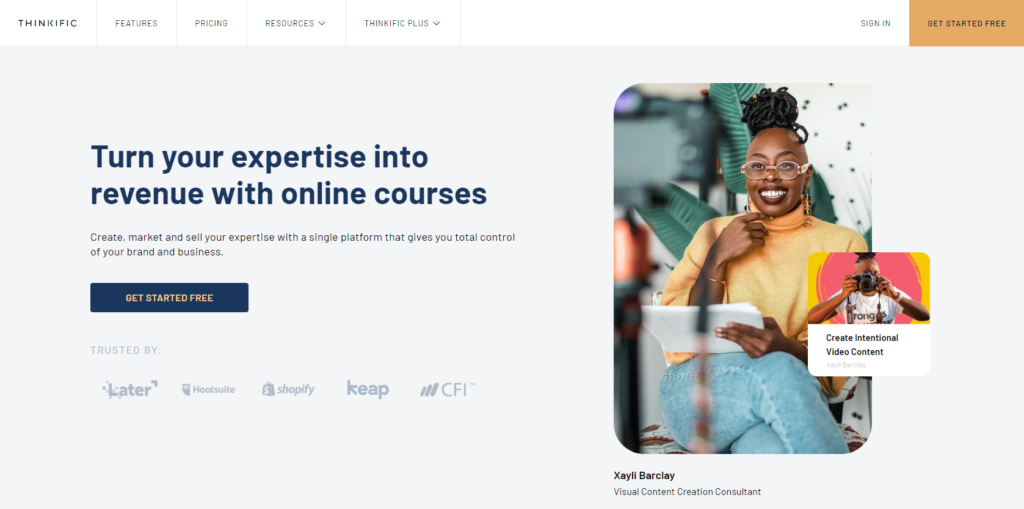 Pricing
Learning about how to create courses with Thinkific is free. If you want to use Thinkific to create courses yourself, there are a variety of tiers, from free to $99 per month and beyond.
Pros

Cons

Learn to create courses for free

Flexible, intuitive system to create your own courses

No library of courses to discover

Being one of the largest online learning platforms in the world, Coursera has millions of students and partners with over 200 top universities and companies to produce the best courses across a wide variety of subjects.
There are individual courses, certificate courses and university-level courses available. Some are free; others are paid. You can buy each course separately or enroll in a Coursera Plus plan, which gives you access to all courses for a yearly subscription fee.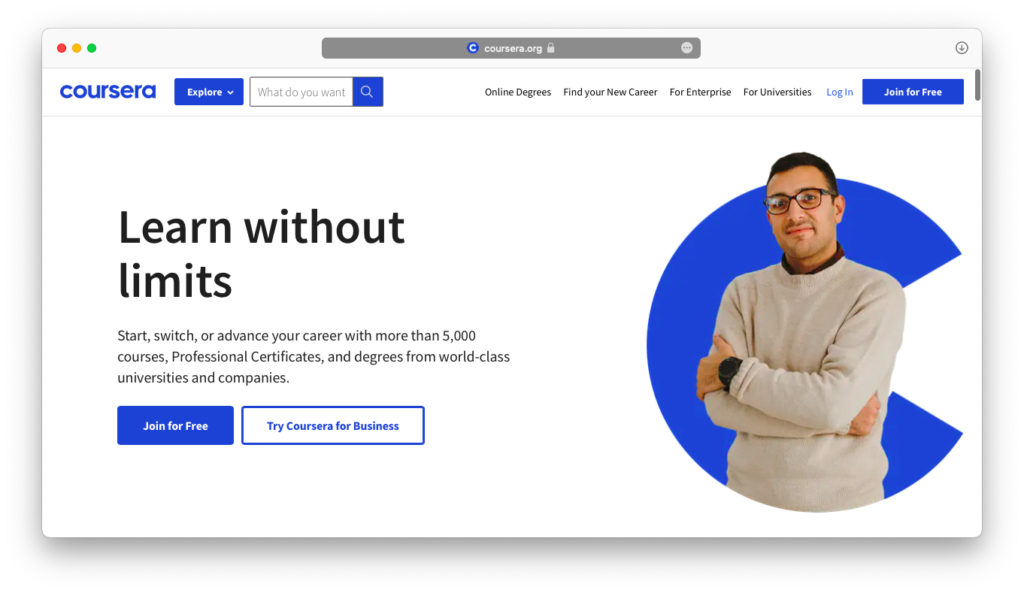 Pricing
Lots of courses are available for free. Paid courses start at $9.99, with certificate-level courses beginning at $39 and university courses at $2,000.
Pros

Cons

More than 1,500 courses are free

A variety of subjects, from arts to computer science

Official certificates recognized by many employers

Free courses don't come with certificates

Some courses have time limits
3. LinkedIn Learning
Started as Lynda.com back in 1995, LinkedIn Learning features over 17,000 courses on topics across business, technology and creativity.
What LinkedIn Learning is great at is teaching you how to use complex software, often broken down to the simplest actions (e.g. how to use lookup functions in Excel). Similarly, you can learn the ins and outs of Adobe apps like Photoshop, InDesign and Illustrator as well as rendering in Blender, SketchUp and Maya, and much more.
You can buy courses individually or get a recurring subscription. Any certificates can be automatically displayed on your LinkedIn profile.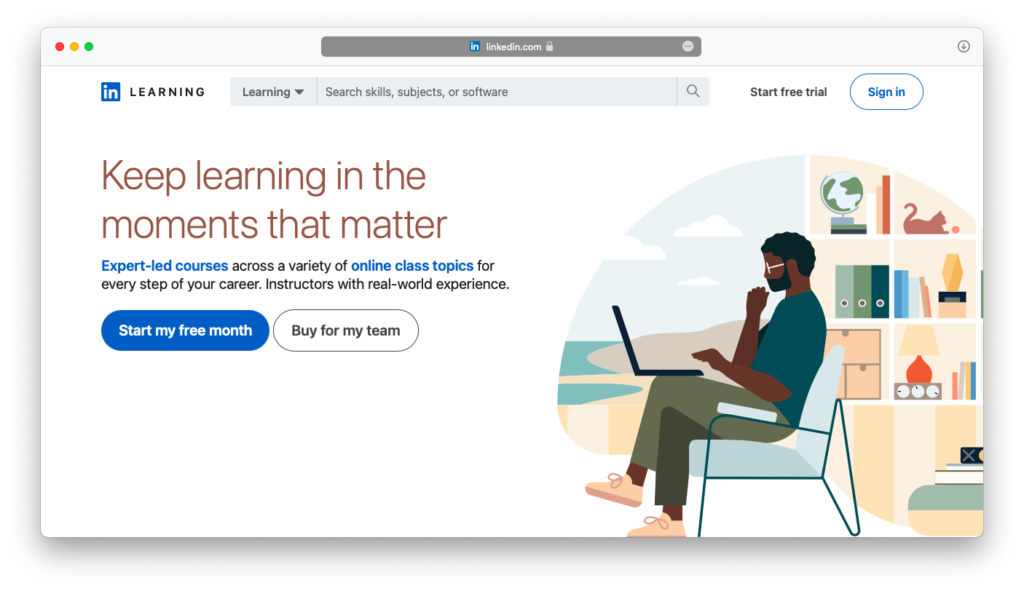 Pricing
Individual courses vary between $20 and $50. A monthly subscription costs $39.99. A yearly subscription would be $26.99 a month.
Pros

Cons

17,000+ courses available

Detailed how-tos for the most popular software

Need a LinkedIn profile to access learning
4. Skillshare
Anyone who's into creative arts or acquiring new creative skills would appreciate Skillshare. While less formal than many other online learning platforms, Skillshare focuses on practical skills rather than degrees or certificates.
Courses on Skillshare are often led by famous creatives and rarely go beyond two hours in length, broken down further into 3 to 5 minute episodes. This makes learning on Skillshare accessible even for people who don't have a lot of free time.
There are some free introductory courses, but to get access to a full catalog, you need to purchase a subscription.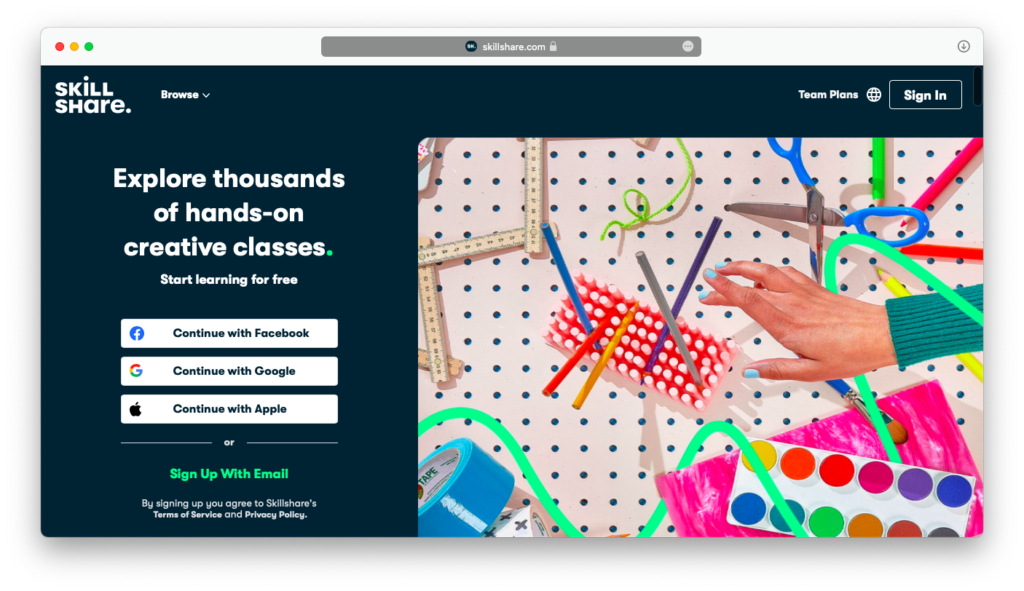 Pricing
Skillshare costs $168 per year (or around $14 a month).
Pros

Cons

More than 35,000 courses

A mobile app for on-the-go learning

Courses rarely go in-depth
5. edX
If you're looking for a more formal learning environment, edX is one of the best options available online. This platform partners with top universities, from Harvard to MIT to Berkeley, to offer real university courses online.
Most courses tend to skew into the STEM fields, such as data analysis, engineering, math, but there are plenty of others too (out of 3,000+ total). You can take the majority of classes for free if you don't need a certificate too.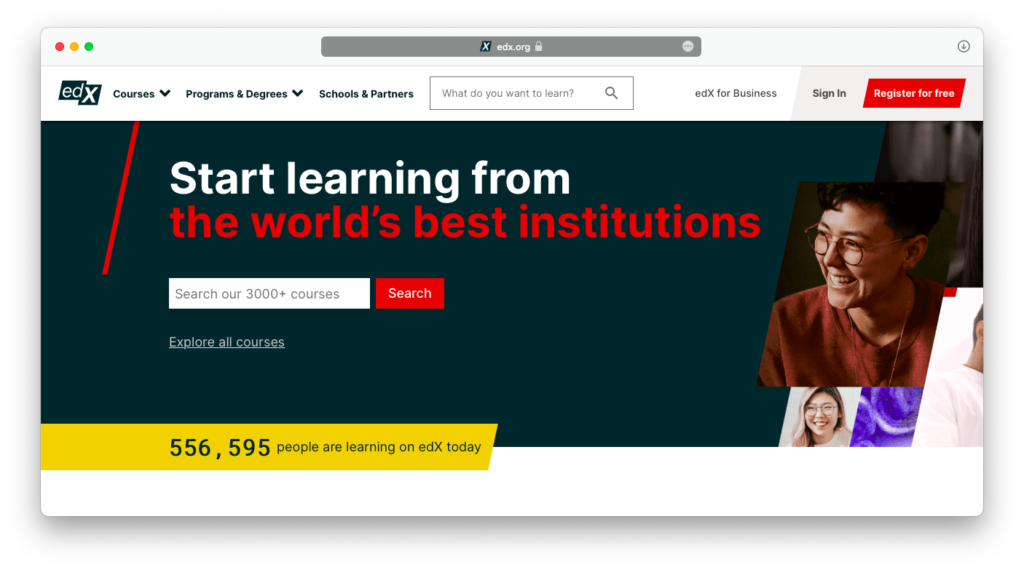 Pricing
Free classes without a certificate. Classes with certificates cost about $49 each.
Pros

Cons

A large library of high-quality courses

Earn a bachelor's or a master's degree

Not as many courses in creative fields
6. OpenLearning
OpenLearning, an Australian platform, partners with leading institutions and offers more than 4,000 courses on a variety of subjects. What sets OpenLearning apart is an engaging and supportive community of more than 3 million learners. Students interact with each other constantly through comments, submissions and publicly tracking their progress.
You can find short individual courses on the platform as well as OpenCreds, which you can use to get actual credits in Australia's universities.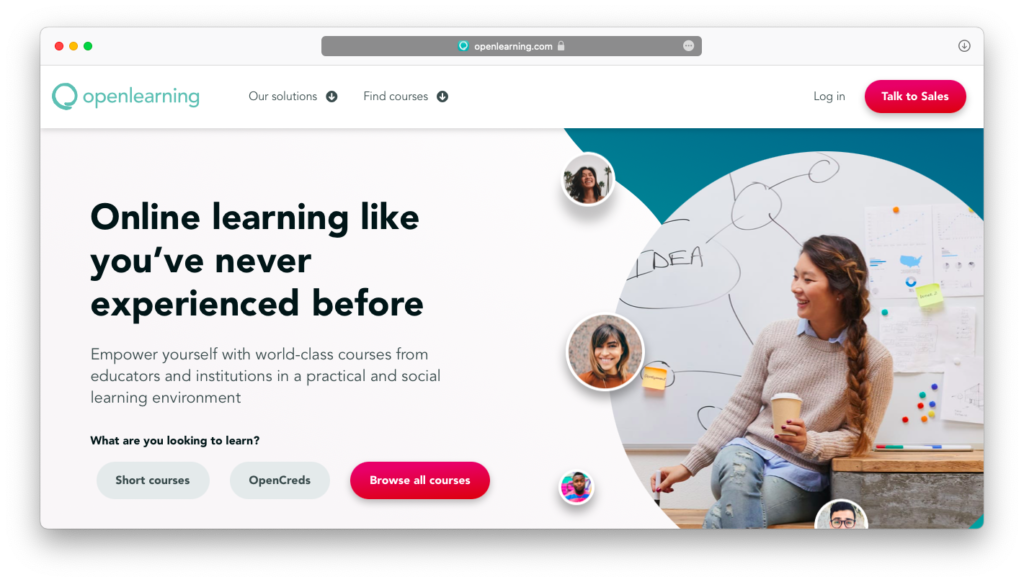 Pricing
Lots of courses on the OpenLearning platform are free. Although the ones to get university credentials usually cost anywhere between $150 and $500.
Pros

Cons

Use credentials toward university degrees

Supportive community

Courses can be expensive
7. Udemy
With more than 180,000 courses and 60,000 instructors, Udemy is the largest online learning platform out there, covering every niche you can think of.
There's no unifying theme on Udemy — you can really learn anything, from graphic design to personal development. Most classes also use multimedia technologies, mixing video, images, text, quizzes, etc.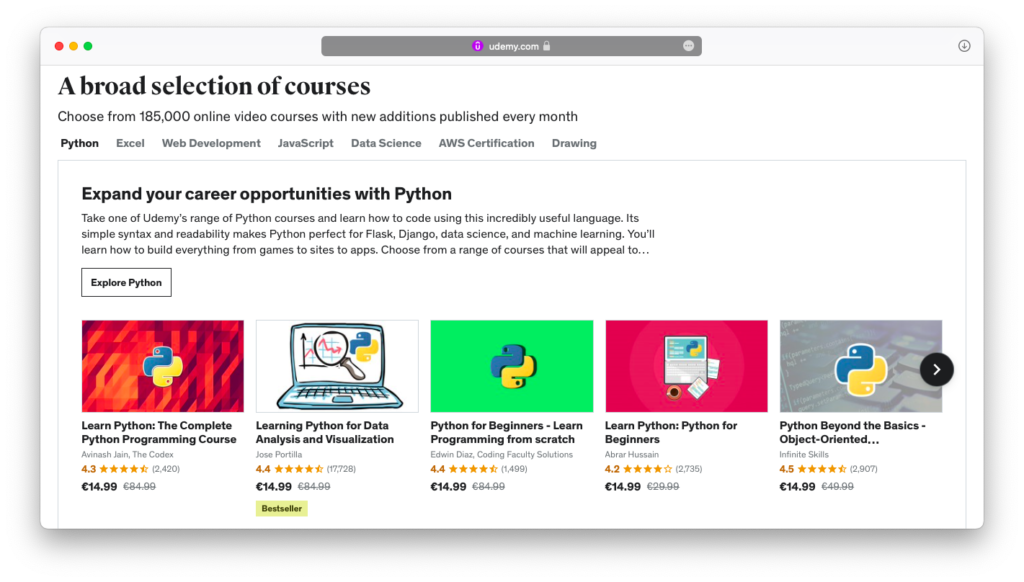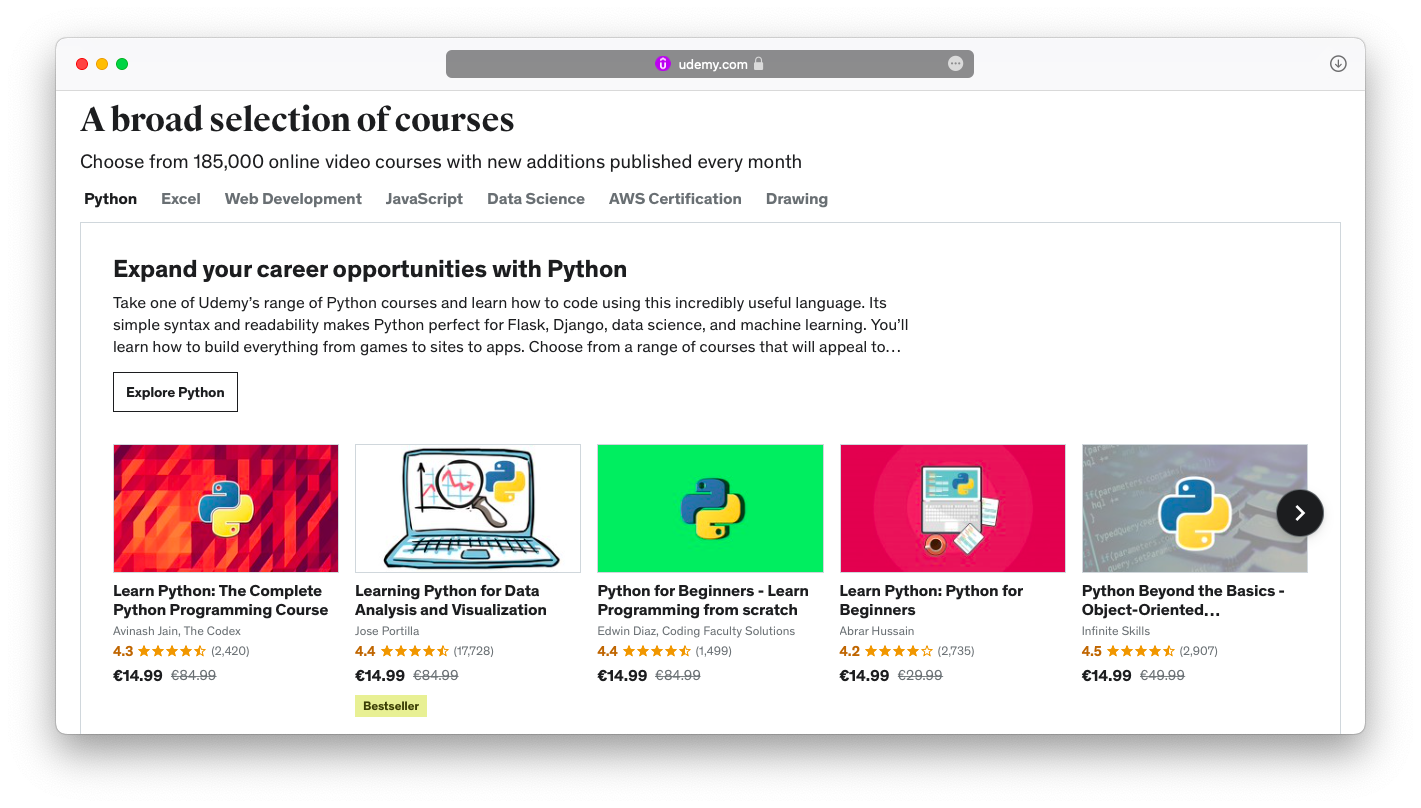 Pricing
Each course on Udemy is sold separately, from as little as $10 and up to $200.
Pros

Cons

The largest selection of courses

30-day money-back guarantee

No subscription

No deadlines

Some courses can be low quality

No credits for higher education
8. Treehouse
Ask people what they want to learn the most today and they will say, without doubt, web development or programming in general. And the best online learning platform to do that is Treehouse.
Treehouse specializes in teaching people how to code in an interactive environment. While all courses can be taken individually, most are grouped into tracks to give you well-rounded knowledge of topics like frontend development, cybersecurity, mobile app development, etc.
Besides videos, courses also contain a working text editor you'll use to complete quizzes and test projects.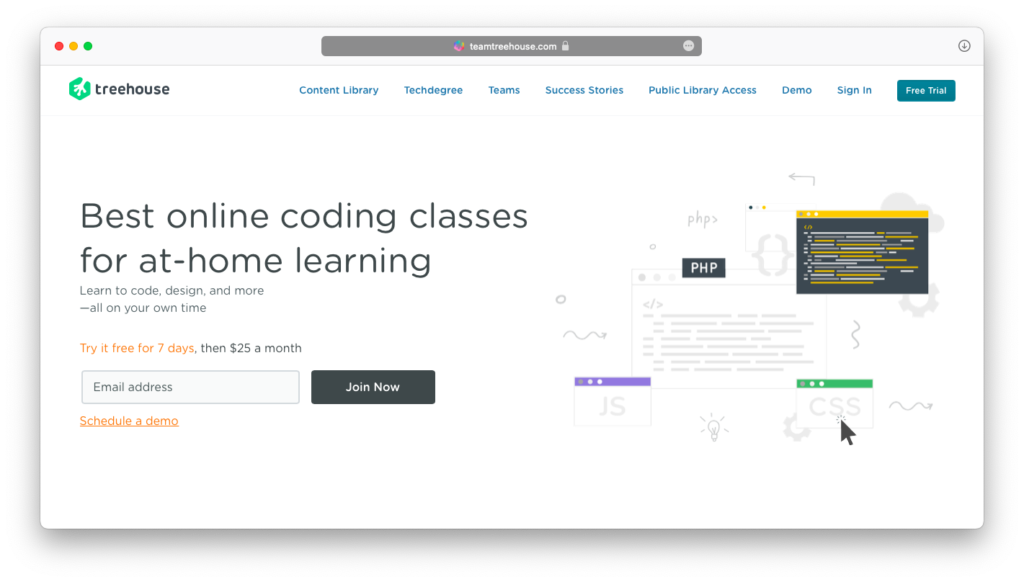 Pricing
Treehouse charges $25 per month for regular memberships. If you want a certificate, however, there are even more structured Techdegree programs available for $199 per month.
Pros

Cons

High-quality progressive courses

A handy text editor built right in

Not many options besides programming
9. MasterClass
MasterClass is a platform that lets anyone learn from the world's best practitioners, be it Gordon Ramsey for cooking or Martin Scorsese for directing.
There are over 100 courses currently available. All beautifully shot, produced and broken down into 15 to 20 bite-sized lessons. The advice is often practical and there are workbooks with extra information available. However, the platform works best for those who want to expose themselves to an overviews of lots of different crafts.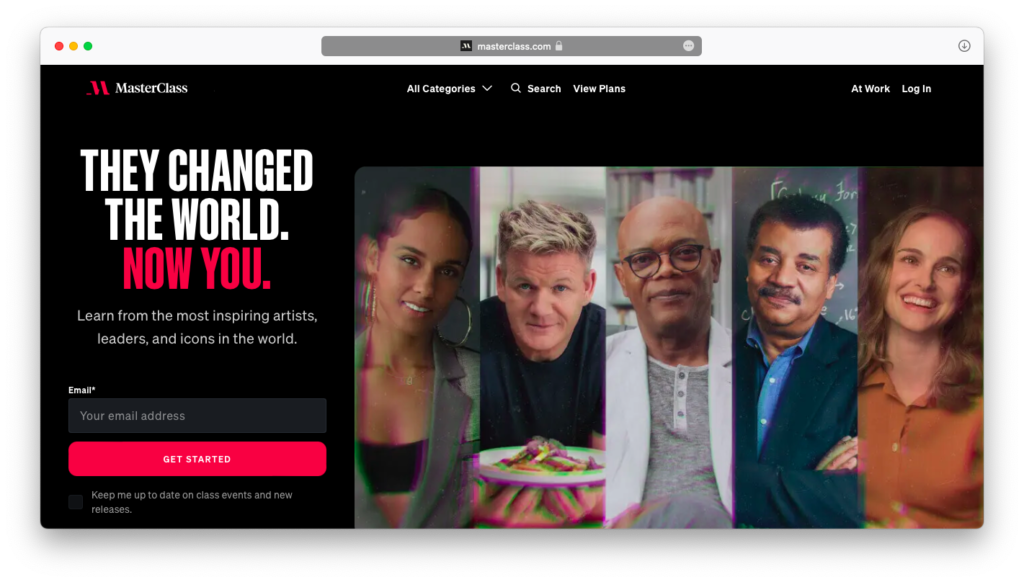 Pricing
Billed annually, MasterClass costs $15 per month on an Individual plan, $20 for Duo (2 devices) and $23 for Family (6 devices).
Pros

Cons

Celebrity instructors

High-quality videos and unique content

Introductory knowledge in most courses

No progression
10. Khan Academy
Another one of the top online learning platforms is Khan Academy. Started by Sal Khan as a way to help his cousins study math, today, Khan Academy features over 8,000 video lessons on various topics absolutely free.
More than 70 million people have used Khan Academy in their studies, including to prepare for the SAT. There are streaks and other gamification features built-in to motivate students to learn more, and there are clear progressions for most tracks, sometimes enough for years of study.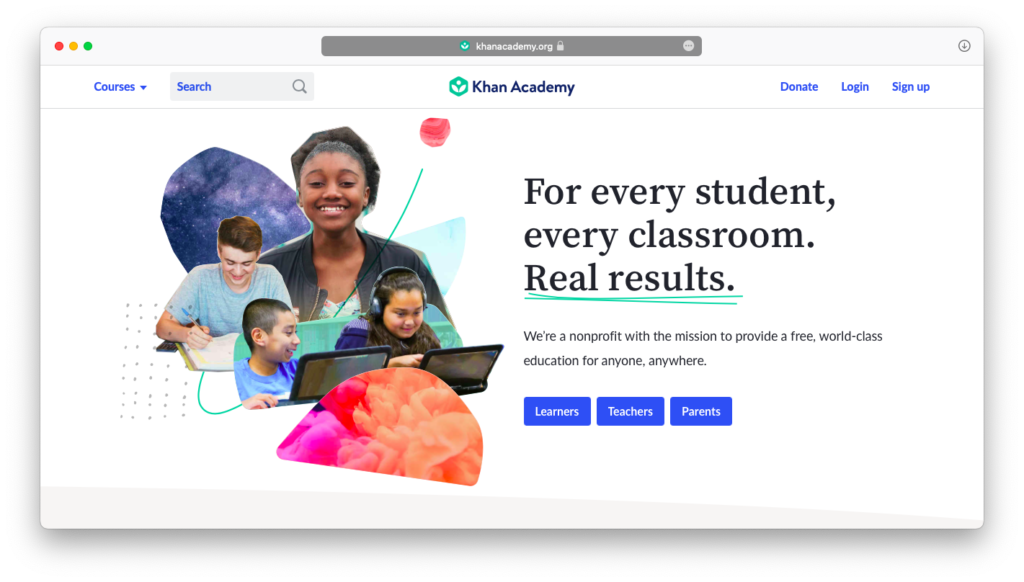 Pricing
Absolutely free — Khan Academy is a non-profit.
Pros

Cons

Free courses

A variety of topics

More focused on K-12 students
---
How to learn and monetize your own content
As you can see, there are so many online learning platforms and so much to learn on almost any subject imaginable. The best thing is that once you acquire enough knowledge, you can start monetizing it as well through your own courses in your own unique way. All you need is a platform to do that.
Thinkific is an intuitive and easy-to-use course-creation solution that enables you to build and sell courses of any complexity. No coding skills required — just use a professionally designed template and customize it to your liking using a drag-and-drop editor. As a result, you can create a course in an hour and monetize it for years to come.
Get started for free today.