You want to sell more and grow your business, and optimizing the checkout process is a great way to achieve those goals. It's surprising how even small changes can significantly impact your bottom line. 
That's why we're excited to introduce Performance Checkout. It will help turn more of your leads into customers, reduce customer drop off and increase customer spend. Read on to learn how Performance Checkout is different from the standard two-page checkout, and how the changes made will benefit your business.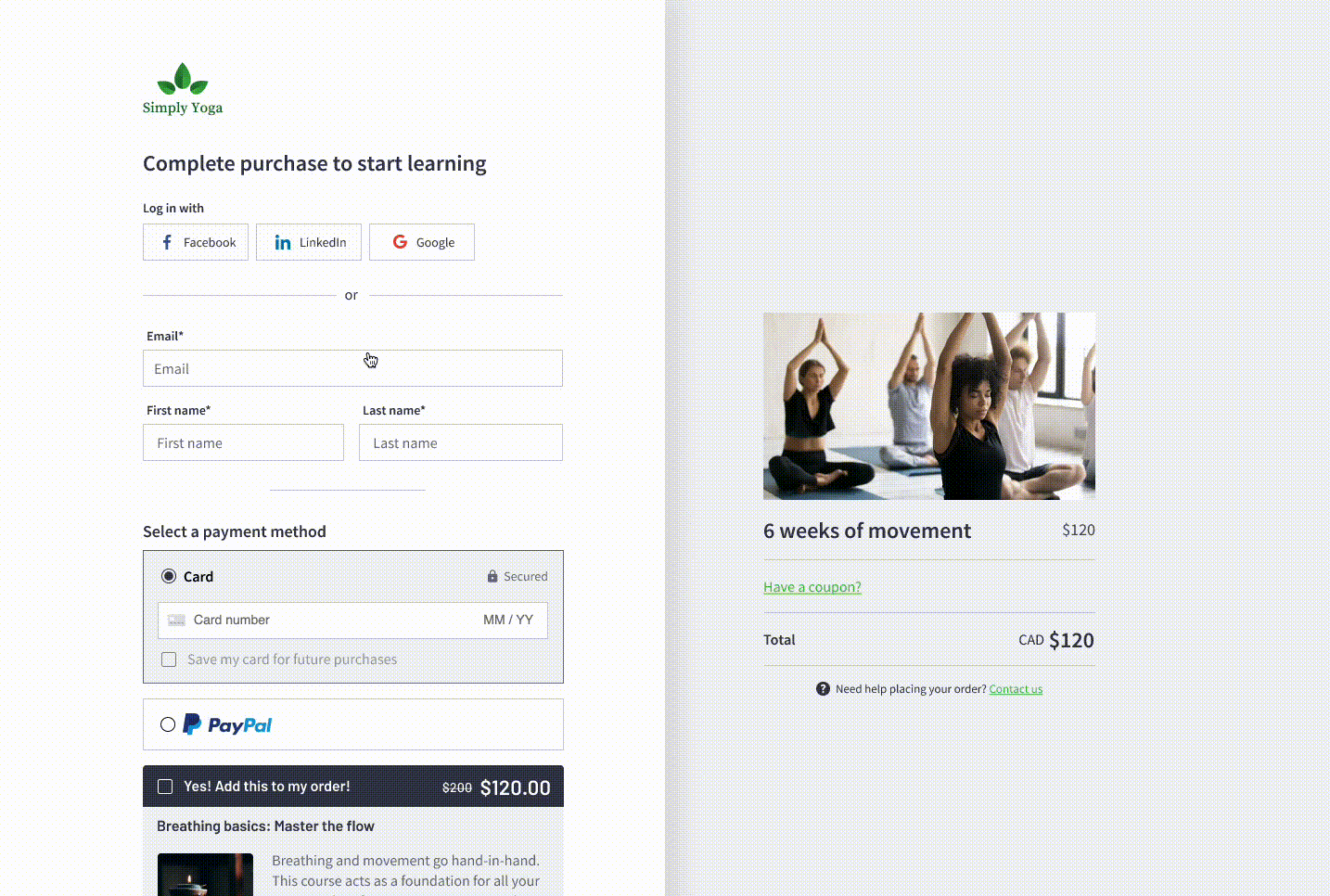 ---
Unlock Performance Checkout with Thinkific Payments.

In Thinkific, Go to Dashboard > Settings Page > Payments Tab. Or learn more about Thinkific Payments in our support center.
---
Why Performance Checkout will help you Sell More:
1. A faster checkout experience on a single page: The new checkout is consolidated onto a single page instead of two pages, moving your prospects through the buying process more quickly.  
2. Less customer drop off: On top of bringing the whole experience onto a single page, we've also reduced the information required down to the absolute essentials.
For instance, customers are no longer required to create an account before payment is taken. You'll see account creation and unnecessary custom fields are now completed after payment is taken. That means you still have the opportunity to collect more information that's important to the student's learning journey, like city, country, telephone number, student number, date of birth, etc, but it won't interrupt conversion in the checkout.
Keeping things simple on the checkout reduces customer drop off because customers only focus on the task at hand—completing payment.
3. A better experience for returning customers: You can now store customer credit card details for future use, making it easier for your returning students to purchase a course without having to get their wallet out and refill their details. If your returning customer wants to use a different credit card, they can also easily edit their card on file.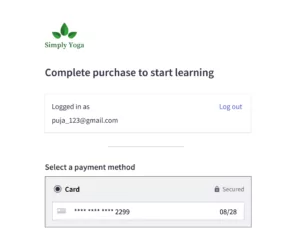 4. Best in class security: Performance Checkout continues the same top notch security as the standard two-page checkout. Both checkouts use 128-bit TLS encrypted connections, meaning that any confidential information being transferred (including credit card information) is completely safe.
5. Performance means an always improving checkout: Performance Checkout is a big priority for us at Thinkific, since we know that selling courses and driving more revenue is a crucial area of your business. In fact, we have an entire team dedicated to testing and improving the experience. Over the next year we'll release continued conversion improvements, as well as new tools to help you sell more.

Learn how Stefano from 10baggerstocks improved conversion by 58% with Thinkific Payments and the Performance Checkout.
Your checkout is an important area of your business and it can have a significant impact on sales. Get started with Thinkific Payments and start selling more courses—no extra time or effort required.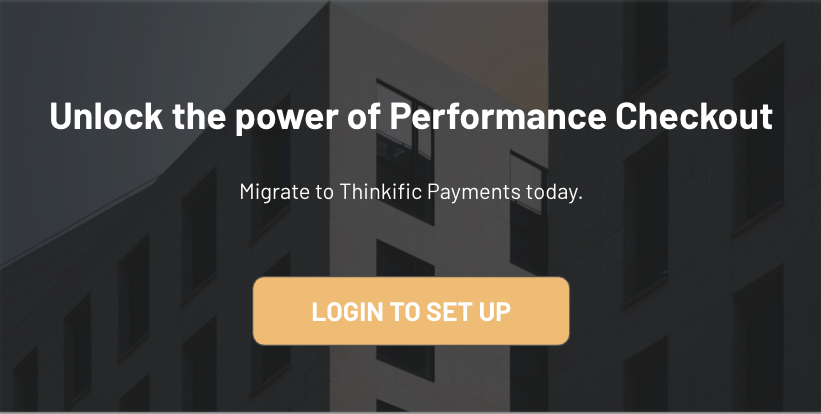 In Thinkific, Go to Dashboard > Settings Page > Payments Tab. Or learn more about Thinkific Payments in our support center.