What is ADDIE, and how can it be used in the course creation process? 
At its core, ADDIE follows a five step approach used in instructional design. However, over the years, it has morphed from a linear approach to a more circular approach, as instructional designers have begun creating iterations of their courses.
Before we dive into the five steps of ADDIE, think about something you do on a regular basis – for example, grocery shop. 
Let's assume that you are preparing the weekly grocery list. For many of us, the first thing we do is take an inventory of what items we currently have on hand and what our goals are for meals that week. 
After completing that step, we may write a grocery list, followed by a meal plan (at least that's what my super organized friends do!). 
Once we have that, it's off to the grocery store to pick-up the items on the list and throughout the week, prepare meals. At the end of the week, we may pause and ask ourselves if the plan went as expected or if we need to make changes.
Guess what?! You used ADDIE!!
Now, let's take a closer look and see how that same process applies to course creation.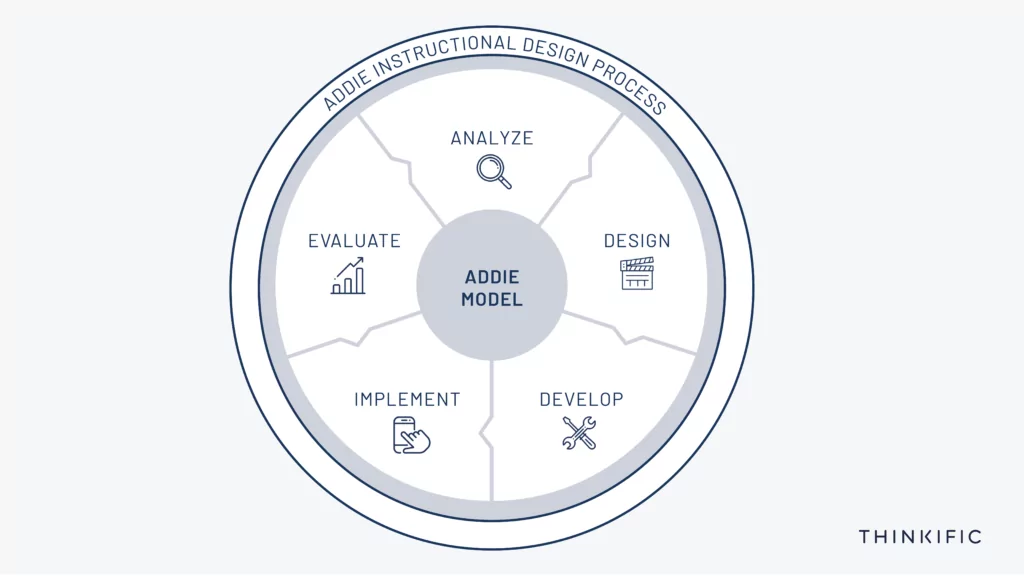 The ADDIE five step training process
Analysis
In this step, you are doing your research. In a traditional business or education setting, this is the step where you are reviewing existing materials, searching for knowledge gaps, and determining what works and what hasn't worked as well as planned. As an individual course creator, the analysis step may take place in focus groups or by joining social media communities to determine the needs of your target audience.
One popular method of analysis asks these questions as part of the information gathering process:
Who is my audience?

What is the course about?

When is the course launching?

Why is this course needed?

How will objectives be achieved?
I've been an instructional designer for many years and the analysis step is one that is often overlooked. Taking the time to do a thorough analysis can save time and money later in the process. Rather than build a course you think your audience wants, use the analysis to build the course they need.
Design
Design is the second step in the ADDIE training process Frequently, design and development go hand in hand. In the Design step, critical decisions will be made about the course and how it will be delivered.
Related: Synchronous vs Asynchronous Learning: How To Use Both
Different delivery strategies will impact the overall course design and potentially your budget.  After determining how the course will be delivered, the next part of design is to determine the order the content will be delivered. This is a great time to put together a small focus group and gather feedback about the design.
Once you are confident you have the elements you need, it's time for one of my favorite aspects of course creation, creating a storyboard. If you have never used a storyboard, here's a great about how to create an eLearning storyboard, with templates that you can use.
In simplest terms, the storyboard is the roadmap for your course and can be used to keep everyone working on the course organized and working towards the same goal.
Another planning tool frequently used by course creators is a kanban board, for example you can create one for free using Trello:

Development
This is where the actual course creation occurs. When I build courses, I like to add the images, audio clips, etc. to my storyboard while others prefer to gather assets in the development phase. There is no "right" way to do this. One thing to keep in mind, if you gather all your assets up front, the development portion of creating your course will go more quickly. Who hasn't lost a few hours searching for the perfect image?
In the development step, be prepared to test and review frequently. Check for accuracy of content, the look, feel, flow of the course, and then you will be ready to implement.
Implementation
This is when you will begin loading content into the Learning Management System, for example, Thinkific. During implementation, you will also be checking to ensure all content functions, students can enroll, and access content, assessments and surveys have been added, and the course is ready to launch.
Related: Your Must-Have LMS Implementation Guide (with downloadable checklist)
Evaluation
While listed as the fifth and final step, this is one that you will continually implement.
During the evaluation focus on if the course has met the goals for the course, implementing feedback from the learners, and potentially making content changes or updates.
Based on your findings during the evaluation phase, you'll go back to refine your training through analysis, design, and implementation all over again!

Examples of ADDIE model in training plans
It's one thing to talk about ADDIE and another to see what ADDIE looks like in action. Here's an example of an ADDIE Training plan for a course we'll call, "Wellness in the Home Office." This course could be used by both companies and entrepreneurs.
ADDIE Training Plan for a corporate training audience
Analysis

Course goal

Inventory existing content

Work with business partners to determine outcomes

Design

How will course be delivered? In-person, online, or hybrid?

Who will be delivering the content?

What is timeline for creation?

What tools are being used to create?

Storyboard and collect assets

Develop

Gather assets

Record video

Record audio

Create in authoring tool

Create worksheets, etc.

Follow storyboard

Test

Implement

Online or hybrid load to LMS

 

In-person schedule sessions

Assign Learners

Track completion

Monitor

Evaluate

Survey learners

Evaluate if goals are met

Evaluate behavior change

Determine changes needed and revise course
Addie Training plan example for entrepreneur audience
Analysis

Conduct focus groups/poll existing groups

Research similar courses online

Determine course goals/needs

Design

Determine content delivery method

Will there be interactive elements or straight video?

What type of activities will be included?

Begin storyboarding/collect assets

Develop

Gather assets

Record video

Record audio

Create worksheets, etc.

Follow storyboard

Beta Test

Implement

Upload content to LMS

Open course for enrollment

Track completion

Monitor

Evaluate

Survey learners

Evaluate if goals were met

Evaluate sales

Evaluate repeat business

Determine changes needed and revise course

Evaluate behavior change

Determine changes needed and revise course
Related: How To Implement Employee Training And Development
ADDIE vs SAM, an alternative?
We've discussed ADDIE and provided some examples, a close "cousin" to ADDIE is SAM. SAM is based on the ADDIE model but is focused on a more rapid development cycle with ongoing feedback and iterations of a content rather than the extended cycle found in ADDIE. We'll cover the nuances of SAM in a future post.
How to implement the ADDIE Model in training and development
If you review your existing course design processes, you may find that you are using a less structured version of ADDIE already. The next step is to implement ADDIE into your course creation workflow.
In my experience in training and instructional design, I've found that many organizations live in the Design-Develop-Implement space and often skip the Analysis and Evaluation phase. This is often due to the pace of business or having course development needs dictated by an external party. I understand, I lived in that world for many years. 
Here's my suggestion: talk to your stakeholders and schedule regular conversations regarding training needs. When these conversations occur, the stakeholders may discover that training isn't always the answer and when training is the answer, once a thoughtful analysis has been completed, the end product frequently provides not only a better user experience but also a more productive experience.
Having these conversations can be challenging, and I suggest easing into them, asking clarifying questions about the goal of the training, and providing solutions for how to achieve the goal. 
When possible, do some research beforehand, this could be as simple as looking at similar courses already in the LMS and gathering usage data or talking to managers in operations to find out what their needs are. Even spending a short period of time conducting a needs analysis will pay dividends in the end.
The same applies to the evaluation phase. In addition to the usual end-of-course feedback, sometimes referred to as "smile sheet" feedback, consider implementing a system for gathering targeted feedback about the effectiveness of the course and behavior changes at the 30-60-90 day marks. This could be a survey sent to those who have completed the course or it could be a survey targeted to managers, in the workplace, to ask questions about employee retention, customer feedback, or effectiveness in the role.
Use this data to continually improve and enhance the course or collect the data and set a schedule for regular course updates, perhaps yearly.
In summary, ADDIE is a process that can be implemented to allow for better course design. The process begins by conducting a needs analysis, followed by designing the course, using tools such as a storyboard or Kanban board, then creating the content, implementing the content by uploading to the LMS, and last, but not least, evaluating the effectiveness of the course and making improvements, thus starting ADDIE again.
You can create a course for free on Thinkific – get started today!