Keen to learn more about finance? We've put together the ultimate list of the best finance courses for 2023 with everything you need to know to find the right finance course for you.
Whether you're looking for in-depth corporate finance certifications or personal finance crash courses, there are committed course creators out there ready to share their expertise and knowledge.
Thanks to the huge wealth of courses now available online, you can learn everything you need to know about finance from the comfort of your kitchen table, couch or bed – no judgment!
Here's our list of the 10 best finance courses for 2023 – including what you'll learn, how long each course will take and what other students are saying.
Click the links below to skip ahead:
Best finance courses for 2023 – Corporate Finance
Best finance courses for 2023 – Personal Finance
Best Finance Courses for 2023 – Corporate Finance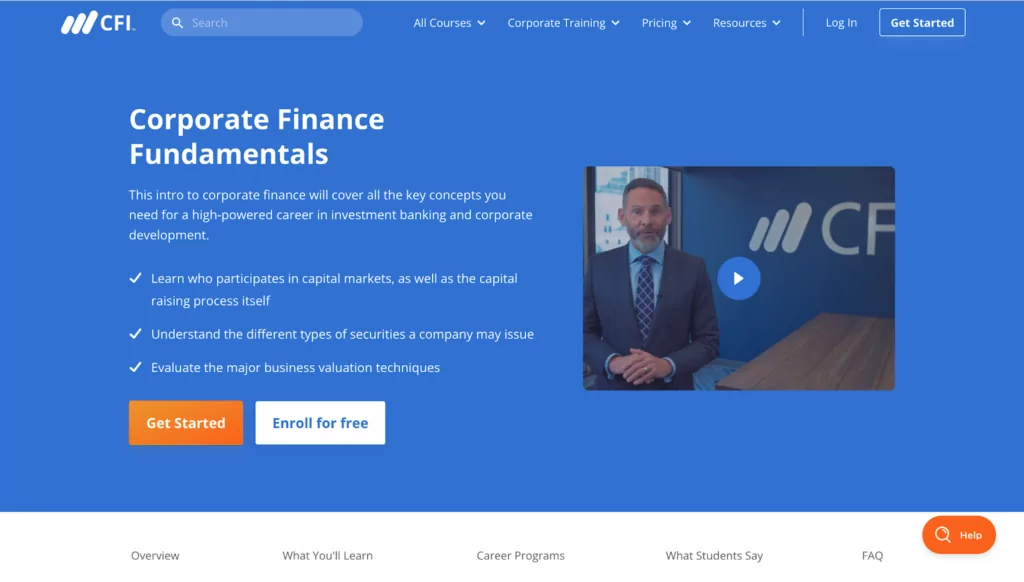 Course creator: Tim Vipond, Corporate Finance Institute
Duration: 5 modules, self-paced
Price: From $497 per year
Description: Founded by entrepreneur Tim Vipond, the Corporate Finance Institute offers students a wide range of financial training programs to choose from. The institute delivers programs and certifications to a global audience with over 7 million students in 170 countries. Classes range from foundational courses to industry-specific certifications, so you're sure to find the right corporate finance course for your needs.
The Corporate Finance Institute offers unlimited access to over 150 courses, templates, certification exams and more for a yearly subscription. As long as you have an active subscription, you can take any of CFI finance courses in their catalog.
What you will learn: In their Corporate Finance Fundamentals course, the Corporate Finance Institute teaches you everything you need to know about the capital raising process, how to structure a deal, how to finance an acquisition, types of debt and equity securities, and much more.
The course is tailored to anyone working in or looking for a job in investment banking, corporate development, and finance. It's tailor-made for beginners, as well as being a useful refresher for experienced professionals.
Skills you will gain: This finance course is focused on giving you all the essential knowledge you need for a career in finance. By the end of the course, you'll have the skills you need to go through the whole process of raising capital from start to finish.
You'll know how to utilize key business valuation techniques and understand the different types of securities a company can issue. It will also equip you with the skills needed to prepare for an interview in a finance-focused career.
From the students: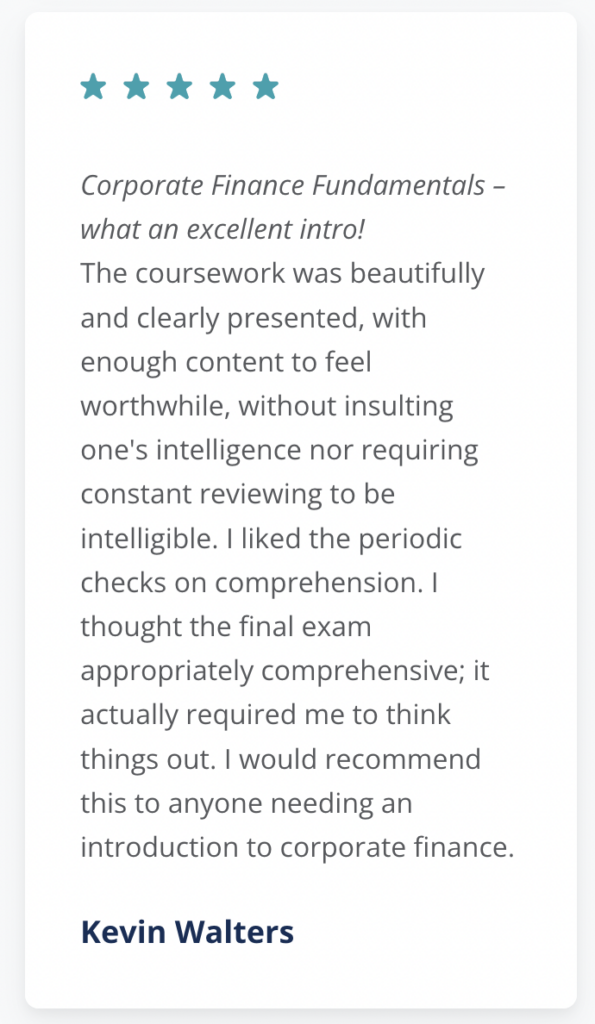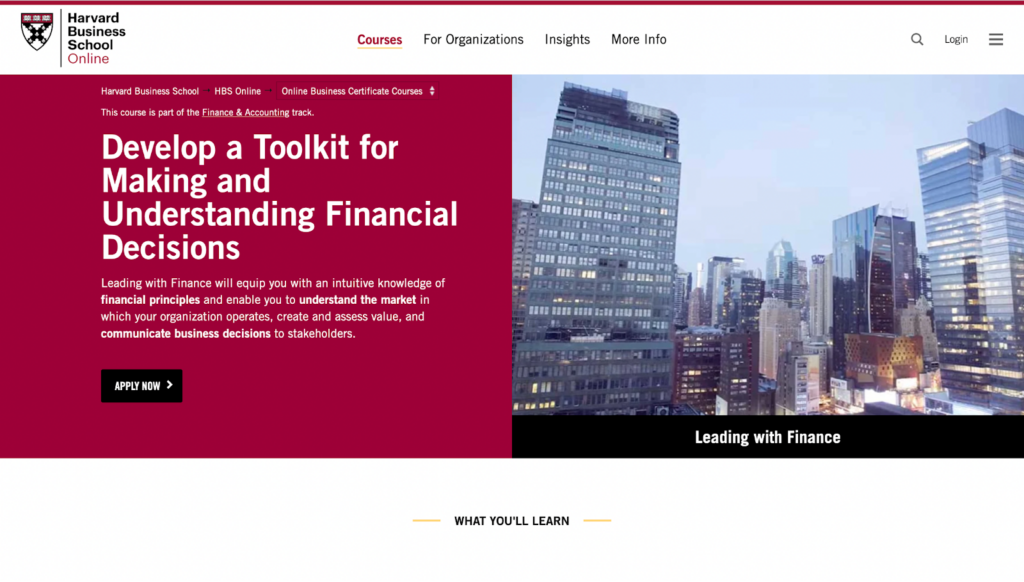 Course Creator: Mihir Desai, Harvard Business School
Duration: 6 weeks
Price: $1750
Description: Harvard Business School's Corporate Finance course is tailored to aspiring finance and investment professionals, as well as people looking to break into a finance career for the first time. This finance course includes approximately 35 to 40 hours of course material delivered over 6 weeks, with deadlines for coursework. 
The course is part of the Harvard Business School Finance & Accounting Learning Track. To achieve a Certificate of Specialization, you have the option to complete 3 separate finance courses within 18 months for the full qualification to get your finance career off to the best possible start.
What you will learn: This finance course includes the fundamentals of corporate finance, such as understanding balance sheets, income statements and financial ratios. The modules you'll find inside include Financial analysis, Finance vs Accounting, Capital Markets, Creating Value and Valuation, as well as many more. 
Every module in this finance course comes with accompanying case studies and key exercises to reinforce your knowledge every step of the way. Learn how to apply your knowledge and get to grips with the top players in the finance industry – you might be working for them some day!
Skills you will gain: At the end of the course, students will have a toolkit for financial decision-making and the ability to articulate decisions to key stakeholders and pitch potential projects in a corporate setting. You'll also develop critical financial intuition to guide your career.
From the students: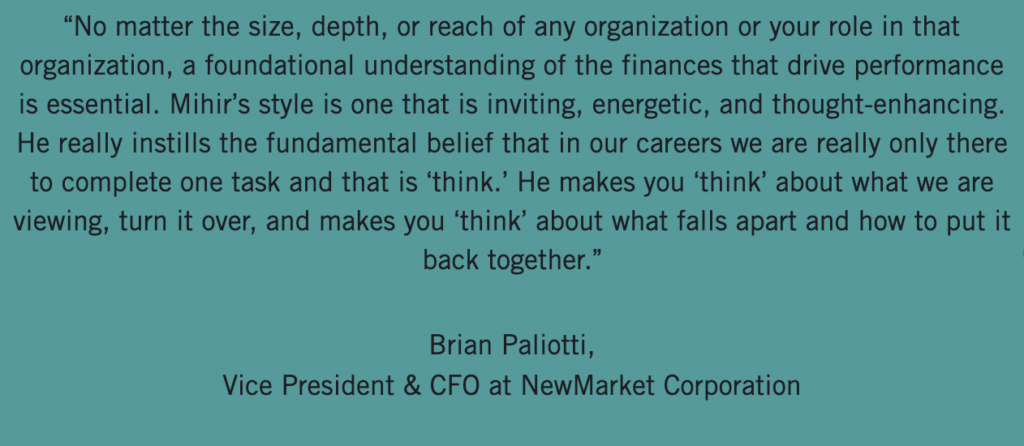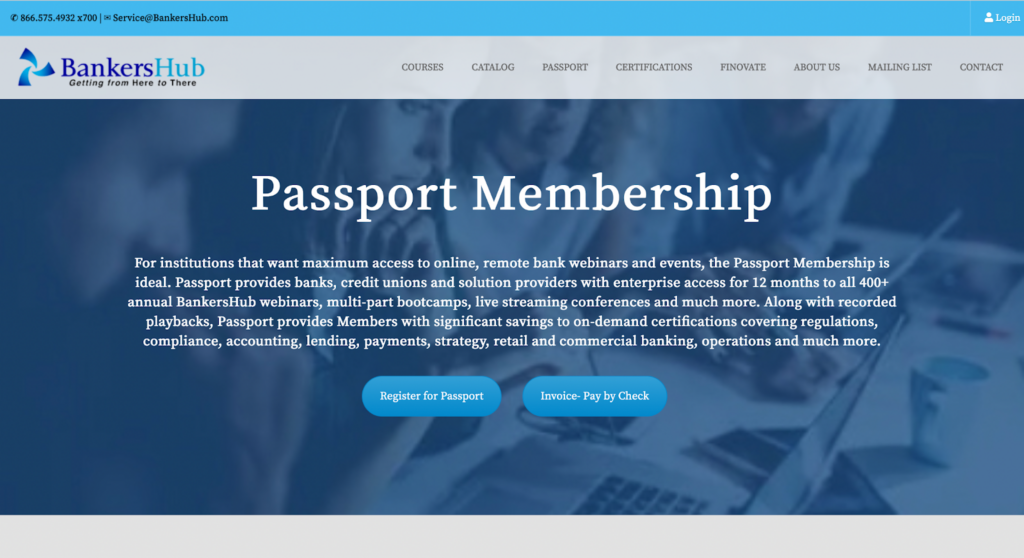 Course Creator: Erin O'Donnell and Michael Beird, BankersHub®
Duration: 12 months' access
Price: $2495 per year
Description: Thinkific course creators Erin O'Donnell and Michael Beird are the masterminds behind BankersHub®, a leading financial services training organization. With over 1 million course enrollments and more than 150 corporate clients, BankersHub® is a top choice for institutions looking for a one-stop-shop for finance courses and employee training.
The BankersHub Passport gives you – and everyone in your organization – 12 months access to all BankersHub® finance courses. That includes 400+ webinars, bootcamps and conferences. Get on-demand certifications for a range of corporate finance topics, including accounting, compliance, retail and commercial banking, and more.
What you will learn: Choose from a wide range of certifications tailored to financial services professionals, including a Real Time Payments specialization, Certified Treasury Management, a Cannabis Banking Professional Certification and more. 
BankersHub includes corporate finance courses across an extensive range of categories and industries, such as Finance and Accounting, Banking Law, Human Resources, FinTech, Mortgage and Credit, and Payments and Electronic Banking.
Skills you will gain: The BankersHub Passport gives you access to practical courses and certifications to give you the essential skills you need to succeed in your chosen area of corporate finance and accounting.
From the students: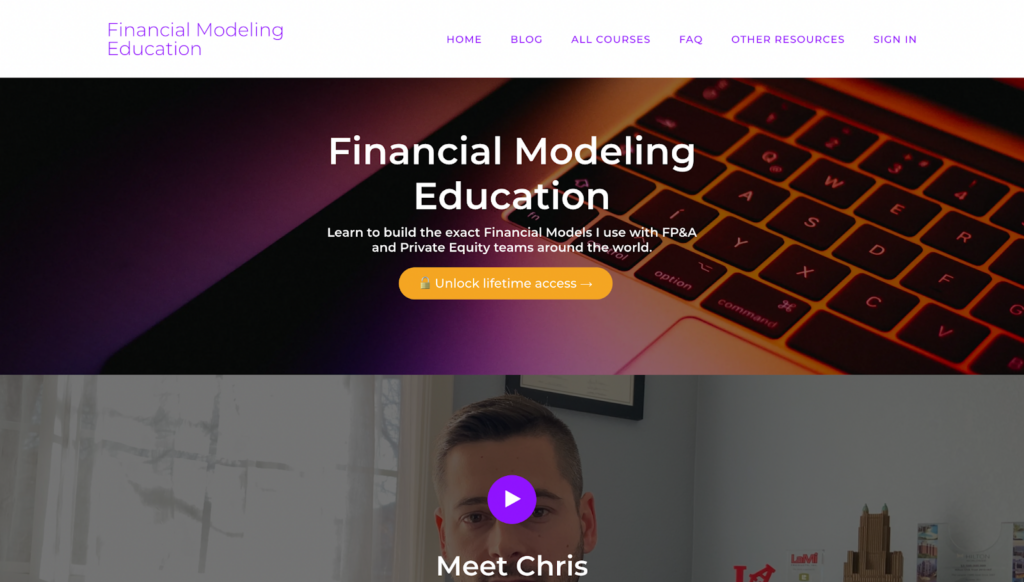 Course Creator: Chris Reilly, Financial Modeling Education
Duration: 4 full-length courses, self-paced
Price: $279
Description: First motivated to create his own finance courses after struggling with financial modeling, Chris Reilly built the Financial Modeling Education company to help others just like him. After a career in Corporate Finance, Consulting and Private Equity, Chris wanted to make it easy for regular people to learn about financial modeling at home.
The online finance courses he has created are relatable, quick and straightforward – even for complete beginners. Instruction is delivered via self-study videos with downloadable resources and one-to-one email support to help learners along the way.
What you will learn:  This finance course is designed to take you through all the basics of financial modeling, starting at the very beginning. The 4-course bundle gives you everything you need to know about financial modeling. The package includes: 5 Simple Steps to a 3 Statement Model, Advanced 3 Statement Model Template, Financial Modeling for Private Equity, and a Company Dashboard Template.
Skills you will gain: Learn the exact financial models Chris uses with his Financial Planning & Analysis (FP&A) clients and Private Equity firms, including how to build FP&A models, LBO models and essential Excel shortcuts.
From the students: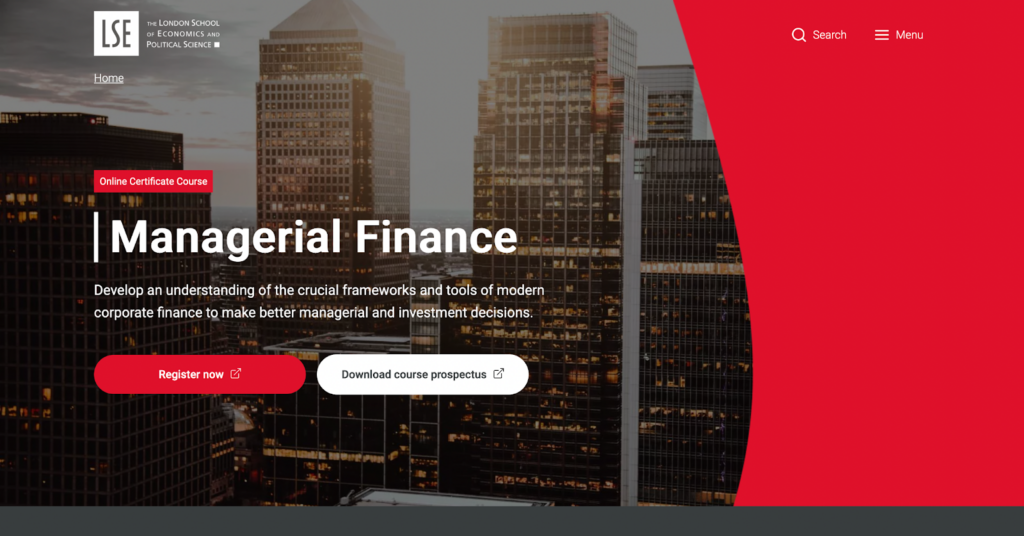 Course Creator: Professor Dirk Jenter, London School of Economics and Political Science
Duration: 6 weeks
Price: £2,200 (approx. $2645)
Description: Created for non-financial managers and anyone in a leadership position, as well as for professionals working in finance, the LSE Managerial Finance Online Certificate provides learners with a deeper understanding of financial reports, business management, and investment projects and opportunities.
Taught over 6 weeks, this finance course includes 8-12 hours of online teaching per week. Weekly modules allow for flexible learning, so you can make the course work around your schedule. 
What you will learn: Taught by Dr Dirk Jenter, Professor of Finance at LSE and an expert in corporate finance, this course is split into 6 modules. Learn the basics of financial statement analysis, financial forecasting, discounted cash flow analysis, optimal investing, funding strategies, and the process of valuing entire companies. Get advanced insight from corporate finance experts from one of the top financial institutions in the world.
All the reading materials, videos and case studies are downloadable so you can keep your learning going after the course has ended. Reinforce your knowledge with detailed assessments, quizzes and projects. The best part? A team of qualified tutors are on hand to answer your questions and address any challenges you come up against in the course material.
Skills you will gain: By completing this course, you will gain the ability to understand financial reports and analyze the financial health of any organization. You will get a financial toolkit for making strategic business decisions, as well as the confidence to participate in financial discussions and high level decision-making.
From the students:

Best finance courses for 2023 – Personal Finance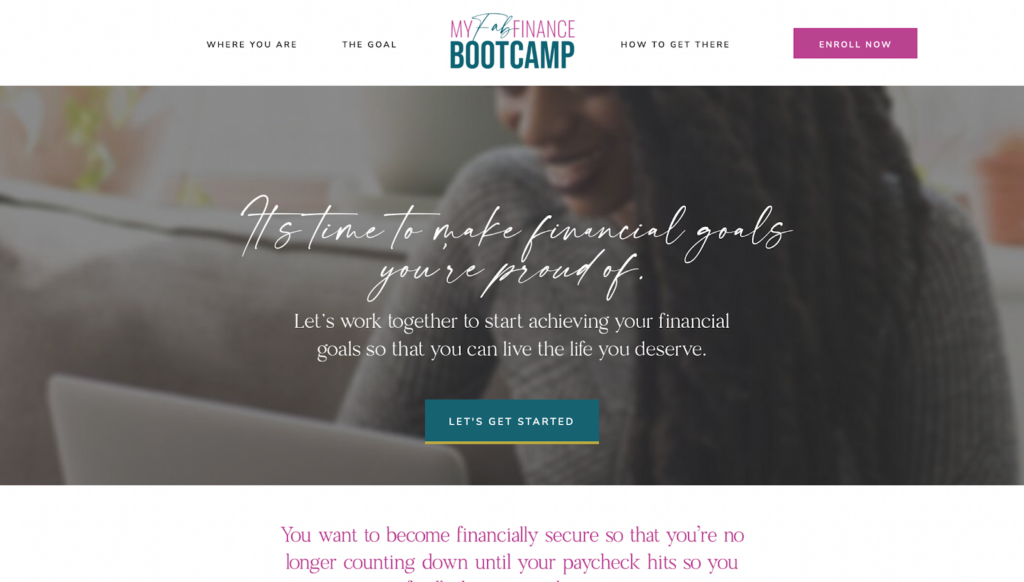 Course Creator: Tonya Rapley, My Fab Finance
Duration: 8 weeks
Price: $397
Description: Thinkific creator and Think In Color speaker Tonya Rapley founded My Fab Finance with the aim of creating a safe space for women to talk about finance. Her financial education courses are designed for women looking to hit their financial goals and get peace of mind from financial security. Her core aim is to help at least 100,000 people make one financial decision they're proud of.
The My Fab Finance Bootcamp gives you the tools you need to transform your finances. This personal finance course is perfect for beginners looking to take control of their financial wellbeing.
What you will learn: In this finance course, you'll get a comprehensive introduction to budgeting, saving, investing and getting yourself out of debt. The modules include a financial audit blueprint and a step-by-step guide to creating and hitting 1-5 financial goals.
The My Fab Finance course includes weekly office hours too, giving you the chance to have your questions answered, share any issues and celebrate your wins.
Skills you will gain: Create individual personal financial benchmarks to measure where you are and where you want to go. You'll also gain skills to help you eliminate debt, build your personal savings, improve your credit score and more.
From the students: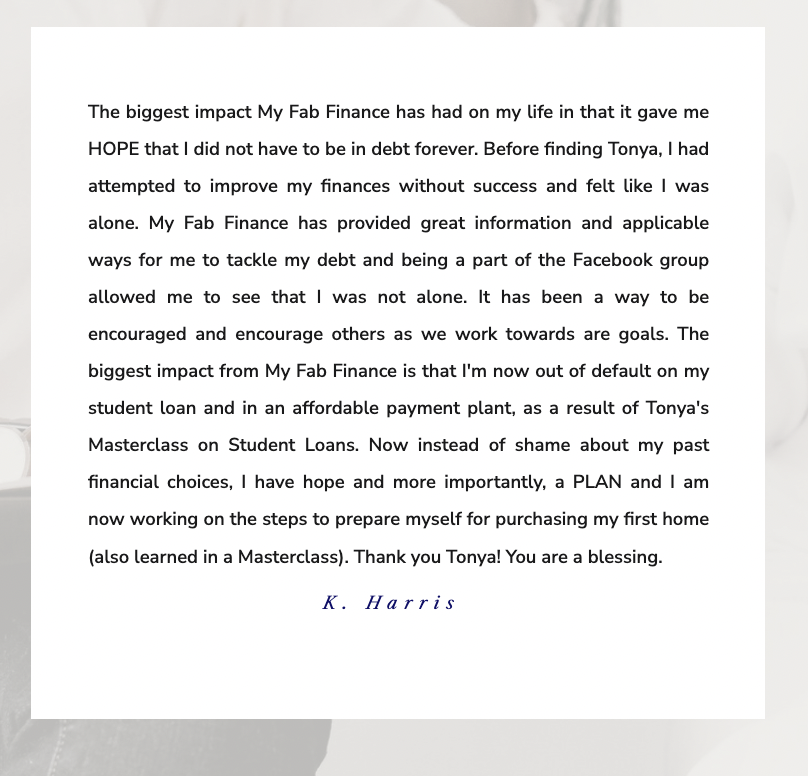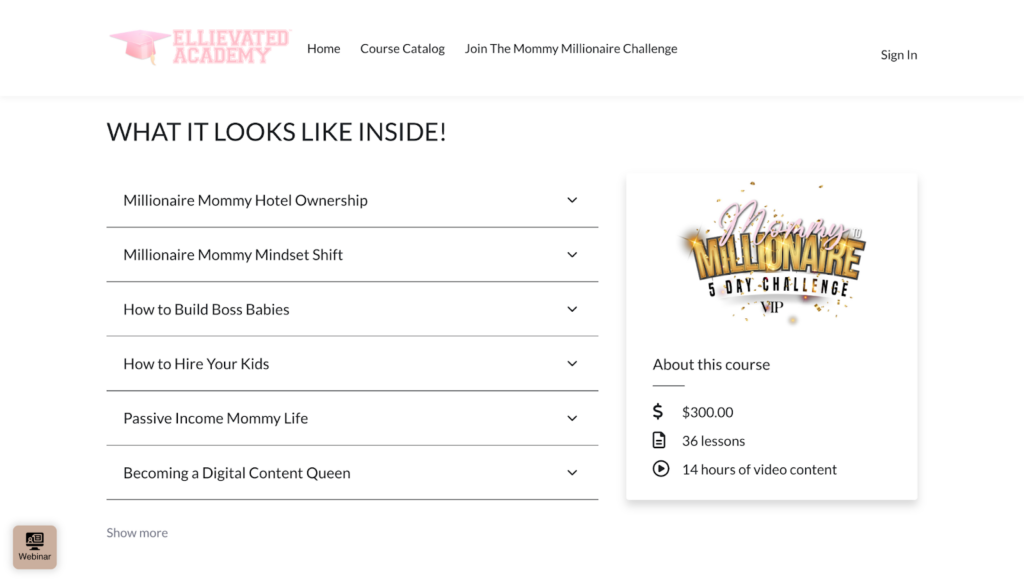 Course Creator: Ellie Diop, Ellie Talks Money & Ellievated Academy
Duration: 36 lessons, 14 hours
Price: $300
Description: Counting more than 50,000 students and a community of over 370,000 members among its ranks, the Ellievated Academy is a top finance course for beginners. Dedicated to helping women and moms learn more about funding, taxes, investments, and generational wealth protection, there is a lot to learn in their course catalog.
Ellie Diop was inspired to create her Mommy to Millionaire masterclasses after successfully turning her own $1200 stimulus cheque into a 7-figure business. Ellie's finance courses are designed to help ordinary people struggling to reach a place of financial security from a traditional nine-to-five job. Ellie's relatable, no-nonsense style makes it one of the best finance courses on the market for aspiring entrepreneurs. 
As a Thinkific creator and Think In Color speaker, Ellie knows what it means to start from scratch and build a business empire. Her expertise is tailored to women just like her who want to monetize their existing skills.
What you will learn: Ellie's Mommy to Millionaire finance course includes wealth building tactics to help you create a passive income, asset ownership basics, tips for building a tax free lifestyle, and a roadmap to protecting generation wealth. 
Skills you will gain: This finance course equips you with actionable strategies for managing your tax, life insurance, and trust funds, as well as creating passive income. Gain the confidence you need to start your own business and get on the road to financial freedom and security.
Learn more about Ellie's journey here.
From the students: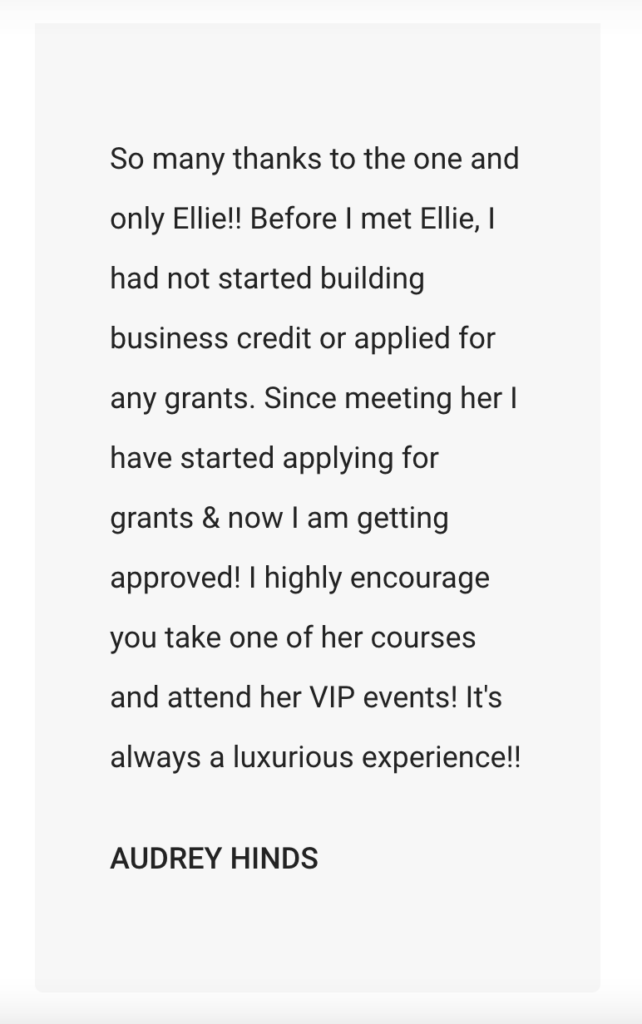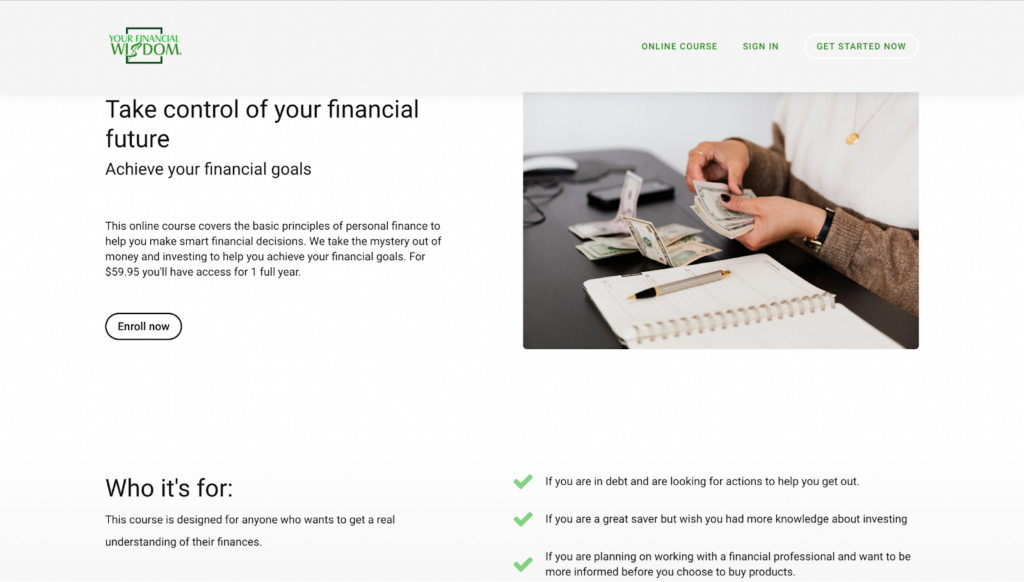 Course Creator: Steven Easler, Your Financial Wisdom
Duration: 8 modules, self-paced
Price: $59.95
Description: With over 20 years' experience in the financial industry, Steven Easler has built his business around sharing financial wisdom and improving the financial security of students across the world. Whether you're in debt and looking for strategies to improve your finances or keen to learn more about investing, Steven's finance course is designed for personal finance beginners.
The Take Control of Your Financial Future course aims to be an easy-to-follow personal finance course that will help you make informed financial decisions about your finances. Get access to 8 course modules – plus downloadable resources – for 1 year.
What you will learn: Steven's personal finance course includes essentials to help you evaluate your financial position, create a personal balance sheet and cash flow statement, and plan for and meet your financial goals. He also shares tips on how to establish an emergency fund, manage your debt and plan for retirement.
The course is presented as a series of video courses with self-assessments and quizzes throughout. Get customizable spreadsheets for tracking your finances.
Skills you will gain: Follow this personal finance course to gain foundational knowledge on how to get out of debt and plan for retirement, as well as how to make smart investments and increase your cash flow right away.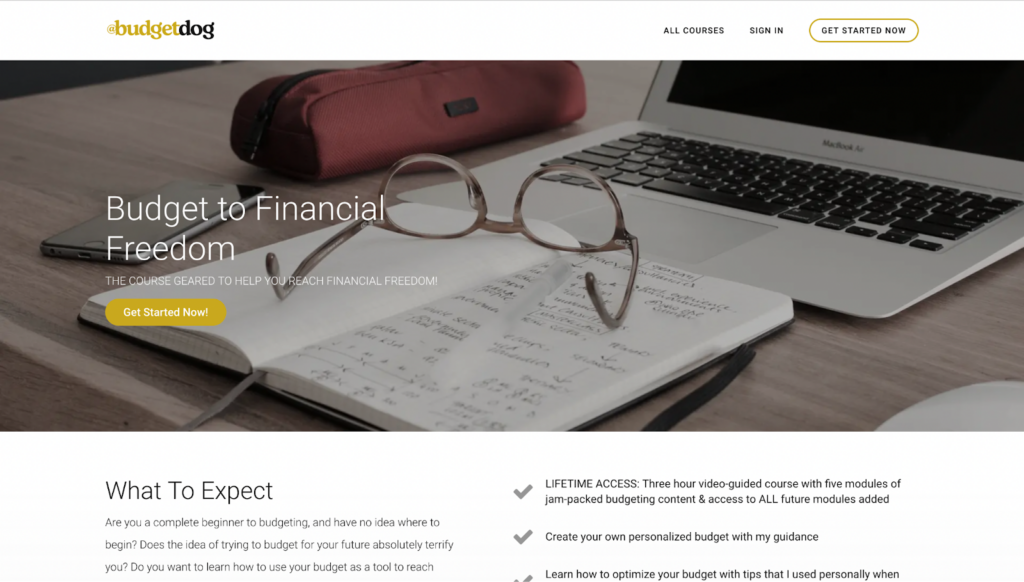 Course Creator: Brennan Schlagbaum, BudgetDog
Duration: 3.5 hours, 5 modules
Price: $247
Description: The ambitious founder of Budget Dog learnt about budgeting the hard way. Brennan Schlagbaum started his personal finance journey with more than $300,000 in debt, clawing his way out of a dark financial situation to become a millionaire by his early 30s. The Budget to Financial Freedom course includes the exact tools he used during this process.
This personal finance course focuses on careful budgeting to help you get your finances back on track. The course is packed full of tricks and tips to help you optimize your budget and reach a place of financial security as quickly and efficiently as possible.
What you will learn: Brennan's budgeting course takes you through budgeting basics, including building your budget and boosting your debt payoff. The course also has useful extras like a personal budget template, balance sheet template, and live example walkthrough to see how to apply your knowledge in a real-life context.
Skills you will gain: Get concrete steps to perfect your budget and utilize your budget to achieve your financial goals. Gain the exact steps you need to take to budget your way out of debt.
From the students: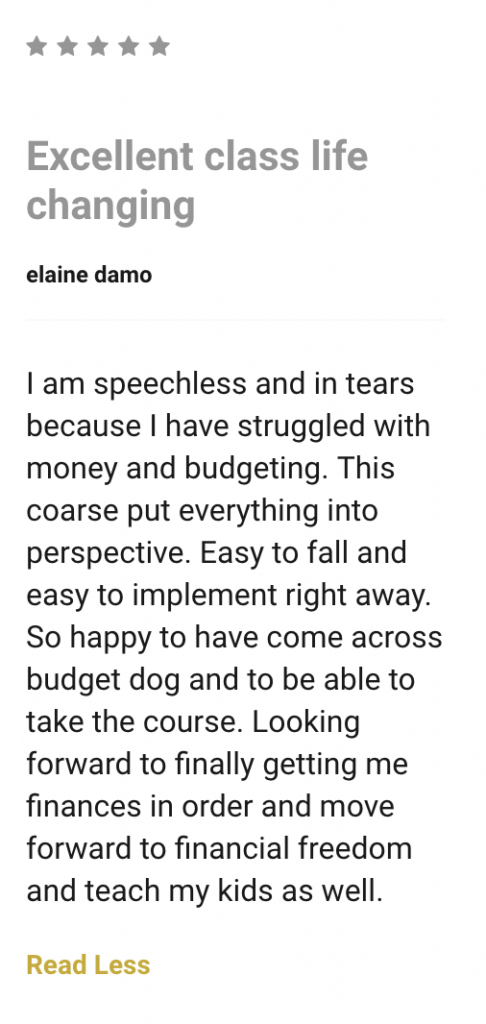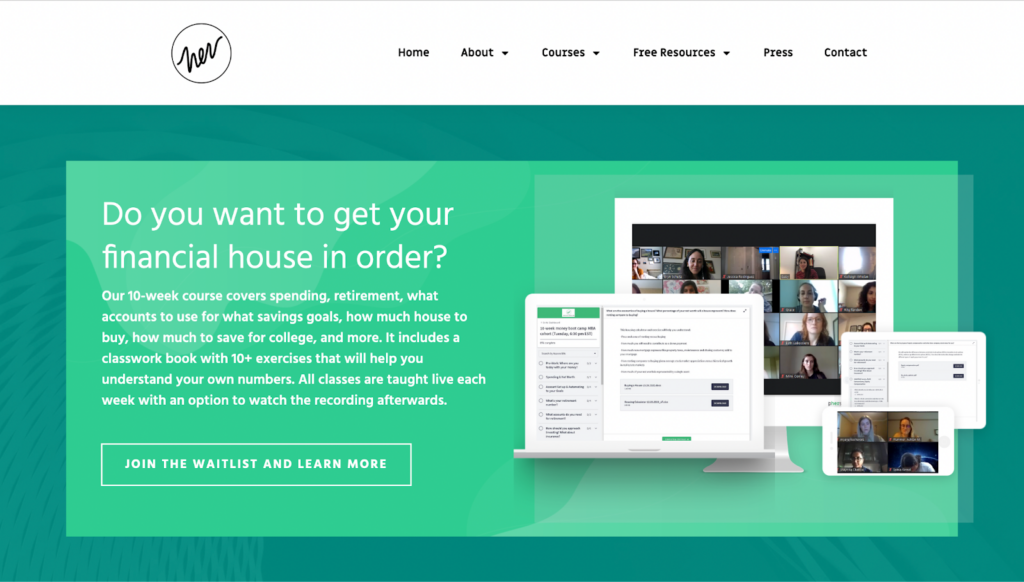 Course Creator: Eryn Schultz, Her Personal Finance
Duration: 10 weeks
Price: $750
Description: What if 10 hours of financial education could save you $500k in fees on your 401K? This is the question Eryn asks her students at HerPersonalFinance.com. Eryn was driven to create her personal finance business after realizing her Harvard MBA classmates knew more about managing corporate finances than they did about managing their own. 
Aimed at millennial women in particular, Eryn wants to help more people take charge of their financial future. Her mission is to equip ordinary people with the skills they need to take control of their personal finances, including everyday essentials like budgeting, saving for retirement and investing.
What you will learn: Eryn's 10-week course covers all the basics of managing your personal finance, including spending, retirement, how much to save for college, and more. If you're trying to navigate paying off your student loans, saving up for potentially having a baby or buying a house, and any other financial milestones, this finance course is for you.
The course also includes an individual review of 3 assignments to give you concrete feedback on tasks you've completed like your retirement projections and your monthly spending calculations.
Skills you will gain: Make a plan to pay off debt, cut down on spending, increase your 401K savings, start investing, and much more. Get a simplified retirement calculator to work out whether or not you're on track with your retirement savings.
From the students: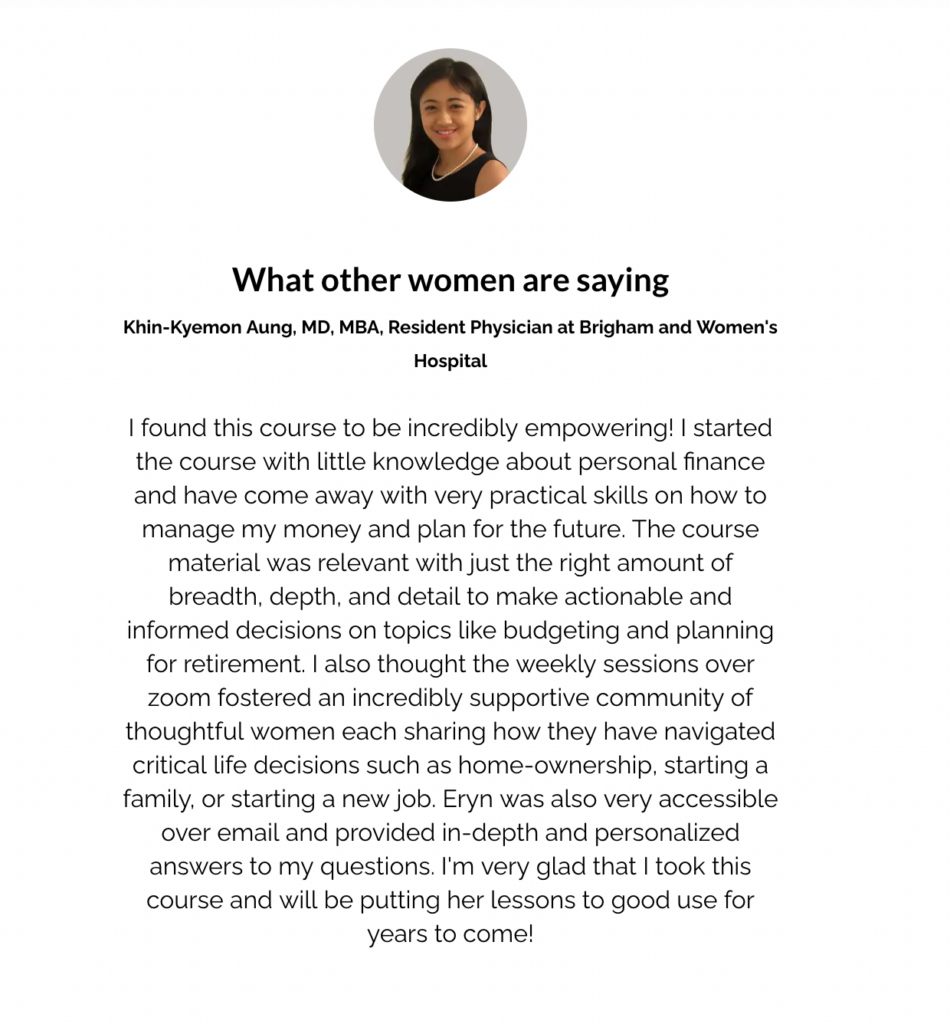 Sign up for the best finance courses today
Whether you're looking to learn the fundamentals of corporate finance or are keen to get to grips with personal finance basics, these are the best finance courses around.
Whatever your budget, time constraints and goals, you're sure to find an online finance course to suit your needs. Look out for passionate, motivated course creators who are itching to share their expertise and help you achieve your goals.
Curious to create your own online course? Get started with Thinkific for free and start your journey today!